Last updated on January 26th, 2020 at 10:55 pm
As I mentioned in my 2019 Honolulu Marathon introduction post, I chose to book away from the big hotel chains this year and stay at the Alohilani Resort. And, despite a few bumps, I was pleasantly surprised.
If you've been coming to Hawaii for a long time or live here and don't know what the Alohilani Resort is, fret not. I often get a puzzled look when I talk to people about this place. And that's likely because most remember this place under its former name, the Pacific Beach Hotel. That hotel, by the way, was like a living time capsule. Just look at these photos! That's precisely how the place looked up until the redevelopment work.
But, in May 2018, the Alohilani Resort emerged from a $125 million redevelopment project as a modern boutique hotel. So, naturally, I had to check it out.
Booking
While the Alohilani Resort is an independent boutique hotel, it recently became a member of Preferred Hotels. So, depending on your priorities, there a few ways to book this property.
For the absolute lowest price, use Google's Hotel Search function. You may find absurdly low rates, though you'll need to prepay your stay. On the other end of the spectrum, you could use Amex Travel to book the hotel, which provides Gold Card cardholders a $100 resort credit plus a space-available upgrade.

The last option I'd recommend is to book via your iPrefer account with Preferred Hotels. This way you can get lower rates along with space-available early check-in, late check-out, and room upgrades. They also have some rates with resort credits, but they're lower than what Amex offers.
Of course, you could also book via Chase Ultimate Rewards or Amex Travel if you'd like to redeem points for a stay here. Clearly, though, Ultimate Rewards is the better deal.

For my kama'aina readers, you'll need to book directly with the hotel. Doing so will save you a bunch since (as of this writing) the kama'aina rate provides a discount, free parking, and waives the resort fee. A Hawaii I.D. is required at check-in, and you can add your iPrefer number to the reservation by contacting the hotel's reservations department via phone or email.
For this stay, I booked a kama'aina rate of $255 per night with the $40 self-parking fee and $45 resort fee waived. After tax and some tree fee, my total came out to $581.
Upgrades
Prior to your check-in, you may receive an email for a chance to upgrade your room.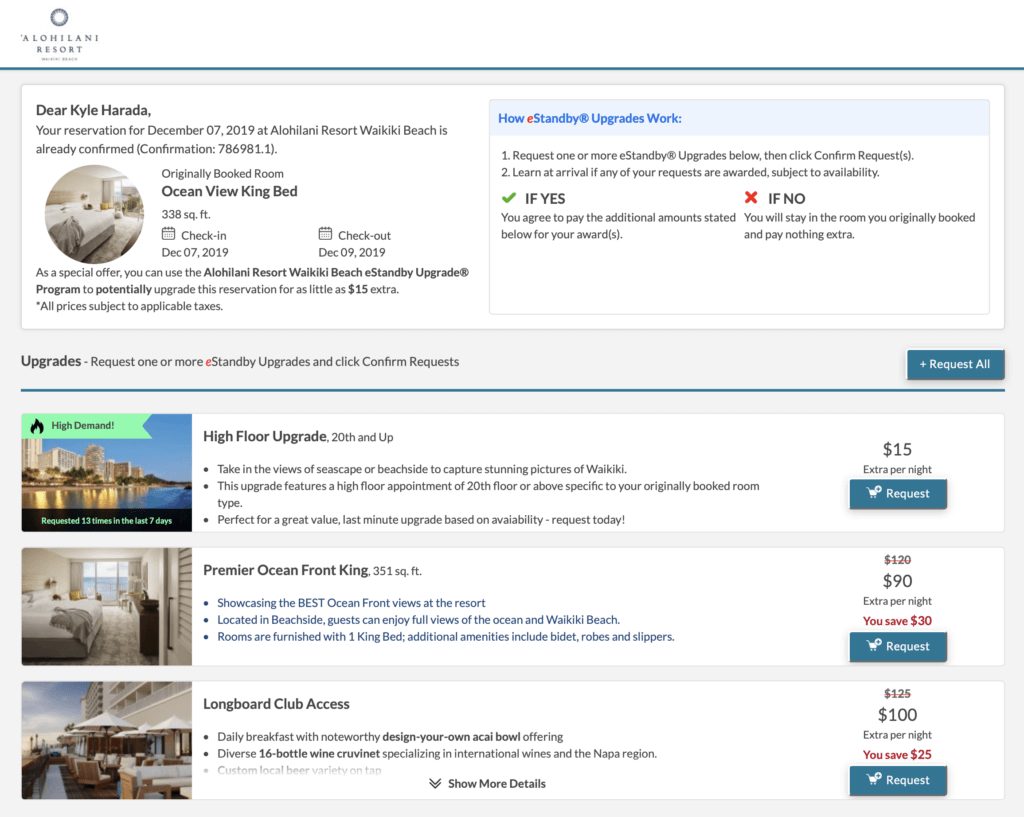 Because I was already booked into an ocean view room, my options included a high floor upgrade, premier ocean front king, Diamond Head view, Longboard Club access, and suite rooms. I placed a request for a high floor upgrade which wasn't charged to me, which I think is because the iPrefer upgrade kicked in.
Location + Check-In
The Alohilani Resort is on the east end of the Waikiki strip between the Hyatt Regency and Waikiki Beach Marriott. You'll need to approach the property on Kalakaua Avenue to access the one-way Lili'uokulani Avenue, which fronts the hotel's Porte-Cochere and garage.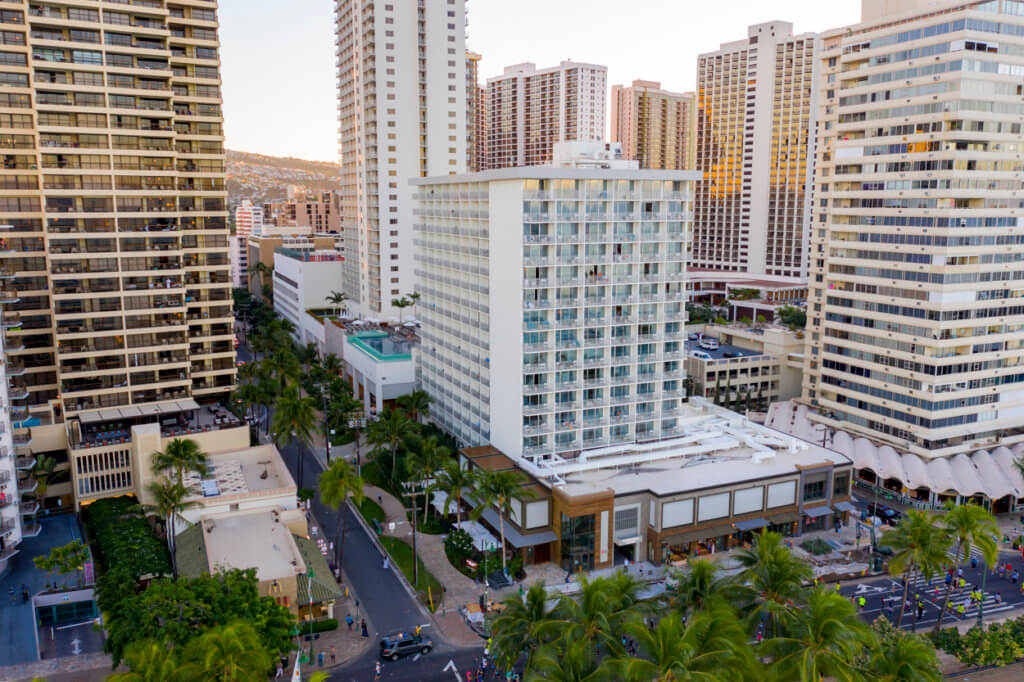 Valet parking is only $5 more than self-parking. So if you don't have a rate that includes parking, I'd just valet your car. Plus, they've got a nice waiting area in the Porte-Cochere and getting to the lobby from the garage is kind of a maze.
The front desk is right off of the Porte-cochere.
As tranquil as it looks in the above photo, the front desk was a madhouse when we arrived around 2:50 pm (check-in is 3 pm).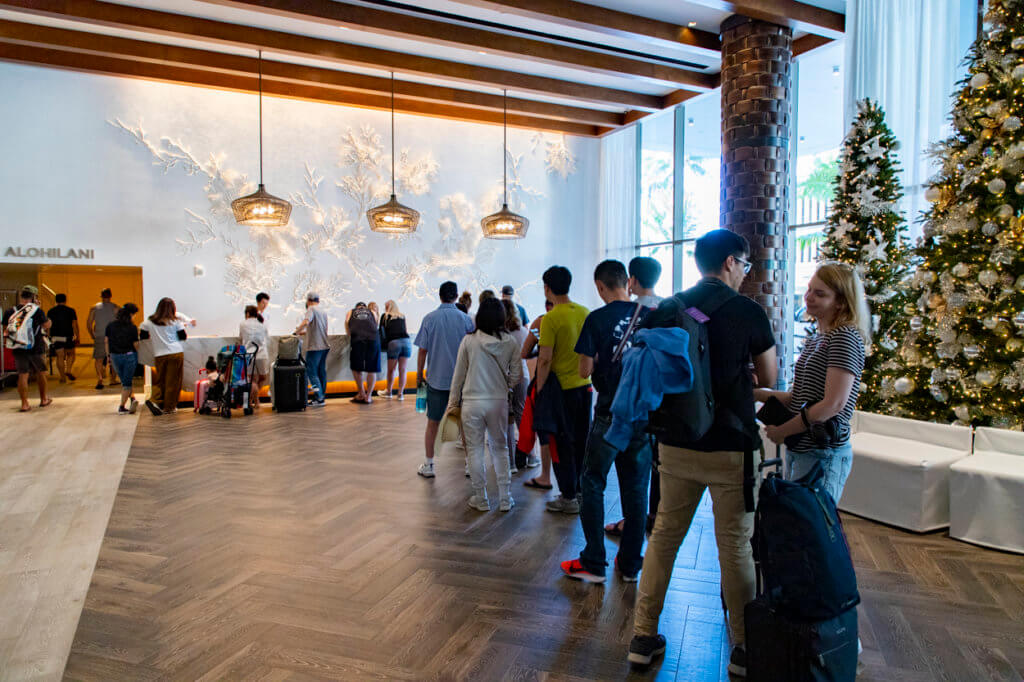 Staff members came around with drinks for those waiting in line, and it did move at a reasonable pace. But, the associate that ended up assisting us was a trainee that clearly wasn't ready for prime time. We weren't his first guest and his overseer had to tell him exactly what to do. Which, apparently, still didn't help. He got our room number wrong (which his overseer corrected before we left) and he forgot to give us our parking card.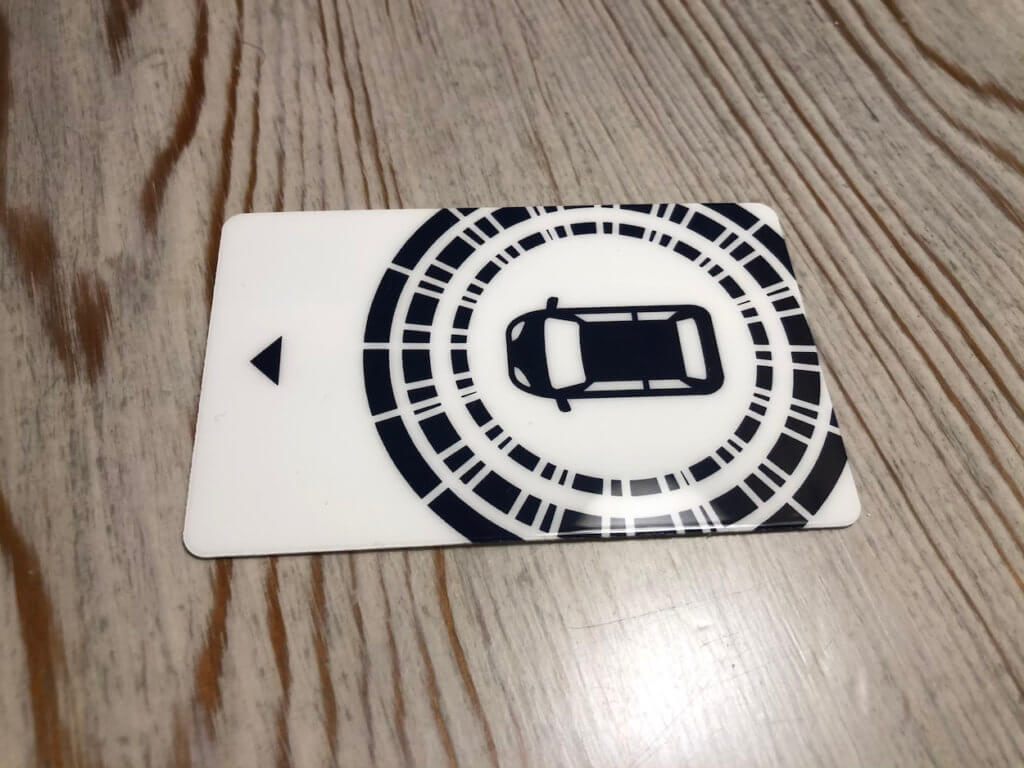 That parking card is really important if you self parked, as you can't use your room key for parking access. So be sure to get one during check-in if you self park.

Room
For our stay, we were assigned room 1517, which is an ocean view room facing west in the smaller Beachside Tower.
This, by the way, is the tower is the one you want if oceanfront views and easy access to the restaurants are your priority.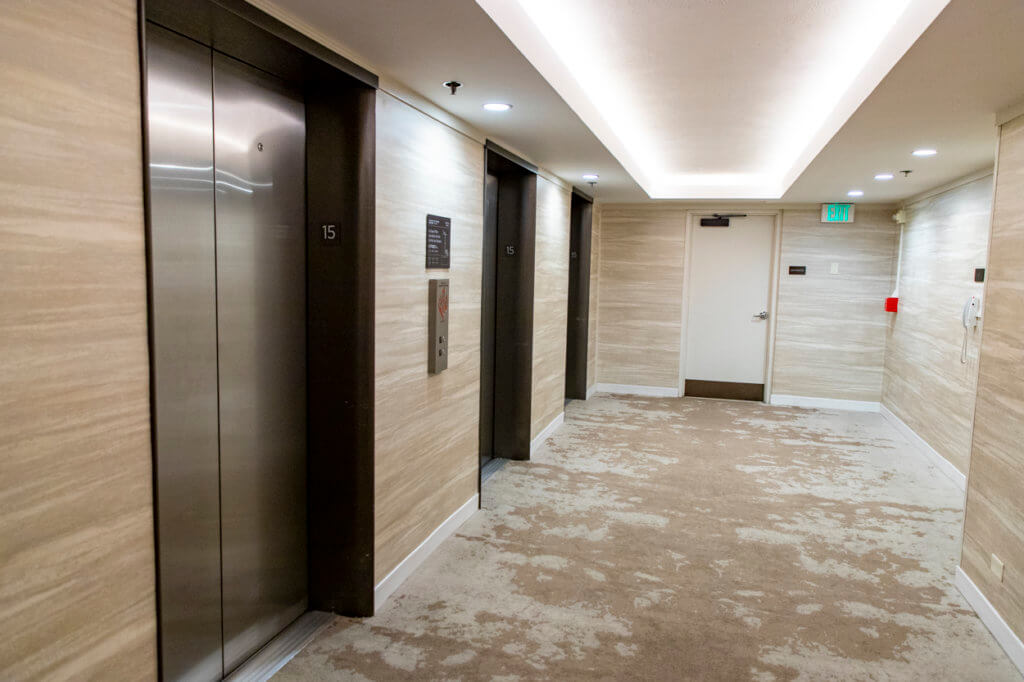 Given that the Alohilani Resort is a converted hotel, it's interesting to see how much things changed. After all, some conversions are done much better than others. As a reminder, this is what the rooms used to look like.
Our particular room was a standard room. It isn't a tiny room, but it isn't a large one either.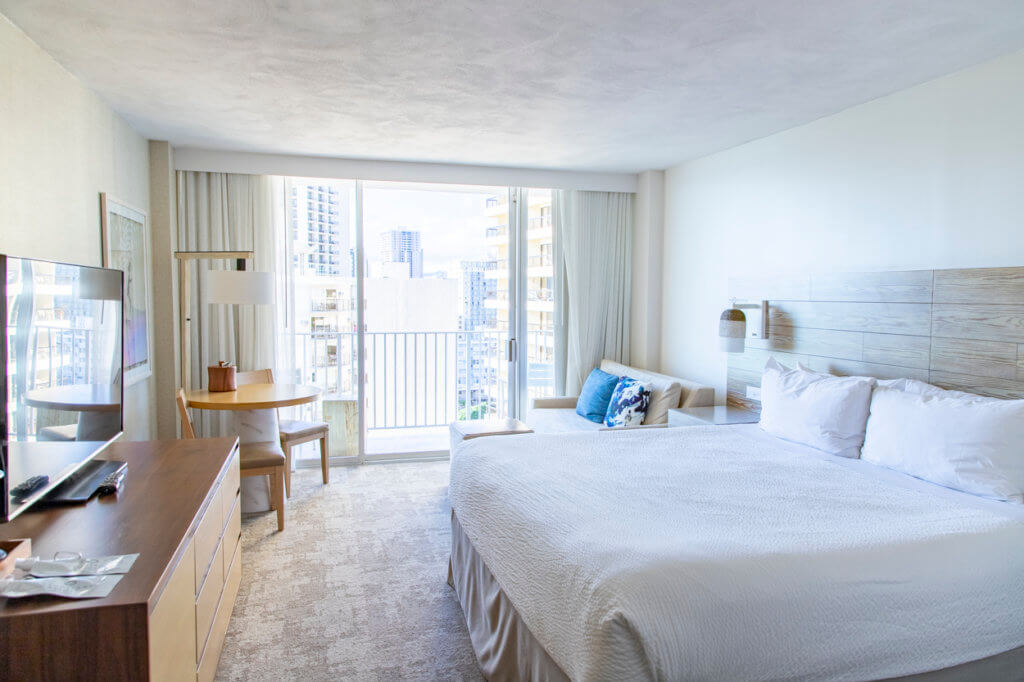 The before and after comparison above is interesting, as it appears that the reimagined rooms are largely the same. The layout is identical save for the addition of the loveseat. However, everything in the room is new and of better quality.
Room Features
The bathroom is immediately to the right when you enter the room and is a bit claustrophobic. But, the shower is of a nice size, while the water pressure and temperature are excellent. It's just too bad the shower is so bare; no place to hang your towel, and not enough space for the excellent Malie toiletries. However, the bathroom won me over because it has a washlet toilet! Yes, I'm weird.
Directly across from the bathroom is a standard closet with the iron, ironing board, and a large safe.
The rest of the room has the king bed, two nightstands with two standard and two USB outlets each, one corded phone, a flatscreen TV, a Keurig with pods and coffee kits, reusable bag bottles, a round table with chairs, a loveseat, and a mini-fridge.
The air conditioner, by the way, is controlled via a capacitive touch panel. It blows cold and kept our room at a comfortable temperature, but it's loud. Thankfully, you can manually control fan speed, which helps a lot. I also appreciate that the air doesn't hit you directly on the bed, so at night, we always felt comfortable. Unlike at certain other hotels *cough-Courtyard-cough*.
As for our overall quality of sleep, both the Mrs. and I found the bed to be comfortable. The bedding is lighter than the big chain hotels, which is nice given Hawaii's climate. Unfortunately, corridor noise was an issue, especially being located right across from the elevator bank. Street noise was noticeable too, but not enough to be a bother.
View
The view straight out of our room was, well, of the neighboring hotel. But, if you stood out on the balcony, you could easily see Waikiki Beach and the ocean beyond.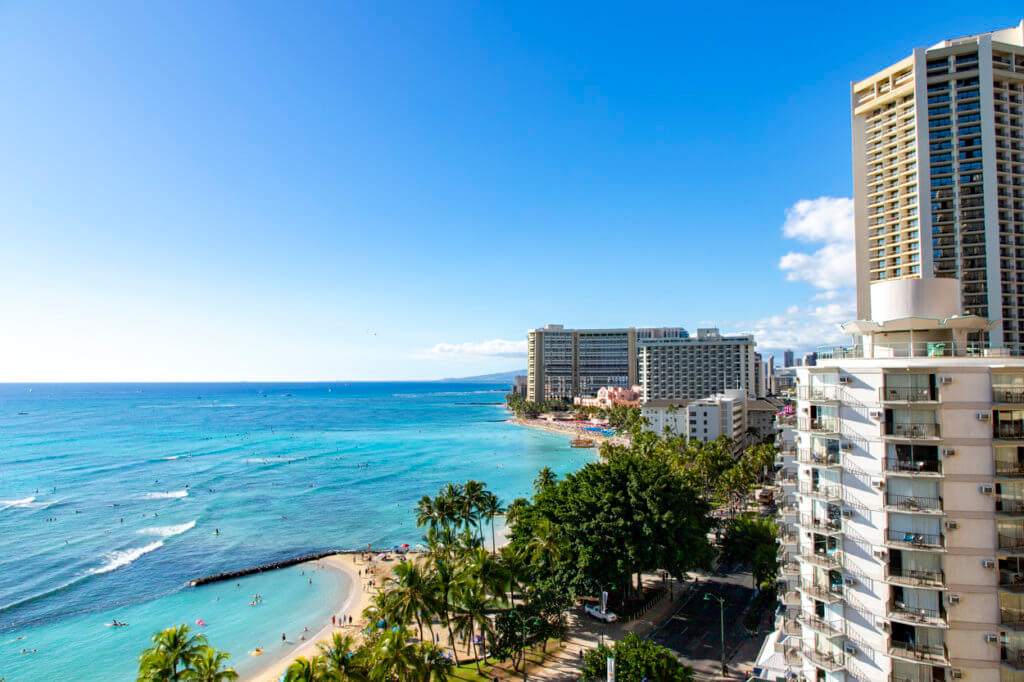 If sunset views are what you desire, though, this isn't the room for you. We could see the sunset, but couldn't see the sun itself. For that, you'll want either an oceanfront room or some high-floor ocean view room in the Seascapes Tower.
Amenities
The Alohilani Resort has a number of amenities on-property, almost none of which we took advantage of. However, the main draw at the property seems to be its pools. Funny enough, though, I recently discovered that they left the original pool pretty much as-is during the redevelopment.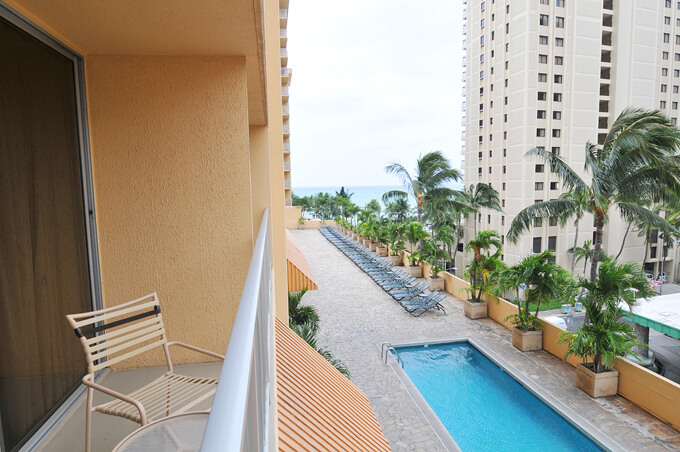 The other pools, however, are gorgeous infinity pools that feature private cabanas, lounge seating, fire pits, a bar and partial ocean views.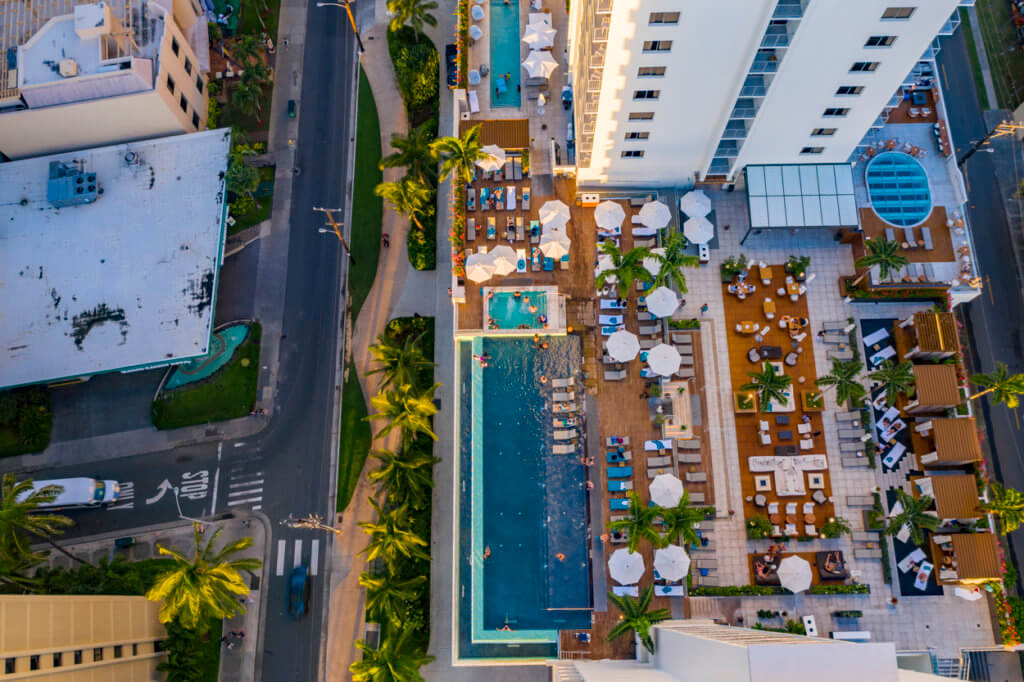 That said, one of the pools (on the Diamond Head side of the hotel) is dedicated to the Longboard Club. This club lounge features:
Daily breakfast with design-your-own acai bowl offering
16-bottle wine Cruvinet
Custom craft beer on tap
International cheese and charcuterie selections
Evening hors d'oeuvres
Homemade chocolates, cookies, and desserts
Media stations and WiFi
Televisions with English and Japanese channels
Access to the Longboard Club is only available to those that book rooms with access to it. There is no elite benefit access for iPrefer members. And food and beverage services are only available between 6 am and 10 am and 4 pm to 8 pm.
The Alohilani Resort also features a daycare, a workout room, a minuscule selection of spa services, and a tennis court.
An amenity I did make good use of, though, are the bottle filling stations. Too bad there's only one per tower, as it's a pain to have to take the elevator down to fill up on water!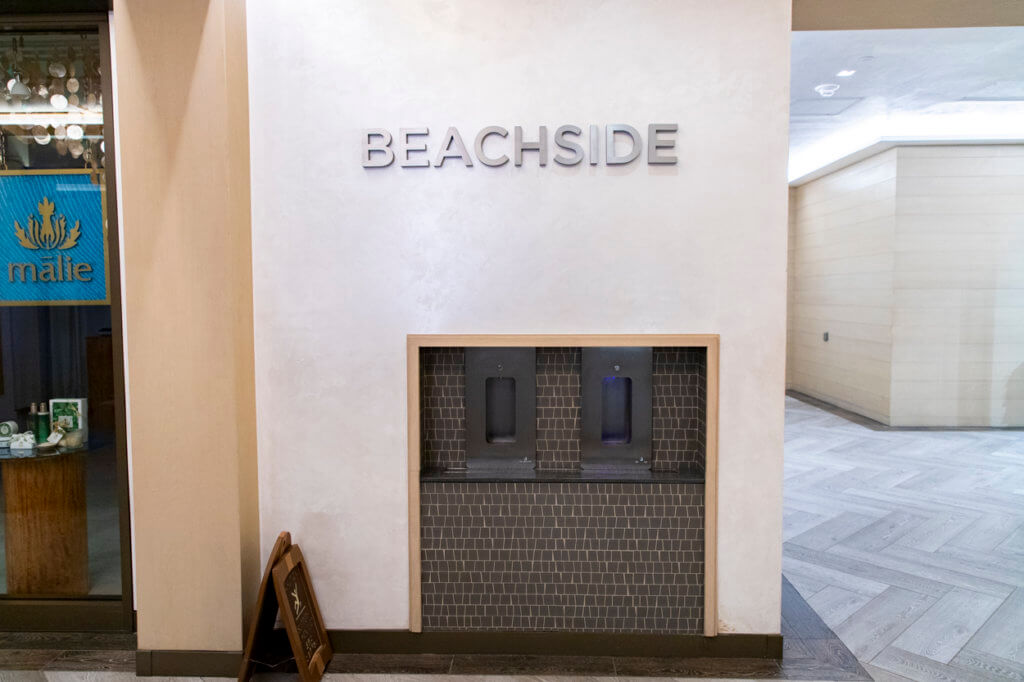 Dining
A rather unique claim to fame for the Alohilani Resort is the fact that it's home to, not one, but two restaurants by Iron Chef Masaharu Morimoto. I'll review both of them in later posts, but I was pleasantly surprised by Morimoto Asia Waikiki and liked Momosan better this time around.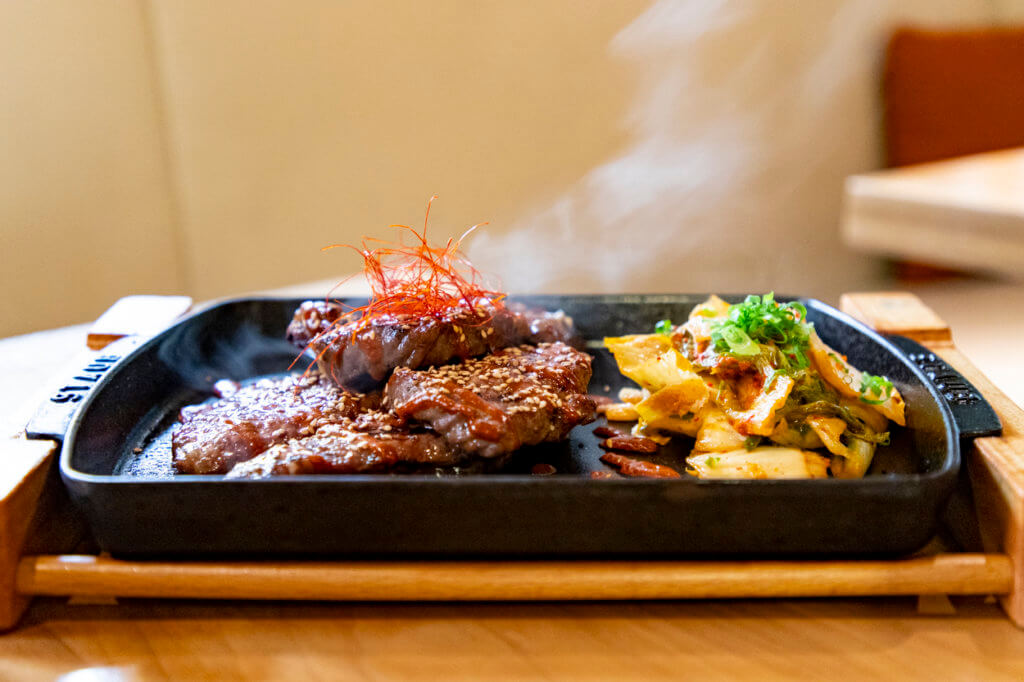 As far as breakfast options go, the Alohilani has a buffet ($33) called Lychee, which I didn't check out. They also have a Sunday brunch ($50) that's open to the public at the Longboard Club, which I didn't check out either. I've heard good things about Lychee, but the Sunday Club brunch doesn't seem to be worth the money.
The property is also home to two bars, the Swell Bar on the Swell Pool deck, and the O Bar in the lobby.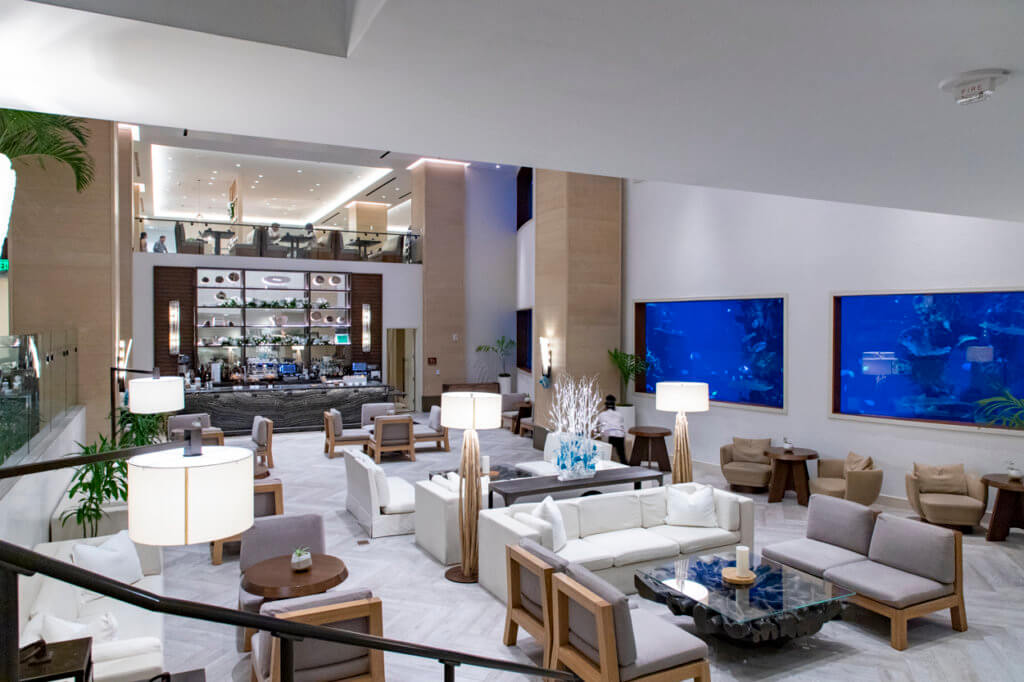 For those wanting to stay on-property for breakfast but don't want to go to a buffet, the O Bar has grab-n-go options. However, breakfast at the O Bar is all cold items like fruit, yogurt, and muffins. There is a Kai Coffee location out on Kalakaua Avenue and a McDonald's next door too.
Unfortunately, the Alohilani Resort doesn't offer in-room dining. It's an option I would've gladly taken advantage of if available, as I did last year at the Marriott.
Alohilani Resort, Final Thoughts
I'm glad I finally got to give the Alohilani Resort a try. Despite the bumps in the road, I found the property to be stylish and comfortable. I did miss the tech conveniences of a larger chain, though, like mobile check-in. Mobile keys aren't all that important to me, however, as they always take too long or flat out don't work.
At any rate, the Alohilani Resort is a solid option. Heck, it's probably the best independent hotel option in Waikiki. Just be aware of its shortcomings and don't skimp on your room type.
2019 Honolulu Marathon Staycation
Alohilani Resort Review
Morimoto Asia Waikiki
Other Eats