Last time I flew to Vegas, it was on Hawaiian Air's morning flight.  This time, though, we flew Hawaiian Air HNL-LAS red-eye to maximize our time in Sin City.
Hawaiian Airlines is the only airlines that offer direct service between Hawaii and Las Vegas.  Omni Air does too, but that's a charter service for vacations Hawaii.  And between Honolulu and Las Vegas, Hawaiian offers three frequencies daily.  One of these three frequencies is a red-eye service, which is the flight we opted to take on this last trip.  This flight, though, also represented our first standard economy flight in Hawaiian's reconfigured Airbus A330-200s.
HA 8 HNL-LAS Ground Experience
Since Hawaiian closed its valet check-in, we had to go to their kiosks to print our bag tags.  While crowded, the wait wasn't too bad this time, though the single bag drop line is still a choke point.  After that, though, we quickly cleared through the non-existent TSA Pre-Check line and headed to the gate.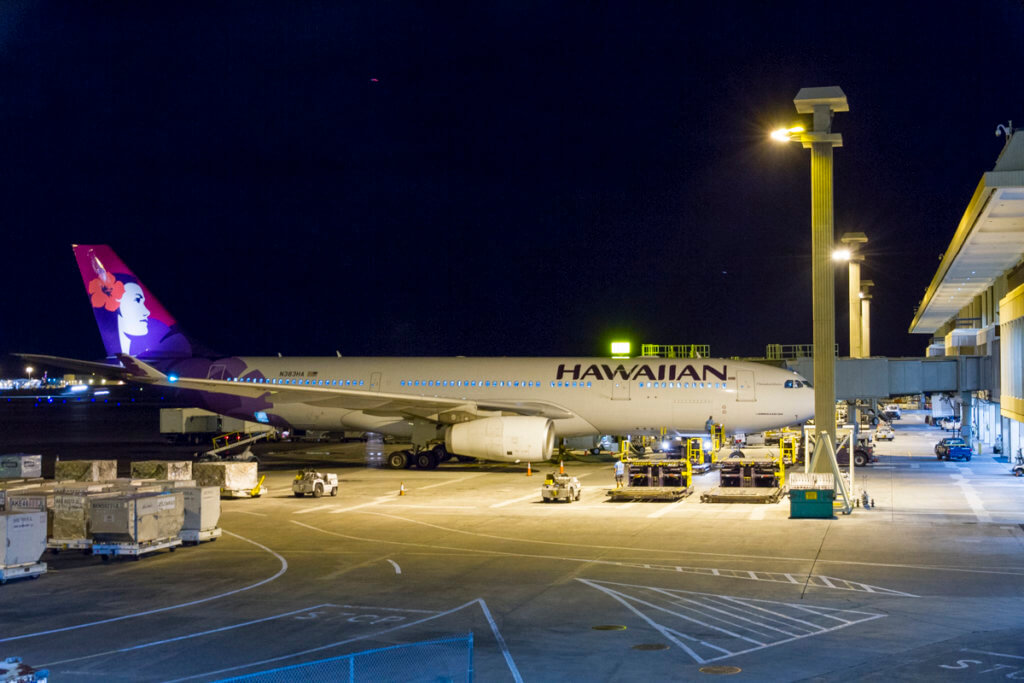 Hawaiian Airlines' Vegas flights currently operate out of the Overseas Terminal, while the bulk of their operations is in the Inter-Island Terminal.  This means clearing an Agriculture Checkpoint between the two terminal too, which can also take some time.  Thankfully at this time of night, though, the checkpoint has no line.  And since the only Priority Pass lounge worth going to is closed this time of night, we headed straight to the gate.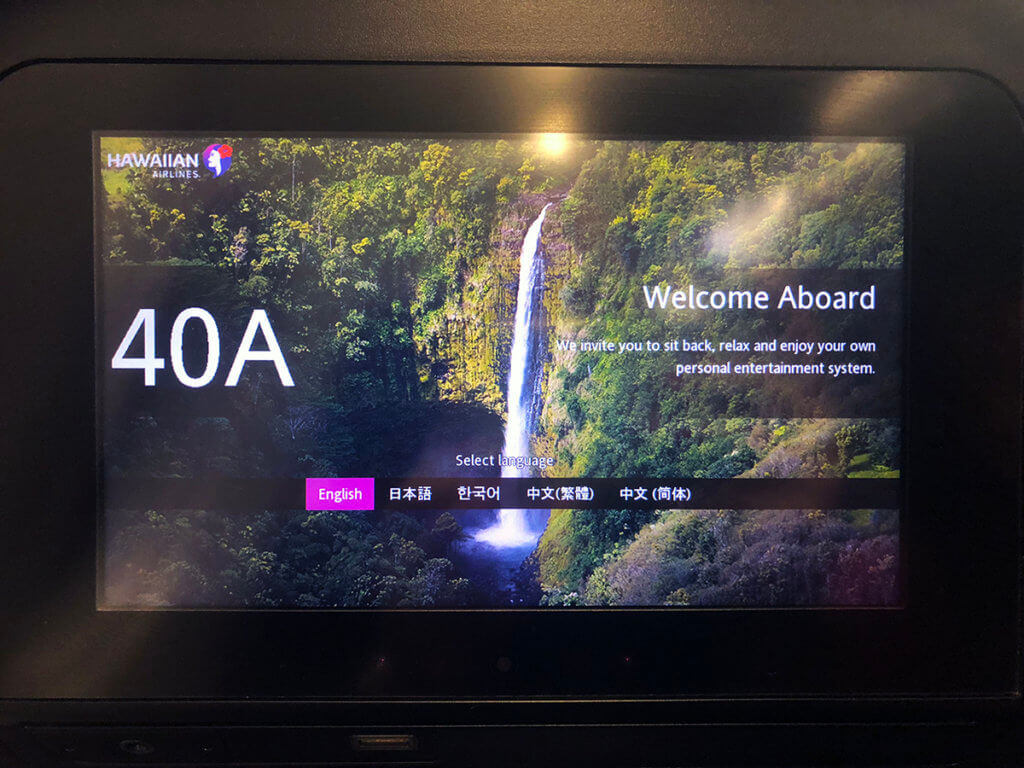 Boarding was scheduled to begin at 9:55 p.m., and in typically Hawaiian fashion, pre-boarding didn't commence till 9:57 p.m.  General boarding followed at 10:04 p.m. through both boarding doors.  And despite a full flight, boarding concluded 20 minutes later, with the door closing at 10:27 p.m.  Our flight was originally scheduled to leave at 10:40 p.m. but was later changed to 10:50 p.m. when we arrived at the airport.  Either way, we pushed back 10 minutes after the door closed at 10:37 p.m.
In-Flight Experience
After a 20-minute taxi to Honolulu's Reef Runway, we began our takeoff roll at 10:57 p.m.  Then, 30 minutes after departure, our flight crew sprang into action with Hawaiian's for-purchase Pau Hana cart featuring snacks, drinks, logo items, etc.  This was then followed by the beverage cart at the one hour mark.  Then, finally, the lights were turned off at about 12:30 a.m., with about 3.5 hours left in the flight.
To me, the slowness of the service, especially in an effort to make sales, is unacceptable on a red-eye flight.  Especially since Hawaiian offers no meal service on red-eye flights.  In lieu of meal service, though, Hawaiian does provide a pillow and blanket on these flights.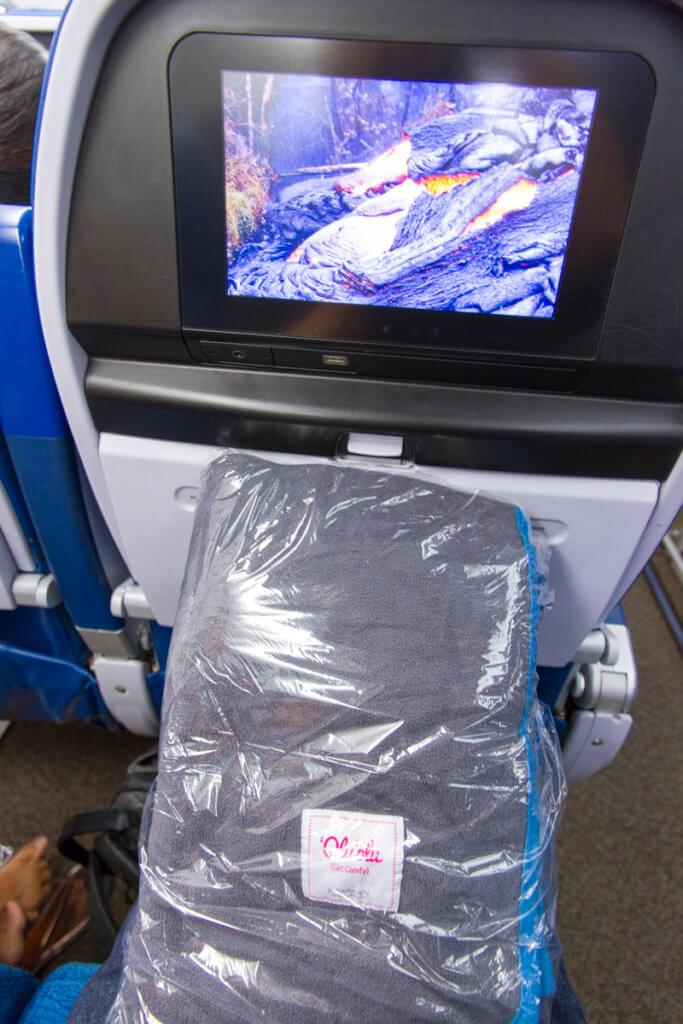 An hour out of Las Vegas, the lights were turned back on.  That means our flight had only 2.5 hours of total sleep time.  Not good, but it's not like I could sleep anyway.  Hawaiian's newer slimline seats are even more uncomfortable than the older ones.  The only upside to the new seats are the higher-quality seatback screens.  But, not like it matters.  All content still requires payment to access, though the more responsive screens make it easier to control your light and call the flight attendants.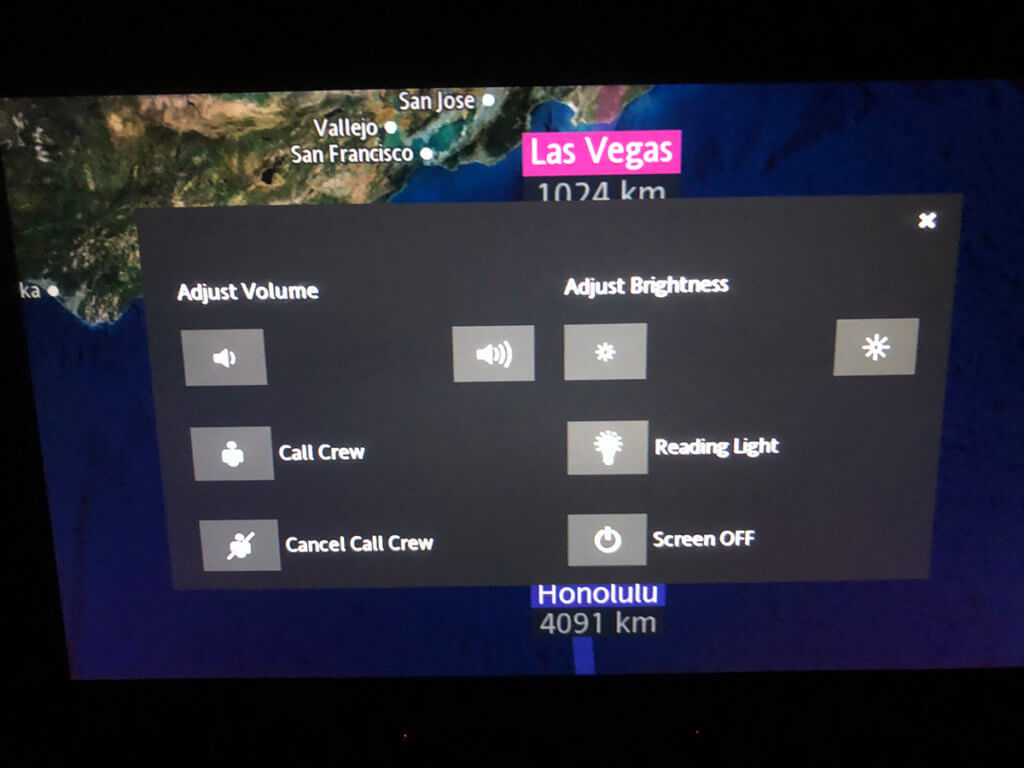 Oh, and you still won't have your own air nozzle with Hawaiian either.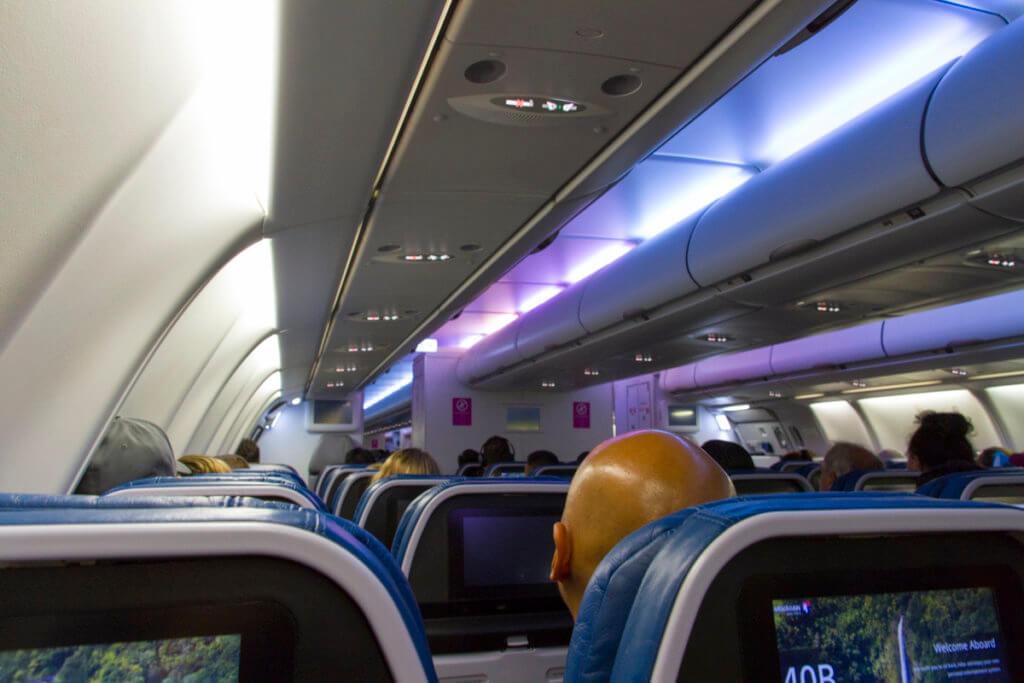 Arrival
At 45 minutes out, we began our initial descent.  Interestingly, I could see contrails forming from the jets.  Never seen this before, probably because I've never sat this far back before.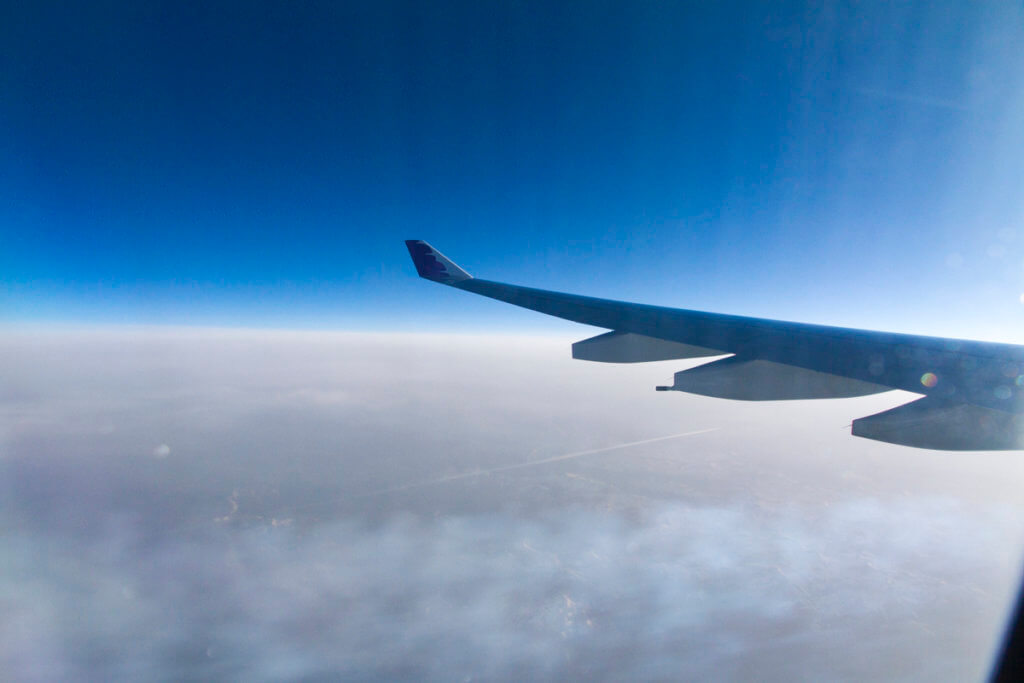 Of course, the lower down we got, the better the view.  And that's one of the things I like flying into Vegas, the view.  The Sierra-Nevada Mountains are a majestic sight, though they do cause turbulence.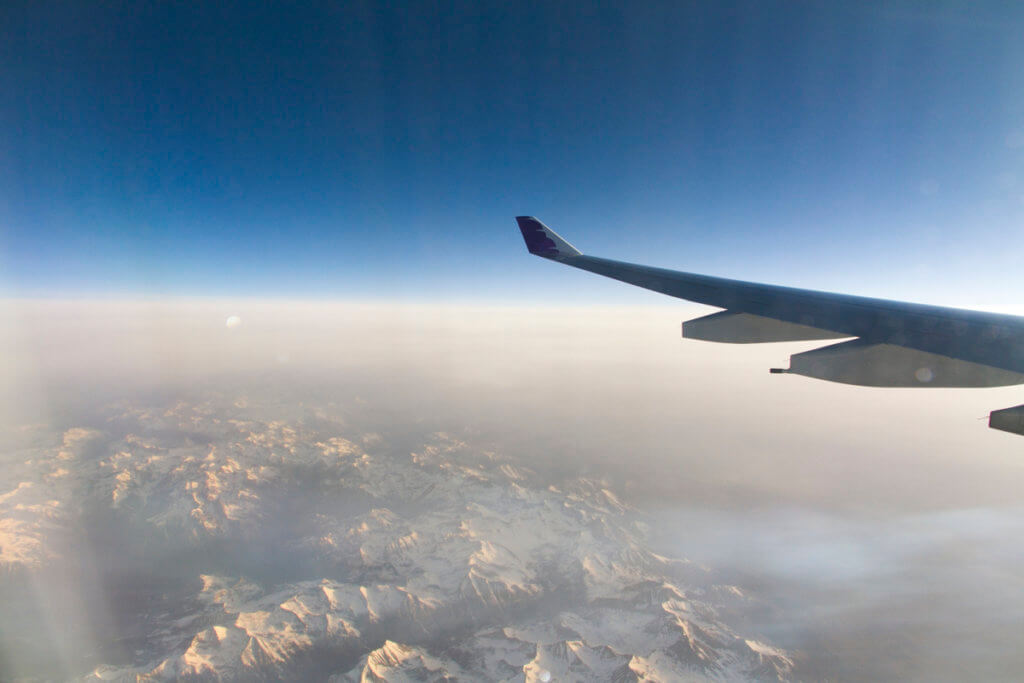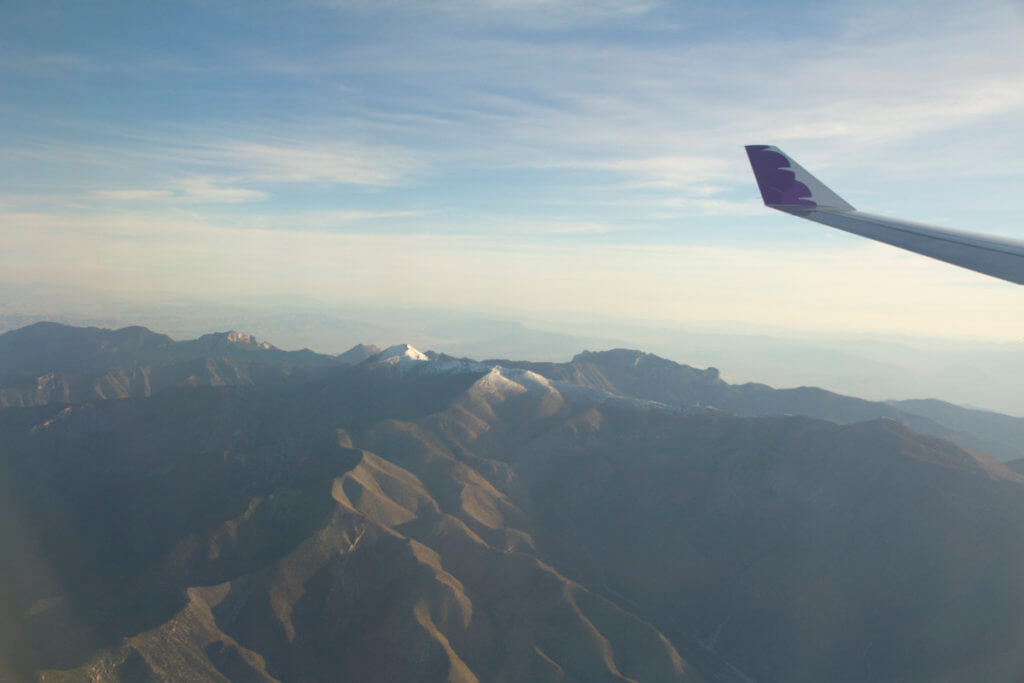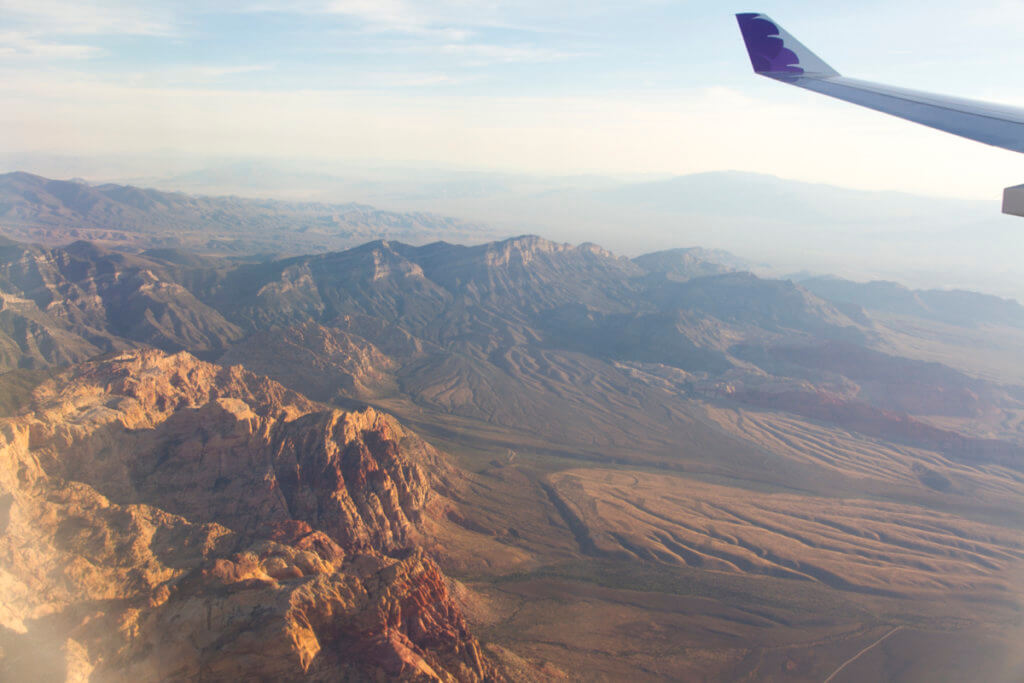 Of course, as you get closer, you then get a great view of the Las Vegas strip, the airport, and the surrounding suburbs.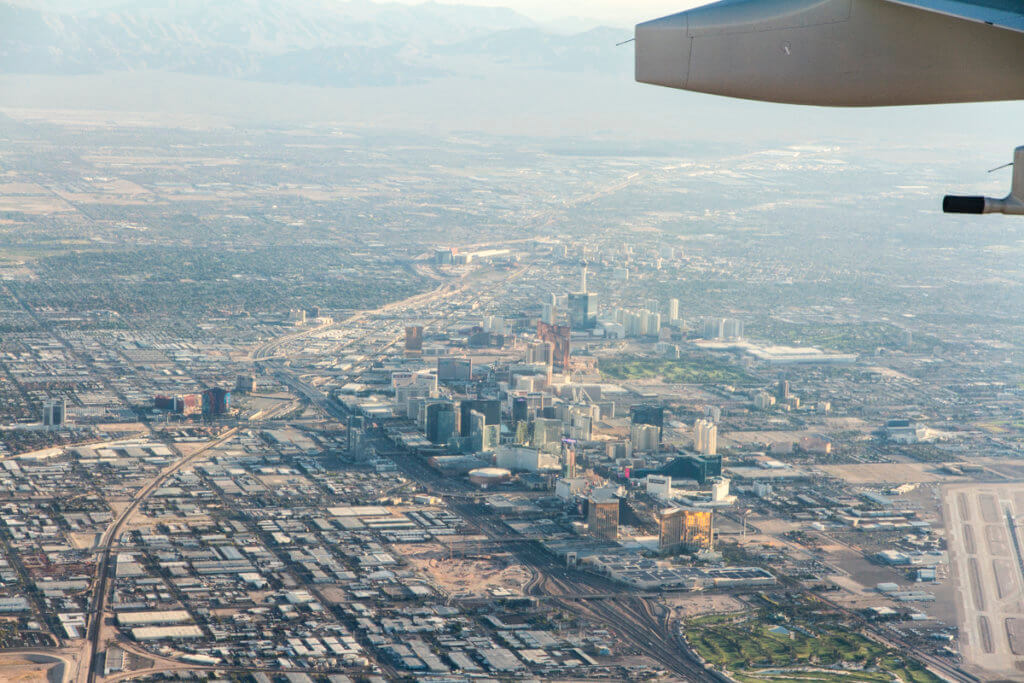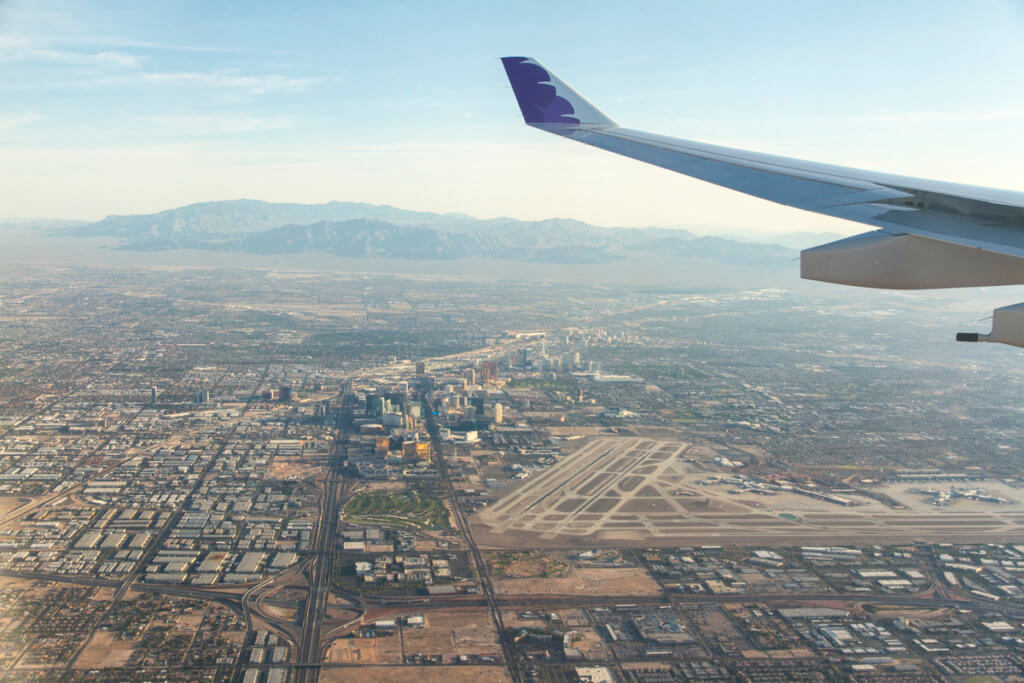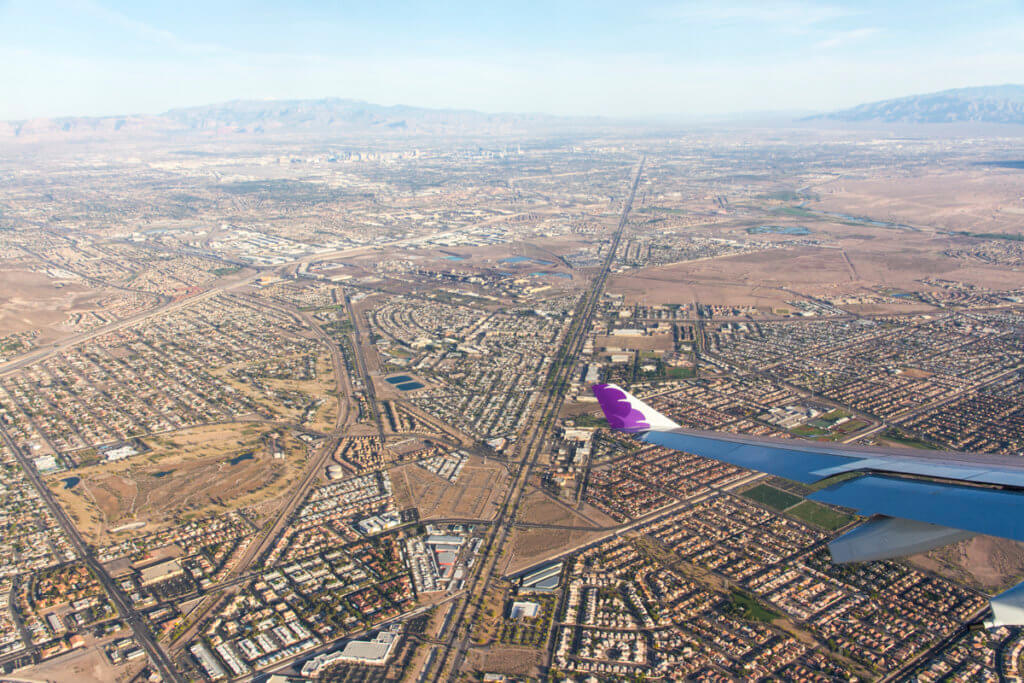 Our itinerary claims an arrival time of 7:25 a.m., though FlightAware had us arriving at 7:09 a.m.  But, at 6:54 a.m. we touched down at McCarran International Airport.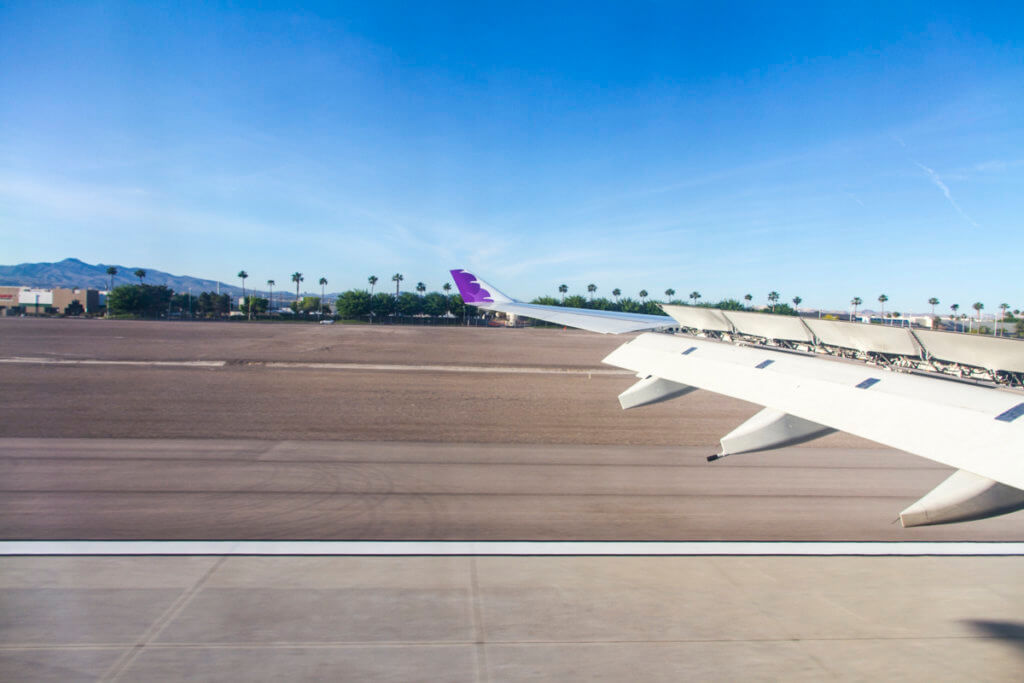 Then, after a short, six-minute taxi, we arrived at our gate at 7:00 a.m. PT.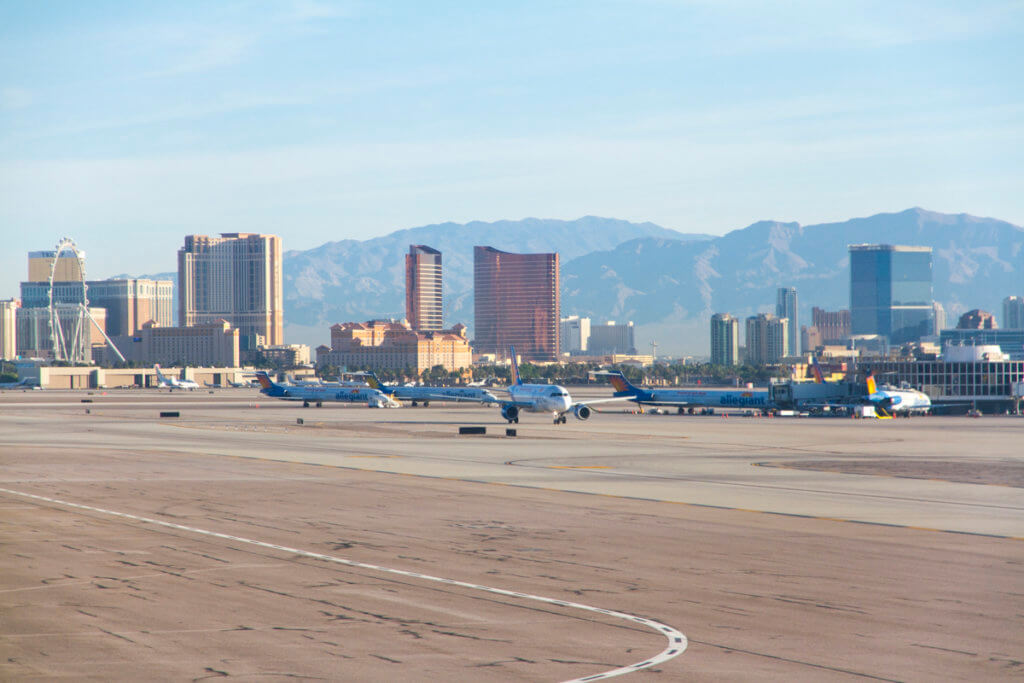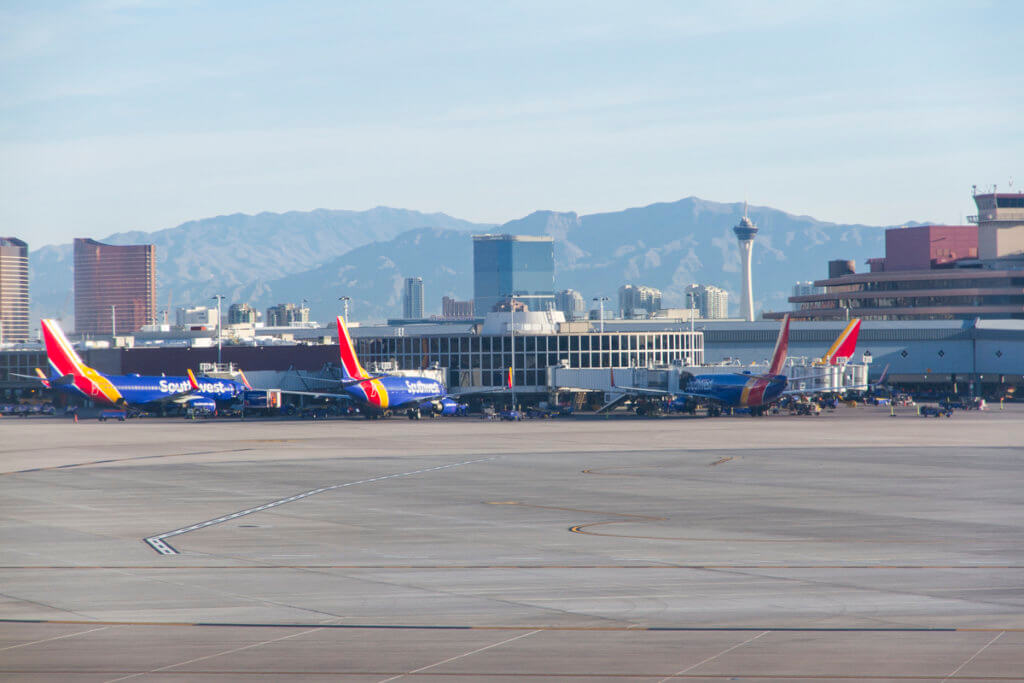 Of course, once at the gate, we then needed to make our way to the baggage claim via the tram.  That usually takes about 15 to 20 minutes, including a bathroom stop.  And, being Hawaiian, you'll need to wait for your bag still.
Service
Despite the gripes I have with Hawaiian's service procedures on this flight, our crew was generally good.  In fact, the flight attendant working our aisle was very friendly and funny!  The purser, though, seemed a bit absent-minded.  She kept repeating her announcements right after she made them, and made her announcements on approach at really odd times.  Some announcements were made so late that she might as well have not made them at all.  But overall, this crew was one of the better ones I've had on Hawaiian.
In-Flight Offer
During our flight, the crew made the standard credit card pitch.  However, the current in-flight offer is the highest I've ever seen.  For in-flight applications beginning 4/1/18 through 6/30/2018, the sign-up bonus has been increased to 60,000 HawaiianMiles.  The current standard offer is a 35,000 miles bonus, while Bank of Hawaii has a 40,000 miles bonus on its site right now.  And, last year, the in-flight offer was 50,000 HawaiianMiles.  So this new offer is the highest Hawaiian has ever made.  Still, the Hawaiian Airlines World Elite Mastercard is an awful card, which provides little value.  You're much better off getting an Alaska Airlines Visa Signature or a Delta SkyPass Platinum (or higher) American Express.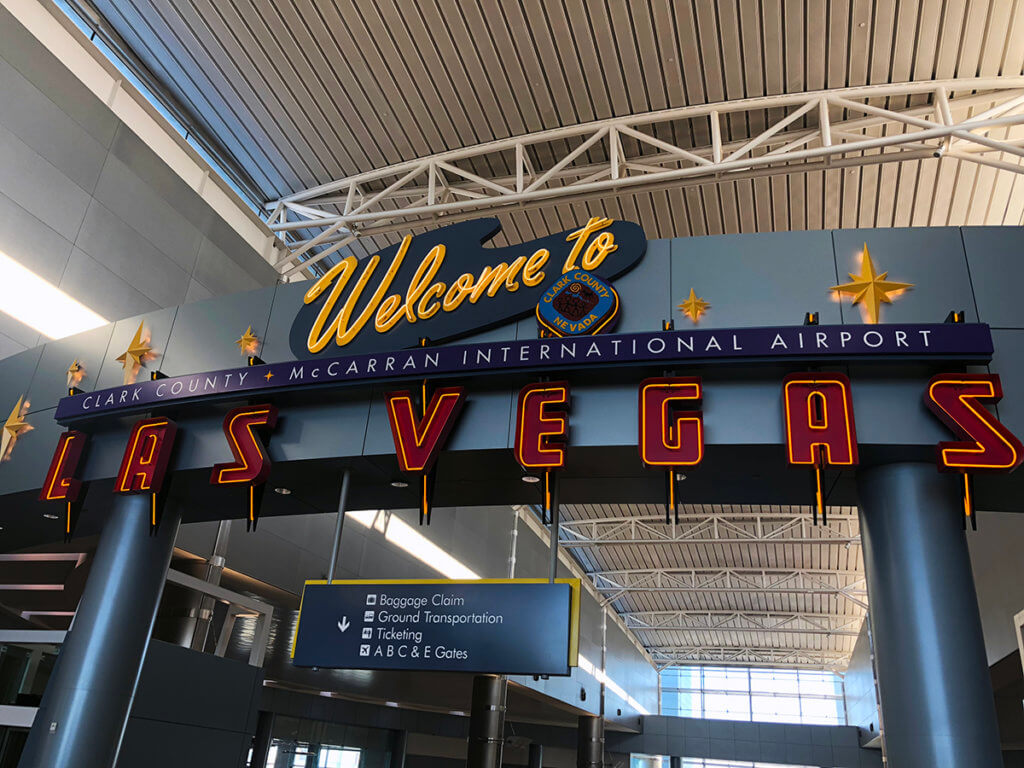 Hawaiian Air HNL-LAS Red-Eye, Final Thoughts
Those of you that regularly read my blog know that I'm not a fan of Hawaiian.  After all, their complimentary meal is now a joke, and as I've learned on this flight, their new seats are awful.  In addition to this, I have more delayed flights with Hawaiian than anyone else (despite their overall good record) and they take far longer to get your checked bag to you than others.  That being said, I'll likely continue to fly them when scheduling or flight times dictate, but I'd recommend not flying with them on red-eye flights.  It was brutal getting so little sleep onboard, and the way Hawaiian handles service on these flights really doesn't help.
Las Vegas 2018
Hawaiian Air HNL-LAS Red-Eye