Today, Hawaiian Airlines operates primarily out of what's known as Terminal 1 at the Daniel K. Inouye International Airport.  But that's changing on Wednesday (12/19) when Hawaiian Airlines shuffles check-in lobbies at HNL.
How Things Work Today
Today, all passengers head over to Terminal 1 to check-in for their flight.  This is the way things have been for quite some time, as Hawaiian has always operated out of this terminal.  And, when Aloha Airlines went out of business, Hawaiian took over the terminal in its entirety.  So it makes sense to have operations consolidated in Terminal 1.
But, as Hawaiian continued to grow, it outgrew the terminal.  In fact, today, many of Hawaiian's flights to the U.S. Mainland and international destinations operate out of Terminal 2.  And while this may not seem like a big deal, it kind of is.  That's because the walk from Terminal 1 to Terminal 2 takes about 10 minutes.  But that's under optimal conditions.  You see, when you cross from Terminal 1 to Terminal 2, you have to go through a USDA Agriculture Inspection check-point.  That means standing in line and screening your bags again.  And that can easily add another five to ten minutes to your walk time.
How Things Will Work Going Forward
The headache of having to go from Terminal 1 to Terminal 2 is going to change soon, though.  That's because, according to the Pacific Business News, beginning tomorrow, passengers on flights to Tokyo, Osaka, and Sapporo will check-in at Lobby 4 in Terminal 2.  Passengers on flights to all other Hawaiian Airlines international destinations, which include Australia, New Zealand, South Korea, Tahiti, and American Samoa, will make the changeover on January 9.  And, on that same day, inter-island passengers will begin using Lobby 3 in Terminal 1 to check-in.  Confusing, huh?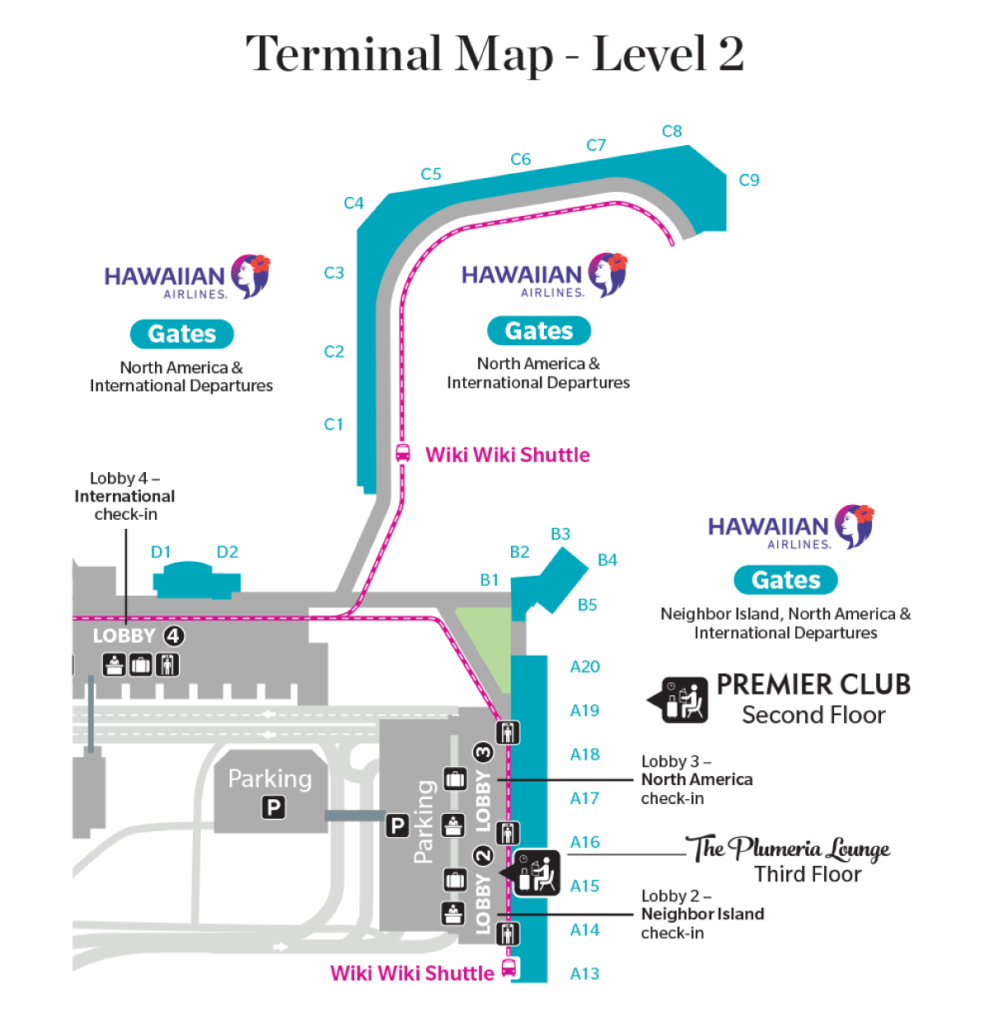 The moves, though, are going to help with congestion in Terminal 1, especially during peak hours.  Plus, passengers checking-in for flight in Terminal 2 will be able to clear Agriculture prior to dropping off their bags and won't have to do it on the way to the gate as is the case today.
Caveat
If you haven't already noticed, there's a pretty big caveat to all this, especially if you're flying Hawaiian's international Business Class.  You see, the lounge for those passengers, The Plumeria Lounge, is in Terminal 1.  That means passengers that want to use the lounge will check-in in Terminal 2, clear security, and then walk over to Terminal 1.  Then, when they head to their flight, they'll need to walk back over to Terminal 2 and, you guessed it, pass through the Agriculture checkpoint.  Not exactly the best experience for Hawaiian's premium passengers, in my opinion.
Hawaiian Airlines Shuffles Check-In Lobbies at HNL, Final Thoughts
In concept, this shuffling of check-in lobbies is a good idea.  Terminal 1 turns into a complete circus during peak hours and something needed to be done.  Plus, this setup will reduce headaches for those traveling internationally, provided they won't be accessing Hawaiian's Plumeria Lounge.  Heck, even Hawaiian's regular lounge can only be found in Terminal 1.  So, again, not a great setup as far as Hawaiian's premium customers are concerned.  Oh, and you see Gate C4 on the above map?  That's ANA's A380 gate.
But, perhaps this is all temporary.  After all, Hawaiian is getting a shiny new terminal in a few years.  That is, as long as there aren't any more delays.  The HNL Modernization Project has been mired in issues and delays, after all.