Last updated on October 25th, 2012 at 07:24 am
Hilton Hotel Sale through October 17th, 2012 for UK, Europe, Middle East and Africa
Hilton Honors members can take advantage of a current 3 day sale promotion for rooms as cheap as $87 a night. It appears that the deal is only valid on weekends through the end of the year, with many hotels available in the UK, Europe, the Middle East and Africa.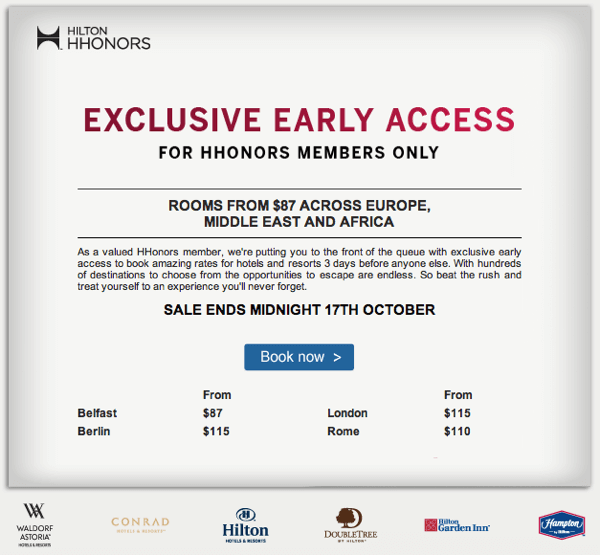 Take advantage of this promotion at the Hilton Honors Website
Is this a good deal?
It appears to be an excellent deal. Without looking up expected rates for individual hotels listed, a room in Europe for $100-$150 a night is definitely on the more reasonable side of what I have come to expect. For the two Hilton's that I have stayed in recently in Europe (Munich City and Prague Old Town), rates are about 50% of what I had paid to travel during a similar time period.
With travel needing to be booked ASAP and the stay needing to happen before the end of the year, this makes an ideal scenario for anyone looking to do a "mattress" run to secure their Gold or Platinum Hhonors status for 2013.
For those looking to make a last minute mileage and mattress run from the United States to secure their status, you may find good luck taking advantage of the KLM Fair sale to Africa from the US. With flight and hotel, you can rack up over 20,000 elite qualifying miles + at least 2 nights/stays with Hilton.
Had I not just been to Europe and Africa, I would consider taking advantage of this deal.
Here is a complete list of hotels included in the sale by country. There are over 300 to choose from!
ENGLAND
Courthouse Doubletree by Hilton London Regent Street
Doubletree by Hilton London – Marble Arch – Accepting reservations from 1 November 2012 onwards
Doubletree by Hilton London – Victoria
Doubletree by Hilton London Heathrow Airport
DoubleTree by Hilton London – Tower of London
DoubleTree by Hilton London – Westminster
Hampton by Hilton London Croydon
Hilton Croydon
Hilton London Canary Wharf
Hilton London Docklands Riverside
Hilton London Euston
Hilton London Gatwick Airport
Hilton London Green Park
Hilton London Heathrow Airport
Hilton London Heathrow Airport Terminal 5
Hilton London Hyde Park
Hilton London Islington
Hilton London Kensington
Hilton London Metropole
Hilton London Olympia
Hilton London Paddington
Hilton London Stansted Airport
Hilton London Tower Bridge
Hilton London Wembley
London Ealing Hotel
London Hilton on Park Lane
London Hyde Park Hotel
London Syon Park, A Waldorf Astoria Hotel
The Bentley London, A Hilton Hotel
The Trafalgar
The Waldorf Hilton
Doubletree by Hilton Bristol South – Cadbury House
Doubletree by Hilton Milton Keynes
Hampton by Hilton Braintree
Hampton by Hilton Newport/East
Hilton Avisford Park, Arundel
Hilton Basingstoke
Hilton Bracknell
Hilton Brighton Metropole
Hilton Bristol
Hilton Cardiff
Hilton Cobham
Hilton Dartford Bridge
Hilton Garden Inn Bristol City Centre
Hilton Garden Inn Luton North
Hilton Maidstone
Hilton Milton Keynes
Hilton Newbury Centre
Hilton Newbury North
Hilton Newport
Hilton Portsmouth
Hilton Reading
Hilton Southampton
Hilton St. Anne's Manor, Bracknell
Hilton Swindon
Hilton Watford
Doubletree by Hilton Chester
Doubletree by Hilton Leeds
Doubletree by Hilton Lincoln
Doubletree by Hilton Manchester
Doubletree by Hilton Newcastle Airport
Doubletree by Hilton Sheffield Park
Hampton by Hilton Birmingham / Star City
Hampton by Hilton Birmingham Broad Street
Hampton by Hilton Corby / Kettering
Hampton by Hilton Derby City Centre
Hampton by Hilton Liverpool / City Centre
Hampton by Hilton Liverpool / John Lennon Airport
Hampton by Hilton Shrewsbury
Hampton by Hilton St. George's Park Burton Upon Trent
Hampton by Hilton York
Hilton Birmingham Bromsgrove
Hilton Birmingham Metropole
Hilton Blackpool
Hilton Bradford
Hilton Coventry
Hilton East Midlands Airport
Hilton Garden Inn Birmingham Brindely Place
Hilton Leeds City
Hilton Leicester
Hilton Liverpool
Hilton Manchester Airport
Hilton Manchester Deansgate
Hilton Newcastle Gateshead
Hilton Northampton
Hilton Nottingham
Hilton Puckrup Hall, Tewkesbury
Hilton Sheffield
Hilton St George's Park Burton Upon Trent
Hilton Warwick / Stratford-upon-Avon
SCOTLAND
Doubletree by Hilton Aberdeen City Centre
Doubletree by Hilton Dunblane Hydro – Dinner, Bed & Breakfast Only
Hilton Aberdeen Treetops
Hilton Coylumbridge, Aviemore – Dinner, Bed & Breakfast Only
Hilton Dundee / St Andrews Coast
Hilton Dunkeld House Hotel & Country Club – Dinner, Bed & Breakfast Midweek Only
Hilton Edinburgh Airport
Hilton Edinburgh Grosvenor
Hilton Garden Inn Aberdeen City Centre
Hilton Garden Inn Glasgow City Centre
Hilton Glasgow
Hilton Glasgow Grosvenor
Hilton Strathclyde
The Caledonian, A Waldorf Astoria Hotel
IRELAND
Conrad Dublin
Hilton Belfast
Hilton Dublin
Hilton Dublin Airport
Hilton Dublin Kilmainham
Hilton Templepatrick Hotel & Country Club
AUSTRIA
Hilton Innsbruck
Hilton Vienna
Hilton Vienna Danube
Hilton Vienna Plaza
BELGIUM
Conrad Brussels
Hilton Antwerp
Hilton Brussels City
FRANCE
Hilton Evian-les-Bains
Hilton Lyon
Hilton Paris Charles de Gaulle Airport
Hilton Paris La Défense
Hilton Paris Orly Airport
Hilton Strasbourg
Trianon Palace Versailles, A Waldorf Astoria Hotel
GERMANY
Hampton by Hilton Berlin City West
Hilton Berlin
Hilton Bonn
Hilton Bremen
Hilton Cologne
Hilton Dortmund
Hilton Dresden
Hilton Dusseldorf
Hilton Frankfurt
Hilton Frankfurt Airport
Hilton Garden Inn Frankfurt Airport
Hilton Garden Inn Stuttgart NeckarPark
Hilton Mainz
Hilton Mainz City
Hilton Munich City
Hilton Munich Park
Hilton Nuremberg
Waldorf Astoria Berlin – Accepting reservations from 1 February 2013 onwards
LUXEMBOURG
Doubletree by Hilton Luxembourg
NETHERLANDS
DoubleTree by Hilton Amsterdam Centraal Station
Hilton Amsterdam
Hilton Amsterdam Airport Schiphol
Hilton Garden Inn Leiden
Hilton Rotterdam
Hilton Royal Parc Soestduinen
Hilton The Hague
SWITZERLAND
Hilton Basel
Hilton Garden Inn Davos – Accepting reservations from 13 November 2012 onwards
Hilton Zurich Airport
AZERBAIJAN
Hilton Baku
BULGARIA
Doubletree by Hilton Varna – Golden Sands
Hilton Sofia
CROATIA
Doubletree by Hilton Zagreb – Accepting reservations from 1 January 2013 onwards
Hilton Imperial Dubrovnik
 CZECH REPUBLIC
Hilton Prague
Hilton Prague Old Town
 DENMARK
Hilton Copenhagen Airport
 FINLAND
Hilton Helsinki Kalastajatorppa
Hilton Helsinki Strand
Hilton Helsinki-Vantaa Airport
 HUNGARY
Hilton Budapest
Hilton Budapest WestEnd
ICELAND
Hilton Reykjavik Nordica
POLAND
Hampton by Hilton Swinoujscie, Poland
Hilton Garden Inn Krakow
Hilton Garden Inn Rzeszow
Hilton Gdansk
Hilton Warsaw Hotel & Convention Centre
ROMANIA
Athenee Palace Hilton Bucharest
Doubletree by Hilton Bucharest Uniiri Square
Doubletree by Hilton Oradea
Hampton by Hilton Cluj Napoca – Accepting reservations from 15 April 2013 onwards
Hilton Sibiu
RUSSIA
Doubletree by Hilton Novosibirsk
Hilton Garden Inn Perm
Hilton Moscow Leningradskaya
SLOVAKIA
Doubletree by Hilton Bratislava
SWEDEN
Hilton Malmo City
Hilton Stockholm Slussen
CYPRUS
Hilton Cyprus
Hilton Park Nicosia
GREECE
Doubletree by Hilton Resort Kos-Helona
Hilton Athens
ISRAEL
Hilton Eliat Queen of Sheba
ITALY
Doubletree by Hilton Acaya Golf Resort
Doubletree By Hilton Milan
Excelsior Hilton Palermo
Hilton Florence Metropole
Hilton Garden Inn Bari
Hilton Garden Inn Florence Novoli
Hilton Garden Inn Lecce
Hilton Garden Inn Matera
Hilton Garden Inn Rome Airport
Hilton Garden Inn Rome Claridge
Hilton Garden Inn Venice / Mestre San Giuliano
Hilton Giardini Naxos
Hilton Milan
Hilton Molino Stucky Venice
Hilton Rome Airport
Hilton Sorrento Palace
Rome Cavalieri, Waldorf Astoria Hotels & Resorts
MALTA
Hilton Malta
PORTUGAL
Conrad Algarve
Hilton Vilamoura As Cascatas Golf Resort & Spa
SPAIN
Hilton Barcelona
Hilton Buenavista Toledo
Hilton Diagonal Mar Barcelona
Hilton Madrid Airport
TURKEY
Adana HiltonSA
Ankara HiltonSA
Conrad Istanbul
Doubletree by Hilton Ankara – Kolej
Doubletree by Hilton Avanos – Cappadocia
Doubletree by Hilton Istanbul Moda
Hampton by Hilton Bursa
Hampton by Hilton Ordu
Hilton Garden Inn Mardin
Hilton Bursa
Hilton Garden Inn Istanbul Golden Horn
Hilton Garden Inn Konya
Hilton Garden Inn Kutahya
Hilton Garden Inn Sanliurfa
Hilton Istanbul
Hilton Izmir
Hilton ParkSA Istanbul
Mersin HiltonSA
ALGERIA
Hilton Alger
CAMEROON
Hilton Yaounde
EGYPT
Conrad Cairo
Hilton Alexandria Green Plaza
Hilton Cairo World Trade Center Residence
Hilton Dahab Resort
Hilton Hurghada Long Beach Resort – ALL INCLUSIVE
Hilton Hurghada Plaza Resort – ALL INCLUSIVE
Hilton Hurghada Resort
Hilton Luxor Resort & Spa
Hilton Marsa Alam Nubian village – ALL INCLUSIVE
Hilton Nuweiba Resort – ALL INCLUSIVE
Hilton Pyramids Golf Resort
Hilton Sharm Dreams Resort
Hilton Sharm El Sheikh Fayrouz Resort
Hilton Sharm Sharks Bay Resort – ALL INCLUSIVE
Hilton Sharm Waterfalls Resort
Hilton Taba Resort & Nelson Village
Hilton Zamalek Residence Cairo
Ramses Hilton
EQUATORIAL GUINEA
Hilton Malabo
ETHIOPIA
Hilton Addis Ababa
JORDAN
Doubletree by Hilton Aqaba, Jordan
KENYA
Hilton Nairobi
KUWAIT
Hilton Kuwait Resort
LEBANON
Hilton Beirut Habtoor Grand
Hilton Beirut Metropolitan Palace
MAURITIUS
Hilton Mauritius Resort & Spa
NAMIBIA
Hilton Windhoek, Namibia
NIGERIA
Transcorp Hilton Abuja
OMAN
Hilton Salalah Resort
QATAR
Hilton Doha
SAUDI ARABIA
Hilton Garden Inn Riyadh Olaya
Jeddah Hilton
Madinah Hilton
Makkah Hilton
Makkah Hilton Towers
Qasr Al Sharq, Waldorf Astoria Collection
SEYCHELLES
Hilton Seychelles Labriz Resort & Spa
Hilton Seychelles Northolme Resort & Spa
SOUTH AFRICA
Conrad Pezula – Due to open November 2012
Hilton Cape Town City Center
Hilton Durban
Hilton Sandton
TANZANIA
Doubletree by Hilton Dar es Salaam – Oyster Bay
UNITED ARAB EMIRATES
Doubletree by Hilton Ras Al Khaimah
Hilton Abu Dhabi
Hilton Al Ain
Hilton Baynunah
Hilton Dubai Creek
Hilton Dubai Jumeirah Residences
Hilton Dubai Jumeirah Resort
Hilton Fujairah Resort
Hilton Ras Al Khaimah
Hilton Ras Al Khaimah Resort & Spa
ZANZIBAR
Doubletree by Hilton Resort Zanzibar – Nungwi