If you are a frequent accumulator of Delta Skymiles or a frequent visitor to the Delta website, you may have noticed that in the most current version of Delta's website they give you a handy little graph of how you are earning your miles. As a Delta Platinum Medallion member, I am often on the Delta.com site looking over my upcoming flights and occasionally peeking at my balance.
Authors Note: While I often complain about Delta's "IT Issues" when it comes to award bookings, I commend them for their fantastic website, iPhone and now iPad apps. They have done a great job with front end web development. Some of their back end ticketing systems, especially for pricing award flights is where I do most of my complaining. 
What I like about the Delta website is that rather than simply seeing your mileage balance total, you see a classification of how you earned your miles in the past 9 months through Delta. Here is what my balance looks like: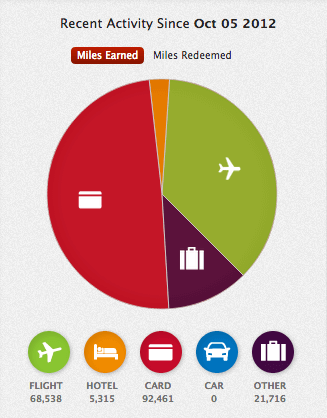 As you can see, actually flying on the airline is not the most common way that I earn miles on Delta and has not been for years. My number one way of earning Skymiles is actually through credit card spend using credit cards that earn Delta Skymiles. After that is miles flown "butt in seat" (with a 100% mileage bonus because I am a Platinum Medallion member). After that is the mysterious "other" earning and Hotel bonuses.
When I look at my balance of Delta Skymiles earned over the last 9 months, I consider it to be a very "healthy" way to earn miles. I'm not relying too much on a single gimmick and I'm not earning too many Delta Skymiles that I will never be able to use. That is important, because we never know what Delta's miles will be worth next year.
What constitutes the different areas of the graph? Here is an explanation of how I earned Delta Skymiles in the past 9 months:
Earn Delta Skymiles Through Credit Card Spend
I have two Delta Skymiles earning credit cards issued by American Express – the Delta Reserve Card and the Delta Platinum American Express card. Both are business cards that earn Medallion Qualifying Miles when I meet spend thresholds throughout the year.
The Reserve card is one that I use nearly every day for work and as a result I earn around 10k miles a month on these expenses. The main reason why I do this is to meet my MQM credit card spend threshold of $30k and $60k in credit charges in a year. Reaching those levels earns me 30,000 Delta MQMs and is one of the main methods I use to make Platinum each year.
To be honest, the 90k+ Skymiles I earned from the credit card is really just a secondary bonus at this point (not that I'm complaining).
Since I started putting heavy spend on the Delta Reserve card, I have been spending less on the Delta Platinum card, to the point that it's barely earning miles and likely won't be worth paying the annual fee when it renews next month.
The best part about all of this credit card spend? I will have almost no trouble qualifying for Delta Platinum Medallion status, even when Delta switches to being a revenue based program in 2014. That's why I was not all too worried when that announcement was made in January.
Earn Delta Skymiles by Flying on Delta and Partner Airlines
While Flying in an airplane is usually what we associate with earning frequent flyer miles (they are called miles after all), it's only the second most common way for me to earn Skymiles over the past 9 months. I also have a little secret. The ~68k miles earned by flying is from only ~34k miles flown. The rest comes from a 100% bonus on miles flown that Delta provides their Platinum members when flying.
On a given year, I probably earn 100k miles from flying on Delta airlines. This is enough for redeeming 4 low level domestic coach tickets throughout the US, or a single business class ticket to Europe at a low award level. Combined with Credit card spend and I earn enough Skymiles each year to take a business class trip to just about anywhere Delta and partner airlines fly in the world. If I were to have a Delta miles earning goal each year, that would probably be it: earn enough miles for an International Business Class ticket to anywhere.
I have another confession to make: We are only half way through the year and I am already close to re-qualifying for Delta Platinum status while only earning around 30k MQMs through flying. The rest have come through credit card spend and rollover miles. My MQM strategy for Delta is to make Platinum easily and then roll over as many miles as I can for the next year, without hitting the 125k Skymiles needed to become a Diamond Medallion member.
Earn Delta Skymiles from "Other" means
This bucket was a little confusing for me, but it turns out that I earned Skymiles for 3 different activities this year that make up this bucket of 21,716k miles:
When I made Platinum Medallion, I chose 20,000 Skymiles as my elite qualifying gift and gave them to myself (the other options are either a complete farce or things I don't need like lounge access – which I get from the Delta Reserve card).
I made 216 miles for using the Delta Skymiles Shopping mile to complete a purchase at Macy's.
I earned 1,500 Skymiles by being stuck in the middle seat on flights. Delta automatically gives certain Medallion members a 500 mile bonus when you are stuck in the middle seat for a flight and I have been unfortunate enough to have this happen a few times recently. At least I've gotten about $5-10 worth of travel out of it!
Earn Delta Skymiles Through Hotel Alliances
Delta has ongoing partnerships with two major hotel brands that allow you to earn miles on stays. All of my miles were earned by double-dipping points and playing promotions with Hilton Hotels. Some stays I earn a flat 500 points for double dipping while some promotions have netted me over 2,000 points. Not a bad way to earn miles, since I didn't have to go out of my way to earn them.
The other way I would earn hotel points is through Delta/SPG Crossover Rewards. For whatever reason, I have not stayed in a Starwood hotel since this promotion went live, so I have no bonus miles in my account. That should hopefully be changing shortly!
Earn Delta Skymiles Through Car Rentals
I have not earned any Skymiles from car rental programs and I don't anticipate I will ever earn points through these promotions. I choose cars based on cheapest price and that usually means that there are low margins to the car company. Too low to give me an extra bonus.
How Do you Earn Delta Skymiles?
If you have a cool method or interesting story about how you earn Delta Skymiles I would love to hear it. Either in the comments or on your own blog if you have one. Heck, we may even be able to do a guest post here!
That goes for other programs as well. While I don't think most programs provide such a nice graph, it would be interesting to see how others earn their miles.
P.S. If you want to read more about earning miles, the guys at Do it for the Points are starting a post series about how they earn points and miles that is worth reading.