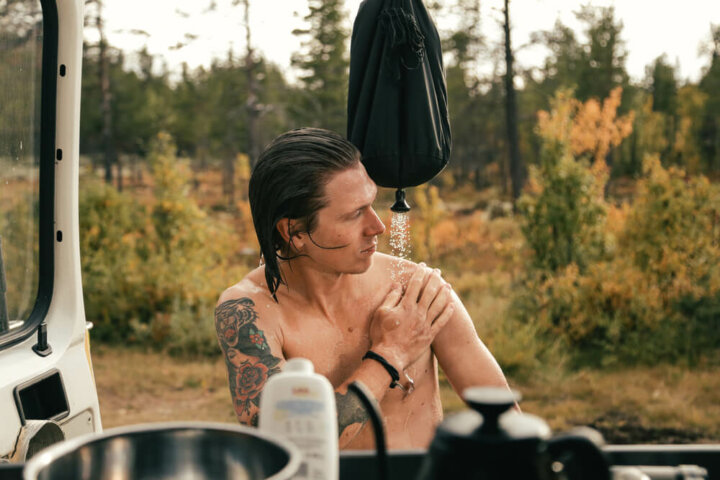 All of our reviews are based on exhaustive research, industry experience and whenever possible, hands-on testing. When you make a purchase using one of our chosen links we'll get a small percentage of the proceeds. This supports the site and keeps Jeffsetter running. You can read more here.
Hot water is a luxury that most people don't want to leave behind, even if they are camping in an RV. Whether you are boondocking or staying at a campground with full hookups, you don't have to give up hot showers.
Your water heater will be able to heat up water for that everyday luxury. Hot water heaters can run on propane, but a lot of appliances in your RV probably use propane as well. So, how much of that propane will be used by your hot water heater?
You can calculate how much propane your RV water heater uses with a few simple equations, but the best way is to test it out with a backup propane tank so that you don't run out. The exact number will depend on your water usage, the size of the tank, and the heater's BTU rating.
The exact formulas for usage are explained below. We also dive into how much propane your RV tank has, how propane tanks are measured, and a concrete idea of just how long you can take a hot shower when using your RVs hot water heater.
How Much Propane Does an RV Water Heater Use?
The exact amount of propane that your RV hot water heater will use is going depend on a few different factors. The size of the tank, the heater's BTU rating, and your hot water usage will factor into how much propane your water heater uses.
If you take really long and really hot showers, or if you use hot water for cooking often and even the temperature you set your heater at makes a difference in the amount of propane you will go through.
That's kind of a non-answer though, isn't it? So, how can you figure out an answer for your RV and your hot water usage?
The answer comes with a bit of math, you can figure it out.
A camper with a 6-gallon RV water heater rated at 10,000 BTUs should go through about 20 pounds of propane in 42 hours of continuous use. So, if you have that exact water heater, then you have your answer, but if you don't this is how you figure it out.
The basic formula you'll need is twofold. First, take the number of propane gallons in your tank, and multiply it by 91,502. The answer to that equation will give you the tank BTUs. Then you will divide that number (the tank BTUs) by the total appliance BTU usage. This will give you the hours you have before running out of propane.
# of gallons in propane tank X 91,502 = Tank BTUs
Tank BTUs / total appliance BTU usage = # of hours left in the tank before running out of propane
However, math is always a bit difficult to understand when it's written out like that, so let me give you an example.
Let's say you have a full 30 lb. propane tank. That means you have 7 gallons of propane. Your water heater uses 8000 BTUs.
7 X 91,502 = 640,514
640,514/8000 = 80.06
In this example, it means that you can use your water heater for 80.06 continuous hours before you run out of fuel. Keep in mind, that this is continuous usage and your RVs water heater won't run continuously. It only needs to run while you are using hot water.
How Much Propane Does Your RV Water Heater Use per Day?
To figure this out for your exact situation, you need to evaluate how much hot water you use on a daily basis. If you travel with your family and you all take long, extra hot showers, you probably use your water heater a lot more than someone traveling on their own who likes cold showers. Generally, the amount will probably shift from day to day, but I'll show you how to figure it out based on an average of an hour per day.
You'll want to take the number of gallons in your propane tank, and divide that by the number of days it would take to burn through your tank to get the daily usage.
In our example above, we found that your water heater can run for 80.06 hours before running out. If you're using your tank for an hour per day, that gives you 80 days of use before you burn through your tank.
7 (# of gallons in tank) / 80 = .08 gallons
Based on our previous example, if you use your water heater for one hour per day, you will go through .08 gallons of propane per day.
Keep in mind though, these are estimates and the only way to know for sure how long your propane tank will last is to test it out. The best way to do that is to have a second propane tank on hand. That way, you can use up one tank and see how long that takes without worrying about running out of propane. Once the first one runs out, you can replace it with the second one.
How Big of a Propane Tank Does My RV Have?
This is going to be specific to your RV and that information will be in your manual, so double-check that for an exact number. That being said, Class C RVs will have tanks that range in size from 20 to 40 gallons, Fifth Wheel RVs will range between 40 and 60-gallon tanks, and Class A RVs will often have a propane tank between 80 and 100 gallons. A Class B RV or travel trailer will usually have smaller tanks, only around 20 gallons.
The kind of tank your RV has will depend on the type of RV you have, some will have a smaller capacity than others. Some might only be able to hold 7 pounds of propane while others can hold 100 pounds. One isn't necessarily better than the other, what matters is what kind of RVer you are.
There are two types of propane tanks or cylinders available: ASME and DOT cylinders. ASME stands for the American Society of Mechanical Engineers and DOT stands for the Department of Transportation. Both have standards to approve these cylinders for RVs.
ASME cylinders are mounted on the RV and are not removable. DOT cylinders are usually smaller than the ASME ones, and can be mounted on the tongue or bumper of the trailer or the exterior compartments. Even though they are smaller, they usually have a higher capacity than their counterparts.
If you like to boondock, then you would probably need a larger capacity propane tank and you won't need as large of a tank if you tend to visit campgrounds and hook up to their amenities while traveling.
Does the Hot Water Heater Use a Lot of Propane?
Not really.
Hot water heaters don't use much propane to keep the water hot in your RV. Since they are running continuously, they only actually use propane when they need to kick on and heat up the water. If you are really concerned about the amount of propane you are using, there might be an option to switch your hot water heater to electric mode. That way you just need to be hooked up to the campground's power and use that to heat your water.
If you are in the market for a new water heater, we've put together an article about the best ones on the market and you can read that here.
How Are Propane Tanks Measured?
You might have noticed above that we talked about propane tanks both in terms of gallons and pounds. That can seem a bit confusing at first glance, so let's dive into how they measure propane tanks.
Typically, RV propane tanks are going to have both the gallon capacity and the tank weight listed. Usually, the number of gallons in a tank is about a quarter of the number of pounds. If you take our example of a 30-pound tank having 7 gallons of propane, you can see that the quarter rule isn't 100% accurate, but it's not too far off.
If you are looking for a new propane tank, you really need to pay attention to the gallon number more than the weight. The higher the number of gallons in the tank, then the less often you will have to fill it up.
Should You Leave the Hot Water Heater on All of the Time?
You don't need to leave your hot water heater on all of the time, but you also don't have to turn it off directly. If you are not using your RV, you can cut the power and turn the batteries and inverter off. This will turn off everything, including the water heater. It'll just turn back on when you flip the switch and turn the batteries and inverter back on.
If you choose to leave your water heater on all of the time, it won't damage the appliance. Most water heaters will have at least a 10-year lifespan and shouldn't be affected by how often it is turned on and off. The exception to this is that you should not turn it on without water in the tank, which will cause damage to your water heater.
As with everything in life, proper maintenance will extend its life and make it last at least a full lifespan without needing to be replaced prematurely. Proper maintenance on an RV water heater includes cleaning out the water at least twice a year. Debris can form inside the tank and if you don't clean it out then the heating element can get damaged.
There is also an anode rod inside your water heater. The purpose of the rod is to prevent the heater from eroding. It's not a bad idea to replace these once a year to maintain your water heater.
If it is more convenient for you, then feel free to leave your water heater on all of the time. It won't do any damage to the heater and can make life easier if you are traveling in your RV a lot. It can add to your cost as well as make your environmental impact higher.
Below is a video that shows you how to start and use an RV water heater. This video can come in handy if you are just getting started or if you turn your RV water heater on and off.
How Long Does It Take To Heat Up?
So, you're ready for a shower after a long day of camping or driving. How long are you going to have to wait for your water to heat up?
That depends (surprise, surprise). Generally speaking, a 6-gallon water heater will heat up in around 20 minutes and a 10-gallon water heater takes about 35 minutes to heat up. Most RV water tanks will have a capacity ranging from 6 to 10 gallons, so you can expect it to take about half an hour to heat up.
The factors in how long it takes for your water to heat up included the size of the water tank, the outside temperature, and the temperature of the incoming water. The type of heat will also play a role in this, but as we are talking exclusively about propane, we are going with the assumption that you are using a propane tank to heat your water.
The smaller the RV, the quicker the tank will heat up.
How Long Can I Shower For?
The true question here is, how hot do you want your shower?
If you want to take a hot shower, then the water might only last for 8 minutes. Warm showers can give you about 12 minutes and if you are hooked up to a campground water supply a cold shower can be on forever.
The amount of water you have in your freshwater tank, the amount of hot water in your hot water tank, and how you dispose of the used water will all factor into constraining your time in the shower. Usually, your RV will get water from one or two sources that bring water from the freshwater tank or from the campground.
If you are boondocking your water supply will be more limited than if you are at a campground.
Efficiency is the name of the game when boondocking. You might want to use the water to get your hair and body wet, then turn it off. Shampoo, lather, and wash your body with the water off. Turn it back on to rinse your body and hair. This isn't exactly a leisurely shower, but it gets the job done and saves a lot of water.
If you are hooked up and using the water from your water heater, you can get about 10 minutes of hot water for your shower. The catch here is that cold water will flow into your tank while you are using it, so the colder the water, the quicker you will run out of hot water. You might also want to look into showerheads that are designed to save water, which might get you some more time.
If you are fully hooked up at a campground then you have access to an unlimited amount of water, but that water will be cold unless you use the water heater. This will give you the ability to take a more leisurely shower because you don't have to worry about running out of water.
Conclusion
The amount of propane that your RVs hot water heater will use depends on multiple factors but is relatively easy to figure out with a couple of quick equations. The amount will depend on how much hot water you use, the heater's BTU rating, and the size of the tank. Plus you can leave your tank on all of the time without causing any harm to the tank while adding convenience to your travels.