Last updated on March 27th, 2023 at 07:43 am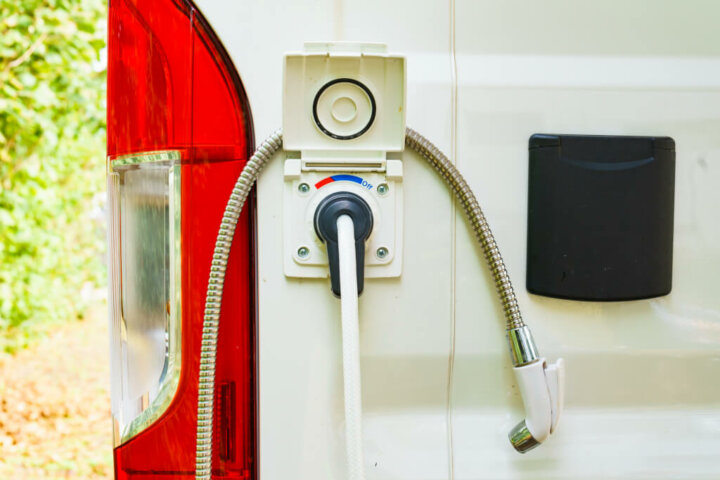 All of our reviews are based on exhaustive research, industry experience and whenever possible, hands-on testing. When you make a purchase using one of our chosen links we'll get a small percentage of the proceeds. This supports the site and keeps Jeffsetter running. You can read more here.
The freshwater, grey, and black tanks are usually the ones that come to mind when we think of RV holding tanks. However, there is a fourth holding tank separate from those, and that is the water heater.
Sometimes, it's assumed that the water heater is simply a device that heats up the water in the freshwater tank. In most cases though, your hot water supply is heated in a separate tank.
Being aware of this is super important in being able to make this distinction when necessary. One of those times will be when you need to fill the hot water tank.
So, how do you fill an RV's hot water tank?
On the same panels where you divert water to your various tanks, there should be a bypass switch for the water heater tank. Using this switch, you can send water to your water heater from a campsite's hookup or even your fresh water tank using the water pump.
Aside from knowing how to fill it up though, It's important to know how your rig's hot water heater works, and how to properly maintain it, and that's what we'll be looking at here!
How Does The Hot Water Heater Works?
Some rigs use an on-demand water heating mechanism rather than a hot water heater tank. This is a system where when you open a hot water faucet or set the water in the shower to the hotter settings, it triggers an apparatus in your pipes that heats the water as it flows through.
Most rigs, however, do not use this system. Instead, they come equipped with a separate tank that heats and later supplies this heated water to the areas of your rig that needs it.
This tank is quite large, usually holding anywhere from 5-10 gallons of water. These tanks can either be powered by electricity or propane. Some require a manual trigger to be temporarily powered on, while others use sensors to know when to administer power and when not to.
In tanks powered by electricity, there are usually sensors within that monitor the temperature of the water. If the water becomes too cold, it will automatically begin the heating process and maintain that ideal temperature which ensures you receive near-instant warm water when using that specific faucet or setting.
In propane hot water heaters, this mechanism is a little different. Rather than being automatically in tune with the water's temperature, it will typically require a manual trigger. Once turned on, the propane hot water heater uses its gas supply to light a pilot flame that then heats the water.
If you have a hot water heater that does not have an automatic heating function, it is important to pre-heat the water before using it. A good 10-20 minutes before washing the dishes or a good 30-40 minutes before a long shower is all you need.
Now that you know how a hot water heater tank works, and the different modes and settings they can have, let's explore how to fill one up.
How To Fill An RV Hot Water Heater?
It's always a good idea to check if you need to fill up your hot water heater before any long trips. Luckily, doing so is fairly easy.
The first thing you'll want to do is check the manual for the specific water heater tank in your rig if it's available. This is because most manuals will have a recommended level to fill it up to, not because filling it up all the way is bad, but simply to promote water use efficiency.
There are two ways you can fill up your water heater, either by using the water provided by your rig's campsite or city hookups, or by using the fresh water tank's supply.
Your rig has a bypass valve on the panel that allows you to empty your waste tanks. This valve is responsible for diverting water flow to different areas of your rig. Using this valve, you can set it so that water is sent directly to the water heater tank.
Alternatively, you can set it so that you fill up your fresh water tank instead. Once your fresh water tank is full, using the water pump you can send water from there into your hot water heater.
The option you choose would depend on the circumstance. If you need to fill up your fresh water tank, you can effectively kill two birds with one stone by using the water pump. If you wish to quickly fill up the hot water heater though, then sending water directly into it is the better option.
It is super important, however, that if you have a propane-powered hot water heater, before turning it on you make sure it's full and not empty or nearly empty. This is because the pilot flame that is ignited by the propane will begin to burn the interior surface of the tank rather than the water.
How to Make Sure Your RV Hot Water Heater Tank is Full?
Luckily, checking if your hot water heater tank is full or not is very simple. All you have to do is either turn on your water pump or connect your rig to mainline water provided by a campsite's hookups.
Once you've done this and can access water, turn on the hot water faucet or set your shower to warm water and see if the stream that comes out is both continuous, and hot. If the water sputters, has very low pressure, or dribbles out, the tank definitely isn't full. If the water isn't hot or even warm, then the issue may be with your hot water heater itself.
This video also shows a quick way to check whether your hot water heater is full or not.
Being able to check if your hot water heater tank is full or not is an important part of keeping it running well. However, it is not the only thing you can do to help out your hot water heater.
Hot Water Heater Maintenance
There are a few things you can do and some precautions you can take to keep your hot water heater in working condition. Being able to both maintain and troubleshoot your hot water heater is a skill that is arguably essential.
Emptying The Hot Water Heater Tank When Not in Use
It's super important that you empty the hot water heater when your RV is not in use. Whether that is before placing it in storage or simply after a trip where the next one isn't planned yet, emptying the hot water heater is just as crucial.
It can be easy to overlook it and leave water in the tank for long periods of time. The RV's holding tanks and waste tanks are routinely emptied so draining them is easy to remember. However, making note of your hot water heater tank as well will pay dividends in the future.
This is because water sitting in the tank over time can lead to sulfur buildup, which is responsible for creating truly rancid smells in the tank. The last thing you need is both your hot water heater tank and the water coming from it to smell like rotten eggs. However, that's not even the worst of it.
Water left in the tank can damage the pipes and lead to persistent leakage. This leakage can then cause water damage to other areas of your rig. Once the pipes have been damaged, they will need either extensive repairs or replacement, and both are quite expensive.
Emptying the tank is a great and most importantly easy way to maintain your hot water heater when it's not in use.
Saving Propane
A great way to maintain your hot water heater is to be more economical with its propane supply. This of course has the added benefit of saving more power for your RV and allowing you to save money on propane.
A simple way of doing this is to use warm water rather than hot water. When using your faucets or shower, just set the water to a warm setting rather than the hottest possible setting.
Over time, this really makes a significant difference as your hot water heater doesn't have to use as much propane to heat the water. Considering that using hotter water over warmer water is typically not even practical, this is an easy change to make to your water usage habits.
Installing an Anode Rod
If your hot water heater doesn't already have one, then installing an anode rod is super important. Anode rods are steel wires comprised of magnesium, zinc, and aluminum and these materials serve to draw corrosion away from the hot water heater.
Instead of your water heater breaking down over time, your anode rod will and that will save you from lots of expensive repairs in the future.
After all, out of all the tanks in your RV the hot water heater is perhaps the one that has the most intense reactions taking place within it. Heat, water, gasses, and the tank itself, all of those factors come together to make rust, corrosion, and general damage a very real possibility.
The anode rod brilliantly counteracts this by releasing electrons into the water tank as it erodes. These electrons then prevent the tank walls themselves from breaking down.
Despite being designed to take the brunt of water erosion, anode rods typically last for a few years before needing replacement. With anode rods costing around $50, this makes them a near-perfect investment for your hot water heater.
Closing Thoughts
Each and every one of your RV's holding tanks serve a very important purpose. Your hot water heater may not seem as integral as your fresh water tank for instance, but it is arguably the most crucial for general comfort.
After all, who doesn't want hot water?
Being aware of how to fill up your hot water tank, when to drain it, and how to maintain it are all aspects of RV life that will make your travels that much more enjoyable.