Last updated on September 13th, 2021 at 10:30 am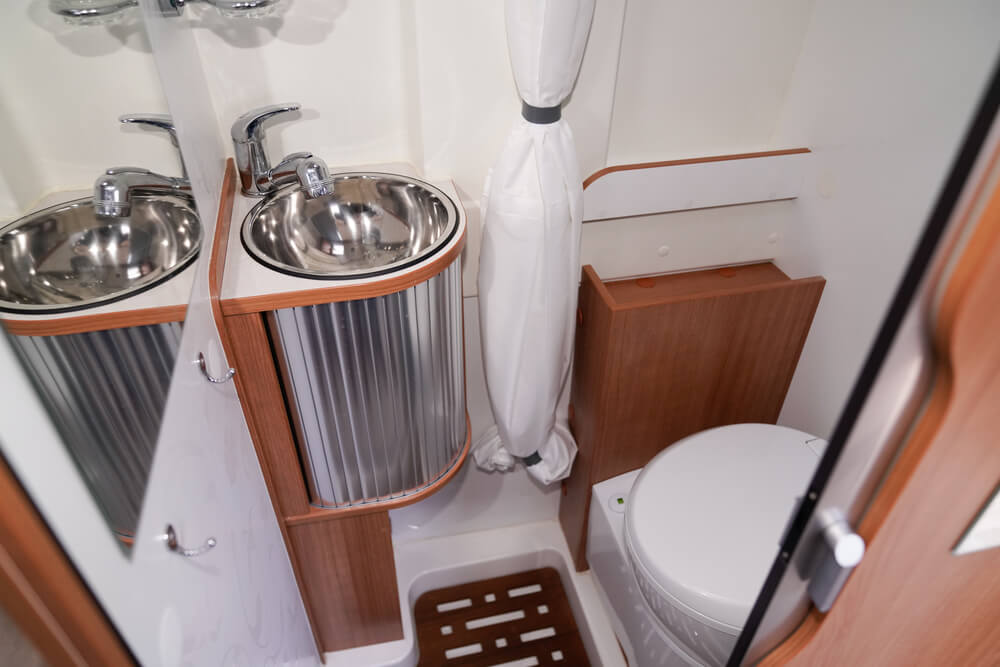 All of our reviews are based on exhaustive research, industry experience and whenever possible, hands-on testing. When you make a purchase using one of our chosen links we'll a small percentage of the proceeds. This supports the site and keeps Jeffsetter running. You can read more here.
If you want to enjoy the full-time RV lifestyle without breaking the bank then you might be looking for the smallest RVs you can find with an actual bathroom. Having a working bathroom with a shower and toilet is really what makes the difference from a weekend camper to something that you can actually see yourself living in full time- or at least for a few longer trips.
Even if you don't want to go the full-time route, traveling with a small rig has numerous perks. Condensed RVs are easier to tow, drive, and store. They give you the option to haul your own vehicle and are more fuel-efficient. Access to your own facilities frees you from restricting your travel when nature calls. You can avoid the dirty truck stop or campsite with these small RVs.
It also helps that smaller RVs are (almost) always going to be more cost-effective and budget-friendly.
Today, I've put together a comprehensive list of the smallest RVs with a shower and toilet.
But "small" means different things to different people and so does the word RV! After all, RV can describe a compact travel trailer or a huge Class A rig. And small might mean a teardrop trailer to one person and any Class B to another.
So before we get into the list let's set some definitions.
What (Exactly) Is A Small RV?
I've broken down this article into different classes and then found the smallest RVs within that class. But since just about everyone can agree that Class A RVs are anything but small you won't find them on this list.
I find that most RVer's are pretty committed to a certain class of rig and most folks aren't willing to go from a Class C to a say a teardrop trailer.
So if you already know what class you're looking for you can feel free to skip ahead!
Why Type of Bathroom Can You Expect to Find on A Small RV?
RV bathrooms may vary in square footage, toilet type, height, etc. However, the overall functionality can be broken down into type basic classifications: dry bath and wet bath. 
Dry Bath
A dry bath is more comparable to the bathrooms found in traditional homes. Dry baths have a shower stall completely separate from the toilet and the rest of the bathroom area. This is great if you prefer an RV that gives you the feel of a traditional home but dry baths can take up a lot of space. If you're looking for a dry bath, you'll want to check out the Class C rigs. 
Wet Bath
A wet bath performs exactly as described; it's designed to get wet!  A wet bath has a combined toilet and shower stall. Some wet baths are so condensed that the only way to shower is while actually sitting on the toilet. 
Wet baths are great for smaller RVs since they can be very efficient in terms of space. Another benefit is that in many cases you can end up with a much larger shower since the entire bathroom is the shower! While it could be debatable, I'd also argue that they're easier to clean since every time you shower you're effectively cleaning the entire bathroom (kinda)!
Which Bath Is Better?
There are definitely advantages and disadvantages to both types of baths and at the end of the day, it's going to come down to individual preferences. But if you want the smallest RV possible that still has a shower and toilet you're probably going to be looking for a wet bath. It's hard to beat the space efficiency of having your shower and toilet in the same area.
Smallest Travel Trailers With A Shower And Toilet
If you're committed to going as small as possible then you're probably looking for a travel trailer which is why we're going to start our list here. The big benefit of a travel trailer is that you can always unhitch and hit the road without having to haul your entire house. If you like to go off-road or just explore more urban areas with tight parking a travel trailer might be the perfect fit.
And with a proper bathroom, you can still boondock in comfort for longer trips. While you might think that most travel trailers are going to have a wet bath, you can still go small and have a home-style dry bath with a separate shower.
Let's take a look at my favorites.
1.  Braxton Creek iCamp Elite 

Length: 14′
Exterior Height: 8′ 11″
Interior Height: 5′ 11″
GVWR: 2,890 pounds
Bathroom type: Wet
Okay, this is it. This is the smallest RV with a shower and toilet that I could possibly find. At only 14′ long this teardrop trailer is unique on the market for featuring an actual bathroom! Even with its small size, this tiny rig still has everything you'd expect and enough clearance that folks around 5'10 won't have any problem standing up and walking around. Taller people might need to keep reading to find a slightly larger rig.
You're not going to find anything fancy inside the iCamp Elite but they still manage to squeeze in a queen-size bed, floating table, heater, air conditioner, cooktop, and a small fridge. Everything you need but not much else!
If you want to take a look at the shower and toilet you can check out this video:
With an MSRP of $13,935, this is not only one of the smallest RVs with a bathroom but also one of the lowest priced. That makes this a great rig for folks who want to get into RV'ing without spending a fortune or have to resort to using the bathroom in the woods!
2. Airstream Sport 22FB Bambi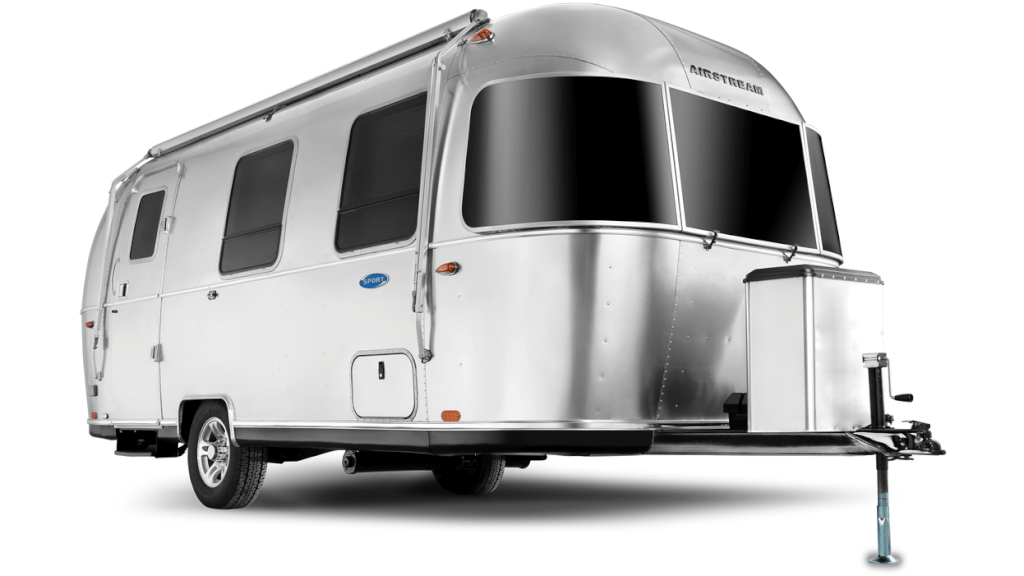 Length: 21′ 8″
Exterior Height: 9′ 3″
Interior Height: 6′ 3″
GVWR: 4,500 pounds
Bathroom type: Dry
It's hard not to immediately recognize our list's next travel trailer. Airstream's iconic design was born in the United States back in the 1930s and continues to grace the travel world today. Airstream's founder, Wally Byam, originally sought out to provide he and his wife a comfier camping experience. Wally started with a Model T and a tent but soon became a trailblazing travel trailer engineer. 
Airstream is still produced in the US in Jackson Center, OH and they do their best to source USA made products whenever possible. The Airstream Sport 22FB Bambi offers travelers a vintage experience with its retro Californian design. The goal of this rig is to stay small and light which means you'll find things like accordion doors on the shower (instead of glass) and a plastic toilet instead of porcelain. 
Airstream has a long reputation for quality and the brand most definitely had its own style. This travel trailer is no different and features metallic-looking accents throughout. But these modern Airstream rigs almost look like an Ikea set which I know some folks will love.
Despite its small size, the Sport 22FB Bambi is able to fit in a clean looking dry bath. As mentioned, the toilet is plastic and raised pretty far off the ground which some folks might not like but it will come down to personal preference. The bathroom is relatively spacious and includes a residential-style sink. I really like the layout and the fact that if you're sitting on the toilet you'd be looking into the shower instead of having your nose pressed against a wall like in some other rigs. That really makes this bathroom feel larger!
One really cool feature of this bathroom is the clothesline! Okay, so it's nothing fancy but the shower comes built-in with a detachable line so you can hang cloths to dry in the safety of the shower. I also like the residential door handle on the bathroom door. While I don't think I actually need the extra security of a lock and I doubt someone is going to stumble into the bathroom to surprise me, it's one of several features that make this bathroom feel like one you might find in a brick and mortar home.
Take a look inside the shower to get a feel for the size and check out the overall interior design of the bathroom (which I love):
It's honestly hard to go wrong with an Airstream and the Sport 22FB Bambi is a great option for those who want the freedom of a travel trailer but don't want to go too small. While it's not the cheapest travel trailer on the market, compared to the Class Bs further down this list it's definitely going to make a smaller dent in your budget.
The MSRP is $58,984 and there's a good chance you can find a used one for a good price.
3. Happier Camper Traveler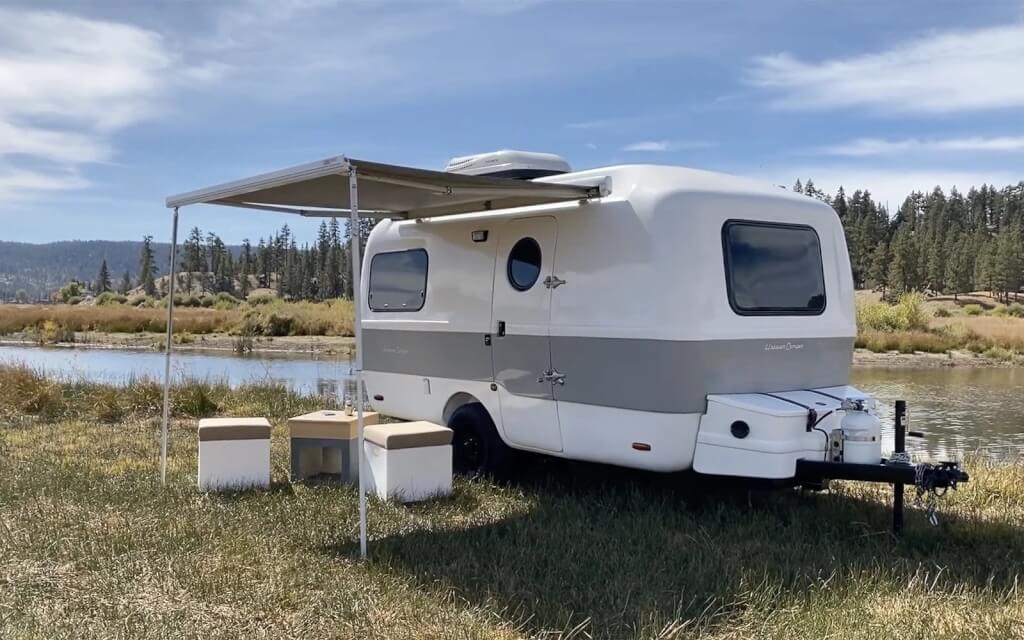 Length: 17′
Exterior Height: 8′
Interior Height: 6′ 5″
GVWR: 3,500 pounds
Bathroom type: Wet
Let me start by saying that this tiny travel trailer is adorable. In fact, just about everything from Happier Camper is just too cute. Take a look at their Instagram to see some pictures from owners on the road.
This adorable 14 foot rounded shell gives owners boundless customization options due to its modular technology which Happier Camper calls Adaptiv™. It's not something I've really seen before and it definitely helps the brand stand out. 
You can think of it as moving furniture around in a traditional home which is something we might take for granted but in an RV or travel trailer, you typically don't have the option to move anything around! Happier Camper changes that by adding connectors on the floor that attach to several module pieces including a bench/bed combo, storage cubes, tabletops, countertops, and even an icebox. 
Check out this video to see some of the combinations and note that the travel trailer featured in this video is not the Traver but it does a good job of showcasing how the technology works.
Very cool, right? You can see how you could transform your little rig to sleep more people or entertain more guests at the campsite. The Traveler features two areas that are modular ready which means you have even more space to customize. The rig also has a very clean design and I love the bamboo shelves.
But let's talk about the bathroom. It's a simple wet bath and you can't expect much more than that in a 14′ shell. The bamboo accents continue into the bathroom and while it's quite small it's still very clean.  You can click here to see a quick peek at the bathroom on YouTube.
Overall, this cute traveler trailer has a shower, toilet, and a whole lot more! It's really built to adapt to you and what you want out of an RV. It's easy to tow, features all-season insulation, has a customizable interior, and everything you need to prepare a nice meal. While it might not be ready to boondock for weeks at a time it's perfect for most campgrounds or short trips.
There are several floor plans to choose from but the MSRP for the cheapest plan with a bathroom (called the Comfort plan) is $54,950.00 and you can check it out here.
4. Oliver Legacy Elite II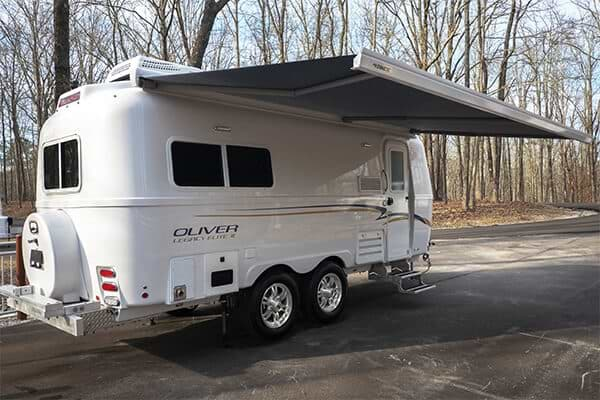 Length: 23′ 6″
Exterior Height: 8′ 6″
Interior Height: 6'6″
GVWR: 7,000 pounds
Bathroom type: Wet
The Oliver Legacy Elite II is one of the "larger" travel trailers on our list but it's perfect if you want to go tiny without committing to something like the Happier Camper Traveler. At 23′ 6″ in length (including the hitch) it's still small enough to be towed without too much trouble.
The bathroom has a beautifully clean and contemporary design that most folks will love. The rounded cabinetry combined with the soft, inviting white and gray palette of this camper interior emotes a sense of calm. The overhead internally lit cabinets emit a relaxing glow in the cabin. The windows have blackout shades as well as sheer shading. Overall, if you like the vintage look of Airstream, I think you're going to be a big fan of what the Oliver Legacy Elite II brings to the table. The only downside is that with all this white it's going to get dirty. And depending on where you go it could happen pretty quickly. 
A chic full-length mirrored door opens to the RV's wet bath. The efficiently designed wet bath holds a porcelain toilet with the manufacturing option to upgrade to a composting toilet. The vanity facet can be extended to the wall to transition into the showerhead. The only thing I don't love about the bathroom is the combination sink and showerhead. While it certainly saves space that's put to good use elsewhere I personally prefer a little separation between the shower and sink.
You can get a great look at the entire bathroom in this video from the Oliver team:
When it comes to price, the Legacy Elite II isn't a cheap option and the MSRP is $57,500. A big part of that price tag comes from the double fiberglass hull that comes standard on most Oliver rigs. This construction technique can greatly improve insulation as you have an extra layer around the rig which makes it a great option for four-season enthusiasts. The team at Oliver also explains that "The lower outer shell is first bolted to the aluminum frame. Some of the electrical wiring, all the plumbing lines, and the holding tanks are placed inside and the connections are made."
This can help protect essential equipment but can also make repairs a little more of a pain.
Overall, the Legacy Elite II from Oliver makes a great option for those who want a vintage style in a modern package. While it doesn't have the most luxurious bathroom its simple design will likely resonate with a lot of people. If you don't mind the shower/sink combination then there's really not much to not like about this rig.
5. Airstream Basecamp Travel Trailer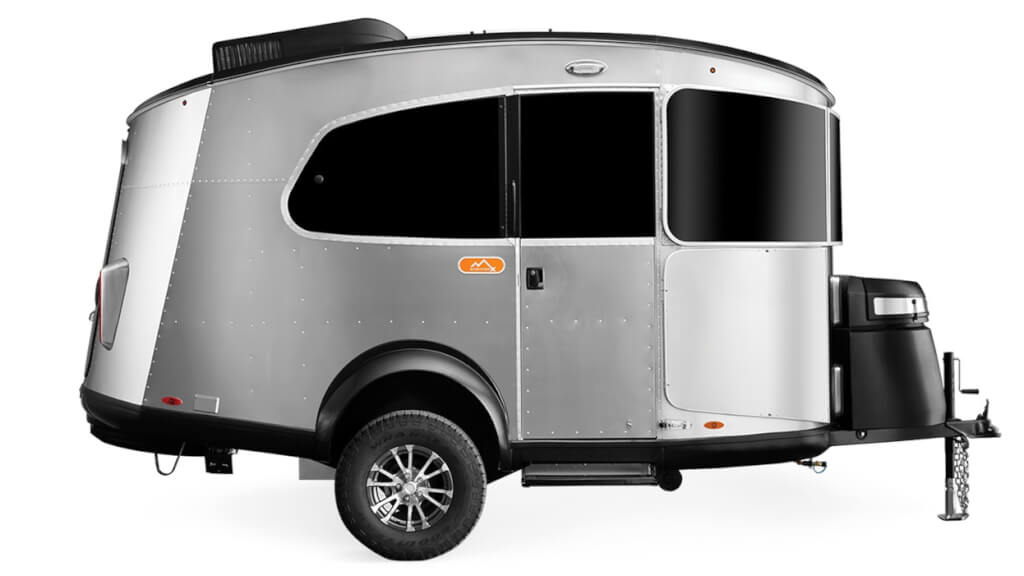 Length: 16′ 3″
Exterior Height: 8′ 8.75″
Interior Height: 6′ 3.5″
GVWR: 3,500 pounds
Bathroom type: Wet
Coming in at only 16'3″ the Basecamp model from Airstream is one of the smallest RVs you can find that still has a shower and toilet. Naturally, with its compact size, it's also easy to tow. This RV is designed with the outdoor adventurer in mind and is perfect for folks that need…a basecamp!
The Basecamp features a backdoor with a tent extension that's perfect for storing your gear. So you can load up your RV with your climbing, biking, or other gear then clear it out the backdoor tent area when it's time to set up camp.
This RV also takes the classic almost futuristic look and kicks it up a notch. In the world of travel trailers, it truly has a unique look with large heavily tinted windows and a silver metallic exterior. It looks more like a defunct spaceship than a travel trailer! The inside isn't much different and the prevailing color is most certainly grey! While that look might not work for everyone it certainly gives it its own style.
I do love the kitchen in this rig and the rounded countertop design makes it feel more like a command center than a simple cook station. I'm someone who loves to cook, even on the road, and this tiny 16′ travel trailer doesn't disappoint when it comes to cooking space.
The Basecamp features a wet bath with a combined shower and toilet, as expected. But what's not expected is the porcelain toilet inside the tiny bathroom! That's a surprising (but nice) upgrade that can make a real difference when it comes to a bathroom. Using a plastic toilet can get old fast.
However, what this tiny bathroom is missing is an additional sink. That might be a deal-breaker for some folks since it means you'll be brushing your teeth in the kitchen or trying to stick your face under the showerhead.
But I actually like this change. When you consider how many faucets are inside the same small RV it does start to seem like overkill and I'm happy to love a sink in my bathroom if it means I get more functional space elsewhere- especially in the kitchen.
For a closer look at the bathroom inside this rig you can check out this video:
As if all the cool features of this rig wasn't enough, it's also got a great price tag with an MSRP starting at $38,400. That means you can find a used model for around $30,000 or even less if you are patient!
Overall, while the Airstream Basecamp might look a little bit like an alien spaceship it makes the perfect small RV for the outdoor adventure seeker that doesn't want to go without a shower and toilet. If your idea of a good time is traveling to a specific destination for a hike, bike or climb then the Basecamp might be a good fit.
6. Forest River Flagstaff E-Pro E14FK Travel Trailer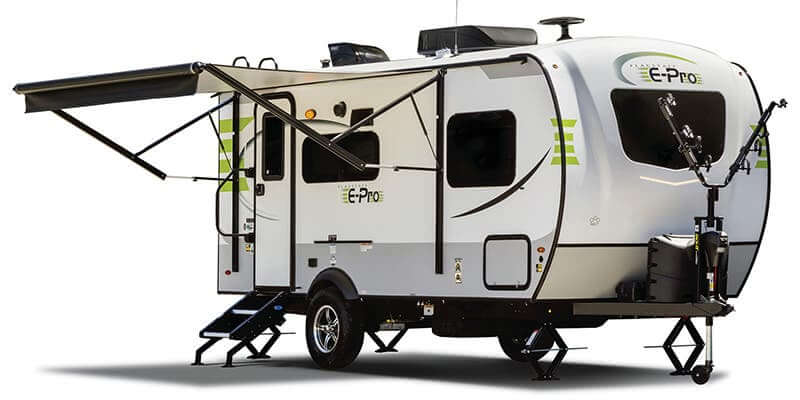 Length: 14′ 1″
Exterior Height: 9′ 4″
Interior Height: 6′ 6″
Dry Weight: 2,022 pounds
Bathroom type: Wet
Coming in at only 14′ 1″ the compact Flagstaff E-Pro E14FK from Forest River is the rig for you if you want to go as small and light as possible without giving up your bathroom. At this size, you can't expect to find a lot of extra but it still has everything you need.
Fully loaded, this small RV still weighs under 3,000 pounds. So if you've ever wanted to try your hand at towing your RV with a bicycle this is your best bet!
But one of the biggest downsides is the lack of cooking space. While the Basecamp managed to get a pretty massive countertop with plenty of room for food prep, you're not left with much to work with inside the Flagstaff. So if you love to cook on the road you might need to go up a few feet to get the kitchen you need.
The wet bath has a standard showerhead and a plastic toilet with a pedal flush. There's not much to note about the bathroom and it really is your standard wet bath. It features a well-placed vent to manage condensation and it's about as small as you'd expect in a rig that's just over 14′ long!
Overall, the compact Forest River Flagstaff is one of, if not the smallest, RV you can find that still has a bathroom with a shower and toilet. If you're looking for something fancy…this isn't it!
Still, if compactness and a bathroom are your top prioritizes this might be the perfect rig for you.
The Forest River Flagstaff is also one of the most affordable RVs on this list with an MSRP of just over $20,000. At the time of writing, there seem to be plenty of 2019 and 2020 models available for below $20,000 which means this could also be a great entry point into the world of RV'ing.
Smallest Class B RVs With A Shower And Toliet
Now it's time to talk about the small Class B rigs that still feature a proper bathroom. .
Let's get started!
1. Pleasure-Way Plateau TS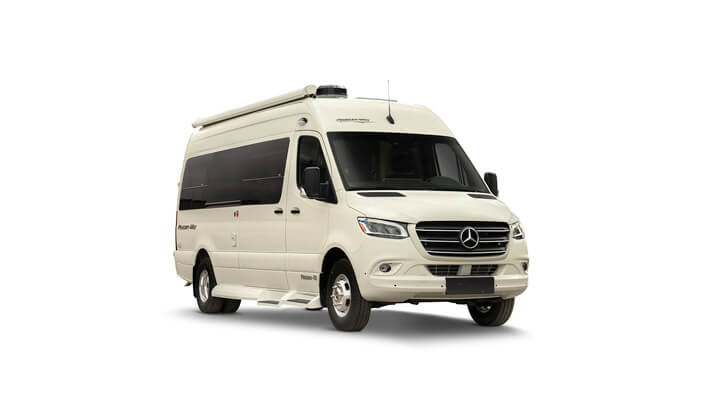 Length: 22′ 2″
Exterior Height: 9′ 8″
Interior Height: 6′ 3″
GVWR: 11,030 pounds
Bathroom type: Wet
At just over 22 feet long the Pleasure-Way Plateau TS is built on the Mercedes Benz chassis and features a much larger bathroom than you'd typically expect to find in a Class B RV. But what really caught my eye were the windows! Though this is a small Class B RV, the windows make the rig feel open and bright. A panel of windows is strategically placed along the passenger side flank so you may enjoy the view of your own campsite while cooking in the unit's kitchen. Panoramic windows line the hind end of the RV's lounging/dining area providing additional illuminating views. 
While the Pleasure-Way Plateau TS could be considered larger for a Class B RV it does a great job of utilizing every inch. For starters, the fixtures and features throughout the rig give it a modern and clean feel. Additions like a deep 7-inch sink, beautiful recessed lights, and the 6-foot countertop add up across the entire rig to really give the feel of home even if you're in a tight space.
But let's talk about that bathroom! As is the case with most Class B's, the bathroom on this rig is a wet bath. Remember that means that the entire bathroom is the shower and it's all designed to get wet. In this large bathroom, you'll find a toilet, a shower, and a vanity with storage. The bathroom interior matches that of the rest of the cabin to give the bathroom a less muted, plastic feel which can be seen in many RV wet baths. And even though I'm not the biggest fan of faux wood laminate, I really like they at least did something with the bathroom to give a different feel and not make it so obvious that it's a wet bath. 
You'll never miss an opportunity for sightseeing because even the bathroom bestows a window. You can check out the bathroom in this tour from the folks at Pleasure-Way:
Overall, if a quality bathroom is a big selling point for you but you still want to stay small the Pleasure-Way Plateau TS might be the perfect match. Of course, if you think that 22′ is still too big then keep reading because I've got even smaller options!
With an MSRP of $154,635 USD this rig is more expensive than most of the Class C RVs on the list but of course, having a compact Class B has plenty of benefits too.
2. Fleetwood Irok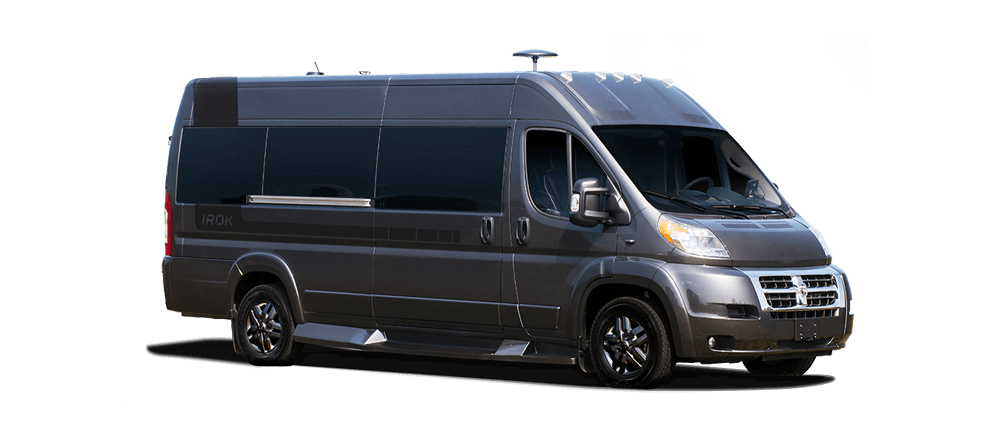 Length: 21′
Exterior Height: 9′ 4″
Interior Height: 6′ 1″
GVWR: 9,350 pounds
Bathroom type: Wet
Coming in at 21′ feet in length, the Irok from Fleetwood is compact but packed with luxury. This lavish coach is even small enough to park in your standard-sized driveway! This swanky Class B campervan brings an upscale resort feel right to your campsite. The Irok's sleek interior includes a 24" TV, granite countertops, and burl wood accents.
Not familiar with burl wood? A burl is a growth on a tree that's formed from an unsprouted bud tissue. You've probably seen this before and basically, it just looks like a big lump on the tree. This wood can be specifically harvested and finished to create a beautiful almost marble-like appearance. Which is just one of the many ways that this rig delivers on luxury. In upgraded versions, double doors open up to the upscale wet bath. This wet bath contains a stainless-steel sink, a shower, and a porcelain toilet.
But the bathroom is not without its issues- this wet bath is much smaller than the Pleasure-Way RV that we just looked at and includes the "classic" all white everything plastic feel that we commonly see. The other issue is overhead clearance, not only in the bathroom but through the rig which features a 6′ 1″ interior ceiling. But in the video below you can see that the ceiling in the bathroom is even lower than 6′ 1″ and appears to be under 6 feet.
While this might not be a big deal if you're shorter, even if you don't need the clearance having extra ceiling space can make a rig feel larger. You can check out the bathroom in this video:

Overall, the Fleetwood Irok is perfect for folks who want luxury in a small package. To really get the most out of this rig though, I'd suggest you consider some of the upgrades that are unique to the Irok. One of the coolest is the upgraded security camera that provides you a clear view of what's going outside your RV, even at night which will help keep your rig nice and safe. There's even an option to add a bed lift to give you even more room inside.
The pricing is also very competitive and you can pick up this luxury Class B for under $100,000.
3. Pleasure-Way Ascent TS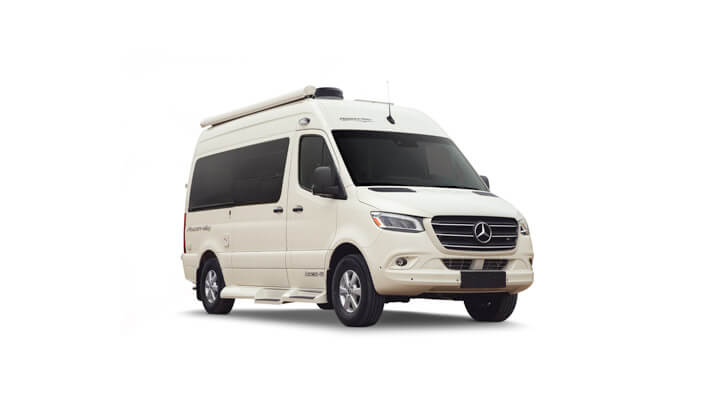 Length: 19′ 5″
Exterior Height: 9′ 7″
Interior Height: 6′ 3″
GVWR: 9,350 pounds
Bathroom type: Wet
We've got another Pleasure-Way Class B on the list but this time it's the Ascent TS coming in at only 19′ 5″. So if you're looking for one of the smallest RVs you can find that still has a bathroom…this might be the one.
Built on Mercedes Benz chassis this rig includes many of the same features as the larger Plateau but just in smaller forms. You still get a large sink with a detachable residential-style facet and a countertop extension though it doesn't quite reach 6 feet like the Plateau. I also love the mosquito net on this RV that includes very clever magnetic clips. In other words…no zippers!
It's also packed with all the things that make a Pleasure-Way rig great. That includes a memory foam bed that's actually comfortable and a very clever swivel table in the back of the cab. My big concern when I see a table like that is durability because given my gracefulness it's guaranteed that I'm going to be banging into that table regularly. But I've geeked out with some Pleasure-Way owners at a few campsites this spring and they've got nothing but good things to say!
This tiny rig also features a wet bath behind the driver's side seat. The bathroom has a warm laminate that matches the rest of the coach which while it's a small detail I really appreciate it. Too often wet baths feel more like decontamination chambers in some kind of sci-fi thriller and less like an actual bathroom in your home (on wheels). But I think Pleasure-Way is really on the right track when they consistently add some life to their small bathrooms.
You can see the shower and toilet inside this Class B here:
There's a reason that Pleasure-Way shows up more than once on this list: they know how to build a tiny bathroom complete with a shower and toilet inside of quality made Class B RVs. Which isn't something that every manufacturer has figured out how to do.
But like with all things, you get what you pay for and the Ascent is no different. With an MSRP of $144,755 USD, it's not the most inexpensive RV on the market but it's also not the most expensive. If you need a compact rig that can easily navigate urban areas but don't want to give up a shower and toilet this is a great rig. But if you're willing to go bigger you might want to look at Class C options will still have a shower and toilet but also more room at a lower price.
4. Airstream Interstate 19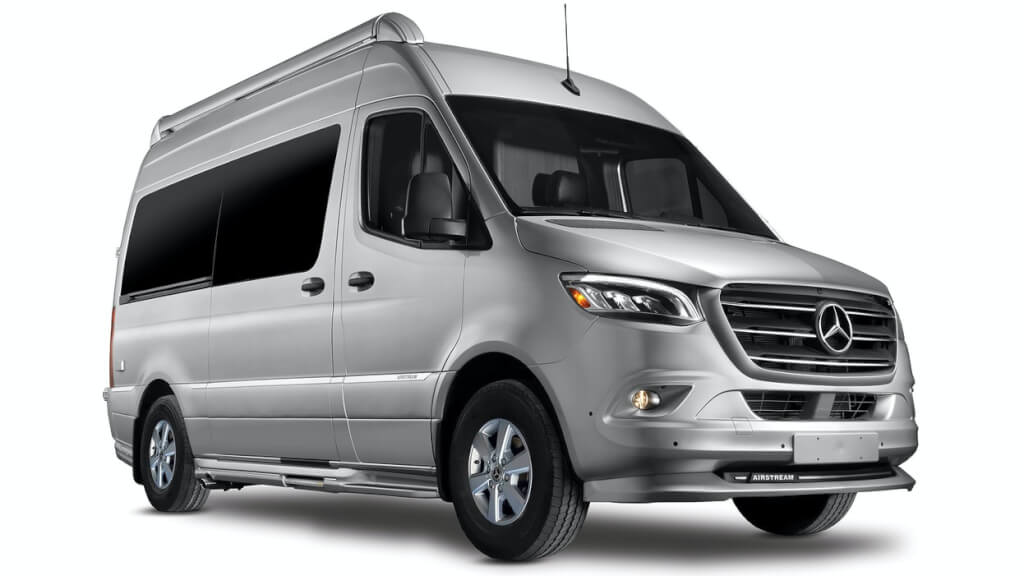 Length: 19′ 5″
Exterior Height: 9′ 7″
Interior Height: 6′ 2″
GVWR: 9,050 pounds
Bathroom type: Wet
The Airstream Interstate is another Class B RV that measures only 19'5″ which is the smallest length I can find before you lose the bathroom.
Also built on the Mercedes Benz Chassis this Airstream RV is designed with luxury in mind. You'll see the same high-quality fixtures and features that you'd expect in any Airstream including modern control panels for everything from your steps to your tanks. There are also plenty of smaller touches sprinkled throughout the rig that can really make a difference. One of my favorites is the awning that automatically retracts if it detects too much movement. While it can't always be ready for a huge gust of wind (and you still have to use common sense) it's a series of features like this that make Airstream such a great brand.
Inside, you'll find everything you'd expect including a large seating area and a kitchen space. I'd love to see more room on the countertop here but when you're going this small something has to give.
The bathroom features a three-piece (sink, shower, toilet) wet bath set up. It's small, as you'd expect, but Airstream gave the layout a slight twist by angling the toilet away from the wall. So instead of being parallel with the wall, it's pointed out about 45 degrees. This gives you a lot more leg (and elbow) room. While this might not seem like a big deal when we're talking about 19′ 5″ of living space every small change like this can really add up quickly.
You can see the slightly angled toilet in the floorplan below:

Overall, the Airstream Interstate 19 is a great small Class B that has all the essentials. You know you're getting the Airstream quality when you pick up this rig but beyond that, there's not much that really sets it apart from other small RVs in the Class B category. The small touches across the RV (like the slightly larger bathroom) might make a difference for some folks but others won't see much difference between this and other RVs.
With an MSRP of $161,099, this isn't a budget option. But with the decades-long history of the Airstream behind it you know it's built to last. With enough searching, you can probably find a rig for close to the $150,000 mark.
5. Winnebago Revel E44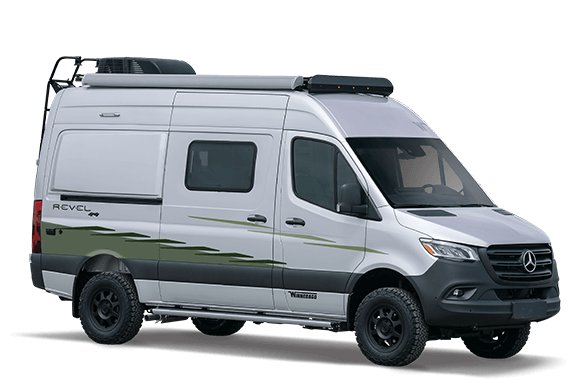 Length: 19′ 7″
Exterior Height: 10′
Interior Height: 6′ 3″
GVWR: 9.050 pounds
Bathroom type: Wet
Built on the Mercedes-Benz Sprinter Chassis, the Winnebago Revel is a 4×4 Class B RV that drives more like a truck than a home on wheels. This RV is geared towards folks that use their RVs for adventure travel. So if instead of having a few beers at the campsite your main goal is to hike, bike, and climb this RV might be perfect for you. In the world of Class Bs, rigs like the Revel are considered Adventure Vans and this RV certainly lives up to that name!
This has a lot of extra features that give it extra space for gear and make it easier for short boondock trips in more remote areas. For starters, the Winnebago Revel uses a diesel heating system which means that as long as you have diesel you've got heat. This is a big improvement from having to track down propane which might not be as readily available if you're going off the beaten path.
The biggest difference between the Revel and other Class B's is the bed. The entire bed can be raised up the ceiling of the rig giving you a huge amount of space for any kind of gear you might want to bring along. In this way, the Revel acts like a mini toy hauler than a traditional Class B. There are also two barn-style doors that open extra wide you can take full advantage of the extra space. The area is large enough to squeeze in a dirt bike and builtin tie-down points make it easy to secure.
The lowered bed is actually meant to sleep side to side (instead of having your feet towards the cab) and has a width of 6′ 4″ so even taller RV'ers can fit. The Revel pulls this off by using two bump-outs (one step down from a slide-out) to extend the overall width of the rig.
I also like the location of the fridge. Instead of being a bit deeper inside the RV and having to squeeze in on the floor to load out groceries, you can actually access the fridge from outside the RV. If you're a bigger person or sharing this RV with someone else those small additions can really improve the entire experience.
The bathroom inside the Revel is probably the most unique on this list. That's because this wet bath, which includes a shower and toilet, can also double as a shelf or closet. Obviously, this list is all about small RVs with a bathroom so there's a good chance you're not looking to convert your toilet into a closet but having the option can really come in handy. The extra storage space can be used as you get to your destination and when it's time to unload your gear and set up camp you convert your closet back into a proper bathroom.
You could also leave one shelf intact and still have access to the toilet. Finally, the toilet instead of the Revel actually swivels so you can use it from different angles including with the door open if you're alone which will allow you to take advantage of extra legroom.
Check out the bathroom in this video tour:
I could go on about the Revel for a while and it's a great RV if you're focused more on outdoor activity over pure luxury. But if 4×4 doesn't mean anything to you and you're not excited about all the gear you can store under the elevated bed then it's probably not the rig for you. With an MSRP of $185,838, you're paying for the adventure-oriented features and not things like extra space and luxury residential-style fixtures.
Smallest Class C RVs With A Bathroom (Shower and Toliet)
Let's get into the smallest Class C RVs that include a working bathroom. Class C's are great because they're large enough to boondock or full time but small enough that you're not going to have a hard time fitting into parking spaces or campsites. They're my favorite class of RVs and they're really the quintessential RV in my mind.
But what's considered a small Class C RV?
For this article, we'll be focusing on RVs that are no larger than 25′ 2″ which gives us plenty of rigs to work with!
Let's get started!
1. Coachmen Cross Trek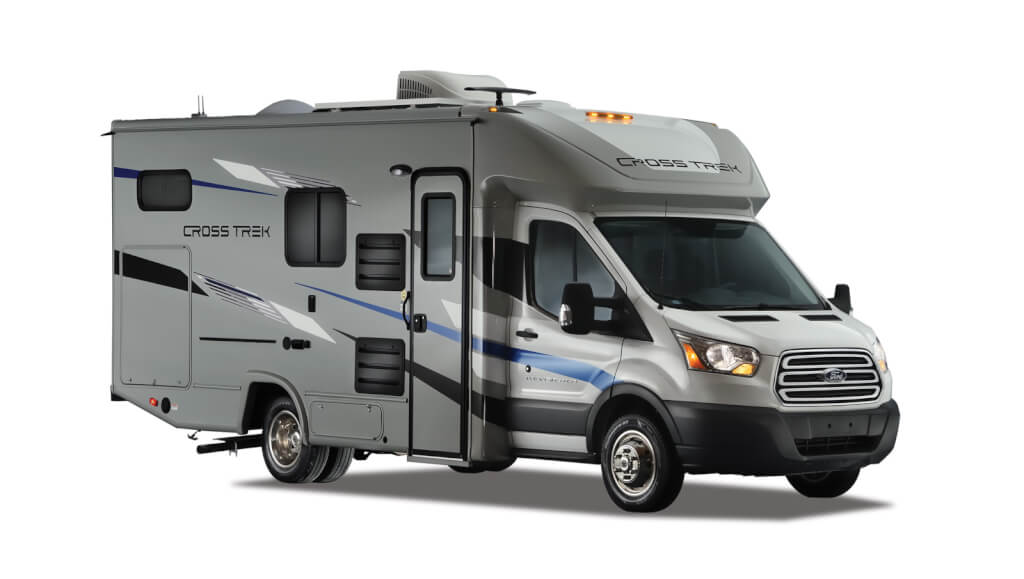 Length: 25′ 1″
Exterior Height: 10′ 6″
Interior Height: 6′ 7″
GVWR: 10,360 pounds
Bathroom type: Dry
The Coachmen Cross Trek comes in at 25′ 1″ and you can tell from the picture alone that's it pretty compact. Enough so that some folks even insist on calling it a Class B+ RV but in reality, it's a Class C through and through!
It features a small shower on one side of the rig with a toilet across the hall in a rather unique design. The shower is larger than you'd expect (at least in a small C) and by putting it on one side of the RV separate from the toilet they end up using the space a little more efficiently.
But that's not the only unique design within the Cross Trek. This rig also has an absolutely huge storage capacity in the rear of the motorhome. There's actually so much room there that you could get creative and turn this into 2 bedroom RV! Yep, there really is that much extra space in there.
However, this unique feature comes at a cost and they're able to get so much space in thereby greatly elevating the bed. That means you're not going to have much room to move around or sit up in bed and you won't have a bedroom in the way that other RVs might. I keep talking about how impressive the storage is in this RV but you probably need to see it for yourself so make sure to check out the video below.
The bathroom is honestly one of the best you can find in a small RV. The shower is spacious (for an RV) and feels pretty darn close to a real shower. While some folks might not like that it's offset from the toilet I think it does a lot to make the overall RV feel more spacious.
The toilet is nothing to write home about and the major downside is its plastic but it's hard to get much more than that in a small rig. Another positive here is that the bathroom features a lot of storage space in the form of cabinets. Again, this all makes this small little RV feel like it has a proper bathroom!
Finally, there's the price. With an MSRP of around $90,000, there's a good chance you can get a great price on a used model.
Overall, the Coachmen CrossTrek is a great small Class C right that gives you the feel of a bathroom in a much larger rig. The biggest downside for most will be the size of the bed…or rather the size of the space underneath the bed and the impact that has on the overall room.
2. Winnebago Minnie Winnie 22R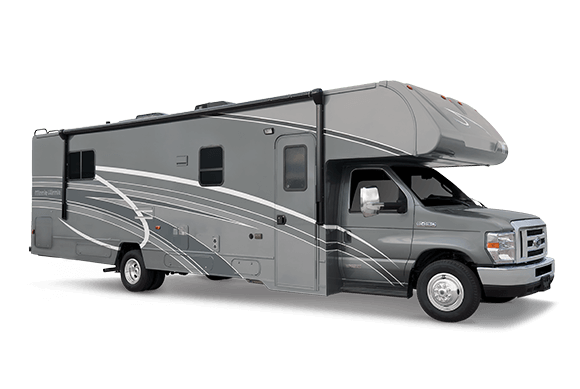 Length: 23′ 10″
Exterior Height: 10′ 11″
Interior Height: 6′ 10″
GVWR: 12,500 pounds
Bathroom type: Dry
While the Winnebago Minnie Winnie is large compared to some of the other rigs on this list, what would a list of small RVs be without the appropriately named Minnie Winne? Within this Class C RV, you will find a homestyle layout and storage galore! In under 24′ the Winnebago Minnie Winnie 22R has managed to pack in a wraparound dinette and a fully functioning kitchen. Not an inch of space has gone to waste. The Minnie Winnie maximizes storage opportunity with kitchen cabinets, full extension drawers, and even a wardrobe closet. 
The dry bath features a separate shower stall with extra headroom thanks to its skylight. The sink is perched atop vanity storage which gave you even more of a real-home bathroom feel. The corner cabinet above the toilet can be used to hold toiletries. Though this is a small RV, its storage capacity is not so Minnie. You can tuck away all the necessities accompanying you on your travels.
This rig really is compact and doesn't feature a slide-out which while that could make the interior feel a little tighter some days it also means that the rig is small enough to fit in one parking space! That makes this RV great if you plan on staying in an urban environment or you frequently make trips to larger cities since you don't want to try and haul a giant Class A around a busy downtown metro area!
The bathroom features a closely connected shower and toilet in a dry bath style. The shower is quite large and while I couldn't find the exact measurements it looks to be larger than the CrossTrek shower. There's a bit lit less storage than some larger RVs or even the other Class C's but there's still a lot to love about this RV.
If you want to get a feel for the bathroom you can check out this video and I've added a correct timestamp so it will start right at the bathroom showcase:

I love this bathroom and while I don't know tall our tour guide is in the video, the fact that he can hold his hand straight up says a lot about the overall height of the shower. The interior height of the Minnie Winnie is listed at 6′ 10″ and the shower looks to utilize most of that.
When it comes to pricing, the Minnie Winnie line is getting you a lot of RV without a huge price. It's certainly one of the more popular small RVs on the market and you should be able to find even newer models for less than $50,000 making it a great option for most folks.
3. Jayco Redhawk SE 22A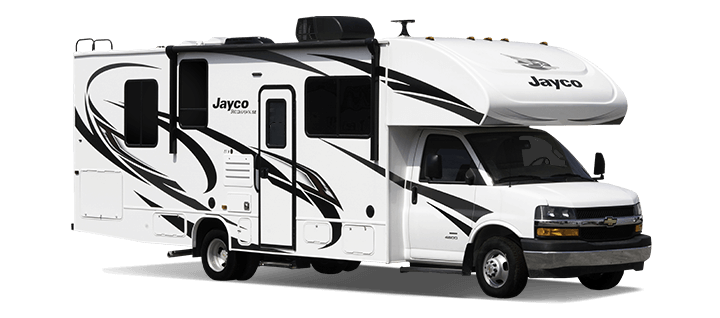 Length: 24′ 2″
Exterior Height: 11′ 5″
Interior Height: 7′
GVWR: 14,200 pounds
Bathroom type: Dry
Jayco is a well-known name in the RV industry and for good reason. They've got a long history of delivering high-quality rigs without skipping on quality. One of the most popular examples of their high standards is the way they construct the roofs of their RV. Jayco completed a static hold test where they compared their roof to an unnamed competitor and the results are pretty impressive. That's one of the many reasons why a Jayco model also appeared on my list of the best Class C RVs for winter.
At 24′ 2″ the Redhawk SE 22A is on the smaller side of Class C RVs in terms of length but it's also surprisingly tall compared to the average height for other RVs in its class. That height does carry over to the interior giving this rig a spacious 7-foot ceiling which is great for taller folks.
But let's get to the bathroom!
This Jayco rig features a dry but split bathroom. That means the sink is actually outside the space that the shower and toilet are. The idea here is that if someone is in the bathroom you still have access to your bathroom sink and vanity. While I understand the idea, the layout does end up looking a bit strange with two sinks front and center inside the RV. The plus to this is that you have an extra mirror in the common area which combined with the high ceilings really makes the rig feel large!
Speaking of high ceilings, they're just as high in the shower which makes this small rig feel much bigger. I also love the large window that's in the bathroom and you can get a great view of it in this video:

Overall, I'm a big fan of the bathroom on this small Class C and I've been happy with the Jayco brand for many years.
When it comes to pricing, the Jayco Redhawk comes in at a bit higher than the other RVs on our list (at least so far). While you can always find a good deal if you look hard enough, you should expect to pay around $75,000 for a recent model.
4. Thor Gemini AWD 23TW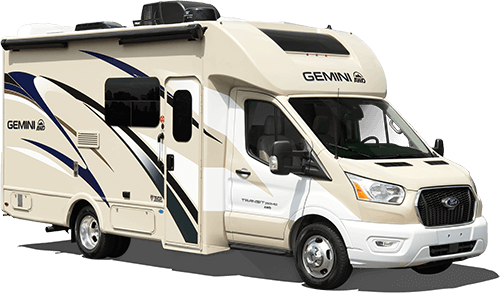 Length: 23′ 6″
Exterior Height: 10′ 11″
Interior Height: 6′ 8″
GVWR: 11,000 pounds
Bathroom type: Dry
Some folks might call this a Class B+ but it certainly looks like a Class C RV to me! And if it quacks like a duck and it walks like a duck…it's probably a duck! The Thor Gemini looks like a Class C RV with the classic look of an overhead bunk (even though it's not actually a bunk) but it's also noticeable shorter coming in at only 23′ 6″.
Still, the team at Thor has managed to squeeze an amazing amount of amenities into this tiny space. This RV is built on the Ford Transit chassis and is one of the few AWD drive RVs on the market. While I wouldn't suggest taking this rig offroading (check out the Revel in the Class B section if that's what you're looking for) being able to go confidently go off the beaten path from time to time is a huge plus. It's also a great option if you're spending any time doing winter camping.
The Gemini makes up for its small space with an impressive queen bed slide out but if you're looking to take the entire family on the road this probably isn't the right rig for you. The biggest reason is that even though it has the traditional look of an overhead bunk there isn't any actual sleeping space there. Instead, it's purely for storage which means this RV doesn't sleep nearly as many people as the traditional Class C.
The only thing I don't like is the exceptionally large dining area inside the RV. It's able to comfortably seat 4 (or maybe more) people but it's unlikely you're going to be traveling with that many people inside a rig this size. And if you've got 4 people eating together, you'd most likely want to eat outside and enjoy your campsite! So I can't help but feel that the dining space could be better utilized.
The Gemini has a very nice dry bath with a large (by RV standards) 24″ by 36″ shower. The toilet is plastic and has a slight elevation (which I don't mind at all). I really like the placement of the mirror and placing it at an angle really makes the bathroom feel larger.
You can check out a full tour of the bathroom here:
Overall, this is one of the smallest Class C RVs you can get with a shower and toilet. Especially, if you're looking for a dry bath since if you go any smaller in length you're going to start running into wet baths only.
It's got a great price with an MSRP of $117,893 which is cheaper than many Class B rigs that have fewer features.
5. Gulfstream RV BT Cruiser 5210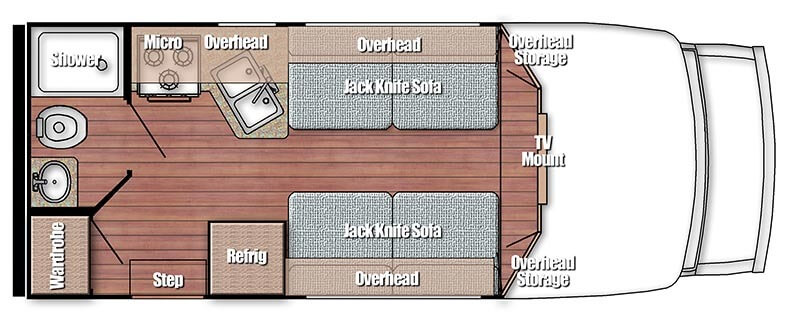 Length: 22′
Exterior Height: 10′ 6″
Interior Height: 6′ 5″
GVWR: 12,500 pounds
Bathroom type: Dry
This is one of the smallest Class C rigs you can find and you might even hear a few folks refer to this as a Class B+ RV, but we're going to keep things simple and keep it in the Class C category. Between the short height of this rig, the 22′ length, and the Ford E-350 chassis it drives more like a large pickup truck than a fully loaded house on wheels! In fact, it's only about a foot or two longer than an F-350 truck which really highlights just how compact this RV is.
One of my favorite things about this RV is the layout as it's a bit different than the standard Class C. Instead of having the bed in the back of the rig, the large queen size bed is found behind the cab area but when it's not in use it turns into a very spacious seating area. Some folks refer to this rig (and others like it) as a people hauler because of all the seating available.
While I like the appliances in the kitchen and the high-quality oven is a highlight, I have some criticisms about the counter space. The counter is extended out, almost like a J-shape, which makes it feel more like a residential kitchen but the sink is placed in a way that you end up with some dead space on the counter. If you're not doing anything too fancy or eating out a lot it might not be an issue for you but it's still worth keeping in mind.
The bathroom is located all the way in the back of the RV and features a well designed dry bath with a shower and toilet. There are several nice touches that make this bathroom feel spacious, at least for a 22′ RV. I love the location of the towel racks and the toilet is perfectly angled to give you maximum space. I also like the actual location of the bathroom in the back of the RV and away from the main seating area since it at least gives you the opportunity for a little privacy.
You can check out the bathroom inside this little RV in this video:
Overall, the BT Cruiser from Gulfstream is an excellent option if you want a big RV style in a little space. At 22′ it's small even when compared to Class B RVs which makes it great for folks who want to hop around national parks or urban areas.
The price of this small RV is also very appealing with an MSRP of $87,237 you can find used models of the 2020 edition for less than $60,000. Between the price, quality interior design and ease of driving this small RV has a lot going for it!
Closing Thoughts
I hope enjoyed this look at the smallest RVs on that market that still have a proper shower and toilet! There are some surprisingly small options out there and it turns out that regardless of what class RV you prefer there's a tiny rig with a bathroom for you!
Let me know what you think!