Last updated on February 9th, 2023 at 09:05 am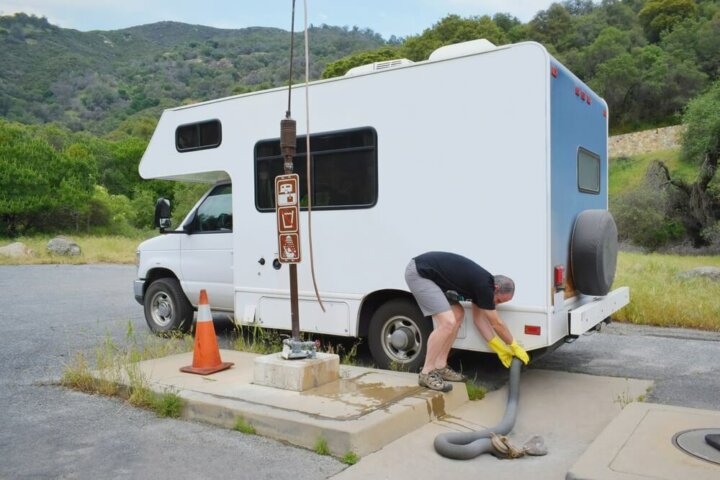 All of our reviews are based on exhaustive research, industry experience and whenever possible, hands-on testing. When you make a purchase using one of our chosen links we'll get a small percentage of the proceeds. This supports the site and keeps Jeffsetter running. You can read more here.
RVing is all about connecting with the great outdoors and exploring nature's beauty in a comfortable camper. Many RVs have a bathroom system connected to a black and gray water tank to hold the wastewater. One of the worries for many is the dreaded risk of black and gray water tanks filling up and overflowing. It's possible to avoid this by keeping an eye on how full your tanks are and emptying them before they get too full!
So, let's find out how to tell if your black or gray tank is almost full.
There are different ways to tell if your black/gray tank is almost full in your RV. Along with digital sensors, you can check the tanks underneath the RV, see if the lowest drain point is holding water, and keep mindful of toilet odor.
Having a gray or black water tank overflow is a nightmare no one wants to happen on an RV trip. As long as you don't forget about emptying your tanks and keep an eye on the wastewater levels, your tanks shouldn't overflow.
How To Tell If Your Black/Gray Tank Is Almost Full
There are a few different ways to tell if your black and gray water tanks are full, and it's worth doing a few of these if you're not sure of the levels in your tanks. I always say it's better to be safe rather than sorry, and allowing the waste levels in the tanks to rise when you don't know how full they are can be risky!
1. Read The Gauge
Reading the gauge for your waste water tanks is the first thing many RV owners will do to check how full the tanks are. The RV tank monitoring system will indicate how full it is and whether it's time to empty the tank out at a campground.
Sometimes sensors can give inaccurate readings, and if there is tissue or debris on the sensor, it could say that the tank is full when it isn't. Therefore, having some alternative methods for checking how full your waste water tanks are is useful.
2. Check The Black/Gray Tank
It's possible to see the level of water in the gray waste tanks on your RV by looking underneath the camper. If the plastic used for the tank is translucent, it may be possible to use a flashlight to see how much liquid the tank is carrying.
This is also a useful way to check how much fresh water you're carrying if other methods such as the freshwater gauge are broken or inaccurate.
3. See If The Lowest Drain Point Is Holding Water
When the gray water tank fills up, the water will head to the lowest drain point and usually, this is the shower drain. If you notice the floor of the shower starting to hold water, it could be because the levels in the gray waste tank are too full.
It's best to drain the gray and black water in an appropriate place as soon as possible to avoid any spills or unpleasant leakage.
4. Look Down The Toilet
Adventuring in an RV has highs and lows, and unfortunately, dealing with black waste is one of the low points of RV living.
Having the black water overfill isn't fun for anyone, but there is a quick and easy way to tell if your tank is filling up. Shining a flashlight and looking straight into the toilet is a good indicator of how full the tank is.
5. Be Mindful Of Odor
When the toilet starts to get a bit smelly, it's usually a sign that the tank needs to be emptied, or at least checked to see how full it is. Noses are a great indicator of when the black tank needs to be emptied, so if things are getting increasingly stinky, it's probably time to head to the dump station!
Knowing how to check the levels will give you peace of mind that your gray and black tanks won't get too full and overflow. It can be useful to wait until the tanks have been filled a decent amount as the increased level of liquid can help move out solid waste when the tanks are being emptied.
Emptying the black tank when it isn't very full can result in solid waste getting stuck in the tank and needing a flush through to evacuate it all.
I prefer to wait until my tanks are about ⅔ full before emptying them. I open the black tank valve and empty it before opening the gray water valve and allowing the water to back flow into the black tank to help clear away any residue.
Why Is My Black/Gray Tank Filling Too Fast?
When you're out exploring the wilderness in your RV, the last thing you want to be doing is heading to a dump station every couple of days to empty your black and gray water tanks. There are a few reasons why the black or gray water tank could be filling up too fast, and it's best to identify the causes so you can have more time having fun in your RV.
1. Too Much Fresh Water
When flushing an RV toilet, it can be hard to know how much water to use in each flush. Usually, a second or two is long enough for any waste to flush through. If you use the flush several times, it can waste freshwater and fill up the black tank very quickly.
If you're worried about any marks, it can be useful to keep a spray bottle in the bathroom that can be used to target certain areas without using a huge amount of water.
2. Toilet Paper Blockage
Toilet paper is a common culprit for backing up black water tanks, and if you don't want to be emptying your tanks regularly, it's best to use toilet roll sparingly.
Regular household toilet paper may take longer to break down in the tank and be more prone to causing a build-up. RV-grade toilet roll is designed to break down quickly, but it may be possible to find a cheaper toilet roll that is also biodegradable and won't clog your tank.
3. Solids Build-Up
Each time you head out in your RV, if the black water tank seems to be filling up faster, there could be a build-up of solids in the tank. This can happen when RVs are stationary at a campground and the camper is connected to sewerage with the valves open.
If the black water just flows out, there isn't enough time to break down the solids and so they can become stuck. A simple way to combat this problem is to let your tank fill up at least a little before emptying. It may also be wise to use some black tank enzyme to help stop solids from building up again.
4. Multiple Sinks Draining
RVs vary in type, size, and function, with many manufacturers plumbing sinks into the black water tank depending on the location of sinks in the RV. It's not a problem if this is the setup on your RV, it just means you'll have to be extra careful that the tank doesn't overflow.
The easiest way to check if your RV water system is plumbed in this way is to open the valve on the gray tank and let it drain out completely. After the gray water has emptied, turn on a faucet in the RV. If water doesn't flow out of the grey waste tank, it must be going into the black tank.
5. Inaccurate Gauge
The gauges to tell how full your gray, black, and freshwater tanks are can be fantastic features when they give correct readings. However, if anything is stuck on the sensors, it could cause an inaccurate reading and show that your tank is full when it isn't. If you're skeptical about whether your gauge is giving accurate readings, try one of the other methods for checking how full your tank is and compare it to what the gauge says.
The video below shows a step-by-step process of removing a blockage in the black waste tank that could cause it to fill up too quickly. Using the water in the gray tank to flush into the black water tank can help dislodge any solids that have built up over time.
One of the best ways to prevent black and gray water tanks from filling up too quickly is to try and keep them both as clean as possible. Allowing the tanks to fill up at least a bit before emptying is also helpful as solids can get stuck in the tank, creating blockages and bad odors.
Closing Thoughts
With several different ways to tell if your black and gray water tanks are almost full, it's relatively easy to avoid overflows. It can be frustrating at times to have to check the tanks, however, it's much easier to head underneath the RV with a flashlight than it is to clean up grey water all over the bathroom floor!
After RVing for a couple of weeks, you'll begin to notice a pattern of how often you have to fill up with fresh water and dump any gray and black waste. Once you're familiar with how often you usually need to visit the dump station, you can get into a routine and help prevent the tanks from filling up too much or too quickly.