Last updated on June 5th, 2023 at 11:11 am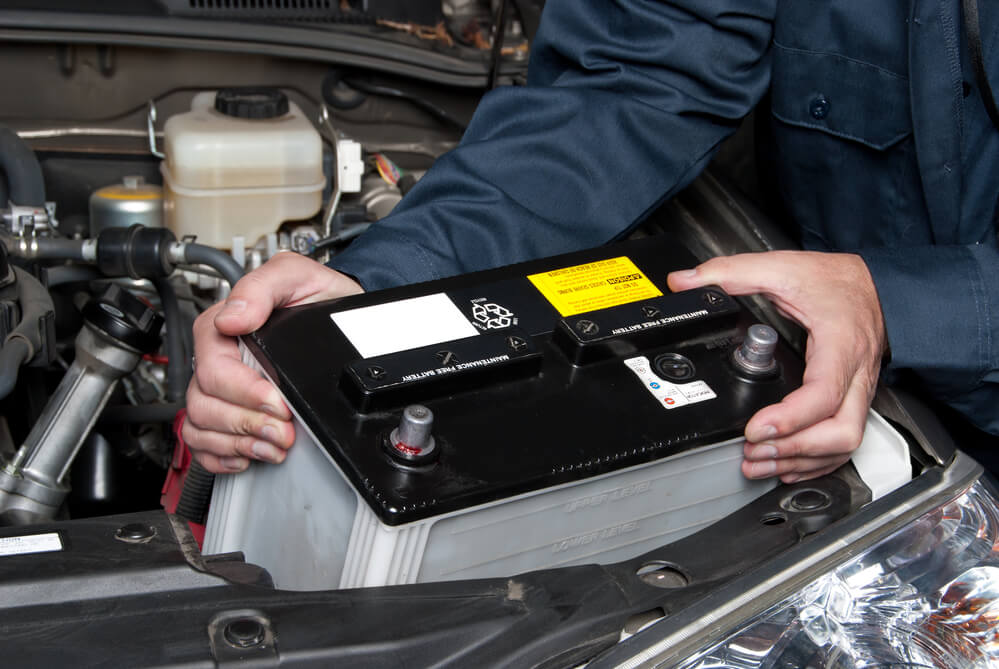 RV traveling can often take you to some pretty remote locations. As such, your rig has a ton of different and varied power sources to keep you comfortable no matter the circumstances. Electrical hookups, the battery, the generator, and a propane supply are all different sources of power for your RV.
Sometimes however, problems arise where there seemingly isn't one. A common one is that your RV's battery will be fully charged yet there is no power.
So, what can cause this to happen?
The most common reason for why your battery can be charged while your rig receives no power from it is due to the breakers. If the circuit breakers tripped and did not reset on their own, no power will come from the battery.
Let's dive further into all the reasons for why your RV is receiving no power from the battery.
Why Is There No Power From The Battery?
There are a few different reasons as to why this may be the case. Luckily, it is very rarely a problem with the battery itself.
Overloaded Circuit Breakers
Chances are if there is an issue with your battery's power, it is because of the circuit breakers. Your rig's breakers can trip for 2 main reasons. The first and most common being that they have been overloaded. For example, let's say your breakers can handle 30 AMPs of electricity but you run your AC unit, microwave, water heater and other appliances all at the same time. Each of those mentioned appliances generate 10-15 AMPs each.
This electrical load will easily exceed the 30 AMP limit and cause your breakers to trip.
Short Circuited Circuit Breakers
The second reason is that your breakers may have short circuited. This can be caused by a variety of factors, including worn out equipment and faulty wires. Essentially, any damaged sustained to the breakers can cause them to short circuit and this can cause damage to everything from your batteries to your microwave.
You can tell if this has happened to your breakers if a faint burning smell is coming from them. This is because when short circuiting occurs, your breakers trip so as to prevent a fire and that is what you are smelling.
Once your circuit breakers trip, power is cut to most of your rig wether your battery is charged or not. When this happens, sometimes your breakers will reset on their own, quickly sending power back to your rig. If they don't you'll have to do it manually. In most rigs, the circuit breakers are located in a small metal box near the battery itself. If you are having trouble finding it, simply refer to your rig's owner's manual. Once you've found them, simply open the box and press the reset button near the breakers. Now that you know what causes your breakers to trip and how to reset them, it's important to prevent it from happening again.
You can do so by keeping an eye on your rigs voltage while using appliances. Learn how many AMPs are used by different devices in your rig and make sure to not stack them beyond their limits. Checking the voltage reading takes less than a second, and that alone can save your breakers from constantly tripping.
Battery Disconnect Switch
Another reason for why your RV may not be receiving power from the battery is the disconnect switch. The role of the battery disconnect switch is to shut off all power coming from the battery irregardless if the battery is charged or not. You might wonder why you'd ever want this but it is actually very important. For example, if you are storing your rig, you don't want your battery to be slowly drained by different appliances. Your refrigerator for example, even when not in use, can very slowly eat up battery power. Overtime, you may take your rig out of storage and find the battery has been completely drained.
Your rig's battery disconnect switch is also crucial for safety. You should never try and uninstall or disconnect your RV's battery without first cutting off all power to it. Additionally, any time you or anyone else is doing mechanical work on your RV there is a risk of cutting into wires.
To mitigate the risk of cutting into a live wire, you can use your battery disconnect switch to completely cut all power to them. This saves yourself or any mechanics from possible electrocution, and also saves your rig from an electrical fire.
Your rig's battery disconnect switch accomplishes all of this by being installed on either the positive or negative leads of the battery. This way it can effectively cut power without the risk of short circuiting any breakers or appliances. If you are finding no power coming from your battery despite nothing being wrong with the breakers, you may have accidentally flipped the disconnect switch.
Battery Damage
Damage to your batteries will definitely prevent power from reaching your RV. However, while this is the least common source of that problem, it is an important one nonetheless. Your battery's typical lifespan is around 6 years. After that you should look into getting it replaced. Sometimes though, they can sustain damage well before that 6 year mark.
Mishandling, improper storage, or a small animal accessing it can all cause damage to the battery. To find out if this is why your RV is receiving no power, first see if there are any physical signs. Cracks, dents and holes in the battery are all easy to spot. Look for nesting as well in case any animals have gotten in. If the damage is not visually apparent, you can use a voltmeter to check the battery's power readings.
The ideal reading you want to get from the voltmeter is around 12.5 volts. Once you begin to enter the 11 or 13 volt range you know something is wrong with the battery.
Damage to your battery, circuit breakers and disconnect switch are all common causes for why your battery may not be powering your rig. However, this is not the only electrical problem you may encounter in your travels. Another common one is that there is no power coming from your RV's outlets.
No Power To RV Outlets
There a a few reasons why your RV outlets may not be working. Most of them also tie into your battery providing no power despite being charged, so solving one issue may automatically solve the other.
RV Battery
Your RV battery may be a reason why there is no power coming from your outlets. If you are trying to use your outlets while on battery power it normally won't work. This is because your rig's outlets are 120 volts while your battery is a part of your RV's 12 volt system. They are not compatible with one another. If your battery is charged yet there is no power to your RV's outlets, chances are it is because you do not gave a 12 to 120 volt converter. However, even if you do have one, it is not advised to use it for your battery as it can drain quickly this way.
GFCI Outlet
This can often also tie into your battery not working as a circuit breaker trip can also affect your outlets, especially if they are GFCI outlets. Ground-fault circuit interrupter (GFCI) outlets are designed to trip if they detect any danger. Luckily, there are a few signs to look out for if this has occurred, such as your microwave suddenly not working. Water and excessive electricity are the most common causes.
Your circuit breakers tripping for an unrelated reason can also trigger a trip in your rig's GFCI outlets. If this is the case, resetting your breakers using their reset button should bring back power to your outlets. If your outlets tripped because of contact with water or a similar trigger, then you'll have to reset the outlets themselves. Luckily this is very easy as GFCI outlets are a little larger than regular ones and feature a distinct reset button in the middle.
Wiring
If most of your outlets work but maybe one or just a few are not then it may be a case of loose wiring. Heavy vibration near an outlet can cause its wiring to become loose over time. Keeping certain kitchen appliances near an outlet can be a source of this, or frequently driving on rough roads. No matter the cause, to check if this is the case simply unscrew the outlet from the wall and check the wires.
If this does not fix the issue for some of your outlets, it may be a wider wiring problem. Perhaps a wire has been burnt out or cut but you can't find it. To determine if this is the issue, use a multimeter to check the power coming from each outlet to find the outlier.
Your RV's battery and outlets are susceptible to shutting off power due to breaker trips and other similar issues. However, sometimes even when plugged into electrical hookups your rig may still encounter some electrical problems.
RV Has No Power When Plugged In
This is a fairly common issue for many RVs. Let's explore the different reasons why you may encounter it in your rig.
The Power Cord
The cord you use to hook your RV up to the power station may be damaged. This is a fairly easy problem to miss as people rush to check their breakers or batteries and are quick to overlook this. Your power cord may be worn out or have a problem holding voltage. To check if this is the issue, use a voltage meter along the length of your cord. This will allow you to see if it is able to power your RV while in use.
Surge Protector
Some rigs contain a surge protector to protect your appliances in the event of a power surge. If your RV has one it may be responsible for cutting power to your rig. Your owner's manual will help you locate it and once you do, check to see if it's light are on. If they are then your surge protector is working fine. If not, it will need to be replaced so it can stop preventing power from coming into your rig.
Inverter
Not every RV has one. However, if your rig has an inverter that is malfunctioning, it can stop your RV from having power when plugged in. This is because your inverter converts electricity from an alternating current to a direct current or vice versa. Direct currents are safer for electronics to use and as such is what your RV will typically use. If your inverter is not working, then this conversion can't take place and your RV can't use the alternating currents. To know if there is an issue, use your owner's manual to find the inverter box and check the fuses. If they are blown, then all you need to do is replace them to get your inverter up and running again.
Power Station
Sometimes, the problem may not be with your rig at all but with the power station your RV is hooked up to. If you have connected your rig to the station and flipped the necessary switches, there should be power to your rig. If there is no reading at all, then you know that chances are it is an issue with the power station. Especially if once you run your generator, or plug into a different station you receive power.
Unfortunately, if the problem is with the power station there is not much you can do besides finding a new one to use instead. Repairing the power station is the responsibility of the campground you are staying at. It is also far too complicated and potentially dangerous to try and fix it on your own.
Closing Thoughts
Your RV's battery having no power can at times be a problem of its own. Other times, however, it is a symptom of a much larger one. Perhaps it is localized to the battery itself, at times it may be the breakers, and sometimes it can be the larger electrical system itself.
Either way it is important to be able to recognize these issues. Knowing how to troubleshoot your RV's power system gives you the ability to fix most problems that may arise and it's a critical skill if you're boondocking or roughing it. Your rig has a ton of features in place to prevent further problems and keep you safe. With that in mind, what may seem like an issue is actually just the result of certain tools in your RV doing their job.
All you have to do is know how to read those signs, check up on your rig's appliances and act accordingly. Luckily, its super simple!