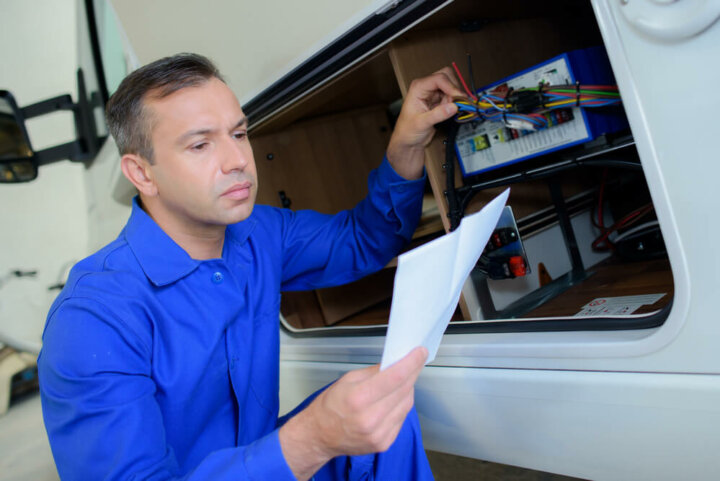 All of our reviews are based on exhaustive research, industry experience and whenever possible, hands-on testing. When you make a purchase using one of our chosen links we'll get a small percentage of the proceeds. This supports the site and keeps Jeffsetter running. You can read more here.
RVs are the ultimate answer for adventurers who are keen to hit the road but don't want to give up on home comforts like a TV.
The electrical system in your RV is likely something you don't pay much attention to unless something goes wrong. Electrical problems can happen with RVs, and as many RV components rely on electrical power to work, you won't be able to do much in a rig that doesn't have any power.
So let's take a look at the causes of an RV that's plugged in but with no power.
There are a number of reasons why an RV that's plugged in may not have any power, such as a problem with the RV battery, inverter, wiring, or surge connector. It's worth also checking the power transfer switch, fuses, breakers, GFCIs, AC power supply, and the exterior power source for any faults.
An RV without power isn't the ideal situation when you're out on vacation with the whole family, but knowing what to do when you've plugged in away from home and your RV has no power, means you can get to the bottom of the problem feeling confident.
So, let's take a look at the possible reasons and the different methods you can use in order to charge your RV battery!
RV Plugged In But No Power?
When you've had enough of boondocking or wild camping and fancy getting refreshed at a campground, it's a good opportunity to plug in and charge your RV batteries too.
If you plug your RV into an electric point and your rig still doesn't have any power, there's likely a fault somewhere in the system.
Before jumping in and having a close-up look at your RV's electrical system, it's wise to take precautions to avoid injury. Working with electrics requires a lot of concentration and safety considerations so take things slow.
There's no need to panic if you aren't comfortable troubleshooting your electrical problems as you can always ring the pros to give a helping hand.
Reason 1: Problem With The RV Battery
RV batteries don't last forever, and if you have a dead or damaged battery, your RV electrical system won't perform well at all. It may be worth having a closer look at the connections on your battery, as loose or broken connectors can prevent power from circling back into your RV.
Checking the batteries in your RV can be done using a voltmeter or specific gravity test. As both of these battery-checking methods require you to touch the battery, it's sensible to use protective equipment such as safety goggles and gloves to avoid any battery acid from coming into contact with your skin.
If you check your battery and it seems healthy, the cause of your RV being plugged in but having no power is likely to be caused by something else.
Reason 2: Converter Or Inverter Fault
The job of the converter or inverter in your RV is to make sure power is converted from AC to DC, allowing you to use appliances such as the microwave like normal in your rig. If there is a fault with the inverter in your RV's electrical system, things won't be working as they should inside the camper.
To check if your RV inverter is working correctly, you'll need to connect your camper to a reliable source of AC power and see if it converts the electrical energy to power up everything inside the RV.
If you're not able to check the inverter using this method, have a look at the small LED lights that are usually present on inverters. The lights are normally a green color when the inverter is working, so if you've got green lights on yours, it's probably not the cause of your RV having no power.
Reason 3: Wiring Issue
Beneath the modern shell of your RV are a whole load of wires allowing you to use the lights, AC, microwave, TV, and all the other electrical components in your camper. Sometimes, however, there can be an issue with the electrical wiring in your RV that may prevent your rig from being powered up.
Over time, the connections on the batteries in your RV can become corroded and rusty, and eventually can stop the battery from working altogether. If your connections aren't looking the healthiest, it may be time to clean your battery or upgrade if you haven't done so in a few years.
Reason 4: Surge Protector Problem
Surge protectors are used in RV electrical systems to act as a backup for times when the maximum power capacity has been surpassed.
The surge protector works like a fuse and trips if the power in your RV gets too high, but once it trips, anything in the electrical circuit connected to the surge protector will no longer work.
There's no need to panic if your surge protector has tripped, as that's exactly what it's supposed to do to protect the rest of your RV electrical system if power gets too high. It should be easy enough to reset the surge protector and get everything back in action and working correctly again.
When checking your RV's electrical system, if you spot any burns, they may signify a bigger problem, and the surge protector may even have suffered irreparable damage.
If this is the case, it may be worth calling the professionals in to help, as there's likely a larger fault somewhere in your power system that needs to be sorted out as soon as possible to keep your RV and everyone inside safe.
Reason 5: Check The Power Transfer Switch
The power transfer switch on your RV allows your rig to switch through various sources of power such as an inverter or AC shore power. Sometimes these switches don't work as they should, so it's worth checking the one in your RV as it may be causing the no-power issue.
Taking a look at your owner's manual should help support you whilst you try and get to the bottom of why nothing is powering up in your RV.
When checking around the batteries, converter, and other electrical components, try to keep on the lookout for loose wires, damaged circuits, and warning lights.
If you're experiencing these issues at a campground, it may be worth asking your RVing neighbors or campground employee if they have knowledge of RV electrical systems. You may surprise yourself and find someone who can both diagnose and help fix the problem.
Reason 6: Inspect The Fuses And Breakers
A common cause of RVs being plugged in but not having any power is down to the fuses and breakers in your system. A blown fuse or tripped breaker can cause things to come to a stop, but it's important to not just replace the fuse and carry on as normal.
Fuses don't tend to blow randomly on their own, so it's essential to get to the bottom of why your fuse blew in the first place.
The job of breakers and fuses is to protect your RV's electrical system from drawing too much power and potentially bringing danger to the RV and those inside too.
Reason 7: Ground Fault Circuit Indicators (GFCIs)
GFCIs are special breakers used to prevent damage from electrical power exceeding the limit in your rig and flowing up through the metal or floor of the RV. If power gets too high, GFCIs trip and stop the electrical current in its path, preventing harm from coming to anyone in the RV.
You can usually find the GFCI in the kitchen or bathroom in your RV, and resetting it should allow everything to kick back into life and be powered up again. If resetting the GFCI doesn't solve the problem, it may be faulty and need replacing.
Reason 8: Faulty AC Power Supply
Your RV relies on an AC system to power components within the rig, and if there's an issue with the AC power supply, it could be the reason nothing electrical in your RV is working.
Once you've checked the DC system in your RV and have confirmed everything looks okay, it's worth taking a look at the AC power supply, as it's likely there's a fault causing power problems.
Reason 9: Exterior Power Issue
Whether your RV is plugged in at home, at a campground, or is relying on solar for power, it's wise to check the exterior power source for problems.
Loose wiring on a solar panel or a faulty electrical connection at the campground could be the cause of the lack of power in your rig.
As most RVers charge up their rigs at the campground when they're adventuring around in their rig, it may be useful to talk to an employee of the campground and see if they can shed some light on the problem.
Reason 10: Generator Fault
Using a generator to top up your RV with power is super useful, especially during winters when days are dark and we often use a bit more electricity.
There are many different types of generators, but they all require some sort of power or fuel to work. If your RV is plugged into a generator and the power supply stops in your rig, it's worth checking to see if the generator has run out of fuel, or is experiencing another kind of problem.
As there are so many possible reasons for your RV not having any power whilst being plugged in, it may take some time to troubleshoot all of the potential causes of the problem. Once you've identified the cause, it's important to only go ahead and fix the issue if you are confident and have the knowledge and tools required.
Finding the cause of the lack of power in your RV even when it's plugged in can be difficult, and you may have to work your way through your camper's electrical system like the RVer in the video below.
Once you've found the cause of the problem, it shouldn't be too tricky to find a suitable solution. It's handy to keep a voltmeter in your RV so you can check the power of different electrical components as and when you need to.
It's essential to know the needs of your RV batteries and keep them healthy for as long as possible. RV batteries can be expensive, so it's worth knowing how to go the extra mile and keep your RV electrical system happy and functioning at its best moving forward.
How To Charge RV Batteries
Maintenance tasks like winterizing your RV are far easier to remember than taking care of your RV's batteries and entire electrical system.
You shouldn't have to spend too much time maintaining your RV batteries, but one of the best things you can do to keep your RV batteries happy is to charge them up!
There are several different ways to charge your RV batteries and each method has advantages and disadvantages, so you'll have to weigh up the approach that works best for you and your RV.
1. Battery Charger
Getting your RV powered up using a battery charger is a simple and effective way of using your RV and all its components as normal. Plugging your RV power cord into the electrical outlet will allow the batteries to charge, but it's worth noting that depending on the condition and power of your batteries, this can take a considerable amount of time.
2. Generator
Generators are most commonly powered by petrol or diesel, but it's possible to purchase generators fueled by propane, natural gas, and even solar energy for the environmentally-conscious traveler! Advanced generators may allow RVers to switch between fuel methods, which can be great if you run out of one particular type of fuel.
It's possible to use a generator to charge your RV by simply firing it up and plugging your RV into the generator. They can be particularly useful pieces of equipment, especially during the winter months when RVers relying on solar power may experience some difficulty.
3. Alternator
The underneath of your RV is just as important as the interior, and the alternator in your rig is a surefire way of charging up your RV batteries. Whilst you're driving through national parks and mountain roads in your RV, your alternator is working hard to charge both your vehicle starter battery and leisure battery.
It can take a considerable amount of time to get sufficiently charged up using just the alternator of your RV, but installing a DC-to-DC charger can speed things up a lot. A DC-to-DC charger works by raising the amps taken from the alternator and sending them to the leisure battery meaning it gets charged a lot quicker.
4. Solar Power
Solar power is the main source of power for my camper, and although it's fantastic on sunny days, I'm grateful for my DC-to-DC battery charger during the dark winter months! It's possible to mount solar panels to your roof or roof rack that can then be connected to your RV battery, powering the components in your RV.
Solar power is a renewable source of energy and although for most of the year, solar is a fantastic option, the latter half of the year can sometimes be a struggle. Fitting tilting brackets to your solar panels is a great way to utilize them best and allow as much of the sun to shine on the panel as possible.
5. Electrical Hook-Up
Plugging into power is one of the most popular ways in which RVers charge up their rigs, and electric points can be found at campgrounds. There may be a slightly higher rate at campgrounds for those who want to charge up their rigs, but if you use the 2-2-2 or 3-3-3 rule for RVing, you can get charged up over a couple of days and head off into nature for a while.
There's not one ultimate way of charging your RV batteries, and as long as you take care of them and avoid surging them with too much power or letting them deplete completely, you shouldn't experience too much of a problem.
Having a few different ways of charging your RV batteries is useful, especially if you're traveling full-time on the road.
The battery in my rig is powered by solar panels on the roof and a DC-to-DC charger that sends power to my leisure batteries when I drive. Having two sources of power to rely on gives me the piece of mind that I have backup options if one of my charging methods fails.
Closing Thoughts
An RV that's plugged in but without any power is a frustrating problem, but thankfully, there's an array of potential reasons why your RV isn't getting powered up. The issue is likely caused by some sort of fault in the electrical system such as with the battery, inverter, or even the wiring.
A common reason may also be a fuse that has tripped and needs to be replaced. It's important, however, to fully investigate the reason why your RV isn't powering up when it's plugged into a power source. It could be a sign of a bigger problem such as your RV batteries dying and needing to be replaced.
Electrical problems can often bring on a feeling of dread, and although RV electrical systems can be a bit intimidating, it's a good idea to try and get comfortable with the batteries and other components in your power setup.
Knowing simple things like how to change a fuse in your RV can save you hassle in the future when your electrical system experiences an inevitable hiccup.