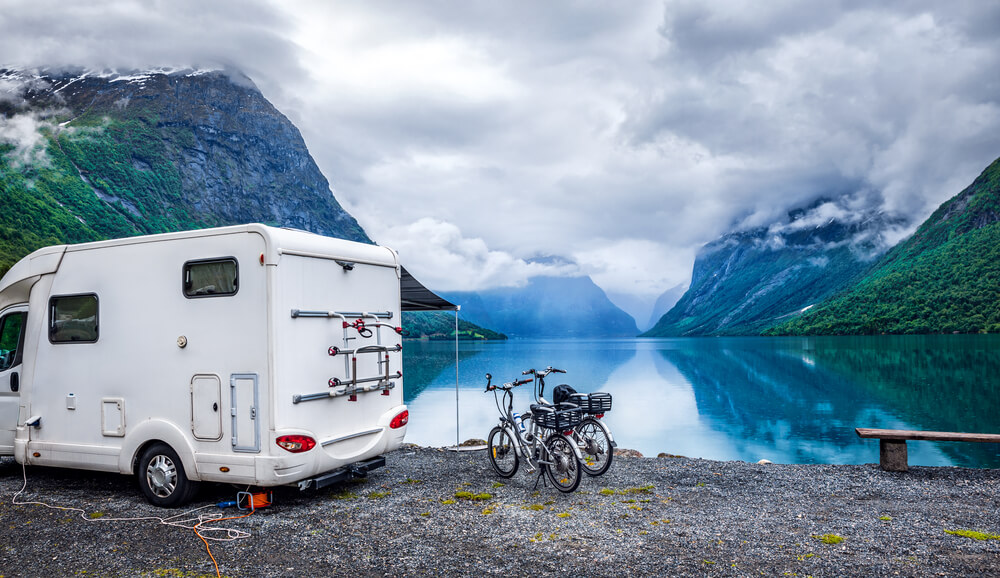 All of our reviews are based on exhaustive research, industry experience, and whenever possible, hands-on testing. When you make a purchase using one of our chosen links we'll a small percentage of the proceeds. This supports the site and keeps Jeffsetter running. You can read more here.
Looking for a new converter for your RV? Does your RV even have a converter? What's an RV converter anyway?!
RV converters are necessary components of your RV electrical system, doing exactly what their name implies: converting standard shore power into DC power, meant to charge your batteries or run certain appliances that only work on DC power.
For such an important function, you may be wondering how exactly converters work, what type of converter may be right for you, and ultimately what converter you should purchase for your rig.
We've put together a complete buyer's guide along with a list of the best options to get you started. But if you want to skip ahead and see our favorite converters you can see them here:
You can scroll down to see a detailed review or keep reading to learn everything you need to know about purchasing the right converter for your RV!
How Does An RV Converter Work?
Still wondering how your converter works and why it's important to your RV? It's a necessary component to any and all RVs, whether you're planning on being hooked up to shore electricity or not!
When you plug your RV into shore power or any other standard electrical source, the converter's job is to reduce 120v AC power down to 12v DC power. Converters have been made standard in newer RVs to supply power to all of the 12 volt appliances and accessories in your rig.
If your rig isn't plugged into shore power or another electrical source, your RV battery or batteries will supply the power to all of the 12 volt appliances and accessories in the RV. A converter is there to recharge your batteries when you are hooked up to shore power, which means your batteries will not drain and risk damage to their overall lifespan.
A converter works simply enough, and is either a standard feature or an easy plug and play addition to any rig. It is a necessary machine if you plan on utilizing your DC appliances or accessories, because your batteries will still drain even if you are plugged into standard shore power.
What's The Difference Between A Converter And An Inverter?
So you've seen a lot of RV products out there and learned a lot of new names for these products. But what do they all mean and how do they affect your RV?
Your RV electrical system is simplistic once you get to know it, and learning what an inverter and converter are is your first step! A converter, as stated above, converts standard shore power into DC battery power, often charging and maintaining your batteries at the same time.
An inverter does a similar thing, only in the opposite direction: it uses your DC battery power to supply your RV with standard AC 120V power. An inverter and converter work together to maximize your RV's electrical system, which means you don't have to worry if everything is working properly!
My RV Doesn't Have A Converter. Do I Need One?
Unfortunately for a lot of RV owners out there, a converter doesn't come standard. I know I had a moment of panic the first week I tested out my vintage travel trailer and my overhead fan (powered by DC energy) died! I had no idea what a converter was, but I quickly learned that a converter is a necessary part of your RV's electrical system.
If you plan to convert literally all of your RV's appliances to 120V AC shore power, a converter may not be a necessity to you. However, the cost of converting these appliances may be outlandish compared to the cost of a converter, as well as the availability of these appliances.
Your RV is designed to have certain appliances and accessories run on battery or DC power, so you may not find what you are looking for in an AC or shore power version. Besides, your RV's brake lights, tail lights, and other usual vehicle necessities require a charged battery to run. No matter what, you will still need a battery and something to charge said battery, so a converter is a no brainer in my book!
How Much Does It Cost To Replace My RV's Converter?
So you found out your RV has a converter. Great! However, after troubleshooting everything, you've discovered that your RV's converter is broken. Not so great!
Like most things in an RV, the cost of replacing a part depends on your needs and your own skill level. There are many converters on the market, and if you feel comfortable installing a converter on your own, you will save some money on installation.
However, a converter may be a more complicated installation than you are used to, and you may need professional advice and help when it comes time to get your new converter up and running. An RV expert will have no trouble installing a new converter for you if it is something you think is beyond your abilities!
In terms of cost, the amount of converters on the market should make options available to every budget. However, if you find that the entire converter needs replacing and it isn't an easy fix such as the fan or an updated battery charger, you may be looking at a larger budget. The converters on this list range in price, but hopefully there is one that suits your budget!
Replacing your RV's converter can cost between $100-$2,000 which is an unfortunately large range. However, the cost of it all depends on the amperage needed to power your RV as well as any other features you are hoping for from your converter. The average cost of replacing an RV converter starts at about $500, which may seem steep. However, your converter is an important part of your RV's electrical system and is worth the investment.
You may be able to save some money on installation, or perhaps on a converter that doesn't produce as much power as another model. Your DC system shouldn't be powering anything too extreme, which means you probably don't need a high output converter. However, if you find this to be a necessity to your rig, just be prepared for the cost of such an upgrade.
Will An RV Converter Work Without A Battery?
Wondering if your RV converter will work without a battery? This is an interesting question, and one that may not apply to all of you RVers out there. However, the answer may not be the one you're hoping for.
Your RV converter is designed to convert the power from your rig into 12v power that your battery then stores up for future use. In theory, can't you use a converter without a battery if you are consistently hooked up to shore power?
The short answer is, yes, you can indeed run only your converter without a battery and enjoy 12v power, but only if you are consistently hooked up to shore power. There are also many reports of ruining converters using this method. Why might this be?
Your electrical system is designed to store excess power and energy into your RV's batteries, meant for later consumption or use when your energy needs are high. Without these batteries being utilized, the chances of burning out your converter are much higher.
Many RVers have tried using their built in RV converters without a battery and most people report success for a short period of time. However, if your RV is permanently hooked up to shore power, it is recommended that you still utilize your batteries to ensure proper maintenance and care of your RV's electrical system.
Converters are designed to work in tandem with batteries, and nearly every RV comes with them, standard. So unless you are struggling with your storage and need the battery's compartment for an upcoming trip, keep your electrical system happy by leaving it be!
Do I Need A Battery Charger As Well As A Converter?
When shopping for a new converter, you may be overwhelmed by what it all means, especially the features regarding battery charging. Do you need to keep your batteries charged? Will a converter do that? Or will more purchases need to be made?
The easy answer is yes, you must have a way of keeping your batteries charged if you desire to use any appliances or features that utilize DC power. Your converter may or may not automatically charge your batteries for you, however.
If you don't already own a separate battery charger and your converter needs replacing, you may want to consider a converter with battery charging capabilities. It is necessary to keep your batteries charged up if you want to use your converter to the best of its abilities; if your batteries aren't charged, your converter will have no energy to convert and utilize for your rig!
Thankfully many converters these days have charging built into it. While some of these converters may cost more than others, you may find it worth it and simpler to buy an all in one option. However, if you're accustomed to keeping your batteries charged in your RV and already own a battery charger, you may have better luck finding a more budget friendly converter without smart charging capabilities.
How Much Power Do I Realistically Need?
Let's say your budget depends on how many amps you can afford, as converters often base their prices on amperage output needed. This is an easy way to moderate your budget, but it comes down to knowing how many amps you realistically need. What might this number be?
If you are hoping to be exact, it's going to take some math. You'll need to determine what appliances in your RV utilize DC power. This won't be all of them, but it may be a decent amount, as some RV appliances run on both AC and DC power.
You may not ever find yourself in a situation where you only have DC power, but it isn't a bad idea to keep in mind in case there is ever a power outage or other electricity complication. So it is a wise idea to calculate your needed amperage with all appliances in mind!
Your appliances have two different amperage rates: the start up amount and the running amount. The starting rate of amps will always be higher than the running rate, and this is the number that matters more. If your converter can't handle the start up amperage of all of your appliances, then you may want to consider a higher output converter.
However, once you've done your math, chances are you need a converter of average amperage output. Many appliances don't require very many amps, save the microwave and air conditioner, and these units rarely run solely on DC power.
Keeping your power needs in mind can be useful for many different aspects of your RV, and not just your converter! Knowing your average amperage usage will matter when shopping for batteries, a generator, and a host of other things. You will be a responsible camper knowing the amount of power you need, as the worst that can happen is you blow a fuse in a campground!
Types Of RV Converters
There are many different types of converters out there, each with their own special abilities and compatibilities. Choosing one that best suits your needs is a good idea, especially if you are upgrading an old or broken converter! These are some of the most common types of converters, but you may need to do additional research to find one that best suits your needs.
Multi Stage Or Smart Converter
So you're looking for a converter to do it all- good news, there's an option out there for you! A multi stage converter is an amazing modern converter capable of charging your batteries, keeping them at a consistent level, and shutting off when your batteries have reached an optimum level of charge.
Multi stage converters are most people's first choice these days, given their capabilities. This converter takes care of you and your rig's electrical system at every step of the process so that you always have peace of mind.
A charged battery is a happy battery, and a multi stage converter knows the harm of an overcharged battery as well. Single stage chargers, often found in older RVs, don't have the same capabilities as multi stage chargers. For example, single stage converters or chargers are only capable of a large bulk charge.
These converters can often overcharge your batteries, leading to permanent damage. A multi stage converter is designed to avoid this and protect your batteries over a longer period of time.
High Output Converter
Do you need multiple batteries charged and enough juice to power larger appliances running off of a DC current? A high output converter may suit your needs best.
This converter is designed to work for you, and work hard. It is the best converter for harsher climates, as well as the best option if you need a high output of energy for your DC appliances or accessories.
This converter also helps out all of your batteries, if you have more than one that needs charging. If you know you'll have a lot of energy demands for your 12v system, this is a good converter to consider.
Deck Mount Converter
If you're looking for a converter that can be installed most anywhere, look no further than a deck mount converter. Just like the name suggests, this converter can be installed anywhere that cords will reach it so that you don't have to worry about installing it somewhere inconvenient.
This converter may suit your converted or otherwise bespoke rig best, as most conversions require very different set ups than standard RVs. Having the option to mount a converter beneath seats, counters, or on a wall is appealing to many RVers!
Distribution Panel Converter
Do you have an older rig in need of a converter replacement? Are you looking for an easy switch? Research distribution panel converters, because it may be the right fit for you!
Most distribution panel converters are designed to replace older models and can usually be installed in the same place. They are newer and more efficient than older models of converters, which means you're getting an upgrade in every way!
Distribution panel converters are capable of charging your batteries efficiently as well as working silently to power your appliances. Their efficiency is such that you won't have to worry much about energy loss.
How To Take Care Of Your RV's Converter
If you already own a converter, or if you plan on purchasing a new one for your RV, maintenance and upkeep are essential for the health and life of this piece of technology! How can you take care of your RV's converter?
There are a few things you can do to lengthen the life of this handy device. However, the upkeep of your converter also depends on the upkeep of your RV's batteries, so keep that in mind when reading forward!
Take Care Of Your Converter's Cooling Fans
One of the most important components of your converter is the cooling fan. Converters give off a lot of heat while doing what they are designed to do: converting energy, if you hadn't already guessed. This means that the cooling fan is a necessary feature of all converters, and most often the first thing to fail.
Taking care of your fan is a fairly easy task. Much like any other fan used to cool electronic devices, it needs consistent cleaning and maintenance to keep your converter cooled down. An easy fix you can perform as part of your maintenance process is keeping the fan blades clear of dust and debris.
This may be a slightly involved task with some converters as the fans may be more difficult to access than other parts of the device. However, canned air or other electronic cleaning supplies may make the process easy for you.
If your converter fan is malfunctioning or has quit operating, you may need to reach out to an RV repair center to get it repaired. Your converter can't work at full capacity without a fan, and chances are, it won't work for long no matter what!
Take Care Of Your RV's Batteries
Your converter's power and longevity is directly linked to the health of your RV's batteries. While no RV battery is designed to last forever, you can perform a decent amount of maintenance on it to extend the life of it and, in turn, your converter.
Whether you have one battery or multiple to power your RV, it is important to take care of them. Batteries are prone to corrosion, improper off-season storage, and improper charging. All of these things have simple solutions, however, and it may be worth doing should you wish to extend the life of your batteries and converter.
Corrosion is the most common issue with RV battery maintenance, but is a very easy fix. Should you notice any sort of sulfation or corrosion, don't be alarmed. A battery's normal process of charging and discharging forms sulfate crystals on any parts of a battery's lead plate.
The easiest thing for you to do should you notice these crystals is clean them off. Disconnect your battery, purchase a terminal cleaner (or make one yourself using baking soda and water!), and use the solution and a metal scrub brush to scrape away the corrosion. There's even terminal sealant spray to deter future corrosion, so that you can save your time and money the next time maintenance is needed!
Another cause of battery failure is improper off-season storage. Your RV's batteries should be kept inside while not being used for maximum health and longevity, which means disconnecting them when you store your RV for the winter.
The batteries should still be kept at a full charge, however, so you may not have a dedicated space in a garage or workshop for them. This is not something that will cause too much of an issue, and RV batteries have been known to survive a season or two still installed and uncharged in an RV.
However, removing and storing your batteries is a necessity if you live somewhere cold. Batteries can freeze in winter and cause irreparable damage to them and potentially your converter as well.
The final step you can take with your RV's batteries is properly charging them. This may seem like a no brainer, but batteries are often over or under charged. Many factors play into why this might happen, but an easy solution is purchasing a converter or battery charger that automatically turns off when your battery is fully charged!
No matter what, happy batteries make for a happy converter, so don't hesitate to perform these extra maintenance plans!
The Best Converters For Your RV
Feeling confident about what a converter is and why you need one? Do you have a good grasp of your own needs and what type of converter will best suit your RV lifestyle? Let's take an in-depth look at some of the best RV converters on the market!
Best Overall: Powermax 110 Volt to 12 Volt DC Power Supply Converter Charger for Rv Pm3-55 (55 Amp)
The reviews are in: the Powermax 110 Volt to 12 Volt DC Power Supply Converter is a fan favorite and a great overall choice for your rig! This converter includes state of the art 3 Stage Smart Charging and adjustable power supply modes so that you can have the peace of mind you need when charging up your batteries and appliances.
This converter will fully charge and maintain any battery type while providing very clean DC power.The PowerMax PM3 Series are available in a wide range of amperage sizes, and with 24V, 48V versions and 12Vdc – 220Vac models meant to suit every power requirement. This particular model powers up to 55 amps, which means most all of your RV needs should be met with little to no trouble!
PM3 Series converters can also be wired in a series or parallel to reach even higher power outputs, depending on your batteries and needs involved. This converter also features a fixed output mode where the voltage can be set between 13.0 Vdc to 16.5 Vdc. It also includes a current limiting design that automatically shuts down power during overload or short-circuit conditions.
Worried about this converter being complicated to set up? This unit is simple to install with built in mounting flanges and an AC power cord to plug into standard 110/120v outlet. It measures 11 x 8 x 4 inches and weighs only seven pounds, so it should be a fairly universally fitting little converter!
This may not be the best converter for you if you plan to utilize your batteries as your main source of power. Of course, this method of camping is fairly unsustainable, but this converter has varied reviews regarding its amperage. It claims 55 amps, but some reviewers say it never reached that amount for them.
Whatever the case, this little converter suits the needs of the average camper, and at a fair price. Given its easy install and easy operation, it seems like a no-brainer for those of you looking for reliability and simplicity!
You can read more reviews from other RVers and check the latest price on Amazon by clicking here.
Best Existing Converter Replacement: WFCO WF8955PECB Black 55 Amps Power Center Converter Charger
This converter is made for those of you hoping to replace your existing power center. The WFCO WF8955PECB Black 55 Amps Power Center Converter Charger is a common brand and style of converter sold at RV repair shops, and will often have a much higher price tag attached to it if you purchase it from an RV retailer! Here's why this converter is an RV mainstay.
This power center utilizes quiet operation and is guaranteed to only run the cooling fan when needed. Another advantage of this converter is the FCC Class B compliance for this model, which means that the converter does not cause interference with televisions, radios, or other signals.
Another perk of this converter is its automatic three-stage battery charging system, which maintains your battery's life with three nominal voltage output modes. These are as follows: 13.2 VDC range "float" mode, 13.6 VDC range "absorption" mode, and a 14.4 VDC range "bulk" charge mode. Electronic current limiting automatically shuts down the power during overload or short-circuit conditions, which means your electronics and other appliances will be safe should the converter short circuit or malfunction.
This power center may look like the existing converter in your RV, and if it does, this installation should be simple and easy. Some reviewers say it is a great plug and play option for your rig, but others struggled with installation. It may boil down to your own skill level, and when in doubt, have a professional install it!
The dimensions of this converter may suit your RV perfectly, as it is made to directly replace older models in some rigs. However, the dimensions (14 x 11.88 x 8.25 inches) may not be what you are looking for, so keep this in mind when shopping around.
You can read more reviews and see today's price on Amazon by clicking here.
Best Deck Mount Converter: WFCO WF-9855 WF-9800 Series Deck Mount Converter Charger
Very rarely do I come across products with five star reviews across the board, but this WFCO WF-9855 WF9800 Series Deck Mount Converter is a customer favorite- at least at the time of writing! Deck mounted converters are a great choice for anyone hoping to install a converter in their rig for the first time, and WFCO products can't be beat!
This converter weighs just barely over four pounds and its dimensions are 11.6 x 6.5 x 4.3 inches, which means it should be an easy and compact installation anywhere in your rig! It provides clean DC power ranging from 35 to 75 amps, and utilizes an advanced 3-stage charger. And like most all WFCO converters, its cooling fan only activates when there is a significant electrical load on the system.
WFCO products also feature fully insulated DC connections with an open-top design for ease of use for fast and nearly effortless installation. This deck mount converter is a simple design and very affordable if you feel confident installing it yourself. Many RV shops carry this brand and will charge much more for installation, which may mean it is outside of your budget.
However, WFCO has made it easy for you to install yourself! Some reviewers mention their customer service line lacking from time to time, but there are enough tutorials and instruction manuals out there to get you where you need to go!
No matter what, there are no qualms about this converter working as advertised. Just hook it up, and your rig should have converted DC power for years to come!
You can see all the reviews and the latest price on Amazon by clicking here.
Best Smart Converter: Progressive Dynamics PD9260CV Inteli-Power 9200 Series Converter/Charger with Charge Wizard
Wondering what a Charge Wizard is? Once you learn, you may not want to buy any other type of converter! The Progressive Dynamics PD9260CV Inteli-Power 9200 Series Converter is a premium smart converter with outstanding reviews. Some of these features can't be beat, though your budget may not be this converter's biggest fan.
The Inteli-Power 9200 Series features a built-in Charge Wizard that constantly monitors voltage status and automatically manages your battery, which means you never have to worry about your battery's state again. These solid-state converter/chargers deliver filtered DC power to all 12 volt lighting and appliance circuits, providing safe and reliable service.
This smart converter also features reverse battery protection, which means it protects the converter from damage resulting from improper (reverse) battery lead connection. Electronic current limiting automatically reduces output voltage when maximum capacity is reached, protecting your investment and offering continual peace of mind.
Need even more features?
You'll also have high voltage protection, protecting your converter from spikes or surge of voltage over 135V. It also has low line voltage protection which automatically shuts your converter down if input voltage is insufficient and protects your appliances from damage. A variable speed intelligent cooling fan automatically monitors converter temperature and activates fan at whatever speed is required.
So many features may come at a premium price, but this smart converter can't be beat if you're looking for top of the line technology!
You can check out the latest price on Amazon by clicking here.
Best On A Budget: Powermax PM4 55A MBA 110V AC to 12V DC 55 Amp Power Converter with Built-in 4 Stage Smart Battery Charger
Hoping for the best converter you can get but on a budget? While many converters are similar in price and offerings, the Powermax PM4 55A MBA 110V AC to 12V DC 55 Amp Power Converter stood out to me. While it remains on the low end of the price ranges offered on this list, it doesn't sacrifice features.
This converter unit hard wires into an RV AC and DC power distribution center. The built-in smart charger automatically regulates output between the different charge rates of Bulk (14. 7V) Absorption (13. 8V) and Float (13. 2V),which means you don't need to babysit your batteries during this process.
With even more features such as reverse polarity, overload and thermal protection, the PowerMax PM4 Series provides high output, reliable, safe and clean DC power. PowerMax is one of the most known manufacturers of RV converters in the business, and it's clear to see why!
The manufacturer recommends this converter as an ideal replacement for any WFCO 8900 Series as well as most other RV converters. Weighing about five and half pounds and measuring 12.3 x 8.7 x 5.6 inches, it should fit right into most converter spots in your RV. However, the build and installation of this converter may prove more complicated than the average install, so you may need to seek a professional.
No matter what, PowerMax makes reliable and comprehensive converters on any budget, which means you don't have to sacrifice your needs in order to have safe and clean DC power!
You can learn more and see the latest price on Amazon by clicking here.
Best For Large Power Loads or High Output: WFCO WF68100A Deck Mount 100 Amps Converter Charger
Hoping to run most all of your appliances at once, DC or otherwise? The WFCO WF68100A Deck Mount Converter can do that and so much more! Boasting an impressive 100 amp load, this is a great converter for those of you with larger rigs and more battery operated needs.
Many large fifth wheels and toy haulers require a converter capable of amperage higher than 55 amps, which is where this WFCO converter comes in handy. Maintaining a fairly universal size of 10.3 x 10 x 3.9 inches and weighing only four pounds, this little converter packs a punch. It should be an easy plug and play converter, many reviewers reporting a quick and seamless installation without professional help.
This WFCO converter, like the others on this list, only runs its cooling fan when needed, which means you don't have to worry about excess noise inside your small RV. While operating, it is reported to run quietly, and has earned five star reviews from those of you who have converters installed in key areas of your rig (under the couch, in the living room wall, etc).
This converter is only a converter, not a smart battery charger. However, the amount of amperage it is able to handle may be exactly what you're looking for, and battery chargers are an easy and cheap buy. It will shut down if a circuit overloads, and it will alert you when your batteries need charging.
This may not suit everyone's needs, especially in the budget department, but this converter is a powerhouse. If you need more amps than anything else, then this may be the converter for you.
You can learn more and see the latest price on Amazon by clicking here.
Fan Favorite: IOTA Engineering DLS30 30 Amp Power Converter/Battery Charger
Looking for quality, simplicity, and the reviews to back it up? The IOTA Engineering DLS30 30 Amp Power Converter/Battery Charger may be a brand we haven't reviewed yet, but it's one worth mentioning! Compact and capable, unassuming and quiet, this may be just the converter you need!
Rectangular and industrial in appearance, the IOTA DLS30 measures 13 x 4.5 x 4 inches and weighs about four and a half pounds. It should fit most anywhere your converter can be found, and may be a direct replacement for your old converter! Many reviewers report this as being an easy install and that it directly replaces their old IOTA models found in toy haulers and other trailers, no problem!
The DLS-30 provides 400 watts of power at 30 continuous amps, and is great for use with a high power charger, or for charging lead-acid batteries directly. While it doesn't boast many smart charging features, it does over surge protection for your more sensitive electronics or appliances.
This little converter is also budget friendly, which can be a relief given that this converter is commonly found in many RVs and most direct replacements for RV accessories cost a pretty penny. It may not have all the features you are looking for, but many reviewers report this unit lasting years to come!
You check out more reviews and see the latest price on Amazon by clicking here.
Best Distribution Panel or Power Center Converter: Parallax Power Supply 8355 DC Converter/Charger
So your entire power center needs replacing when your converter goes out. This seems like a huge investment, but thankfully the Parallax Power Supply 8355 DC Converter/Charger will give you peace of mind once the installation is done!
The 8300 Series brings output amperage to 30 amps with a three stage 55 amp converter charger. It has been manufactured to operate on 15 amps of AC power, which means you have plenty of power for running other 120V devices. The unit is built with a durable steel enclosure and has an 11 position fuse block with blown fuse indicators.
Though this may be a complicated install on your own, Parallax remains an important name in the RV game. You may recognize it from your current converter even, and it is smart of you to look at another Parallax power center as a replacement!
Your budget may not have room for this power center, especially when Parallax advertises additional purchases to maximize your converter's power and charging. However, if you're capable of committing financially to this converter, it won't disappoint for years to come.
You can see today's price and check out the reviews on Amazon by clicking here.
Best For Small Spaces And Conversions: WFCO WF-9845 WF-9800 Series Deck Mount Converter Charger – 45 Amp
Looking for the smallest converter money can buy? The WFCO WF-9845 WF-9800 Series Deck Mount Converter Charger may be the Cinderella slipper for your van conversion in need of a reliable but tiny converter!
While many converters on this list fit the bill, this little guy comes in just slightly smaller than others while still maintaining all the necessary smart features and at a great price. 11 x 5.88 x 4 inches is nothing to scoff at, especially considering the deck mountability of this converter. Many reviewers mention this being an easy replacement for their existing RV converters as well.
While it only generates up to 45 amps, this usually proves enough for the average camper, and it still features WFCO's patented 3 stage charging system. A reliable and common brand, you should have no trouble seeking help online should installation prove difficult!
This converter comes in on the lower end of the budget in terms of comparing it to other converters on this list, which means you don't have to sacrifice most things on your wish list should you be looking for a small and reliable converter!
You can check out the latest price on Amazon by clicking here.
Best Converter Replacement: Parallax Power 45RU Converter Replacement
Own a Class A, B, or C motorhome and hoping for a familiar replacement for your current converter? The PARALLAX POWER 45RU Converter is an amazing choice for you, as it is billed as a direct replacement for any old Parallax brand converters!
Perhaps the smallest converter on this list, measuring 4 x 10 x 7.5 inches and barely four pounds, this Parallax converter doesn't skimp on features. The 45RU is a three current stage 45 Amp converter and battery charger, which means you won't have to worry about maintaining your battery manually. This converter will charge, maintain charge, and stop charging your batteries when they are fully charged!
The 45RU is a direct replacement for the Parallax and MagneTek 7345 power centers, should you happen to be replacing one of these models. This unit can also be upgraded to TempAssure technology by installing an additional Parallax module to maximize battery charging. However, another piece of Parallax technology will cost you another chunk of change, as this converter remains high on our list in terms of budget.
Parallax also boasts a great customer service line, just in case you are unclear about what converter you're looking for or how best to install it. Hopefully this will be a direct replacement for your current converter, especially if you own a motorcoach. Just call Parallax if you have any further questions!
You can see the latest price on Amazon by clicking here.
Conclusion
Shopping for an RV converter can be an overwhelming task, let alone knowing your needs and hoping you can install it without professional help!
No matter your situation, the converters on this list are reliable, top rated, and affordable. Replacing your converter can be a daunting task, but a necessary one.
Take care of your batteries, know what amperage you need, and grab a friend. A new converter installation can be a breeze, especially with these products in mind!