Last updated on December 13th, 2022 at 09:35 am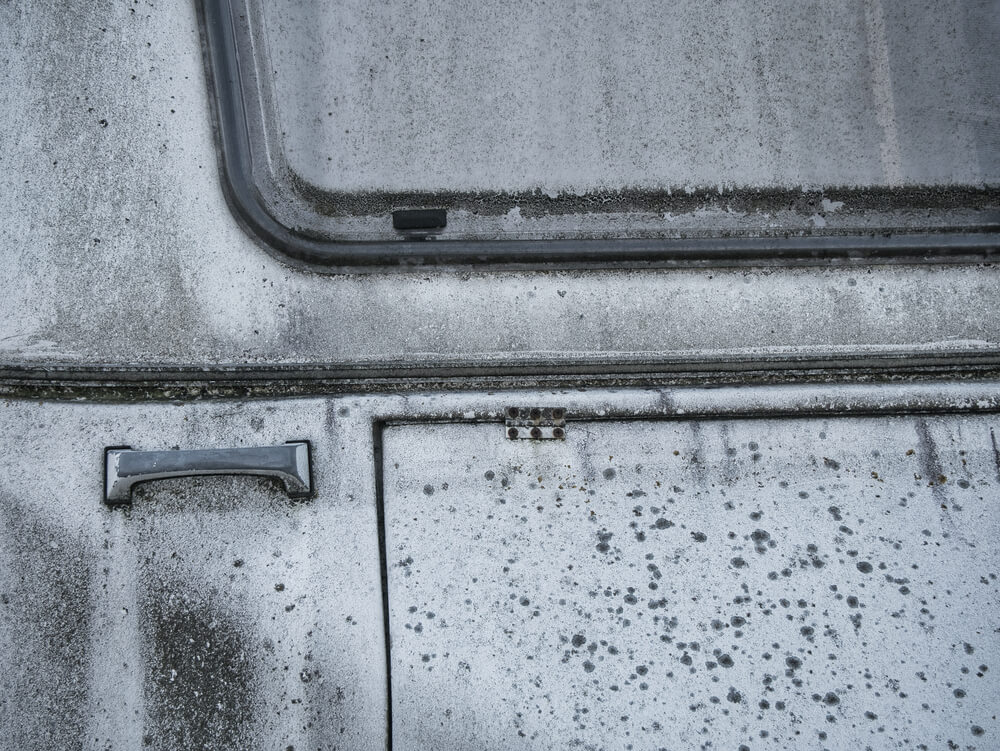 All of our reviews are based on exhaustive research, industry experience and whenever possible, hands-on testing. When you make a purchase using one of our chosen links we'll get a small percentage of the proceeds. This supports the site and keeps Jeffsetter running. You can read more here.
Mold certainly sounds like a scary word. At worst it can mean an expensive and exhausting removal process coupled with real health risks for some people who are sensitive to it. At best it's a nuisance with a terrible, musty smell and an unsightly look. Either way, you want to be rid of it as soon as possible.
Mold in your RV can seem even more intimidating than in the home. It's a smaller space so mold can be more pervasive in your RV than in your home.
So, how do you go about removing mold from your RV?
Cleaning methods can be harsh like bleach or they can use natural common household items like vinegar or baking soda. The right one for your situation will depend on where and how severe the mold is. Preventing it from coming back is just as important as removing it.
We'll explain the different ways to clean mold from your RV and the best practices for keeping it at bay below. I've organized the article in three parts so it's easier to navigate. The first section explains how to find mold in your RV, then we explain how to remove it, and finally, I'll cover how you can prevent mold in the first place.
How To Find Mold In Your RV
How Do I Know If I Have a Mold Problem?
Mold can sometimes be difficult to find since it likes to hide in dark areas that you likely don't check on a regular basis inside of your RV. You'll often smell a mold problem before you can see it. It typically has a musty and damp smell to it.
Finding mold is the first step in figuring out how to clean it, and regularly checking the places mold is most likely to grow in and around your RV can help prevent mold from spreading and becoming a much larger issue.
Mold will usually look kind of fuzzy and it's actual texture can vary from velvety to powdery depending on the type of mold you're looking at. It's also going to vary in color but willmost likely be black, blue, green or white.
There are toxic mold kits available for sale that can help you test for mold around your RV. That being said, they are not considered to be very reliable and should be used in conjunction with other methods of identification.
Where in My RV Should I Check for Mold?
Mold really likes dark and damp areas. You'll want to check the bathroom, especially close to the plumbing. The kitchen can also be a hot spot for mold and it's one of many reasons why outdoor kitchens can be so nice. Cooking can create a lot of moisture in the air which is molds favorite thing.
Because mold likes moisture so much, you'll also want to check around and nearby the windows of your RV and in and around all of your RV appliances like the air conditioner, the RV fridge and the fresh water tank.
If you find that the mold is on the floors, the roof or the walls then you'll want to thoroughly check the outside of your RV for mold as well.
Why Does Mold Matter?
Besides being unsightly and smelling bad, mold can actually carry some heath risks for individuals that are sensitive to it. People who have an allergy to mold or who have asthma can experience a host of symptoms ranging from a runny nose all the way to having difficulty breathing.
A Note on Mildew…
Mold and mildew are often used interchangeably, but mildew is actually a mild form of mold that typically takes less effort to clean than some other types. All of the methods below will work for both mold and mildew.
How To Get Rid Of Mold In Your RV
Bleach
Likely, the first thought that came to your mind was bleach. The most common way to get rid of mold in most situations is to use bleach. Bleach will cut through and kill most molds but is a very harsh chemical and can be dangerous if not used properly.
You'll want to dilute the bleach in water, using one cup of bleach to one gallon of water. Make sure to use bleach only in a well ventilated space as the fumes can be toxic. Avoid using bleach if you have pets or kids in the area so they don't breathe in the fumes or mess around in the chemical.
Use gloves to protect your skin and follow up with soap and water to get rid of any bleach residue left on hard surfaces.
Bleach is best used on hard surfaces, but it will destroy most fabrics. The natural solutions below are less harsh and most will not damage your fabric furniture or carpet. That being said, I highly recommend testing any cleaning method on a small unseen area of fabric before cleaning the entire thing to ensure you don't cause any damage.
Natural "Spray & Scrub" Solutions
There are quite a few natural cleaning methods you can use to get rid of mold. These options are less harsh, but can be just as effective and can often be used on more surfaces than bleach. There are also quite a few you may have in your pantry already. All you need is an empty spray bottle and some elbow grease.
As the name suggests, all of the solutions below should be sprayed thoroughly over the mold and then scrubbed until you no longer see the mold on the surface.
Vinegar
You don't even need to dilute vinegar in order for it to be effective. You can just pour it into a spray bottle and go. If the smell is a bit too pungent for you though, feel free to dilute the vinegar in some water to make it less harsh.
Tea Tree Oil
Put about 10 to 15 drops of tea tree oil into a spray bottle of water and not only do you have a solution that will destroy mold, but you have the added bonus of a natural spider repellent.
It's important to note that tea tree oil can be toxic to pets, so it's not a recommended method if you have any four-legged friends in your RV with you. If you want to use tea tree oil even though you have pets, make sure to clean every surface you used the mixture on with soap and water before letting your pet back inside.
Hydrogen Peroxide
Just put 3% hydrogen peroxide into a bottle and spray. Make sure to spray the mold completely and let it sit for ten to fifteen minutes before scrubbing.
Distilled Ethanol
This sounds like it could be hard to get a hold of, but it's really just a fancy way of saying bottom shelf alcohol. This is also a spray and go solution with not diluting necessary, but like the vinegar, the smell might be a bit much if you don't dilute it with some water.
Grapefruit Seed Extract
Not only does this option kill the mold, it helps prevent it from growing again. Mix about 20 drops to two cups of water and make sure you don't rinse this solution off after you're done scrubbing. The residue will help prevent future growth.
Baking Soda
Put ¼ tablespoon of baking soda into a spray bottle of water. Spray, scrub, and make sure to wipe the surface clean when you're done.
There are plenty of products on the market that are designed to get rid of mold, and I'm sure many of them would do a great job, but the solutions outlined above are cost-effective, more natural, and you may even have them in your staples pantry already.
Preventing Mold In Your RV
The prevention of mold is as important as the removal. You don't want to put in all of that hard work to get rid of it just to have it resurface and have to start the process all over again. There are a few simple things you can do to keep mold from growing in your RV and these are especially important in situations where mold is more likely to grow unchecked, like when you're storing your RV or otherwise not using it for a long period of time.
Clean Regularly
Clean your RV more often. This might seem too obvious to even point out, but I'm talking spring cleaning level of clean, not just a quick tidy up before the neighbors come over level of clean. Every three months or so give your RV the spring cleaning treatment.
Also make sure you thoroughly wipe down and dry any surfaces that get wet inside your RV.
Maintain Good Airflow
Maintain good airflow inside by opening windows and/or by running the air conditioner and fans. Mold likes moisture so keeping the space dry is going to do a lot to help keep mold away.
You can also run a dehumidifier to really dry out the space. Ideally, you want the dehumidifier to keep your RV at around 30-50% humidity. That's best both for human comfort and for keeping moisture levels low.
If you're cooking, make sure to utilize the range fan.
Manage Your Appliances Properly
In general, you want to properly manage your RV appliances, but that will also help prevent mold buildup. Practices like keeping your RV fridge doors open when the unit is turned off and not in use can really help with this. I go into depth on how to maintain your RV fridge while not using it here.
Check For Leaks
In the same vein as properly maintaining appliances, you should always be checking your RV for leaks and making sure your fixtures are in good shape. Check your doors and windows for any leaks and add extra caulking when and where needed.
Use Moisture Absorbers
Moisture absorbers can help prevent a build-up of moisture inside of your RV. I would recommend placing one or two inside of your RV bathroom since that's where mold is most likely to grow. This can be especially useful if you have a wet bath that's regularly getting soaked. The video below demonstrates and explains how they work:
The Mold Keeps Coming Back
So, you've done everything above, but you mold problem is persistent and won't go away. What then?
I hate to be the bearer of bad news, but if you've followed all the previous steps and used all the elbow grease you can muster to try to get rid of the mold in your RV yourself but that musty smell keeps coming back like a bad luck charm, you might need to consider having professionals take over.
Professional mold remediation companies can handle it when your mold infestation is too large to manage yourself and they can give you the peace of mind that when they're done, the mold won't come back.
Of course, professionals cost money and time and mold remediation work can run as much as $3,000. That cost could be higher or lower in an RV and it will really depend on the type of rig you have. So if you can do it yourself, it's often a good idea to give it a shot.
Conclusion
Mold can eventually become a costly issue if not dealt with as soon as you find it in your RV. It can grow and spread to every corner of your RV if you're not careful and checking for mold often.
Ensuring proper seals on your doors and windows, as well as maintaining good air flow and using moisture absorbers can help prevent mold from building up in your RV. Doing these things will save you plenty of headaches down the road.
Knowing how to identify and where mold is likely to be inside your RV will help you find the problem before it becomes too big to handle on your own. Regularly checking high moisture areas, like your bathroom and around windows, is a good practice to get in the habit of.
If you do have a mold problem, there are many different ways to deal with it. Picking the right one for you should be an easy decision now. If you have pets or kids, the non-toxic options are best. If you're focused on fabric, stay away from bleach. If you happen to have a spider problem as well, tea tree oil can kill to birds with one stone. If your mold problem is severe using bleach properly is a great option.
Ultimately, most mold problems can be dealt with easily using items you might already have inside of your pantry. Once dealt with, make sure to take vital steps in preventing it from returning.