Last updated on July 3rd, 2023 at 12:52 pm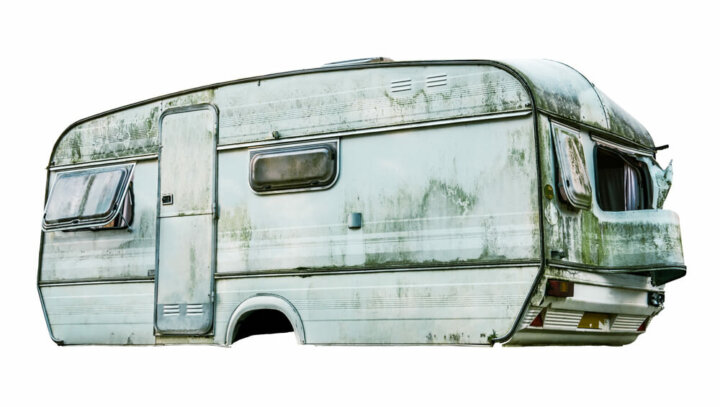 All of our reviews are based on exhaustive research, industry experience and whenever possible, hands-on testing. When you make a purchase using one of our chosen links we'll get a small percentage of the proceeds. This supports the site and keeps Jeffsetter running. You can read more here.
Mold only requires a little organic matter and some moisture to take hold. Early treatment is fairly simple, but sometimes it hides away and isn't noticed right away.
Left unchecked, it can cause damage to your RV. Some types of mold are even detrimental to your own health.
So, how do you prevent mold in an RV during storage?
The best way to prevent mold in a camper during storage is to get rid of all sources of moisture. Blowing out fresh water from the pipes, running a dehumidifier before storage, removing fabrics, ventilating your RV properly, and inspecting it regularly for signs of moisture and mold are great places to start.
Below, we'll take a closer look at what causes mold and how to prevent mold in an RV during storage. I'll also talk about why mold is dangerous and briefly touch on how you can clean mold and mildew.
What Causes Mold in a Camper?
Mold and mildew are bacteria that thrive in moist environments. They start as tiny spores that are invisible to the human eye. What makes mold so terrifying in a lot of ways is that it can grow on a lot of different surfaces and all it needs is moisture to grow.
So, since all types of mold require moisture to grow, the best defense against mold in a camper during storage is keeping the moisture out.
How to Prevent Mold in an RV During Storage?
Preventing mold during RV storage is all about avoiding moisture. It's crucial that you eliminate sources of water, you also need to inspect your RV for possible damage that could let water in, and be aware of how condensation can affect the growth of mold and mildew.
Let's take a closer look at these tips.
1. Opt for Indoor RV Storage When Available
Indoor storage goes a long way as far as protecting your RV from the elements. When rain, snow, fog, and condensation can't get in your RV, there's less moisture exposure and less risk of mildew finding somewhere to grow.
It's even more beneficial to use a climate-controlled storage unit. Climate-controlled storage units are more expensive, but there's no risk of fluctuating temperatures causing condensation that leads to mold.
2. Do a Thorough Inspection Before Storage
It's easier for mold to take over your RV when moisture has somewhere to seep in. Before storage, look at all the ceilings, walls, and windows for signs of moisture damage. You should also check the vent fans and thoroughly inspect the roof.
Aside from obvious mold growth, signs of a leak could include cracks, bubbling, discoloration, soft spots, rusty outer screws, dry or cracked caulking, or mildew smells. If there are signs of moisture damage, you'll want to make repairs to the area or reseal your RV roof.
You should also check for leaks around your kitchen and bathroom sinks, shower, and toilet and make repairs if necessary. Don't forget to check the inside of cabinets and behind areas that aren't always visible. Additionally, look for areas of condensation in your RV that may need to be wiped down before storage.
Here's a quick video of some places you should be checking for moisture or mildew in your RV.
3. Blow Out Fresh Water Lines
If you plan on storing your RV for an extended period of time, it's really helpful to remove any fresh water from the tank and plumbing lines like you would when winterizing your camper.
Any extra water during storage increases your risk of mold, even if there aren't any leaks. You can use an air compressor to blow out water lines and make the pipes nice and dry.
4. Remove Linens and Fabric Before Storage
If you're planning on storing your RV for a while, remove linens and fabric like your towels, bedsheets, and any leftover laundry. You can even remove the curtains and couch cushions and store them separately.
The reason you should remove excess fabric and linens is that they can trap moisture. This makes it harder to get the extra moisture out of the air when you ventilate your RV.
5. Decrease Humidity with a Dehumidifier
Dehumidifiers pull water out of the air room and into a collection area that you can empty. This makes them a useful tool for pulling all the moisture out of your travel trailer or the area you store it in.
Before storing your RV, it's ideal to let the dehumidifier run for several days. During this time, the RV should be closed up and nobody should be running in and out, so it gets the most moisture out as possible. If you don't have a dehumidifier, then running a few fans through the RV can also help dry it out.
If you are using indoor storage and the location has an outlet, periodically running it helps with moisture removal, too. You could also run the dehumidifier inside the RV as needed.
6. Buy Dessicants or Silica Gel Packets to Remove Moisture During Storage
If there isn't any electricity at your storage location, then using silica gel packets or clay desiccants can absorb moisture during storage. Silica gel packets are those small packets you find inside your shoes when they're new.
You can buy multi-packs of these moisture-removing packets online and even find containers of clay desiccant that work in the same way to remove moisture. Set these around the RV, particularly in problem areas, before you store it away.
7. Use the Right Kind of RV Cover
If indoor storage isn't an option for some reason, then an RV cover will go a long way as far as making your RV a little more resistant to the outdoors. However, not all covers are created equally.
You do want an RV cover that waterproofs your RV and protects it from UV rays that will fade it and cause damage to the seals around the roof and windows. However, it also needs to have some type of ventilation that lets moisture from condensation escape if it gets under the cover.
8. Open Closets, Cupboards, Doors, Windows, and Roof Vents
Moisture is a risk in any environment because condensation is one of those processes that happen naturally and it can leave behind moisture that feeds bacteria like mold and mildew.
Condensation happens when water vapor (basically, air and water molecules) reaches dew point. Additionally, warm air hitting a cool surface also causes condensation.
You can reduce the risk of condensation getting trapped by ensuring there's good ventilation and airflow through the RV. The best way to do this is to leave closets, doors, cupboards, windows, and roof vents open, particularly if you have the RV covered or stored to protect it from the rain.
If you aren't confident in your RV cover's ability to keep moisture out and don't want to leave the vents and windows open, then check on your RV periodically and open it up during storage to get air flowing and give it a chance to ventilate.
9. Clean Moisture, Mold, and Mildew Immediately
Any water damage, mold, or moisture that's left to its own devices is just going to get worse. You should take the time to look for these things at least once a month, even when you're RV is being used. Finding them sooner rather than later makes cleanup easier, plus it's usually more affordable to fix the damage when it's caught earlier.
If moisture is a regular problem in an area, then treating the root cause is also important. Look for broken seals, leaky pipes, or other water sources in the area. Without fixing the problem, mold will reoccur.
10. Use Ventilation When the RV is in Use
You should always run the exhaust and vent fans when cooking or showering in your RV. Both of these activities release steam into the air that seeps into the walls, wood, and other materials.
When you start with an environment that has more moisture in it, removing moisture takes longer. There's also a greater chance of mold developing with more moisture in the air.
What Kind of Damage Can Mold Cause to My RV?
Mold spores start as a small area that is mostly cosmetic. It can cause blue, white, green, or black stains on different fabrics, your walls, furniture, wood, or any other type of organic material.
If mold isn't cleaned, it continues to spread. It grows along moisture, so if moisture is deep into the walls and floor then the mold continues to grow. As it grows, it eats away at organic matter and causes damage deeper down. It ruins seals that keep moisture out and can cause permanent staining and damage.
Is Mold in a Camper Dangerous?
Not only is mold dangerous to your RV, but it is also dangerous to your health. Mold spores exist pretty commonly in the air that we breathe, but being exposed to a greater concentration of mold for a long period of time can cause health problems.
Plus, when you inhale mold spores, they can take hold in your respiratory tract and lungs, after all, they do thrive in warm, moist environments.
Physical symptoms of mold exposure include throat, eye, and skin irritation, nasal and sinus congestion, cough, wheezing, and headaches.
If you are living in your RV full-time then the long-term exposure can also cause severe respiratory illness and difficulty breathing, especially in people with weak immune systems or who already have a respiratory illness.
Can I Remove Mold from My RV?
Yes, it is possible to remove mold from your RV, especially if you've caught it early enough and most of the mold is on the surface.
You'll want to wear protective gear including a mask and goggles since mold spores cause a lot of irritation when they are inhaled. You should also wear long sleeves and gloves since mold exposure can cause skin irritation or a rash.
One of the most effective ways is using a spray bottle with a 1:1 ratio of hydrogen peroxide and water. Bleach can also be used, though this runs the risk of discoloring surfaces you spray it on and it has a much harsher odor.
You should spray the hydrogen solution onto the mold and let it sit for a while before wiping it away. Then, wash the area with soap and water before rinsing it clean. Use a fan to ensure that the area dries all the way before storing it.
There is also commercial mold remover that you can try, as well as DIY options that are more natural. White vinegar and water, baking soda and water, and tea tree oil and vinegar are all combinations that kill mold.
Final Word
Mold and mildew can cause an absolute disaster if they take hold inside your RV. It causes damage to whatever surfaces it comes into contact with, and if left unchecked the damage will continue to spread. Let's not forget that mold and mildew are also hazardous to your health.
Fortunately, with these tips on how to prevent mold in an RV during storage, you shouldn't have to deal with this problem. Regularly inspecting your RV and repairing any damages will get you a long way in identifying problems before they get too bad.
You can also remove moisture from the RV before storage by using a dehumidifier or moisture-absorbing packs, ensuring there is proper ventilation, removing fabrics, and getting any excess water out.
Feel free to drop a comment below if you have any tips I may have missed!