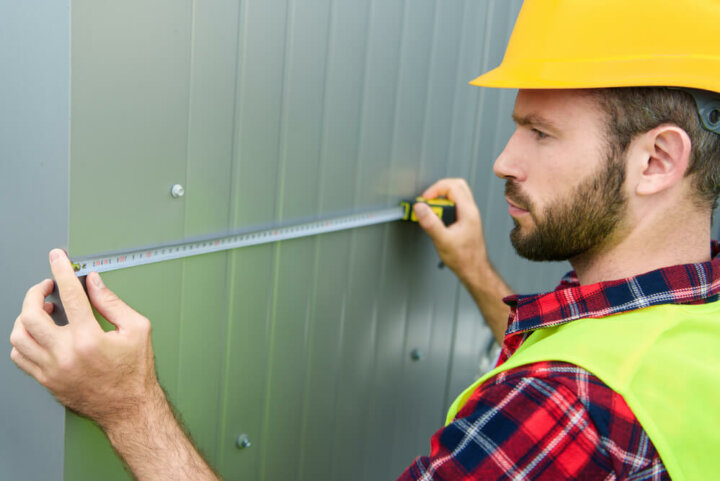 All of our reviews are based on exhaustive research, industry experience and whenever possible, hands-on testing. When you make a purchase using one of our chosen links we'll get a small percentage of the proceeds. This supports the site and keeps Jeffsetter running. You can read more here.
It's important to know the length of your trailer since many RV campgrounds have a length limit to their RV spots and parking areas. Measuring your travel trailer can be confusing especially if you've never done it before.
Does the length of the trailer include the hitch or not? What about the tow vehicle? You're buying a new trailer, and the length advertised seems different from the length in person. What's that about? You want to park your trailer for the winter, but the spot is only so big.
So, how do you measure your travel trailer to make sure that it will fit?
With a long and accurate tape, you should be able to measure the interior and exterior dimensions of your travel trailer efficiently. Measure thoroughly by taking multiple measurements including and excluding accessories and add-ons, like the trailer tongue, the hitch, and tow vehicles. Additionally, measure your rig with the slides in and out.

A little bit of background knowledge and understanding of what dimensions matter when measuring your travel trailer will help you take the dimensions you need in order to book campgrounds, and parks, and even drive your travel trailer safely.
Vocabulary
I promise, measuring your travel trailer is not as complicated as this vocabulary list might imply. It's just essential to ensure that you understand what some terms mean before I explain how to measure your travel trailer because otherwise, it can get a bit confusing.
Interior Dimensions
Interior length refers to the length from the interior wall at the front of your trailer to the interior wall at the back of your trailer. Essentially, it is the length of the living space inside. Interior width is the length from one side to the other inside of your trailer, don't forget that if you have slideouts then this dimension can get a bit tricky.
Exterior Dimensions
The exterior length of your travel trailer is the measurement from the front to the bumper on the outside of your trailer. The exterior width is the measurement from one side of your travel trailer to the other on the outside.
Overall Length
Overall length can be confused with exterior length, but they are different measurements. The overall length includes any accessories, and even your truck or car if you are towing your travel trailer. You might want to take a measurement of the overall length with the tow vehicle and without but including the hitch.
Usable Space
Usable space is the "floor plan" length or liveable space measurement. This is typically the advertised length of an RV or travel trailer according to the RV Industry Association (RVIA). That means the overall and exterior length is going to be different than the advertised number.
How To Measure A Travel Trailer
The process for measuring each part of your travel trailer will follow the same basic principles, but first, you need to make sure that you have a long and accurate tape to get all the dimensions right.
Remember to write the measurement down or note it on your phone and make sure to keep the information organized and labeled so you know what each dimension is when you are done.
Now without further ado, let's see how you can measure your rig correctly.
Measuring the Interior Space
Measuring the interior space is a much simpler task than the exterior. This is because there are fewer factors to keep in mind while you take measurements.
Your interior dimensions are good to know for resale purposes, renovation purposes, and just handy knowledge to have of the space that you are in.
Before you start measuring, make sure that you have a measuring tape long enough to get you from one side of your trailer to the other. If your tape measure isn't long enough, then it can make this process a bit more difficult.
You also want to have a pen and paper or your notes app ready to go on your phone to record your measurements. Having an extra set of hands can be useful as well to write down the numbers or to hold one end of the tape measure. That being said, this job can definitely be done by one person.
If you don't have a tape measure long enough, then I would recommend you use a bit of masking tape to mark where the tape ends and where you need to start your measurements again. That will help you be as accurate as possible.
The interior length is a really straightforward measurement to take. You simply secure or have someone hold the end of the tape measure at one end of your trailer and walk the tape measure to the other side. Record the number as accurately as possible.
The interior width is a bit more complex, but only if you have slideouts. If you do have slideouts, I recommend taking two measurements. One with them closed and another with them fully extended.
Measuring the Exterior Space
Knowing the exterior dimensions of your travel trailer is vital. Campgrounds will have size requirements and you'll need to know if you can fit in them or not. If you aren't sure of the size of your travel trailer, it can make booking campsites and planning your trips a lot more difficult. If you have questions on how campgrounds measure length, we answer those in this article!
The exterior length of your travel trailer is the length of the outside of your travel trailer, without any accessories or add-ons. This measurement of your trailer's exterior will not include the trailer tongue, hitches, or tow vehicles, however, the overall length should include the trailer tongue, the hitch, and tow vehicles.
I recommend taking as many measurements as possible when looking at the exterior and overall length of your travel trailer. Take it with just the hitch, with the hitch and the tow vehicle, with just including the trailer tongue.
If you have any additional storage that you hitch to your travel trailer, get a measurement of that length as well. The more measurements, the better prepared you can be for finding a campsite or even picking a parking spot.
The exterior width with has two separate measurements, just like the interior. You should take one with the slides in and another with the slides out. Both of these measurements are important to know.
The measurement of your travel trailer with the slides in comes in handy when you are driving, and the width of the trailer with them out will come in handy when camping.
This video dives into and explains how the length of your travel trailer can get confusing.
Measuring the Height
Measuring the height of your travel trailer is going to give you some good information. You need to know how tall your trailer is so that you can safely drive through overpasses or park in garages, even going through drive-throughs can be tricky if you don't know the height of your trailer.
The interior height has some of the same challenges as the interior width. You might need to take more than one measurement to get a fully accurate picture of your interior height. Some travel trailers or RVs will have different heights depending on where you are in the trailer. Pay attention to this and take multiple measurements if needed.
To take the exterior height measurement, you will need to take a couple of measurements as well. The main measurement to keep in mind is the height of the camper including the ceiling-mounted air conditioning units. You should also take the measurement of the height without the air conditioning unit included.
If you are in the process of purchasing a travel trailer, make sure to consider its height. You don't want to restrict your ability to travel where you want because you have a trailer that is just too tall. We explore the average heights of RVs in this article.
Does the Length of a Travel Trailer Include the Hitch?
I mentioned earlier to get as many measurements as possible when measuring the exterior of your travel trailer, including the hitch, but you don't always need to include it in your dimensions.
A general rule of thumb is that your trailer needs to reach a certain length before the hitch is excluded. If your trailer is under 25 feet long, it will usually include the hitch in that dimension. If your trailer is longer than 25 feet then the height is probably not included, and the length is only referring to the living area.
So, if that rule is being followed and you're given an overall length of 18 feet, then it will have 15 feet of living space and 3 feet of hitch space.
This is a very general rule though and you shouldn't expect every trailer length to be measured like this. It is always good to confirm the length with the dealer or manufacturer and how they take that measurement so that you know what you are going to get. Some will quote the overall length in the hopes that it will sound as though you are getting a bigger trailer than you are.
How to Measure Your Travel Trailer For A Cover
Camper covers are necessary for most travel trailer owners. They help protect the travel trailer from the elements when it's in storage for the winter. A cover is only going to be as good as its fit though, so measuring properly is important.
You'll want to measure the total length and the total width of your camper, as well as get the measurement of the box of the camper without the trailer. You need both of these measurements because some covers are only meant to cover the camper and others are meant to cover both the camper and the trailer.
Additionally, you will need your height measurements to make the best purchase possible. Just like with the length and width measurements, you will want to take one with the air conditioner included and one without.
Making sure that your cover is the right size will help make sure you are protecting your investment in your travel trailer. You want to keep it protected from the elements in the off-season so that you can use it for years and years to come.
Conclusion
Measuring your travel trailer is relatively straightforward, but can get a bit tricky if you don't know exactly what dimensions to take.
All you need is a measuring tape long enough to measure your travel trailer and, a pen and paper, or your cell phone to note down the measurements. The process can be made easier if you have a second pair of hands to hold the tape measure in place at one end and or to write down the dimensions as you take them.
Take as many different measurements as you can, including and excluding accessories like hitches and air conditioners to make sure you have all the information you need when looking for a campsite, parking, or storage for your travel trailer.