Last updated on May 2nd, 2023 at 01:49 pm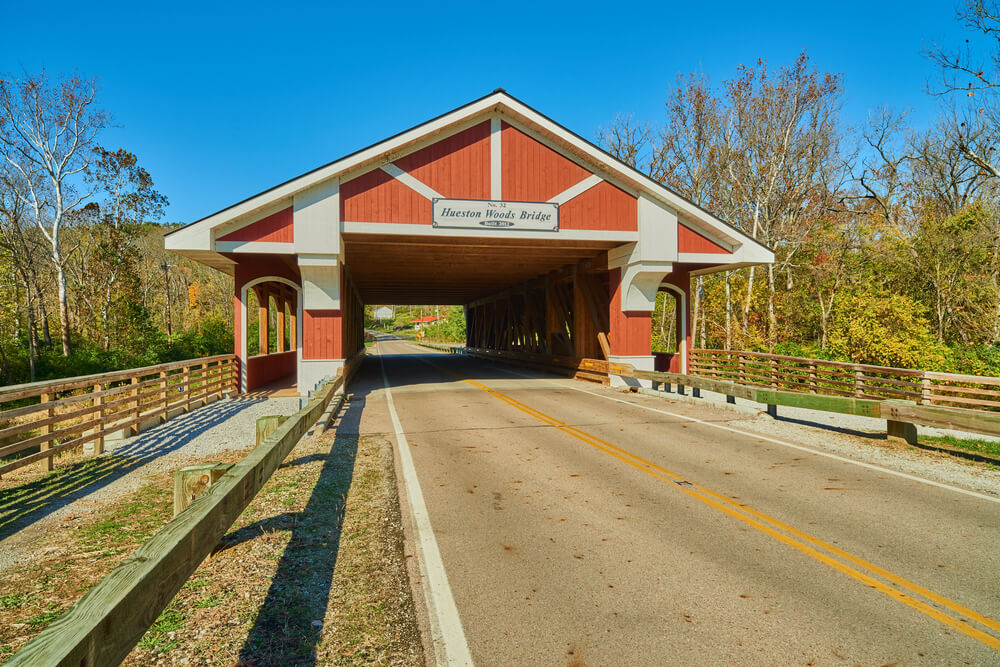 All of our reviews are based on exhaustive research, industry experience, and whenever possible, hands-on testing. When you make a purchase using one of our chosen links we'll a small percentage of the proceeds. This supports the site and keeps Jeffsetter running. You can read more here.
When I rented my first Class C Motorhome, more than a decade ago, I had never driven anything larger than an F-150! While getting used to the length of the RV was tricky, driving something that tall was a completely new experience. Suddenly, I had to worry about every bridge I saw and think, "Can I fit under that?"
So, how tall is the average RV?
The average height of an RV is around 10 to 12 feet, but keep in mind that this will vary between the different RV types. Class A RVs are usually 13′ to 14′ tall, smaller Class B motorhomes are typically 8′ tall, and Class C RVs are around 10 feet tall.
RV heights can vary considerably, and knowing the specifications of your vehicle, including the height and weight, will mean you won't be likely to drive under any low bridges, and will know the details of your rig if you ever need a tow. There are many different types of RV and each model will likely be different in size from the next.
What's the Average Height of an RV?
For those new to RVing, who are considering purchasing an adventure rig, it's worth exploring the different RV sizes and heights, as the taller the rig the more space you'll have, but you may also be limited in where you can go. Lower RVs may have less interior space, but you won't be restricted by height barriers or low branches on trees.
Here's a full breakdown of the average height of RVs and campers, but remember to take your measurements for ultimate accuracy, and only treat this table as a guideline!
12 to 14 feet

3.9 to 4.2 meters

7 to 10 feet

2.1 to 2.7 meters

10 to 12 feet

3 to 3.6 meters

10 to 12 feet

3 to 3.6 meters

11 to 13 feet

3.3 to 3.9 meters
What Is the Average Height of a Bridge?
If you're worried about the average height of an RV, you're probably wondering exactly what kind of clearance you need to get through the average bridge. The Federal Highway Administration has laid out the heights you need to clear bridges in different areas which you can see here:
Type of Roadway

Rural

Urban

US (feet)

Metric (meters)

US (feet)

Metric (meters)

Freeway

14–16*

4.3–4.9*

14–16*

4.3–4.9*

Arterial

14–16

4.3–4.9

14–16

4.3–4.9

Collector

14

4.3

14

4.3

Local

14

4.3

14

4.3
One of the first problems you'll see is the use of jargon.
I mean, what exactly is a collector roadway?
Here's what you need to know about these road types and how to identify them:
Freeways
Freeways are divided highways with two or more lanes and exclusive traffic in each direction. These are usually the safest routes for clearance and the minimum is 14 feet. More importantly, however, these are roads 13.5′ semi-trucks use regularly so you can drive stress-free knowing freeway bridges are all tested by rigs before you!
Arterial
Arterial roads are more commonly known as highways and these roads connect major areas. You can consider these similar to freeways in that most of the time they'll be getting regular use.
Collector
Collectors are major and minor roads that connect to highways (aka arterial roads). These roads usually have speed limits between 35 and 55 mph. While they're supposed to have heights of 14′, I'd always be extra careful on these types of roads as there can be a lot of variation.
Local
Local roads represent the majority of roads in the US and speed limits are usually between 20 to 45 mph. If you were careful on collector roads you need to step it up a notch on local roads! Not only can the clearance vary greatly, but if you're in a less traveled area, it's a lot less like that there have been other trucks passing through.
Why Do You Need to Be Careful With Bridges?
Even though bridges are supposed to support a clearance of 14′, at the end of the day you're responsible for your rig and where you drive it. That means you need to know the height of your RV and always take the clearance signs with a grain of salt.
Not only can repaving roads increase the height of the road, decreasing the clearance you have but there could also be one-off situations where bridges have strange or unusual heights. One of the best examples of this is the 11-foot 8-inch bridge which you can see in action here:
My heart breaks every time I see an RV run into the bridge and I hope that I can help at least one person avoid this! It's best to be safe rather than sorry, so if you're driving in a new place and are unfamiliar with the bridges in the area, drive with additional caution.
Interior Vs Exterior Height of an RV
It's critical to know how tall the outside of your RV is, but what about the inside? You need to make sure you can actually fit inside your rig without banging your head or having to crouch down the entire time.
Here's a quick breakdown of typical RV interior heights based on class so you have some idea of what to expect. But keep in mind, these heights can vary greatly between RVs and motorhomes, so always look up your specific model.
Class A Motorhomes
Class A motorhomes have an average interior height of a little over 7 feet, and you can expect most rigs to have at least a 7-foot ceiling. That should give plenty of room to most RV'ers making Class A rigs great for taller folks.
Class B Motorhomes
The typical Class B motorhome has an interior height of just over 6 feet but it's also the class with the most variation in ceiling height. Still, most Class B rigs will be comfortable for those who are average height or even on the taller side.
Class C Motorhomes
The typical Class C motorhome has an interior height of around 6′ 3″ but as always expect a good deal of variation here. Like most RVs, there are models out there with interior heights tall enough for just about anyone.
How Tall Is a Class A Motorhome?
Class A RVs are the tallest type of motorhome and they have an average height of 13.5 inches (or 4.1 meters). That's just under the clearance range for most bridges and if you add accessories to the top of the rig you'll need to be extra careful as your total height can easily go over 14 feet.
Let's take a look at 5 examples!
1. The Forest River FR3 25DS – 12′ 5″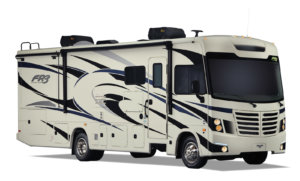 I wanted to start off our examples with one of the smallest class A motorhomes on the market: the Forest River FR3 25DS. Honestly, describing any Class A RV as "small" is a bit of an oxymoron since even this rig comes in at 12 feet and 5 inches in height. Still, it's one of the shortest Class A RVs you can find. The FR3 is also one of my favorite RVs since it handles like a smaller rig (because it is) while still having all the luxury amenities that you'd expect in a Class A RV!

Next on our list is a more midsized option, the
Holiday Rambler Navigator
. This Class A has an exterior height of 12′ 10″ and an interior height of 7 feet. This is one of the more budget-friendly RVs on the market, especially in the Class A market. You can see it's also a bit shorter than the average Class A, too.
3. Newmar Dutch Star – 13′ 1″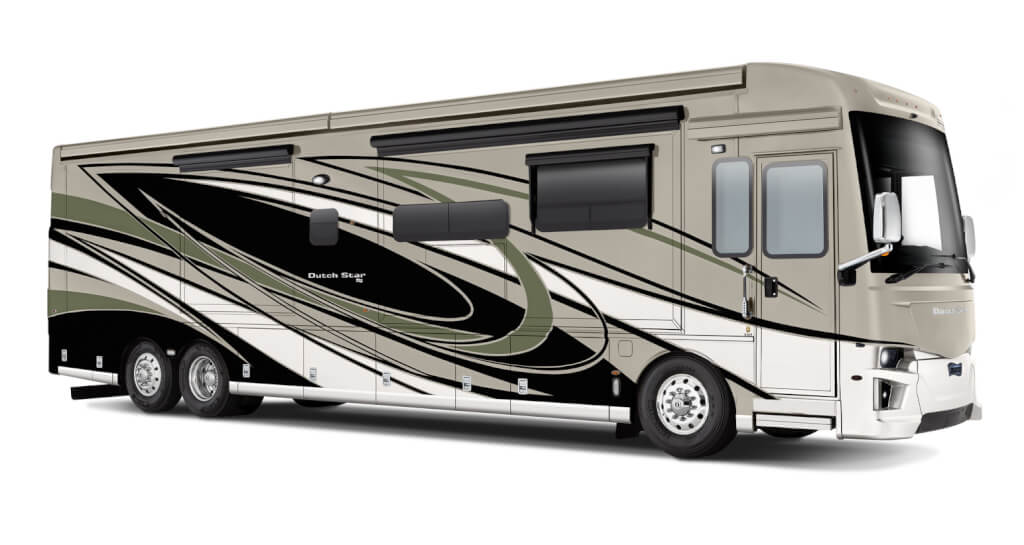 The Newmar Dutch Star is considered a luxury RV with a beautiful interior design that's nicer than a lot of homes! This rig comes in at 13″ 1′ in height which means there's plenty of room inside for taller travelers!
4. Tiffin Allegro Bus Class A Motorhome – 13′ 5″
The Tiffin Allegro is a big rig that's perfect for longer trips. This motorhome is one of the taller ones on this list with a height of 13′ and 5′. This motorhome has 4 slideouts and some pretty massive floorplans. It's a little too big for my tastes but if you're looking to go full-time in full luxury this is a great option.
5. Winnebago Horizon – 12′ 9″
The 41-foot Winnebago Horizon is one of the latest from this class RV brand. The Class A Horizon comes in at a height of 12′ 9″ and features luxury from across the board.
Want to see more data?
Check out this
How Tall Is a Class B Motorhome?
Class B motorhomes are the smallest RVs around and usually have an average exterior height of 8 feet with an average interior height of just over 6 feet. They might be a little tight for taller RVers but they're also small enough that they're usually pretty easy to drive.
Let's check out five examples of Class B rigs!
1. Winnebago Revel – 10′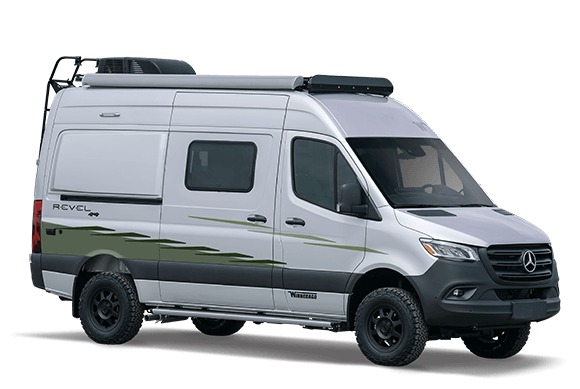 Despite looking more like a stealth camping van than a motorhome, the Winnebago Revel is one of the taller Class B RVs with an exterior height of 10 feet and an interior height of 6′ 3″. It's a great little right and drives more like a truck than a motorhome!
2. Roadtrek Zion- 9′ 5″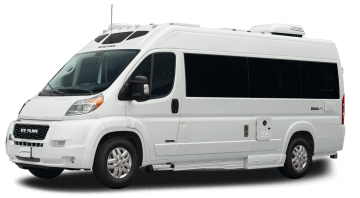 The Roadtrek Zion is another Class B RV that's built for adventure! With an exterior height of 9′ 5″ and an interior standing height of 6′ 2″ it's the quintessential Class B rig!
3. Coachman Beyond – 9′ 11″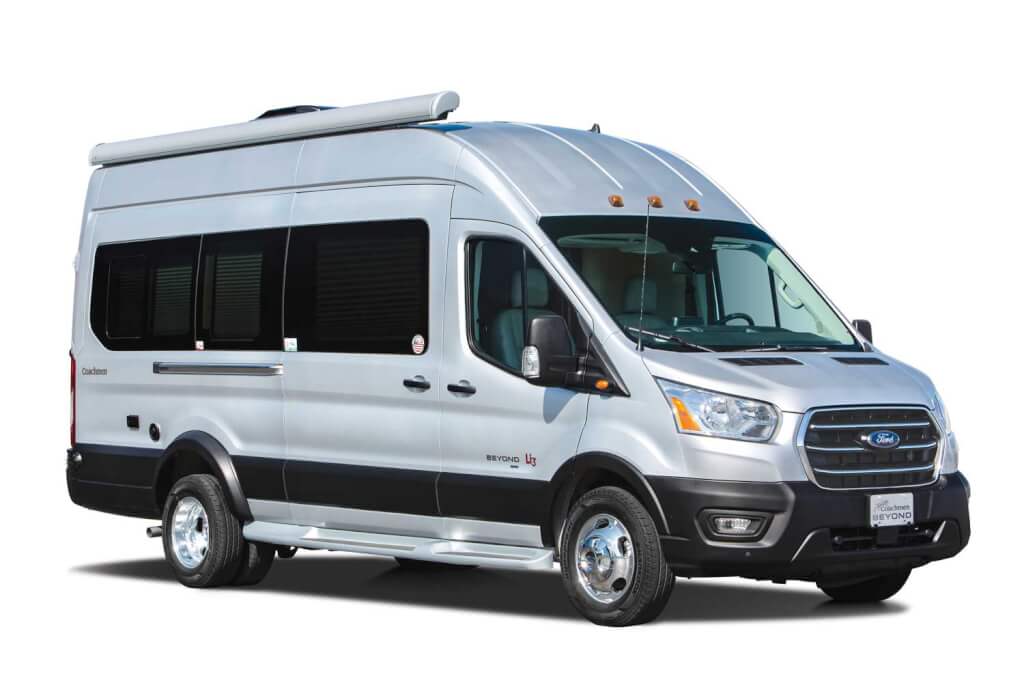 The
Coachman Beyond
is a compact 9′ 11″ RV that still features a toilet and shower! It's a great little rig that has many of the features of a larger RV in a compact package!
The Thor Gemini RUV calls itself a recreational utility vehicle and comes in at a height of 10 to 11 feet depending on the exact specifications you go for.
5. American Coach Patriot – 9′ 8″
The American Coach Patriot measures 9′ 8″ with the A/C included which makes it a midsized Class B RV. The interior height of the Patriot is 6′ 2″.
How Tall Is a Class C Motorhome?
Class C motorhomes have an average height of around 11 feet which means their average height falls between Class B and Class A motorhomes. Class C motorhomes are great middle-of-the-road options in terms of RV height and length and you really do get the best of both worlds.
One of the big differences between a Class C RV and a Class B is the overhang above the cab. This gives one additional spot for a passenger to sleep and gives the RV its unique and classic look.
Let's take a look at the height of 5 Class C motorhomes for some examples.
1. Forest River Forester 2401Q – 11′ 3″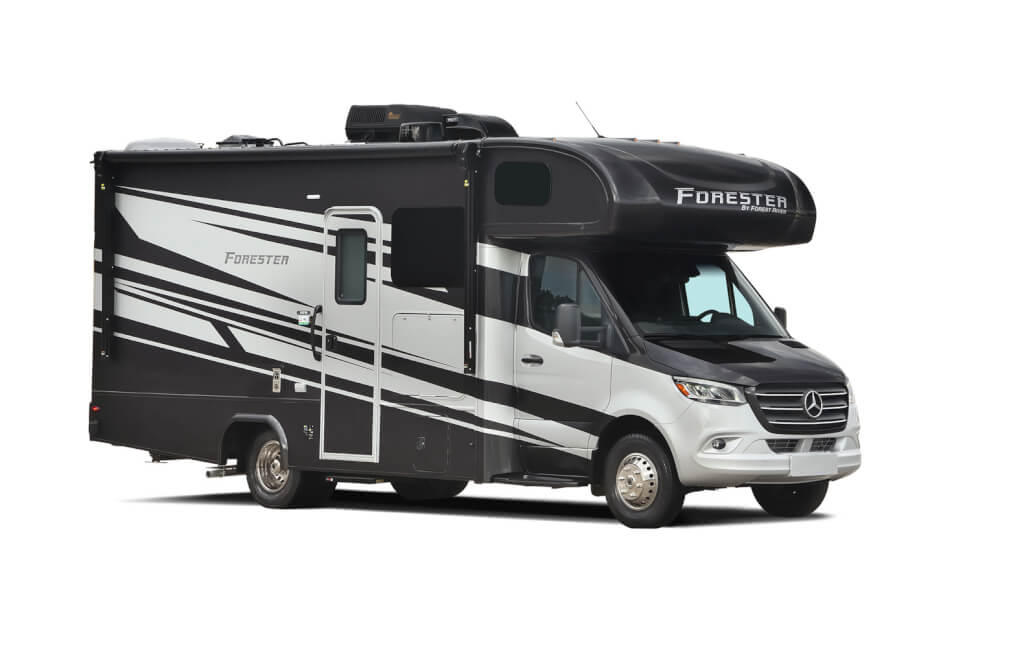 There are several slightly different models within the Forest River Forester line but the 2401Q comes in at 11′ and 3″ tall. This rig has a single slide-out for a queen bed and the classic cab overhand for additional sleeping space.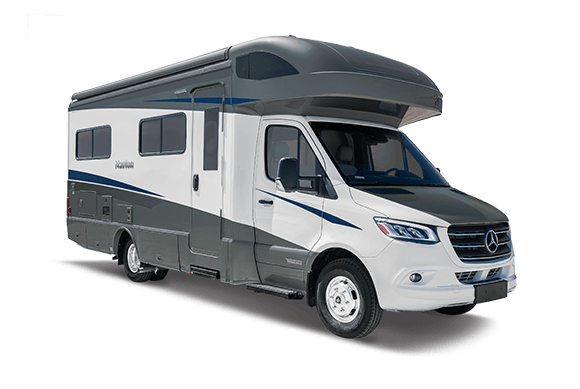 The Winnebago Navion has an exterior height of 11′ and a spacious interior height of 6′ 8″ which makes it roomy enough for most tall RVers. This rig features two large beds and a very cute dinette area that I love!
3. Phoenix Cruiser 2552 – 10′ 1″

The Phoenix Cruiser has an exterior height of 10 feet and 1 inch. It also has an interior height of 6′ 4″ which puts it on the shorter side of some Class C motorhomes.
4. Dynamax Force HD 37BH – 12′ 9″
The Dynamax Force is one the tallest Class C motorhomes with an exterior height of 12′ 9″! That's as tall as many Class A motorhomes!
5. Coach House Platinum III 250 ST – 10′ 5″
The Coach House Platinum III is built on a Ford Transit 3500 chassis which makes it easier to drive than something like a Class A motorhome. This rig has an exterior height of 10′ 5″ and has all the bells and whistles you'd expect in a modern RV.
How Tall Is an Average Travel Trailer?
While travel trailers can vary greatly in their average height, most standard travel trailers and Airstreams have an average height of about 11 feet. There are definitely exceptions to this rule though, especially in the case of the much smaller teardrop trailers.
Let's take a look at a few examples of travel trailers of varying heights.
1. Winnebago Voyage – 11′ 6″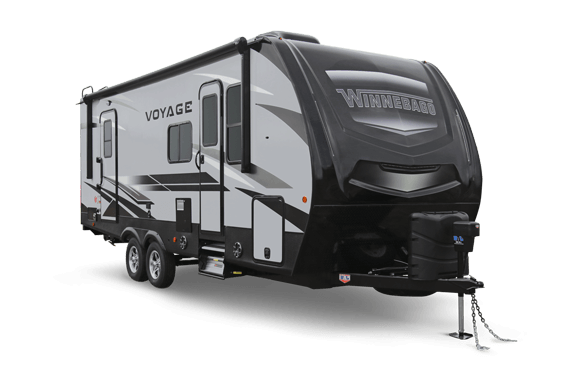 The Winnebago Voyage is a surprisingly spacious travel trailer with an exterior height of 11′ 6″ and an interior height of 7′ which means it has the interior height of many Class A motorhomes!
2. Puma Ultra Lite- 9′ 11″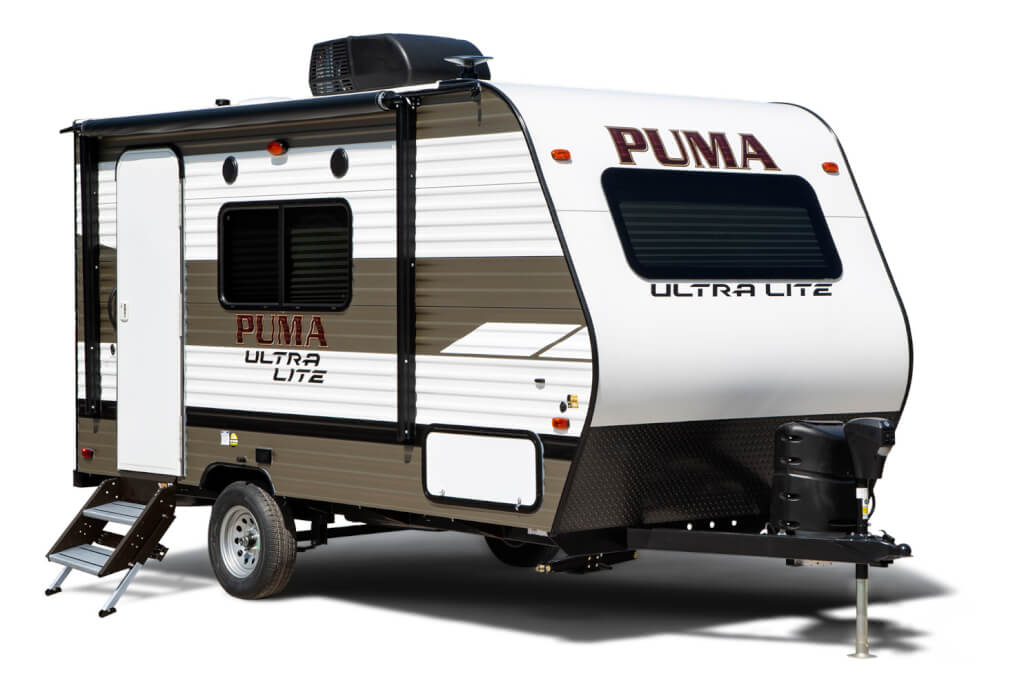 The Puma Ultra Lite is a small travel trailer but still manages to squeeze a whole lot on the inside! With a queen size bed and 38″ tub, it's a great option for short trips!
3. Flagstaff Micro Lite 21DS – 10′ 11″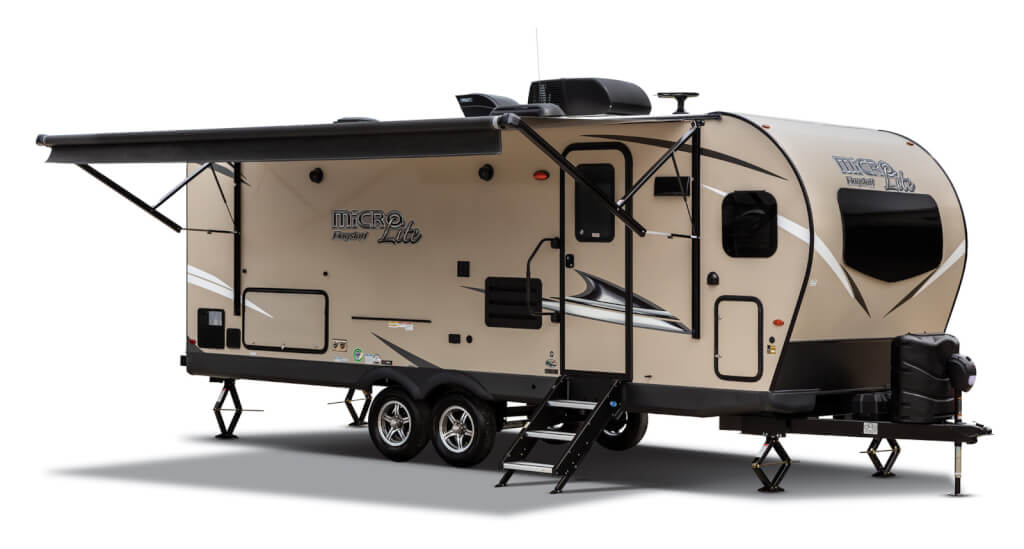 The Flagstaff Micro Lite is one of my favorite travel trailers on the market. Coming in at a height of 10′ 11″ it's by no means a giant, but still has enough room for two people to be comfortable!
4. TAXA Outdoors Cricket Camper – 6′ 11″
This is one of the smaller travel trailers on the list coming in at 6′ 11″ the cricket is the perfect travel trailer for a true minimalist. One of the cool things about this little rig is that it can actually expand to a height of 9′ 2″ giving you the best of both worlds!
5. Outback Ultra Lite 320UBH Travel Trailer – 10′ 7″
This is one the best travel trailers for bigger groups or families with kids since it includes queen bunk beds while still coming in at a modest 10′ 7″ in height.
What's the Average Height of a Fifth Wheel Camper?
Fifth wheels are just as tall as many Class A motorhomes which gives them an average height of around 12 feet or 3.6 meters. They typically range in height from about 10 feet all the way up to 13 feet or more.
Let's take a look at a few examples of fifth-wheel campers to get a better idea of the average height.
1. Keystone Montana – 13′ 4″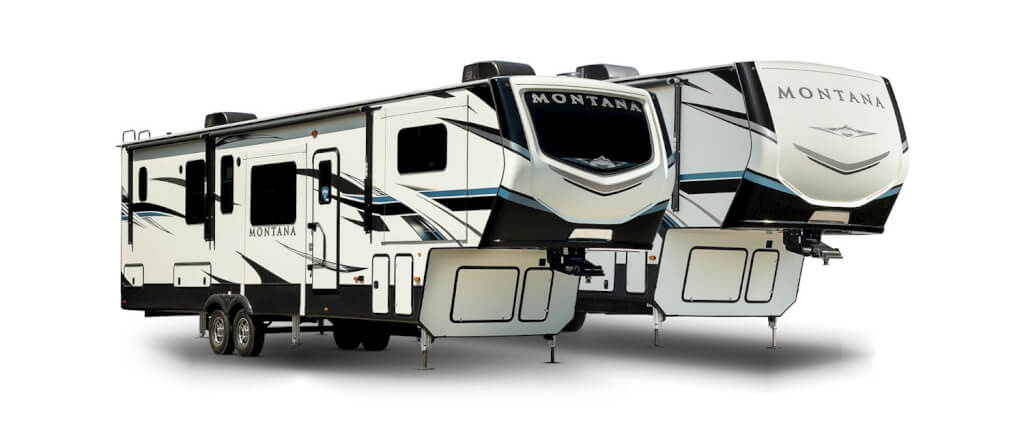 With over 100,000 models sold the Keystone Montana is one of the most popular fifth-wheels on the market and is more like a small house on wheels than a camper! At 13′ 4″ it's taller than many Class A motorhomes.
2. Dutchman Voltage 3615- 13′ 3″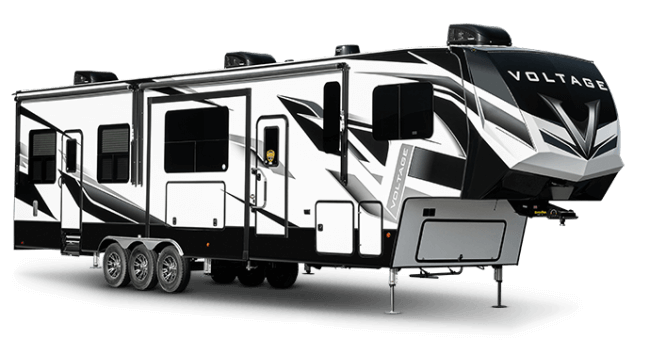 Another luxury fifth wheel, the Dutchman Voltage can sleep up to TEN people comfortably! With all that room and sleeping space, the Voltage series still comes in at a modest (at least relatively) 13′ 3″ tall.
3. Palomino Puma 265RDS – 12′ 2″
Coming in at just under 10,000 pounds and just over 12 feet, the Puma 265RDS is one of the smaller fifth wheels but still has plenty of room inside.
4. Forest River Cherokee 265RDS – 13′ 5″
The 13′ 5″ tall Forest River Cherokee series features a beautiful glass stovetop and a double-door fridge making it a great option for the traveling cook!
5. Grand Design Reflection Series – 12′ 3″
Another lighter fifth wheel, the Grand Design Reflection series will almost always be under 15,000 pounds which makes it a great option for a wide range of tow vehicles.
How to Make Sure You Never Have a Clearance Problem
As with any RV trip, you'll need to make sure you're doing your due diligence and properly prepared for the road ahead. Let's go through a few steps you can take to make sure that you never have a clearance issue on the road.
Measure Your RV
Yep, even though the dealership gave a height and you've checked the owner's manual it's still worth it to measure your own RV. First, there can be variations across RVs even if they're the exact same model. Second, you'll want to make sure you have the exact measurement with any kind of add-ons that aren't standard. The first that comes to mind is an AC unit which can add some height to your rig.
If you've got a fifth wheel or travel trailer, you'll also want to make sure you're measuring your rig while it's hitched. After all, that's what really matters, and once hitched it's possible for your rig to be a few inches taller and that could make all the difference.
Remember the Height of Your RV
In this article alone we've gone over 20+ heights for different RVs. You've also probably got a head full of other specs that are critical to everything running right. From the average weight of your motorhome to the max amps of your generator there's a lot to remember!
So after you've got the measurement of your rig while hitched or after you've added any add-ons make sure to write it down! Then, I recommend you take a picture of that number with your phone AND text it to whoever you're traveling with. You want to make sure you always have the height of your RV ready and on hand.
Plan Your Route
Most modern GPS devices will help you identify low clearance areas but there's no perfect system and sometimes data can be wrong. As I've already mentioned, repaving a road can raise the road and as a result decrease the amount of clearance that's available. There's a good chance that this won't be immediately updated in your GPS which means you're on your own when it comes to making sure you clear the bridge.
Along those same lines, don't take the bridge signage as gospel. If it looks too low then find another route. It's never worth it to risk it. And if you need a reminder scroll up and take a look at the video of the 11-foot 8-inch bridge at the start of this article!
Looking for Even MORE Examples?
Wondering how we came up with the average height for an RV?
I spent a few hours looking up the height of major RV models from just about every RV manufacturer in North America! That means I looked at the heights of more than 100 RVs. So if you're looking for even more data about what the average height is, check out the charts below.
Height of Class A RVs From 12 Major Manufacturers
We've looked at 49 motorhomes from 12 different Class A manufacturers to get a real answer on the average RV height. You can see the full breakdown of the list here:
Height of Class B RVs From 17 Major Manufacturers
Check out this list of heights from seventeen different Class B RV manufacturers. There are a lot of Class B manufacturers out there since the lines are a little blurry in terms of what's an RV and what's a stealth van. We looked at 35 total rigs for our research.
Height of Class C RVs From 12 Major Manufacturers
Finally, we reviewed the heights of 40 different Class C models across a total of 12 major manufacturers.
Closing Thoughts
Trying to figure out the average height of an RV turns out to be a much more complicated question than you may have thought! But I've laid out everything you need to know about preventing a bridge clearance disaster, and now all you need to do is get out there and measure your RV!
What do you think? Have you run into bridges with blatantly wrong clearance signage?