Last updated on April 1st, 2023 at 05:34 am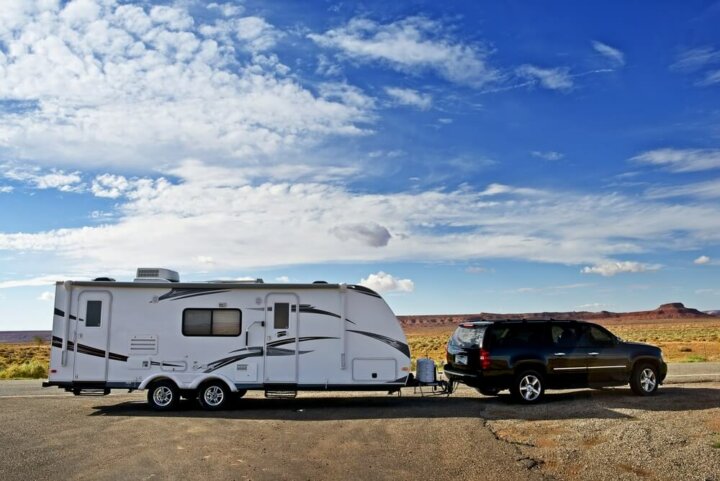 All of our reviews are based on exhaustive research, industry experience, and whenever possible, hands-on testing. When you make a purchase using one of our chosen links we'll get a small percentage of the proceeds. This supports the site and keeps Jeffsetter running. You can read more here.
Some of the longest travel trailers available nowadays can sleep up to a dozen people inside. You can find floor plans with multiple bunk beds, and some options are even set up for full-time living, with plenty of square footage and interior living space.
Whether you want a brand new travel trailer to fit your large family or simply want to know more about what it's like to own a large travel trailer, we've compiled a list of some of the longest and largest travel trailers available on the market in 2022.
In this article, we'll go over our list of some of the largest travel trailers currently made, including some of the longest travel trailers as well. We'll even give you some pros and cons as to what it's like owning these large options. Let's get started and talk all about large travel trailers!
Only interested in checking out our list of the six longest and largest travel trailers currently being manufactured? Use our table of contents to navigate to this section of this article now.
Pros and Cons of Owning a Large and Long Travel Trailer
In case you haven't already guessed, there are pros and cons in equal measures when it comes to owning a large and long travel trailer. Here are some of the most important reasons for and against purchasing a travel trailer of this size and magnitude.
Pro: Plenty of Space for the Whole Family
One of the main reasons you may be searching for a large and long travel trailer is the fact that there is plenty of interior living space for the whole family. If you plan on camping with a large group of people or have a few kiddos in the family, having a large travel trailer may be a necessity.
When classifying a large travel trailer, most people consider anything over 38 feet long to be quite large. In fact, the largest travel trailers on this list are over 40 feet long! This gives you plenty of square footage to sleep a large group of people, especially children in a bunk bed layout.
Choosing a long travel trailer also means that you will have plenty of storage space to bring everything you want along with you. This means that you have sleeping arrangements, storage cabinets, and plenty of amenities for the whole family.
Con: Length Makes Driving Difficult
It's no secret that the longer the travel trailer, the more difficult it is to drive. This is true for a number of reasons. Most of the time, large travel trailers are difficult to drive because of their weight distribution and overall length when traveling at highway speeds or on freeways.
As a full-timer living in a travel trailer, I can attest to you just how dangerous RVs can be to move and drive. While I only own a 19-foot-long travel trailer, something that is close to 40 feet long is going to be even more difficult to drive than a compact RV! This is especially true if you don't distribute the weight inside of your RV evenly.
Learning how to properly load and hitch up your travel trailer is key to your safety while on the road, particularly if you own a trailer that is over 30 feet in length. Larger RVs may sound appealing, but there are a number of safety factors to consider before hitting the road.
Pro: Brand New and Fully Loaded
All large and long RVs built nowadays will have some level of luxury based on their size alone. In fact, most brand new travel trailers built in 2022 come fully loaded with tons of amenities and special features, all things that appeal to new RV buyers.
For example, a number of the RVs on our list include entertainment centers, wifi, electric fireplaces, fine laminate flooring, tank monitoring systems, and much more. With RVs of this size, you're likely to have a 50 amp service and two air conditioning units, included standard.
While you should always check and make sure that you are getting all of the features and must-haves on your list, new RVs have a lot to offer their customers. This is doubly true for especially large RVs, as most manufacturers understand the need for amenities onboard an RV of this size.
Con: Lots of RV to Maintain and Store
Once you get the hang of driving around your large RV, you need to keep in mind all of the work it takes to maintain an RV of this size. Not only will you have multiple tires, brakes, and axles to maintain, but you also have a 40-foot-long roof to reseal, windows to clean, slideouts to grease, and so much more.
While large travel trailers are some of the most affordable options on the market currently, you will need to keep in mind just how much time, money, and effort it takes to maintain them properly. They need annual care and maintenance, as well as a safe location to be stored during the camping off-season.
If you don't have a place to store your RV on your own property, you'll need to pay to store your long travel trailer. In addition, you'll need to properly winterize your RV, keep it clean, and much more. Owning an RV is a luxury given just how much money goes into it, so this is definitely something to consider.
Pro: Ideal for Full-Time Living
Given the size of most of the RVs on this list, it's no secret that they are ideal for full-time living. The square footage alone is close to an average studio or one-bedroom apartment and there are plenty of amenities to make you feel like you are living in a more traditional residential location.
Not only will you get a residential kitchen with a residential-size refrigerator and countertop space, but you may even get lucky enough to find a large travel trailer with a dishwasher, a washer and dryer set up, an electric fireplace, and much more. There are plenty of floor plans to choose from when it comes to large travel trailers, making it easy for you to find something ideal for full-time living.
Con: Not Ideal for Boondocking
A final potential con when it comes to purchasing a long travel trailer is the fact that it is likely not ideal for boondocking. Also known as dry camping or off-grid camping, boondocking is the act of camping on public lands, without typical RV utility hookups. This means that you will be disconnected from electricity, water sources, and any other traditional RV utilities.
While all long and large travel trailers are built to be disconnected from utilities for a certain amount of time, this time is typically limited given the overall size of these rigs. The amount of electricity needed to power long travel trailers often exceeds the amount that you need to enjoy a camping trip that lasts longer than a weekend.
In addition to this, most boondocking locations are difficult to reach unless you have a more mobile rig. A long or large travel trailer is not going to be able to reach most off-grid boondocking locations, especially if you need to traverse rough or rugged road conditions.
A simple solution to this is simply choosing a travel trailer that is slightly smaller than average, one that still allows you to boondock and travel with ease. While your interior living space may be a bit smaller, having a trailer that is easier to maneuver is key to enjoying boondocking!
6 Longest and Largest Travel Trailers of 2022
Now that you know some of the pros and cons surrounding large and long travel trailers, here's our list of some of the longest and largest that are currently being manufactured in 2022!
Sleeps at least 6 people and under 39 ft
Fully loaded with plenty of tech
Residential features such as kitchen and living room
Maybe too heavy for the average tow vehicle
While Winnebago is best known for its motorhomes, it maintains a limited number of travel trailers as well. Newly released, the Winnebago Voyage won the RV Awards for best overall travel trailer for 2022, and it's no secret as to why. The largest floor plan available for the Voyage is nearly 39 feet long, and this travel trailer has a lot to offer. Let's check it out now.
While most of the Voyage floor plans hover around 35 feet, it offers two options that are 38-39 feet long as well. These travel trailers are heavy, with dry weights nearing 10,000 pounds, but this means that they will be sturdy and heavier during periods of high winds and highway speeds.
The largest Voyage floor plan has a proper front queen bedroom for the adults and a rear bunkhouse floor plan for the kiddos. There's a spacious bathroom and kitchen with a kitchen island and a dining area to seat everyone. Plus, there's even an outdoor kitchen in case you want to cook in the great outdoors without disturbing the rest of the family inside.
One of the main selling points of the Winnebago Voyage is the fact that it has plenty of storage, inside and out. It has a pantry, master bedroom wardrobes, exterior storage compartments, and much more. This means you can bring everything along with you and still have plenty of interior living space to enjoy.
There's also theater seating and an entertainment center in the primary living area, giving you plenty of space to sit down at the end of a long day and enjoy each other's company. While this largest floor plan of the Voyage starts over $80k, it's a great travel trailer to consider and fully loaded for the average camper.
Four floor plans from 40-41 feet long
Electric fireplaces and spacious bathrooms
Residential kitchens and features
Lightweight frame may make it difficult to drive
If the Winnebago Voyage didn't seem particularly long overall, you may want to check out the KZ RV Sportsmen Destination for something a bit larger. The floor plans on this travel trailer range from 40 feet to 41 feet, making it the longest travel trailer option on this particular list. Let's check it out in more detail now.
The largest floor plan of the KZ Sportsmen Destination is just over 41 feet long and includes four separate slide-out areas. This means that you get even more square footage rather than from the length on its own, and the largest model sleeps up to six people. There's another floor plan closer to 40 feet long that sleeps up to 10 people, and this may be the option that works better for you if you camp with a large group.
All of the floor plans available for this particular travel trailer include electric fireplaces and residential kitchens. There's even a floor plan that's perfect for living in full-time, as it's only meant to sleep four people. This leaves the rest of the square footage available for storage solutions, conversational spaces, and additional amenities.
Even the largest Sportsmen Destination is slightly lighter weight compared to the Winnebago Voyage. This makes it easier to tow by different vehicles, but you'll still need something that can handle over 9,000 pounds. Plus, with something this long, you'll need to make sure your weight is evenly distributed inside the vehicle before you tow.
This RV has plenty of features that will impress, including separate bedrooms, entertainment rooms with plenty of seating, two air conditioning units, and much more. You have a patio door, a huge outdoor awning, and outdoor entertainment centers as well. This makes it just as easy to spend time outside as it is inside!
Under 9000 lb
Forest River adds special touches throughout the interior
Plenty of residential seating and kitchen options
Not as large as some of the other options on this list
The Forest River Wildwood Heritage Glen travel trailer is a great choice if you are looking for something long but still lightweight. The largest floor plan available for this particular travel trailer is just over 8,500 pounds, making it easier to maneuver compared to some of the other options on this list. Let's check it out in detail now.
Not only is this travel trailer lighter weight than others, but it is optimized for families. The largest floor plan is just over 39 ft long, making it smaller than some of the other options on this list, but the bunk bed floor plan offers much more living space for more people. In fact, the largest floor plan available on the Wildwood Heritage Glen also has two bathrooms, making it even more optimized for large groups.
As with some of the other travel trailers on this list, the Wildwood Heritage Glen has a truly residential feel. It offers an electric fireplace and a spacious seating area to enjoy the entertainment center provided. It also has fantastic laminate flooring and interior design, putting it a step above some of the other options on this list. Forest River always takes the extra time to make their rigs special in terms of their finishing touches.
This is also a great travel trailer to consider living in full-time, as it offers stackable washer and dryer prep as well as heated and enclosed underbelly options. You can camp year-round in this RV if you so choose, and having the space to bring some guests is always a nice idea! However, this RV may simply not be as large as you need it to be.
Best for Full-Time Living:

Jayco Eagle
Heavy duty and well-built
Incredibly spacious and luxurious
Plenty of slide-outs and storage solutions for full timing
Only two floor plans that aren't suited for families
The travel trailer that has held the title for the longest RV has to be the Jayco Eagle. This particular travel trailer is over 40 feet long and maintains a reputation for being a fantastic rig to live in full-time, or otherwise camp in whenever is convenient. Starting at $79k, it isn't exactly a cheap travel trailer, but it has plenty to offer, especially if you want to call this RV home.
There are only two available floor plans for the Jayco Eagle, something that may surprise you to hear. If you are looking for innovation in terms of the layout of your travel trailer, you may want to look elsewhere. The options provided by Jayco for the Eagle are perfect for full-time living or hosting a few guests, but these options are not ideal for large families.
This is why the Jayco Eagle is perfect for full-time living, as it has a large residential kitchen and Theater seating in the living room. You also have an incredibly spacious bathroom located at the center of the RV, not too far from the king-sized master bedroom. This may be a relief for seniors or those of you seeking an RV layout with a more conveniently placed bathroom.
All of the floorplans feature Jayco's 4 Star Handling Package, which includes Goodyear Endurance tires, Dexter Axles, MORryde CRE-3000 rubberized suspension, and shock absorber prep. While you may not be shopping this specifically yet, most full-time RVers are seeking an option that is well-built and easy to care for compared to other options on the market nowadays.
I highly recommend reading all about the Jayco brand name under our complete and comprehensive review, found here. While the Eagle may be an expensive option compared to others on this list, it truly is one of the best travel trailers for full-time living, especially when you consider its size!
Lots of floor plans to choose from
Residential kitchen and washer dryer prep
Plenty of storage solutions, including a rear rack
May feel a bit cramped overall
Fairly priced and found in a variety of floor plans, the Coachmen Catalina Legacy Edition is a great choice for those of you seeking something that's better for families. This is also the most budget-friendly option on this list and is worth taking a look at if you don't plan on camping frequently. Let's take a closer look at this long travel trailer now!
The longest Catalina Legacy Edition floor plan available is roughly 38 and a half feet long. The layout is strikingly similar to the Winnebago Voyage, with a rear bunkhouse, a front queen-size master suite with washer and dryer preparation, and an outdoor kitchen available to you when the interior kitchen is in use.
The living room and the kitchen are slightly bunched together at the center of this rig, with the bathroom close by. While this RV may feel like the most crowded option on this list, it has a number of smart solutions for families and gear storage. You have an exterior rear rack that's perfect for bicycles or kayaks, as well as bins or storage boxes.
The interior design of this RV is light and bright, keeping everything contemporary and modern. You also have plenty of options to choose from to make this RV your own, though these options are not included in the initial purchase price. Some of these options include additional air conditioning units and solar panels. You can even convert the rear bunkhouse into an additional queen bedroom if that suits your family better.
Built to Jayco's specifications
Plenty of storage solutions for the whole family
Largest floor plan is easy to customize depending on your needs
Still a fairly expensive option overall
Jayco has another fairly large travel trailer under its brand name, known as the Jay Flight. The largest floor plan available for this travel trailer starts at $49k, making it a much more affordable option compared to the Jayco Eagle. It isn't as luxurious, but it is one of the better-built options on this list and still sleeps the whole family. Let's check it out.
Just over forty feet long, you can customize the largest Jayco Jay Flight floorplan to your heart's content. This means that you can get an option with two queen bedrooms, a front bunk house with a rear queen bedroom, a king-size bedroom, and much more. You also have a large u-shaped dinette near the kitchen so that the whole family can sit down and enjoy a meal together.
While there's only one bathroom on board this RV, even the largest floor plan is just over 8,000 pounds. This makes it easy to tow by a variety of vehicles and you still have storage for everything you could possibly imagine. Depending on the floor plan you choose, you can sleep up to a dozen people, which means you need plenty of storage!
There are also many other floor plans available for the Jayco Jay Flight, including some compact and short varieties of travel trailers. However, the largest option is easy to customize and make your own, so it's definitely worth checking out.
Final Thoughts
Among different types of RVs, long travel trailers are especially popular for their interior living space and ability to sleep the whole family. Whether you are hoping to purchase one for yourself or simply want to know what travel trailers of this size have to offer, hopefully, our article was informative and helpful!