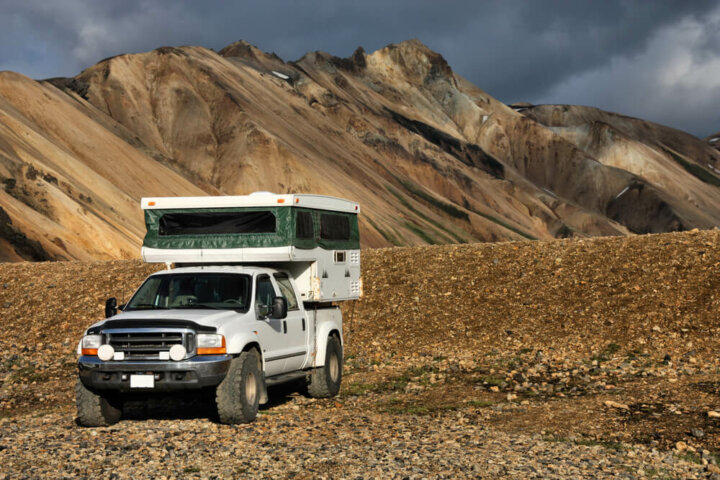 All of our reviews are based on exhaustive research, industry experience and whenever possible, hands-on testing. When you make a purchase using one of our chosen links we'll get a small percentage of the proceeds. This supports the site and keeps Jeffsetter running. You can read more here.
Taking your truck camper out into the wilderness is a special experience that can create memories to last a lifetime. One of the biggest advantages of truck campers is their ability to be used both on and off the back of your pickup truck.
If you're planning on removing your truck camper from the bed of your pickup, it's crucial to make sure it is stabilized and won't move around when you go inside.
So, how do you stabilize a truck camper off the truck?
There are numerous ways to stabilize a truck camper off the truck using items such as a jack stand, hydraulic legs, camper dolly, or a jockey wheel. Finding level ground before dismounting your truck camper is essential as unlevel ground can result in the jacks not working optimally and your camper not being stabilized properly.
Taking the time needed to ensure your truck camper is stabilized will bring you peace of mind in the long run that your camper won't wobble, move around, or not be secure when used off the back of your truck. Taking the time to make your truck camper stable will also mean your camper can remain in full use, and can even be slept in.
So, let's check the 5 methods you can use to stabilize your truck camper off the truck, and the process of unloading and loading your truck camper!
How Do You Stabilize A Truck Camper Off The Truck?
Stabilization should be prioritized once you've taken your truck camper off the back of your pickup truck. It helps ensure your camper can remain in use and stay secure even when it's not mounted to your truck.
There are a few different ways to stabilize a truck camper and you might even want to use a couple of them together to ensure ultimate security for your rig.
1. Jack Stand
One of the most common ways of stabilizing your truck camper is to use a jack stand. Affordable and effective if used correctly, a jack stand should support the weight of your trailer and keep it stable when it's on the ground.
You'll need to source a jack stand that's capable of handling the load of your truck camper, otherwise, you could end up with an unsafe and insufficiently supported camper.
2. Hydraulic Legs
Hydraulic legs are electrically powered stabilizers that retract from your truck camper to the height you want it to be. Hydraulic legs are a more expensive option when compared to a jack stand, but they are durable, reliable, and flexible as you can decide how high or low your camper is from the ground.
3. Camper Dolly
Camper dollies act like portable stands and often have both swivel and rigid wheels. Similar to a jack stand, if you use a camper dolly to stabilize your truck camper, it's crucial to purchase one that is suited to the size and weight of your camper.
If you haven't used your camper dolly in a while, it's wise to check the pressure of the tire as it will work best with correctly inflated tires that are pumped up to the right pressure.
4. Jockey Wheel
A jockey wheel is a common way of stabilizing a truck camper, but only if it can carry the load of the camper. A truck camper that isn't supported well enough can give way and crash into the ground, potentially causing irreparable damage.
If you have a jockey wheel and are not sure if it can handle the weight of your truck camper, it may be useful to check the manufacturer's manual.
5. Cinder Blocks
Cinder blocks are an old-school, popular method of camper stabilization and can be used in stacks below your truck camper. It's vital to stack the blocks correctly and make sure they aren't leaning or tilting to one side. You'll also need to place the block stacks in the correct places for when you will be unloading your truck camper.
How Do You Unload A Truck Camper?
Stabilizing your truck camper starts as soon as you begin the process of unloading it from the back of your truck. Asking a friend or family member to give you a hand can be useful when unloading your camper, as they can aid you by either driving your pickup or being an extra pair of eyes on your truck camper.
1. Locate A Level Parking Area
The first step to getting your truck camper stable on the ground is to find or create a level area to park your camper. There's no use in taking the time to dismount and stabilize your truck camper if you're then going to park it on an unlevel spot! An unlevel trailer also wouldn't be very comfortable to use as everything inside will be on a lean.
Being unlevel in your truck camper or RV may not seem like a big problem, especially if you're new to RVing, but nothing is worse than putting your morning coffee down on the counter and it sliding away from you!
Checking the area whether it's clear to engage the legs on your truck camper is essential as they will be a key component in stabilizing your camper.
2. Undo Tie-downs And Engage Jacks
Tie-downs are usually used to keep your truck camper secure on the back of your pickup truck, and these will need to be removed or undone to unload your camper.
Once your truck camper is free from the tie-downs, you can go ahead and engage the jacks on each side of the camper. The jacks will help the camper remain secure when it's on the ground, and stop the truck camper from shifting around when someone is inside.
3. Move Truck Forward And Unplug The Cable
Once the jacks are engaged you can go ahead and move your pickup truck forward a few feet, but be sure to do this slowly and steadily to avoid any accidents.
When you've moved your pickup forward a bit you'll need to unplug the electrical harness and make sure it's not in the way of your truck camper or the pickup. It can be tempting to rush and get the job done as quickly as possible, but it's best to dedicate considerable time to unload your camper correctly.
4. Continue Driving Straight Forward
Driving the pickup truck straight out from underneath the truck camper is essential to avoid scratching or scraping the truck against the camper. It can be useful to have an extra pair of eyes when unloading your truck camper as you can be guided forward slowly to ensure you don't hit any part of the camper.
When driving the truck forward, be sure to keep the wheels straight, as even turning them slightly whilst the truck camper is still above the pickup bed can result in a collision!
5. Lower Truck Camper
After you've driven your pickup truck away from your truck camper, you can lower the camper down to its final position. Any slides on your camper can then be pushed out and you can take a look inside and double-check that it is stable, level, and secure.
When unloading your truck camper, the most important thing to remember is to take things slow, as rushing through the dismounting process can result in accidents and potential damage coming to your pickup, camper, and even you!
How Do You Load A Truck Camper?
The process of loading your truck camper back onto your pickup is just as straightforward as unloading it, and you'll need to take the same precautions and do everything one step at a time.
Loading a truck camper by yourself is possible, but it may take considerably longer than if you have someone to help as you'll need to keep getting out of your truck and checking the situation between the camper and the pickup.
1. Pack Truck Camper Away
Before starting to load your truck camper back onto the bed of your pickup, you'll need to pack everything away including any slides or steps you may have been using. It can take a bit of time to load up your truck camper, but it's important to be patient and avoid any damage coming to your pickup or camper.
2. Raise Truck Camper
In order to get your camper mounted onto your pickup again, you'll need to raise it a few inches above the bed of your pickup. This will ensure there is extra space above the pickup bed in case things get a little tight when it comes to reversing the truck underneath the camper.
3. Straighten The Pickup Truck And Reverse
Having a friend or family member to help with this part of the process can be useful, as you'll need to make sure the pickup is lined up perfectly with the truck camper.
If the pickup isn't straight, you may accidentally reverse into your truck camper, causing expensive damage. It's helpful having someone to guide you into a position where the bed of the pickup is centered with the truck camper and has equal space on either side.
The wheels of the pickup truck must be kept straight, and using all the mirrors will help make sure you're perfectly in line with your camper. Using a protective mat in the bed of your pickup truck can help prevent damage such as scraping from happening when you load and unload your camper.
4. Plug In The Electrical Harness
You can go ahead and slowly reverse the pickup so that it's a few feet away from the truck camper. Having somebody keep an eye on how close the camper is to being lined up is wise, and also means there's somebody to grab the cable so you can easily get plugged in again.
It can take a few goes to get your truck lined up perfectly, especially if you haven't loaded and unloaded it many times before. If at any point your truck is off-center, it's best to pull forward and get realigned before continuing.
5. Line Up Camper and Lower
It's wise to check everything is lined up before fully lowering your camper down onto the pickup bed as you still may need to adjust the positioning of the truck. Once you're happy with the position of your pickup and you've plugged your truck camper back in, you can fill the airbags up and raise the legs.
6. Secure Truck Camper
Before the loading process is complete, you'll need to secure your truck camper down with tie-downs or turnbuckles in the same manner you did before. Making sure your camper is loaded correctly and is safe to transport on the back of your pickup is a priority, as an incorrectly loaded camper can be dangerous and come off the back of the truck bed.
For a full walkthrough of how to both load and unload a truck camper, the video below is well worth a watch.
As you can see, finding a level spot to park your truck camper is essential for ultimate comfort, and taking the time to load and unload properly will help bring the best results.
After you've loaded your truck camper onto your pickup a few times and taken it back off again, you'll gain confidence and you'll also likely complete the process quicker and better each time.
Closing Thoughts
Truck campers offer brilliant versatility, and like all different types of RV, they require certain maintenance and preparation to function at their best. Making sure your truck camper is stabilized off the truck is key in keeping it in the best shape when it isn't mounted to the bed of your pickup.
Stabilizing your camper using a jack stand, hydraulic legs, camper dolly, or jockey wheel, will keep safety to a maximum so the camper won't move around when it's being used, and will remain in position until it's time to load it back onto your pickup truck again.