Last updated on June 5th, 2023 at 11:40 am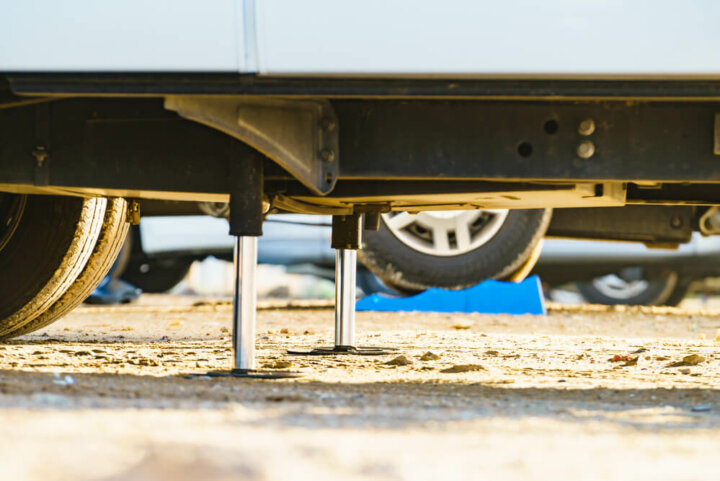 All of our reviews are based on exhaustive research, industry experience and whenever possible, hands-on testing. When you make a purchase using one of our chosen links we'll get a small percentage of the proceeds. This supports the site and keeps Jeffsetter running. You can read more here.
Whether you're taking a break from your camping adventures or you're done for the season, the best way to keep your RV safe is to store it away, but first, you need to make sure it is level.
I know it seems like a tedious chore, and you'd rather kick back and relax. For a moment, you wonder what would be the worst that would happen if you skipped this step.
So, can you store an RV that is not level?
An RV needs to be level because storing an unlevel RV can cause stress on the frame and the slide-outs. It can also cause a fire in an RV fridge and make your tank fluid readings inaccurate. Not to mention, it's easier to prepare an RV for storage when it's level.

Leveling your RV is an important step in storing and taking care of your RV. The article below explores why it's so important and how to level your RV easily.
Why Do You Need To Level An RV When Storing It?
Leveling your RV should be at the top of your checklist when you're storing it. Not only is it highly recommended, but at the end of the day, it's really a requirement. After all your RV was a big investment and I'm sure you want to take care of that investment in order to get as much time out of it as possible.
Leveling your RV will increase its lifespan as well as protect you and your wallet from the costly repairs that can come up when you don't properly level your RV.
Damage can be done to many different parts of your RV and below we explore the ins and outs of why leveling your RV during storage is so important.
The Frame
If your RV isn't level, then you're adding unnecessary stress throughout your RV. This includes the door frames, your plumbing, all of your cupboards, and the chassis. RVs are built to be level, they are not designed to be stored on an angle for any meaningful length of time.
If you decide to store your RV unlevel, you can be causing a lot of long-term damage that can cost you a lot of money. If you ensure that your RV is level, you are also helping to ensure that the frame isn't bending out of shape and that the weight of your rig is being supported adequately.
Leveling your RV will also ensure that the water in your pipes is flowing properly and not pooling anywhere it shouldn't. It can also help your cabinets keep shape if they are getting added weight from the angle you're parked at.
RV Fridge
Fire safety is incredibly important when you're in an enclosed, small space like an RV. If your RV isn't level, it can actually pose a fire threat because your RV fridge can catch fire.
Unfortunately, forums all over have horror stories of RV fridges catching fire and posing a real risk to safety for travelers. Fortunately, one way to avoid this is to make sure your RV fridge and RV are leveled.
If you have an electric and propane fridge, it needs to be level in order for it to function correctly. The reason for this is a pooling of the ammonia and water solution inside of your RV fridge's system. That solution will accumulate in low points and it interferes with the ability of the system to boil and condense properly and causes an increase of heat within the system.
You might wonder why this isn't an issue while you are driving because you're certainly not level while you travel. RV fridges are designed to withstand the motion of the vehicle as it moves, but once it's stationary, it must be level in order for the fluids to flow properly in the system.
Your RV fridge is likely to start having problems if it is more than three degrees off-kilter for more than a few hours.
Slide-outs
Just like how your Rv is designed to be level, your slideouts are as well. They are meant to be opened and closed when your RV is level. If you are opening and closing your slide-outs when your RV isn't properly leveled, then it will add unnecessary wear and tear to your RV.
It's best to keep the slideouts closed when storing the RV, but if you really have to then you need to use RV slide-out stabilizers and you need to make sure that the RV is level since the weight and stress points aren't in the right places when your RV is unlevel, this can cause damage, especially after a prolonged period of time.
Your slide-outs can get worn out this way, but it can also put stress on your RVs frame. Both of these can be expensive fixes if left for long enough. The slideouts can even get stuck or malfunction and cause leaks when used in an unlevel RV.
Tank Fluid Readings
Dumping your tanks at a dump station is part of standard Rv maintenance. No one wants the grey and black water tanks to be sitting stagnant and full while your RV is being stored or even while you're traveling.
If your RV isn't level, it can mess up your tank's sensor readings. It depends on the angle and what direction it's in, but your sensors can tell you that your holding tanks are more full or less full than they are. It can also negatively impact your ability to drain your tanks properly during winterization.
No one wants to think they've emptied their tanks only to smell that they in fact didn't a few days after storing the vehicle away!

Makes The Storing Process Easier
Humans aren't really designed to be at an angle for a prolonged period of time either, our sense of equilibrium can be affected by an unlevel RV and it can give us a general sense of unease. As you already know preparing your RV for winter can take a long time especially if you have a lot of belongings to take back into your home.
It can also be a safety hazard to try and walk through an unlevel RV because it can cause you to lose your balance. You might even trip or fall because of this.
Not only can it be a safety hazard, but it can also be just plain annoying, especially if you're planning on winterizing your RV to live in it. More so, if your RV is so unlevel that items are rolling off your countertops and your cupboards are constantly swinging open, it can be a pain. Especially if you're in the process of putting everything away for the season and winterizing your RV.
How To Level An RV
Now you know what can happen if you don't make sure your RV is level when stored away, so how do you level it?
Park On Even Ground
The easiest solution is obviously to store your RV on even ground, and while it's a good place to start, that's not always a guarantee, and plenty of owners have to park their camper on a sloped driveway!
So, if you have to store your trailer on uneven ground, then try and maneuver your RV so that it's tilting from front to back instead of from side to side. Chances are you're also going to need to add extra blocking under your leveling blocks.
Even if you find perfectly level ground to store your vehicle, I recommend using wheel chocks as an added precaution to keep your RV from going anywhere you didn't plan on taking it. You might also need to do some leveling on even ground if you have a travel trailer or a fifth wheel. After you put down your stabilizing jacks, you might need to level it from front to back.
Leveling Systems
Plenty of RVs have automatic leveling jacks. This is an auto-leveling system or a hydraulic leveling system that is as easy and breezy to operate as pushing a button.
If you don't have a magic button to level your RV, then you'll have to use manual jacks and a bubble level. The video below is a quick and easy tutorial on how to level your RV with a bubble level.
Generally speaking, people are pretty good at feeling if something is level or not. We're used to equilibrium so we notice when we don't have it. If your RV feels pretty much level to you, don't go crazy trying to get that bubble in the exact center of the level, especially if you're not going to get a use out of your camper until next season!
Conclusion
Leveling your RV is an essential step in RV maintenance and doing it properly will help protect your investment from undue damage and stress. It will also help protect your wallet from expensive repairs that can pile up from having an unlevel RV.
There is also a safety risk associated with having an unlevel RV and an RV fridge. Being at an angle can cause hot spots in the system which can result in fires. Regardless of the safety and money concerns, leveling your RV during storage will also make the winterizing process more pleasant.