Last updated on March 1st, 2023 at 05:59 am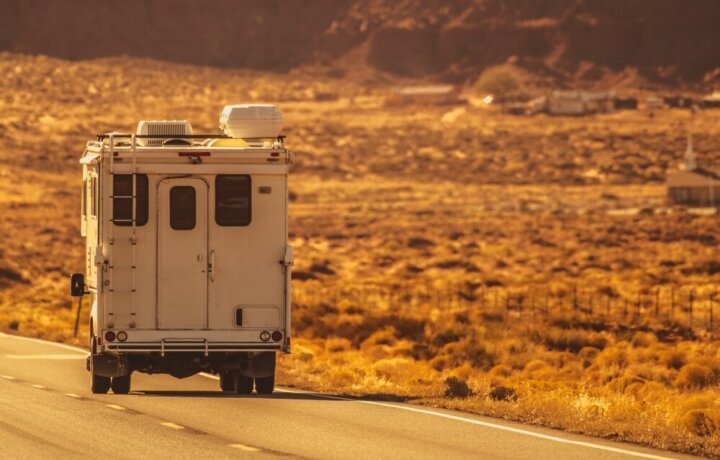 All of our reviews are based on exhaustive research, industry experience and whenever possible, hands-on testing. When you make a purchase using one of our chosen links we'll get a small percentage of the proceeds. This supports the site and keeps Jeffsetter running. You can read more here.
Camper vans and truck campers are great vehicles that let you explore far and wide whilst having a place to eat, sleep and relax on board. Camper vans have stolen the spotlight in recent years, however, truck campers are also fantastic rigs that can provide some of the same benefits as standard campers.
But what exactly is the difference between a camper van and a truck camper?

Camper vans vs truck campers have differences in terms of space, price, and off-road capability. Camper vans have room for more than one person and usually have a toilet and shower system but are a poor off-road choice. Truck campers however have limited space but can get you where you want to go.
If you're looking for an adventure vehicle and are weighing up whether to buy a camper van or a truck camper, you need to get the full picture of both options.
That's why we've delved deep into the camper van vs truck camper battle so you can decide on the vehicle that ticks all your boxes and gets you exactly what you need.
Camper Van Vs Truck Camper: Which Is Better?
Debating between getting a camper van and a truck camper can be difficult as they both meet different needs for different people. If you are looking for a vehicle that would be spacious enough for more than one or two people, a camper van might be a better option for you.
If you're somebody who wants to get explore the outside world no matter how difficult the road ahead is and find wild parks rather than heading to campsites all the time, a truck camper might be an ideal option. You do need to have a pickup truck for a truck camper though, so if you don't already own a truck, it's worth budgeting one in!
Remember different areas may have different laws when it comes to wild camping, so it's important to check if you're allowed to camp overnight before you head straight into the forest or down to the beach.
When choosing a camper van or a truck camper I think it's important to first work out exactly what it is you want from the vehicle, as well as the things you just can't do without. Let's go ahead and take a look at some of the key differences between camper vans and truck campers.
What Are The Differences Between A Camper Van and a Truck Camper?
The main difference between a campervan and a truck camper is the different types of vehicles involved in both. A camper van is usually a passenger or cargo van, whereas a truck camper is a shell mounted on the bed of a pickup truck.
The video below shows an in-depth comparison between a truck camper and a factory-built camper van, highlighting the differences between both and when one might make sense over the other.
There are of course benefits to both vehicles, however, it can sometimes be hard to think about the situations in which one type of camper might not live up to your expectations. As you can see in the video, it all comes down to personal choice when deciding between a camper van and a truck camper.
What Are The Advantages of a Camper Van?
Camper vans for many aren't just a rig saved for weekend trips away, instead, they are also full-time living spaces where digital nomads can travel the world and work from anywhere inside their camper!
So, let's take a look at some of their pros!
1. Spacious
Camper vans may not be as big as a Class C RVs, but they do offer plenty of room, and if you have a creative layout with space-saving features, you'll be surprised what you can fit inside.
Camper vans also offer lots of storage space. They usually have cupboards, drawers, and multipurpose storage areas to keep belongings, food, and even adventure equipment.
The space a camper van provides depends on the layout you choose. Some camper vans come with a pre-manufactured interior where you don't have much say on the style, design, or layout. Then again there's always the option of converting a camper van yourself which does require time and a lot of patience, but it also allows you to create the camper of your dreams and get the layout you want down to a tee.
2. Bathroom Capability
One of the trickiest things about camping is the bathroom situation. Although heading out into nature is the option for some campers, I personally prefer a private space to get the job done! Camper vans usually have a toilet facility such as a cassette toilet or dry composting toilet that takes the stress away when you need to go.
There's also the option of having a shower inside a camper van too. Although this can take a bit of figuring out, it's possible as long as you have a waterproof space and a big enough water capacity. My biggest piece of advice if you're including a wet room-style cubicle in your camper van is to go above and beyond to make it waterproof and watertight.
I've heard too many horror stories of people having to redo their camper bathrooms in only a few months of using them as they didn't originally seal them well enough. If enough water gets in, it can cause mold which is the last thing you want while hanging around in your camper as it comes with some potential health risks.
3. Convenient
It's hard to beat the convenience of a campervan as you have the joy of driving a modern vehicle around whilst also being able to stop at any point, jump in the back and whip up lunch or a quick cup of coffee.
There is also such a vast array of camper vans available so you can tailor a van to exactly what you need for getaways or maybe even a full-time setup. For ultimate convenience and to maximize space, it's worth choosing a van with a super functional design, created with both practicality and ingenuity in mind.
What Are The Disadvantages of a Camper Van?
I have lived in camper vans for 3 years, so I've experienced a full taste of both the pros and cons. With so many picture-perfect camper vans in paradise spots shown all over social media, it's important to keep it real and consider their disadvantages too.
1. Hard to Park
The size of campervans can be awesome in terms of internal room and storage space, however, when it comes to parking a camper van, you are somewhat restricted. If a car park has a height barrier or particularly small spaces, it's pretty much a right off in a camper van.
It also takes a decent amount of space to maneuver a camper van, especially if you have things mounted on the outside such as a canoe or kayak.
2. Constant Maintenance
Any vehicle you use needs regular maintenance to keep it performing in tip-top condition and camper vans are no exception. Arguably, even more, maintenance will have to be undergone with campers as the vehicle is under constant load with heavy items such as water tanks and batteries on board.
It's also important to remember that the interior of a campervan needs attention too, and if you're traveling during the wet season, you'll need to keep an eye out for leaks. Although the constant maintenance of camper vans can be frustrating, it really is the best way to keep your rig in good condition and prevent costly repairs in the future.
3. Poor for Driving Off-Road
Unless you have a 4×4 camper or at least a set of high-quality off-road tires, you'll likely struggle in harsh terrains like mud and snow. Camper vans aren't necessarily designed to take you anywhere and everywhere, so if this is something you want from a camper, you'll likely have to put in the time and money to get it capable of tackling off-road terrain.
There's a big jump in price from a regular camper van to an off-road, 4×4 camper van, so it's worth working out if a truck camper is a better option for you, as they still provide basic amenities but with the desirable addition of tackling muddy tracks and snowy hills.
4. Expensive
The camper van market is growing exponentially and vans are getting increasingly popular and in turn, more expensive. Purchasing a custom-built van can set you back thousands of dollars, but even buying a panel van and converting it to a camper van yourself can quickly rack up costs.
Camper vans are definitely an investment, but you can lower the cost by choosing a vehicle that's a little older and maybe has less luxury such as no A/C or cruise control. Any van has the potential of becoming a camper van, so if you think you have the knowledge and tools to tackle a build yourself, why not give it a go and save at least a bit of money?
What Are The Advantages of a Truck Camper?
A truck camper is a great option for those wanting to get into the heart of nature and park beneath the stars. Truck campers are great if you already have a pickup truck but want to transform it into an off-road adventure machine.
But what else is great?
1. Low Maintenance
Unlike camper vans, truck campers have very little maintenance as you don't have an engine, suspension, or wheels to worry about! You'll only have to watch out for things like seals and external damage on the truck camper itself.
Although there will be some maintenance with the pickup truck that your camper shell is mounted on, however, this isn't really any different than if you were to regularly drive your pickup around anyway.
So, basically, you would have to do the usual things like check oil and water levels and keep enough pressure in the tires so that they function the best they can.
2. Versatile
One of the biggest benefits of a truck camper is its versatility, as after a trip away in the wilderness, you can drive back home, lift the shell off, and go back to your regular pickup truck setup. A campervan can only be used as a campervan, so with a truck camper, it's like owning two different vehicles in one!
There are also many different types of truck camper varying in shape, size, and internal components, so it's not too tricky to find one that fits the bed of your pickup whilst also having everything you need inside too.
3. Good Off-Road
Truck campers are the perfect fit for those who don't want to rely on campsites whilst on trips away. Instead, truck campers can take you to some impressive wild parks, even if the tracks to get there are wet and muddy.
Using a truck with excellent off-road capability can throw the action and adventure back into camping, which sometimes gets pushed aside in a luxurious camper van. Part of the experience of camping for many people is to spend time in nature, and a truck camper is a vehicle that can give you this in a heartbeat.
What Are The Disadvantages of a Truck Camper?
Truck campers don't necessarily tick all the boxes for everyone as they do have some disadvantages. If you want to take trips with family or friends, then most likely the truck camper won't be able to offer you the space and amenities you need.
1. Limited Space
One of the main drawbacks of truck campers is their rather small size when compared to a camper van. The size of your truck camper will depend on the size of the bed on your pickup truck, so you are limited from the get-go.
Camper shells also don't tend to have a large amount of headroom, so if you're like me and on the taller side, a campervan may be a better fit.
The limited space can also be restrictive in terms of the components you can fit inside the truck camper. You probably won't be able to have a full toilet or shower cubicle in a truck camper as it would take up too much room. A way around this, however, would be to instead have a slide-out cassette toilet and an external shower.
2. Difficult Set-Up
The process of getting your truck camper onto the back of your pickup truck can be a daunting one if you've never done it before. If it's your first time, it would be useful to have an extra pair of eyes to give you a hand when it comes to lining up the camper shell and getting it on and off your pickup truck safely.
Although the setup can be tricky and require a lot of patience, it's essential not to rush the process. Speeding ahead can cause damage to both the camper shell and your pickup truck if something goes wrong and the shell tips or isn't high enough and catches the lights or bumper of your pickup.
3. Have to Own a Truck
Truck campers need a bed to sit on and so they require a pickup truck. If you don't already own a pickup truck, you'll need to factor one into the equation, along with the truck camper shell.
This can be a big expense in one hit and the two together can cost more than some campervans on the market, so it's worth having a good think about whether this is the best and most cost-effective option for you.
4. Height
Truck campers tend to be significantly taller than campervans, and this can be a big issue if you're traveling through areas with low bridges and height-restricted areas. There isn't really any way to get around this, other than trying to choose a camper shell that isn't hugely tall.
The height and shape of truck campers can make the vehicle feel unsteady when driving out on the road, especially if the shell isn't strapped onto the bed securely enough.
If you aren't likely to take a truck camper around urban areas with low bridges and tunnels and instead take your rig out in the wild on dirt tracks, you don't need to worry too much about the potential height problems – just keep a look out for trees!
Closing Thoughts
The debate of a camper van vs a truck camper is one where both sides win depending on what you want from an adventure vehicle.
I live full-time on the road and couldn't imagine life without my camper and the space and functionality it gives me. However, if you want a rig that can give you action-packed trips virtually anywhere, a truck camper is the vehicle for you.