In my introductory post, I mentioned that I had booked three hotels for this trip. The first of these ended up being the Hyatt Regency Seattle – a newer hotel near the convention center. And, to me, it was quite a nice hotel.
My decision to book the Hyatt Regency Seattle was as much a function of price and location as it was my desire to give Hyatt a try. While I would've preferred to stay closer to Pike's Place Market, the hotel's location near the Seattle Convention Center is still plenty convenient and is walkable to many places I like to visit, including the Starbucks Reserve Roastery and Dahlia Bakery, to name a few.
Booking the Hyatt Regency Seattle
After searching rates with Hyatt, Marriott, and Hilton, the Hyatt Regency Seattle won out for our first two nights. I booked a cash rate of $327.49 per night, inclusive of taxes and self-parking fees, for a total of $654.98. That's more than I typically like to spend, but it is a good price for Seattle during a peak travel period. For the stay, I earned 3,275 base points plus 655 from my Explorist 20% bonus, along with two elite qualifying nights.
Hyatt Regency Seattle Check-In Experience
Coming from Marriott, I'm used to being able to check in online three days before my arrival. You can't do that with Hyatt and can only check in on the day of arrival. That said, the reservation details in the app showed that I was upgraded to a Lake View room even before we checked in. Our room became available at 4 pm, though we were still in the air when I got the notification. We didn't physically arrive at the hotel until about 10 pm.
When we arrived, we parked in the self-parking lot, which could have more stalls in it – it's pretty small for a hotel this size! But once we got a stall, it was a quick elevator ride up to the lobby, where we were immediately greeted and helped by an associate named Jericho.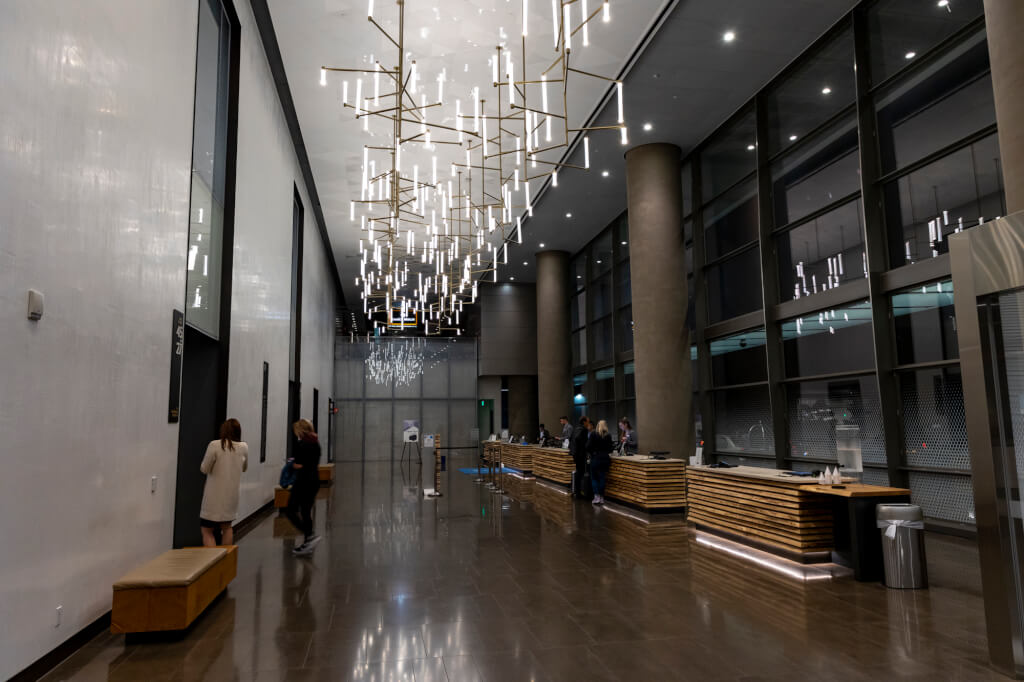 As it turns out, Jericho recently moved to Seattle from Hawaii and seeing fellow locals really made his day. I started conversing with him in our local pidgin, and we had a bit of a "talk story" session while he checked us in. He even gave us a bunch of tips about exciting things happening during our time in Seattle.
To be clear, Jericho was very friendly and professional, even before he discovered where I was from. However, Hawaii people always love seeing others from home, and all share a special connection. For us, it made our experience that much more special.
Hyatt Regency Seattle Lake View Room
Our assigned room number was 4405 – a standard room on the 44th floor facing Lake Union.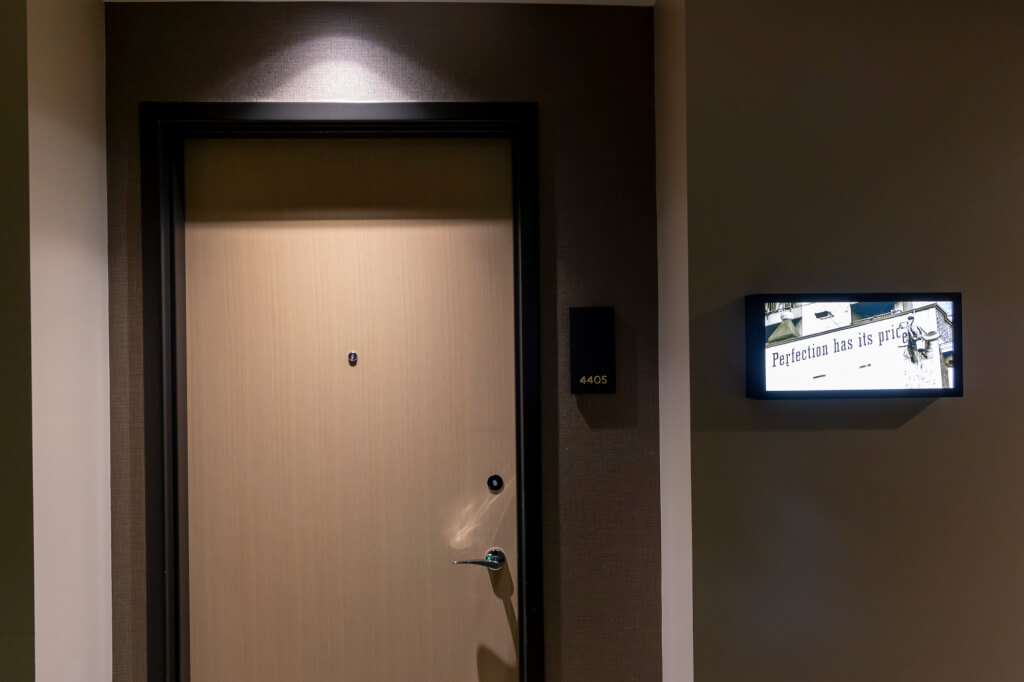 For a standard room in Seattle, the rooms at the Hyatt Regency Seattle have quite a bit of space with layouts that maximize that space to make the room feel even bigger. For example, the bathroom, which was immediately to the right of the entry door, features a rather large vanity with a generously sized, non-gimmicky sink; a shower stall featuring controls; and wall-mounted toiletry dispensers on the side opposite the showerhead, and a toilet.
Slightly further into the room from the bathroom is an open closet. I must say, I'm not crazy about this trend of closest not having doors, but it does help make the room feel a little airier. The two drawers at the bottom of the closet were also the only two "dresser drawers" the room had, which might be annoying for longer stays, but didn't bother us during our brief two-nighter.
As you can see in the above photo, immediately across from the closet is a nook area featuring a Keurig, a safe, and a stylish mini fridge. Looking deeper into the room, we find our king bed, wall-mounted TV, a clock radio, a built-in desk with a chair and the room's phone, and a daybed.
I don't know if it was because I was tired from our long day and lack of sleep the night before, but the bed at the Hyatt Regency Seattle is very comfortable – one of the best hotel beds I've slept in, in recent memory. What also helped, though, is the fact that there was ZERO street noise in our room, while the corridor noise was just barely audible.
HVAC + Tech
Another aspect of our stay at the Hyatt Regency Seattle that impressed the hell out of me was just how effective and quiet the HVAC system is. Seriously. The system held the temperature in our room very well while doing it virtually silently. Water pressure and temperature were also excellent.
Another feature of our room that impressed me was the motion-activated night lights. These diminutive lights are built-in to the base of the nightstands and turned on when you move near them, providing a non-intrusive amount of light perfect for late-night bathroom trips that light your way without disrupting your travel companion. I do also like Hyatt's Chromecast feature, which is superior to Marriott's limiting pre-installed apps and far surpass Hilton's total lack of streaming abilities.
View
Because we arrived so late, we couldn't see much out our window that first night. However, the next morning, we were treated to a lovely view of the Seattle skyline along with a sliver of Lake Union. No, this view isn't nearly as good as the one we had from our suite at the Marriott Waterfront but it is far superior to every other room we've ever had in Seattle.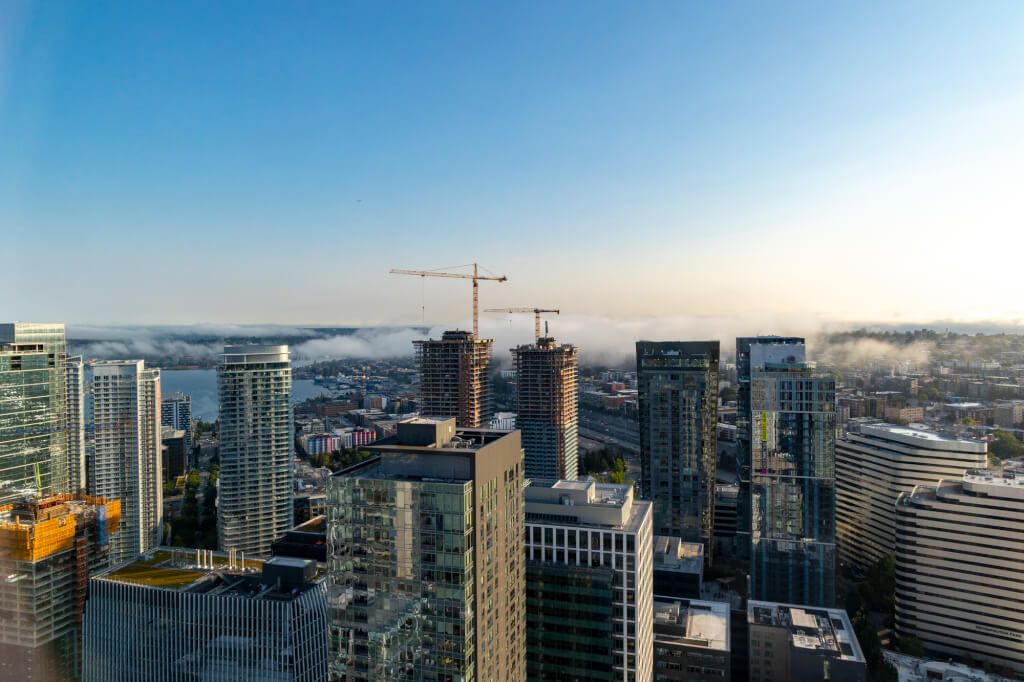 Final Thoughts
I have to admit, our stay at the Hyatt Regency Seattle this past September was my first Hyatt Regency stay in nearly 20 years. It proved a fantastic reintroduction to the brand for me with its fantastic service and comfortable, thoughtful accommodations. I do have to remember, though, that this is a relatively new hotel. Completed in 2018, the hotel set a high bar that wouldn't be fair to judge other older properties against. That said, this stay did influence me to be more open to Hyatt and gave me a new favorite hotel in the city. I'm so glad we stayed here – I only wish we had stayed here again during the second half of our trip.
Labor Day 2022 PNW Adventure