After collecting our bags, we boarded the CONRAC shuttle to get our car from Enterprise Car Rental SEATAC. I was excited about this rental, as it would be my first luxury car rental since Silver Car pulled out of airport locations.
If time is important to you, you might not want to rent from Enterprise Car Rental SEATAC – at least not if you have a late-evening arrival time. That's not to say the experience there is bad; it's just that it took more time than I'd hoped.
Booking Enterprise Car Rental SEATAC
Before I get into the actual rental, let's talk about the booking process. People have been complaining about pricing and availability, but there are ways to lessen the sting. I usually do a number of different searches to compare prices, though the cheapest (at least for me) usually turns out to be Costco Travel. And that's precisely how I booked this rental. As soon as I knew this trip was happening, I booked our car, which was originally a Chevy Malibu, for five days at the cost of $800. And that wasn't bad for booking a couple of months out. It was certainly cheaper than everything else I saw.
As we moved closer and our needs changed, though, I rebooked. I actually have a habit of checking at least a few times per week leading up to my departure date and rebooking anytime I see the price drop. And boy, did the price drop! In fact, during my final rebook, I locked in a price of $570 for a standard-size elite vehicle. Surprisingly, this was cheaper than renting a Corolla or the Malibu, so even better.
Enterprise Car Rental SEATAC Pick-Up Experience
When we got to the CONRAC, I sprinted out of the shuttle and ahead of pretty much everyone else, getting myself in line first. And that's a good thing as there was only one associate working the Enterprise Car Rental SEATAC counter at that time of night (about 9 pm). The people already at the counter were taking an unusually long time to get set up, which meant we ended up standing in line for nearly 20 minutes. Some in line even tried to use the kiosks instead, though the associate warned them that way would take longer. She was right.
As soon as she cleared the guys she was helping away, she processed my paperwork in roughly two minutes. The people behind us – who were clearly annoyed we beat them to the line – gave up with the kiosk and fell back in line. From there, our car was brought out to us, and we were off. Or so I thought.
As we exited the facility, the associate at the inspection gate asked me how much gas I had in the tank. To my surprise, the car had only a quarter tank! He told me to bring it back at a quarter tank and sent me on my way. We got out of there at 9:24 pm.
Of course, now I had to get gas. Yeah, filling at a location near the airport ended up costing me $100. Ridiculous!
Enterprise Car Rental SEATAC Infiniti Q50
Enterprise's standard elite category advertises the Audi A5 and Infiniti Q50 sedans. I was hoping for an A5 but ended up with a Q50, which is what Infiniti/Nissan now calls what once was known as the G37. That means I got a front-engine rear-wheel drive sport sedan powered by a VR30DDTT 3.0-liter twin-turbo V6 engine. That motor is good for 300 hp and 295 lb-ft of torque with an average MPG of 23. Ouch.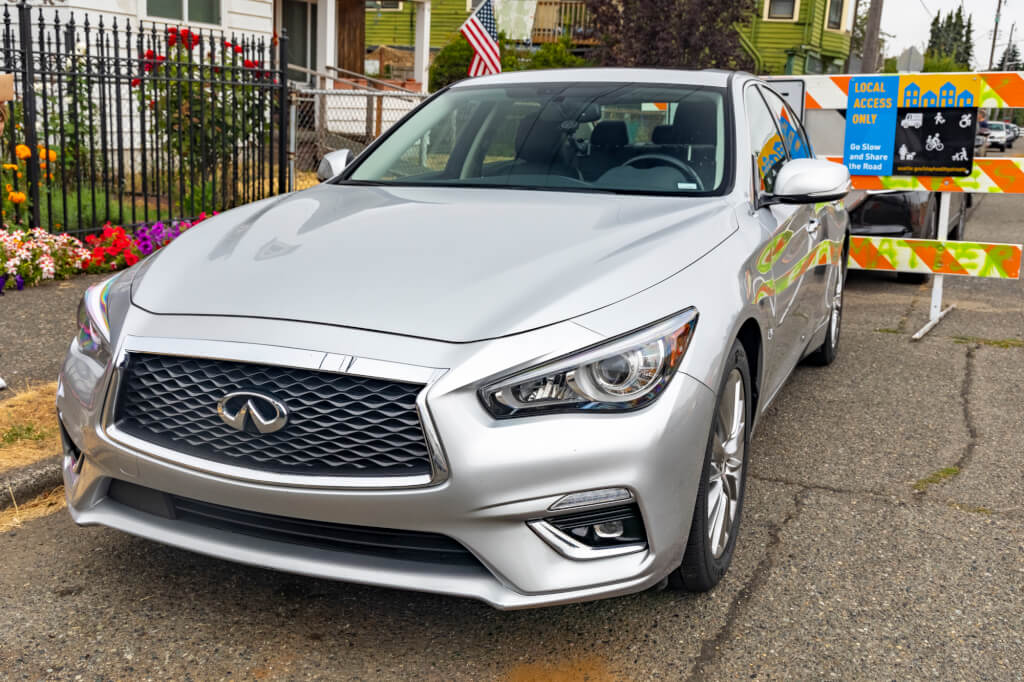 Overall, the car drives fairly well. It's a big heavy sedan, and it certainly feels like it. Despite the power, the car feels a bit sluggish in normal driving – you really have to lean into the throttle for the engine to come alive. But when it does, it does so with a balanced amount of smoothness and fun. Cornering is decent, though she does waddle a bit, and the steering is quite numb.
The cabin is quiet and comfortable, though the dash looks dated and cheap. This car first went on sale in 2013, and I really don't think they have changed much since then. The infotainment, for example, is clunky and low-resolution. Sure, it has the physical buttons you want and Apple CarPlay, but the touch screen is a bit of a dog, and the wired CarPlay connectivity only works when it feels like it.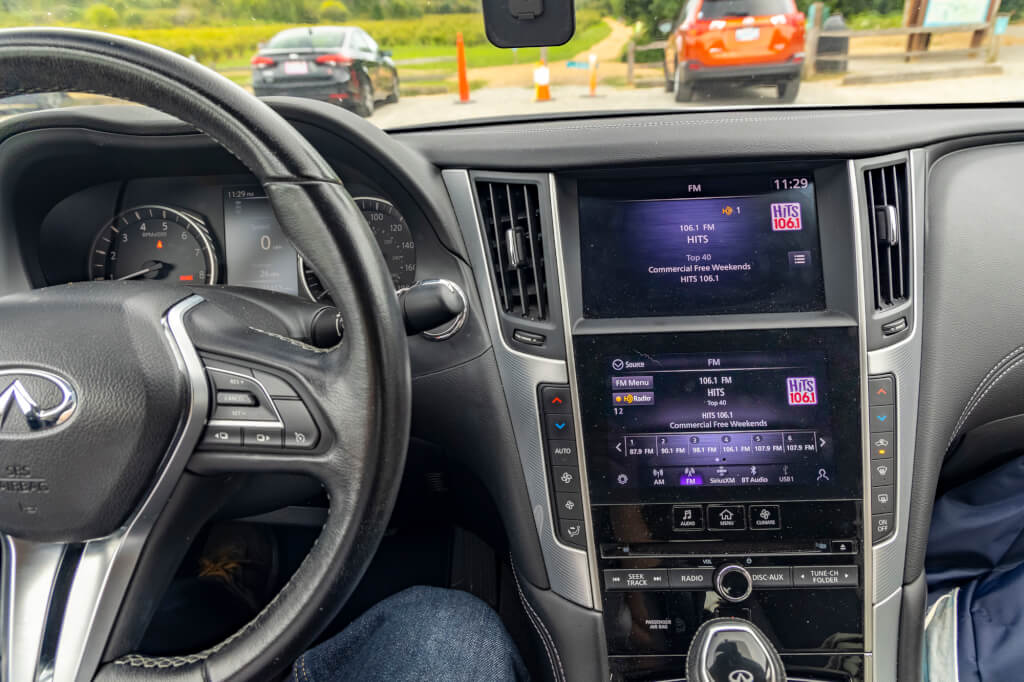 I don't think Enterprise Car Rental SEATAC puts much into maintaining this car, either. The tires it wore were some cheap off-brand with barely any grip. I lost traction on DRY rails embedded in the street in Seattle. And, no, I wasn't driving aggressively at all! The brake rotors also felt warped as I could feel pulses through the brake peddle and vibrations in the steering wheel under moderate braking pressure. Yikes.
Trunk space was quite good for a rear-wheel drive sedan this size, allowing us to shove two large checked bags, a large backpack, and a duffle back there, but our two small carry-on rollers had to go in the back seat.
Enterprise Car Rental SEATAC Return Experience
On our final day, I brought the car back to Enterprise Car Rental SEATAC at about 9:00 am. The place was busy, and it took us till around 9:09 am to complete the return. Thankfully, a shuttle was waiting when we got back downstairs, and we were back at the terminal by 9:16 am.
Final Thoughts
Overall, I think my rental with Enterprise Car Rental SEATAC went fairly well. The employees were friendly and efficient, and the price was right – well, it was better than anything else I was seeing out there unless I was willing to rent a pick-up truck or a penalty box. But I can't say I'm a fan of the Infiniti Q50. Sorry if you like this car, but it felt dated and cheap and wasn't all that engaging. I much prefer to have an Audi A4 or even a Mazda CX-5 over this thing.
Labor Day 2022 PNW Adventure
Enterprise Car Rental SEATAC