The Laylow Waikiki is one of the newest hotels in Hawaii, and is also one of my favorites.
The Laylow Waikiki is one of the newest hotels in Hawaii.  It's also the newest Marriott in Hawaii, as well as the first Autograph Collection hotel on Oahu.  And as a Marriott loyalist, it was a hotel I really wanted to check out.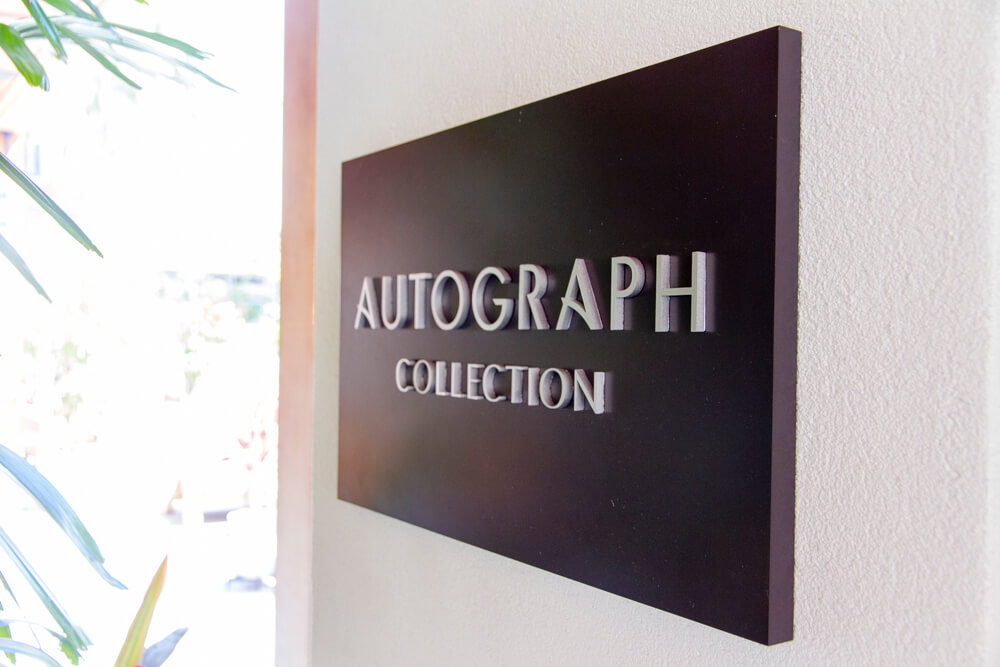 Prices for the property, though, are quite high, as it is a luxury boutique hotel.  But before opening, the property had some really great pre-opening kama'aina rates, which I decided to take advantage of.
Location
As its name suggests, the Laylow Waikiki is in Oahu's main tourist district: Waikiki.  However, unlike many of the larger, more well-known properties, it is not located on Kalakaua Ave.  Instead, the Laylow's location is on the "back street" Kuhio Ave.  And while not having a beach-front location may be a negative for some, I think the Laylow's location is a benefit.  Why?  Because it's located in between the International Market Place and Hyatt Centric Waikiki, meaning the Laylow location is conveniently near Waikiki's main shopping and dining venues.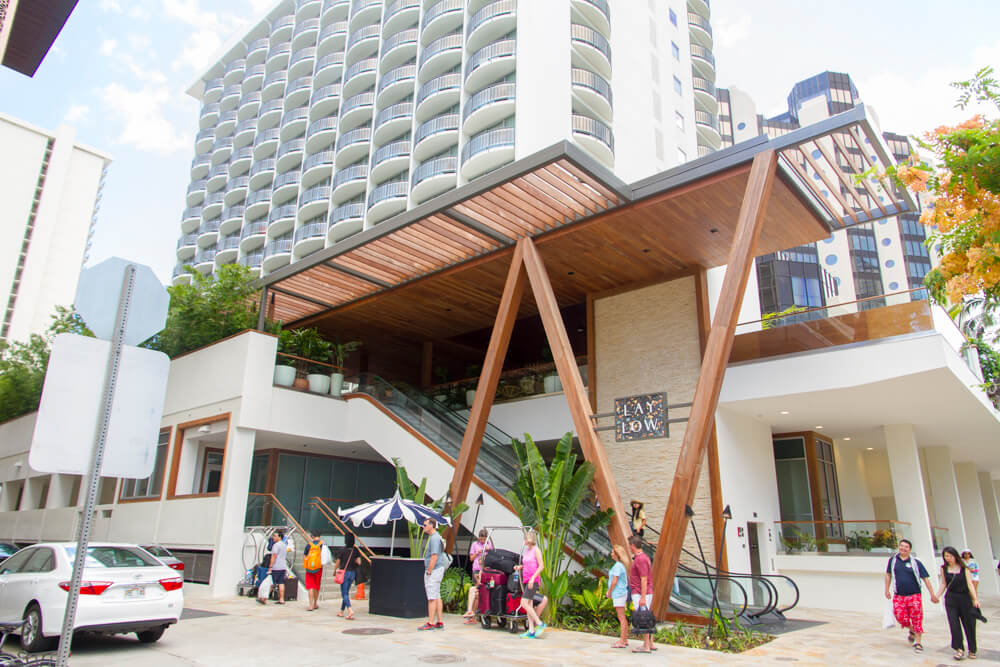 Because of its location, though, views are not a strong point of the Laylow.  And accessing the property isn't quite as convenient as others.  Parking here is valet-only, and you have to pull into a narrow side street to get to the valet stand.  Upon leaving the property, you'll have to drive completely around it and exit through a tiny side street as well.  It isn't difficult to do, but it can be a bit of a nuisance.
Service
Service throughout our stay at the Laylow Waikiki was great.  In fact, before our stay, I needed some clarity regarding our special rate.  And even then the associate I interacted with was very prompt, professional and inviting.  Fast-forward to our actual stay and the property was BUSY.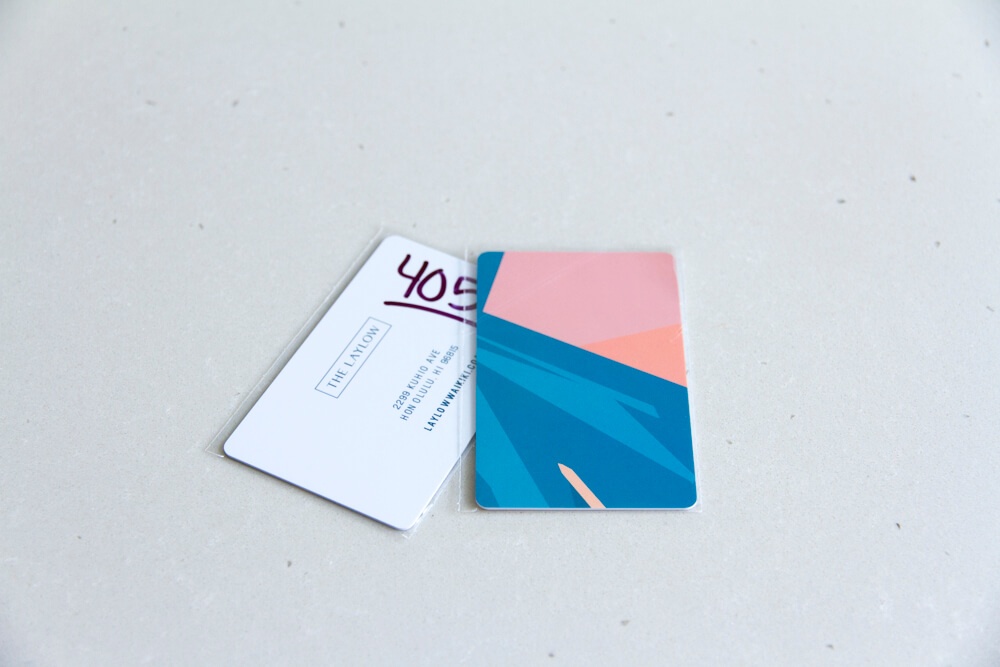 The crowding was to be expected, of course, as we were staying over the Memorial Day weekend.  But even then, the valet staff were all very friendly and quick.  The same can be said about the front desk staff when we checked in.  The only hiccup in service was the delay in our bag delivery once our room was ready. However, once I notified the front desk about our missing bag, a valet our bag up to our room.
Unfortunately, our room wasn't ready upon check-in.  So Mrs. Island Miler and I decided to check out some of the property's amenities and before heading off property for some lunch.
Amenities
Now, the Laylow Waikiki is a conversion project, as are most "new" hotels in Waikiki.  And while this hotel conversion is far better than the others, it also means that the property is still small. And this size restriction means the property doesn't have much room for amenities.  In this case, it means the Laylow has only one restaurant, one pool, a tiny gift shop, and a small fitness center.  I'll cover the restaurant in a separate post, but the pool is located off to the side of the lobby facing the International Market Place.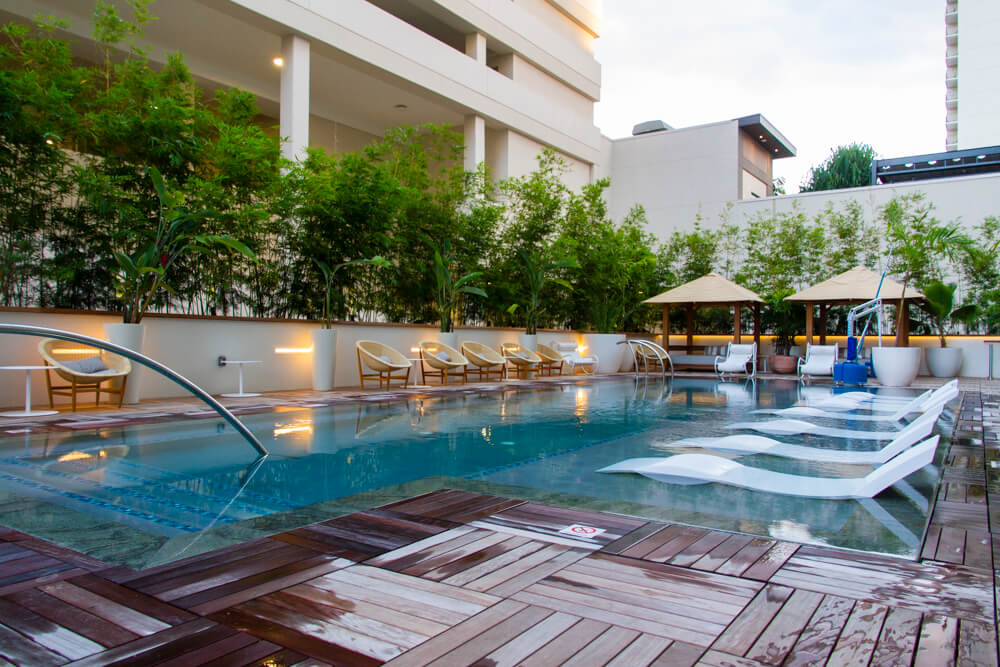 The pool is small, zero-entry pool with a shallow, flat area containing a few chaise lounge chairs.  Despite its size, the pool is a nice area to hang out at if it isn't too busy.  There's a couple of cabanas (reservations required) and a handful of chaise loungers both in and out of the pool.  Towels are available at the small gift shop adjacent to the pool, while poolside service is available from the on-property restaurant as well.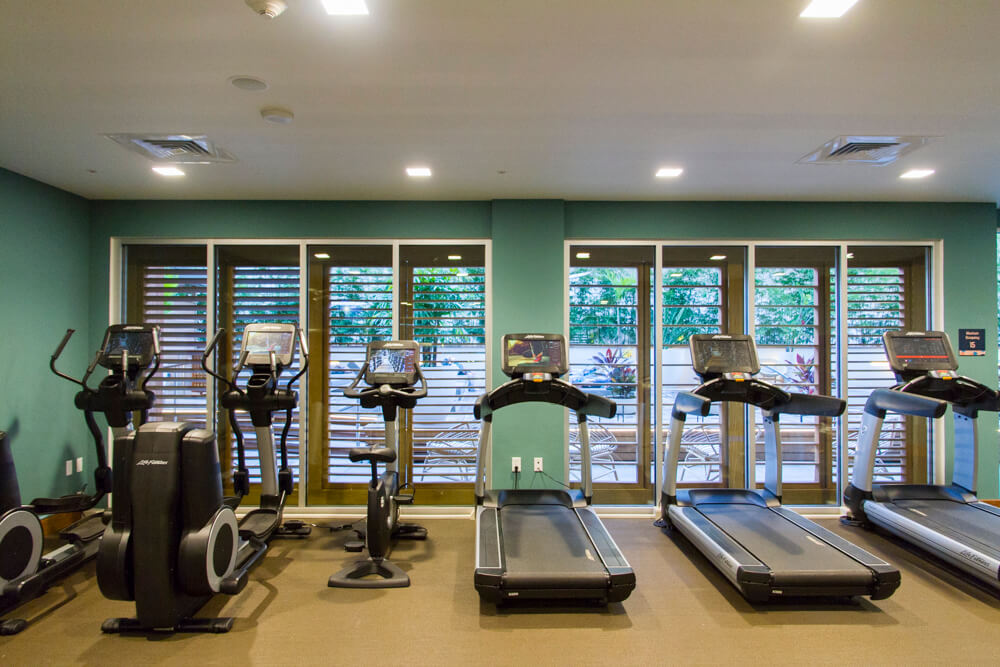 Also located near the pool is the small fitness center.  But unlike many other similarly sized hotels, the one here at the Laylow doesn't feel so closed-in.  There's lots of natural light, and there's a fair amount of open space within.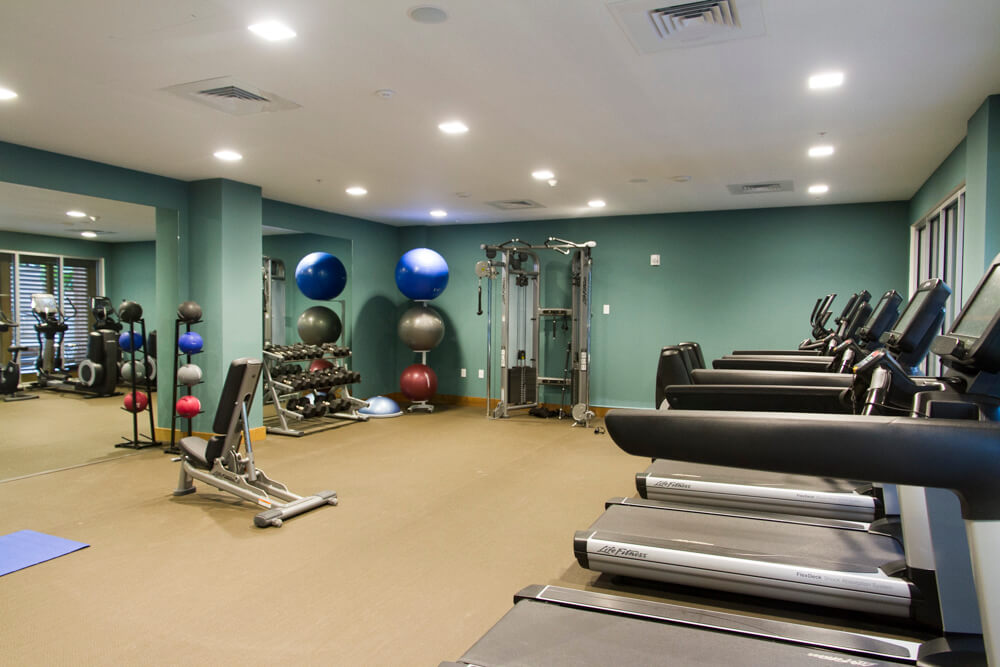 Our Room
Once I received a call from the property notifying me that our room was ready, we made our way back to the front desk.  There I was informed that they had assigned us a very nice room on the 4th floor.  Initially, I was disappointed, as I prefer high-floor rooms, but that was short-lived.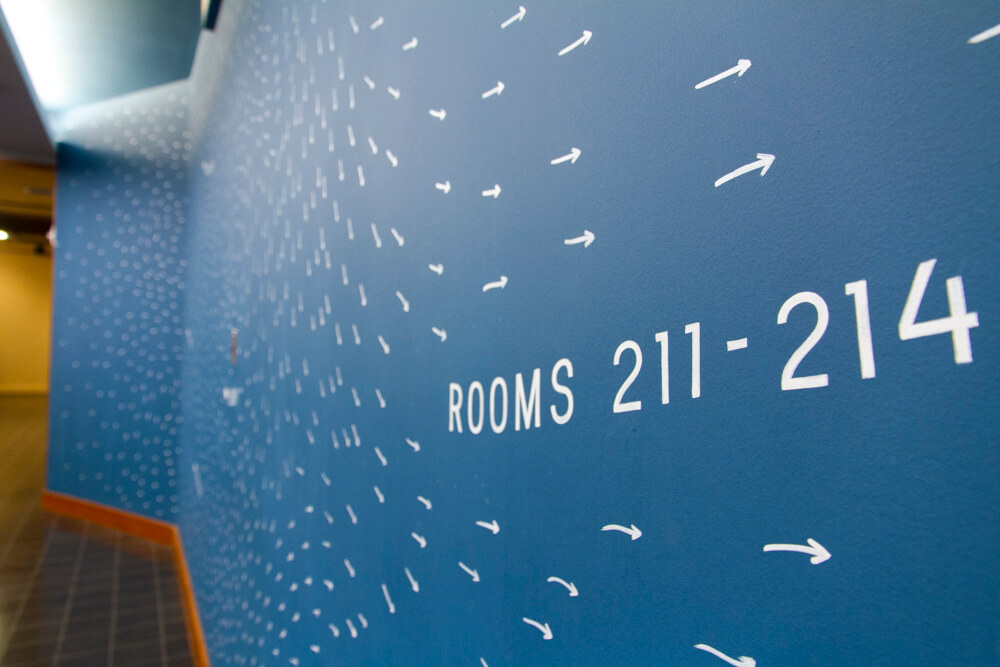 From the lobby, we made our way around the corner to the two elevators.  And after a brief wait, we made our way up to the 4th floor.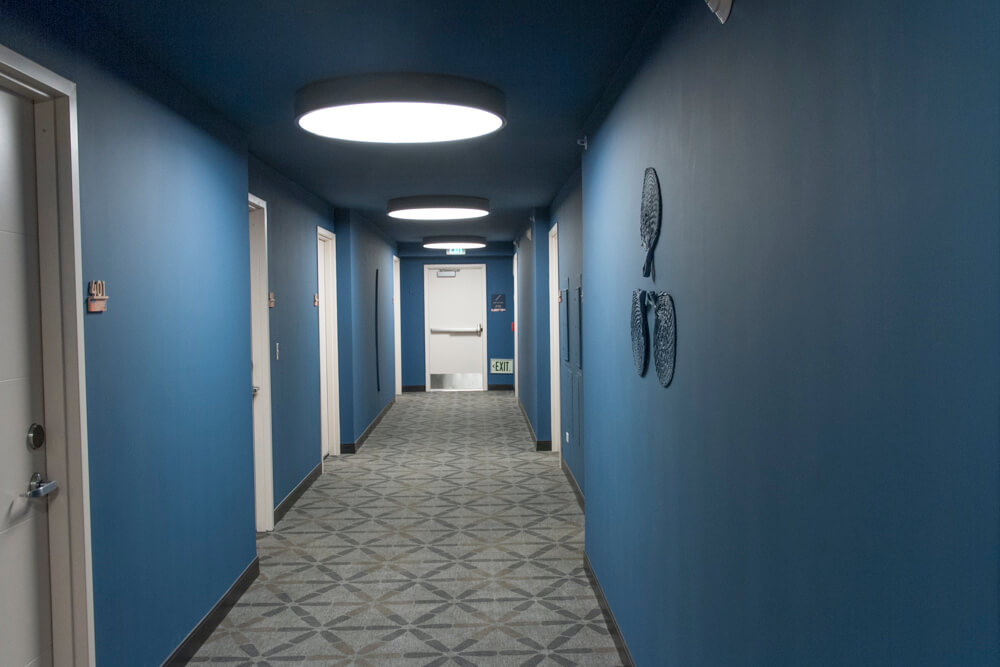 We were assigned room number 405, which is located near the end of the short corridor.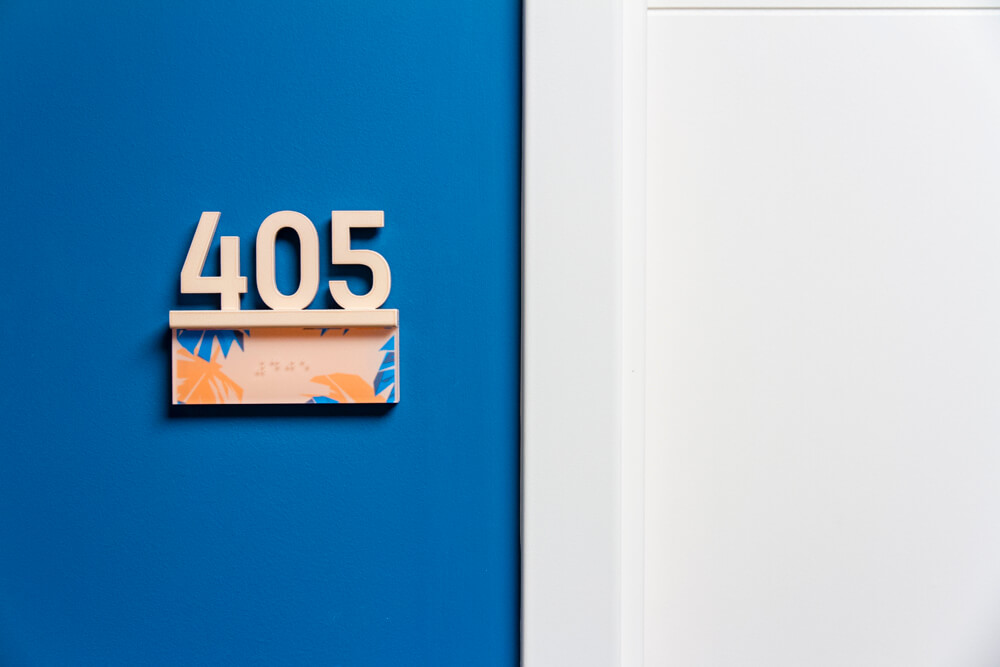 And to my surprise, when I opened the door, I discovered that we were assigned a lovely Junior Suite.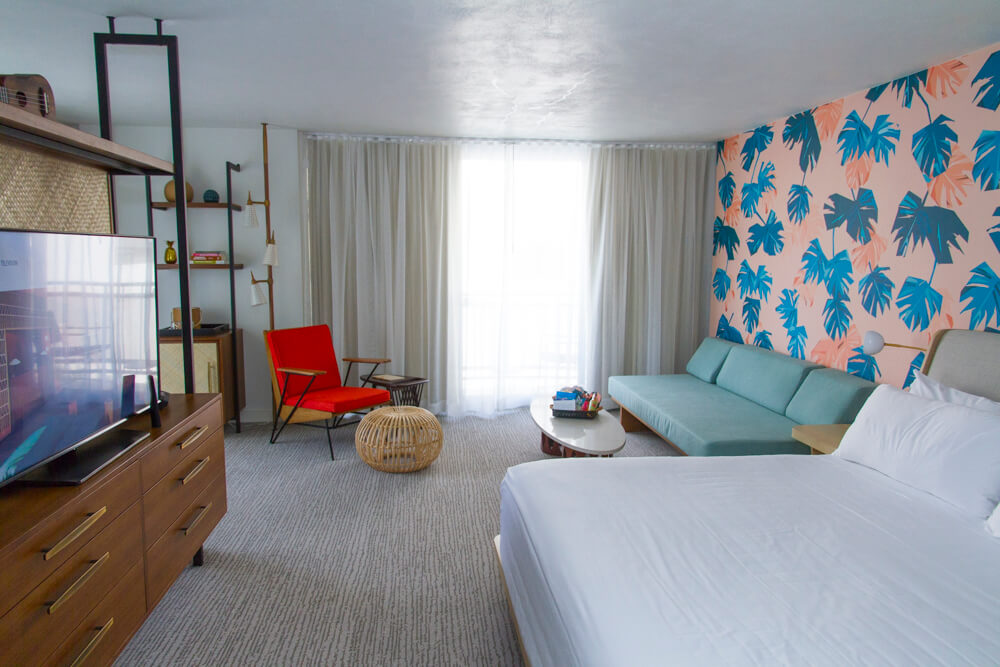 But before I get into the main portion of the room, let's back things up a bit.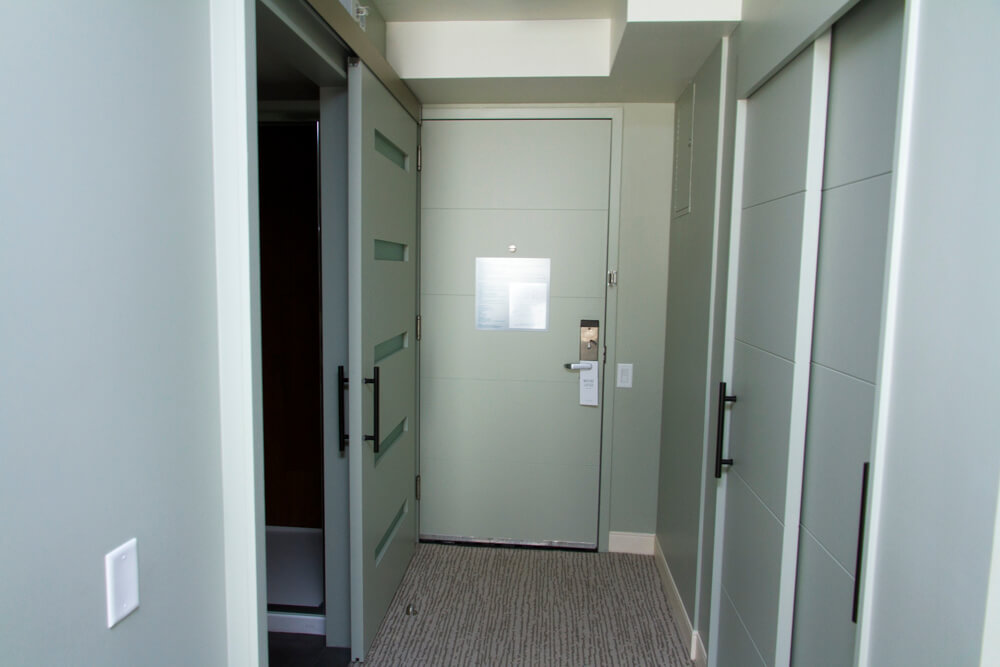 When you first enter the room, you'll find the bathroom behind a barn-style door to the right.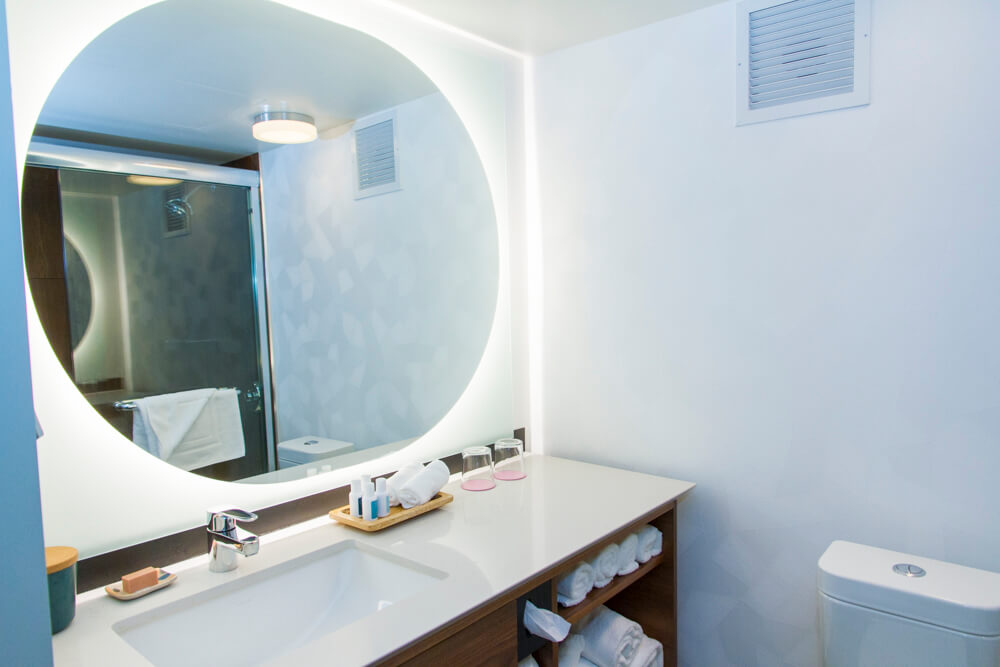 The bathroom is a bit on the small size, but the designers managed to make very efficient use of the space.  Here, you'll find a single vanity, a toilet, and a wood veneer shower stall.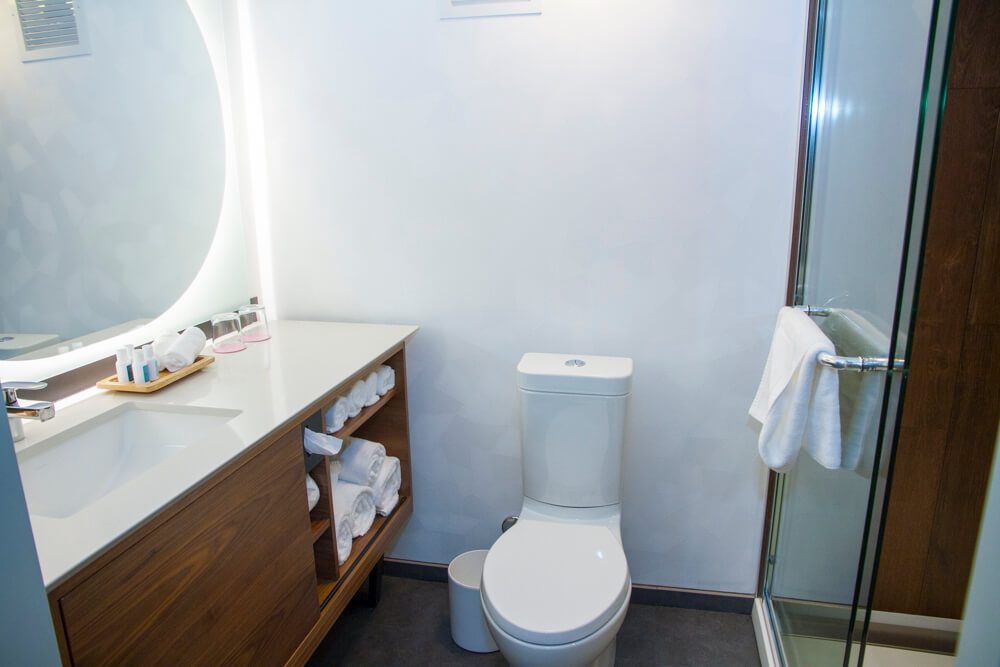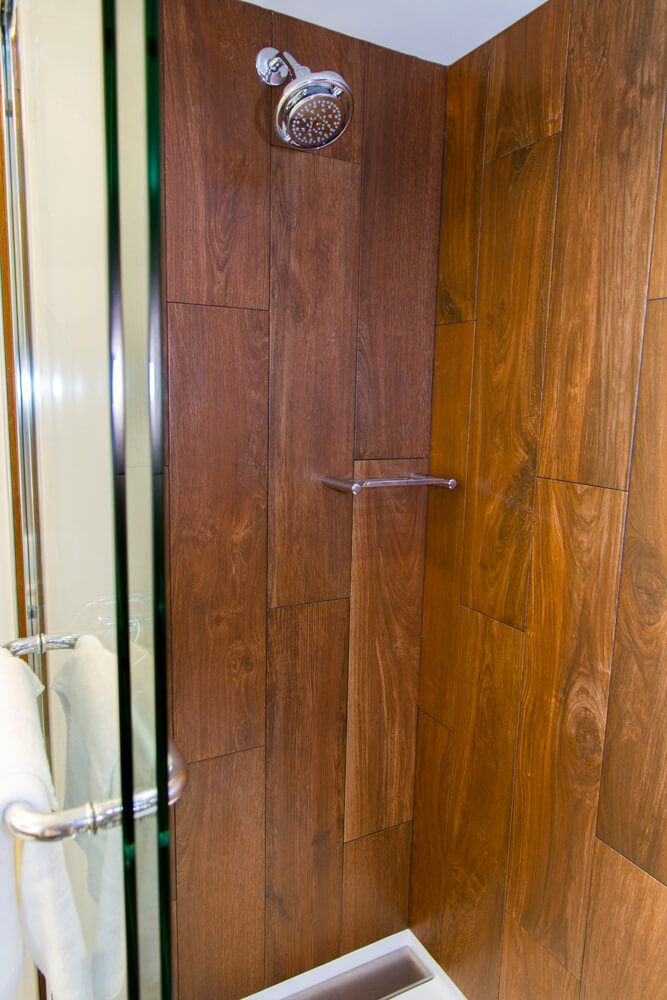 The shower controls are located on the wall under the shower head but offset to the left.  Temperature is excellent, but water pressure could have been a little better.  I suspect the property is using eco-friendly, flow-restricted heads. Oh, and toiletries are the from Maak, which has a unique scent that I kind of like.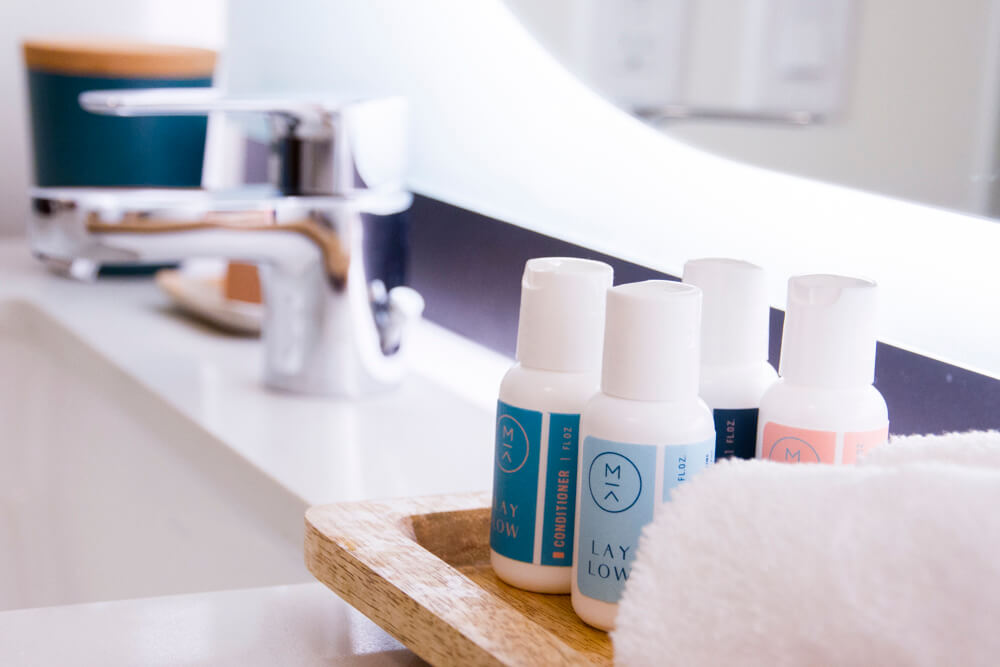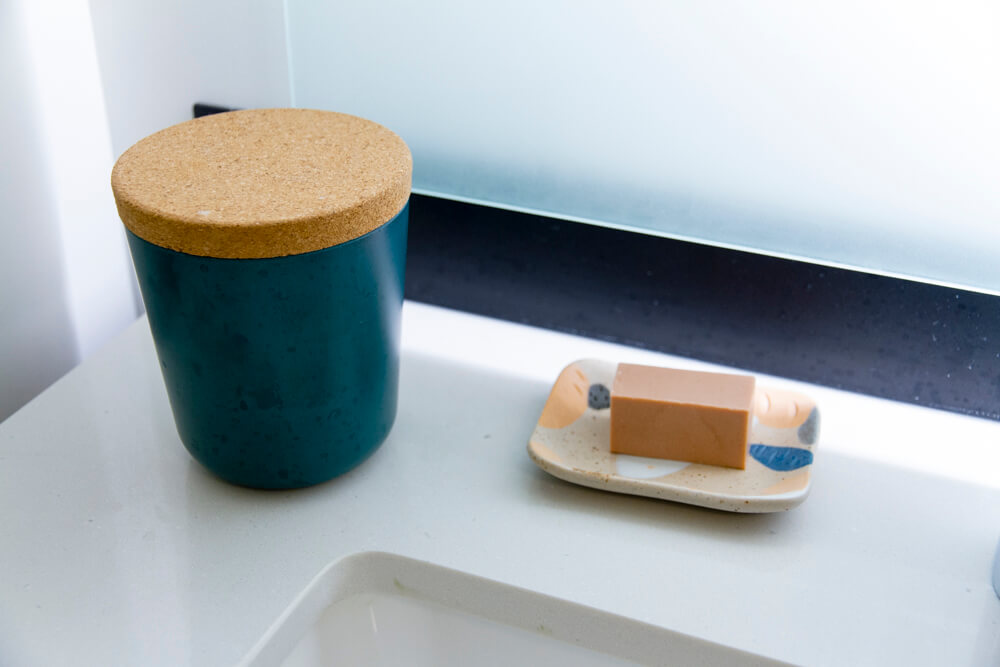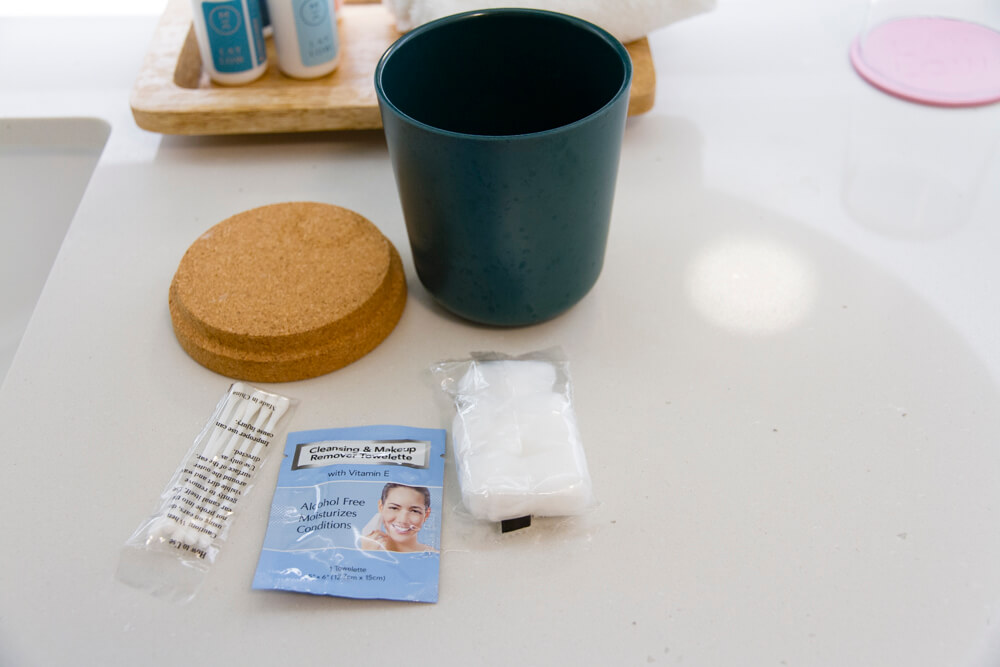 Across from the bathroom is a closet which contains a full-size safe, iron and ironing board.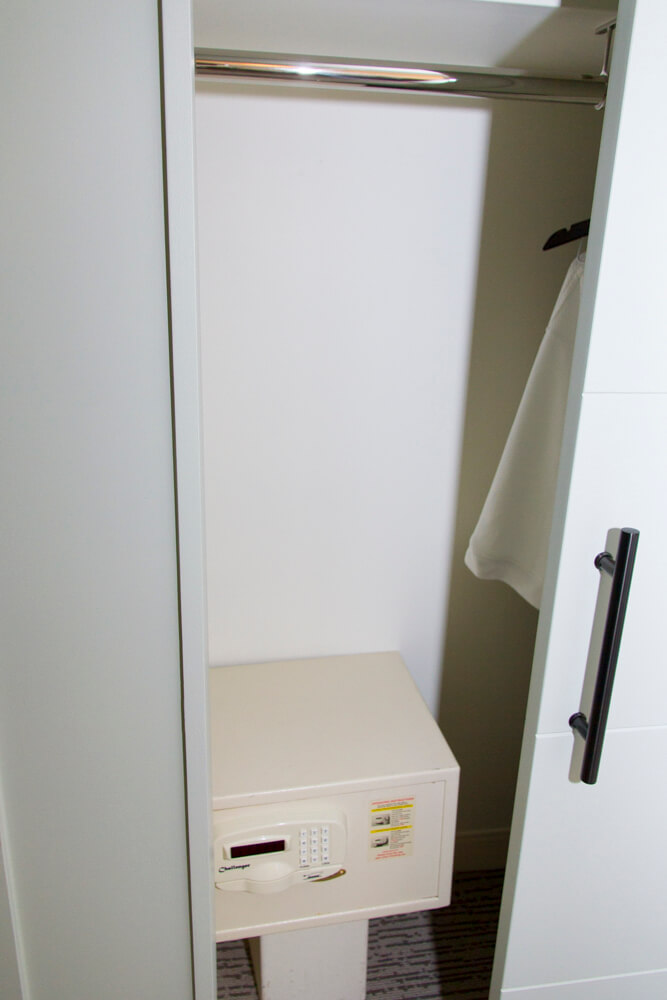 Heading back into the main portion of our room, you'll find a king bed with reading lights built in into the headboard, a dresser, large screen TV, a day bed, coffee table, and a chair as pictured above.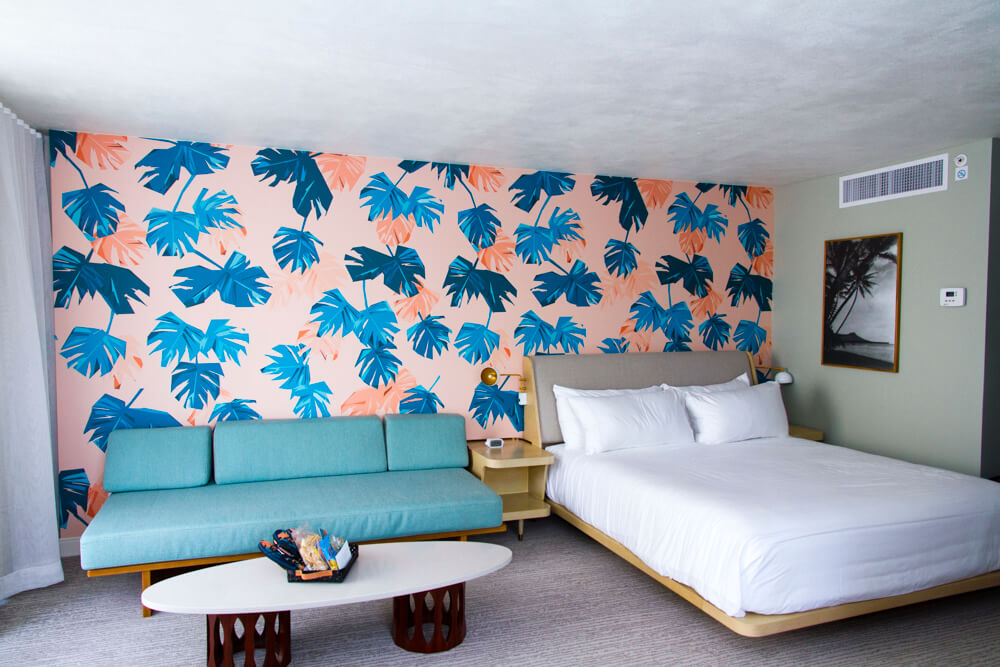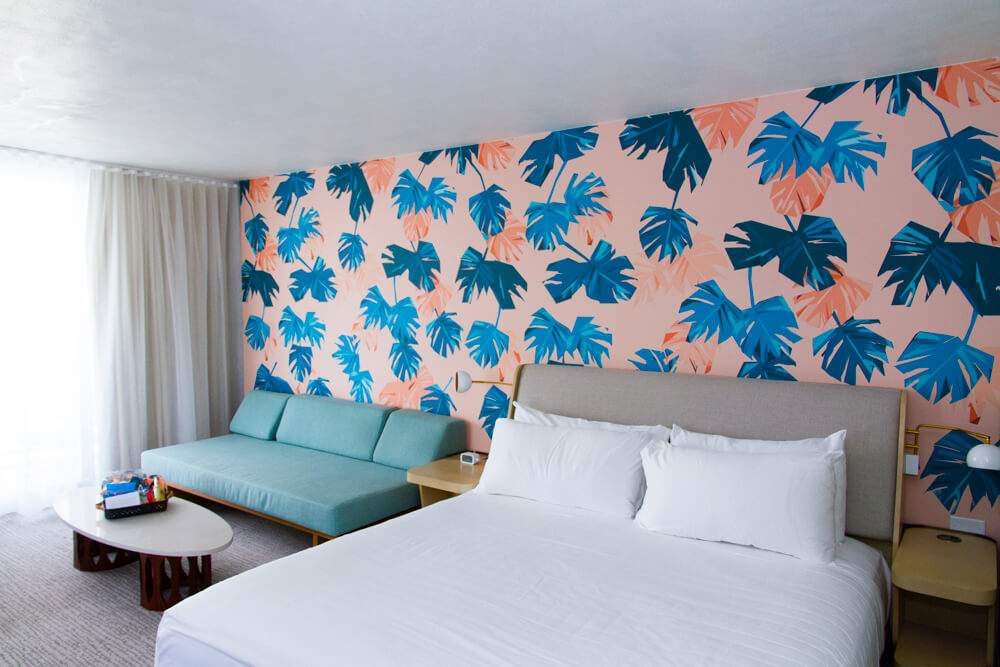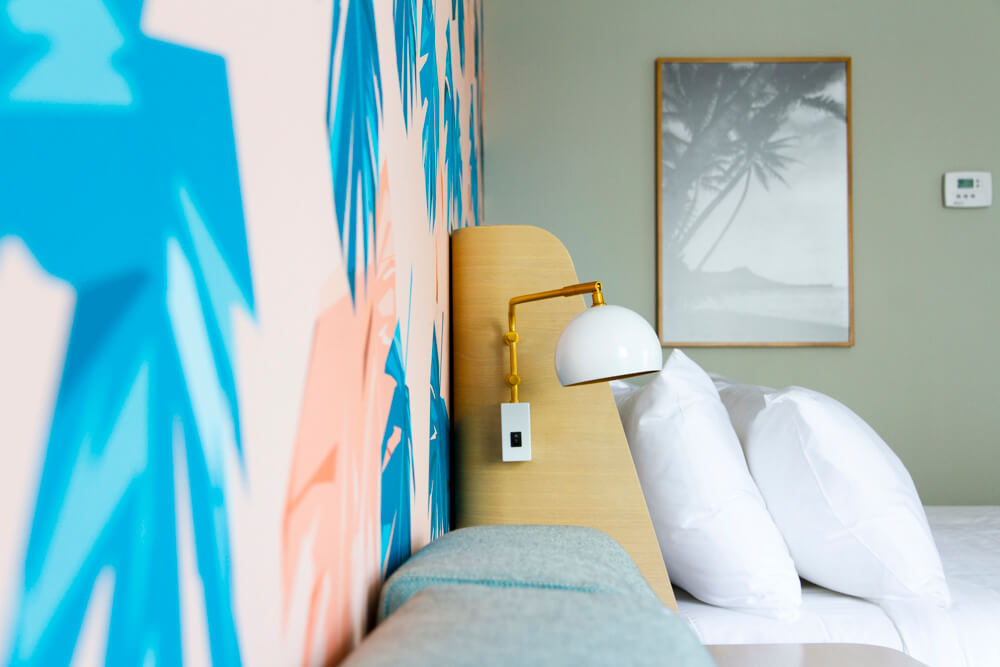 The TV, as is the case with most Marriott properties today had a few streaming services installed so that you can use these services if you're a subscriber.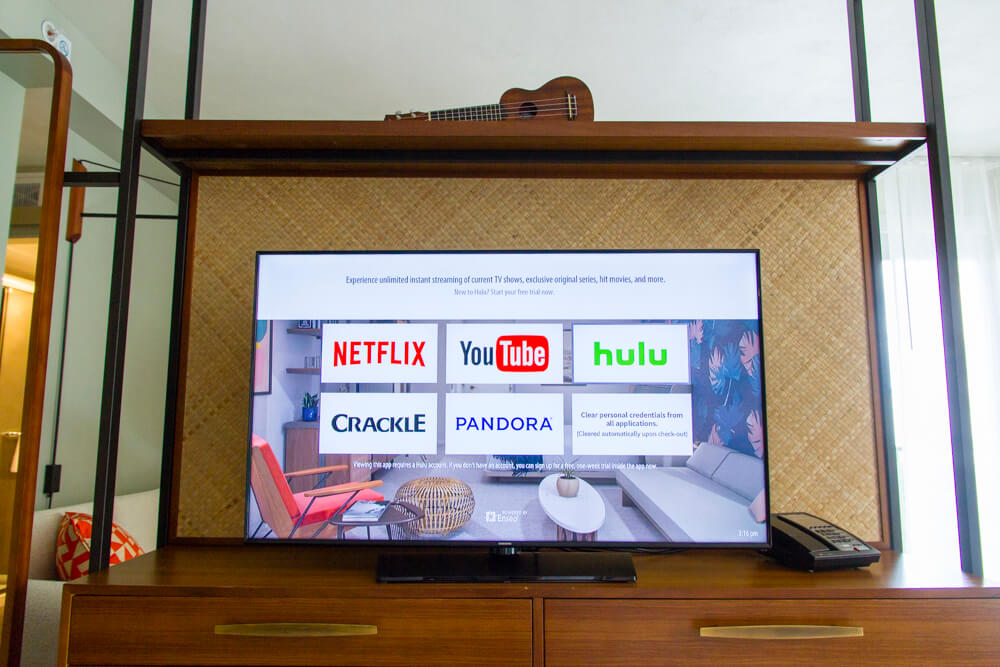 Behind the little red chair is a small shelf, which contains some local books, the ice bucket, and a fridge.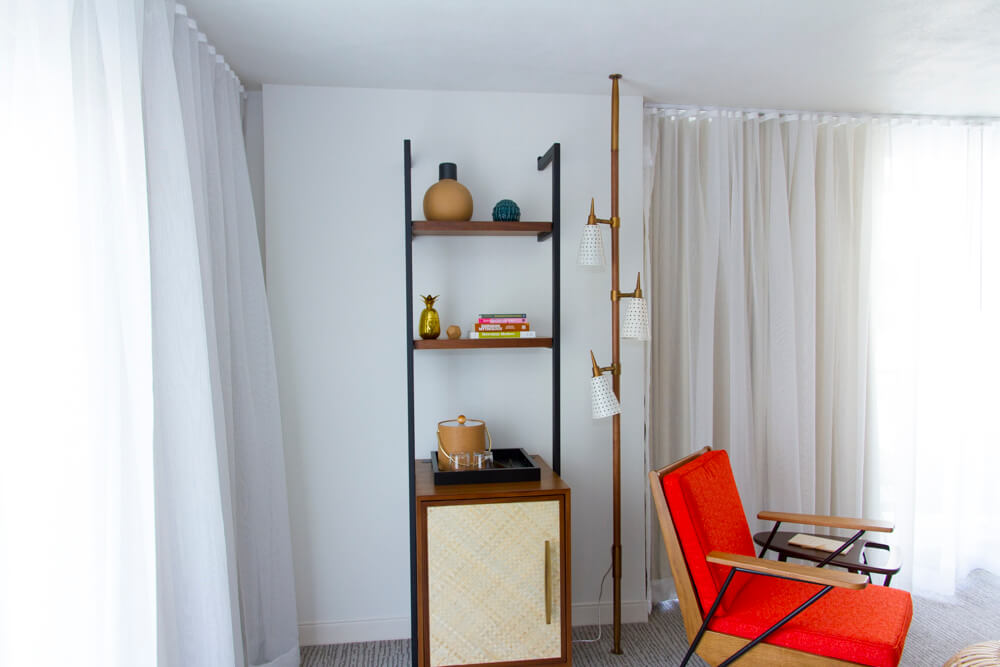 And in the back of the TV was a stylish, though oddly placed little alcove with lounge seating, a table, and a cool light.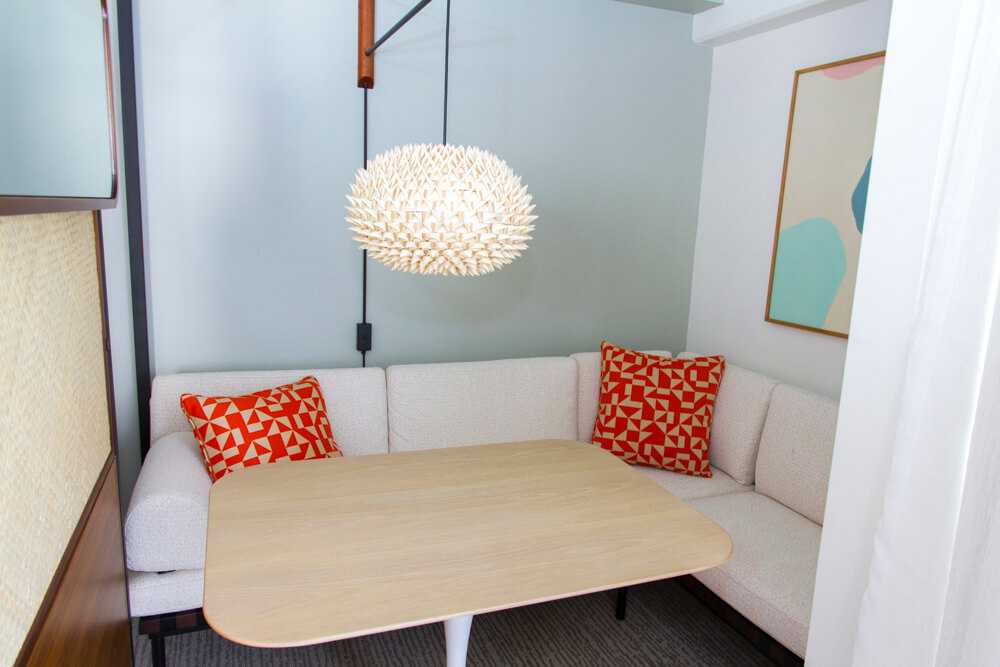 This space behind the TV is what differentiates a Jr. Suite from a standard room.  But we never ate in our room, and the space was kind of difficult to get into, so we ended up not using it.
View
As I mentioned earlier, the Laylow Waikiki is on Kuhio Ave. and is surrounded by other buildings.  And the hotel itself isn't very tall either, so chances are you're going to get a "city view" room.  In our case, our room location was on the east corner of the property facing Kuhio Ave.  And because we had a corner room, our balcony was quite large and offered two different views.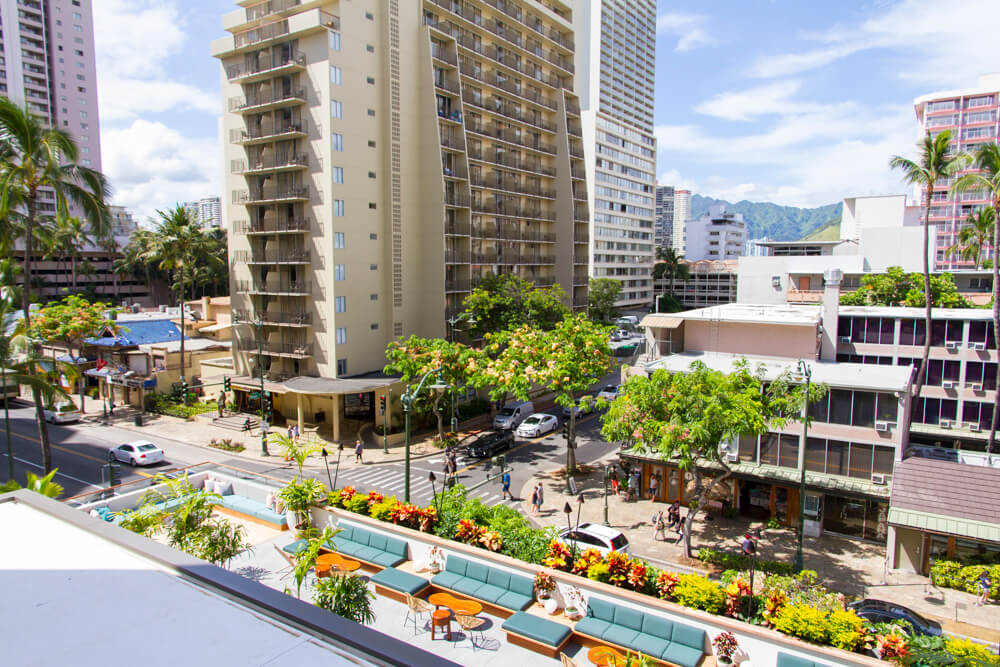 The primary view was that of Kuhio Ave. as well as part of The Hideout right below our room.  And, yes, we were relatively low down in the building, but we didn't have any issues with noise.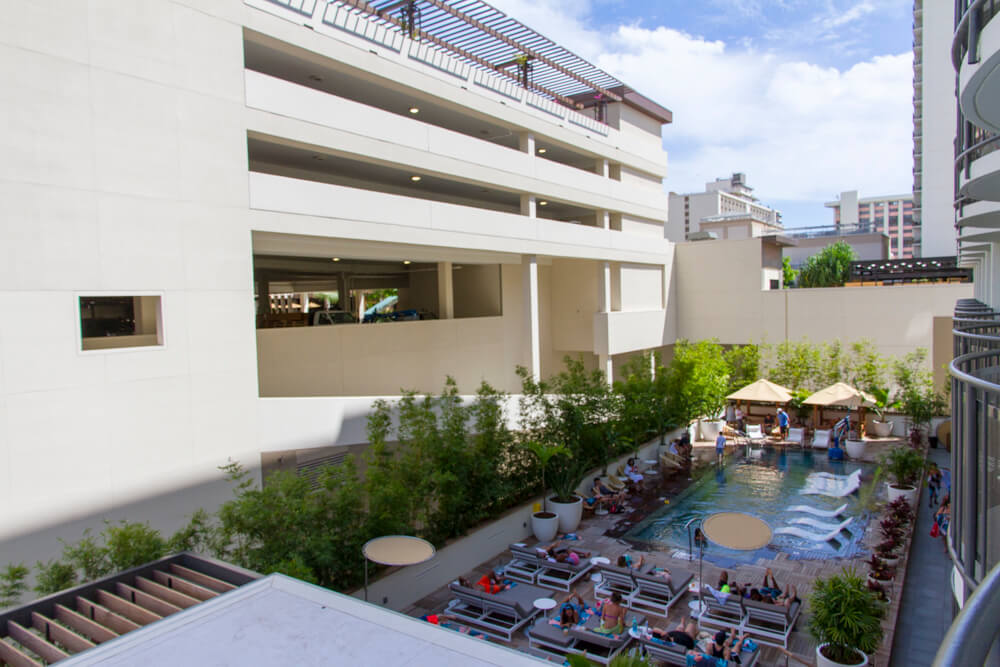 Our room's other view was of the pool and the International Market Place's garage.
Modern Meets Retro
As you can see, the Laylow Waikiki's interior design is decidedly retro.  In fact, the property's design concept is often described as mid-century Hawaii.  I'm guessing that means about 1950's/1960's Hawaii.  And while the renderings didn't appeal to me, in practice I like the design quite a lot.  And they do an excellent job of blending the design seamlessly with technology.  For instance, the TV doesn't look out of place, despite retro design of the surrounding furniture.  And the power and USB outlets blended in nicely on the nightstand.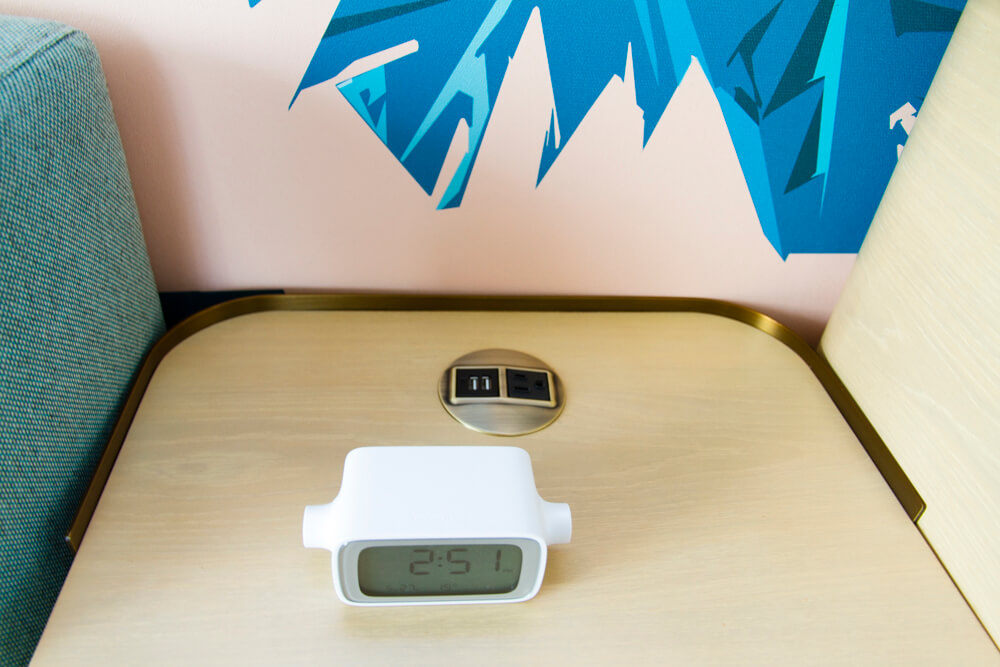 And did you notice the lip around the back of the nightstand? That's good thinking!  It'll definitely help prevent things from falling in back.
Welcome Amenity
You have noticed a basket sitting on our coffee table in some of the earlier pictures.  This welcome basket was waiting in our room the minute we walked in.  In it were a pair of his & her's Laylow-branded slippers (flip flops), some Hawaiian Chip Co. taro + sweet potato chips, Hi-Chew tropical fruit candy, Honolulu Cookie Company cookies, Waialua sodas, postcards, and a greeting from the general manager.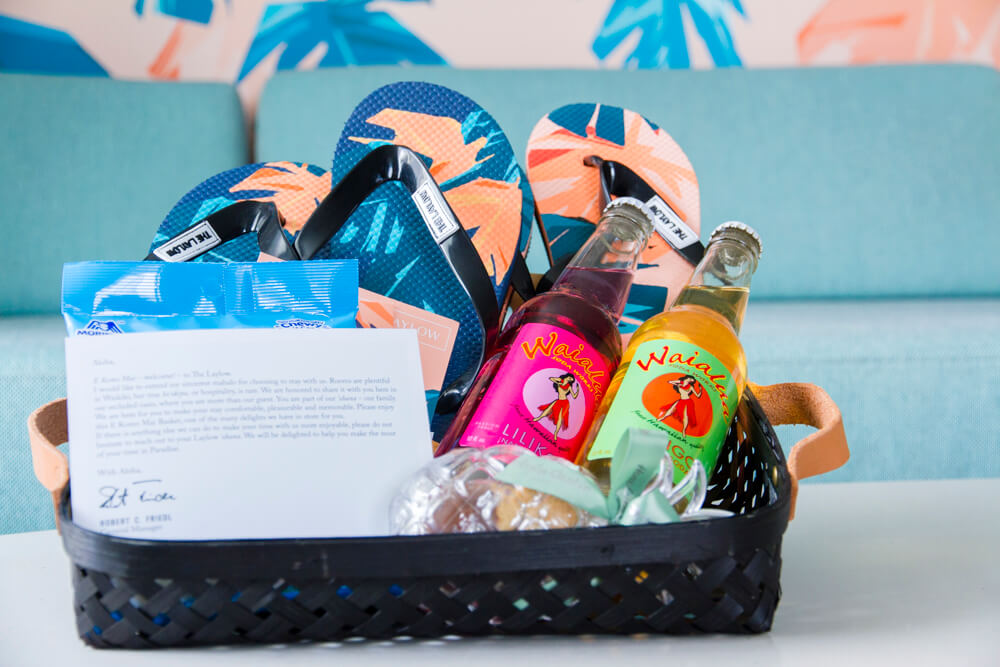 The basket was a VERY nice touch.  All of the items contained in this basket are not cheap and are mostly locally made.  And while I'm not a fan of many of these things, I truly appreciate the quality and thoughtfulness put into this basket.  The slippers especially were a great thing to have, and believe it or not I still use my pair today.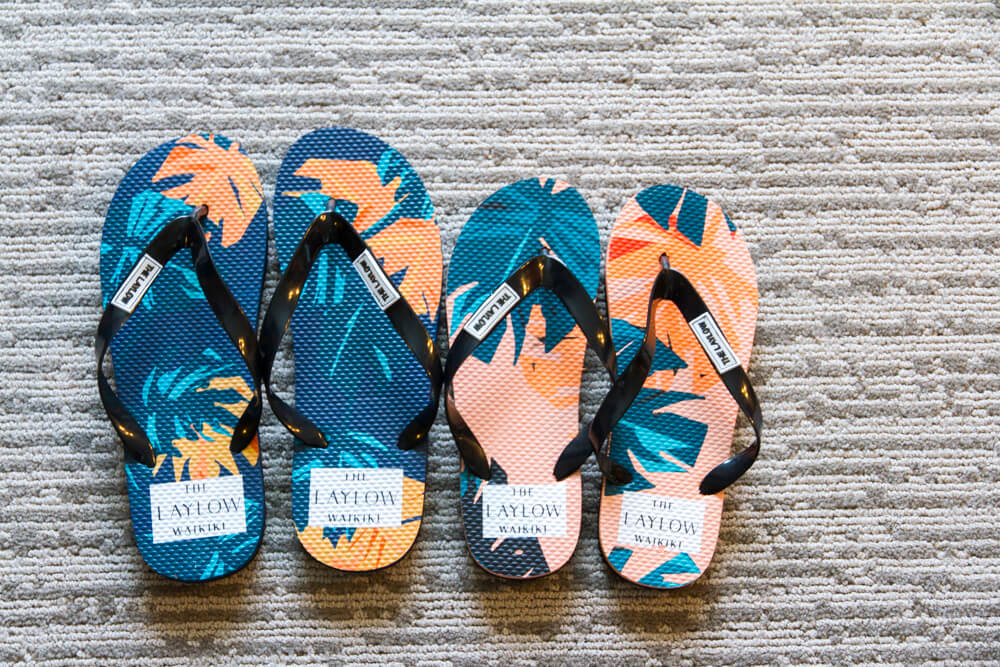 Now, whether or not this is a standard amenity, I have no idea.  But given the cost of the items in the basket, if this is standard, I'm willing to bet they're only standard for Jr. Suite guests.
What Elite Member Breakfast?
So, while I really like The Laylow Waikiki, I do have one, small complaint.  Per Marriott Rewards terms & conditions, gold and platinum members are guaranteed lounge access and at least a continental breakfast every day of their stay at the participating brands:JW Marriott
Autograph Collection Hotels
Renaissance Hotels
Marriott Hotels
Delta Hotels
Resorts are excluded from this requirement, which is why the Waikiki Beach Marriott does not have a lounge or offer elite member breakfasts.  But, The Laylow Waikiki is NOT a resort.  Therefore, the property is required to provide these benefits to gold and platinum members.  And the property does in-fact, advertise complimentary food and non-alcoholic beverages as a benefit of certain room types.  They even have an "executive level" called the Ho'okipa Level.  What they do offer, though, is not what I'd call a breakfast… Not even a continental breakfast.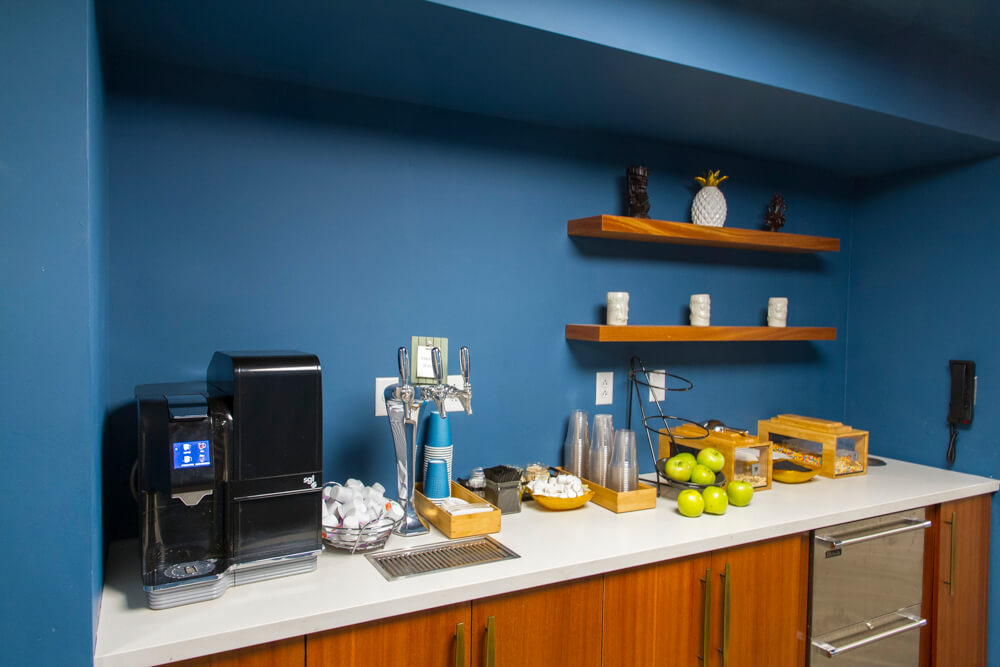 This is the spread available to gold and platinums, as well as Ho'okipa Level guests.  There's a coffee machine, a water "tap" that dispense room temperature water, some whole apples, and some trail mix.  And at breakfast, they add on some wholesale club-type pastries.  That's very disappointing considering how awesome the welcome basket is and how awesome the breakfast at this property is.  I mean, even just a fruit plate and pastry from the restaurant would be a massive upgrade.  But no, this is what you get from an otherwise fantastic property.
The Laylow Waikiki Final Thoughts
Despite the sorry excuse for a lounge area and/or gold and platinum elite breakfast, The Laylow Waikiki is one of my favorite Oahu hotels.  Heck, it's my favorite Marriott branded hotel in Hawaii.  Period.  The wonderful service; central location; and nice, spacious rooms make the property really easy to like.  Oh, and the property's restaurant, The Hideout, has some great dishes and is a lovely place to relax and hang out.  But more on that later.
So if you're heading to Oahu and plan on staying in Waikiki, I'd highly recommend giving The Laylow Waikiki a try.  It really is one of the better options in the area, especially if you're willing to forego an ocean view.  Oh, and if you want to redeem points for a stay here, The Laylow Waikiki is a Marriott Rewards category 8 property.  Meaning a 1-night award will cost you 40,000 Marriott Rewards points or 13,334 Star Points.