The Hyatt Centric Waikiki Beach is one of the newest hotels in Waikiki.  And while there have been many new hotels opening recently in Waikiki, the Hyatt Centric is one of the few full-service ones.  But, like most "new" Waikiki hotel, it is also a conversion, sort of.  Let's take a deeper look at this exciting, new property.
A Birthday Staycation
The Hyatt Centric Waikiki has been on my "staycation radar" since news of its construction first broke.  And Mrs. Island Miler, being the wonderful wife she is, decided to treat me to staycation for my birthday a few weeks ago.  Hey, even though we live in Hawaii doesn't mean we don't like to "play tourist" once in a while too. ?
What is Hyatt Centric
Hyatt Centric is a relatively new brand for Hyatt.  It is described as a modern boutique-style brand that infuses the property's location into your experience.  To me its like a baby-Andaz, probably because the Hyatt Centric Waikiki kind of reminded me of the Andaz Maui.  Sort of.
For its Waikiki location, Hyatt decided to convert an old office tower into a hotel.  This is different from the current trend of converting old hotels into new ones like the Hilton Garden Inn Waikiki and the Hyatt Place Waikiki Beach.  Usually these conversions end up with mediocre results, I'm looking at you Courtyard Waikiki Beach.  But since there were no existing rooms to use as a crutch, the Hyatt Centric Waikiki's conversion yielded better results with some caveats, which I'll touch on later.
Service and Arrival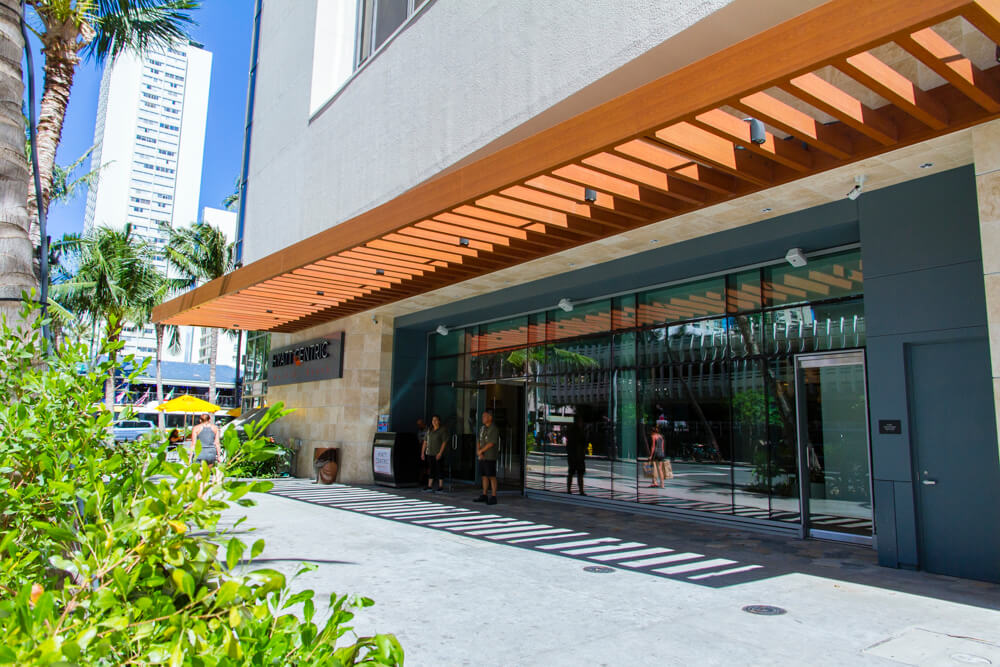 Honestly, I'm not sure what I was expecting in terms of service at the Hyatt Centric Waikiki.  Service in Hawaii in general tends to be a bit of a gamble.  Usually I've been lucky and have received good service at most hotels we stay at locally, but not always.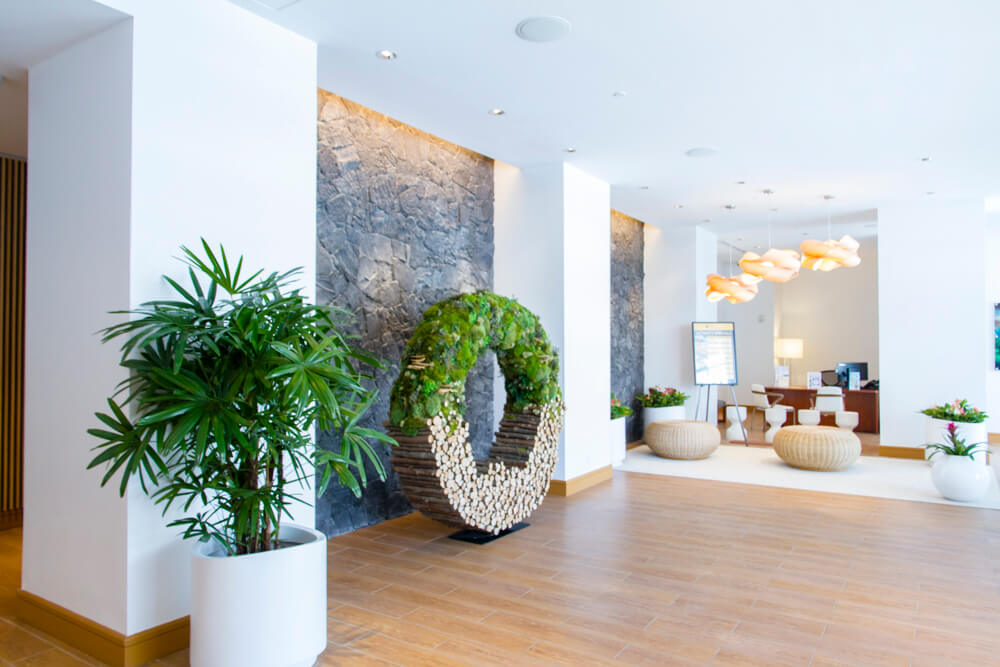 However, from the moment we arrived service at the Hyatt Centric was great.  When we pulled up to the porte cochere, we were immediately greeted by the bell staff, which escorted us up to the lobby on the 8th floor.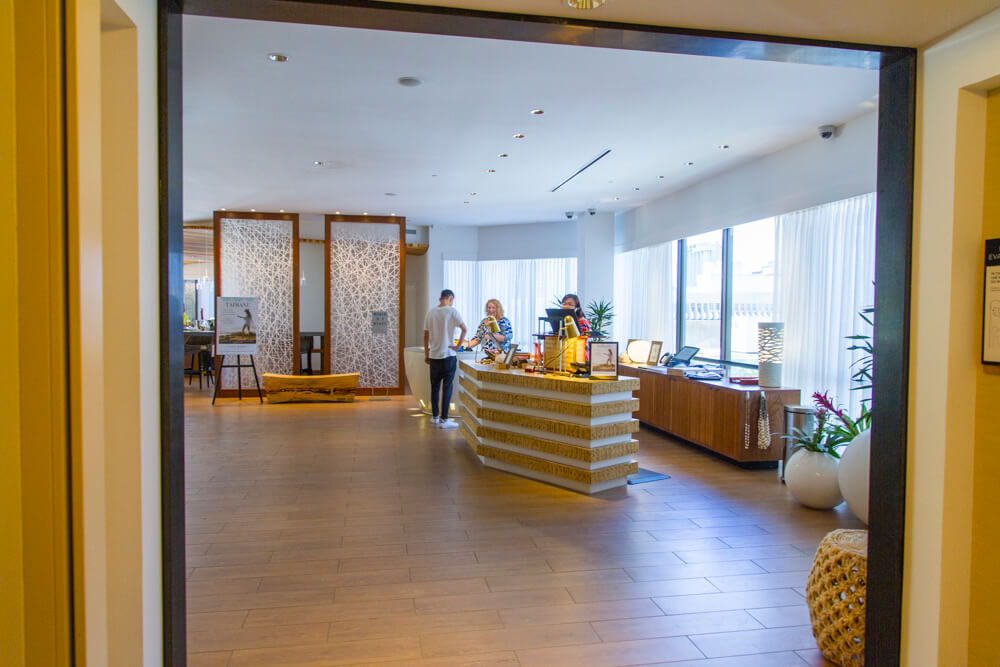 From there, the friendly front desk staff greeted us and presented us with shell leis and freshly pressed pineapple juice.  While we enjoyed our refreshing beverage, an associate worked on checking us in and getting our room assignments.  And since we were only staying one night, I requested a late checkout the following day, which was granted instantly.  From there, we headed back to the elevator bank we came up in and went up to our room.
Our Room
We were assigned room 1111 on the 11th floor.  Rooms are arranged in a somewhat L-shape, though the corridors are all fairly short.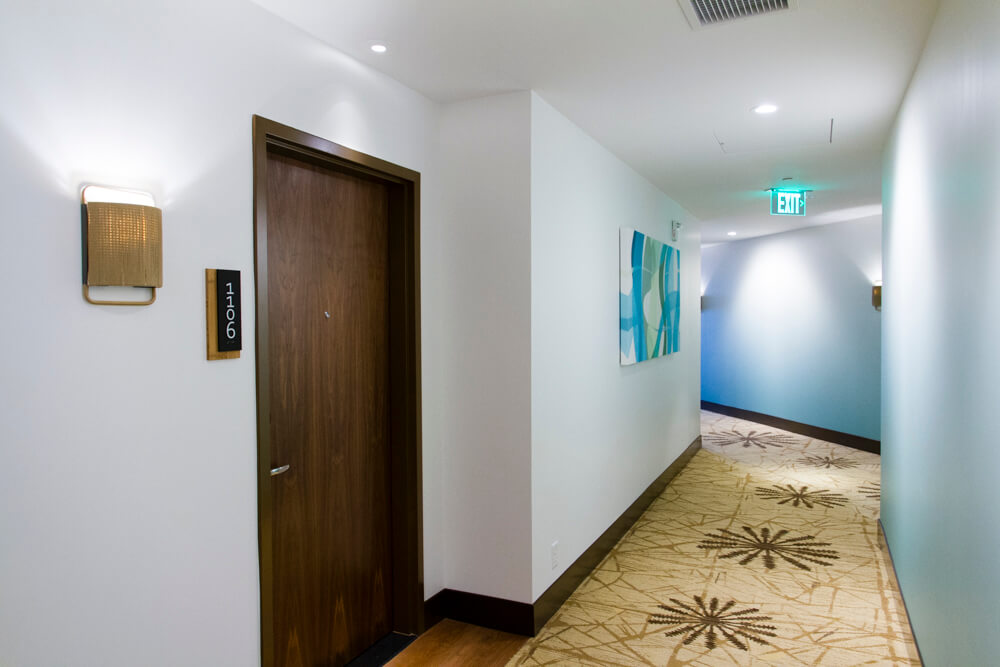 Our room was located in the center part of the building, which actually isn't next to the elevators.  Rather, the elevator bank is located off to the corner of the building.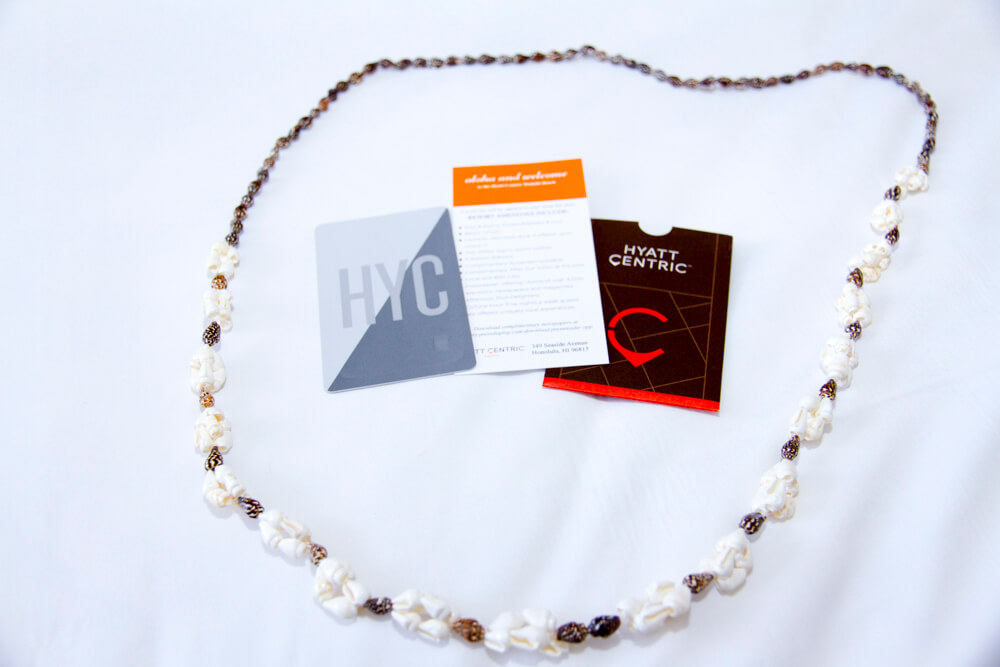 For this stay, Mrs. Island Miler booked us a Partial Ocean Deluxe Room.
Deluxe Rooms range in size from 400-420 sq/ft, which place them above standard rooms in size, but below certain "View Rooms" and suites.  Due to the shape of the building, the room layout is a little odd, being wide near the entryway, but narrow near the window.  But this didn't bother us, nor do I think it will bother most others.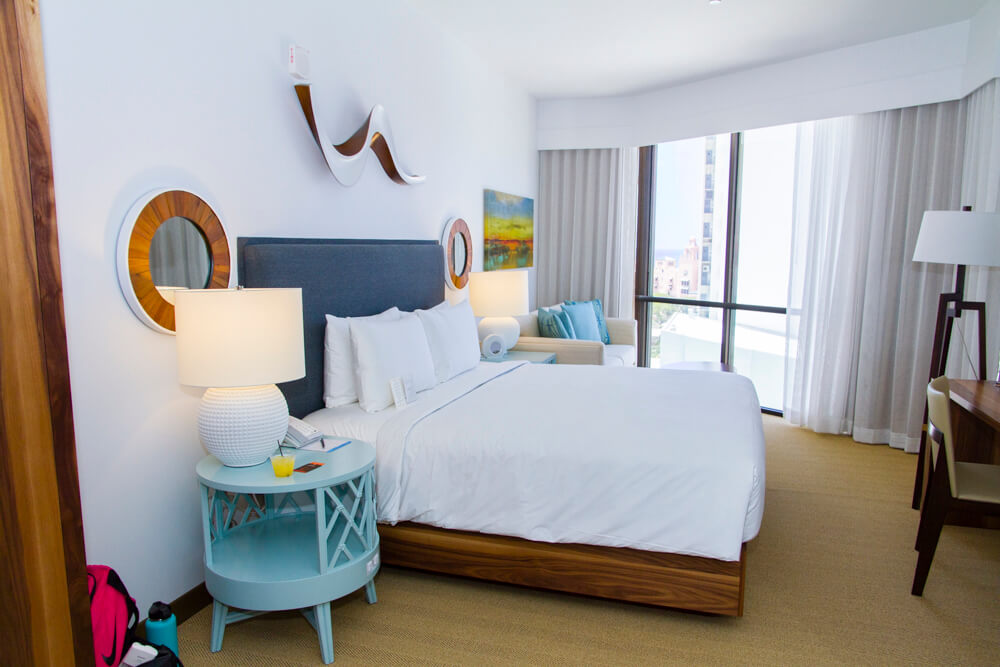 Our room featured a single king bed, a sofa, and a desk.  Above the desk is a large, HDTV, which features a guide to the entire property, including the restaurant/in-room dining menus.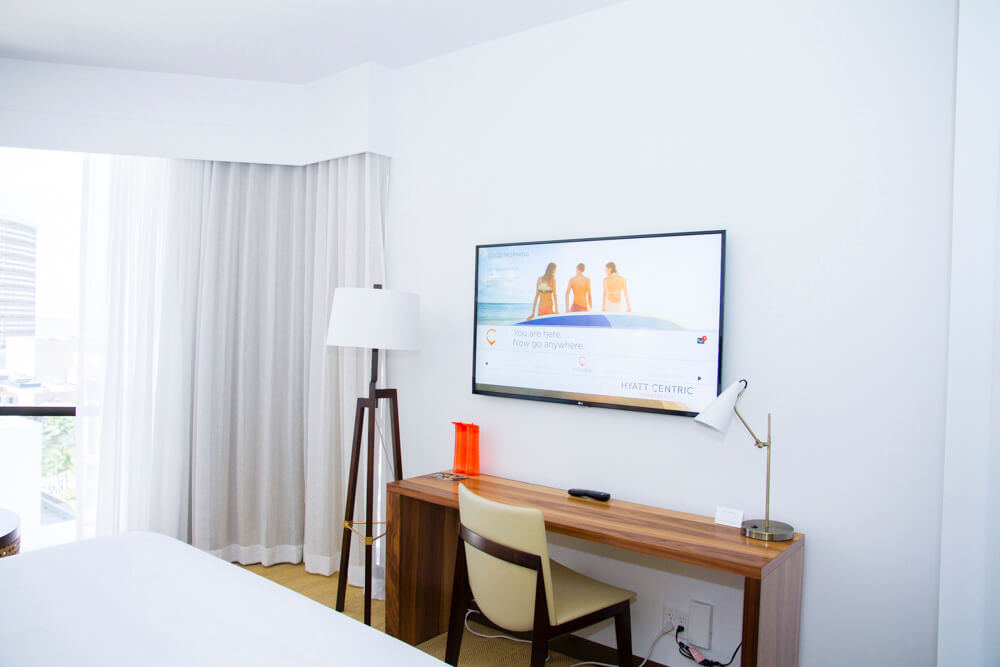 Back toward the entryway was a pair of built-ins, which house closet space, a safe, Keurig, iron, iron board, fridge, and a pair of robes.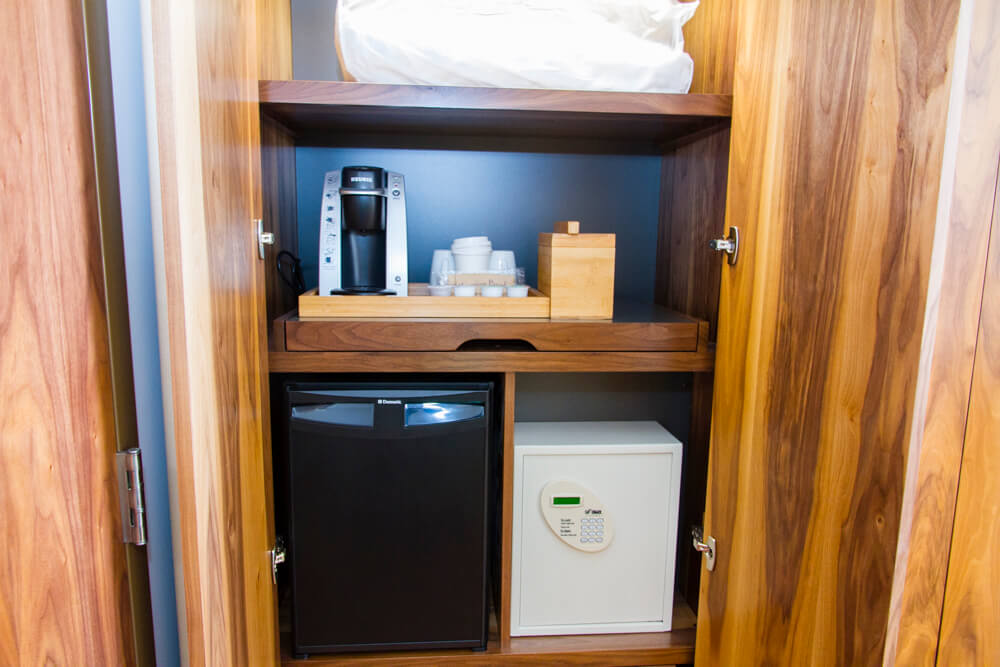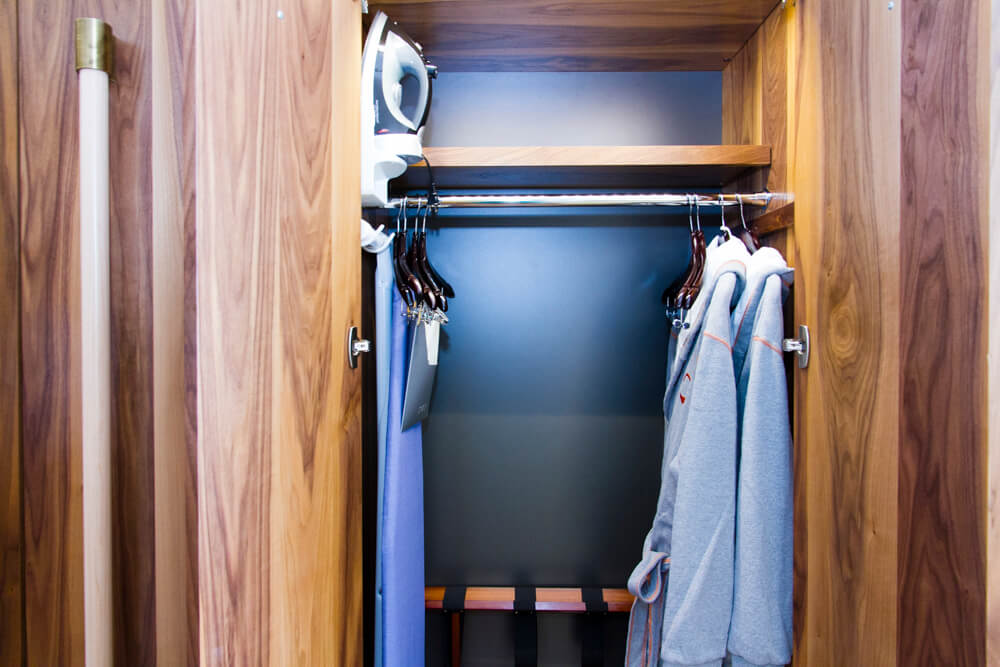 Across from the closets was the bathroom.  Now, the room itself is roomy, but isn't huge.  The bathroom, however, was pretty massive comparatively speaking.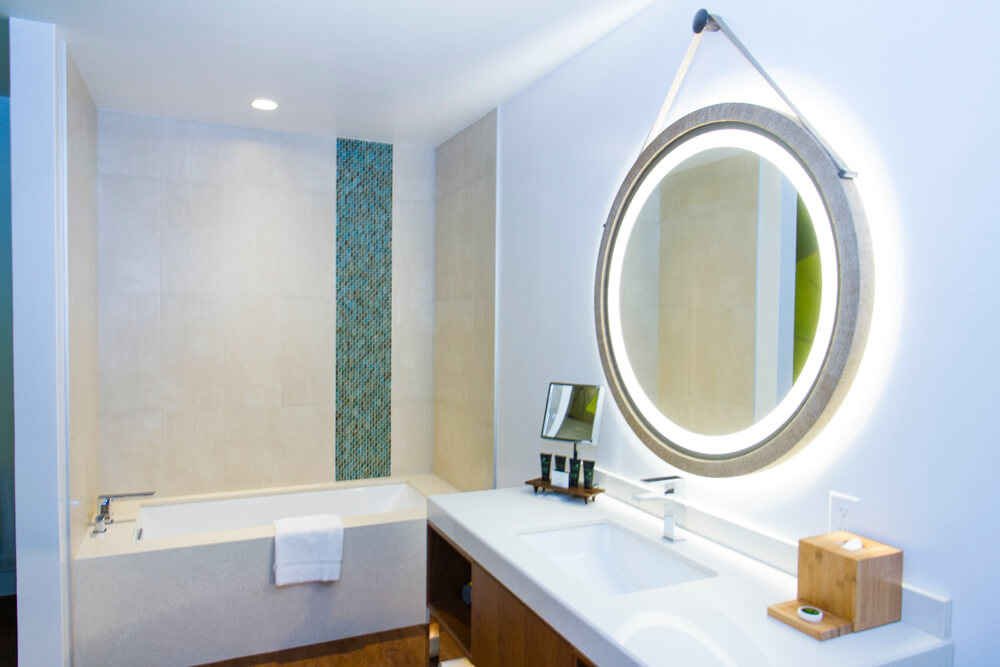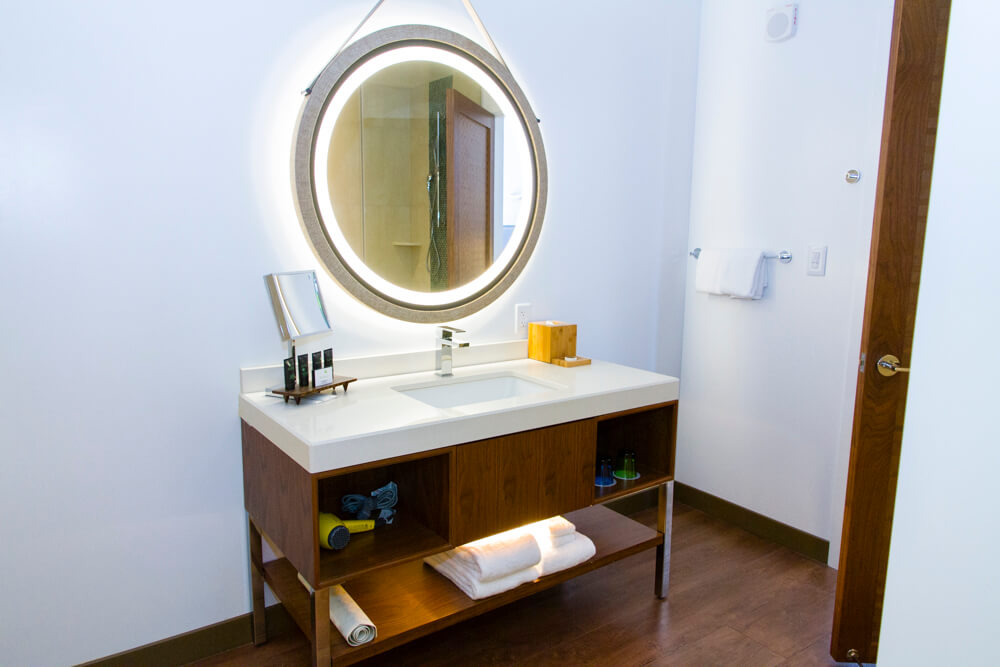 Not only did the bathroom feature a spacious vanity and nicely sized soaking tub, but the toilet had its own alcove, and the walk-in shower was very nicely sized too.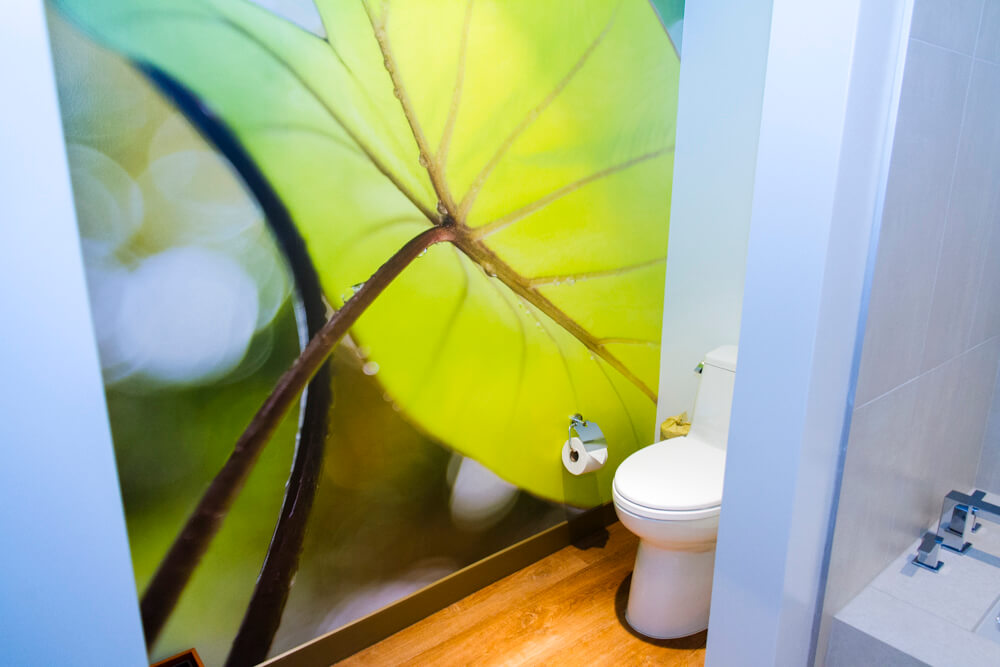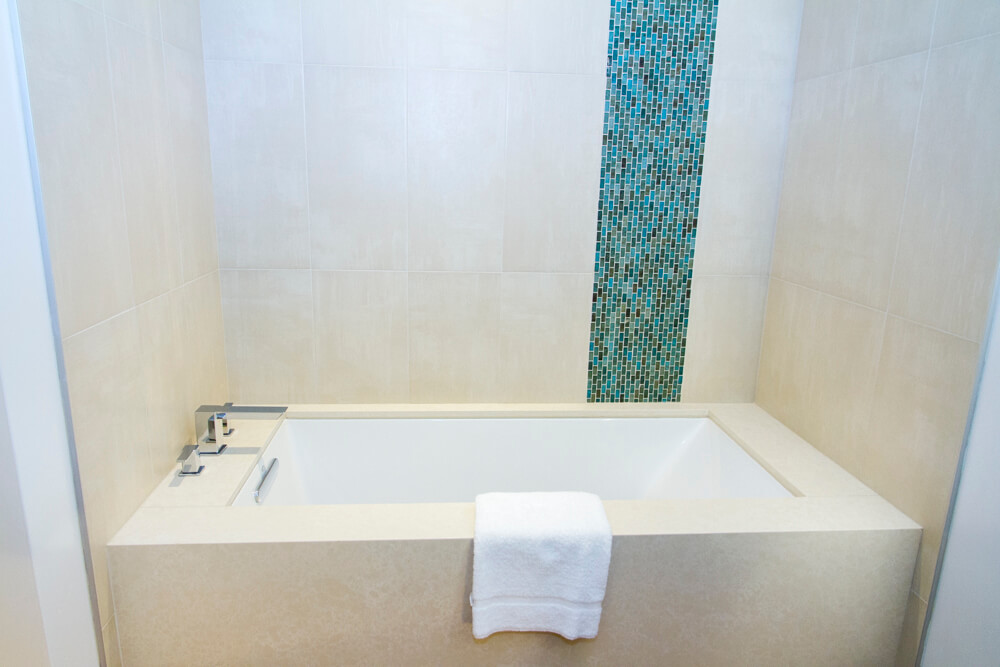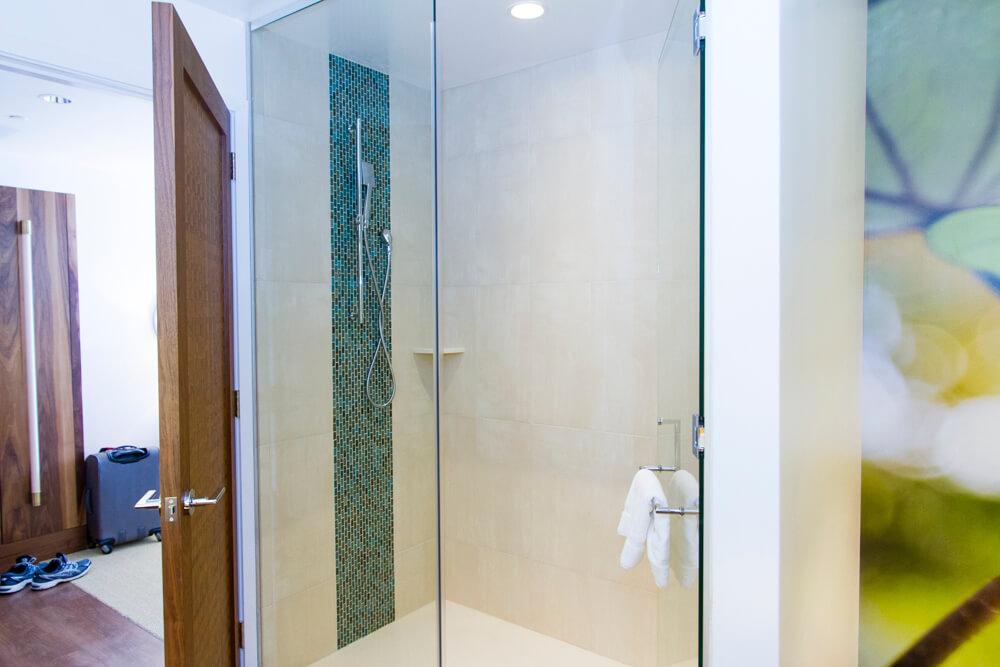 A rain shower this was not, unfortunately, but the water temperature and pressure were both good.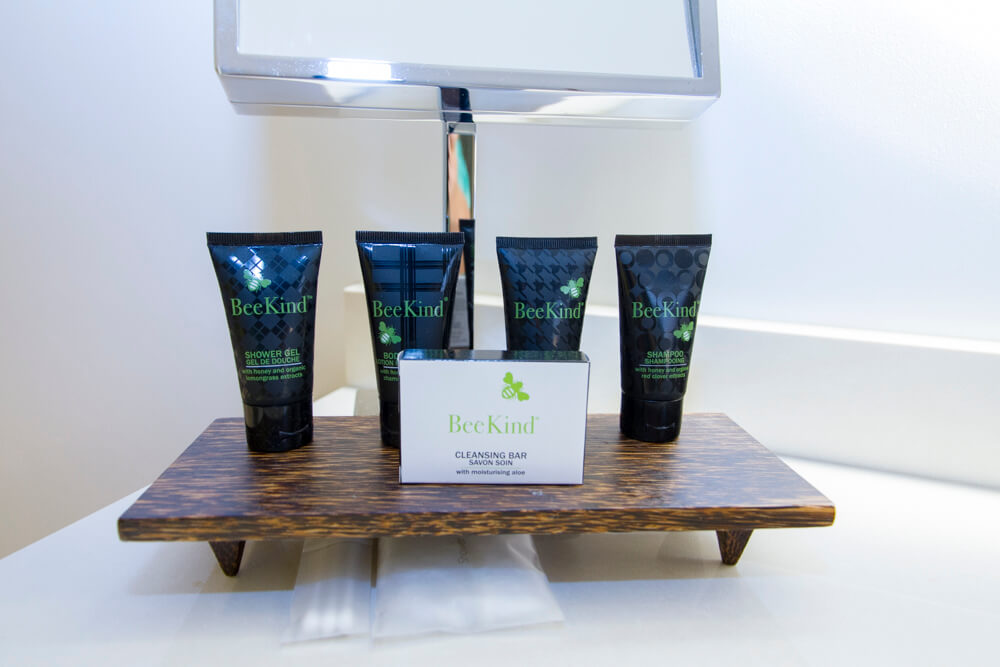 Toiletries were BeeKind brand, which has a nice, light fragrance to it.
View
The view from our room was nothing special.  Being a partial ocean view room, our view was primarily of the surrounding buildings with slivers of ocean, but we expected this, so no biggy.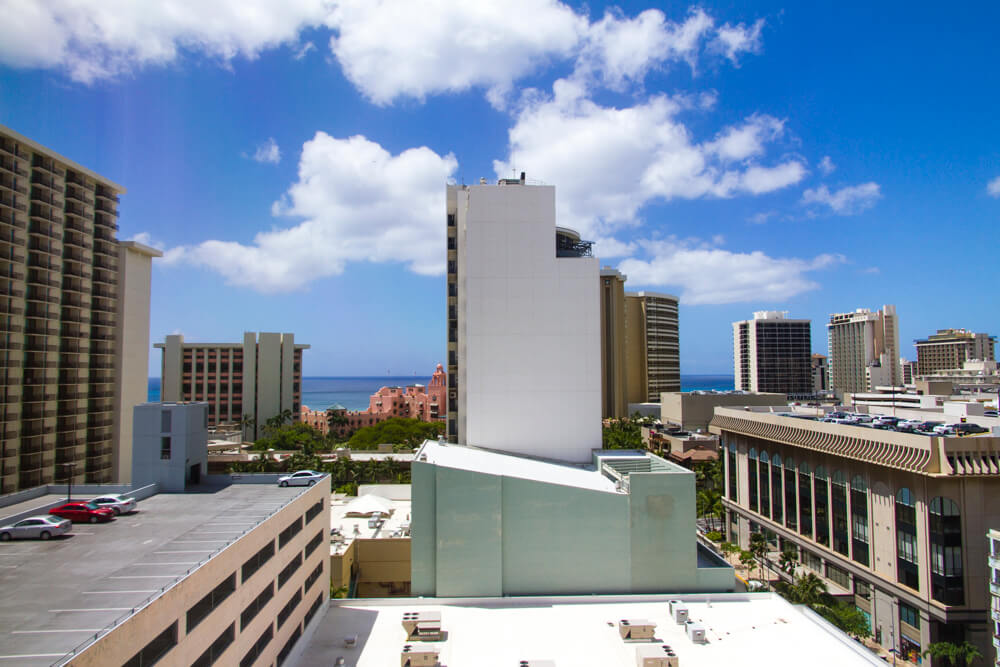 Either way, I still managed to get a decent shot of the sunset that night.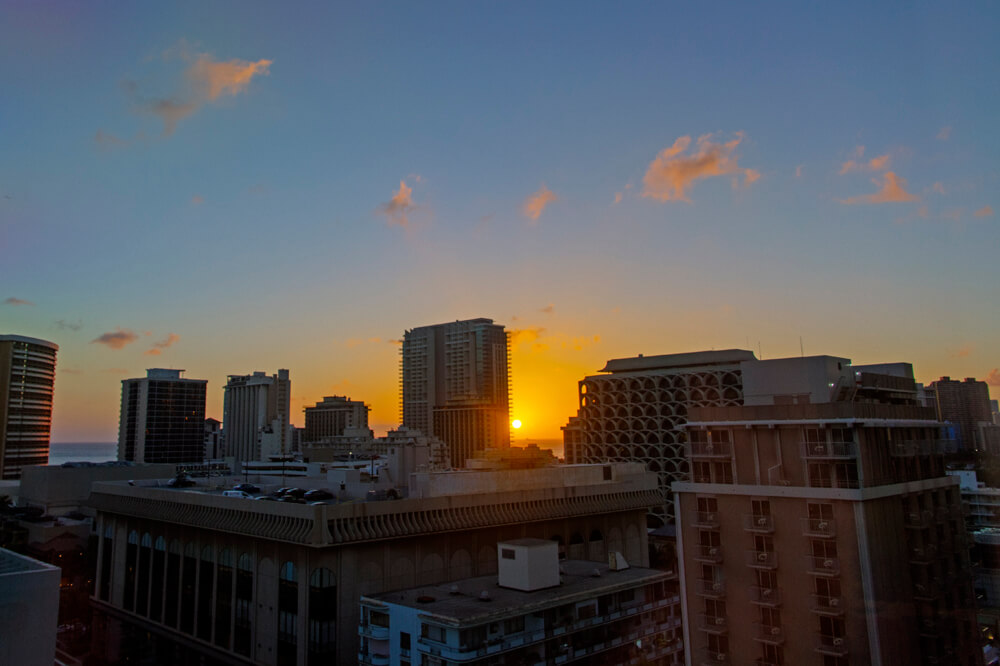 In-Room Amenities
As I said earlier, the Hyatt Centric Waikiki features Keurigs in each room.  With it, a few K-cups and to-go cups are also stocked in your room.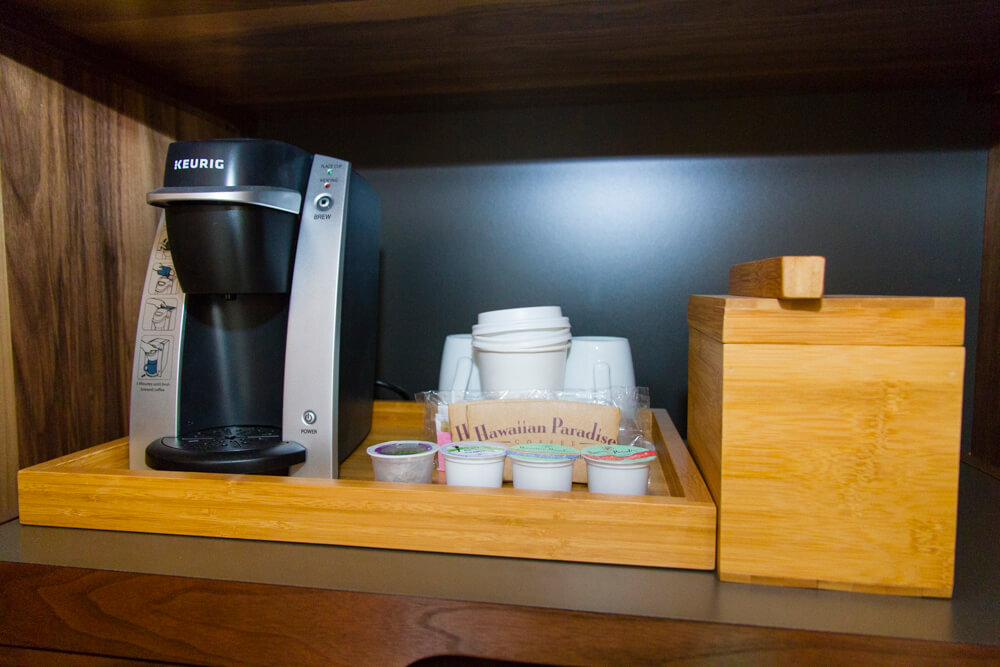 I'm not a coffee drinker, but this is a welcome benefit, especially since you can use Keurig machines as hot water makers too.  This amenity is also one we had in our suite at the Andaz Maui.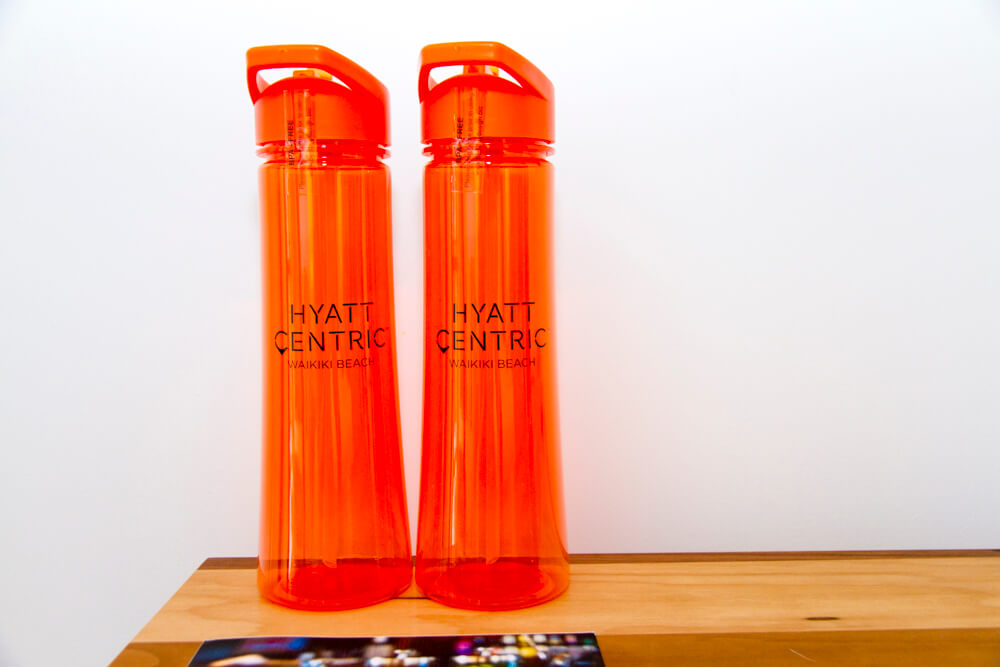 Also similar to Andaz is the fact that guests at the Hyatt Centric Waikiki are provided with reusable water bottles.  These bottles can be filled at a number of filling stations around the property and are your's to keep at the conclusion of your stay.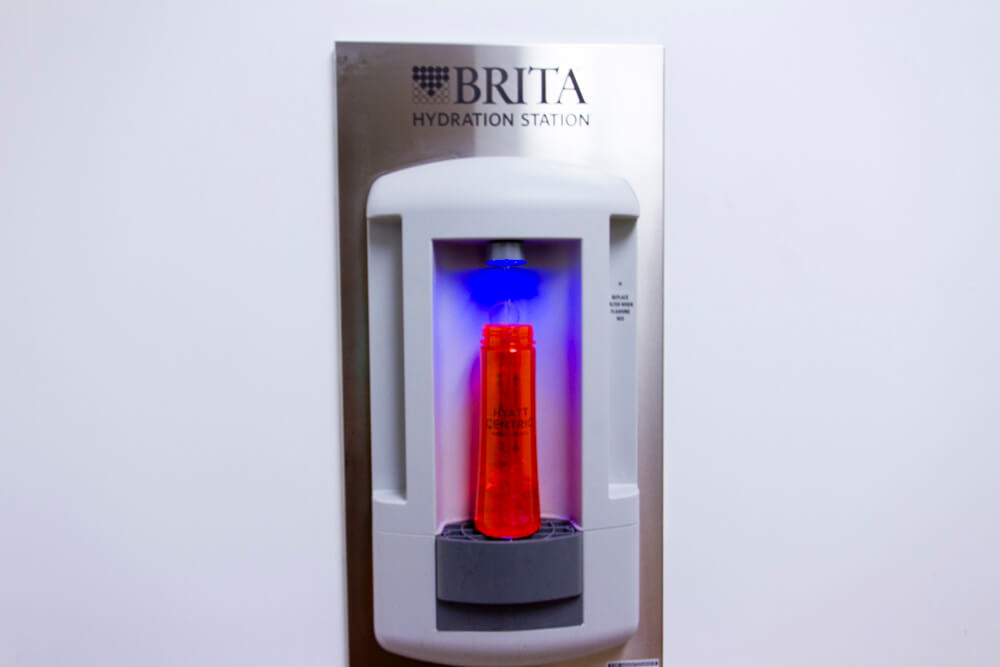 Rather than featuring those iHome radio alarm clocks with specific smartphone interfaces, the Hyatt Centric Waikiki features a bluetooth enabled radio alarm clock.  Even better, the radio alarm clock actually blends in with the decor of the room.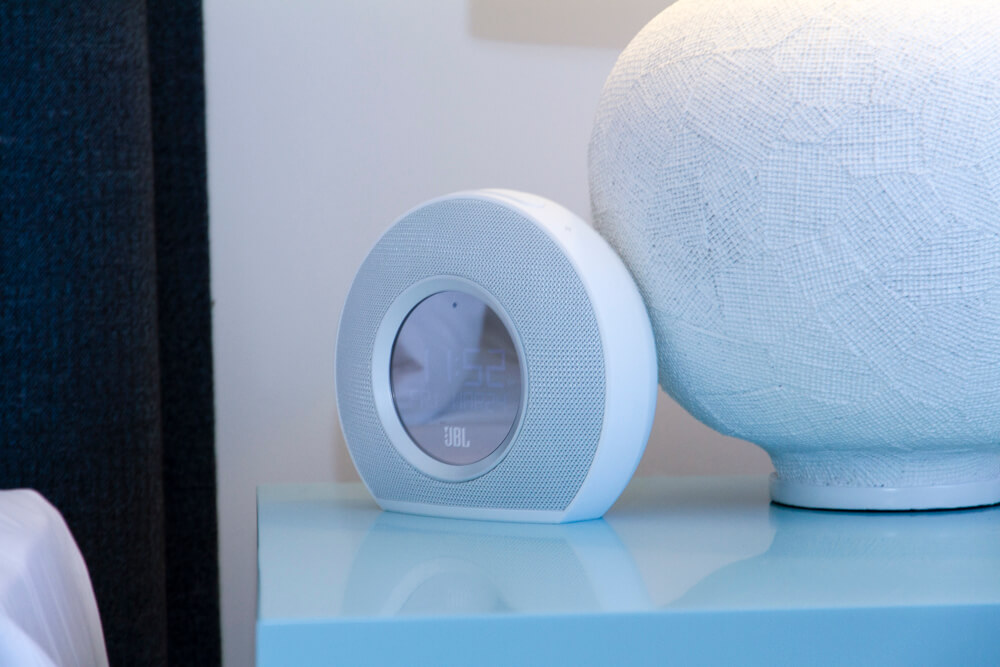 While this isn't really amenities, I liked the fact that the notepad provided in room wasn't your standard hotel logo pad.  Instead, the individual sheets have folding instructions to make paper airplanes.  I know how to make thee myself, but still!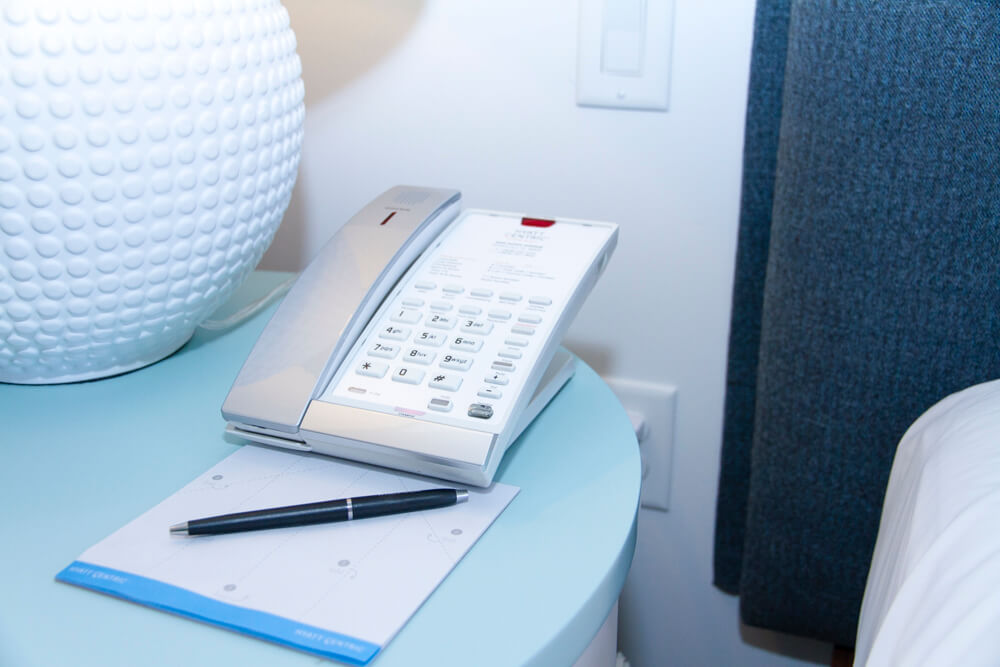 Being a new property, rooms at the Hyatt Centric Waikiki do feature quite a few power outlets (USB and standard, 3-prong).  I greatly appreciate this, as it negates the need for me to pack a (travel) power strip.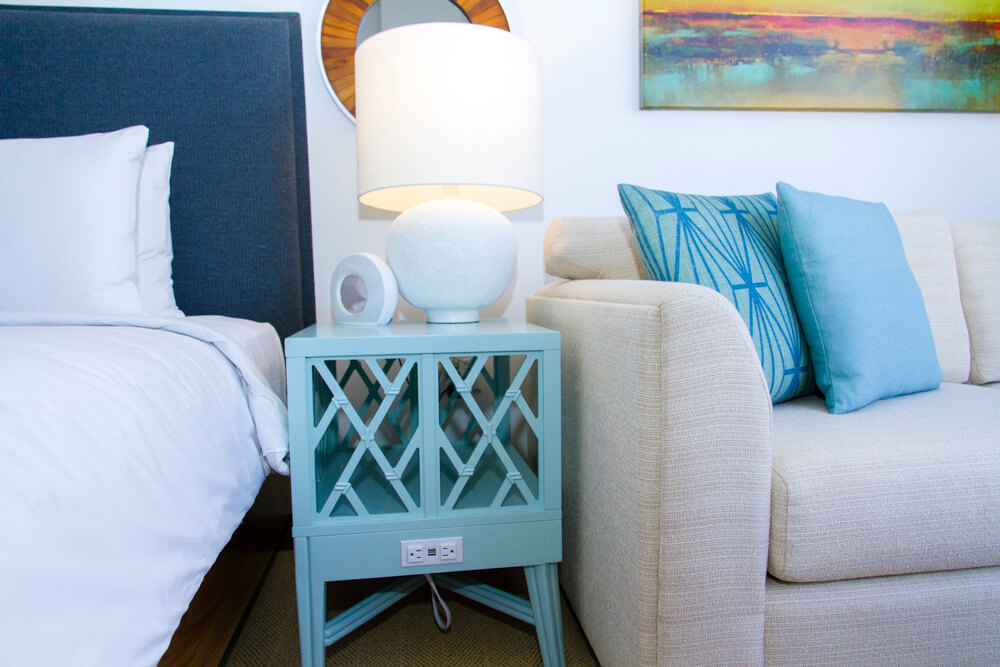 The Hotel
While the Hyatt Centric Waikiki has "beach" in its full name, it is by no means on the beach.  It's actually a 5 to 10 minute walk from the beach.  Its more of an urban property in my opinion, being located near the International Market Place.  That being said, the property does offer complimentary use of beach chairs that you carry on your back like a backpack.  They even have umbrellas that guests may borrow, too.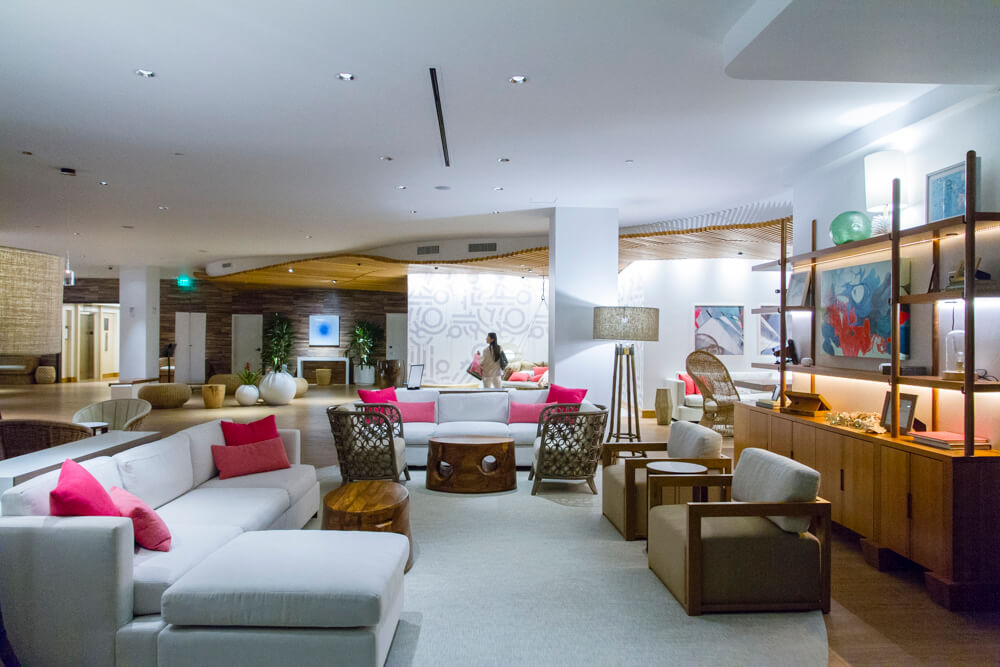 The Hyatt Centric Waikiki does not feature a lounge, but does have a fairly large communal seating area.  The seating area flows directly into the property's only restaurant, bar, and pool area too.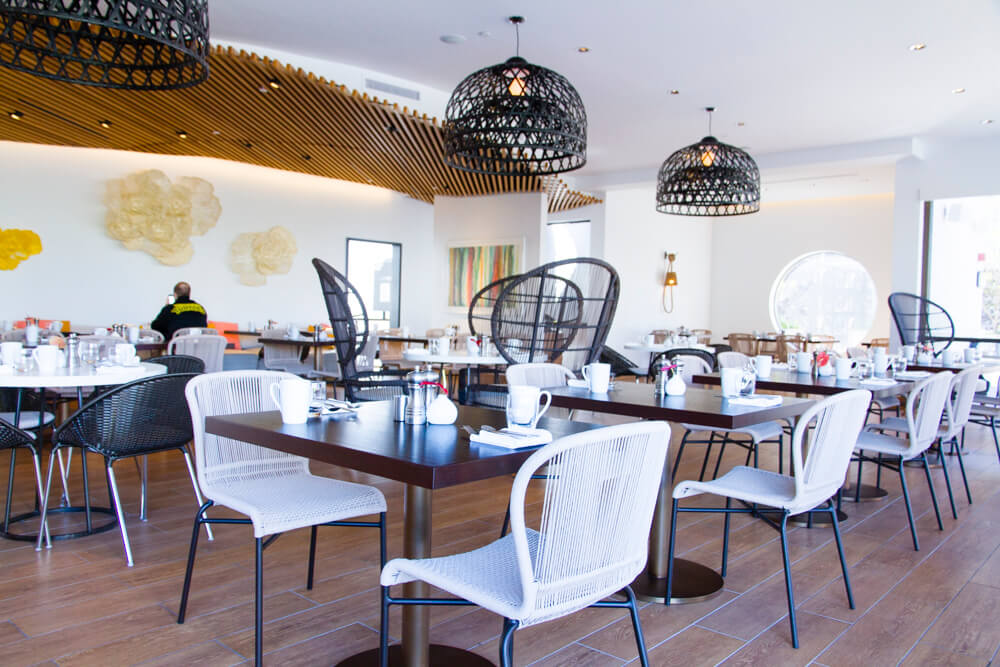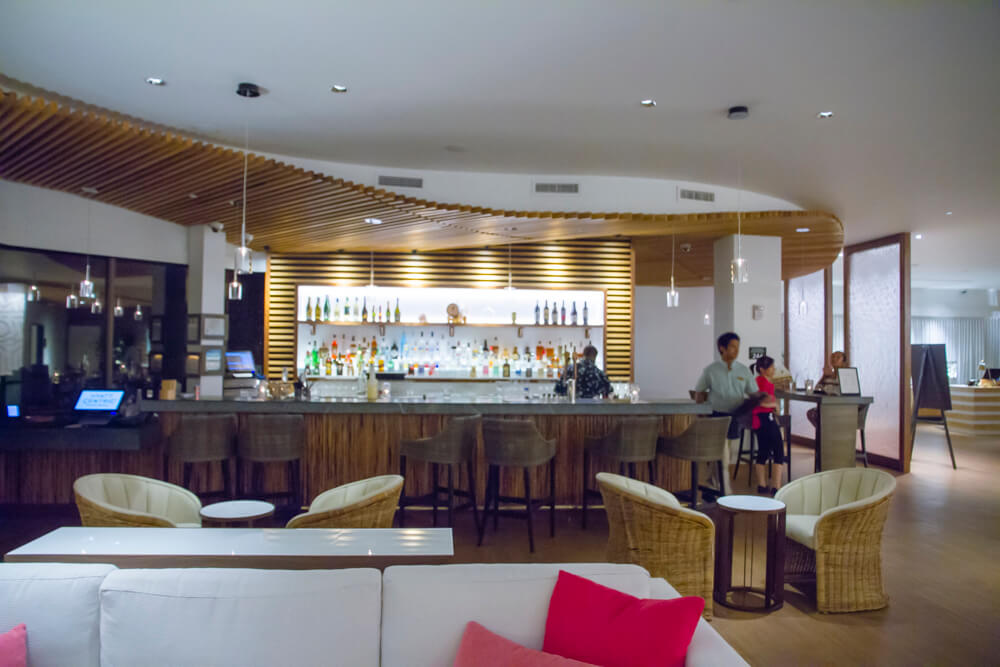 I'll review the restaurant in a separate post, as we enjoyed dinner and breakfast there.  And while we didn't use the pool, we did take a look at it.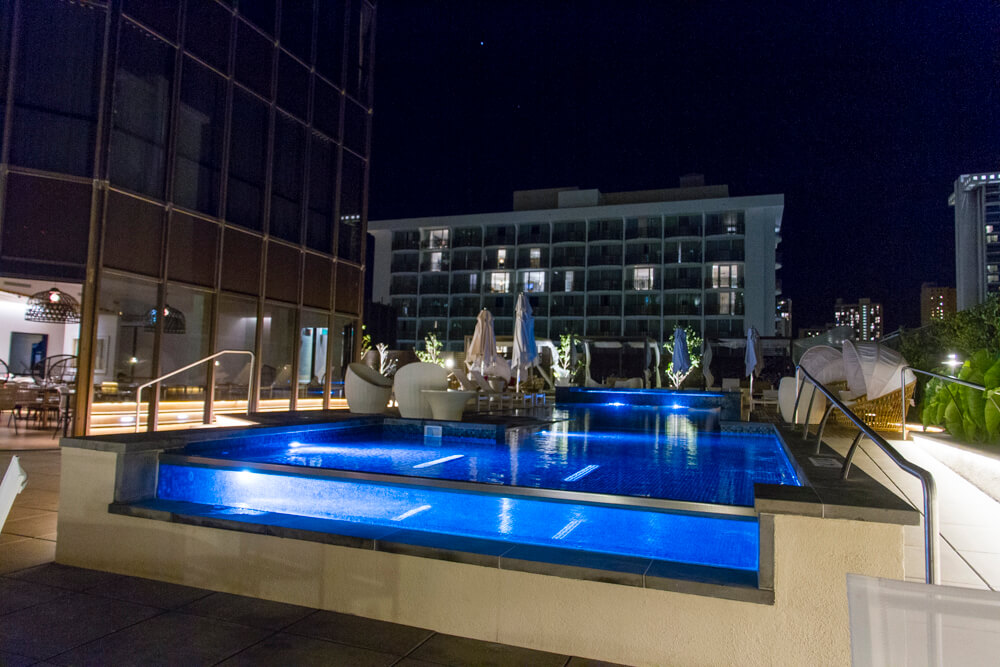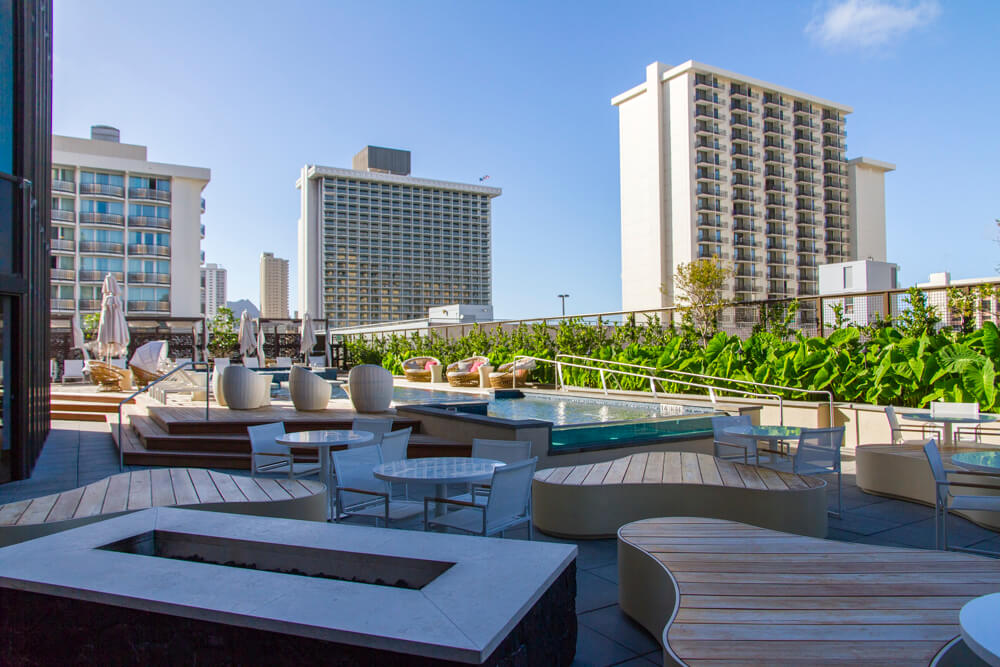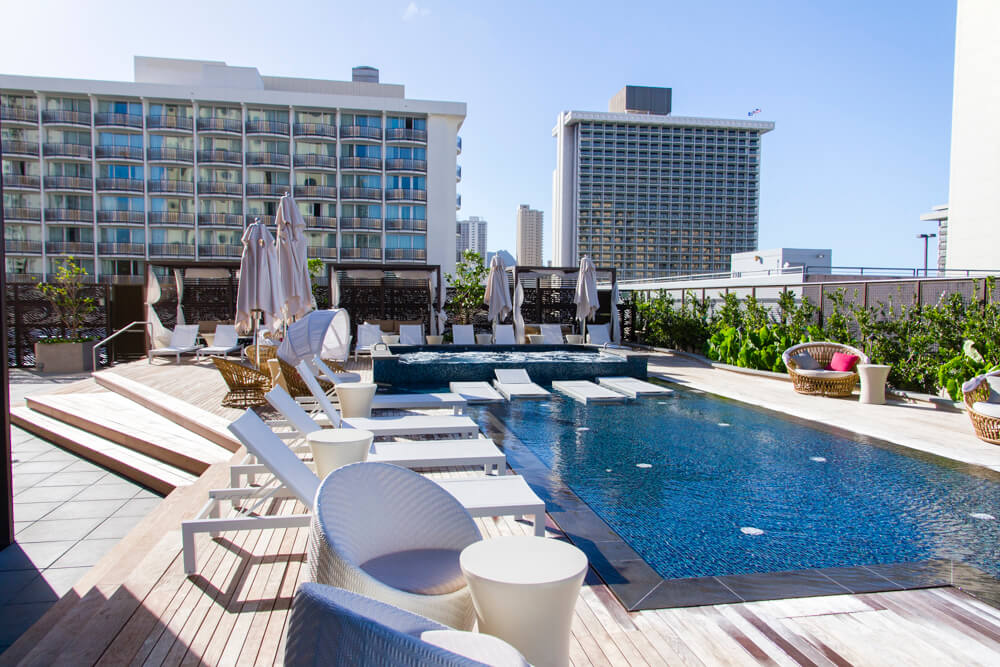 Notice anything unusual about the pool?  Not only is the pool small, but its incredibly shallow.  In-fact, the deepest water feature on the pool deck is the whirlpool tub at about 3 feet.  The pool is only about 1-1.5 feet deep.  And this is where using an old office tower introduces disadvantages.  Employees said the pool is that size and depth because structurally the building could not support anything larger/deeper.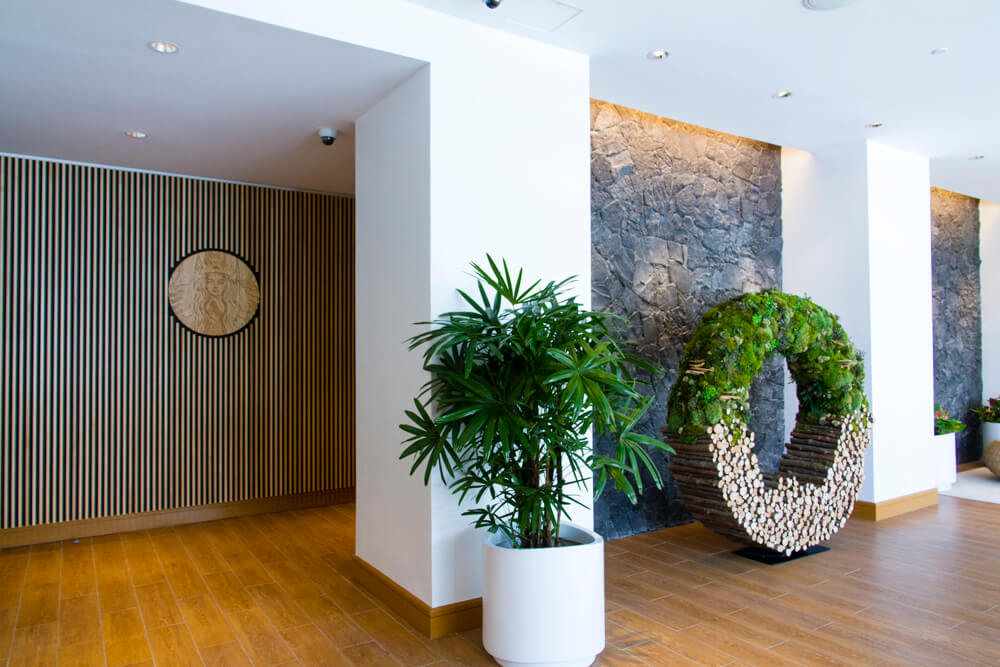 While the pool is kind of a bummer, there is a unique feature that coffee lover will be sure to love.  On the property's ground floor is a Starbucks, but this isn't your average Starbucks.  This Starbucks store contains Hawaii's only Starbucks Reserve Bar.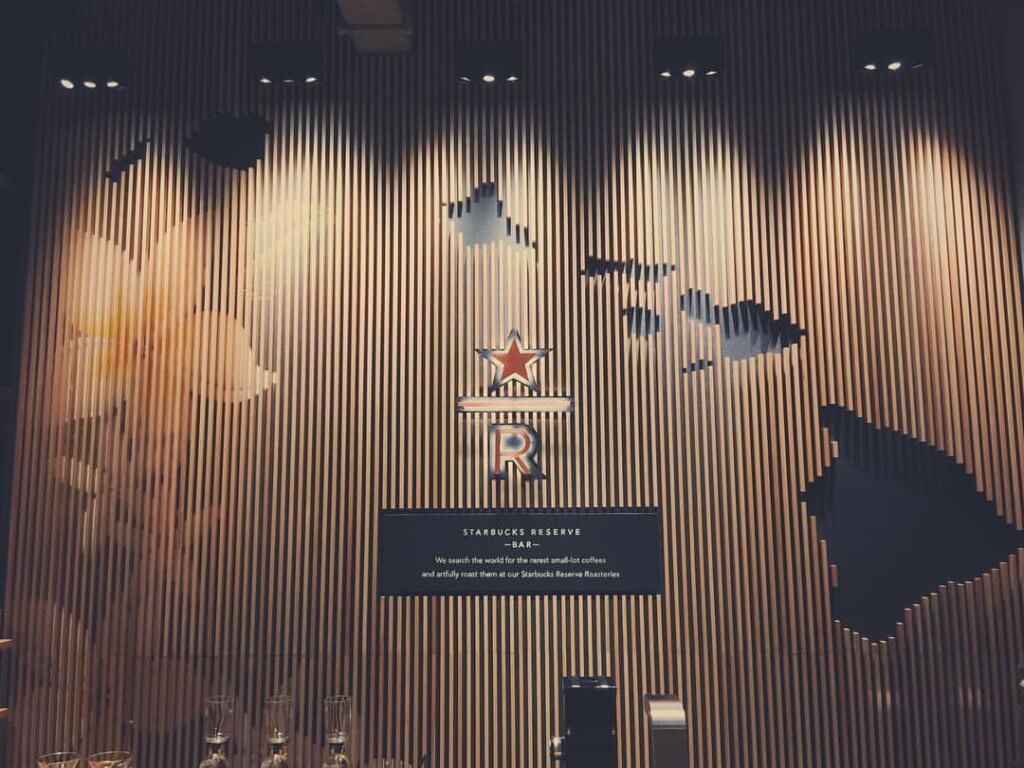 The Hyatt Centric Waikiki is also home to a Nordstrom Rack, though it isn't connected to the hotel's lobby.  Oh, and parking is shared with shoppers, though the property offers both valet and self-parking.
Hyatt Centric Waikiki Final Thoughts
Mrs. Island Miler and I thoroughly enjoyed our stay at the Hyatt Centric Waikiki.  Our room was beautiful, spacious, and functional, while the service was excellent throughout.  My only complaint is that the air condition didn't seem to stay on consistency throughout the night.  I ended up waking up sweating once and simply kicked off the duvet.  Yeah, that's kind of irritating, but it has also been a common issue at many properties I've stayed at recently.
And while I liked the Hyatt Centric Waikiki a lot, I realize this property isn't for everyone.  Not only is the pool pathetic, but the property isn't even on the beach.  But if you can look past this, the $25 resort fee, and $34/night parking (which really isn't bad for Waikiki), then the Hyatt Centric Waikiki is an excellent property.  Its safe to say that this property is, at the moment anyway, Mrs. Island Miler and I's favorite property on Oahu.