The Sheraton brand has been suffering from an identity crisis since before Marriott acquired Starwood.  So, in an effort to more clearly define the brand, Marriott is overhauling Sheraton.
According to USA Today, the Sheraton brand is the third largest brand in the Marriott portfolio, having made up 42% of the pre-merger Starwood portfolio.  And, with 444 Sheraton hotels and resorts in 72 countries, it is also the largest of the Marriott brands outside of the U.S.  So, as one might imagine, the success of Sheraton is critical to Marriott.  So much so, in fact, that according to Arne Sorenson, Marriott has been working on its plan for Sheraton since 2016.  But the plan, in my opinion, is kind of a mixed bag.
Revitalizing Sheraton
Unsurprisingly, part of Sheraton's revitalization rests on creating more communal spaces in the hotel lobbies.  This is something Marriott has been doing with its other brands such as Courtyard and Moxy (among others) for some time now.  But with Sheraton, they're taking things a bit further.  Communal tables in the lobby will have lockable drawers for bathroom breaks, while privacy booths will be available to make phone calls.  Collaboration Suites will also be available for rent, which may be reserved via the Marriott app.  A "coffee bar" will be available too, serving coffee during the day and alcoholic beverages in the evening.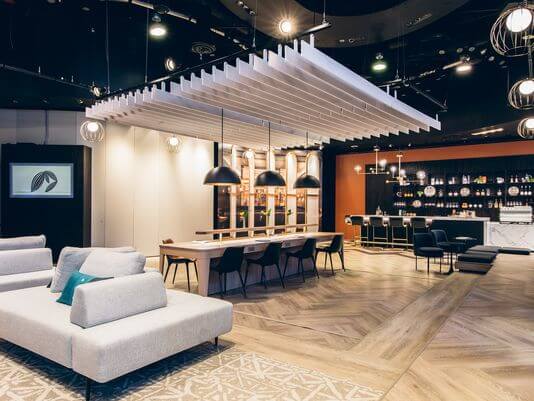 The good news is, unlike Marriott's questionable decision to remove desks from guestrooms at its namesake brand, Sheraton properties will keep in-room desks.  In fact, the desks will receive a significant upgrade, as adjustable ones, those which you may sit or stand at will become standard.  The desks will also include USB-ports in the center.  Reduction of inter-room noise transmission is also a priority.  However, Marriott says they'll be using a three-dimensional wall to do so.  Whatever that means.  In the bathroom, guests can expect larger 6-foot showers and 5-foot vanities.
And remember how I said there are 444 Sheraton properties around the world?  Expect that number to change.  Senior Vice President and Global Brand Leader, Julius Robinson states that Starwood was not aggressive enough in de-flagging subpar properties.  Owners that do not want to make adopt the new brand standards may rebrand under another Marriott brand or will need to leave the company altogether.  Tough love, but it's for the good of the brand.
Sheraton Waikiki Renovations
Ironically, yesterday the Pacific Business News published an article regarding an upcoming renovation project at the Sheraton Waikiki.  The property's owners, Kyo-Ya Hotels & Resorts, are spending $102 million to update all 1,636 guestrooms and the hospitality lounge.  No word has been given on when the project will begin or how long it will take to complete.  However, the Sheraton Waikiki will remain open during the project, which will be done in phases.  So be sure to check with the property if you have any upcoming stays or before making a reservation.
Marriott is Overhauling Sheraton, Final Thoughts
I never understood where Marriott got the idea that Millennials prefer to work in public rather than in their rooms.  I'm a Millennial, and I can tell you that I prefer to work in my room, as do others.  The only reason I can see to not do so would be if my family accompanied me on a business trip and I didn't want to disturb them while they're in the room.  So, in that regard, I believe the new Sheraton brand standard is much better than what they came up for Marriott.  Larger vanities and showers are a welcome standard too.
What they mean by a three-dimensional wall, though, makes me wonder.  Will it be something akin to (but more subtle) than those egg-carton walls in a recording studio?  That seems to be the more feasible option, as breaking open walls to add insulation inside of the walls would be cost-prohibitive.
As for the Sheraton Waikiki, boy, what timing.  Though, I'm guessing Marriott must have been in communication with the property all along.  If not, I wonder if the Waikiki location will incorporate the above in their renovation?  And what about the awful Sheraton Princess Kaiulani?  That property should be de-flagged, though I know there's been on again and off again talks of tearing it down for redevelopment.