My wallet has seen a lot of changes as of late. I've been more open to closing cards and have given a few the ax. Add that to changing priorities and my 2022 credit card strategy promises to be at least a little different than last year's.
I kicked off the year by burning what is for me a sizable portion of my Chase Ultimate Rewards AND my Marriott Bonvoy points. I've also nearly zeroed out my World of Hyatt account. So, you can kind of see where I'm going with this.
My 2022 Credit Card Strategy
Let's start off with going over what cards I currently have. After all, save for my cancellations, the composition of my wallet doesn't really change. I don't plan on getting any new cards either, though I may cancel another this year.
What's in My Wallet
Chase Sapphire Reserve
Amex Hilton Surpass
Chase Freedom Unlimited
Chase Freedom Flex
Marriott Bonvoy Premier
World of Hyatt Visa
Amex Hilton Aspire
Alaska Airlines Visa Signature
American Airlines MileUp
Hawaiian Airlines World Elite Mastercard
Amex EveryDay
If you haven't already guessed, the Hawaiian Airlines World Elite Mastercard is the card that I'm most likely to cancel this year. I've been saying this for a while now, but haven't gotten around to it for some reason. I really should, though, since I never offset its $99 annual fee. I just don't fly Hawaiian enough to do so. It's just too bad I can't downgrade the damn thing to some free card.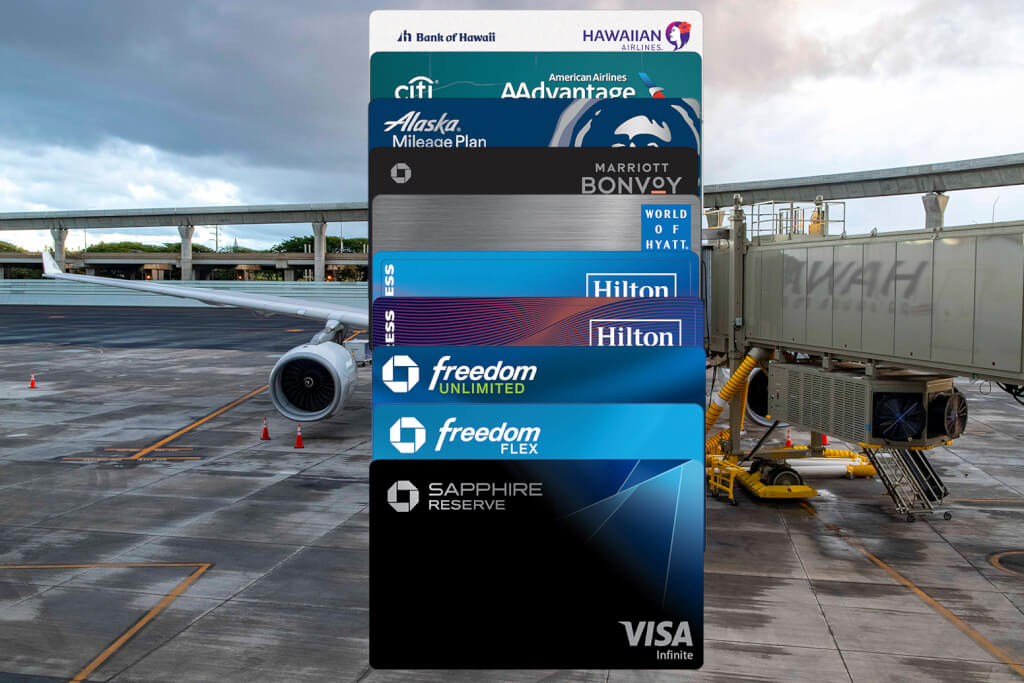 Reward Priorities
I burned nearly a quarter of my Ultimate Rewards points making my travel plans for the year. Unfortunately, I don't earn a ton of points overall since my spending budget is fairly limited for this hobby. As a result, it'll take me a while to earn back what I used, so doing so is going to take top priority this year. The same can also be said of my Marriott points, though their change to a fully revenue-based system means I likely won't put much energy into replenishing those points. And while I have the Marriott card that still earns EQNs, I'm not prioritizing that either since I know it'll be impossible for me to hit Titanium Elite again this year.
What about Hyatt? While I've nearly depleted my entire World of Hyatt balance, I'm still on the fence about earning trying to replenish this account – especially since they're an Ultimate Rewards transfer partner.
As for Hilton, I plan to earn those points at the same rate I did last year.
Ultimate Rewards Spending Strategy
Having canceled my Amex Gold last year, my spending strategy is even more clear this year than it was before. And since I'm prioritizing earning Ultimate Rewards points, I'll likely use my UR-earning cards as follows:
Sapphire Reserve: all dining and otherwise unbonused travel purchases
Freedom Flex: all quarterly bonus categories
Freedom Unlimited: all unbonused spend and spend at merchants whose MCC is uncertain to me
Hilton Honors Spending Strategy
I primarily use my Hilton cards for Hilton spend and for worthwhile bonused spend. That translates to:
Hilton Aspire: all Hilton spend and all Alaska Airlines fee spend
Hilton Surpass: groceries and gas when they're not a Freedom Flex category, plus merchants that could fall under restaurant or grocery until I determine their proper MCC
Marriott Bonvoy Premier Spending Strategy
Traditionally, this is my most heavily used credit card of them all. Why? The EQN earnings have helped me to attain my annual statuses PLUS helped me get to Lifetime Platinum Elite. However, since I won't be going for Titanium again this year, I have very little incentive to use the card at all. In fact, I'll likely only use it at Marriott properties. That's it.
Alaska Airlines Visa Signature Spending Strategy
This strategy hasn't and will not change – all Alaska Airlines ticket purchases go onto this card.
World of Hyatt Visa Spending Strategy
This one is only seeing use for Hyatt stays. There's no way in hell I'm even getting close to Globalist status, so it makes to sense to use this card to chase it.
American Airlines MileUp Spending Strategy
The only reason I put spend on this card is to keep it open. Citi already burned me once by shutting down my "dormant" Double Cash card. I don't need that happening again. That said, this card is attached to my Apple account and only pays for iCloud and related purchases.
Amex EveryDay Spending Strategy
It's free. It only remains open to preserve an available credit line.
Hawaiian Airlines World Elite Mastercard Spending Strategy
This card sees virtually no use whatsoever – especially since I don't really fly Hawaiian anymore. And even when I do, I usually use my Sapphire Reserve. So the real question, then, is it worth keeping? Probably not.
Final Thoughts
While I may not be planning on any major changes in the composition of my wallet, the way I plan on using the cards I already have is shifting rather drastically this year. And, honestly, this is what I was planning on doing last year. But given my travel plans and Marriott's EQN bonus, I went all-in on my Marriott card to help push me to renew my Titanium status. And that was before they began offering status extensions to 2023. But, at least I got two Choice Benefit awards out of it. However, Marriott gave me that extra shove away with their massive redemption change, though the final verdict is still out on how bad that'll be. Regardless, earning Ultimate Rewards points should've and will be my focus.
As far as that Hawaiian card goes… It's still on my potential cancel list and will definitely get canceled if I pull the trigger on a Southwest card.