Well, then. I did not realize I totally skipped 2020 as far as credit card strategies go. But, in hindsight, I guess it wasn't all that necessary anyway, right? After all, the whole year ended up being blah. And even though most of 2021 looks like it'll be similar, I want to talk about my 2021 credit card strategy.
For those of you that are curious, my 2020 credit card strategy was straightforward – I threw the vast majority of my spend onto my Marriott Bonvoy Premier credit card. After all, my primary goal at the time was to earn enough EQNs to attain Lifetime Platinum Elite status. And, since I didn't know they'd do two rounds of elite member 50% bonuses, I had no idea how easy my final stretch to that status would be.
What's in My Wallet
In what should come as no surprise to anyone, the cards in my wallet hasn't changed much. That includes:
Marriott Bonvoy Premier
Chase Freedom Unlimited
Alaska Airlines Mileage Plan
American Express Marriott Bonvoy
The only "new" card here is the Freedom Flex, though that's just a new version of my old Freedom. I would've had the Hilton Aspire card in my wallet, but Amex pulled the old switcheroo with that offer, though they later decided to honor it anyway. Whatever.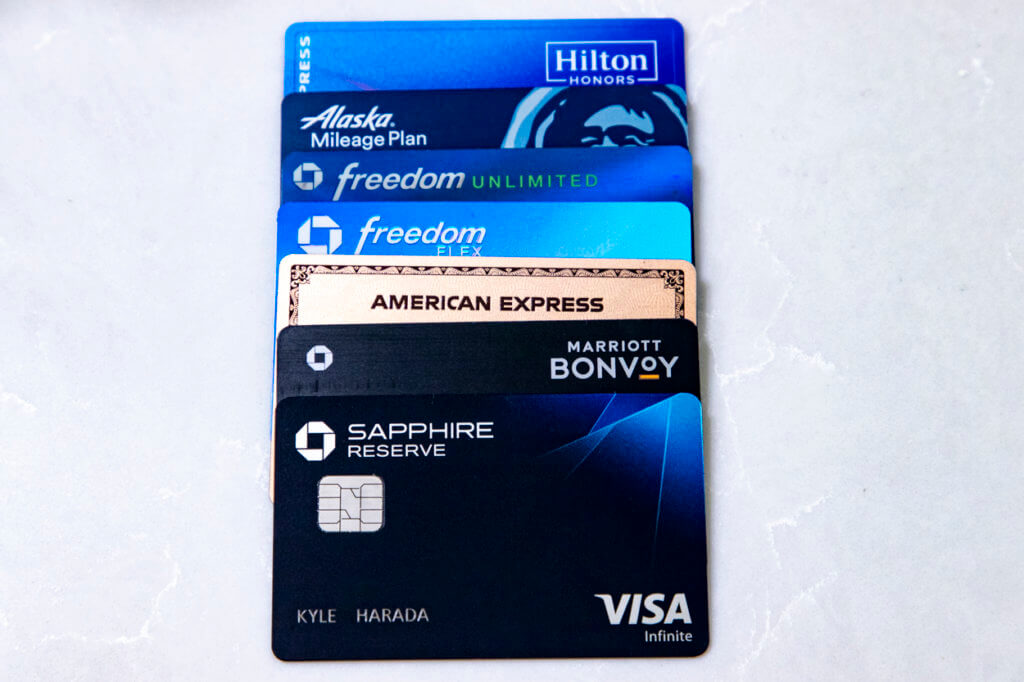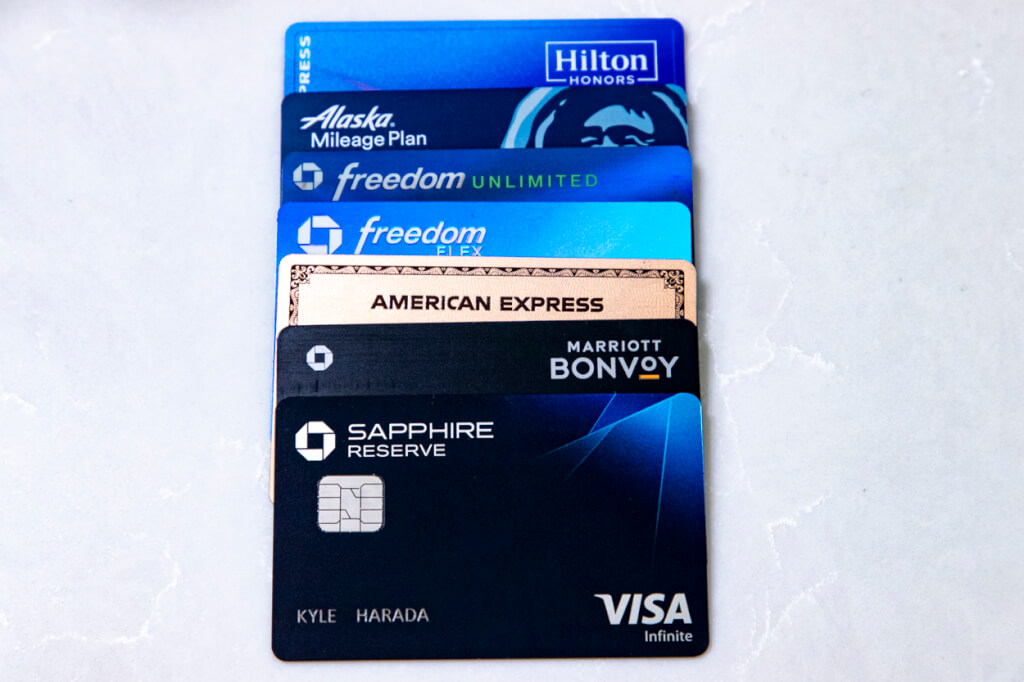 My Other Cards
I have quite a few cards set aside for specific uses or just because outside of my wallet. These cards include:
AAdvantage MileageUp
American Express EveryDay
Hilton Honors
World of Hyatt
Hawaiian Airlines World Elite Mastercard
This list should have included a Citi Double Cash card, but just a month or two after converting that card from my AAdvantage Platinum World Mastercard to it, Citi closed my account due to "inactivity." Then, they refused to reopen the card unless I authorized a new credit review, so I said nevermind.
How I Use My Cards
Needless to say, my Marriott Bonvoy Premier card has been my most used card over the past year and will likely see frequent use for now. After all, Chase is currently offering 5x points on up to $1,500 in gas and grocery purchases made with the card through March 31, 2021. Check to see if you're eligible for this offer at Chase's bonus registration page.
Aside from my Marriott card, my Sapphire Reserve will likely see increased use as well. Heck, with so much uncertainty around travel, I decided to burn my annual travel statement credit on my recent staycation. What's more, I've begun using it for dining purchases once again. Meanwhile, the Freedom Flex continues to see use for its quarterly bonus categories (currently streaming services, telecom, etc.) and drugstore purchases. The Freedom Unlimited continues to see use for non-bonused spending.
I'm hoping to make a Hilton stay or two this year, and if I do, my Surpass card will get some use then. It also gets used for gas when that's not a bonus category on a Chase card and to take advantage of Amex Offers. Similarly, my Amex Gold only sees the light of day for Amex Offers these days, especially since Chase has been offering so many grocery bonuses lately. I historically have used it to take advantage of its airline fee credits, but this year is the last year for that. And, in case you're wondering, I switched my airline this year from Hawaiian to Southwest. We'll see if I end up taking advantage of the credit or not.
My Alaska Mileage Plan card is still reserved exclusively for Alaska Air purchases. Ditto for Hyatt.
Unused Cards
Virtually every card not in my wallet, plus my Amex Marriott Bonvoy card, are unused cards. Oh, and my World of Hyatt card. While I know many bloggers love the World of Hyatt, I hate that it's nearly impossible to redeem for nights at the hotels I want to. Hyatt doesn't require properties to adhere to its program rules, plus kama'aina rates don't qualify for points or qualifying nights; thus, my Hyatt card gets no use. All other cards are just there to keep their lines open and help maintain my credit score.
Endangered Cards
There are a growing number of cards on my endangered list due to changing priorities. I simply can't justify paying the amount of annual fees I continue to pay, so that is the primary reason why I'm looking to cancel cards. And that's a trend that I've already started. As you know, I didn't convert my two annual fee AAdvantage cards into free cards. However, the following cards are under consideration too:
Hawaiian Airlines World Elite Mastercard
Amex Marriott Bonvoy
World of Hyatt
Amex Gold
The Hawaiian card appearing on this list should surprise no one. I seldom fly Hawaiian anymore, and even when I do, the card doesn't justify itself. And since Barclays won't let me product change it, it'll likely end up being an outright cancel. The same is true of my Amex Gold. I see no reason to carry the Amex Green, and without the airline fee reimbursement, I can't justify keeping the Gold. In case you're wondering, I rarely used Uber or Uber Eats, so that credit doesn't mean much to me.
As for the Amex Marriott Bonvoy card, it's redundant. While it does offer a better certificate than my Marriott Bonvoy Premier, the Premier has better benefits and a lower annual fee. Unless Amex lets me product change this card to something free, it'll be an outright cancel too.
Finally, my World of Hyatt card. I don't think I need to explain why this one is on the chopping block. I do want to product change it, though, so we'll see what I ultimately do. In the future, if I decide to stay at Hyatt properties, I'll likely throw them onto my Sapphire Reserve instead.
My 2021 Credit Card Strategy
Yeah, I know. This post is about, oh… a month late? At least I remembered this year! But, the last couple of years have changed my perspective a bit. My priorities are changing, and I simply cannot justify spending $1,344 on annual fees anymore. If I do cancel or convert my four endangered cards, that'll save me $539, bringing my total annual fees down to $815. That's still quite high, but I get $300 back as statement credits from my Sapphire Reserve anyway – so my net annual fees are more like $515. As I always say, though, we'll see!
How has your credit card strategy changed this year if at all?