When your house is listed for sale and you have already moved your possessions, you can expect a high level of uncertainty with every day that passes. What if the house sells before I'm scheduled to come back next? Who will mow the lawn? Who will take care of X and Y? I have found the whole process to be quite annoying.
You can take the "out of sight, out of mind" approach to your house and completely block it out of your mind, or you can fret about it on a daily basis.
While I have not exactly been worried about the house, I did create a speculative award booking with Delta for a flight in September, just in case travel to MSP was required to take care of the house. This gave me a certain level of comfort that I could come back if needed, but I wouldn't need to pay expensive last minute fares to do so.
For some reason, travel between SFO and MSP had a ton of low level award availability in July, so I was able to hold a booking for a random week in September at the lowest level of miles required. That 25k miles and $5.00 gave me peace of mind as I sat in my "ivory" tower overlooking San Francisco for most of the summer.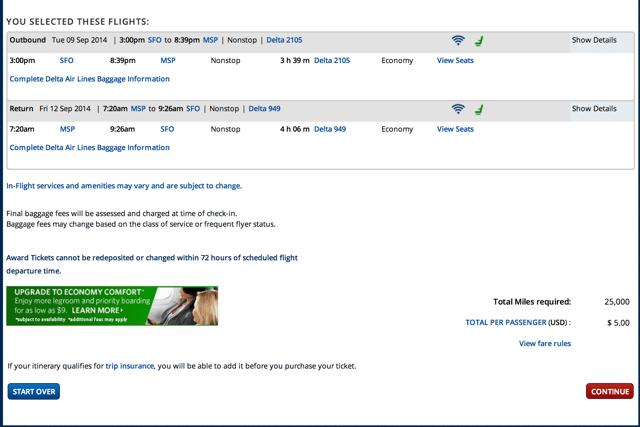 In the end, it turned out that I did not need the booking after all, as the closing of my house won't happen until October. As a Platinum Medallion with Delta, I was able to cancel the itinerary a week before the scheduled flight at no charge. In fact, they even gave me the $5.00 back.
One of my favorite uses of miles = speculative award bookings
This summer I made several award bookings for speculative travel, because much of my life was in flux due to the cross country move. With every single booking I ended up changing my dates of travel by a few hours to several days along the way. I took an extra week to clean out my house before driving across the country. I landed a day earlier to make a meeting. Because of status, none of these changes cost me a single dime.
These types of bookings are a reason why I really value having elite status with Delta (and now United). I don't like surprises when it comes to travel expenses, and miles allowed me to budget accordingly.
My next speculative booking is from Abu Dhabi to San Francisco next April. Turkish Airlines had great award availability (thanks Matthew Klint for the heads up) and I have been looking to take a Middle Eastern trip with my dad/brother in 2015, so things seemed to line up perfectly. Plus, I get to spend some quality time in the Turkish Airlines lounge in Istanbul, which I have heard is quite wonderful.

But you know what? If things don't line up, I can just cancel the booking for a full refund of 80,000 miles and $45.90 in fees.
Do you see why speculative award bookings are one of my favorite uses of miles?