Our trip to the Big Apple was all about the food for me.  By this time, we've already had some GREAT meals at places like Noreetuh, Marea, and Sushi Nakazawa.  But dinner at Le Bernardin was definitely the highlight of the trip for me.
Eric Ripert's Le Bernardin has long been on my restaurant bucket list.  And having budgeted enough money to dine here, it became my main goal of this trip.  Actually, since Mrs. Island Miler loves seafood, I decided to turn our Le Bernardin dinner into her belated birthday dinner.
Le Bernardin Reservation Process
The reservation process at Le Bernardin is the least pleasant part of the overall experience.  Reservations open up just a month prior to your desired visit date.  However, depending on your reservation method, the actual date reservations opens differs significantly.
If you're making your reservation via OpenTable, reservations open at midnight Eastern Time the exact day one month prior to your desired date.  For phone reservations, however, the entire month become available on the first your desired month.  I didn't know this, and tried to use OpenTable.  But by the time my date opened, it was completely gone.  So, I called the restaurant and snagged the last available reservation during our ENTIRE stay in New York.
So our Le Bernardin reservation ended up being on our final night in The City.  At 5:30 pm.  Better than nothing for sure, but not exactly idea.  Further, the lady I spoke to over the phone to make my reservation was, uh, unpleasant.  She was really snooty and dry, which concerned me about the experience we'd receive at the restaurant itself.
Service
As the sun set on our final night in The City, we left our hotel and headed uptown to Le Bernardin.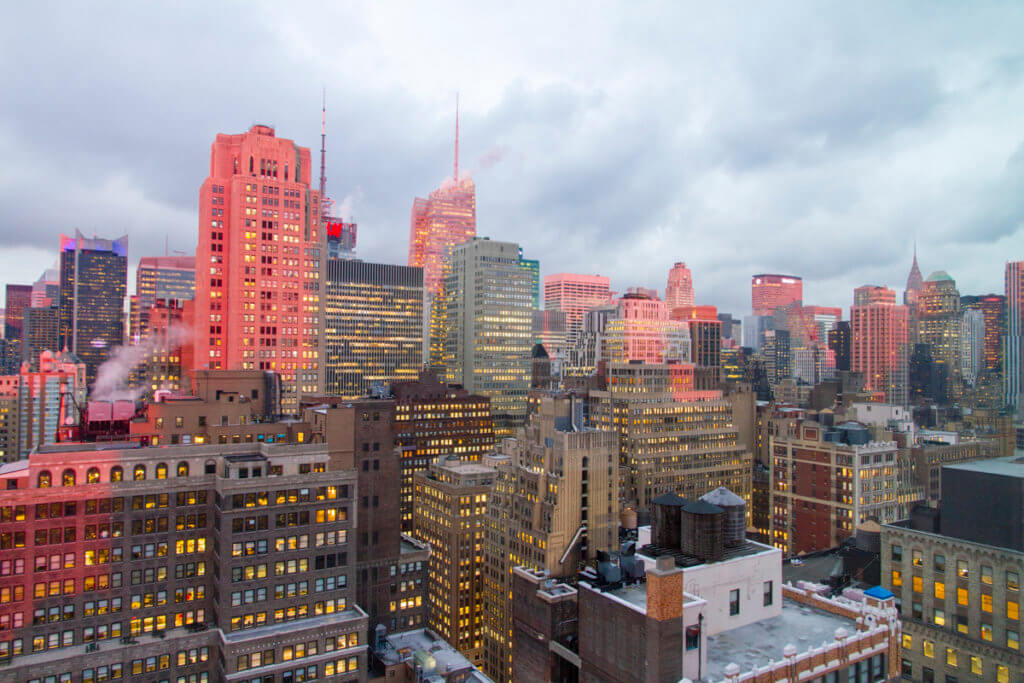 Thanks to Metro delays, we got to the restaurant right on time for our 5:30 pm reservation.  And right off the bat, my fears of snooty, stuff service were allayed.  Everyone we encountered was fantastic.  From the maitre d, to the person checking our coat, to our waitstaff were genuinely friendly and personable.  Our waitstaff, especially, were outstanding!
As you'd expect, the the service paid tremendous attention detail.  For example, when we were led to our table, they immediately setup a holder for Mrs. Island Miler's purse on the floor next to her.  However, they noticed I had my SLR with me and setup another one right next to my seat.  And while our waitstaff was very professional and friendly, they kept things light and cracked jokes with us, etc.  I was thoroughly impressed.  So while the service was very friendly, professional and polished, it was also relaxed, warm, and genuine.
Cuisine
Admittedly, the service wasn't the only thing that concerned me about Le Bernardin.  Looking at the menu, it sounds strikingly similar to the cuisine we find here in Hawaii.  However, I'm happy to report that the cuisine at Le Bernardin was nothing like Hawaii cuisine at all.  Everything we had was impeccable; a nice mix of French cuisine with Asian influences.
For our dinner, we selected to Pix-Fix $150 – 4 course menu.  We went this route to allow us the ability to choose our own courses, rather than be locked into a tasting menu.  So here's what we ate.
Starters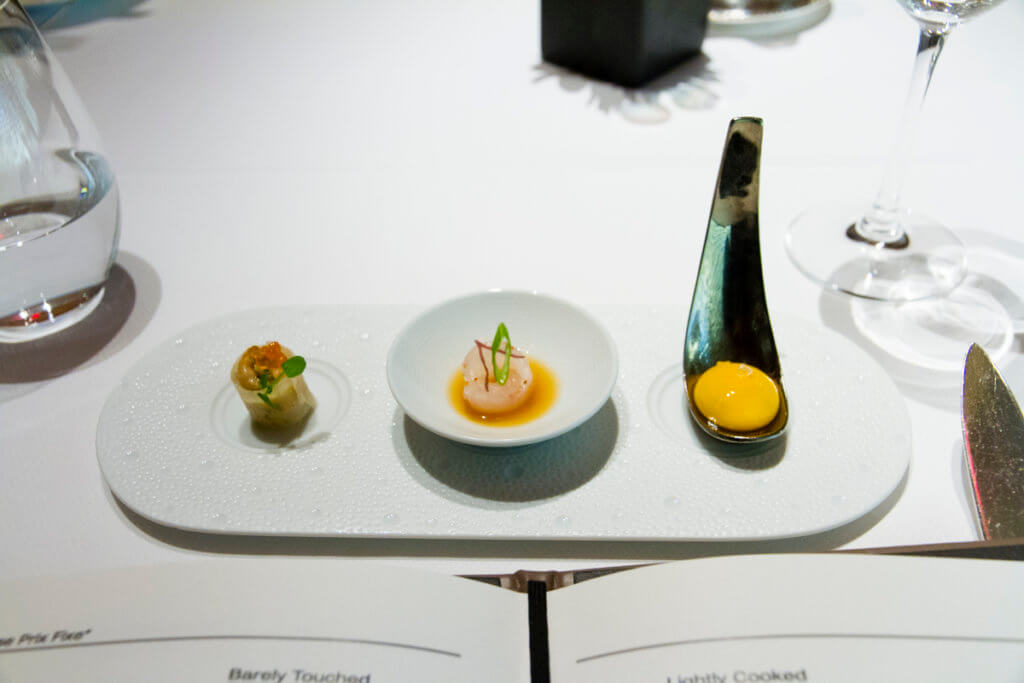 Soon after we were seated, we were presented with an amuse bouche.  I can't remember what it was, but every piece was seafood.  Though I do remember that the one on the far right is a seafood bisque spherification.  All items were delicious and full of flavor though.  At this time, drink orders were taken, and selections from the bread basket were offered to us.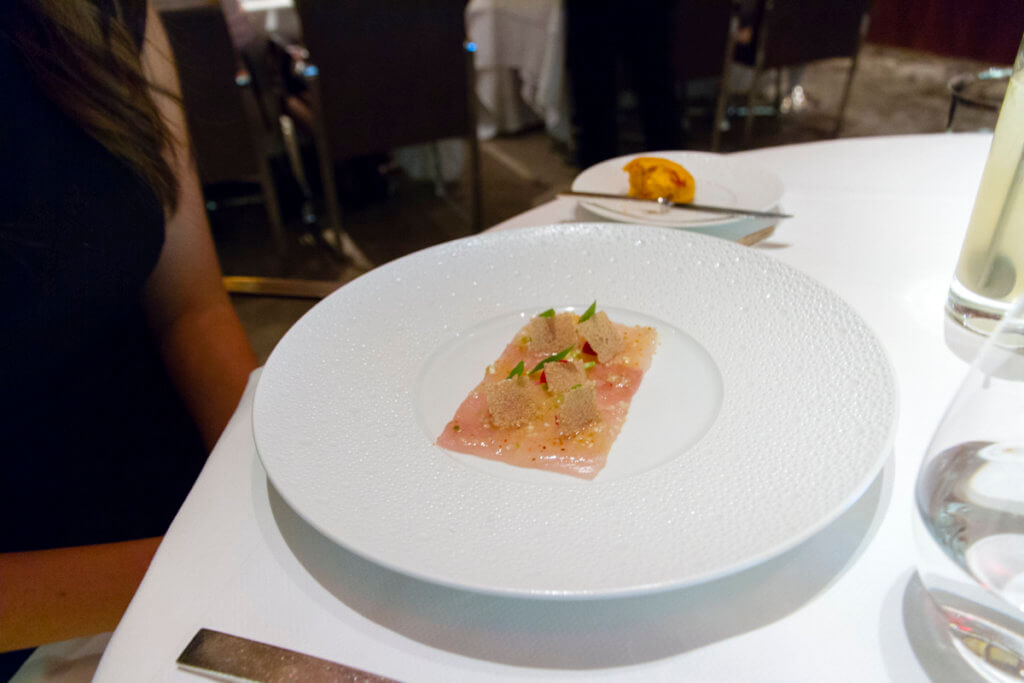 For her first dish, the wife selected the "Hamachi."  Flash marinated hamachi; young radishes and amaranth crips; yuzu vinaigrette.  A very light, asian inspired dish that the wife loved.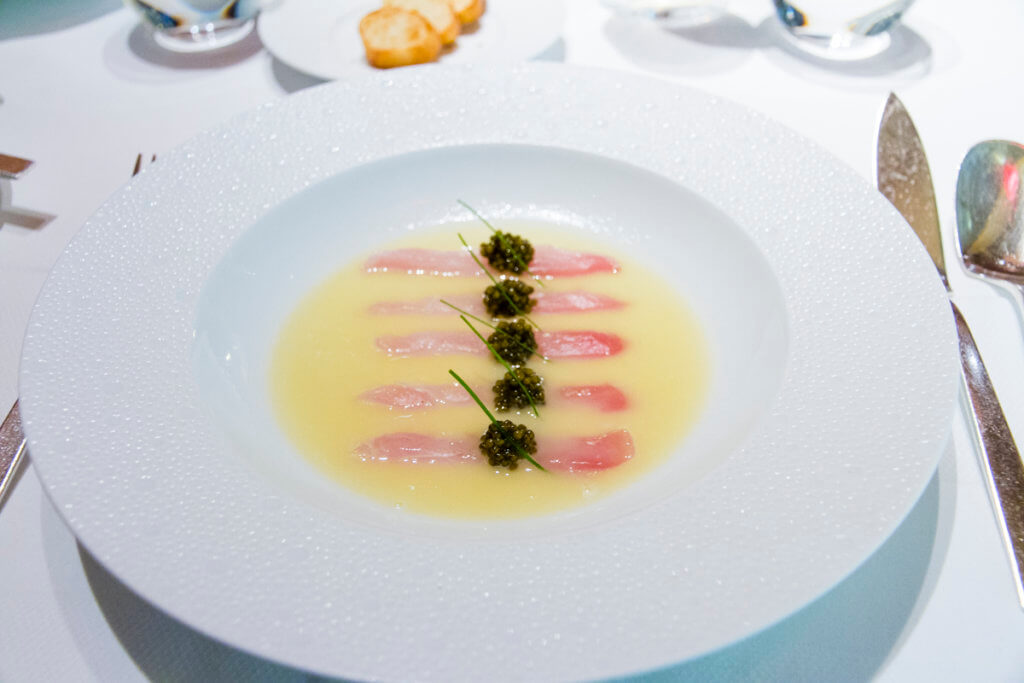 For my first dish, I opted for a $50 supplement: the King Fish-Caviar.  Warm King Fish "Sashimi;" Osetra Caviar, Light Mariner Broth.  King Fish, in this case, I believe is King Mackerel.  The King Fish-Caviar is a warm dish, as stated, but only slightly so.  And everything about it, from the caviar, to the Mariner Broth, is luxurious.  The sauce is so good, in fact, that you'll want to sop up every drop of it with the provided crostini.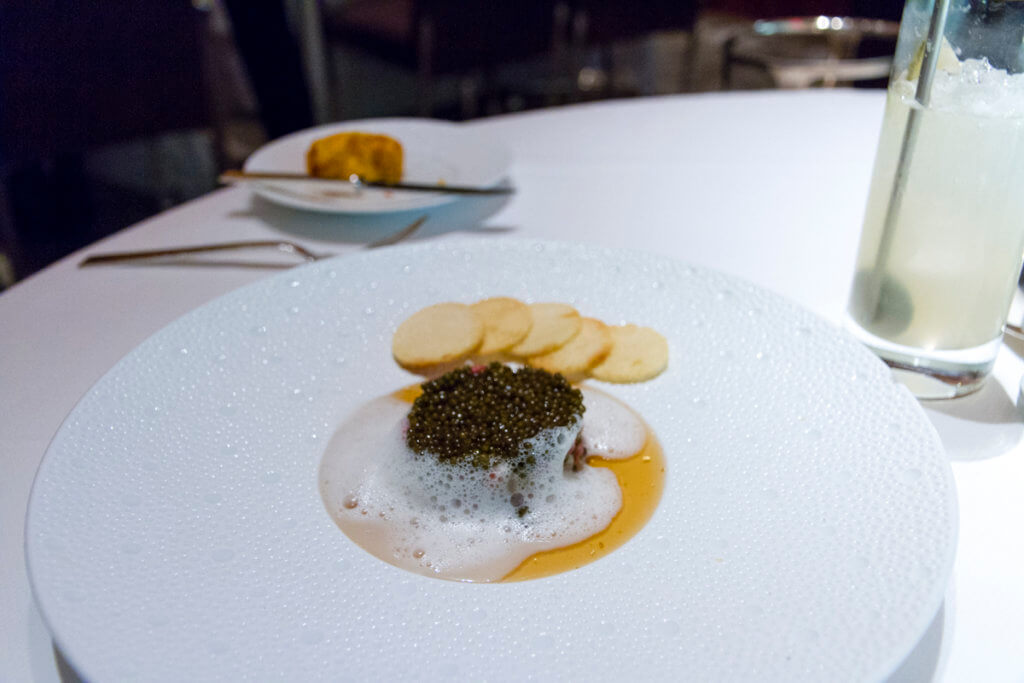 For her second dish, the wife went with a $50 supplement: Caviar Tartare.  Filet Mignon-Kampach-Osetra Caviar Tartare; Lightly Smoked Dashi Gelee.  Like my caviar dish, this one is also served with crostini.  It was an interesting and excellent combination of flavors and textures.  Another supremely luxurious, yet tasty dish that makes sense!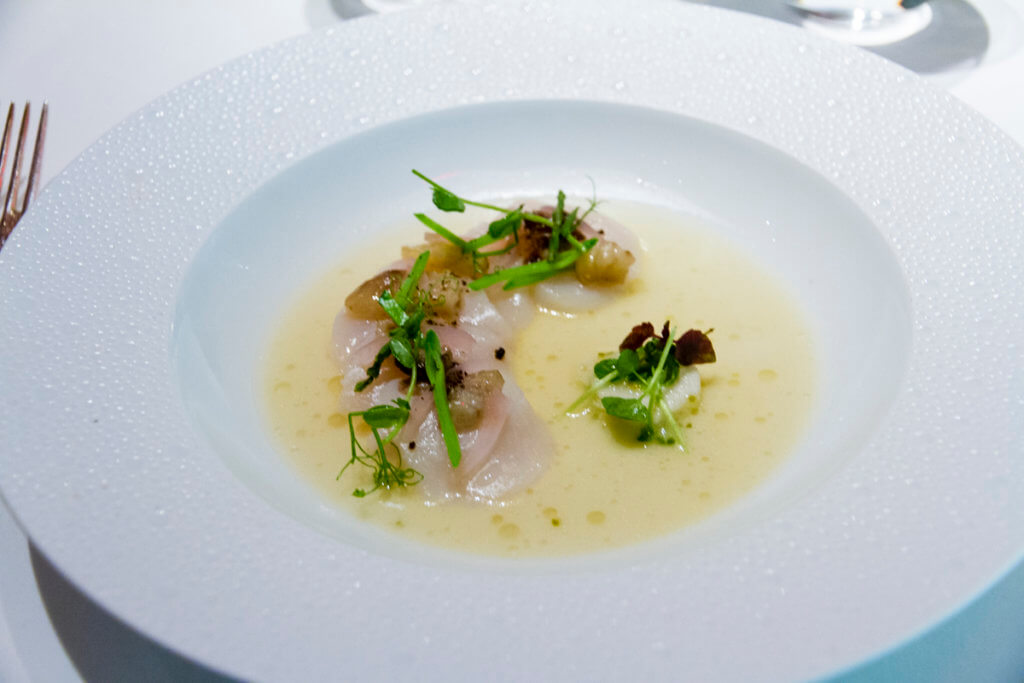 For my second dish, I chose the Scallop.  Barely cooked Scallop; Roasted Bone Marrow, Clamansi-Butter Emulsion.  This dish was a nice combination of sweet, soft scallops, meaty + roast-y bone marrow, in a pool of buttery-citrusy sauce.
Main Course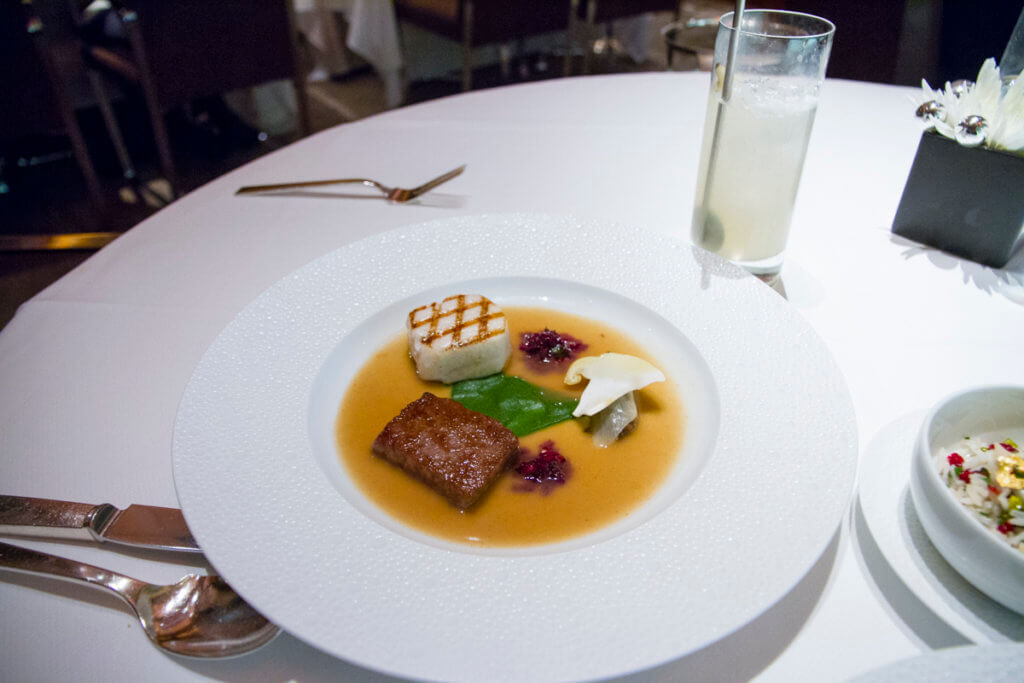 For her main dish, the wife chose Le Bernardin's signature White Tuna-Japanese Wagyu.  Grilled Escolar and Seared Wagyu; Wild Mushroom.  What do you say?  This was luxurious perfection.  A uniquely Le Bernardin surf & turf.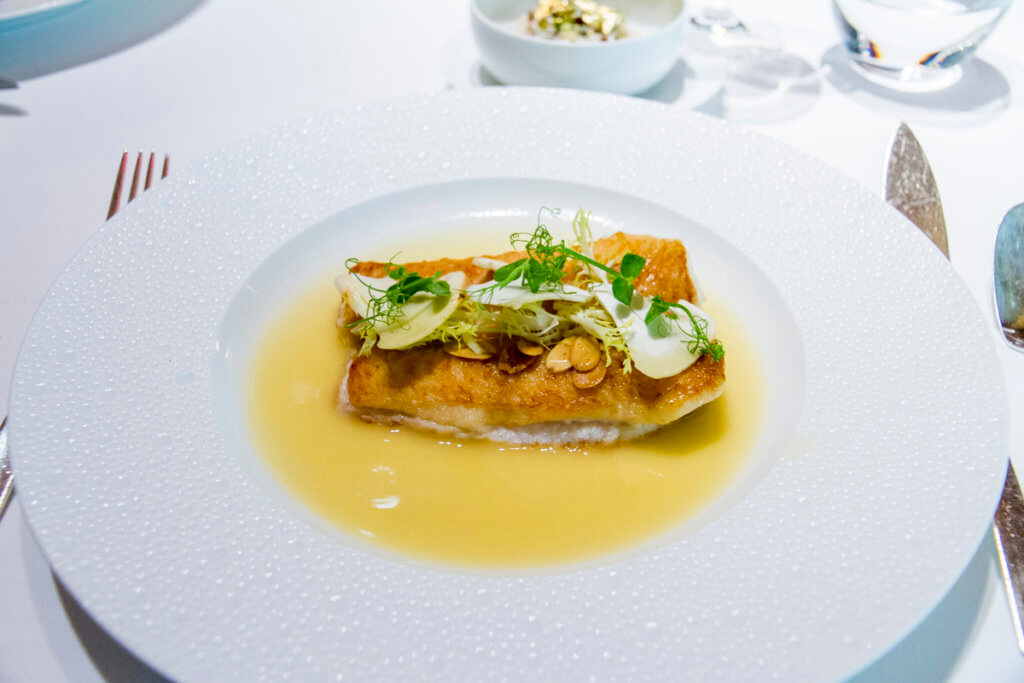 For my main, I chose the supreme Dover Sole Almondine ($25 supplement).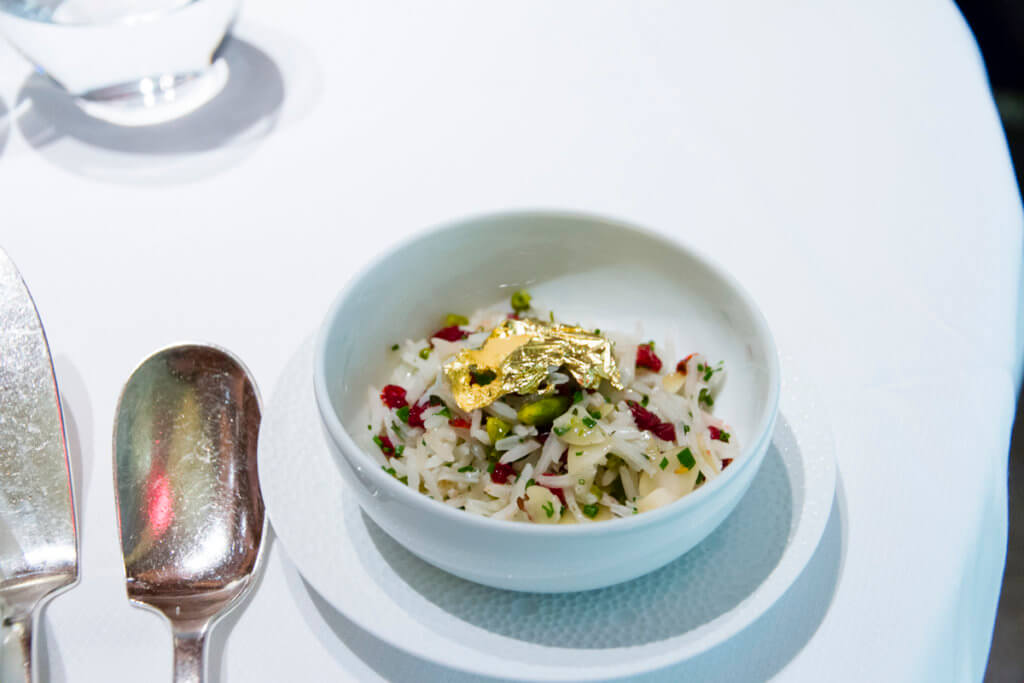 Which was accompanied by a small bowl of pilaf.  The sole and the pilaf were wonderfully flavorful.  Simple, yet complex at the same time.  A more modern interpretation of a classic, French dish.  Perfect.
Desserts
Dessert is included with the Prixe Fixe menu.  What's not included, however, is the cheese course.  We weren't going to take the cheese course, as we were incredibly full, but there was a special.  On that night, the restaurant was serving up Tibetan Yak Cheese as a benefit for earthquake victims in Tibet.  So why not?  Let's try something unique for a good cause.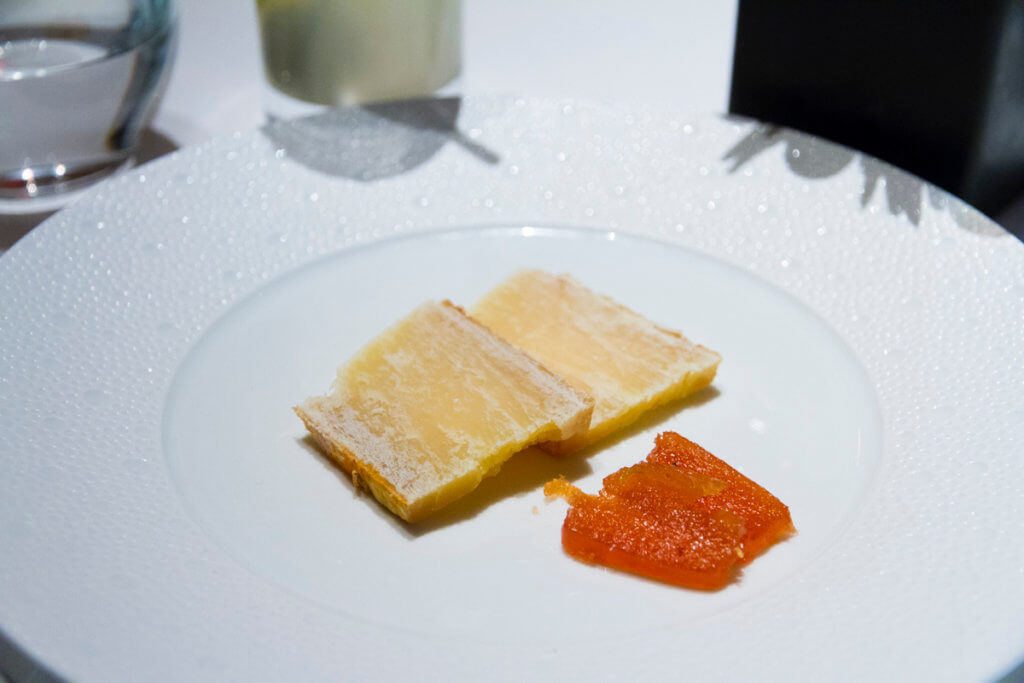 Served with crackers and quince preserves, the Yak Cheese is a hard cheese.  It's flavor was kind of similar to Parmesan, but not.  It was really nice for sure, though.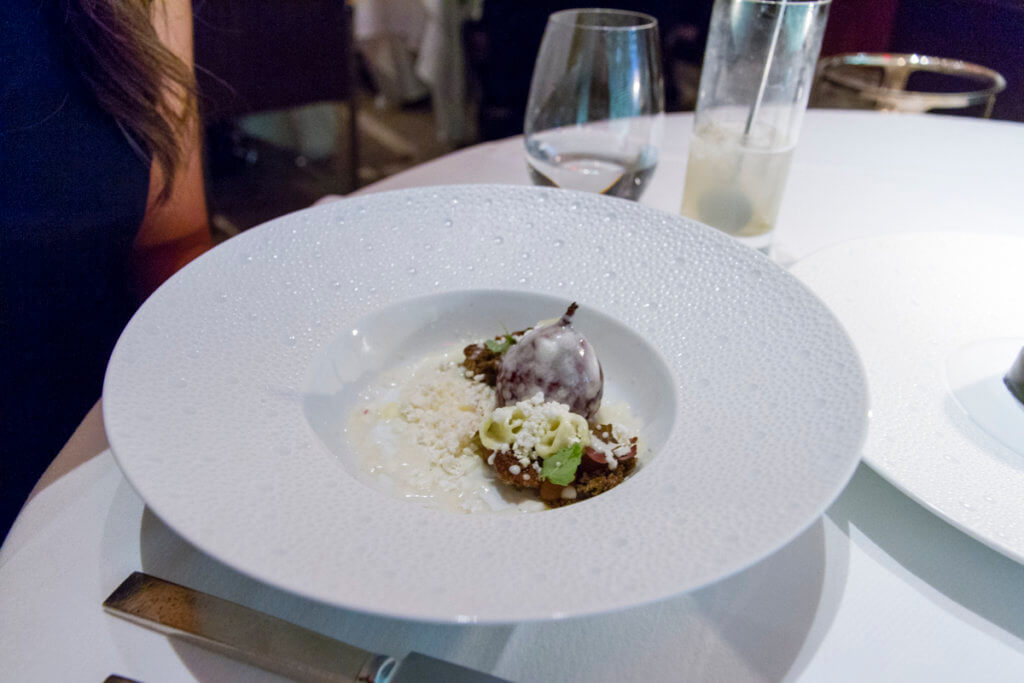 For dessert, Mrs. Island Miler ordered the Pear.  Red Wine-Hibiscus Poached Pear, Buckwheat Angel's Food Cake, Olive Oil "Snow."  This order surprised me, as the wife doesn't like red wine, but she enjoyed this dish.  She said it was light and flavorful.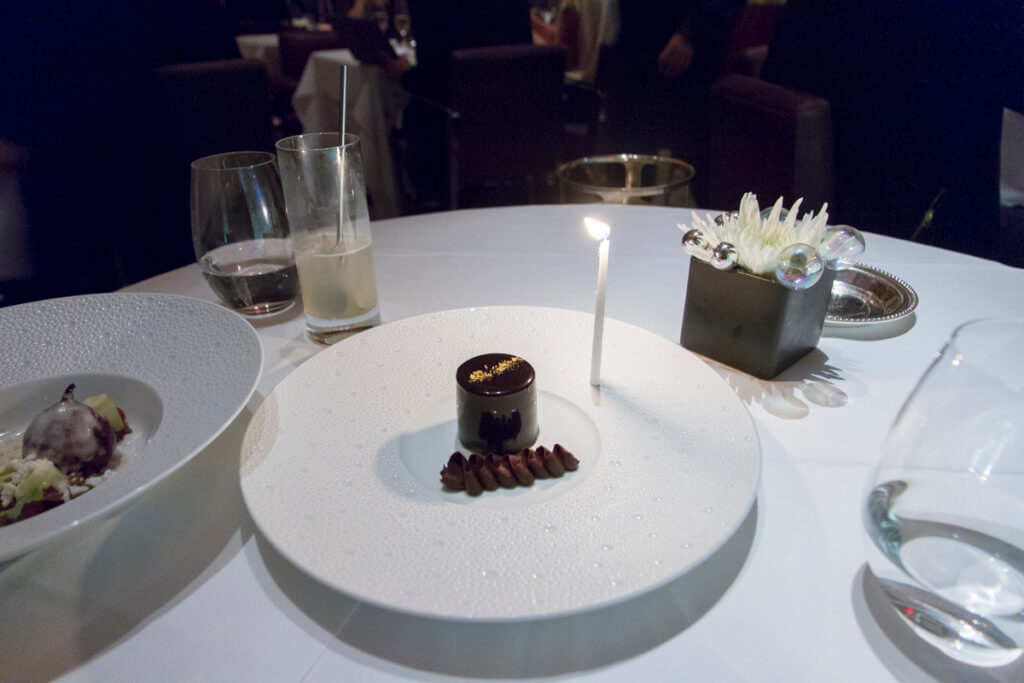 Our waitstaff also took this opportunity to present the wife with this small, but decadent chocolate birthday cake.  This is not your typical cake, being rich but light all at once.  It was, without a doubt, one of the best chocolate cakes we've ever had.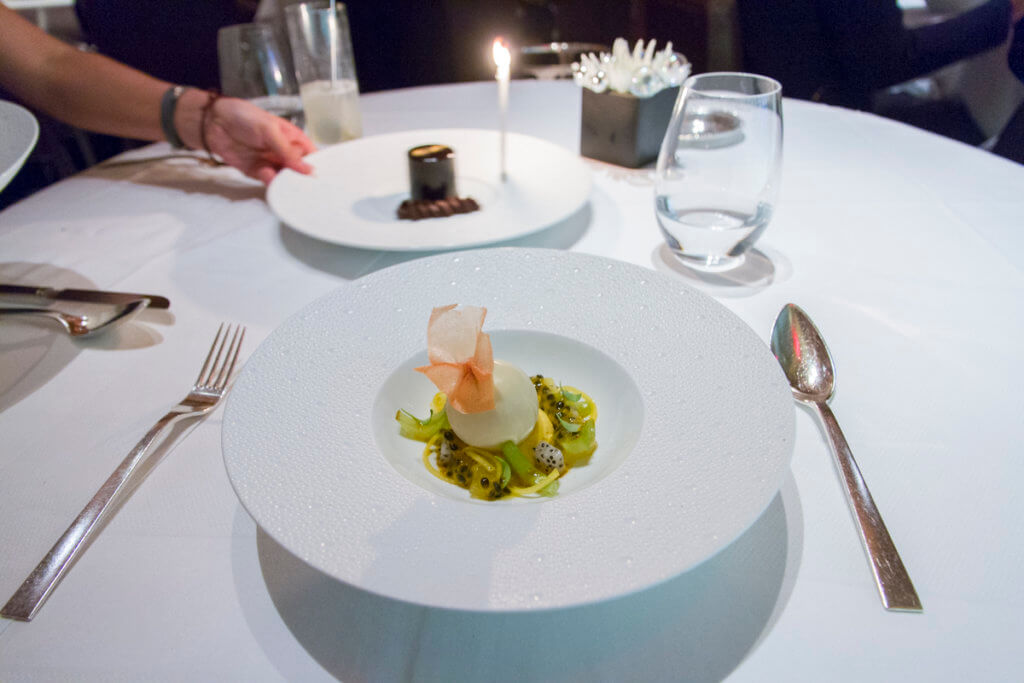 Me?  I was stuffed beyond believe and went with the lightest option available:  Tropical Fruit.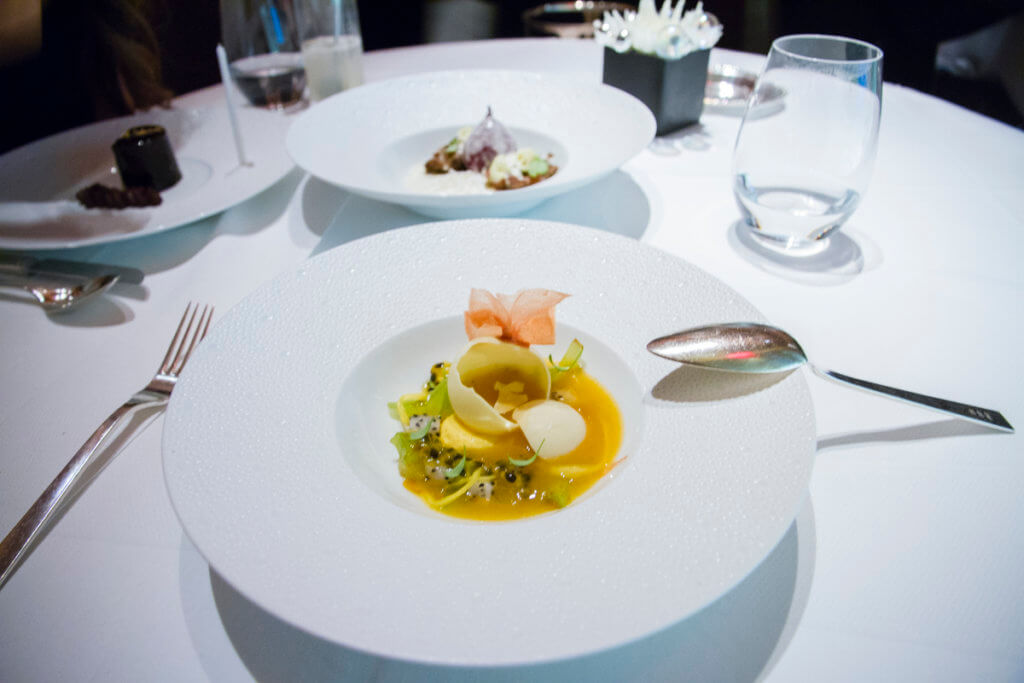 Typical Fruit "Bombe," Mango Parfait, Spiced Vanilla Oil.  This thing is a white chocolate sphere filled with a tart, passion fruit jus.  It's served with fresh dragon fruit and star fruit, both of which are common in Hawaii, over a mango parfait.  The dish is incredibly refreshing and light.  I loved it, though I typically go for chocolate desserts.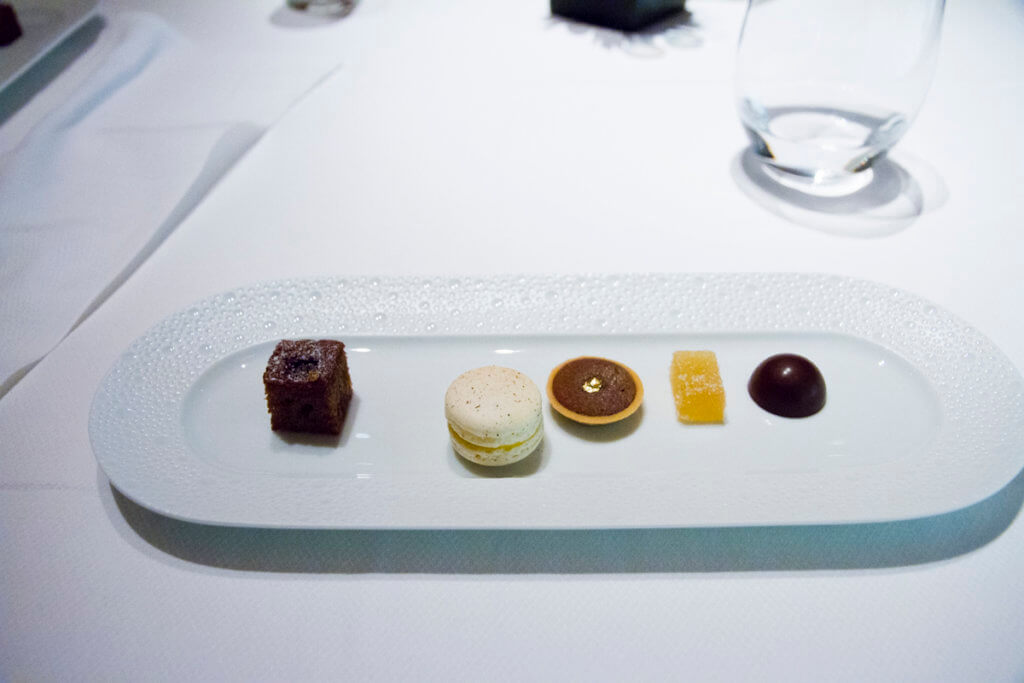 To close out the night, we were also presented a selection of Petite Fours.  I don't recall what each of these were, but I struggled massively to finish them all.
Le Bernardin Final Thoughts
Our dinner at Le Bernardin was our first 3 Michelin Star dining experience.  Ever.  And despite my prior reservations, it didn't disappoint in any way.  In fact, our experience at the restaurant far surpassed our expectations, even with all the hype we've heard.  It was one of the best dining experiences we've ever had, and one I wouldn't hesitate to have again if money and travel permits.  Yes, this was a very pricey dinner, but the value was justified, and not bad by comparison to some other restaurants.  Plus charging the experience on my Chase Sapphire Reserve meant I earned quite a few valuable Ultimate Rewards Points too!
A BIG APPLE HOLIDAY ADVENTURE
Review:  Le Bernardin