In recent years, Oahu has seen numerous artisanal pizza shops open up. At first, it was all Napoli-style pizza. However, a new wave brought in additional styles like Brooklyn and Detroit. My favorite among these is Pizza Mamo Honolulu.
I love pizza. But if I had to choose just one favorite here on Oahu, I don't think I could. That's because pizza is such a diverse dish that I often find myself liking one particular pie from one place and a completely different one from another. That's why, while I love PIzza Mamo Honolulu, it's because of my standard order there. If I want an authentic Napoli-style pie, my preference continues to lie with Brick Fire Tavern and Fatto a Mano.
Pizza Mamo Honolulu Location
Unlike every other pizza joint I patronize, Pizza Mamo Honolulu has a rather tricky location – they're in Honolulu's Chinatown. Specifically, they're on the corner of North Hotel Street and Nu'uanu Avenue at 16 North Hotel. That means they have no parking of their own. Luckily, convenient and affordable parking is available nearby. Currently, they're open for dine-in, takeout, curbside, and delivery Wednesday & Thursday from 11 am to 8 pm, Friday & Saturday from 11 am to 10 pm, and Sundays from 2 pm to 8 pm.
Pizza Mamo Menu
The menu at Pizza Mamo is highly focused – there's a handful of pizzas in both Brooklyn and Detroit styles, a single "Mamo Salad," brown butter chocolate chip cookies, a few sauces, and a handful of drinks. That's it. And, really, that's all that's needed.
My Standard Order
As I mentioned earlier, there's usually a single pie I love at the various shops around the island. That's true even at Pizza Mamo. Sure, I have yet to try their lauded Detroit-style pizza, but, for now, my go-to order is the Mamo Supreme with extra sauce and mushrooms. Why does a supreme not include mushrooms? I'm not sure. If you order it as-is, it comes with California tomato sauce, Wisconsin cheese, Pono Pork Italian sausage, natural casing pepperoni, California black olives, and red onions. The results are far from the most colorful pie, but it is immensely flavorful. That sausage helps to punch up the flavors quite a bit!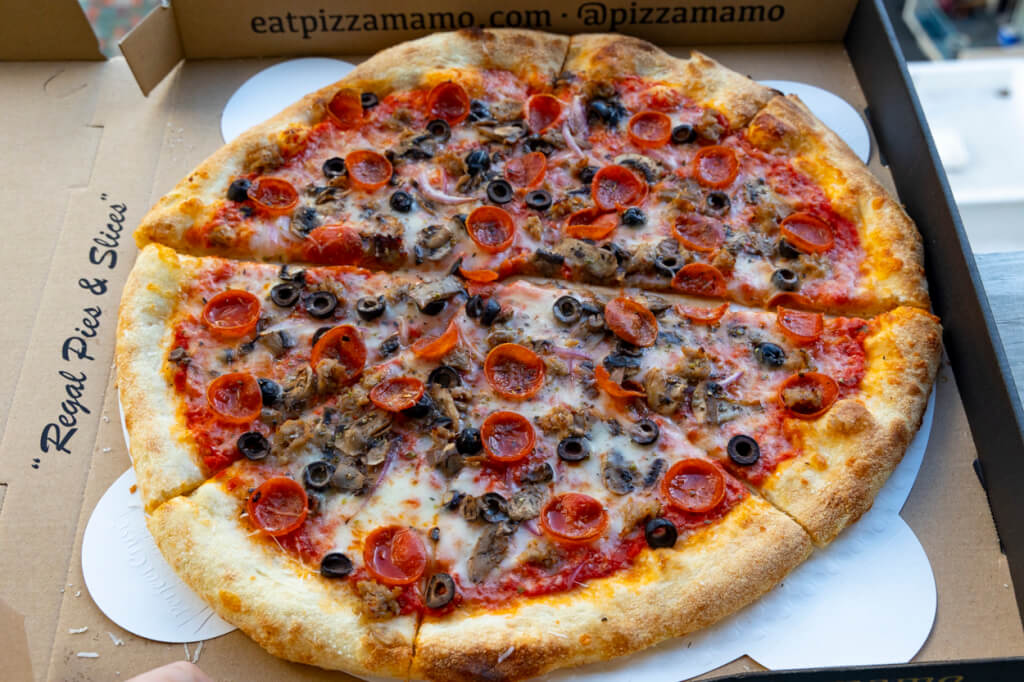 This past time we picked up from Mamo was the first time I saw their cookie on the menu. Naturally, I had to try it. These thin, dark cookies are oozing with butter flavor and have a firm crunch. My one complaint about them is that they don't have enough chocolate, at least in my opinion.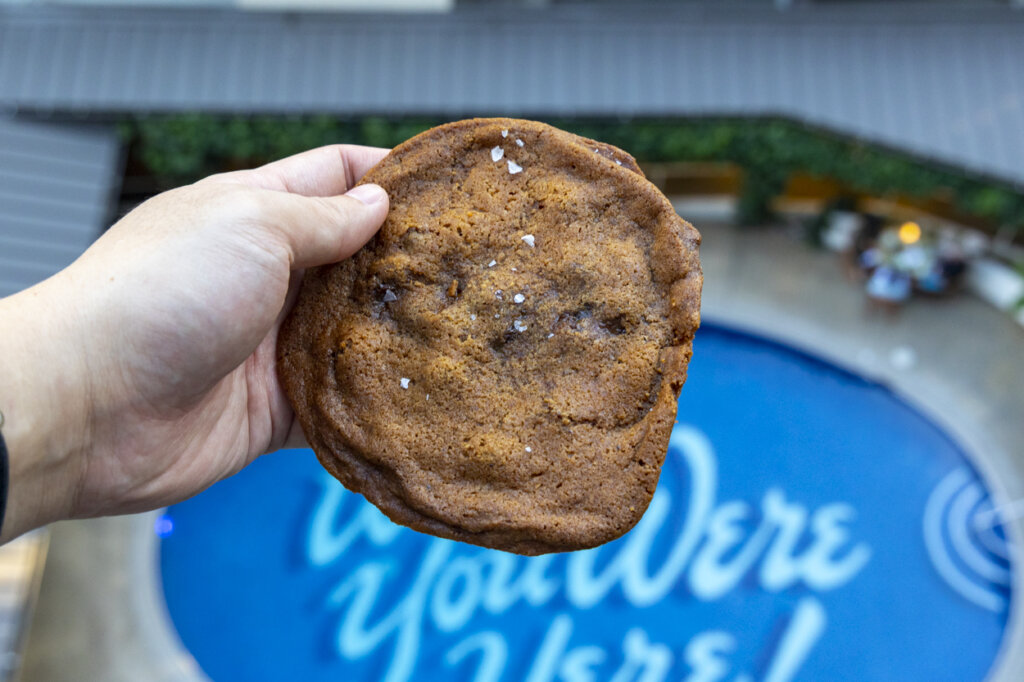 Pizza Mamo Honolulu, Final Thoughts
Flavorful, quality pies are why I continue to return to Pizza Mamo time and time again. That said, it isn't someplace I go to frequently. Their quality comes at a premium. The above pizza and two cookies with tax and tip set me back around $50, which isn't bad for a dinner for two or three. But it's a far cry from more affordable too. However, it's a price I'm willing to pay and a value I'm happy to live with. So if you're looking for a great Brooklyn-style pie in Honolulu, look no further than Pizza Mamo!
What is your guy's favorite Brooklyn-style or even New York-style pizza in Honolulu? I know my good buddy Aloha Epicure disagrees with me on this one and prefers 'Ili'Ili Cash & Carry, which is a fantastic shop too!