Recently, I had a hankering for pizza. So, in what was our first indoor dine-in experience together since Sushi Sho Waikiki, we headed over to Brick Fire Tavern in the Honolulu neighborhood of Kaimuki. And what we found there, aside from great pizza, was a fantastic lunch value.
Originally established in Chinatown, Brick Fire Tavern was Hawaii's first sit-down restaurant slinging authentic Neopolitan-style pizza. Recently, however, they moved to a new space across the street from Kaimuki Superette and Mud Hen Water. To me, that actually makes coming here easier since they have parking now. However, they share their parking with other businesses, so finding parking can be a challenge. Still, it's better than trying to find parking in Chinatown.
One thing that hasn't changed, though, is the fact that Brick Fire Tavern remains the only nice sit-down restaurant on Oahu serving up authentic Neopolitan pizza. The only place that comes close is Lanikai Brewery, which allows customers to order from a truck parked outside. And while there are excellent pizzaiolos at the farmer's markets and whatnot, sometimes you just want to be in a restaurant setting.
Brick Fire Tavern Location
Alright, so I know I mentioned Brick Fire Tavern's location earlier, let's talk parking. To access the shared parking lot, you'll want to turn down the street BEFORE the restaurant – 9th Avenue – to find the lot immediately on the left. You can also access metered street parking immediately in front of the restaurant along Waialae Avenue.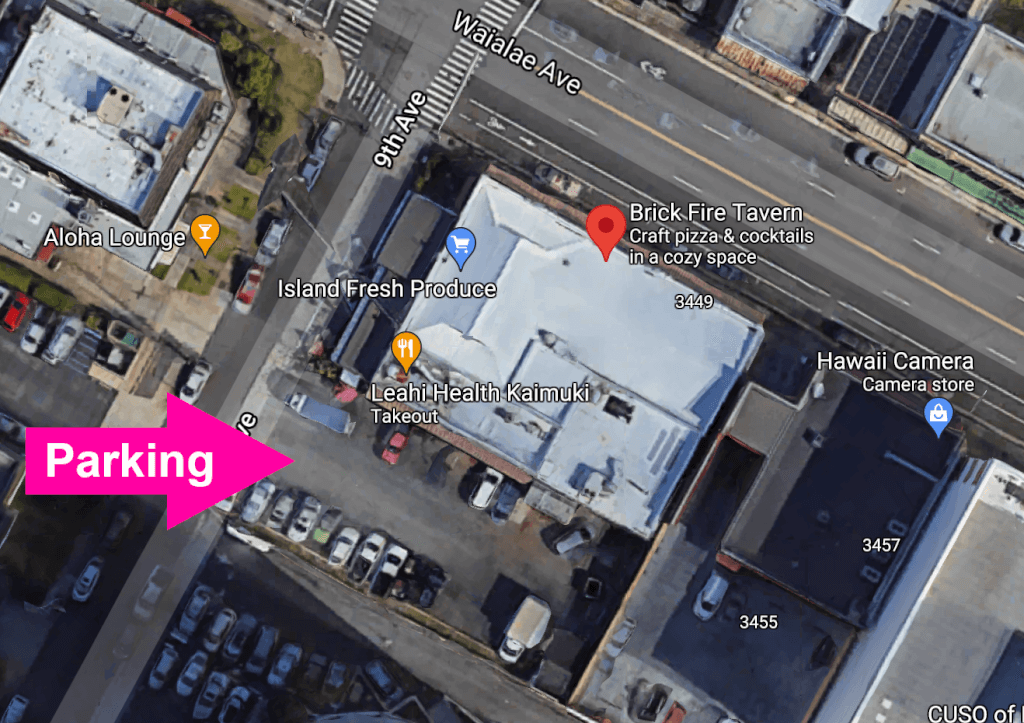 The only bad thing with going down 9th Ave is if there's no parking, you have to go all the way back around because it's a one-way street.
Brick Fire Tavern Ambiance & Service
Brick Fire Tavern's Kaimuki location is a big departure from the old Chinatown one. The space is not only larger but feels more open and airy. All the glass on the storefront certainly helps with this, letting in tons of gorgeous Hawaiian sunlight.
The host that greeted and sat us was incredible. She was genuinely very friendly and personable despite being very busy. The waitstaff was also well-intentioned and friendly, if not a little scattered. But that's ok. Overall, the service was very speedy, getting us in and out very quickly without making us feel rushed.
Menu
At lunch, Brick Oven Pizza has a smaller menu of appetizers, salads, soup, pizza, a single pasta option, and some desserts. And while the pasta sounds great, what we're really here for is definitely the pizza, so that didn't bother me one bit. What's more, Brick Fire Tavern offers an incredible prix-fixe menu at lunch only. At $18, the set lunch menu costs the same as one of the cheaper regular pizzas on the menu, yet it comes with a soup or salad plus a personal-sized 8″ pizza.
As you all know, when I go to authentic pizza vendors, I always order the Margherita to gauge the quality of their pies. That was certainly the case here, though I opted for the Prix-Fixe menu, choosing a BFT Chop. Mrs. Island Miler, on the other hand, settled on the Mamma Mia pizza.
The first thing to come out was my BFT Chop. This isn't your typical chopped salad, as you can see in the picture below. What it is, though, is incredibly flavorful – probably one of my favorite salads in town. But that's not surprising given that it assembled from Waipoli Farms baby romaine, local watercress, heirloom cherry tomatoes, local, roasted beets, salumi, gorgonzola, and house buttermilk ranch. The salumi and medium-boiled eggs are what really set this salad apart for me. Hell, I think I enjoy the salumi more than the traditional bacon.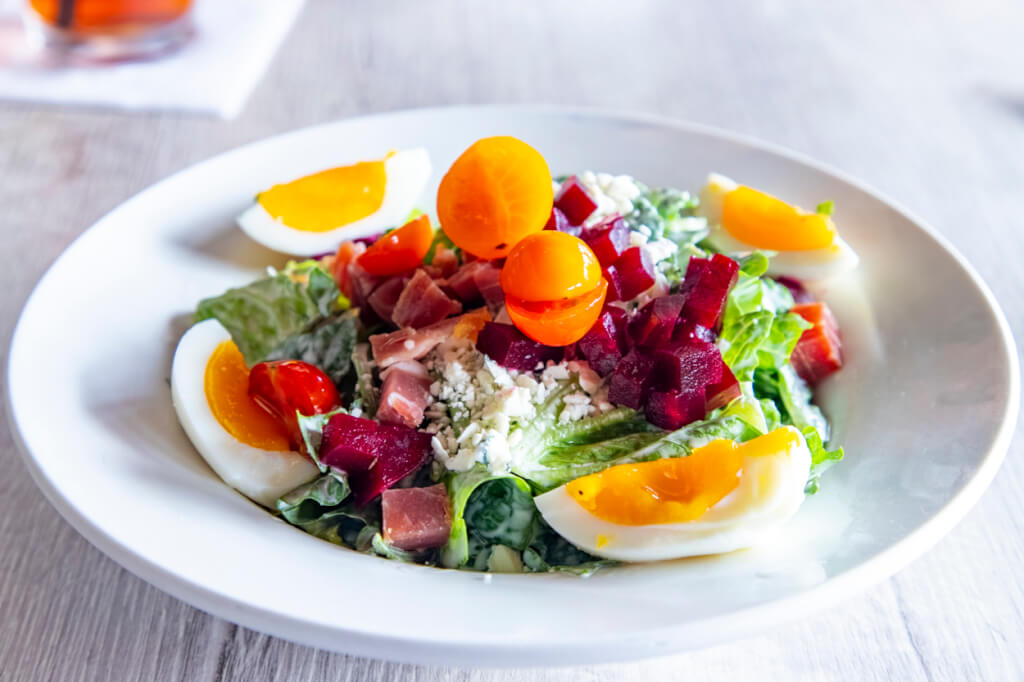 Next up came our pizzas. Mrs. Island Miler's Mamma Mia comes topped with San Marzano Sauce, soppressata salami, Leoncini pancetta, Pono Pork sausage, red onion, hot pepper medley, and mozzarella. This pizza doesn't look like a whole lot, but it's a flavor bomb. The meaty, cheesy richness of the pizza is cut by the pickled peppers and tomato sauce. It's a little spicy for my liking, but I thought it was tasty and Mrs. Island Miler loved it.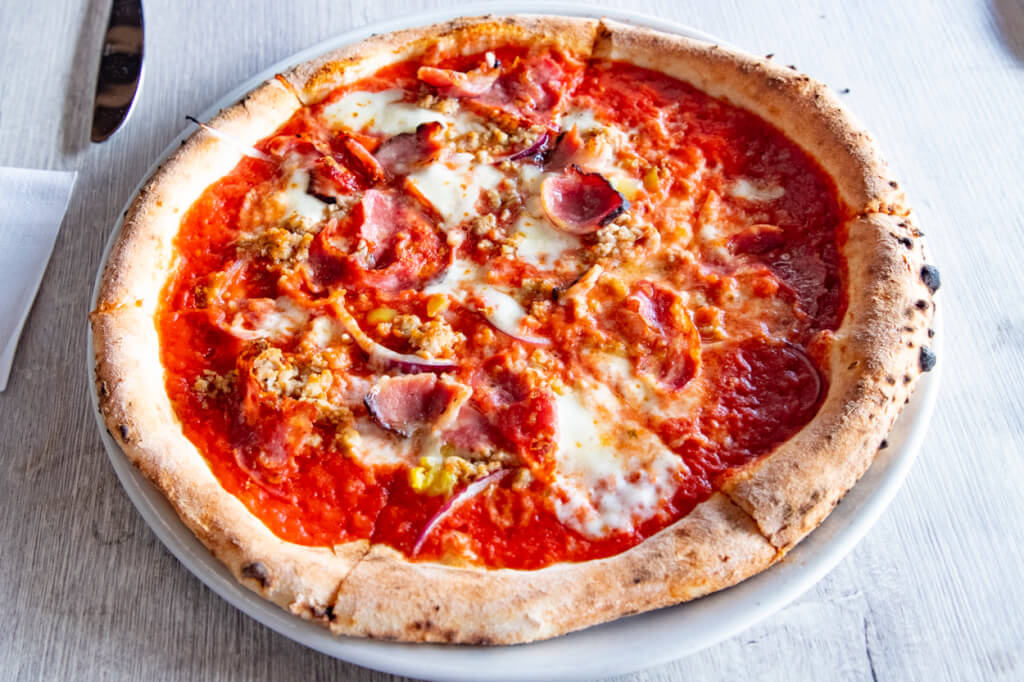 My Margherita pizza was also very good. I know some think these pies are too plain, but they're really an art. This was no different with its classic combination of San Marzano tomato sauce, mozzarella, basil, and olive oil.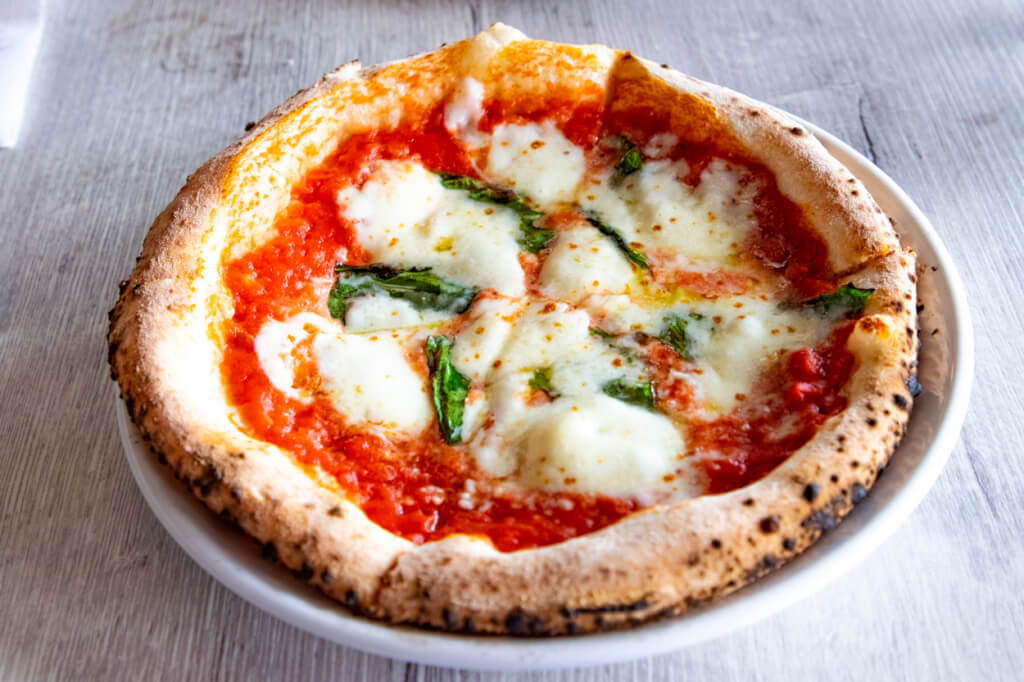 What's more, the crust on this pie was different from the Mama Mia. The crust was airier and tender which made it a little hard to pick up – but that's how it's supposed to be! The exterior and bottom of the crust also have a gorgeous leopard pattern, indicative of properly made dough and firing.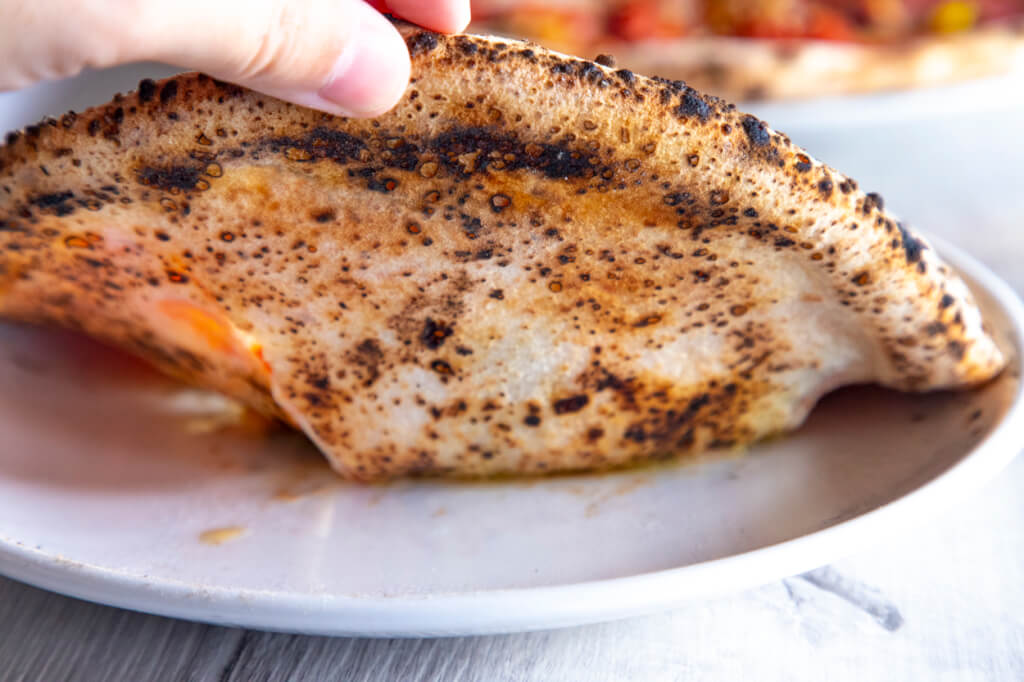 If I were to nitpick, though, I'd wish that the pizza had less mozzarella and a bit more salt in the sauce. That, however, is my personal preference. This is, after all, an amazing pie.
Final Thoughts
If you couldn't tell, we enjoyed our meal at Brick Fire Tavern. The food and service were great, and that lunch prix-fixe is an awesome deal. We'll certainly be back, especially when I get a hankering for true Neopolitan pizza. Sure, there are others that offer this kind of quality too. But, Brick Fire Tavern remains the only pizzeria to serve pizza this good in a traditional sit-down setting. Plus, I really want to save some room for dessert next time too 😉.