In today's post, we're going to go over the active and potentially active volcanoes of Hawaii. While most people are familiar with one or two of the volcanoes on this list, the others may come as quite a surprise.
The Obvious One
There's no doubt that when people think of Hawaiian volcanoes, they think of Kilauea first – and now Mauna Loa. The youngest and smallest volcano on Hawaii Island is also one of the most active in the world. Its most recent eruptive phase began in 1983 and went on nearly continuously until 2018.
Kilauea's Lower Puna event in 2018 was probably one of the volcano's most destructive and spectacular phases in recent history. It wiped out the Leilani Estates subdivision, filled in many beaches, and caused catastrophic damage at Hawaii Volcanoes National Park. But, the event also marked the end of Kilauea's 35-year-long eruption, though a new, separate one began in September 2021 and has been ongoing ever since.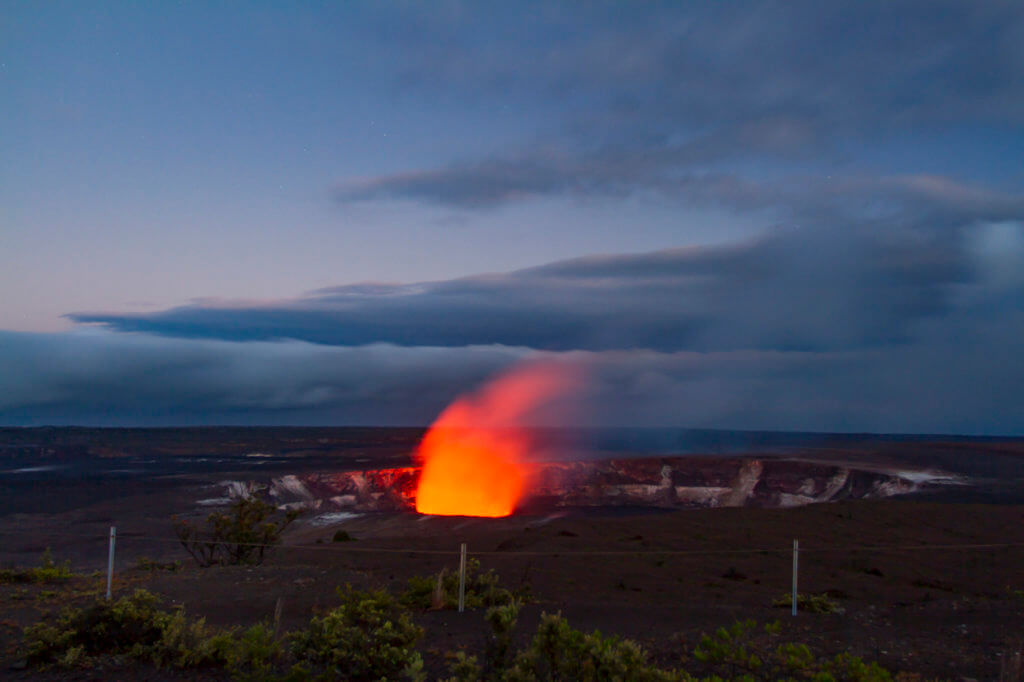 Kilauea is currently in the subaerial stage of its life.
Kilauea's Larger Sibling
The second youngest volcano on Hawaii Island is also the largest active volcano on Earth – Mauna Loa. Making headlines around the world, Mauna Loa began erupting on November 27, 2022. Prior to this, the volcano last erupted in 1984 – 38 year ago – which is the longest stretch of silence in its recorded history! While 38 years seems like a long time to us, geologically speaking, it isn't. Even one hundred years of silence is short for an active volcano.
What makes Mauna Loa particularly dangerous for Hawaii County is its steep slopes on its southwestern flank. An eruption in Mauna Loa's Southwest Rift Zone can send lava toward populated areas in as little as three hours. Its proximity to the County Seat, Hilo, is also concerning, with flows threatening the area multiple times in recent history. Luckily, though, no flows have actually reached Hilo – yet.
Mauna Loa remains in the subaerial stage of its life.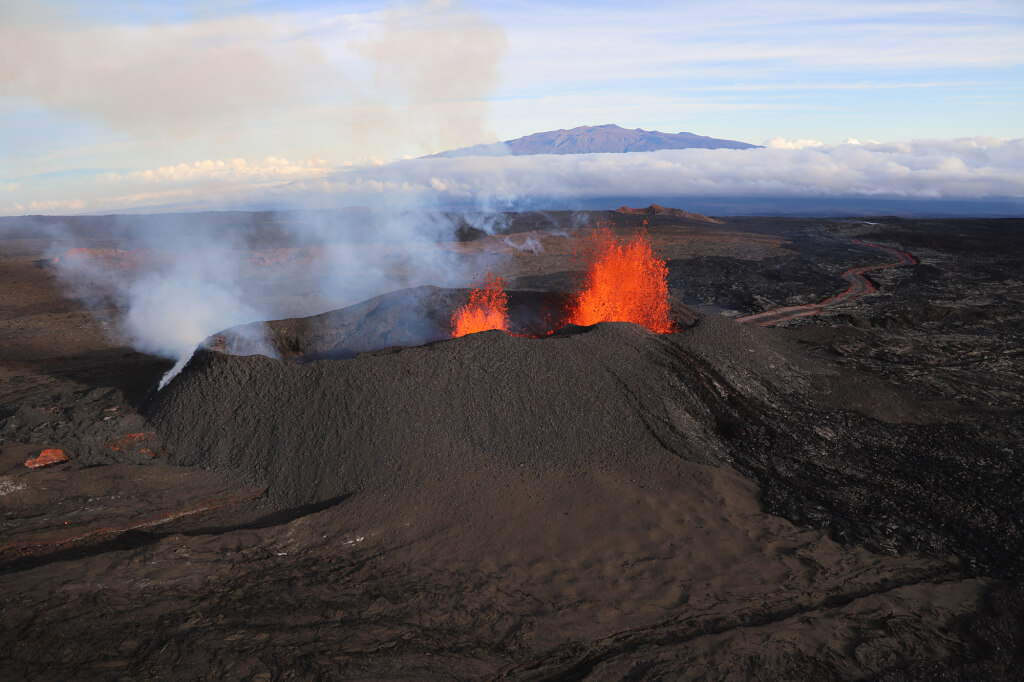 The Submarine Volcano
The next volcano on this list is Kama'ehuakanaloa Seamount. Located on the flanks of Mauna Loa, 22 miles off the Southeast Coast of Hawaii Island, Kama'ehuakanaloa is the only Hawaiian volcano in the early pre-shield stage of development. Having last erupted in 1996, Kama'ehuakanaloa will most definitely erupt again in the future.
At the moment, it is believed that Kama'ehuakanaloa is transitioning from the pre-shield stage to the shield-building stage of its life.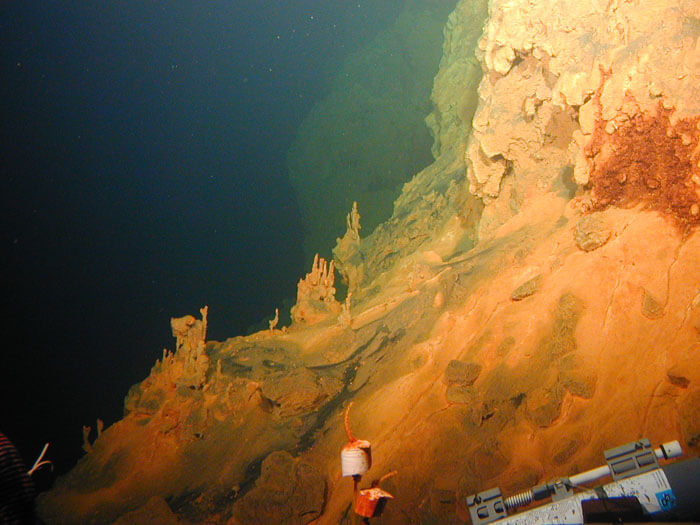 Mauna Kea
The tallest mountain in Hawaii, and the source of much recent controversy, Mauna Kea is the fourth-youngest volcano on Hawaii Island. At approximately 1 million years old, it is 300,000 years older than neighboring Mauna Loa.
Mauna Kea last erupted 4,600 years ago, with all of its recent eruptions centering at or near its summit. Volcanologists believe the volcano will erupt again but that it likely won't happen any time soon. When it does, Mauna Kea will not threaten any inhabited areas but will cause significant destruction to the observatories on its summit.
Mauna Kea is currently in the post-shield stage of its life.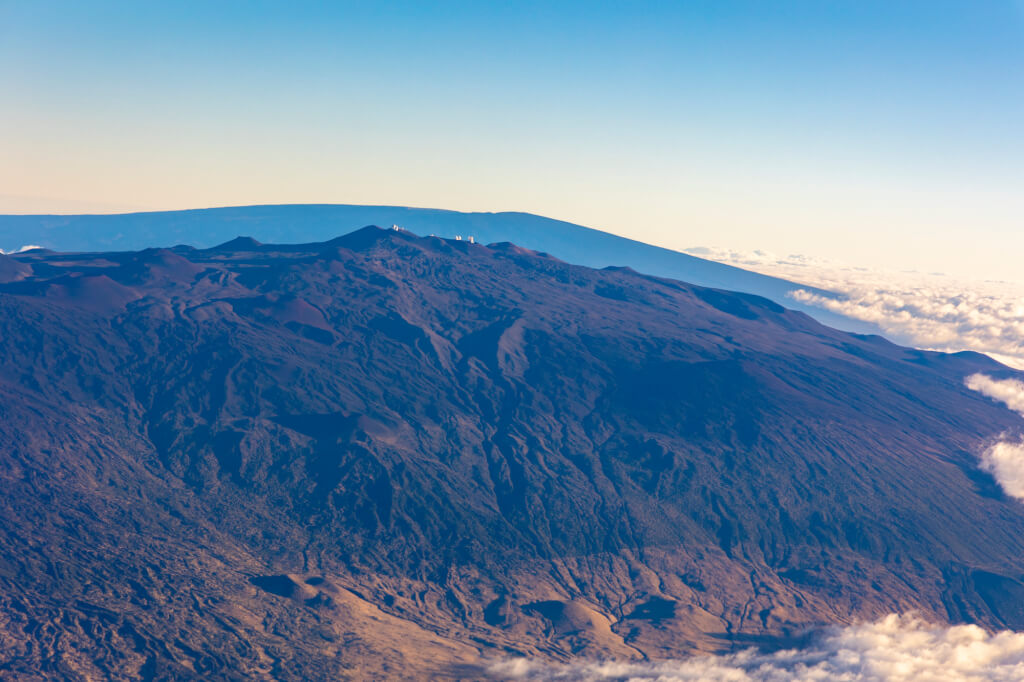 Potential Trouble
Here's where things begin to get interesting. Hualalai is the third-youngest volcano on Hawaii Island. And, get this, despite not having erupted in recent history, Hualalai is still considered active. The volcano's last eruption happened in 1801, though an earthquake event in 1929 suggested shallow magma activity at the volcano.
While no eruptions are expected soon, it is believed that Hualalai erupts, on average, every 200 to 300 years, which suggests an eruption should be expected between 2001 and 2101 – any time now. That's highly concerning as an eruption from the volcano would be particularly destructive to Kailua-Kona, since it's entirely built upon Hualalai. What's more, the Elison Onizuka International Airport is built upon flows from Hualalai's 1801 eruption.
Like the older Mauna Kea, Hualalai is currently in the post-shield stage of its life.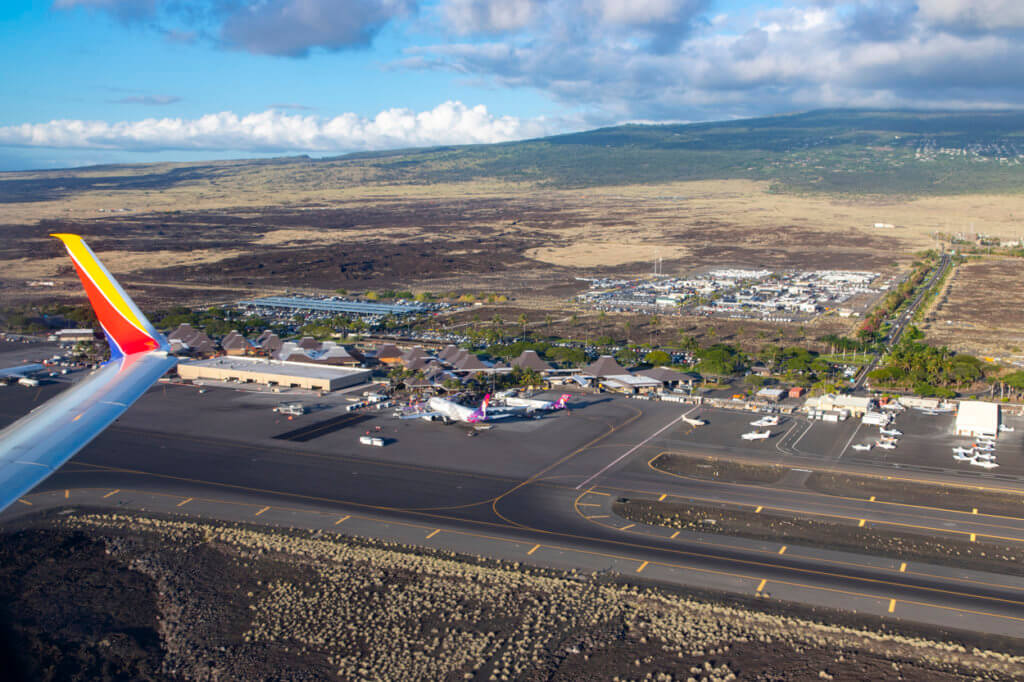 Haleakala
The Big Island has two more volcanoes, Kohala and Mahukona. Both, however, are classified as extinct. And, to me, that's strange – especially when you consider the fact that our next potentially active volcano, Haleakala, is on Maui.
Haleakala's last eruption is even further in the past than Hualalai. Current estimates place the eruption sometime between 1480 and 1600. During this event, lava from the eruption formed the La Perouse Bay area of Maui.
There is no evidence that Haleakala will erupt any time soon. But, when it does, Kanaio, Kahikinui, and Hana areas are at risk.
Haleakala is currently in the post-shield stage of its life.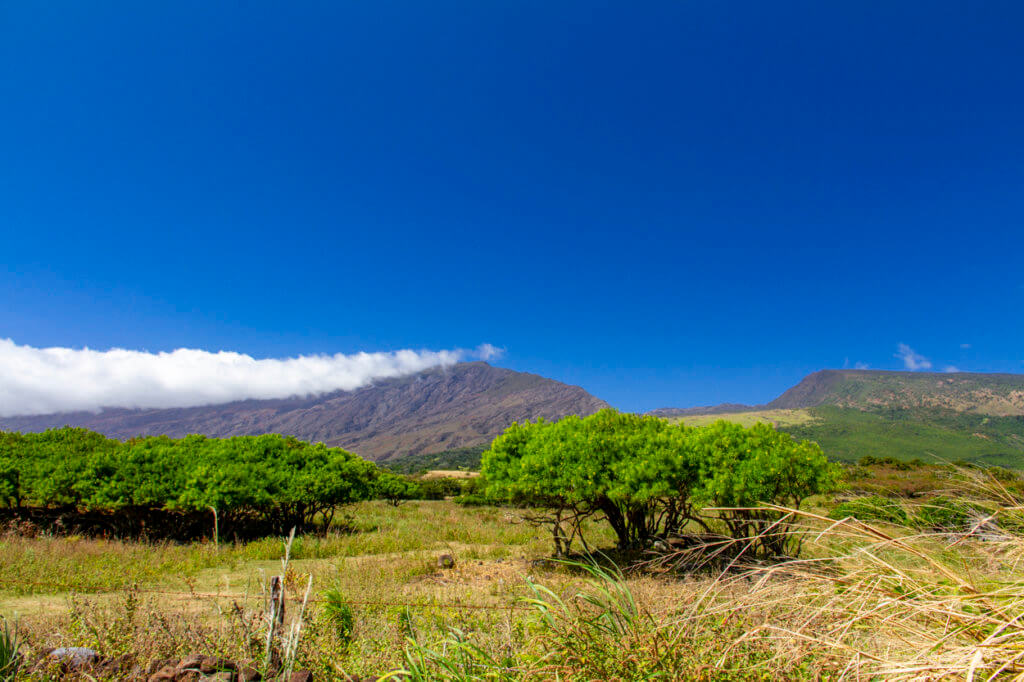 The Big Surprise
With so many extinct volcanoes between it and Haleakala, this last volcano that has the potential to erupt is the most surprising – Oahu's Ko'olau.
Ko'olau doesn't look like most other volcanoes in Hawaii. Rather, it looks like a smaller version of a mountain range you'd see in the Continental U.S. The reason for this is that half of the volcano cataclysmically slid into the Pacific Ocean and remains as a massive debris field strewn over 100 miles of the ocean floor. As a result, Ko'olau never entered into the post-shield stage of its lifecycle.
Ko'olau did, however, enter into its rejuvenation stage about 500,00 years ago. These eruptions created many of Oahu's signature landmarks, such as Leahi (Diamond Head), Koko Head, Punchbowl, Mañana Island, and Hanauma Bay, among others. Hanauma Bay is the youngest of these formations and erupted sometime between 70,000 and 30,000 years ago.
According to volcanologists, Ko'olau remains in the rejuvenation stage. This, of course, means that Ko'olau can erupt again, though the likelihood of it doing so is incredibly remote. Eruptions during the rejuvenation stage often occur thousands to tens of thousands of years apart, which is long enough that an eruption hasn't occurred since the Hawaiian Islands became inhabited.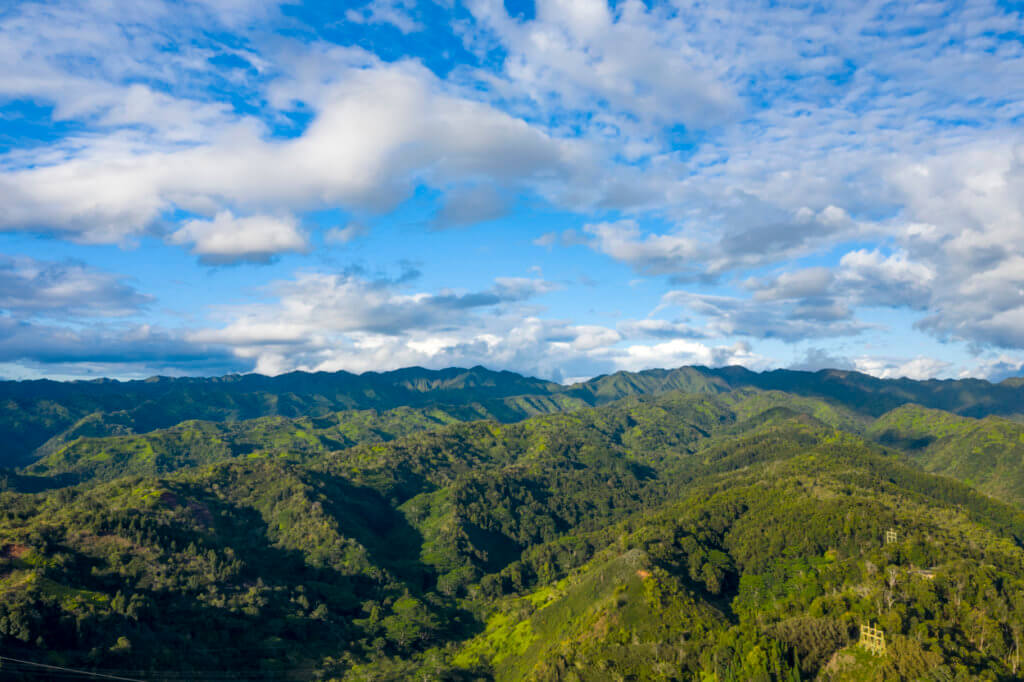 Active and Potentially Active Volcanoes of Hawaii, Final Thoughts
How many volcanoes covered above surprised you? For me, Ko'olau was definitely the biggest surprise of all, though West Maui and Kaho'olawe volcanoes are also possible in this stage too. How on Earth could these ancient volcanoes still be potentially active given their distance from the hot spot? Strange, right? But I'll cover a few theories for that and more in my next post.
Hawaiian Volcanism
Active and Potentially Active Volcanoes of Hawaii