I have many interests. And one of those that I haven't blogged about is my interest in Hawaiian volcanism. So, I've decided to do a series of posts on the subject, starting with an introduction to Hawaiian volcanism. And this is a timely post since Mauna Loa recently rumbled back to life.
Introduction to Hawaiian Volcanism
The Hawaiian island, the Northwest Hawaiian Islands, and even the Emperor Seamounts were all formed by the Hawaiian hotspot. That makes them different than volcanoes in places like the Cascades, which are fed by the Cascadia Subduction Zone, where the Juan de Fuca and Gorda plates slide beneath the North American plate, melt, and create new magma.
How old is the hotspot? No one knows. What we do know is that the oldest volcano in the chain is the Detroit Seamount, at 82 million years old. Interestingly, though, the Meiji Guyot is the furthest from the hotspot and rests on the ledge of the Kuril-Kamchatka Trench. There were likely more volcanoes, though we have no way of knowing since any older volcanoes have already been subducted back into the Earth's mantle.
The youngest volcanoes in the chain are, of course, those on Hawaii Island. Kamaʻehuakanaloa (Lo'ihi Seamount) is the absolute youngest of these, but few people have ever seen it, as Kamaʻehuakanaloa is currently a submarine volcano sitting on the flanks of Mauna Loan 22 miles off the southeast coast of Hawaii Island. Kamaʻehuakanaloa is already 400,000 years old but won't rise above the surface of the ocean for another 10,000 to 100,000 years.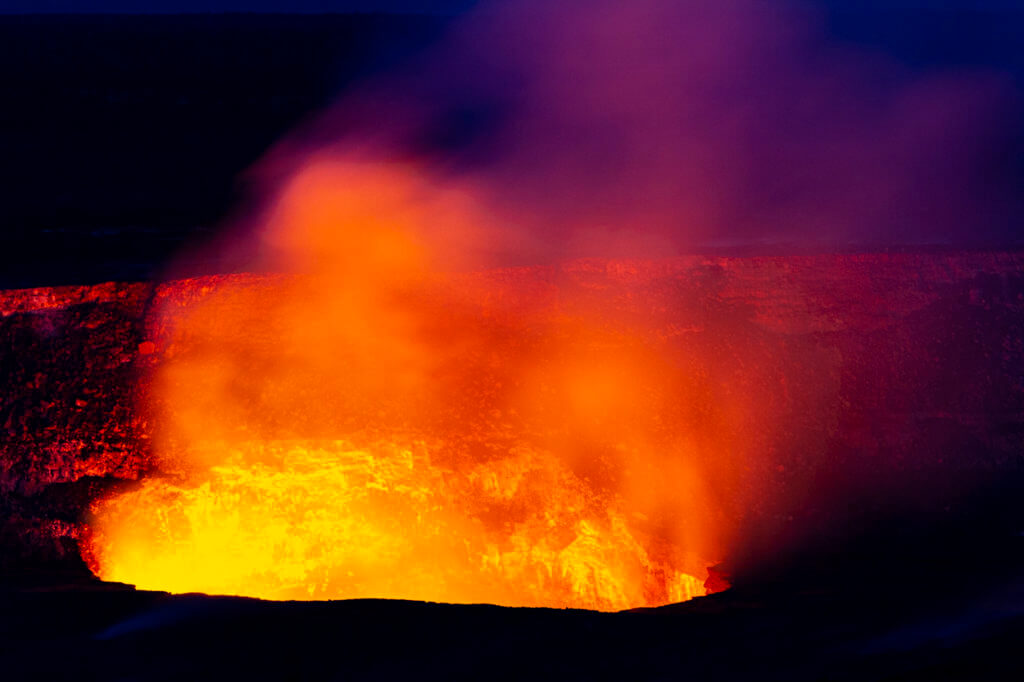 Stages of Hawaiian Volcanism
The life cycle of Hawaiian all Hawaiian volcanoes follows a straightforward pattern.
Beginnings
Submarine Pre-Shield Stage: this early stage is characterized by infrequent eruptions of alkali basalt that lasts about 200,000 years.
Island Building
Submarine Stage: eruptions become more frequent, and the type of lava being erupted changes to tholeiitic basalt.
Explosive Stage: this is the stage at which the volcano begins to emerge from the sea. Interactions between the lava, air, and water make for lots of steam explosions resulting in large amounts of ash. This stage typically lasts a few hundred thousand years until the volcano gains enough mass for the summit to be 3,000 feet above the ocean.
Subaerial Stage: volcanoes in this stage begin building their iconic shield profiles and typically erupt 95% of their lifetime volume. Eruptions become much calmer during this time, sending out flows of pahoehoe and 'a'a lava, usually lasting about 500,000 years.
Postshield Stage: at this stage, eruptions slow, and the lava type switches back to alkali basalt, resulting in more explosive eruptions primarily featuring 'a'a flows. This stage typically lasts about 250,000 years, during which time eruptions gradually slow until they stop altogether.
Erosional Stage: volcanoes at this stage begin shrinking. Their massive weight causes them to sink into the Earth's crust. Plus, erosional forces begin carving deep valleys while coral reefs form around the island.
Rejuvenated Stage: in this stage, volcanoes may become active again. Eruptions during this stage are very infrequent, occurring at intervals of several tens of thousands or hundreds of thousands of years over the course of 0.6 to 2 million years.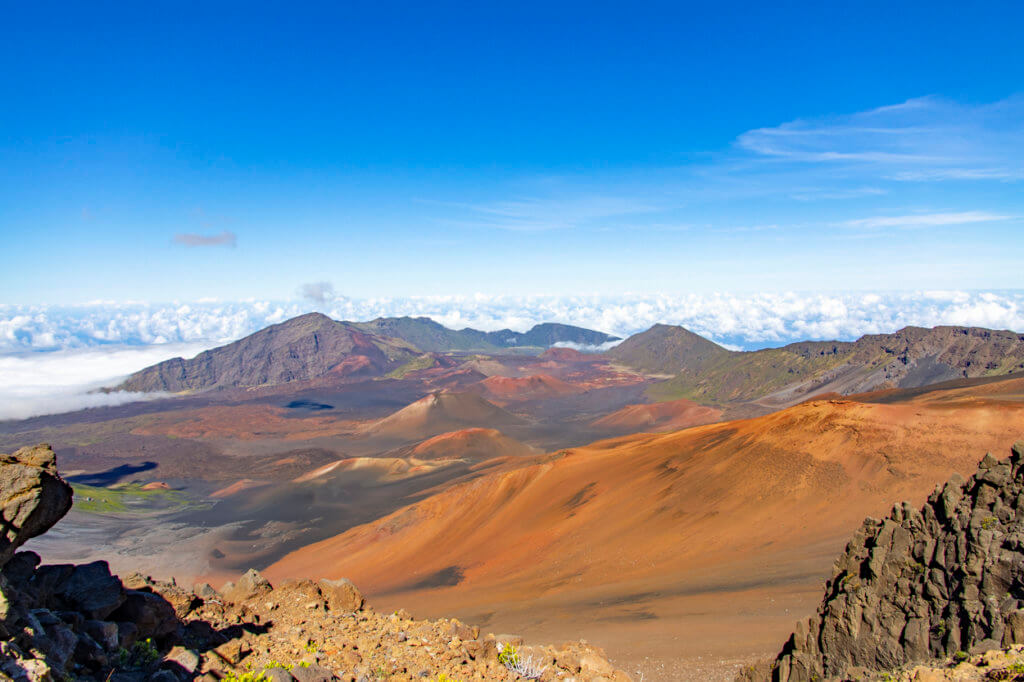 The End of the Line
Extinct Stage: volcanoes in this stage are too far from the hotspot to receive new magma and are officially dead. They continue shrinking due to sinkage and erosion during this stage. Infrequent but large collapses also happen during this stage. As you'll see later on, distance doesn't from the hot spot doesn't work quite the way we expect it to, as there are extinct volcanoes close to the hot spot and ones that still have eruptive potential that are much further away.
Coral Atoll Stage: at this stage, the volcano erodes back below the surface of the ocean. The remaining landmasses are comprised of coral reefs and sand islands.
Guyot Stage: as the Pacific Plate transports atolls to colder waters, the corals die off. The atoll eventually completely submerges, leaving a guyot or seamount in its place.
Exceptions
Not all Hawaiian volcanoes make it through all of these stages. Some never made it above the surface of the oceans. Others skipped the post-shield stage or rejuvenation stage. We'll discuss some of these in greater detail in future posts.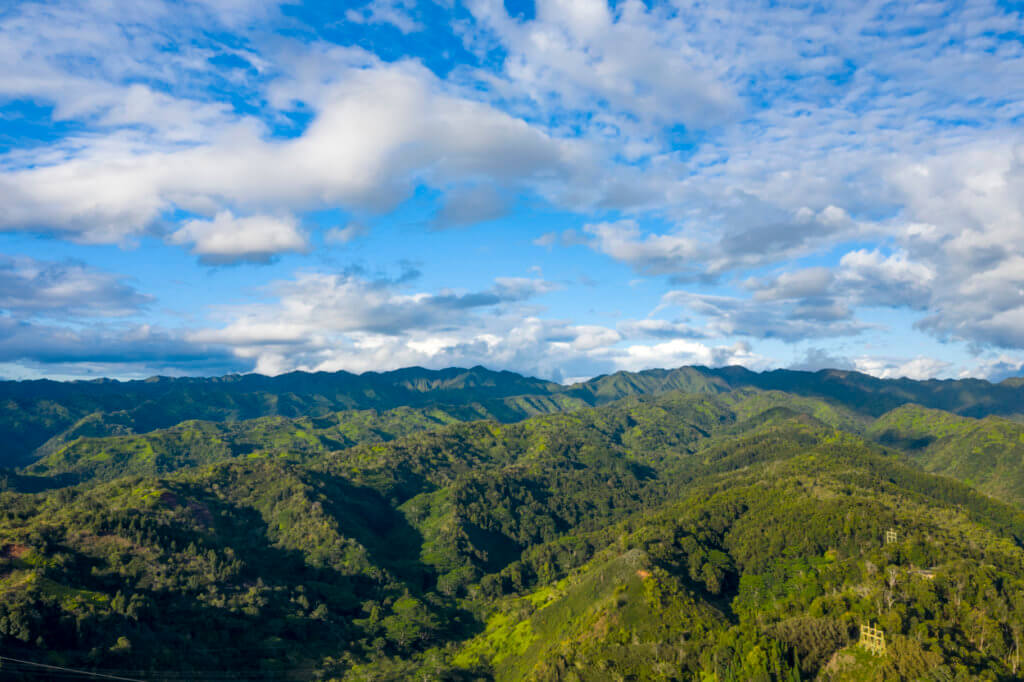 Volcanoes of the Main Hawaiian Island
There are eight islands in the main Hawaiian archipelago, including Kaua'i, Ni'ihau, O'ahu, Moloka'i, Lana'i, Kaho'olawe, and Hawai'i. But, there are far more volcanoes than islands – more than twice as many volcanoes as there are Main Hawaiian Islands. They include:
Ni'ihau
Ka'ula
Kaua'i
Ka'ena Ridge
Ko'olau Range
Penguin Bank
East Molokai (Wailua)
West Molokai (Mauna Loa)
Lana'i
Kaho'olawe
Molokini
Mauna Kahalawai (West Maui)
Mahukona
Kohala
Hualalai
Mauna Kea
Mauna Loa
Kamaʻehuakanaloa (Lo'ihi)
You'll notice that some volcanoes share their name with their island. That's primarily because that island was formed by a single volcano, though, in all likelihood, these islands were part of a larger island in the past. For example, the former Maui Nui was once comprised of Haleakala, West Maui, East Molokai, West Molokai, Lana'i, Kaho'olawe, Molokini, and Penguin Bank.
Introduction to Hawaiian Volcanism, Final Thoughts
Who knew Hawaii has so many volcanoes, right? I hope you found the information in this post as interesting as I have. Next, I'll be covering which of the above volcanoes have the potential to erupt again. I'm sure that most can name Kilauea and Mauna Loa, but did you know that Hawaii actually has at least five volcanoes that may erupt in the future? Stay tuned for the next post in this series to learn more about these volcanoes.
Hawaiian Volcanism