For a while now, I've seen people talking about a place in Kaneohe that makes a variety of different, locally-inspired noodles. But, it wasn't until just recently that I finally made my way there. So, here's what I thought of Adela's Country Eatery.
Adela's Country Kitchen is a literal hole-in-the-wall that was widely covered by Oahu's foodie community. While the place has your typical plate lunches with a decidedly Filipino flair. The real draw, though, are the eatery's pasta dishes made with homemade pasta.
Adela's Country Eatery Location
As I mentioned earlier, Adela's Country Eatery is in the Windward Oahu city of Kaneohe. In fact, it's close to the region's largest gathering place, Windward Mall. However, in a true hole-in-the-wall fashion, Adela's is in a nondescript strip mall buried behind a gas station, making it difficult to see from Kamehameha Highway. But, just know that it's behind the Aloha Gas Station in that area.
Adela's Country Eatery Menu
Adela's serves up both breakfast and lunch/dinner items. Like I said earlier, though, the real draw here is the noodles. In fact, I think the noodle menu is larger than the plate lunch and breakfast menu combined! And if you decide to go the noodle route – why most people come here – you can order one of two ways, preset dishes or build-your-own dishes. If you go the build-your-own route you choose:
Pasta type: kalo (taro), avocado, ulu (breadfruit), malunggay (moringa), sweet potato/ube, or plain angel hair
Sauce: alfredo, marinara, florentine, tomato cream, coconut cream, cacciatore, garlic butter, local stirfry, curry, and Adela's Secret Recipe Moringa
Toppings: portobello mushrooms, eggplant, mixed veggies, chicken breast, Lechon (crispy pork belly), shrimp scampi, braised short rib or smoked brisket with pineapple BBQ sauce, macadamia nut crusted fish with spicy creamy mango sauce, or stuffed chicken breast
Interestingly, the base pasta price is $12.50, regardless of the flavor you choose. All of the sauces cost an additional $1.25, while toppings range in price from $4.50 to $10. That's right, you're looking at paying a minimum of $18.25 before tax and tip for a pasta plate. What puzzles me is that you have to pay extra for a sauce. Who orders a plain plate of cooked noodles? That said, while I thought the prices are a bit extreme, the portion sizes definitely justify them.
Adela's offers a huge variety of desserts, which also seem to be quite popular. On the menu, you'll find a variety of cheesecakes, cookies, jello, and pudding.
The Food
During our one visit, Mrs. Island Miler and I both got our own plates, For her plate, Mrs. Island Miler got one of the day's special – avocado pasta with coconut sauce, veggies, and seafood.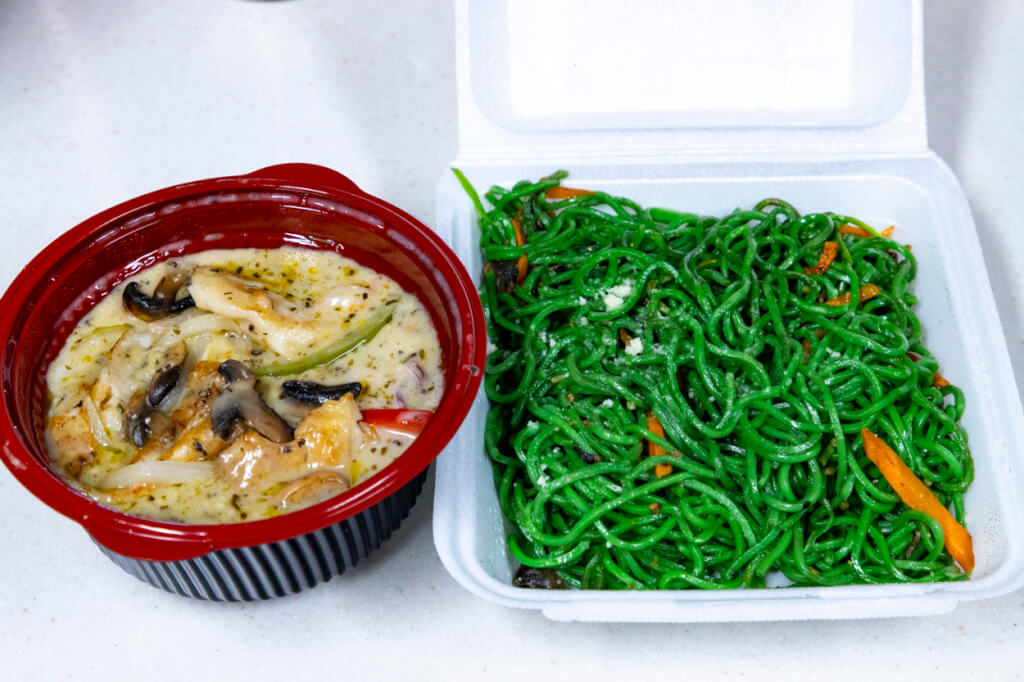 I can't remember how much this cost, but I know it was around $21. That sounds like a lot, and it is, but this portion was sufficient for THREE separate meals. As far as how taste goes, Mrs. Island Miler liked it – I didn't try her dish. But, there was no avocado flavor. What's more, I thought it odd that the noodles were that bright green since avocado is definitely not that kind of shade. There's definitely artificial coloring in these noodles.
For my plate, I went with the Lechon and Moringa Pasta – $20.74.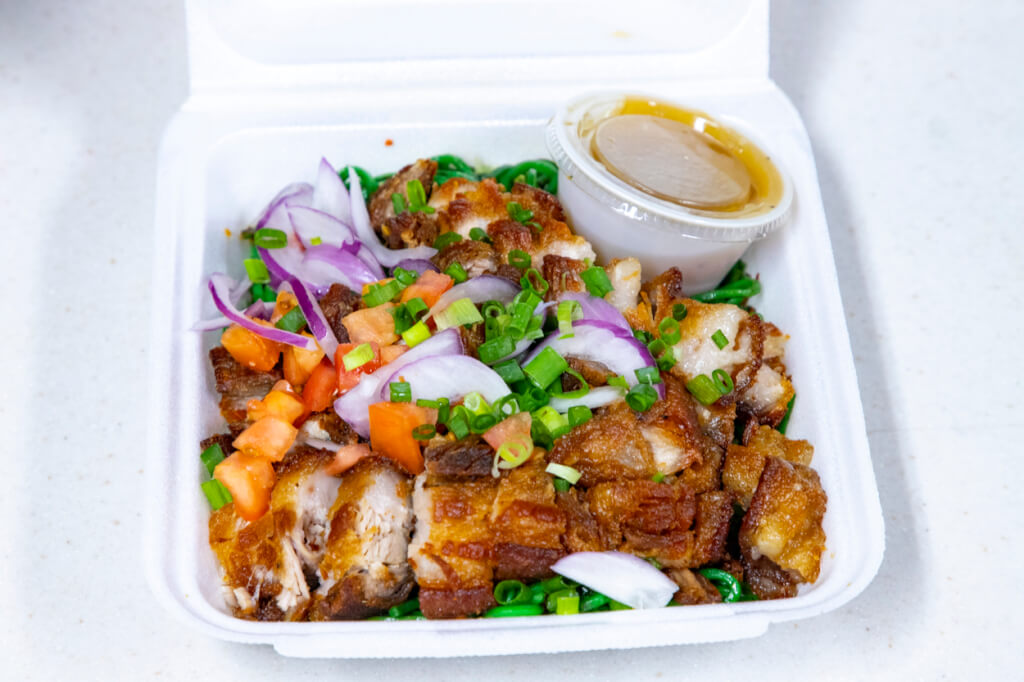 Look at this! There's so much pork that you can barely see the noodles. Even better, despite the 30-minute drive from Adela's Country Eatery to my home, the Lechon remained reasonably crispy. What I wasn't expecting, though, was for the noodles to have flavor since I ordered a "recommended combo," which didn't specify a sauce. Now, the flavor was great, but it was SPICY. It would've been nice to know that before ordering. Otherwise, I really loved the dish, which is basically traditional Filippino Lechon, including the raw tomatoes and onion, and a vinegar sauce. Oh, and, like Mrs. Island Miler, my pasta fed me for three whole meals.
Final Thoughts
At the end of the day, both Mrs. Island Miler and I enjoyed our massive pasta plates from Adela's Country Eatery. We even found the value to be good. But, we also don't understand the hype. People wait 30 to 45 minutes for their orders during peak times here. So, while I think the place is good, I don't think it's that good. And I definitely don't understand what's so great about the noodles. Without sauce and toppings, the noodles are just about flavorless, and the use of artificial coloring is a bit off-putting to me.
Personally, my go-to place for homemade noodles remains Onda Pasta/Piccola Onda. That, or I'll make my own noodles at home – a new hobby I picked up during the pandemic 😉. That said, if the place interests you, by all means, head on over. This simply isn't my kind of thing.