When we have staycations at the Waikiki Beach Marriott, we usually dine at Sansei Waikiki. But, thanks to the pandemic, none of the hotel's restaurants are open. As a result, we decided to trek over to the Royal Hawaiian Center and get dinner at Island Vintage Wine Bar.
Now, I've been to Island Vintage Wine Bar before for breakfast. After all, they serve one of my favorite Lilikoi Moana Acai Bowl from Island Vintage Coffee. But, I've never tried their hot items. So, being that they have an open-air dining room, I figure now was a good time to give them a try.
Location
As I mentioned earlier, the Island Vintage Wine Bar is in the Royal Hawaiian Shopping Center. Specifically, it's on the center's second floor right next to the Island Vintage Coffee Shop. In fact, both sides share a kitchen and some menu items. As a result, if both sides are particularly busy, you may be in for a wait. This was the case last time we went to the coffee shop a couple of weeks ago.
As far as service goes at Island Vintage Wine Bar, I've always had good experiences. The staff is generally friendly and attentive. The overall ambiance is nice too and never gets all that noisy.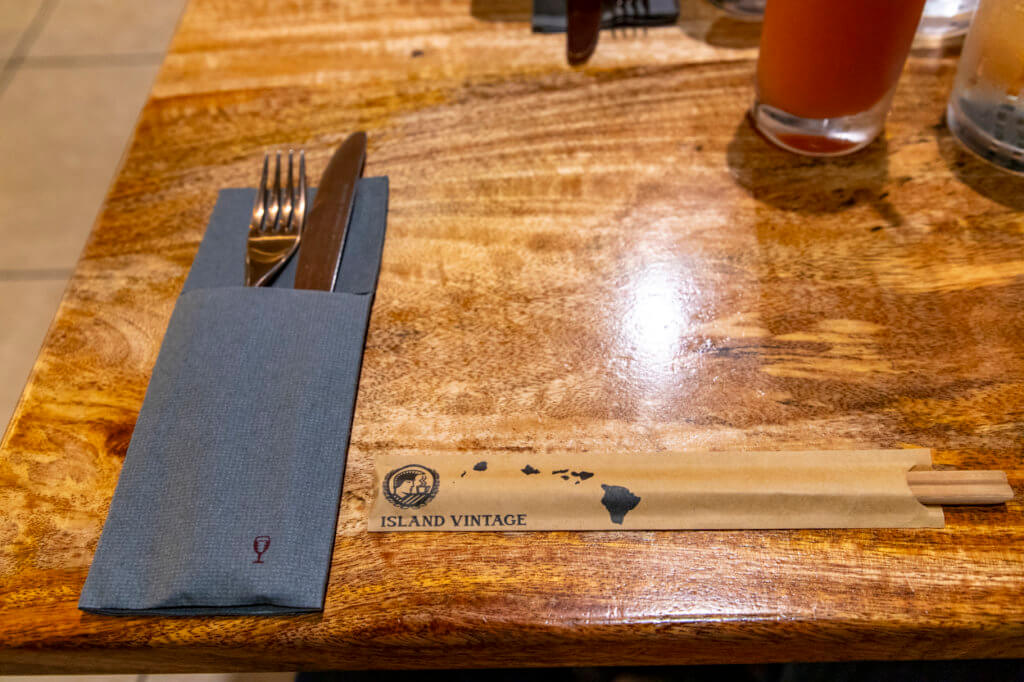 Food
The Island Vintage Wine Bar has a fairly substantial menu consisting of a lot of small bites, burgers, poke dishes, and a smattering of larger plates. For our visit, we ended up going with two shared items, a burger, and a poke dish.
First up for us was the Nori Chips. Unlike the type you buy in the store, these were lightly battered and coated with sesame seeds before frying. They came with a side of vegan truffle aioli, which was tasty.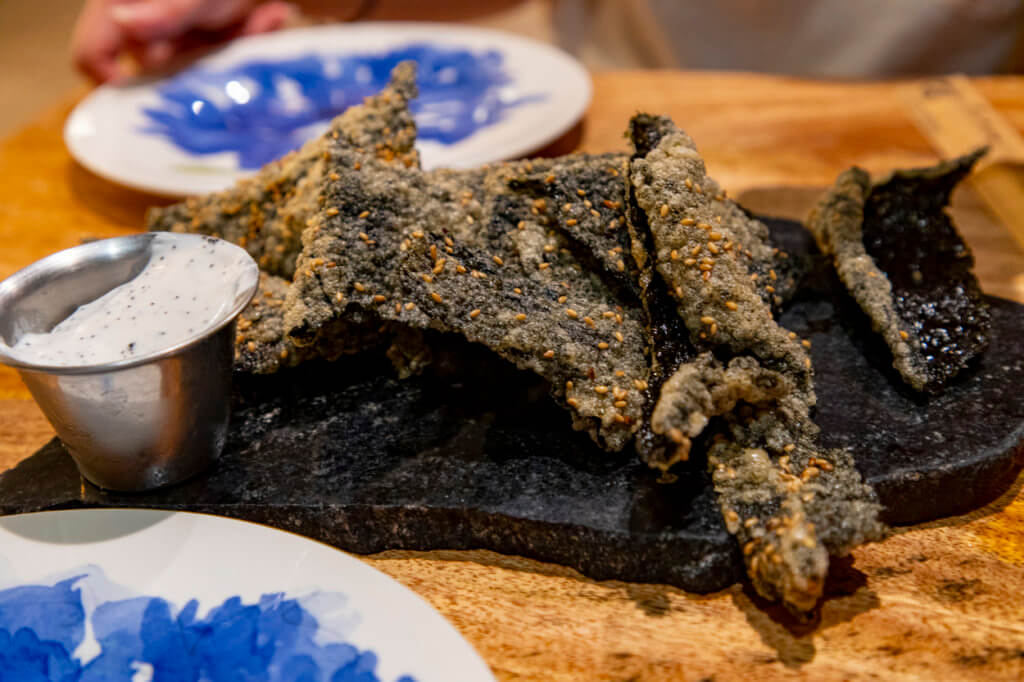 Our other shared plate was the Poke Egg Roll. We didn't really know what to expect with this one given that poke is usually raw and this was a hot item. Turns out, though, that the fish does get cooked during the frying process here, which I usually wouldn't like. But, in this case, the cooked – but still moist spicy ahi poke – paired very nicely with the shiso and sprouts also inside of the roll. In fact, this dish was the highlight of the night for me. Especially when paired with the cilantro ponzu.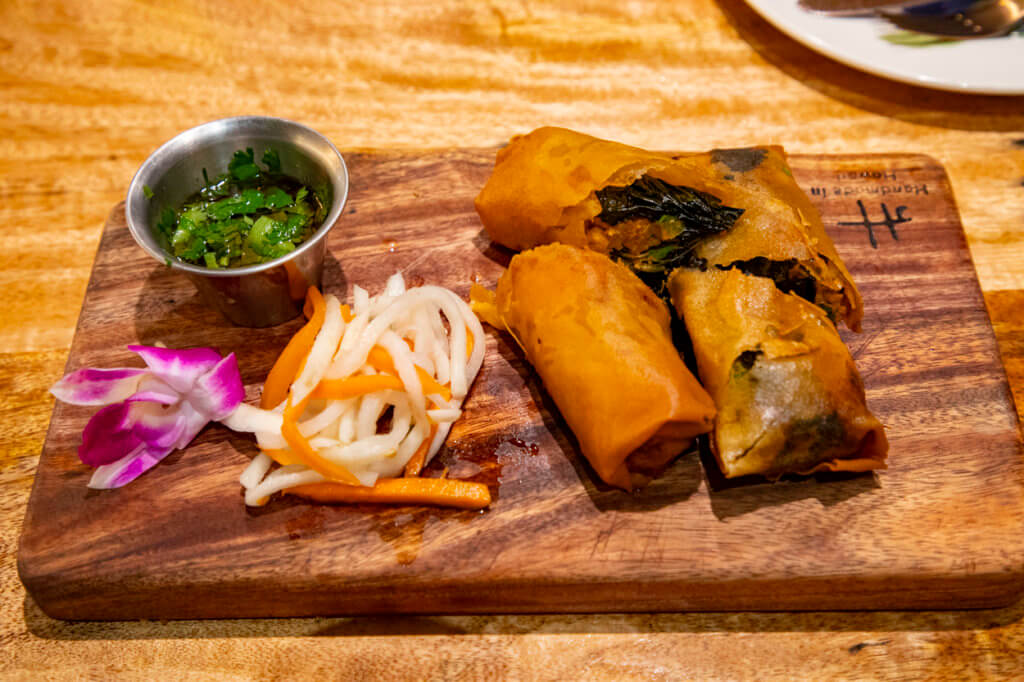 For her main, Mrs. Island Miler went with the Spiky Ahi Poke, which came with white rice, mixed greens, and nori. She liked it, though I thought the inclusion of salad between the poke and rice was a little odd.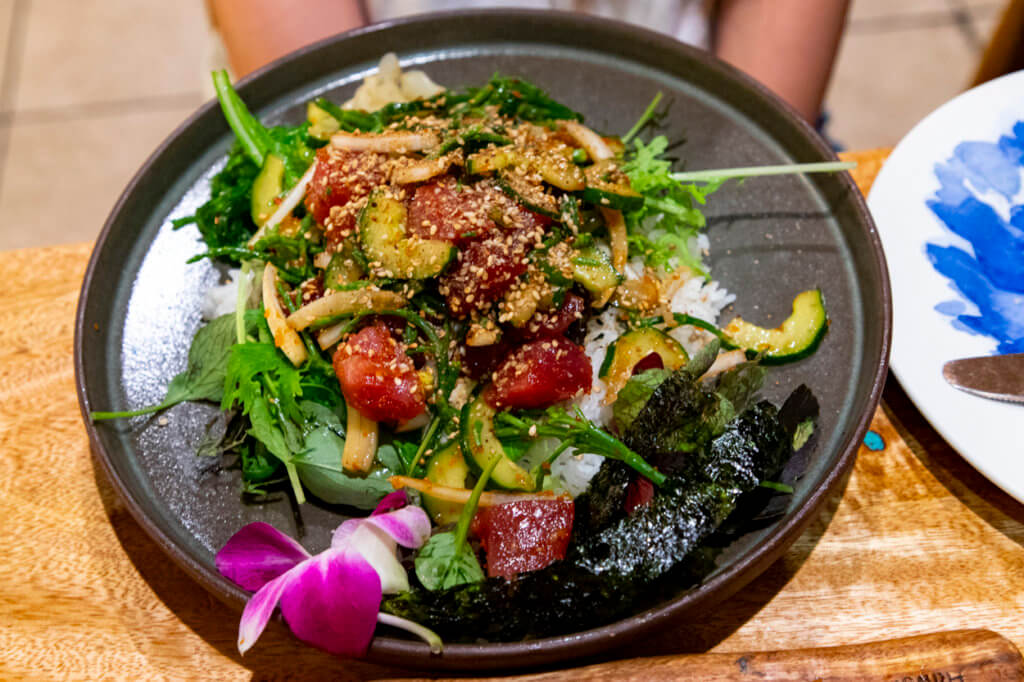 For my main, I went with the Island Wagyu Burger, which is basically a standard burger deluxe. To me, you really can't taste the difference between a wagyu burger and a regular burger. Especially when it's piled high with lettuce, tomato, cheese, and thousand island dressing. The inclusion of sweet onions would've made it even better, but that's just my preference. All burgers come with salad and fries. The fries, by the way, are great!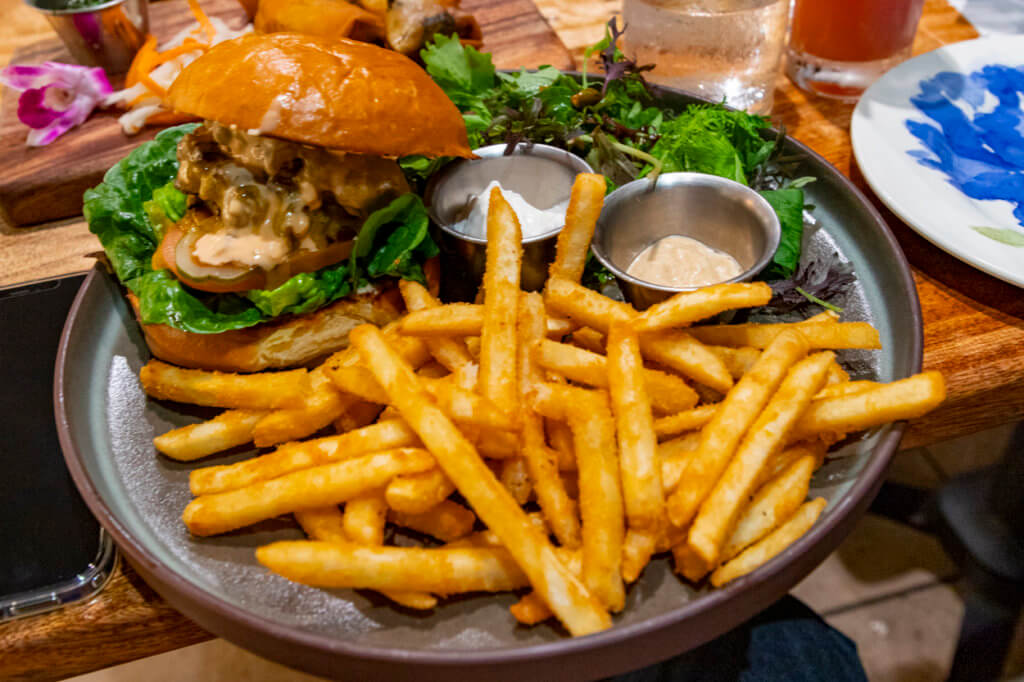 Island Vintage Wine Bar, Final Thoughts
Though not being able to dine at Sansei was a bummer, I'm glad I finally got to try something more than the (excellent) acai bowls at Island Vintage Wine Bar. In fact, it's someplace I can certainly see us returning to in the future, especially if we're in the area.
My Not-2020 Honolulu Marathon Staycation