Recently, we had dinner with Mrs. Island Miler's family at 1938 Indochine Honolulu. The restaurant serves up Thai-influenced cuisine and is one of the newest Aoki Group concepts in Hawaii.
The Aoki Group launched in Hawaii years ago with Blue Tree Cafe and Doraku Sushi. Today, they're present in a handful of cities and have added a few new concepts, including Kuru Kuru Pa Yakitori (review coming soon), Pizza Aoki, Rocky Teppanyaki, Herringbone, Qing Mu, and 1938 Indochine.
1938 Indochine
Of the newer restaurants in the group, Honolulu added Rocky Teppanyaki, Qing Mu, 1938 Indochine, and Herringbone (coming in a week or so) to its lineup. And, for now, anyway, you can find both Qing Mu and 1938 Indochine only in Hawaii. In fact, the two restaurants are colocated with one another.
Location
1938 Indochine and Qing Mu are both in Honolulu's up-and-coming neighborhood of Kaka'ako. The area is home to several new developments promising convenient urban living by the likes of Kamehameha Schools and Howard Hughes, among others. 1938 Indochine and Qing Mu are located within the Kamehameha Schools portion of the development in a tower called the Collection.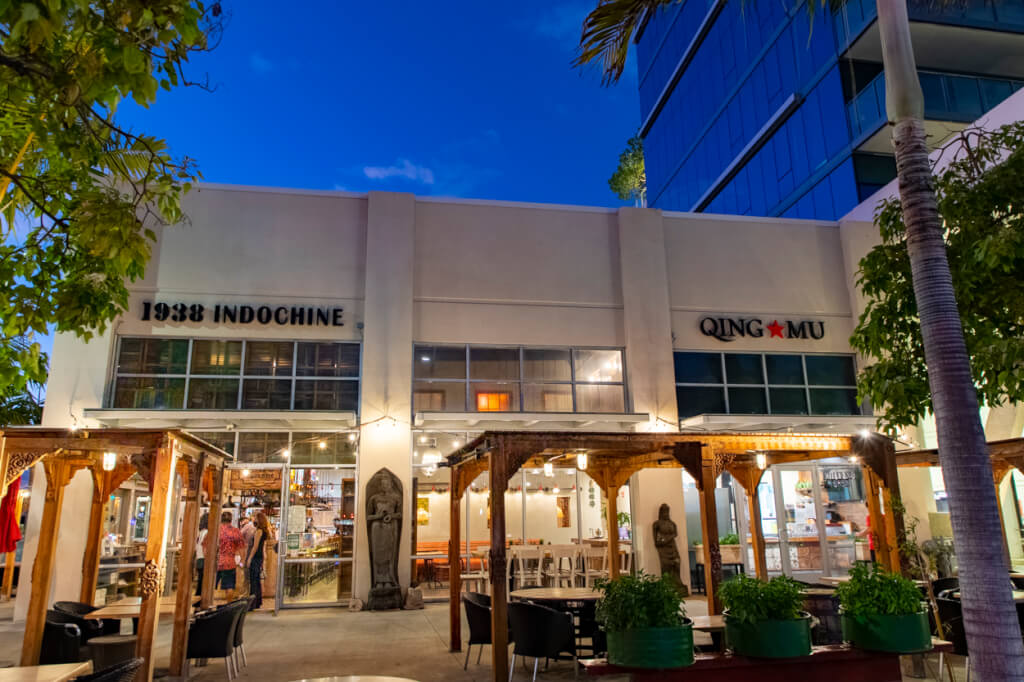 Looking directly at the restaurant, valet parking is available in the narrow driveway off to the right. It cost $6 for three hours of validated parking. Alternatively, you can park across the street at SALT Kaka'ako for $3 for 3 hours – or less if your stay is shorter. I'd recommend parking across the street instead if SALT isn't crazy busy.
Ambiance & Service
The ambiance at 1938 Indochine is eclectic and lively. Its dining room is decked out in a vintage Southeast Asian motif and combines an industrial vibe with a lot of greenery. Plus, they usually have live entertainment at dinner, playing a more laid-back style of music. A quiet, intimate place this is not. But, it also seems like a popular spot for gatherings. My only complaint about the overall ambiance is how unstable the chairs feel.
As far as service goes, it was neither great nor bad. Our server was knowledgeable and pleasant, though he didn't come by often. I don't think this is his fault, however, as he was constantly running around. Likely, pandemic-labor shortages continue to plague this restaurant, which isn't unusual these days.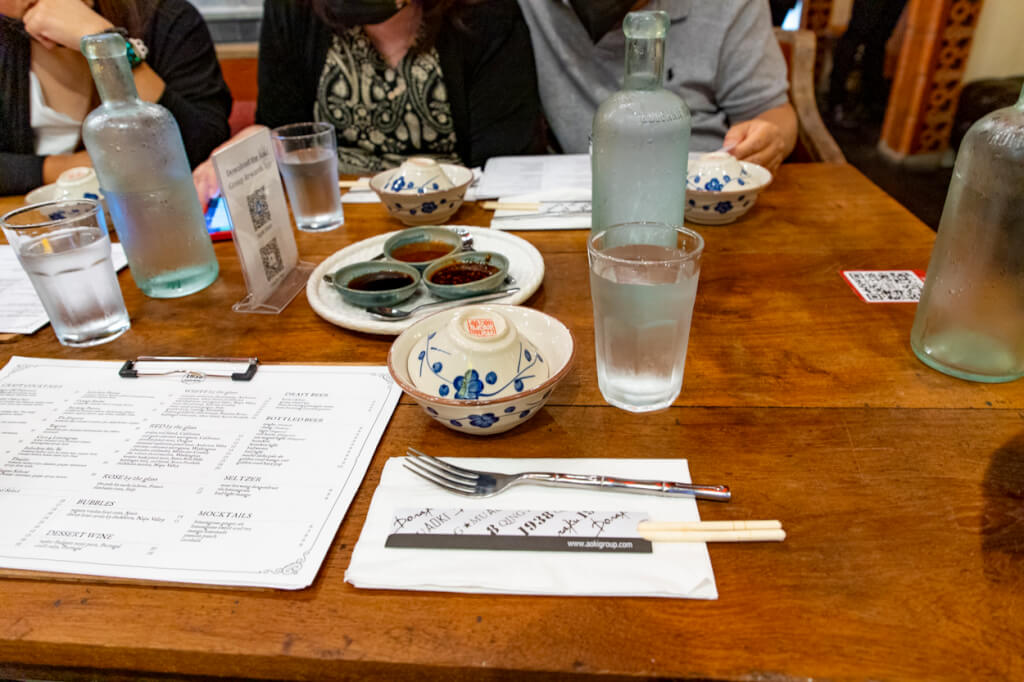 It's worth noting that at 1938 Indochine, everything is served family-style. What's more, the only dishes you get are bowls – no plates here for some reason. The table is also stocked with a trio of sauces – sweet chili, some hellishly hot chili crunch, and shoyu/soy sauce. Water is also self-serve using chilled glass bottles. Also, note how crowded the table already is. Juggling dishes became a real challenge for us throughout the night.
Food
Being a tapas restaurant, we ordered a large selection of dishes for the five of us to share. First up were the Glass Noodle Shrimp ($12), Chicken Laap ($11), Banh Mi Sliders ($13).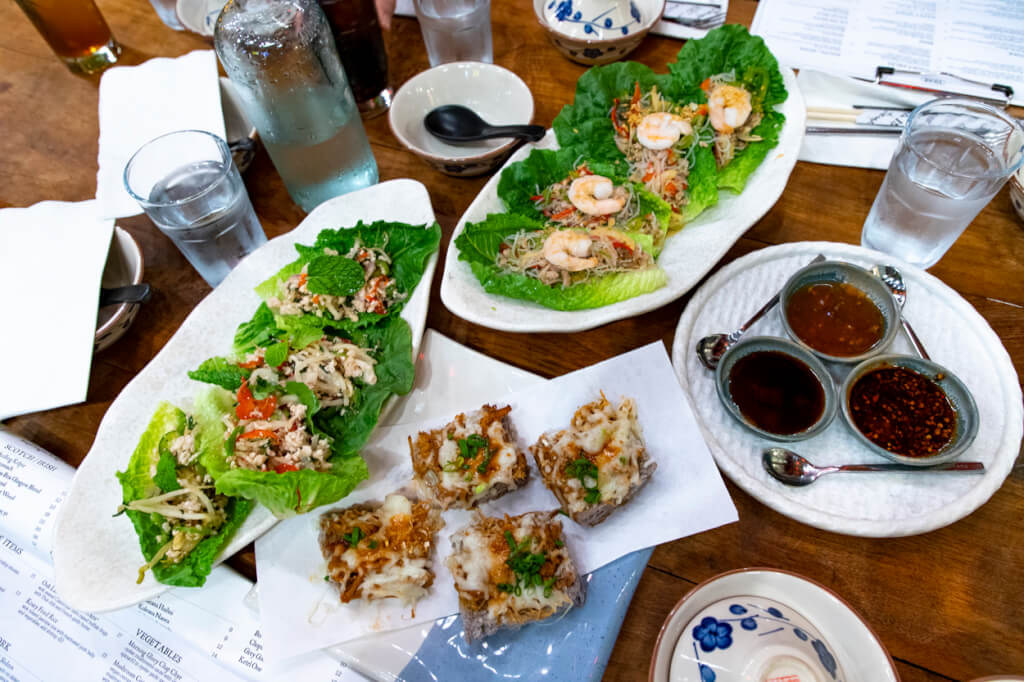 So, the food here wasn't quite what I was expecting. I probably should've looked at social media to get a better gauge beforehand, but oh well! For example, the Glass Noodle Shrimp is served as a lettuce wrap, which is interesting. The menu mentions calamansi sauce on this dish, which I didn't taste at all. Plus, the whole order comes with four pieces with just four pieces of shrimp. Ouch.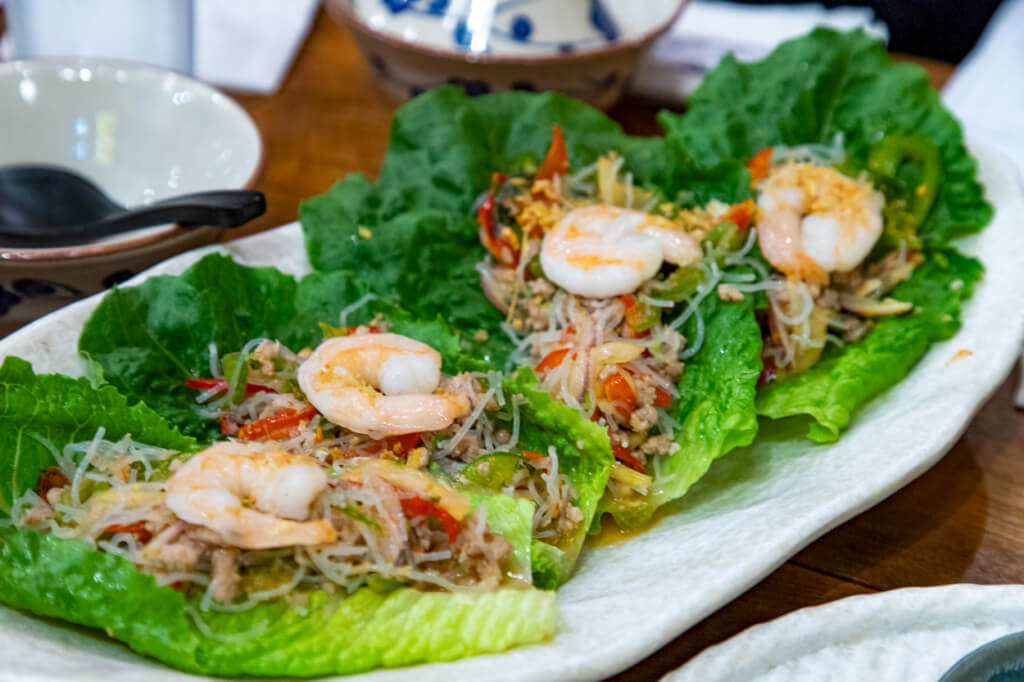 The Chicken Laap was served in a very similar fashion to the noodles. This dish, however, was much more successful. It reminded me of Larb and had a wonderfully balanced, clean flavor profile.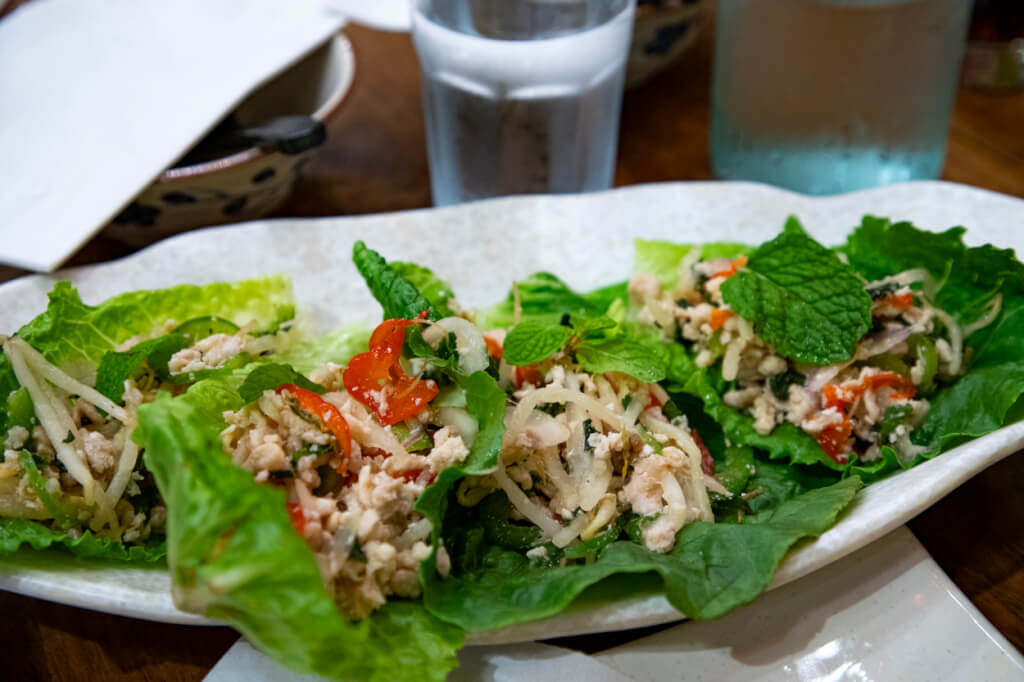 The Banh Mi Sliders were, unfortunately, a complete miss. These things were almost entirely devoid of flavor and didn't remind me of a banh mi at all.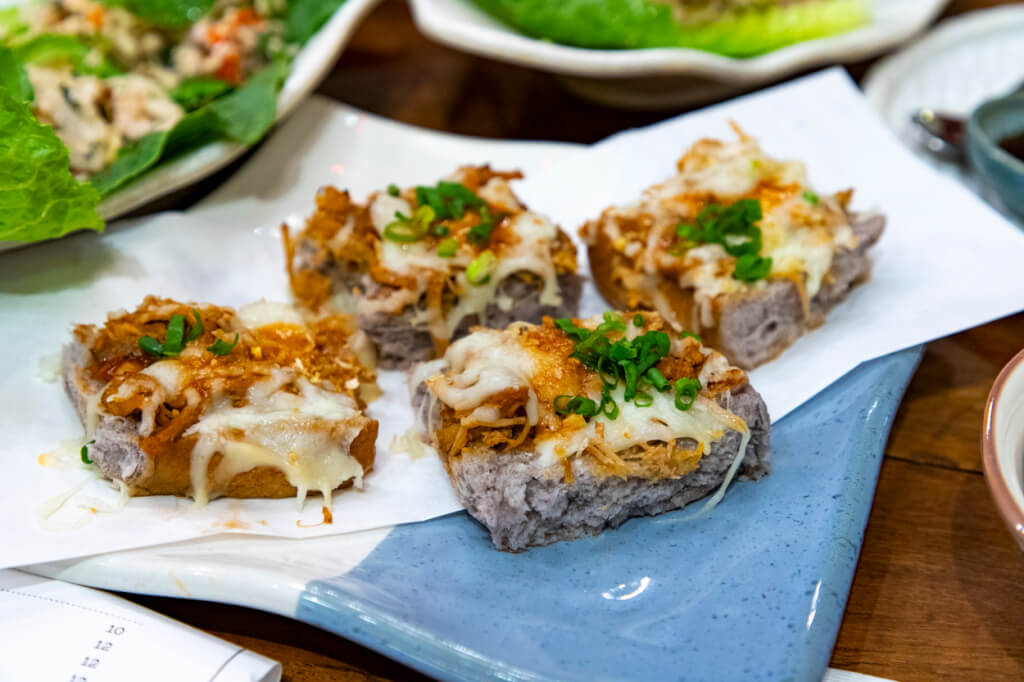 Next to land were the Imperial Rolls ($13), which are your basic spring rolls filled with minced pork and veggies. These were quite tasty and are something I'd order again.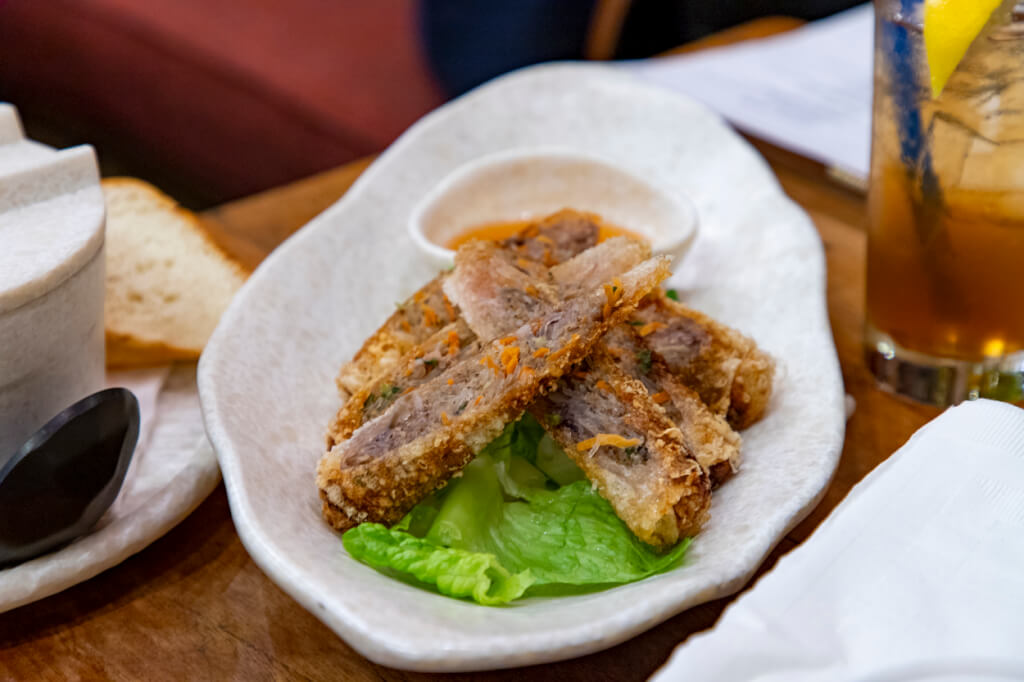 The Grilled Ocean Scallops ($13) that followed the rolls were ok. Can you see the scallops in there? I can't. The whole dish is smothered in CHEESE. At least the little scallop was nicely cooked – no rubberiness whatsoever.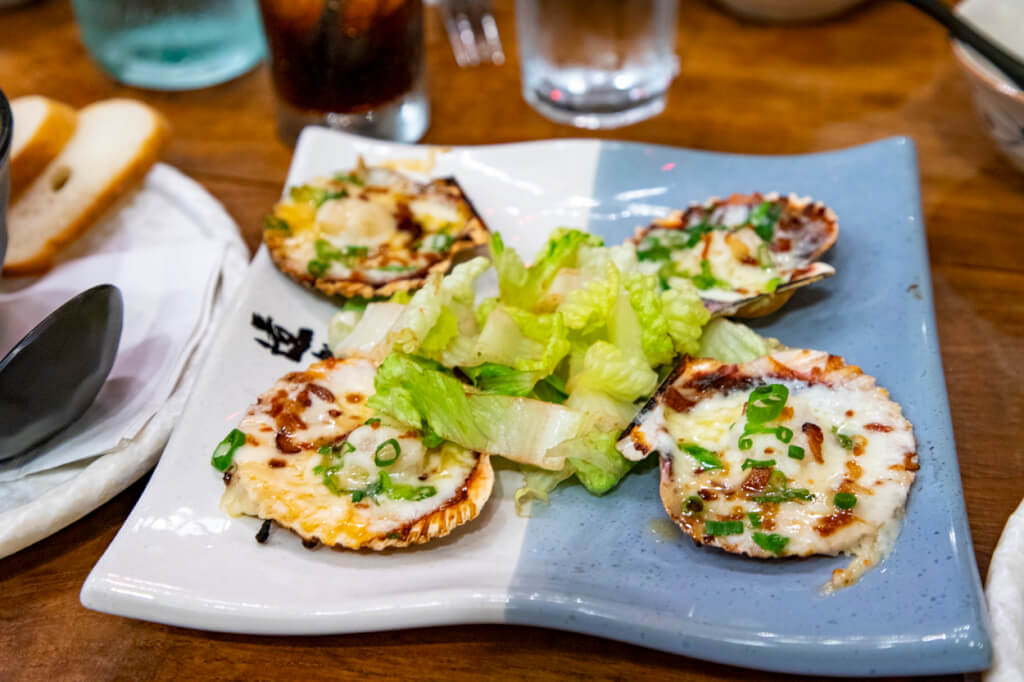 Next up was the Mushroom Curry ($16) with Jasmine Rice ($4). This was another delicious one that I'd order again, though you can't really taste the mushroom. King oysters typically don't have much flavor but lend a nice textural contrast. I do wish they'd make the curry thicker, though – it's very soupy.
For our veggie dish, we got the Morning Glory Chap Chye ($13) which is sauteed ung choi with king oyster mushroom in an oyster garlic sauce. The menu says this is primarily a mushroom dish, though there was very little of that. Regardless, it was tasty.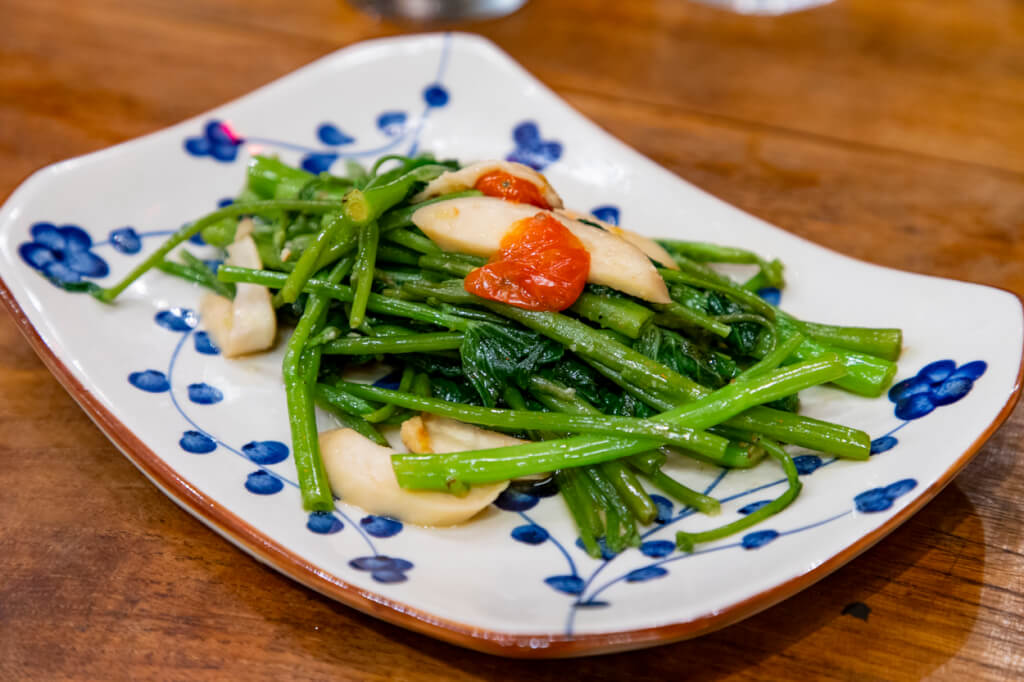 Following the veggies came the Colonial Crab Cakes ($14). This dish typically comes with four pieces. But, since five of us wanted to try this one, we asked to add an extra cake. The menu states that these crab cakes are bit-size and come topped with a dijon aioli with ginger. Yeah, I couldn't taste any of the toppings. The cakes themselves were a little dry and were literally bite-size pieces. Heck, they were about the same size as the shrimp on the noodles!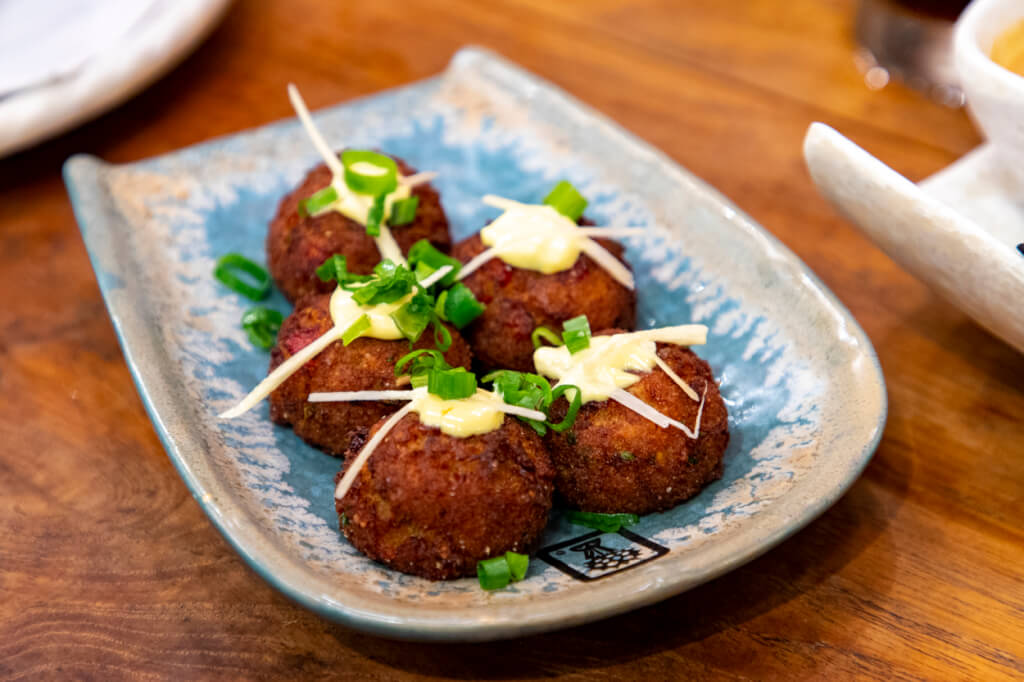 The Thai Beef Brochette ($10) came next and is basically two skewers, beef, onion, and bell pepper coated in a spicy sauce. Typically, they come coated in a peanut sauce, but we had it come on the side since I'm allergic. This one was much too spicy for me, while I'm told that the peanut sauce was flavorless. Otherwise, the beef was decently tender and seasoned.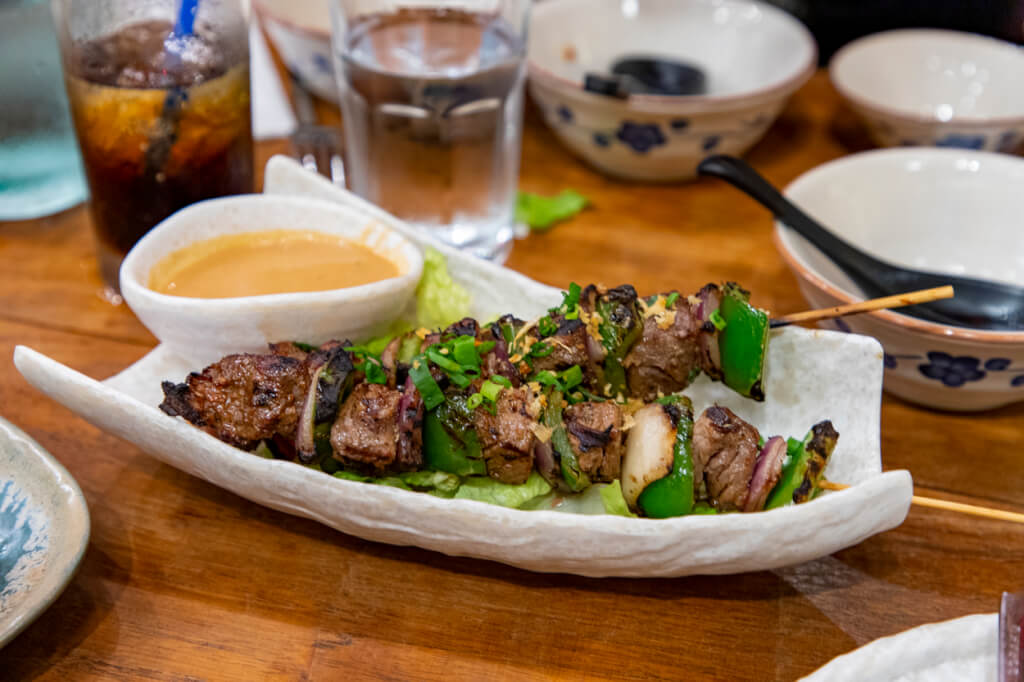 Our final savory dish of the night was Pan Fried Squid ($15). This was probably the best dish of the night, in my opinion. The flavor is very good, while the squid is nicely cooked. It was borderline too salty, but that's ok. The acid of the sauce lemongrass sauce perfectly offsets the greasiness of the squid, which, as you can see, isn't pan-fried at all. It's deep-fried.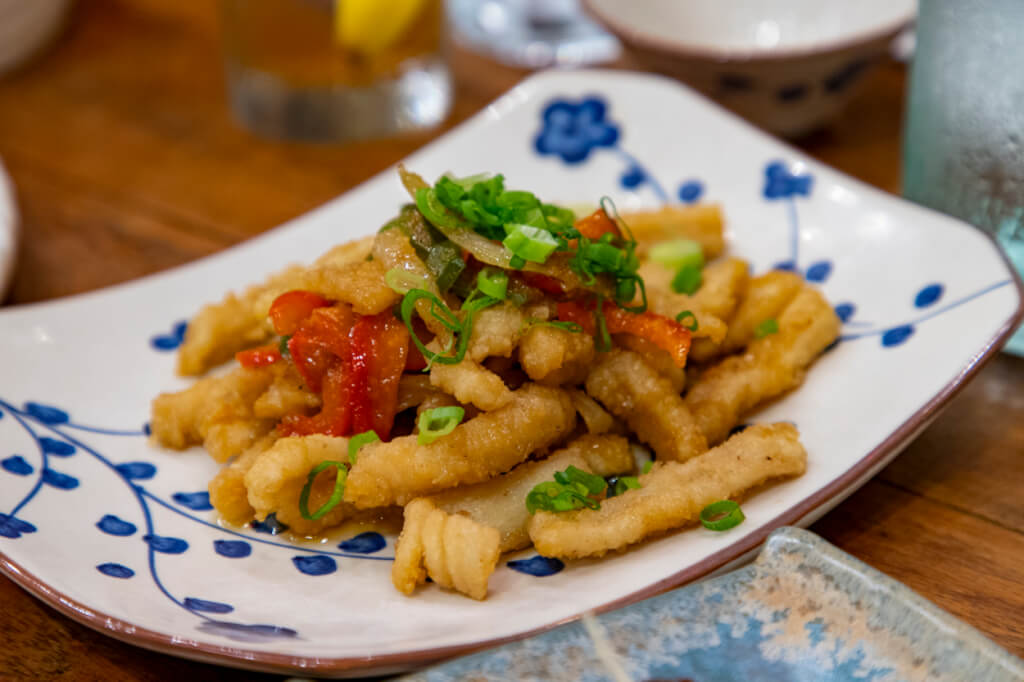 Dessert
1938 Indochine has a very tiny dessert menu. In fact, there are only two items on it – Ice Cream Tapioca ($7) and Bread Pudding ($9). We ordered both. The ice cream came topped with strawberry, pineapple, and chocolate sauce. Overall, it's a good dessert – you can't go wrong with ice cream, chocolate sauce, strawberries, and tapioca. However, the pineapple was an odd addition, especially with the chocolate.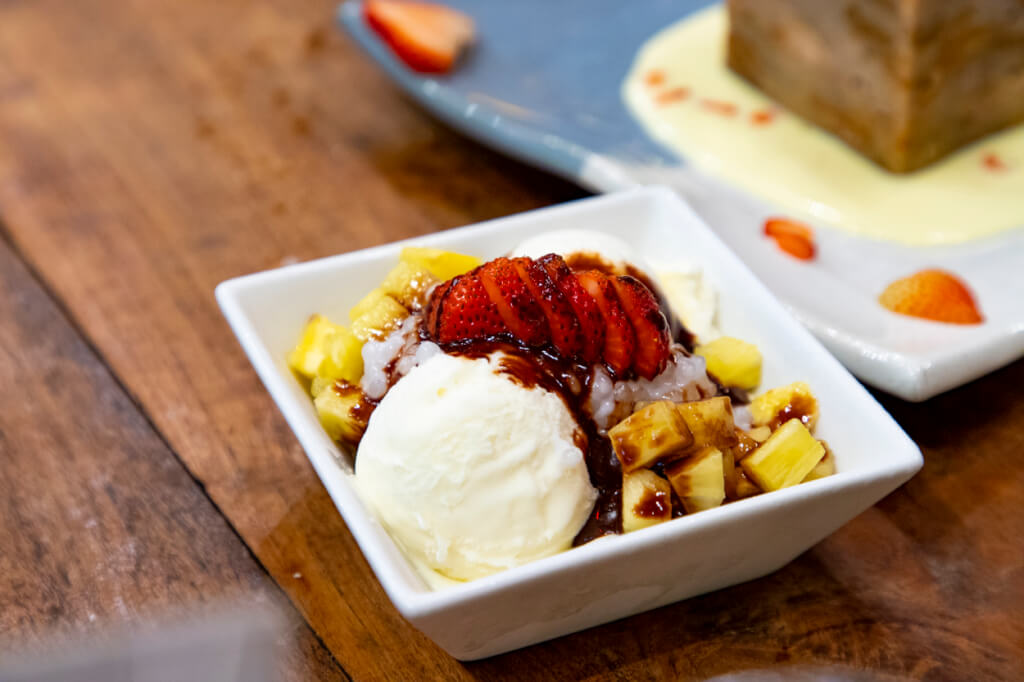 The Bread Pudding, unfortunately, didn't work out so well. It comes in a pool of rum Anglaise with sliced strawberries and pear. As you can see from the photo, though, the bread pudding is incredibly dense. I took one bite and already wasn't a fan. I'd skip this one.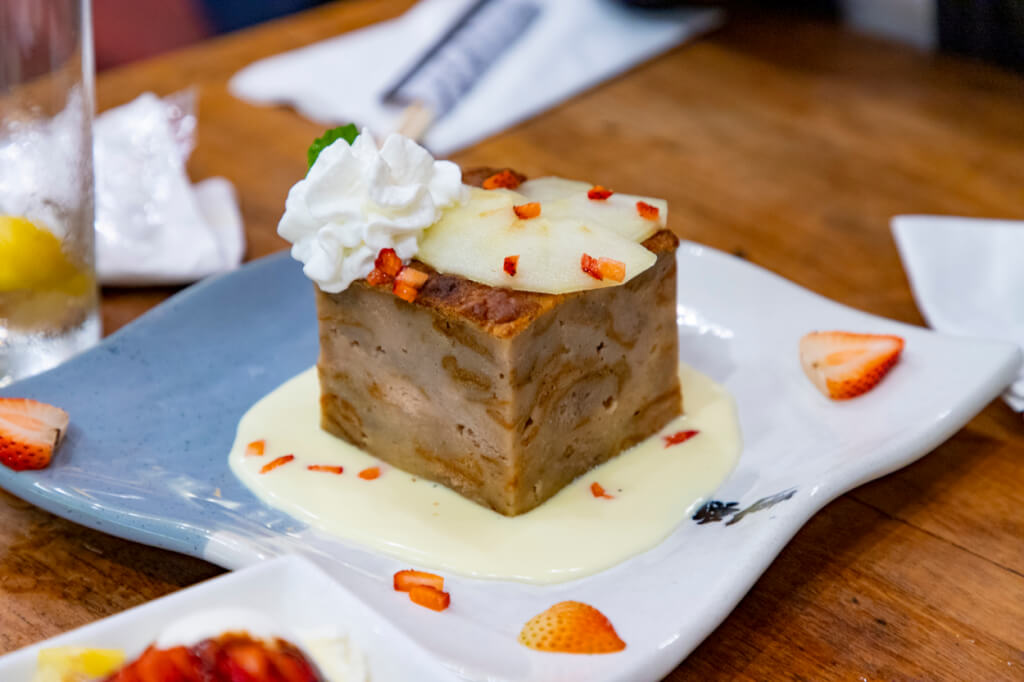 Final Thoughts
Dishes at Aoki Group restaurants are, admittedly, hit-or-miss. That's no different at 1938 Indochine. Only, here, there are more misses than hits. The things they do get right, though, are good. In fact, I'd come back to have those dishes again and to maybe try some of the others too. However, I'd rather try 1938 Indochine's sister restaurant – Qing Mu – first. Too bad they're only open for lunch right now.