I love a good Pho spot, so I've had An Di Dzo Hawaii on my list for a while now. After all, it's an upscale Pho restaurant in the luxurious Ward Village neighborhood by the old local standby Cuu Long II in Chinatown.
For those that don't know, Chinatown's Cuu Long II, is one of the most popular pho spots on Oahu. It's nothing fancy – just a neighborhood Pho-focused restaurant. I've never been to it, though. The closest I've been is Cuu Long in Pearl Kai, which I don't think is even related. But, last year, Cuu Long II opened a new more upscale spot in Ward Village.
An Di Dzo Hawaii Location
I've mentioned a couple of times that An Di Dzo Hawaii is in Ward Village. Specifically, it's in the Ward Entertainment Complex in the spot once occupied by Panda Express. That means it's on the ground floor of the building with Consolidated Ward with Titan LUXE in a spot facing Auahi Street.
An Di Dzo Hawaii Service & Atmosphere
Unlike most Pho spots, An Di Dzo Hawaii has more of a modern, upscale atmosphere to it. There's even a full bar near the door, with a variety of booth seating and standard tables scattered throughout.
Service at An Di Dzo, while well-intentioned, wasn't so great. Don't get me wrong, our server was friendly, but for someone that hovered a bit, he was inattentive. He also spent much of the time in the booth near us on his phone. I get it; the restaurant was dead while we were there. However, you should probably hide in the back if you're going to do that.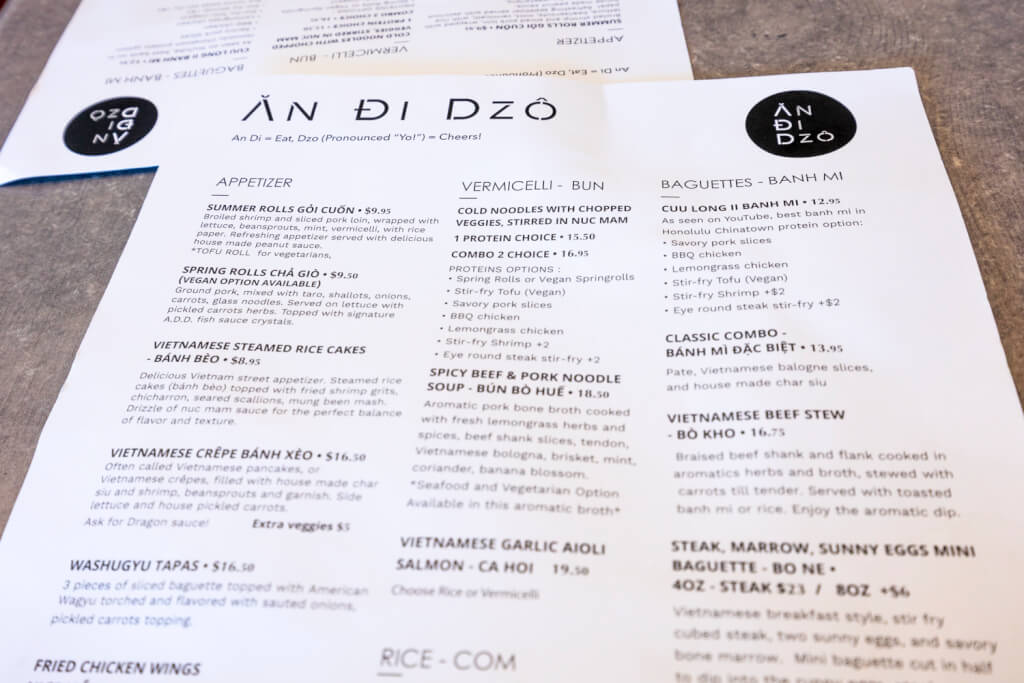 Menu
While you'll certainly see standard Pho shop items on the menu here, you'll also see fancier things, like dishes with bone marrow, washugyu, and even a $50 bowl of lobster Pho. Of course, as previously mentioned, there's also the full bar.
What We Ordered
We kept things simple during our visit. To start, we split a Banh Xeo – Vietnamese Crepe. Typically, filled with bean sprouts, roasted pork, and shrimp. One of the most critical aspects of this dish, though, is that is the crepe is supposed to be crispy. That wasn't the case here. While the flavors were good, the crepe was floppy – borderline mushy. Sad.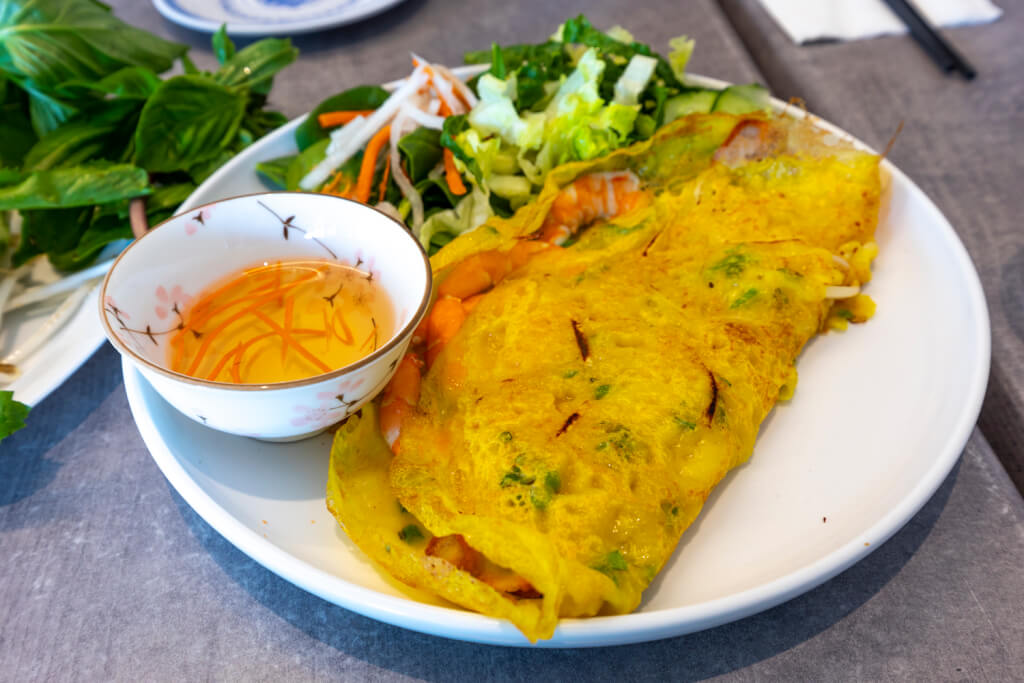 For her main, Mrs. Island Miler went with the Pho Dac Biet (Combination Pho), which includes their signature Pho broth, beef brisket, fat brisket, tendon, flank steak, meatballs, tripe, and roundeye steak. Naturally, I couldn't try any of Mrs. Island Miler's Pho, but she liked it. I don't think she realized there was going to be trip in it, though.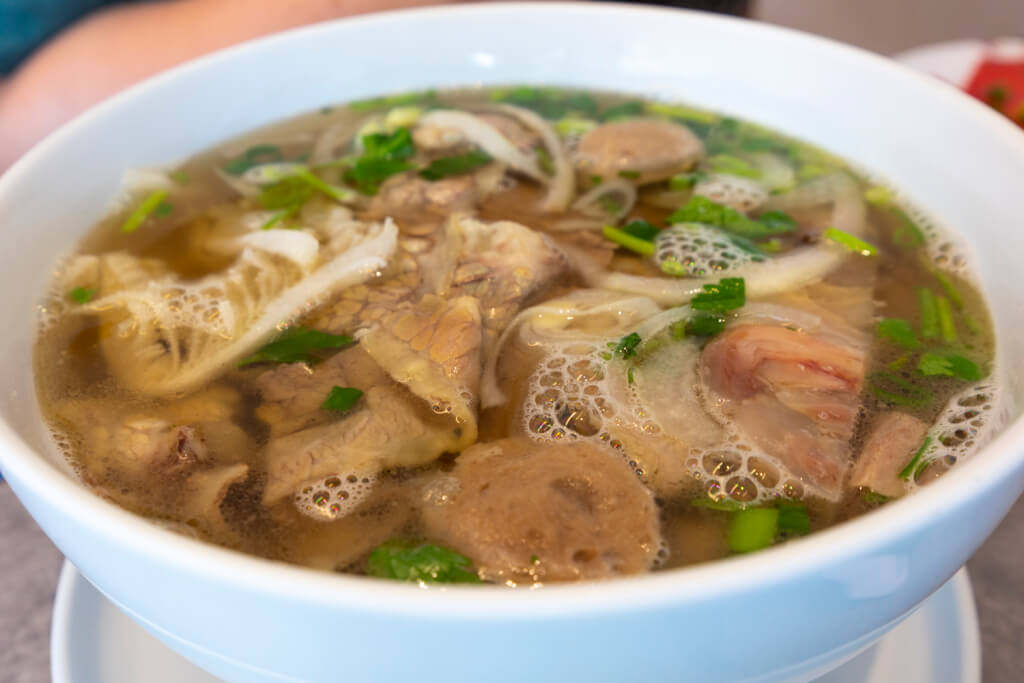 Thanks to my condition, traditional Pho isn't an option for me, and I went with the Pho Ga – Chicken Pho. as these things go, this one is good. The light, flavorful, aromatic broth came loaded with tender pieces of white and dark meat chicken and a generous helping of noodles. To my disappointment, though, they don't use the flat, wide Pho noodles here. These were thinner and more cylindrical.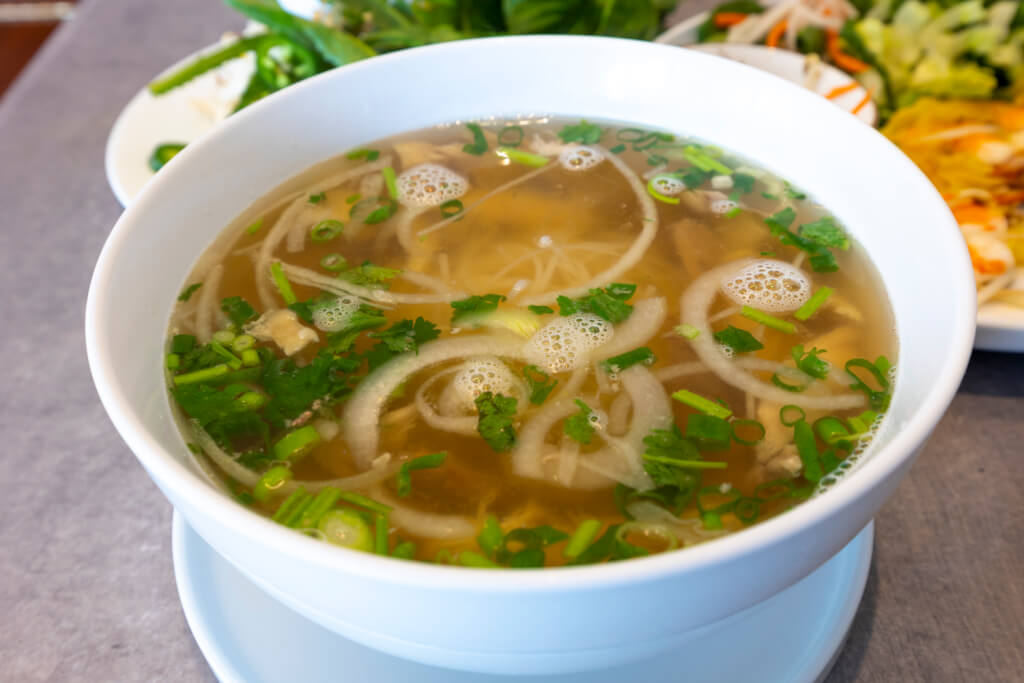 Final Thoughts
Overall, I thought that An Di Dzo Hawaii was ok. The Pho was good, but the Banh Xeo was a disappointment. Oh, and the lemonade I ordered was strangely syrupy on the bottom and bland on top. No amount of mixing fixed that. As such, I don't think the $67 (with tax and tip) we paid during our visit was worth it. You're most definitely better off sticking with the classics in this case.