For my Big Island Bird-Watching Adventure, I chose to rent with Avis Car Rental Hilo. Why? Price, of course. I would've much rather gone with Alamo, which, spoiler alert, was confirmed by this experience, but Avis was much cheaper for my dates. So, Avis, it was.
Booking Avis Car Rental Hilo
As is always the case, I started my vehicle search by looking to see what was available via Costco Travel. Initially, I think I booked a full-size car with Alamo for around $200. However, as is always the case, I kept on searching until the day before our departure. I ended up rebooking several times, and the reservation that stuck was a full-size car with Avis. The price? $167. Not bad for three days. This being Costoco, my rental did come with a free upgrade (if available) and an extra driver.
Naturally, I put the rental on my Chase Sapphire Reserve, giving me primary collision coverage but also cutting this rental cost down to about $50 for me, as the annual travel credit leftover from my plane tickets covered most of this rental cost.
Avis Car Rental Hilo Pick-Up Experience
After quickly collecting our checked bag, we headed over to the rental center across the street. Things there were chaotic. What didn't help was that the Avis counter was closed with a sign stating to check in with the Budget counter instead. After waiting in line for about 20 minutes, someone enters the Avis counter, and the guy behind me jumps out of line and approaches the counter.
The associate at the counter immediately helps this guy while leaving the closed sign on the counter. Rude. Seeing this, I jumped out of line and stood behind this cutter while Mrs. Island Miler stayed in the original line. Maybe about 10 minutes later, the associate at the Avis counter helped me, the sign still being up. The associate was friendly enough, but, man, the proper to do would've been to go to the beginning of the Budget line to ask if anyone was there for Avis.
At any rate, during checking-in, I was notified that I was upgraded and could head out to my car immediately. I wasn't told specifically, but I eventually figured that I was upgraded to a "Luxury" car, in this case, a Chrysler 300. Does anyone want to explain to me how this is considered a luxury car? It isn't to me, but whatever.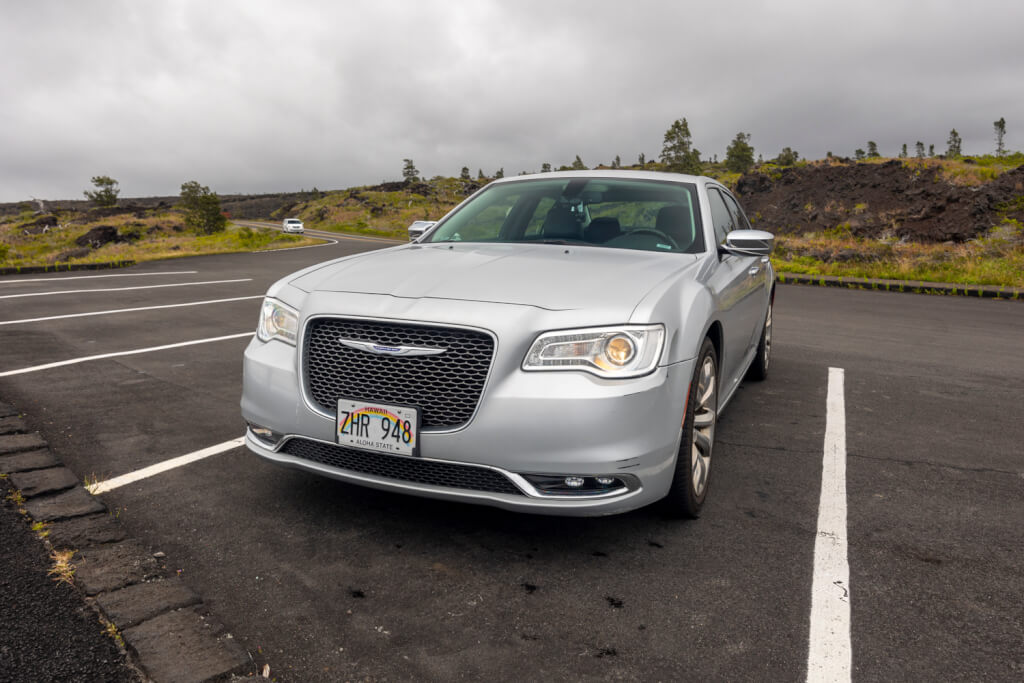 Avis Car Rental Hilo Chrysler 300
I don't know why, but I often get stuck with a GM or Stellantis on the Big Island, except for that one time I had a Nissan. That's unfortunate, as I've never driven one of these cars that I actually liked. And that trend continues with this rental. Sure, the Chrysler 300 is a large, floaty car, and there's nothing wrong with that. But it just doesn't drive good.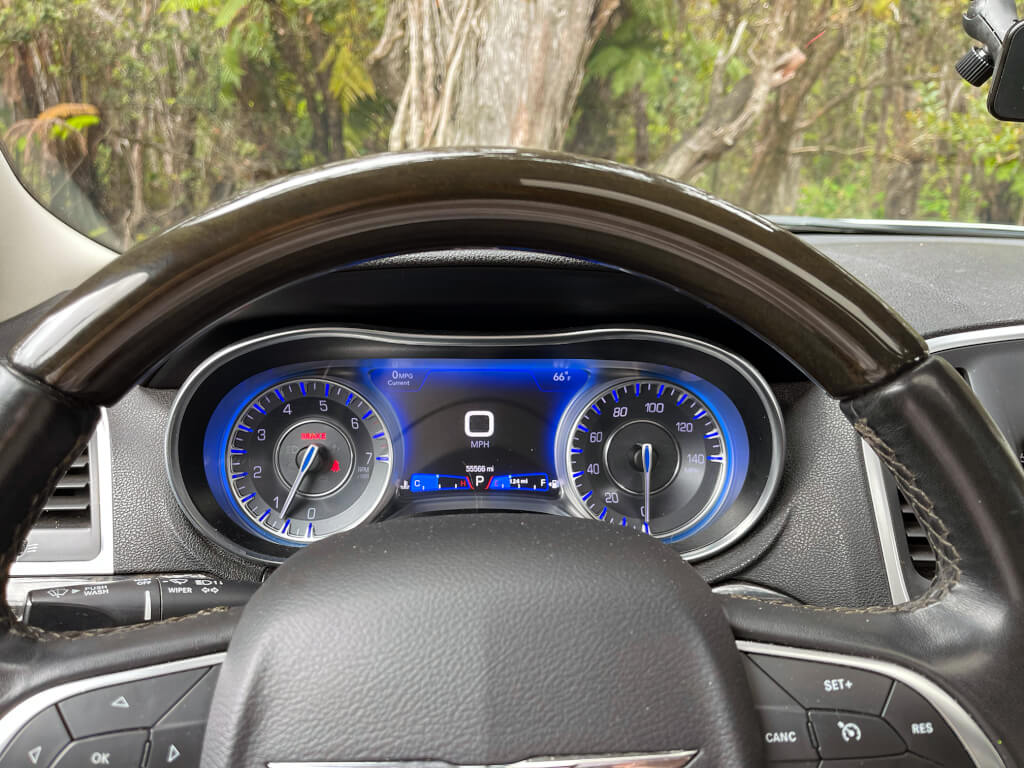 What do I mean that the car doesn't drive well? For one, this thing's transmission is awful. While the engine has sufficient oomph to get this heavy car going, the transmission can get out of its own way. The car always hesitated when I leaned into the throttle, which is annoying under normal circumstances and can be dangerous in emergency situations. Speaking of the transmission, I HATED the stupid dial shifter it uses. It always made it more difficult to quickly and accurately select the drive mode (park, drive, reverse) that you want.
Outside of my gripes with the transmission, the car was quite thirsty, which isn't surprising. The ancient V6 in this car gets 19 mpg city, 30 mpg highway, and 23 mpg combined. That, of course, was made worse by all the elevation changes we encountered driving around the Big Island's east side.
Other complaints include the condition of the car – the interior was kind of peeling? The plastics on the dash were kind of dirty, the touchscreen was gross, and Apple CarPlay didn't work all that great. Overall, the car just felt kind of cheap inside, which is to be expected.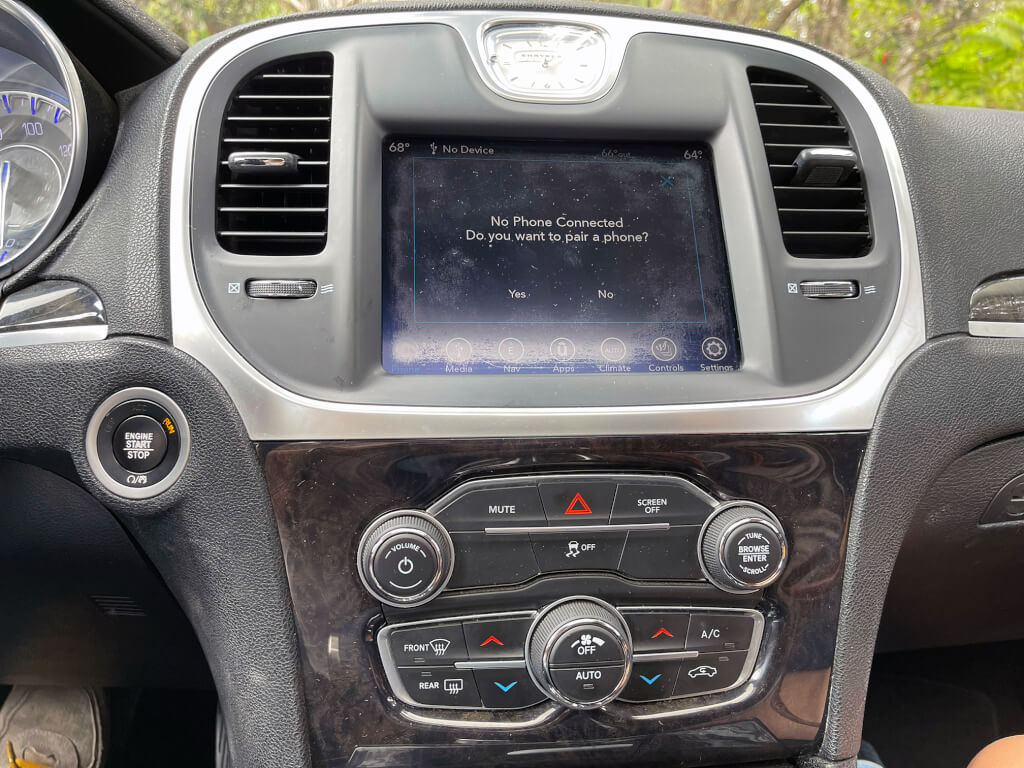 Avis Car Rental Hilo Return Experience
Returning the car wasn't quite as chaotic as picking it up was. Still, the return experience at Avis Car Rental Hilo is different from what I've experience recently at other places. Why? Because you have to park your car and head back up to the counter to return the keys and finish your rental. There was a little wait here, too, but it was just five-ish minutes. That's not nearly as bad during pick-up.
Final Thoughts
Honestly, the worst part about my Avis Car Rental Hilo experience was the pick-up. The car itself wasn't good, but it'll be mostly the same no matter where yo rent it from, so I won't fault them from that. However, they could have a better return experience. For example, Alamo has dedicated return stalls. You pull up, park your car, and employees come out to finalize your rental. No having to drag your bags around somewhere extra, and it's normally pretty quick. But, this what happens when you prioritize price.
Big Island Bird-Watching