It's been years since we last dined at Roy Yamaguchi's Eating House 1849 Waikiki. But, a recent restaurant week even brought me back in to try some of their new dishes. So, it's time for an Eating House 1849 Waikiki revisited post. Spoiler alert: I came away pleasantly surprised.
Eating House 1849 Waikiki Revisited – Why?
During our last visit to Eating House 1849 Waikiki, the experience was a mixed bag. There were some good dishes, some mediocre ones, and I found the value of what we ate to be not so good. So, I was a little hesitant to return. But, one of my favorite local farmers/purveyors, Pono Pork, was being featured in a fantastic-looking pasta dish. So, I knew I needed to head in and give them a try.
Location
If you read my last Eating House 1849 Waikiki review, you'll know that the restaurant is on the 3rd floor of the International Market Place in the Grand Lanai area. The setup and decor are identical to our last visit, though the tables are spaced a comfortable distance apart given the times. That also means that Eating House is a quick five- to ten-minute walk away from our staycation hotel – the Sheraton Waikiki. So, walk we did.
Service Changes
No matter how the food is during our visits to Roy Yamaguchi's restaurants, service is always good. That continued to be the case here. However, I did notice that the welcome bowl of edamame is now plain, steamed edamame. In the past, the edamame was sauteed with chili and aromatics, which is better! But I'm nitpicking here. I get why they'd choose to simplify things a bit.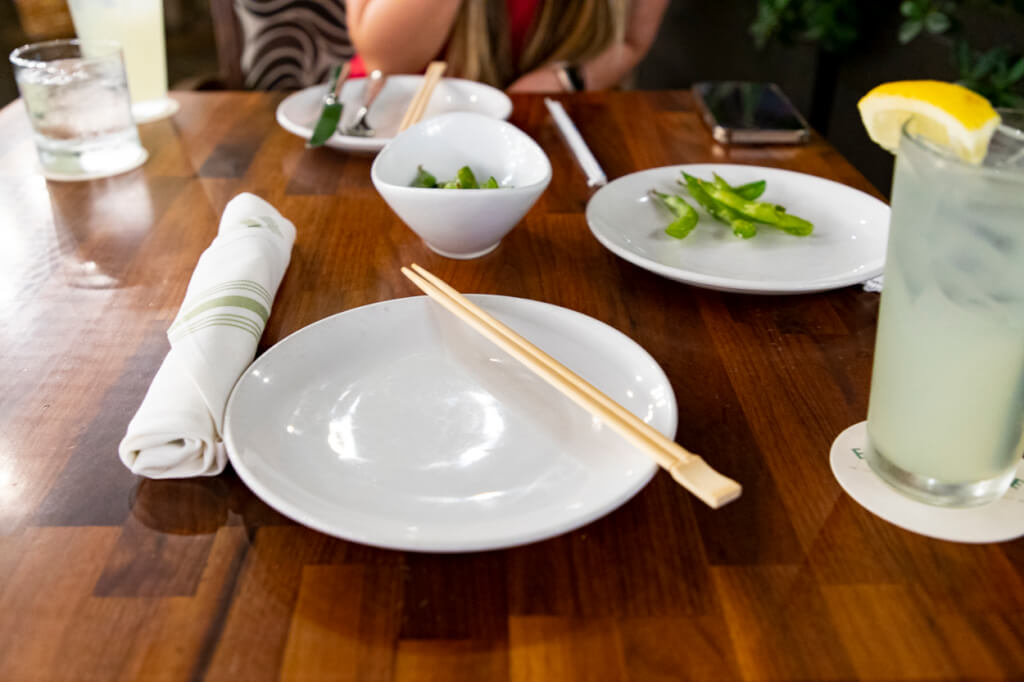 Drinks
It was hot out the night we visited Eating House, so I decided to stick with a soft drink – hey, I get HOT when I drink. Luckily, Eating House has a homemade yuzu soda that both Mrs. Island Miler and I love. At $4 a glass, it ain't cheap. But, I ended up going two glasses on my own.
Starters
Admittedly, we went a little crazy with the starters. We ended up ordering THREE of them. Ok, well, one wasn't exactly a starter. But, we couldn't decide. So, first up, we have the Spicy Ahi Roll ($18). The menu says the roll includes yamagobo, takuan, and truffleyaki sauce. I didn't taste any truffle at all, but I thought the roll was excellent. It was borderline too spicy for me, meaning it barely tingled Mrs. Island Miler's tastebuds, but we both found it to be fresh and flavorful. I think we'd both come back just for this.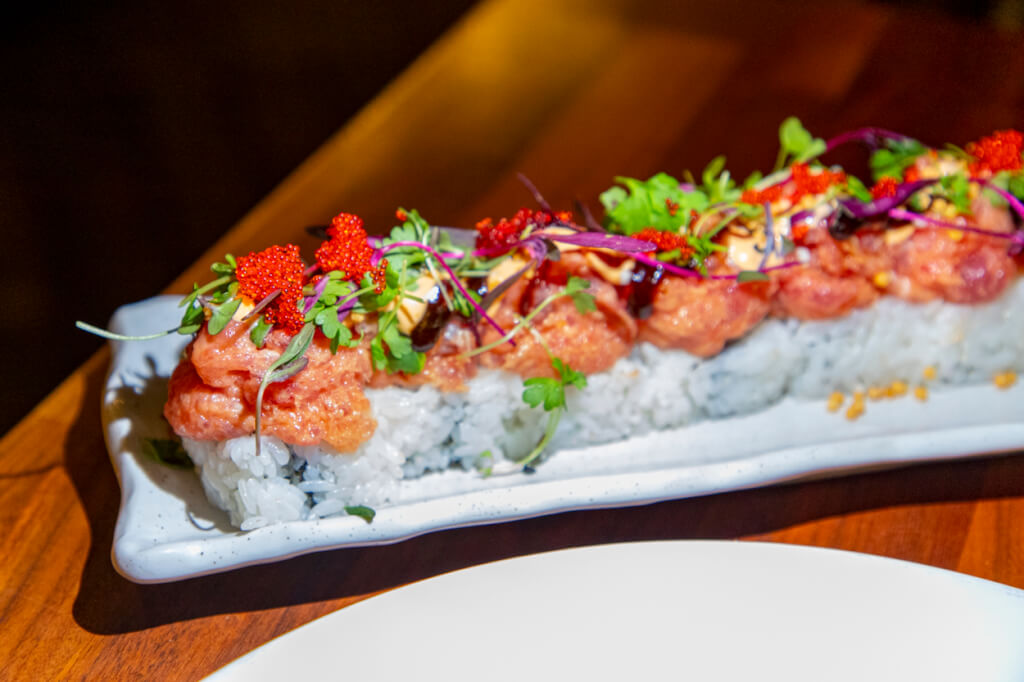 Next up, we have the Kona Kampachi Crudo ($20). As you can see, this dish is a visually stunning dish. Slices off Kona Kampachi arranged in a star-ish pattern with "Tri-Caviar," shiso, and microgreens? Gorgeous! It's too bad it was very bland. Plus, I'm sorry, none of these fish eggs are caviar. I know, I know – what does it matter? But, I have a pet peeve about calling something that it's not. And, I'm sorry, but real caviar comes only from sturgeon. Sure, the destination isn't protected here in the US, along with other things like true Parmesean, but it doesn't make it right. Ok, I'll get off my soapbox now.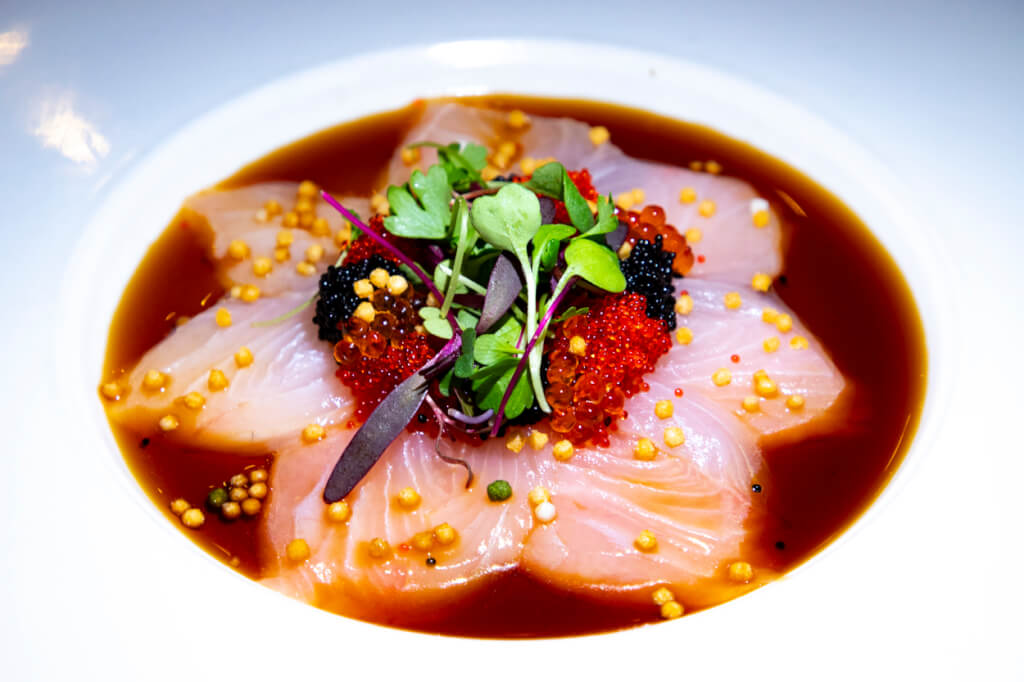 Our third and final starter was the Pork & Crab Pillows ($16). Basically, these things are wontons filled with a ground pork and crab mixture; swimming in a pool of soy chili vinaigrette; and sprinkled with crispy garlic, green onion, and cilantro. And they're really good. I loved the interplay of flavors and textures in this dish! It was borderline too salty, but I'm good with that. Both Mrs. Island Miler and I agreed we'd order this again too.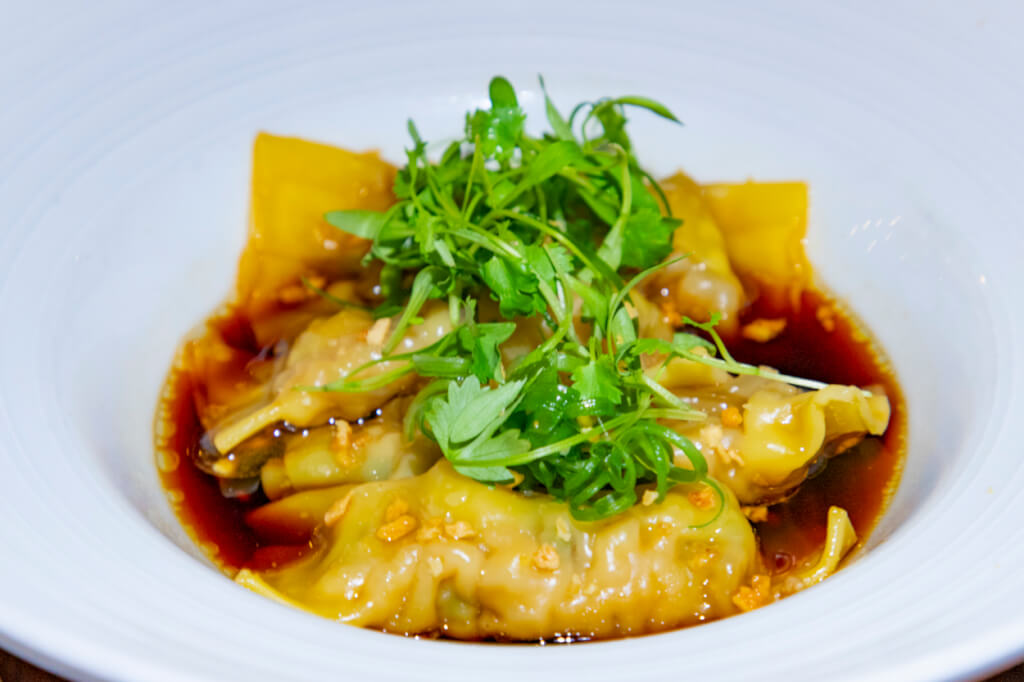 Mains
For her main, Mrs. Island Miler ordered the Butterfish Kamameshi ($41). This dish isn't exactly what I'd call a kamameshi, as it's essentially plain white rice topped with veggies, butterfish, and drizzle with sauce. That said, this is a delicious dish. The hot cast iron vessel results in nicely crisped rice along the bottom, while the sauce that drips to the bottom adds a wonderful char. The fish itself is fresh, flavorful, and melts in your mouth. The veggies are also cooked nicely and add a nice counterpoint to the rich fish.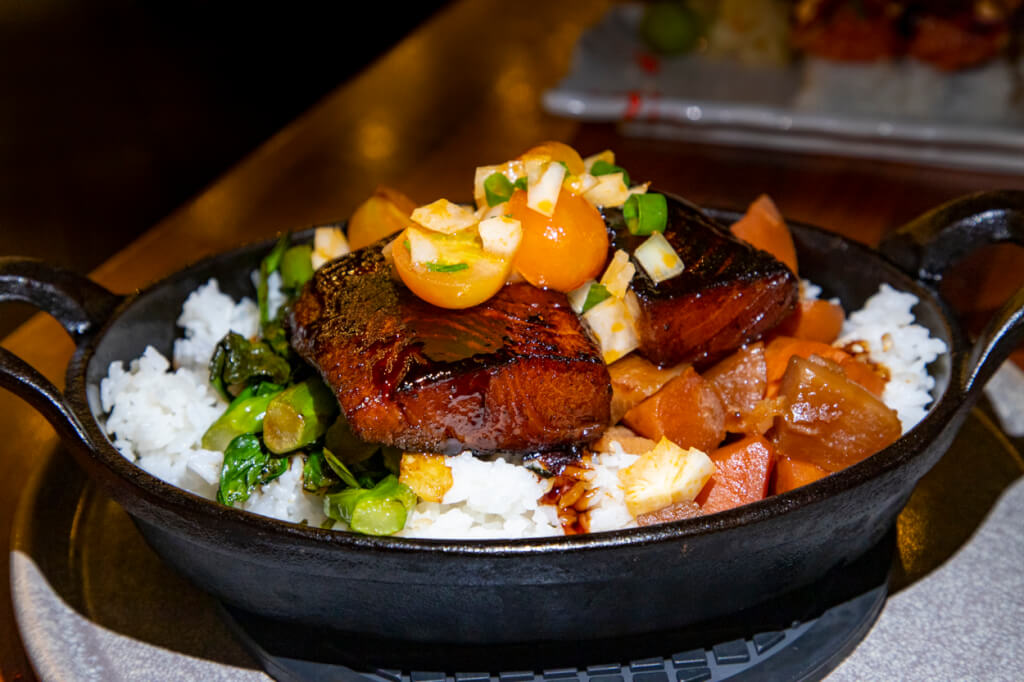 For my main dish, I went with the Pono Pork Ragout ($22). Though listed as a special, I'm happy to see this dish on the menu still. It's a deeply flavorful dish with a rich, meaty PUNCH cut with sweet pearl onions. Assorted mushrooms and grated Parmesean help to layer on additional umami to this already insanely savory pasta.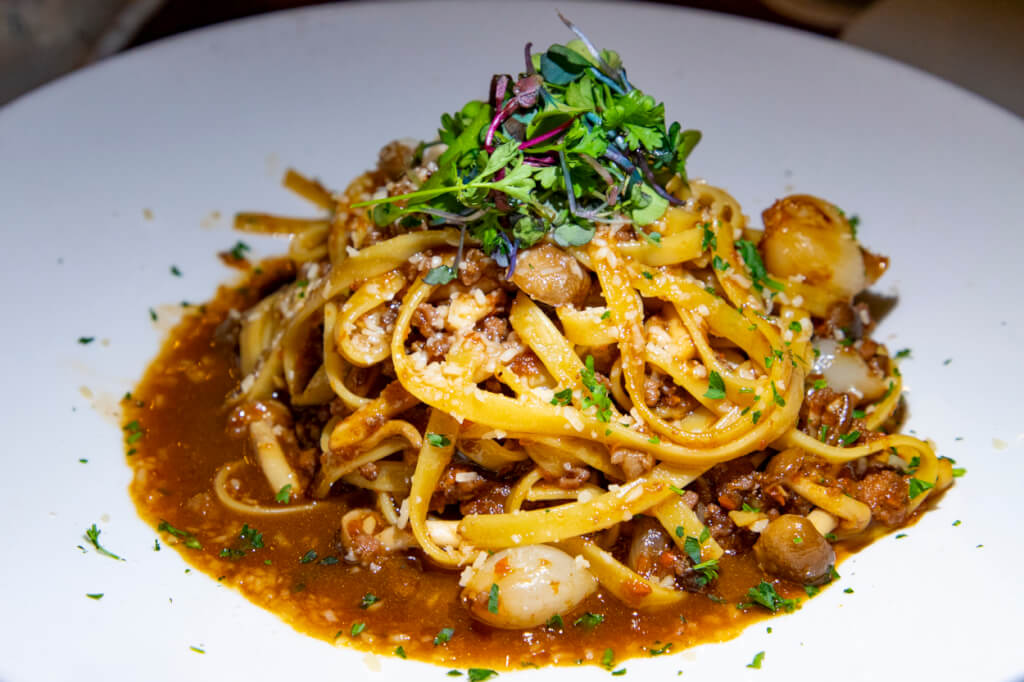 Dessert
We had a lot of food – so much so that we couldn't finish everything. However, we ended up ordering dessert anyway. This particular dessert was never on the Eating House menu before but is a Roy's Hawaii icon. Can you guess what it is? That's right. It's the Melting Hot Chocolate Souffle ($14).
I had this once at Roy's Waikiki, and I wasn't a fan at the time. The cake was tiny, overly sweet, and was just blah. The cook of ice cream on the plate was rock-hard, indicating it was pre-scooped and refrozen. So, I was very hesitant to give it a try again. But, I saw a recent picture and thought it looked much better. And, indeed, it was.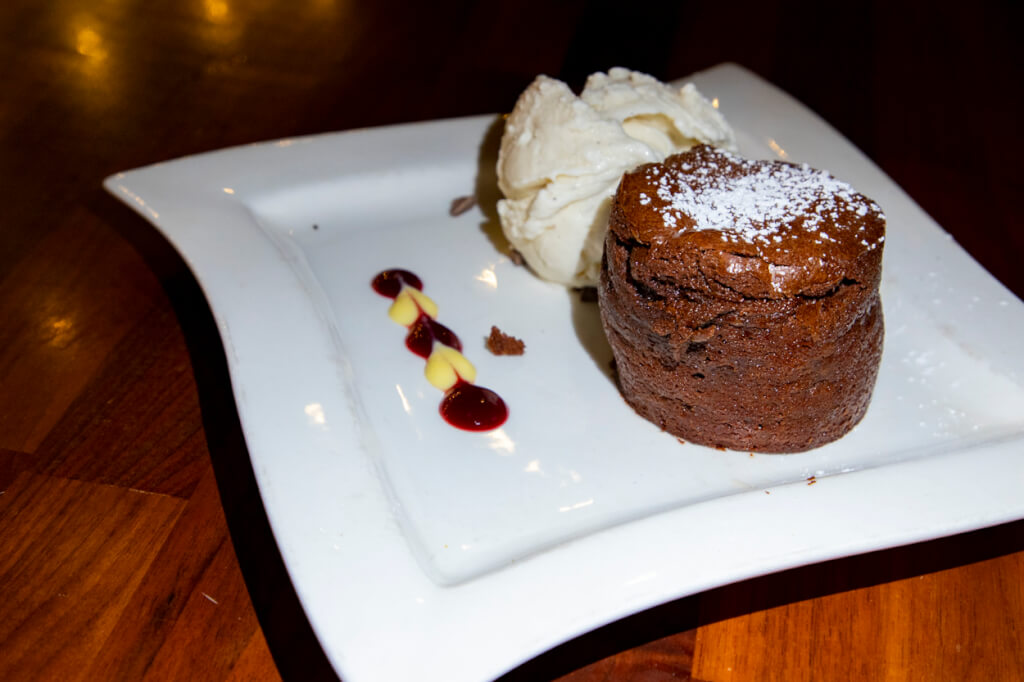 This time around, the cake had more of a chocolate punch with a crispy outer texture, and a light and fluffy interior. The center was indeed molten and oozed out onto our plate. And, that scoop of ice cream was soft and creamy with excellent vanilla flavor. This moment was a complete 180 from my last experience with it. What a fantastic way to close out our meal.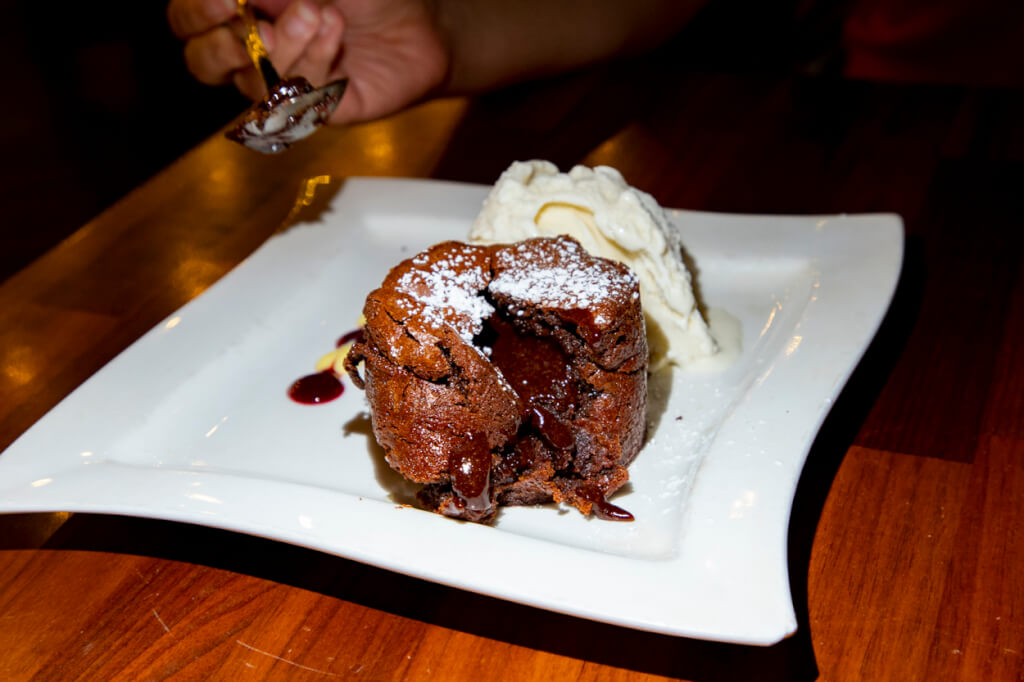 Eating House 1849 Waikiki Revisited, Final Thoughts
At a total of about $180 including tax and tip, our dinner at Eating House was quite expensive for a casual restaurant – even in Waikiki. And, remember, we didn't order any alcohol. Sure, if we ordered a more reasonable amount of food, our total would still come out to $155 with tax and tip. That makes pricing virtually identical to Roy's Waikiki and a little less than a more upscale place like La Vie Waikiki. But, you know what? If the quality remains were it was during this past visit? I'd come back.
Both I and Mrs. Island Miler loved our dishes – with the exception of the crudo – this time around. So, I think it's safe to say that we'll definitely be back. And, if you're comfortable with the prices, I recommend checking them out too.