A while back I tried Roy's Waikiki for the first time.  I.  DID.  NOT.  LIKE.  IT.  So I was apprehensive about trying Eating House 1849.
My Aversion to Roy's Restaurants
My Roy's Waikiki experience scarred me for life.  I had high expectations for a Roy Yamaguchi restaurant.  He is, after all, one of the founders of the Hawaii Regional Cuisine movement.  Unfortunately, Roy's Waikiki disappointed me every level.  First up, the restaurant was a circus.  The service was ok, but the seats are so close together that it felt claustrophobic.  And it was LOUD.  Trying to communicate with anyone, especially our waitstaff was difficult.  The food was fine but unmemorable.  I ordered scallops for my entree, and it was incredibly salty, and the technique was lazy.  There was no crust on the scallops, and instead, they put bubu arare on it to simulate a seared crunch.  Oh, and the prices were obscenely high.  We paid well over $100 for two entrees including tax and tip.  Even by Hawaii standards, this is rather high.
A New Concept
Enter Eating House 1849.  This is Roy Yamaguchi's casual concept that draws its culinary influence from the food of Hawaii's plantation days.  That means on the menu you'll find a lot of local comfort foods that are, of course, reinterpreted and modernized.  And this is also why the year 1849 is part of the restaurant's name.  It's another nod to Hawaii's plantation era.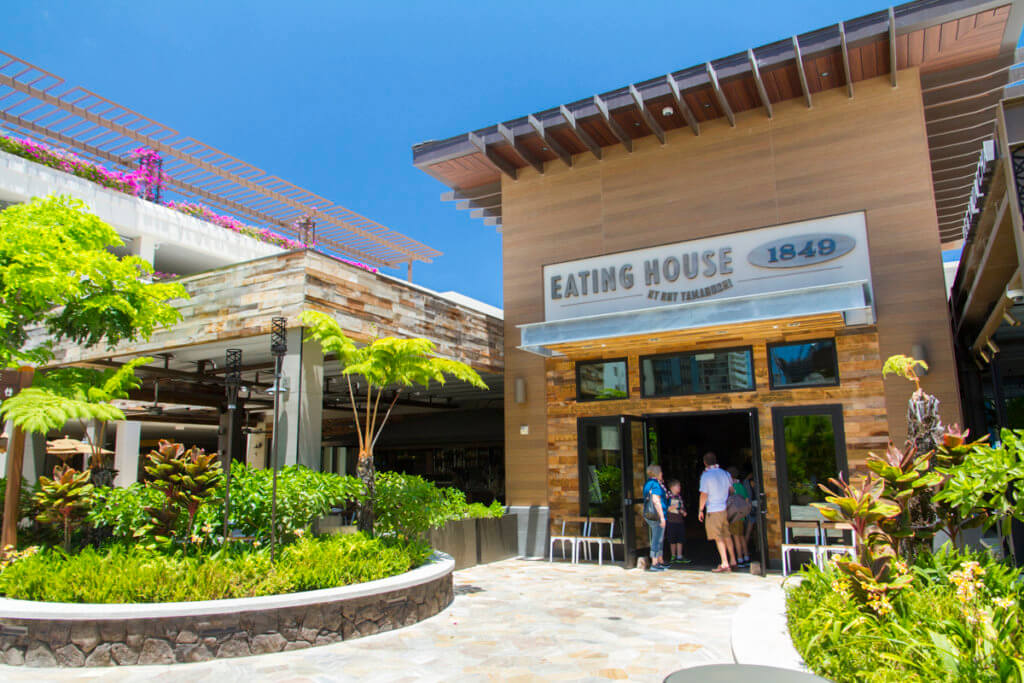 The restaurant first debuted on Kauai, with two additional locations following on Oahu.  The International Market Place location in Waikiki was the first to open on Oahu, and it's the only location I've been to so far.
Atmosphere + Service
Thankfully, the atmosphere at Eating House 1849 is very different from that of Roy's Waikiki.  Tables are more spread out, and the semi-open air concept allows sound to disperse quickly.  The downside to this all, of course, is the inability to cool the place.  So my preference would have me avoid the place on hot/humid days.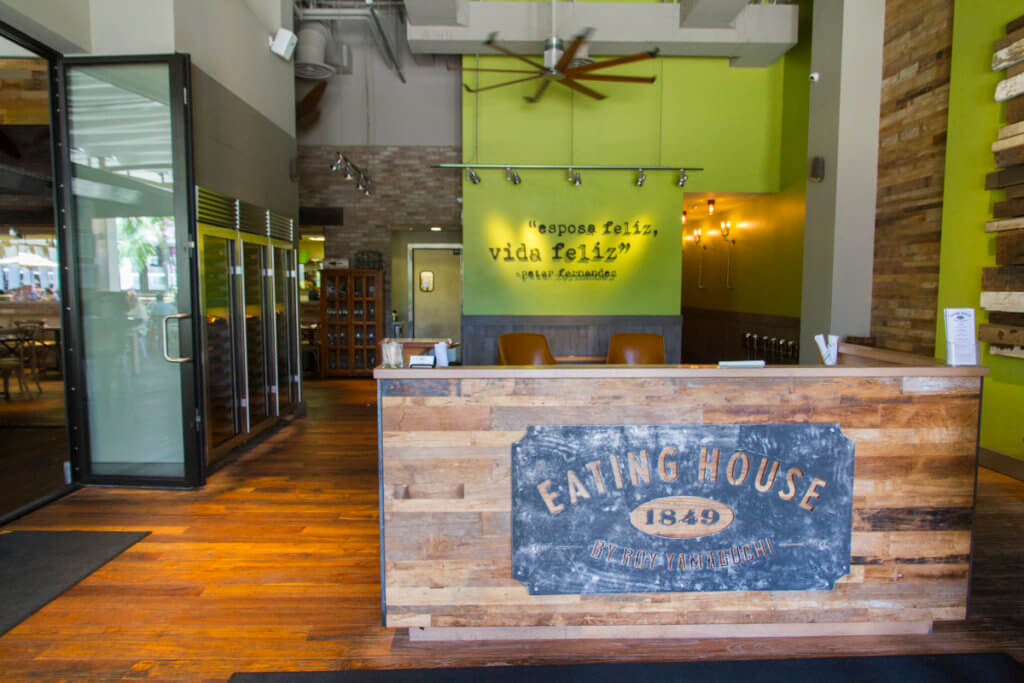 Overall, service is good.  In general, I've had friendly servers that made sure you always have water, etc.  No complaints really, but nothing memorable either.
Cuisine
The menus at Eating House 1849 vary by location and time of day.  And don't rely on the menus presented on the website; they're woefully outdated.  The selection of dishes do seem to changes often too, but some items seem to remain constant.  One thing I've seen during each visit is the brussels sprouts + cauliflower, which is something you should order, by the way.  On my last visit, though, Mrs. Island Miler and I went at lunch.  To start, we ordered a couple of house fruit punches, which was served along side a small bowl of edamame.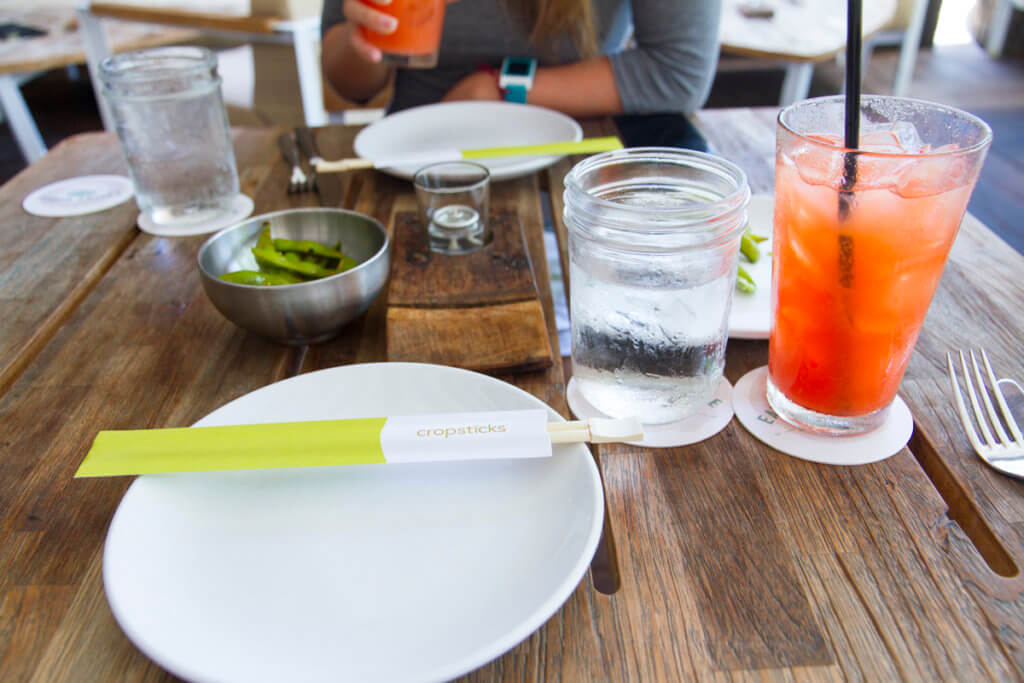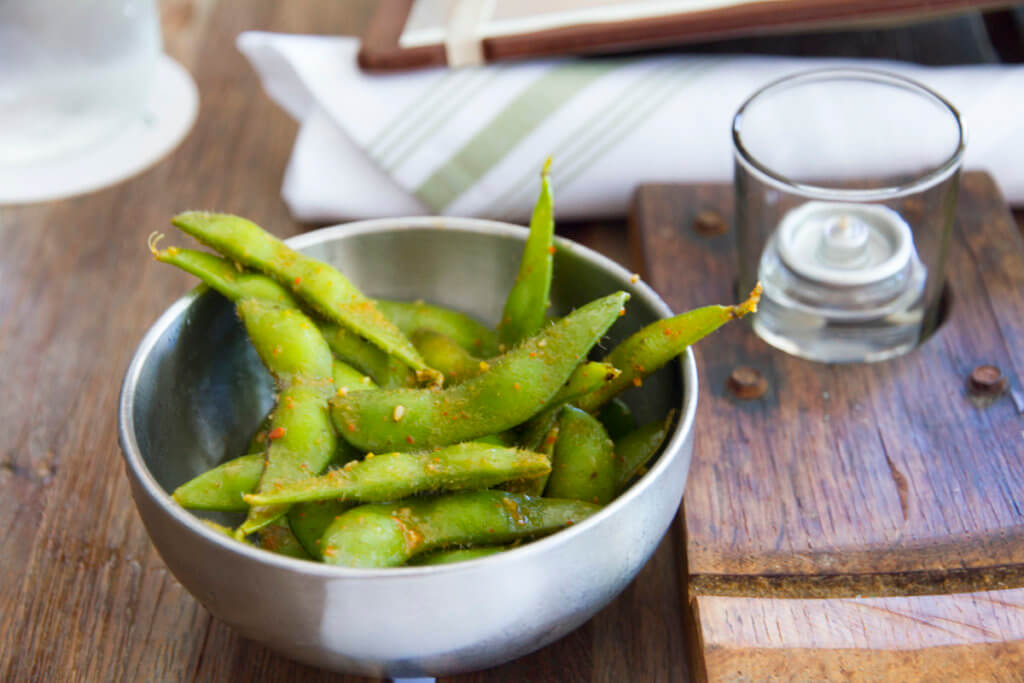 For our appetizer, we decided to split the Lola's Pork Lumpia.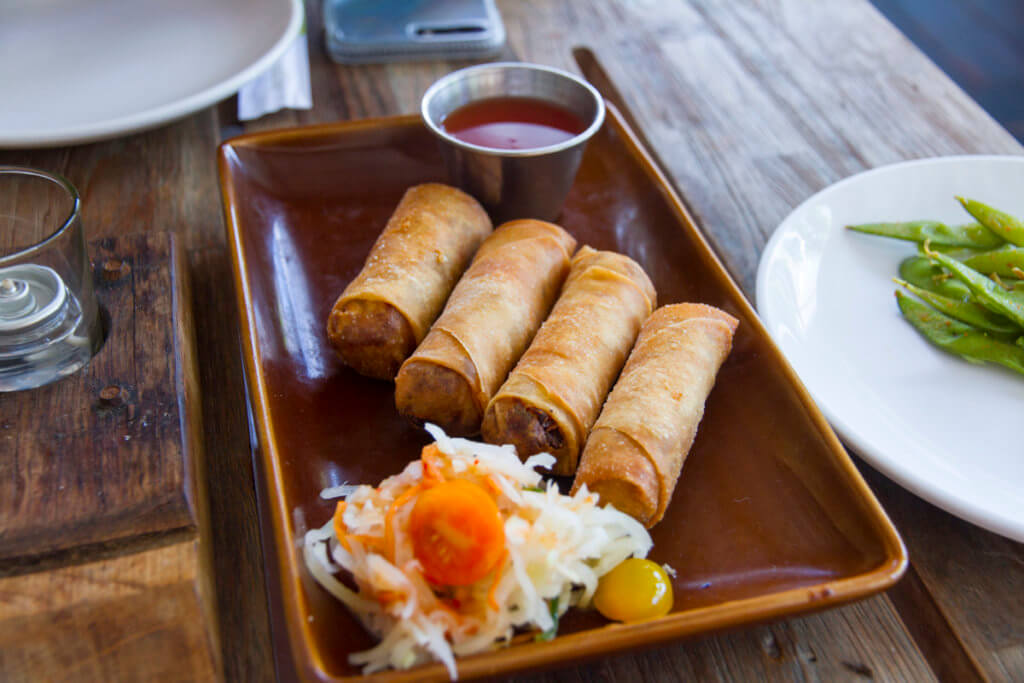 For those that don't know, lumpia are the Filipino version of crispy-fried Chinese spring rolls.  This version contained shredded pork with a side of green papaya salad and a calamansi nam pla.  The lumpia were good, but the fact that they were filled only with meat meant they were a bit dense.  I would have preferred the inclusion of some vegetables inside.
For her entree, Mrs. Island Miler went with Arare Crusted Shrimp & Chips with Hurricane fries and a yuzu kosho tartar sauce.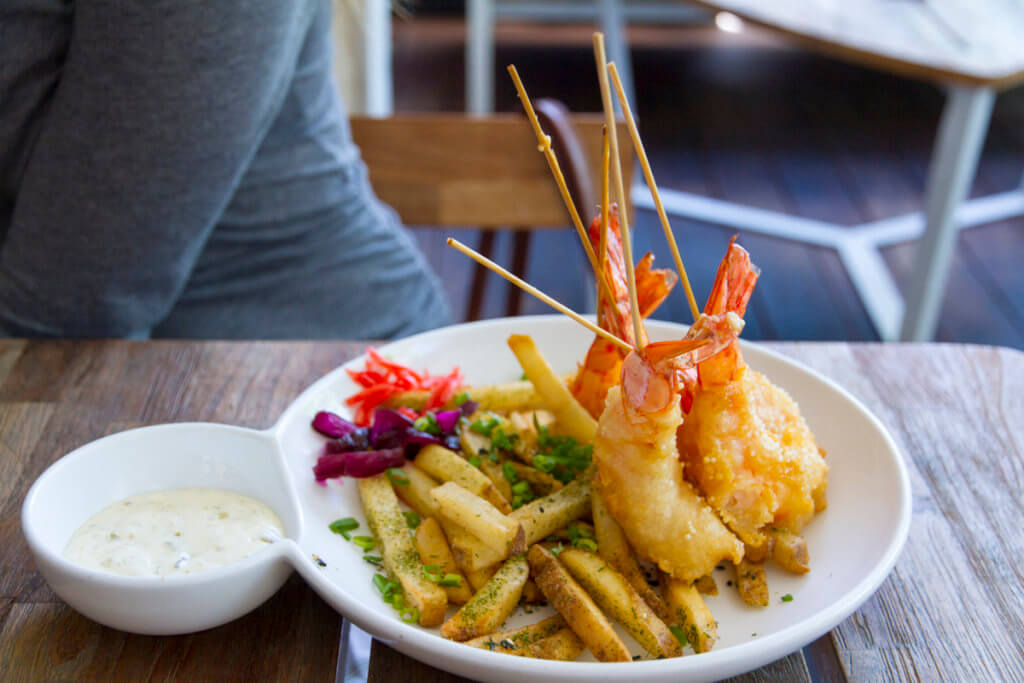 The dish was visually pleasing and well executed, but it didn't quite live up to its description.  For example, the tartar sauce didn't have much of yuzu kosho flavor or kick.  And at $26, for five pieces of large shrimp, it's value isn't so great either.
Me?  I ordered my favorite dish here: the Hawaii Ranchers' beef loco moco.
Eating House 1849's interpretation of this local classic has a grilled grass-fed, local beef patty served on a bed of fried rice in a pool of mushroom demi glaze, which is topped with a local fried egg and a sprinkling o with some lomilomi tomato.  It's a hearty, flavorful dish that's sure to satisfy.  And at $21, it's one of the better values on the menu.  But it's only available during lunch, and the grass-fed beef means it's on the leaner side, so don't order it well done.
Eating House 1849 Final Thoughts
There are some definite winners on Eating House 1849's menu.  Their loco moco is one of my favorite iterations of this local comfort food.  With that said, the overall value of dining here is questionable.  Prices for entrees are all north of $20 with the average being over $30.  That's a lot of money for a casual dining restaurant, even in Waikiki.  I will say, though, that Eating House 1849 does represent a better value and quality than the neighboring Kona Grill (which isn't even a Hawaii-based company).
Would I return?  Certainly, but it's not a place I'd become a regular at because of the value.  And that seems to be a theme among Roy Yamaguchi restaurants; they all represent a mediocre to poor value.  For what it's worth, the restaurant does often offer a reasonably priced prix-fixe menu, though you'll have a tiny selection of dishes from which to choose.