Hawaii-based supermarket chain Foodland has been busy reinventing itself. Part of that reinvention is new stores like the company's Foodland Farms and smaller Kahala Market concepts. But, their diversification now includes restaurants. Recently, I got to try one of these restaurants – Et Al Hawaii by Foodland.
While I like shopping at Foodland stores, I didn't have any desire to try their standalone restaurants. Sure, I enjoyed their Pau Hana Bar at my neighborhood Foodland Farms in Pearl City, but a standalone restaurant is somehow different. That said, I recently headed to Et Al Hawaii for a family dinner. And let's just say that I came away enjoying the experience.
Et Al Hawaii by Foodland Location
Et Al Hawaii is Foodland's first restaurant. Naturally, the restaurant is in one of Foodland's newest stores – Kahala Market. As you might imagine, that means this restaurant is Oahu's upscale neighborhood of Kahala. Specifically, it's in the Kuono Marketplace, which is across the street from Kahala Mall.
The restaurant itself is within Kahala Market, meaning you'll need to enter the store to access it. That said, it is a clearly separate area within the Kahala Market space. In fact, in contrast to the rest of the store, Et Al has a gorgeous mid-century modern interior design with soaring ceilings and tons of windows. It has a wonderfully upscale, yet cozy feeling to it all at once.
Et Al Hawaii by Foodland Service
The service at Et Al was good considering that the restaurant seemed a bit understaffed. Our waiter was friendly, patient, and well-intentioned, though there were some odd service points. The oddity that stood out the most to me was when one of our guests ordered a bottle of sparkling water. Rather than bring a new glass with the bottle, the server asked if our guest wanted a new glass or preferred to use his existing water glass that was still filled with regular water.
Menu
Unlike Foodland's previous dining concepts, Et Al Hawaii is open for three meals per day – breakfast, lunch, dinner, and brunch on weekends. Et Al even has a Pau Hana (happy hour) menu. For our visit, though, we enjoyed their dinner service.
Dinner
There were five of us at dinner, so we chose to order a variety of starters and desserts to share, while everyone got their own entrees. Naturally, I'll only be covering what I ate in this review, which means I won't have any opinion about dessert. Hey, my entree was HUGE, and I couldn't eat any more after that. I will, however, share photos with you all so you can at least see what they look like.
Non-Alcoholic Refreshers
Neither Mrs. Island Miler nor I felt like drinking, so we ordered a couple of mocktails. I chose the Lavender Lemonade ($5) while Mrs. Island Miler got the Tiny Bubbles ($9) which is a soda made with kaffir lime leaf syrup, fresh lime, mint, and Thai basil soda. Of the two, I thought the Lavendar Lemonade was the best. The Tiny Bubbles was great, but it was a bit too sweet for my liking.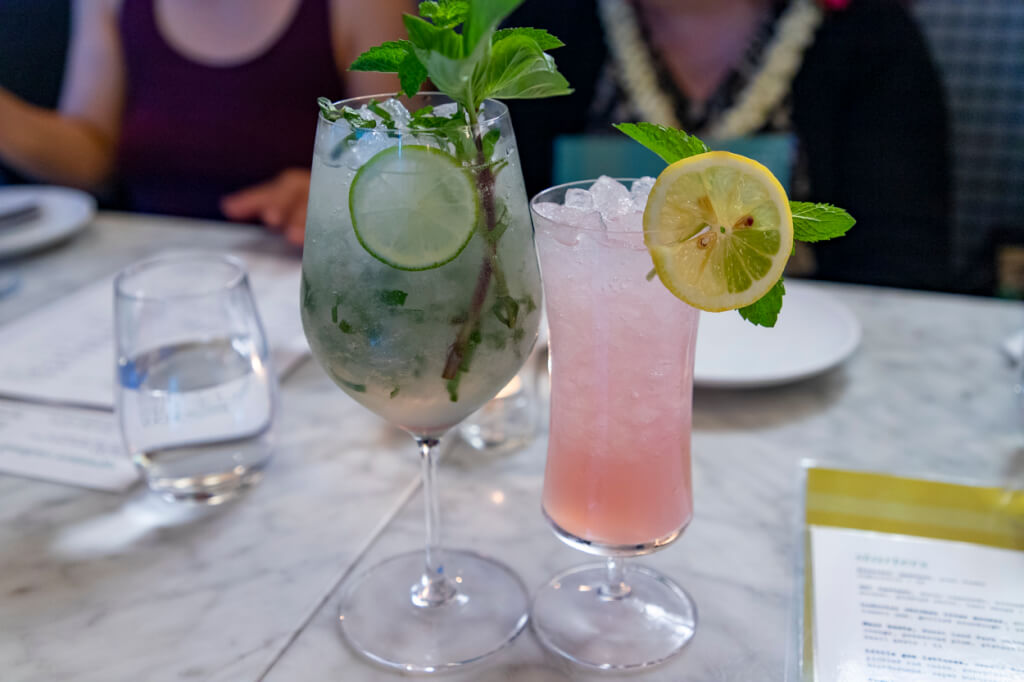 Little Gems Lettuces ($15)
It's a salad. Though, interestingly, it's a salad meets bagel & lox. Along with the lettuce, you get smoked salmon, pickled red onions, everything seasoning breadcrumbs, and caper buttermilk dressing.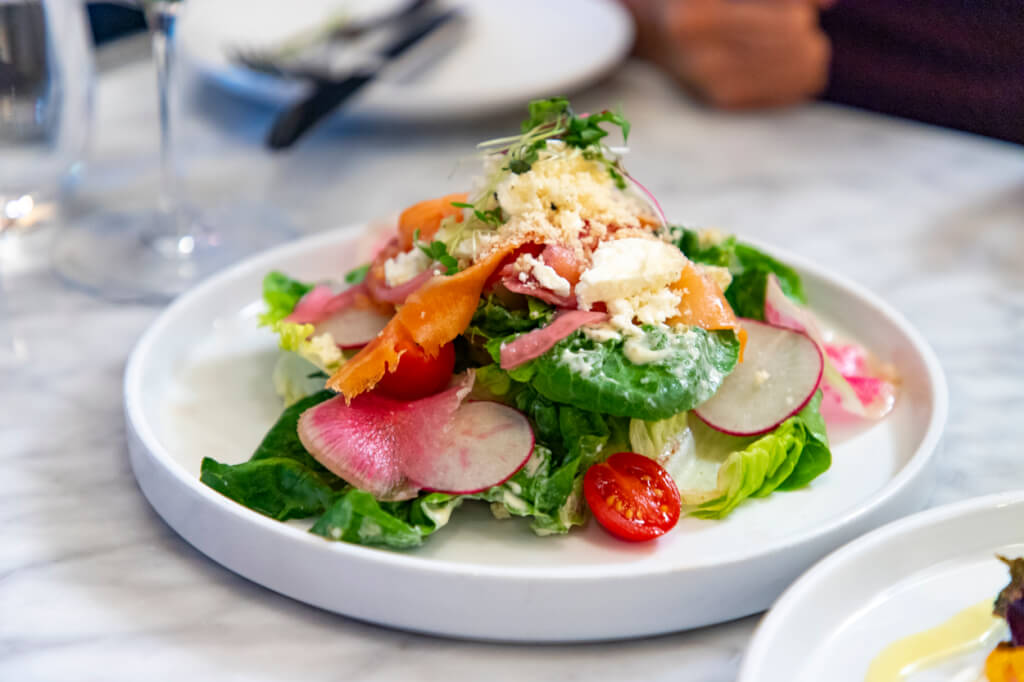 While interesting in concept and tasty, I have to say I didn't think this salad was anything special. Perhaps, though, it's because it paled in comparison to the other vegetable dish we ordered – the Maui Beets.
Maui Beets ($11)
As you'd imagine, this next dish was a "salad" of roasted beets. Unsurprisingly, it also came with Sweetland Farm's chevre. But, the beets also came with orange, preserved plum, pistachios, and a lemon basil pesto.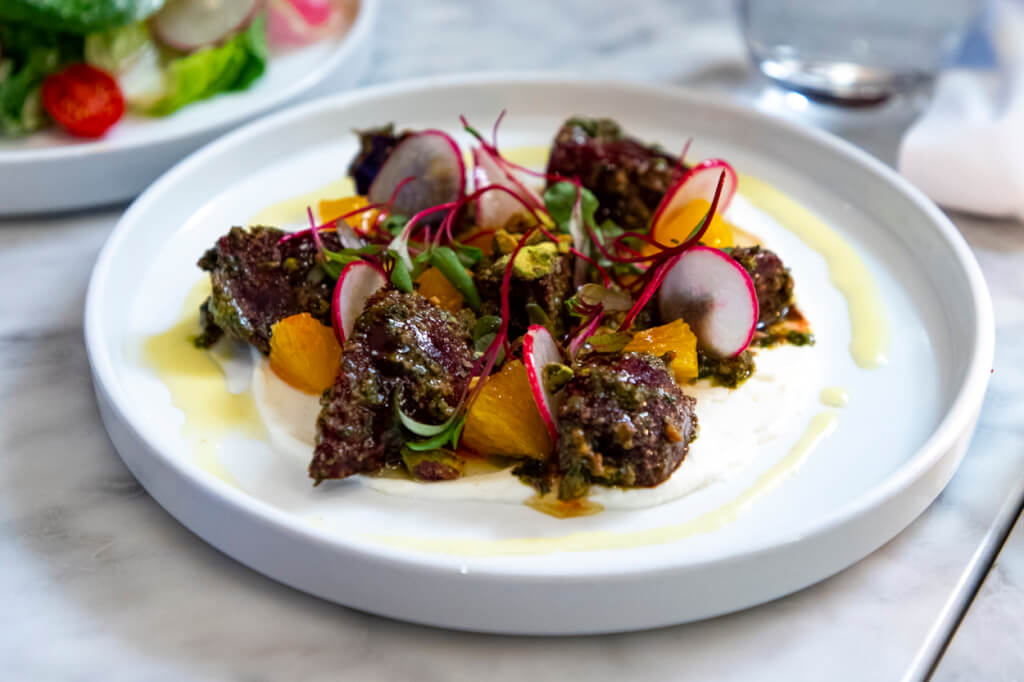 This rustic-looking dish ended up being one of my favorite of the night. It was deeply savory, earthy, sweet, and acidic all at once. A very tasty, well-balanced, satisfying, yet intriguing dish.
Ludovio Chicken Liver Mousse ($14)
Mrs. Island Miler and I both love chicken liver mousse. What's more, I love J. Ludovico Farm chicken. So, naturally, we had to try this dish.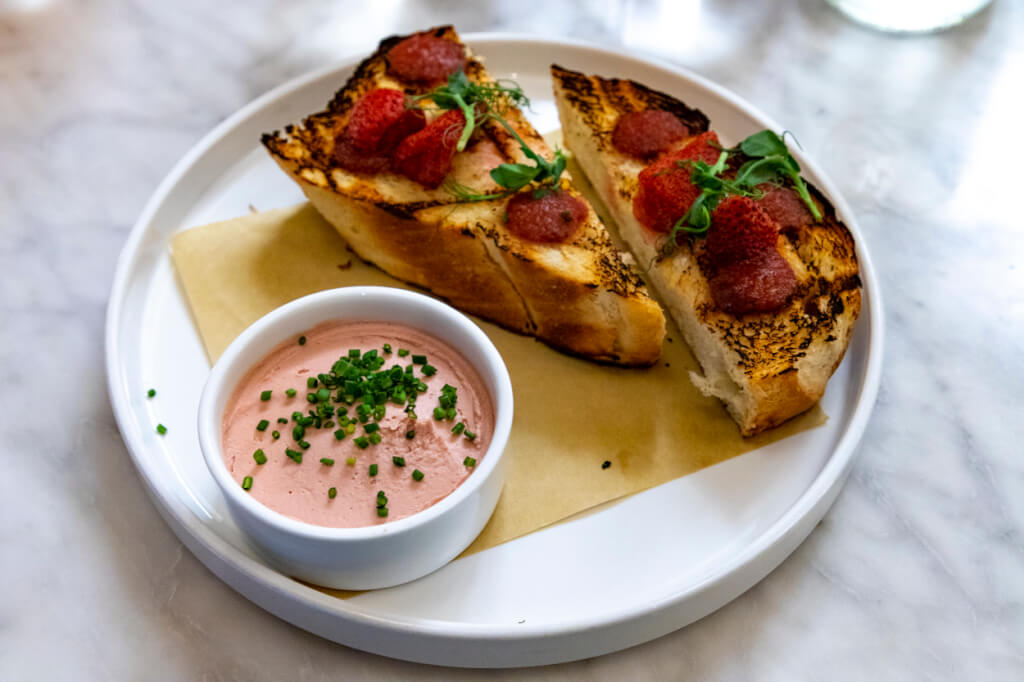 While the pink chicken liver mousse accompanied by grilled sourdough and strawberry tomato jam looks delicious, this dish fell pretty short. Unfortunately, the chicken liver tasted strongly of liquor. I'm not sure if this was on purpose or if the prep was done wrong that night, but I've never had chicken liver mousse that had an overwhelming taste of alcohol.
Grilled Tako ($26)
For my entree, I chose the Grilled Tako. This pasta dish normally features cavatelli. However, the only noodles they had that night were pappardelle. Otherwise, everything else about this dish remained the same, including the housemade chorizo, the red wine tomato sauce, and the crispy potatoes – sort of.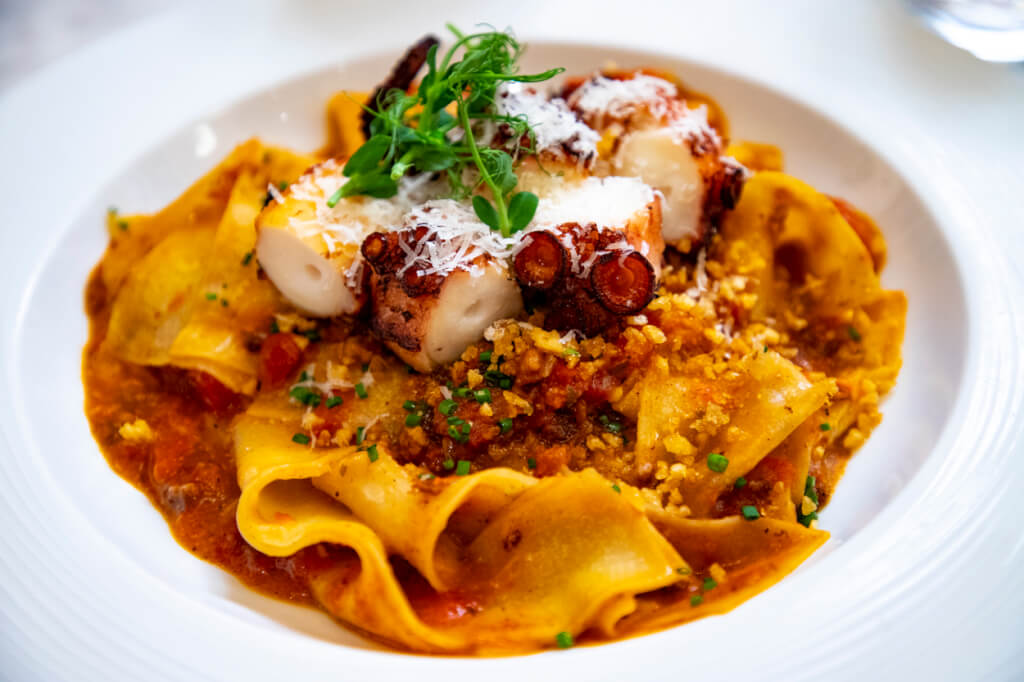 Now, let me start off by saying I LOVED this dish. The tako (octopus) was tender yet crispy and smokey all at once. The sauce was flavorful if a little spicy for my liking, while the lemony toasted breadcrumbs really helped to tie everything together. I'd order this again in a heartbeat! That said, I didn't notice any crispy potatoes and the pappardelle was a bit cumbersome to eat. And don't let my photo fool you – the portion size is HUGE. I struggled to finish my pasta!
Desserts
Our party ordered just about EVERYTHING on the dessert menu. Again, I didn't eat any of it, so here are some photos of what we ordered.Oh, and, all of these are $10.
Limoncello Double Creme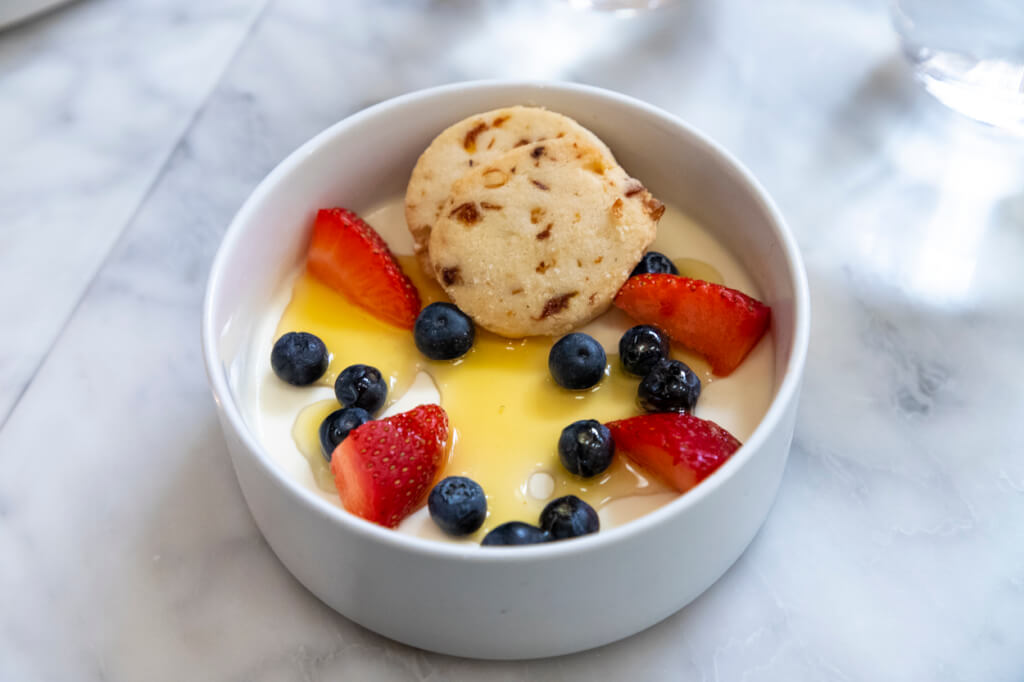 E.V.O.O. Sponge Cake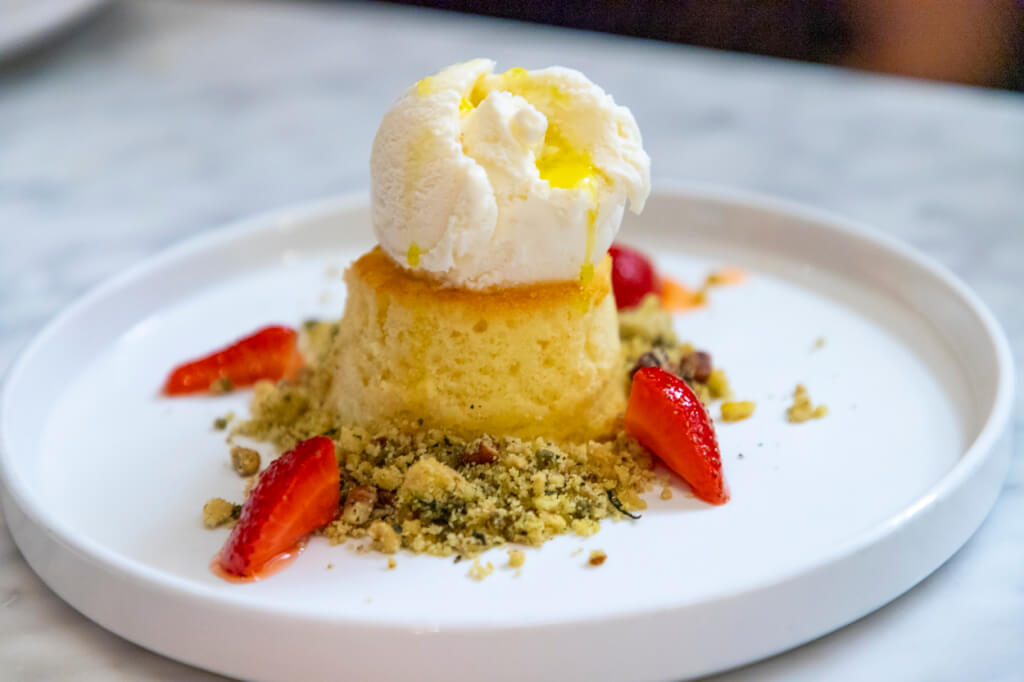 Bananamisu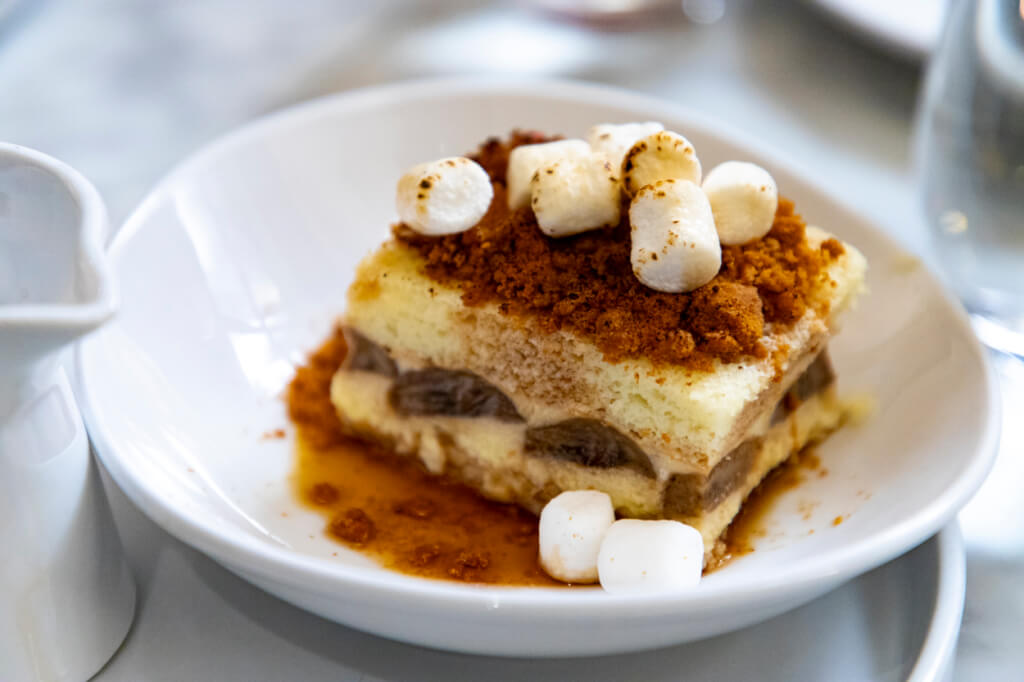 Chocolate PB Textures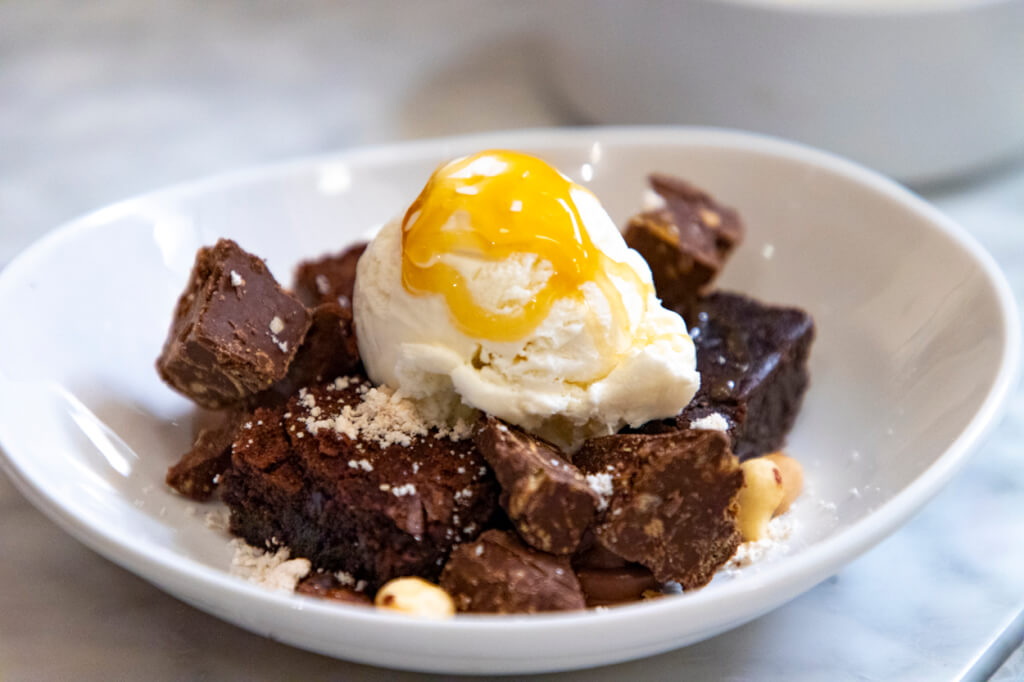 Final Thoughts
To be honest, I went into Et Al with no expectations. That probably helped a lot with my final perception of the place. And as I said earlier in the review, I did genuinely enjoy our dinner here. I'd definitely head back just to get the Maui Beets and Grilled Tako again. Plus, I'd like to try the Ahi Tartare and the burger. What's more, this positive experience does make me want to give Foodland's other restaurant – Mahi'ai Table at Foodland Farms Kamakana Ali'i – a try.