I've said it before, and I'll say it again, the pandemic has seen the rise of interesting new foodstuffs in Hawaii. One of the latest of these is Chef Jeremy Shigekane's Foodstart A5 Wagyu Beef Musubi.
There's no doubt that the pandemic ravished the food industry around the world. However, it also bred interesting new startups and new innovations from existing players. Some of my favorites so far include C4 Table by Chef Colin Hazama, Double Fat Ice Cream, and Piccola Onda. This next one, however, is a little different – it's an existing restaurant that pivoted into new lines of business. And that restaurant is M by Jeremy Shigekane, which itself is the former Chef Mavro.
Foodstart A5 Wagyu Beef Musubi
Foodstart is the catering division of M by Jeremy Shigekane that also does pop-ups on its own and in partnership with C4 Table. And while Chef Shigekane offers a variety of excellent sounding items, the dish that intrigued me the most is the Foodstart A5 Wagyu Beef Musubi. Think Spam Musubi, only fancier. Rather than Spam in the center, the basic version ($3.50) of this encases homemade tsukudani and yuzu kosho in wagyu beef fat rice and nori. The deluxe version ($7) ups the ante by adding pieces of seared A5 wagyu beef. Sounds good, doesn't it? That's because it is.
When I ordered my musubis, I opted for the deluxe version. Sure, it's double the price of the basic one. But, where else are you going to get this kind of quality for this price. Admittedly, I am not a fan of A5 wagyu beef. It's far too rich and fatty for me. However, while the wagyu fat adds richness to the rice, and the beef is buttery and soft, the musubis are very nicely balanced. You see, the mild spice, slight bitterness, and citrus notes of the yuzu kosho, along with the salty, sweet, umami of the tsukudani add complexity and balance the whole thing. These elements perfectly counteract the richness of the beef and enhance the overall flavors.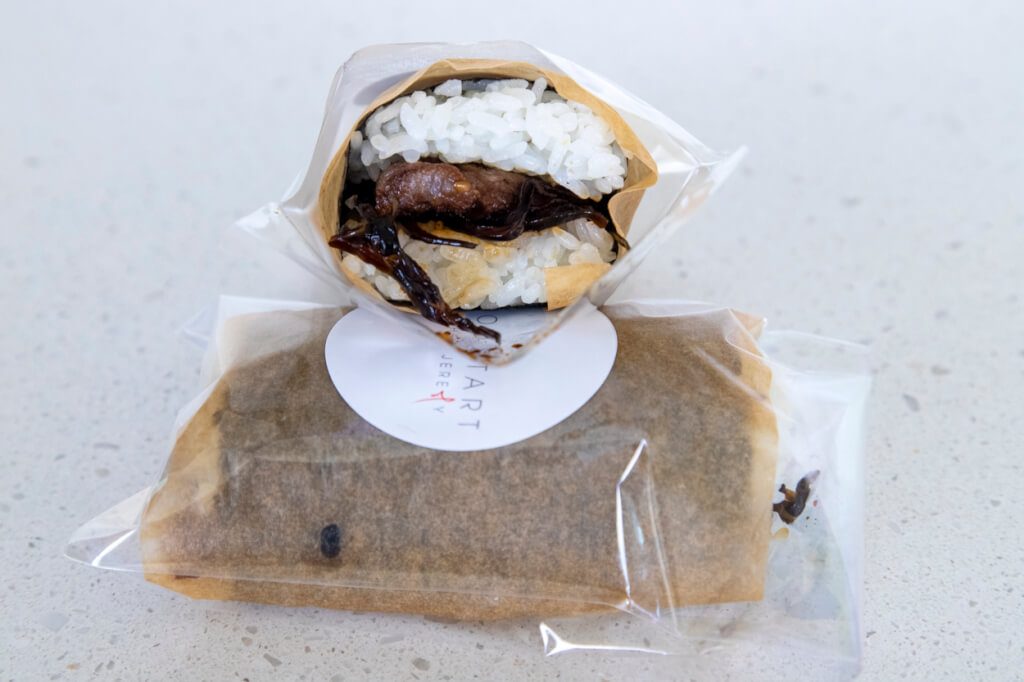 How to Order
Typically, these delectable musubis are available for pick-up on Saturdays at M by Jeremy Shigekane. The pick-up time is usually from around 10 am to 12 pm, though these times can vary slightly. To place your order, e-mail foodstartservice@gmail.com with the type and quantity of musubi you want, your name, and desired pick-up time. Then, send your payment to @foodstart using Venmo Business. Once your payment and e-mail are received, you'll get a confirmation e-mail.
To see what the next pick-up date and times are, be sure to follow @foodstart_by_js and @mbyjeremyshigekane on Instagram. And when you do, be sure to check out what else they have on offer.
Final Thoughts
I'll admit, $7 is a bit steep for a musubi. But, it's also worth it, in my opinion. After all, Chef Shigekane uses top-quality ingredients in these extravagant bites. So I think of these musubis as a type of affordable luxury. And, in my opinion, they're worth every cent.