This year, for Mrs. Island Miler's birthday, I decided to book us dinner at one of Honolulu's newest and quirkiest restaurants – HeiHo House. They bill themselves as a gastropub, which is still fairly unique for Hawaii and is one of our favorite types of concepts. Gladly, they didn't disappoint!
Though we're actually going to Maui for Mrs. Island Miler's birthday shortly, I wanted to celebrate with a casual dinner closer to her actual birth date. That's how we found ourselves at HeiHo House this past weekend. Before we get into things, it's important to note that their menu changes OFTEN. Typically, a specific menu will remain for only six to eight weeks. Currently, the restaurant is celebrating its first anniversary with a best of menu that may last through the holidays. However, we were warned that that could change at any time.
So, the dishes you see in this review aren't likely to be what you see when you go unless you go very soon. Oh, and while the current menu is ala carte, that may not always be the case. So be sure to check in with the restaurant ahead of time if you have your heart set on a specific type of experience.
HeiHo House Location
HeiHo House is in Honolulu's rather foody Kaimuki neighborhood. Interestingly, they're in a very non-descript building along 11th Avenue next to a Subway. The only hint that you're where you need to be is a red square mounted above the door. Unfortunately, I couldn't get a photo of the exterior because it was too dark. That said, there are about three parking stalls in front of the restaurant, with tons more located in a municipal (paid) parking lot out back. If you park in the paid lot, weekday rates are $0.75 per hour for the first two hours, then $1.50 per hour thereafter. On weekends and holidays, you'll pay $0.75 per hour. Credit cards are accepted at the payment kiosks within the lot.
Atmosphere & Service
The atmosphere at HeiHo House is pretty unique. The space is lit with many handcrafted lanterns hanging from the ceiling and a large backlit wall opposite the bar. That said, table and bar seating are both available, both of which offer the same menu with a slightly different vibe. Overall, though, the atmosphere here is lively. It's a great spot if you're looking for a fun and upbeat date night, group gettogether, or even a solo culinary adventure.
The service at HeiHo House was fantastic. Our server, Jason, was very knowledgeable and enthusiastic about what he does and what the restaurant was all about. Whatsmore, you could tell that he genuinely loves what he does and what the restaurant is all about. He was also very candid when answering our questions, which we greatly appreciated, and provided just the right amount of interaction. Needless to say, Jason played an important part in making the night as wonderful as it was for us.
Food
The food at HeiHo House is unlike what you'll find anywhere else in Hawaii right now. Perusing the menu may give you some pause or send you running. But, everything we tried made sense from a flavor standpoint, even if it sounds outlandish. And that doesn't surprise me. The owners of HeiHo House are the same team behind Square Barrels in downtown Honolulu, while executive Chef Aaron Lopez is a PAI Honolulu alumni. That is to say that this isn't a fly-by-night operation. So keep all of this in mind when looking at future menus. Things may sound scary, but they usually work out great.
All that said, let's get into the food.
Panna Cotta – $9
Everything on the menu has a name and lists three ingredients. In this case, there's "ikura, amazake, rose." Best I could tell this mean that the panna cotta itself is made with amazake, which was topped with a layer of rose gelee, which itself was covered in a layer of ikura.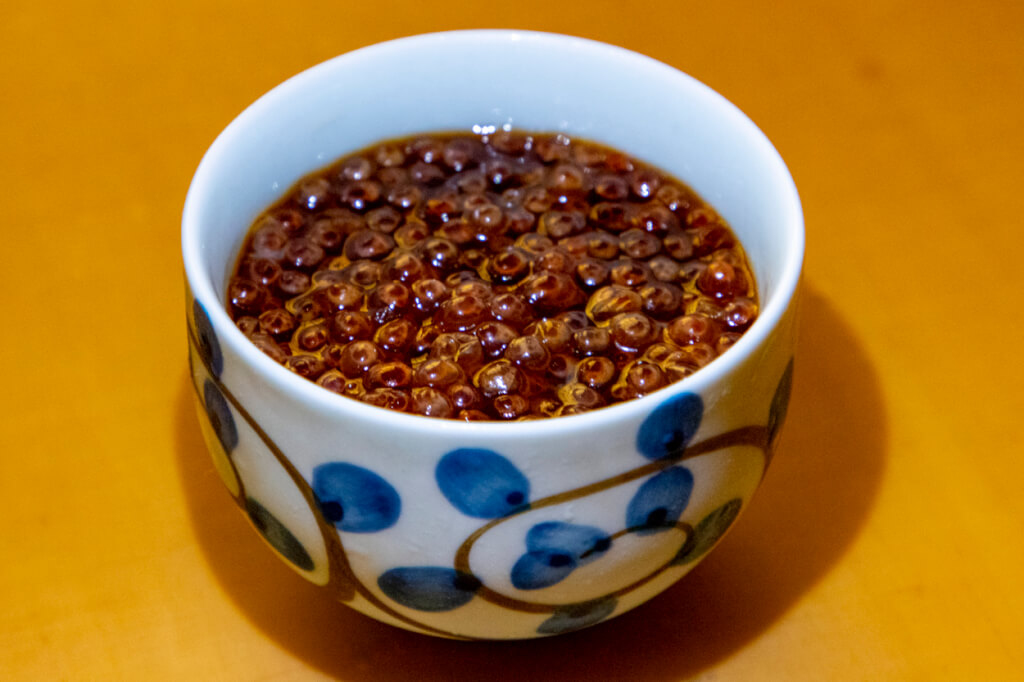 The resulting dish was a savory-sweet light bite that was reminiscent of both a really good panna cotta and a cold chawanmushi. The amazake, which is sweet low-alcohol rice-based drink, adds a subtle sweetness and depth to the panna cotta, which is cut by the brininess of the cure ikura. I couldn't really taste the gelee layer outright, but it does lend a very light floral note to the whole dish, adding an extra layer of depth.
Coppa di Testa – $15
I wasn't going to order this dish at first because its three-word description states: "bittermelon, jabong, and tofu "Swiss." I hate bittermelon. But, Jason convinced us otherwise. The bittermelon here is grated over the top kind of like katsuo or bottarga, along with the tofu Swiss cheese. Those two elements blanketed a field of greens that, as far as I could tell, was composed of mint, shiso, and parsley. All of that sat on thin layers of house-cured Coppa drizzled with mentai mayo. A quenelle of jabong mustarda helped to tie everything together.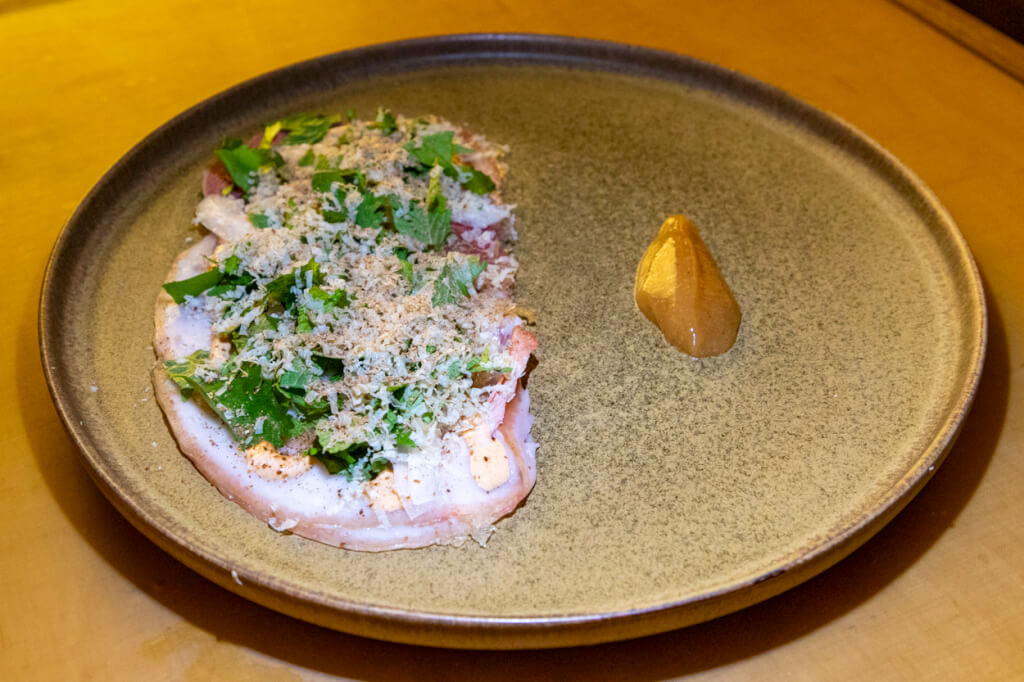 That's A LOT going on in one dish. It really doesn't sound like it should work at all. But, you know what? This dish was phenomenal! For me, anyway, this was probably my favorite dish of the night. I'm pretty sure it was in Mrs. Island Miler's top 3 as well. Though quite complex, the whole thing boils down to an umami bomb that's cut by the herbaceousness of the mint and shiso and the tart bitterness of the mustarda. If we weren't so full from all of the other dishes, we likely would've ordered a second round of this one. Hell, my mouth is watering as I write about it.
Elote Kampachi – $12
"Cilantro, popcorn, nori." That's an interesting combination, no? What it boils down to, however, is dry-aged Kona Kampachi served raw in a pool of cilantro + Thai chili oil, slathered in a popcorn furikake aioli, and topped with tofu Swiss. This is another dish that, conceptually, shouldn't make any sense, but it does!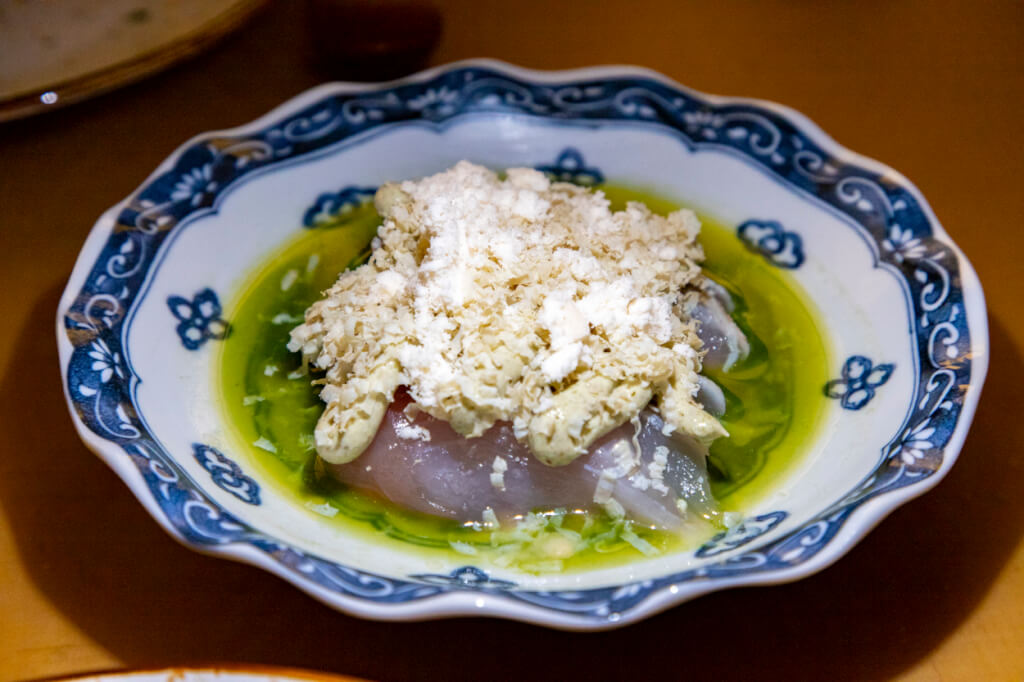 Basically, it's a play on Mexican Elote and local Hurricane Popcorn. The two marry extremely well here making of the best damn sashimi dishes I've ever had! There does look like there's a lot of the aioli on there, but it serves as your main salt component and helps to heighten the flavor of the fish. The oil, with its herbal, slightly bitter, and mildly spicy notes, helps to temper all of the richness and tie everything together. This dish also ended up being one of our favorites in a night filled with standout dishes.
Orchid Dorado – $12
I'm going to be quite honest here. I didn't quite catch what was in this one. There's a lot going on despite when the three-word descript would lend you to believe "gochujang, lavender, potato. "What I did catch is that there's Peruvian potato, pickled cabbage, and actual orchid in there. The gochujang makes an appearance as dots of sauce across the top of the colorful taco-like concoctions.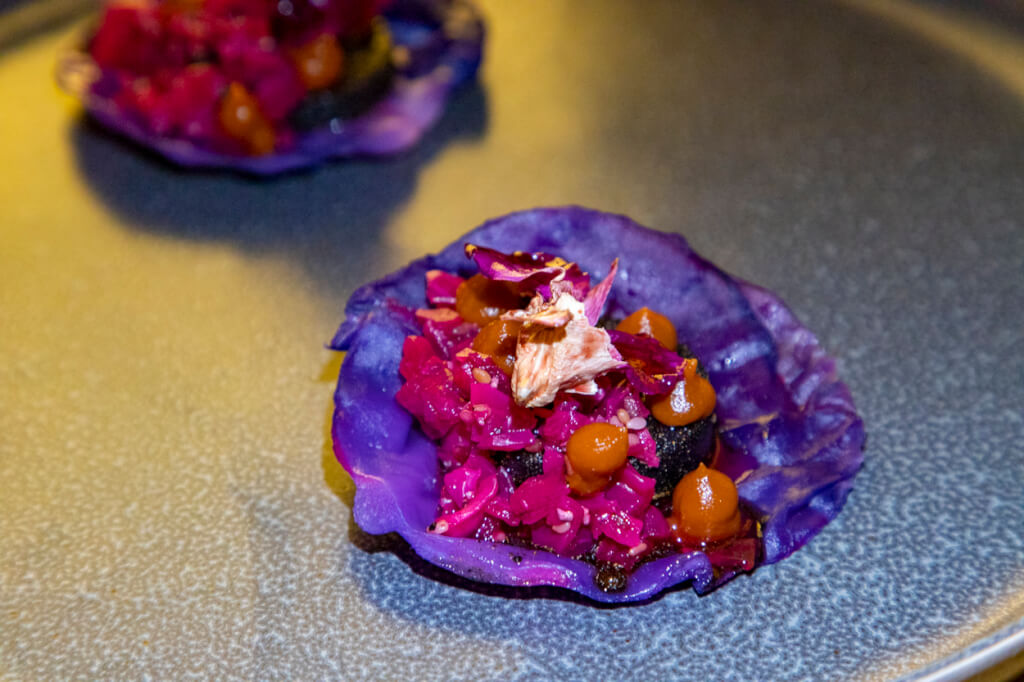 This one was probably my least favorite dish only because it was too spicy for me. Mrs. Island Miler handled it without issue, though, as her spice tolerance is much higher than mine. I will say, though, that the spiciness of the gochujang places well with the tartness of the pickled cabbage. Both serve as a flavor and textural counterpoint to the creamy Peruvian potato. For those of you that like spicy food, this will be a fun and unique take on tacos for you!
Pho – $15
"Ribeye, Thai basil, and horchata." Hm. If you think the description sounds weird, wait till you get a load of the dish itself! This one was a real looker as it looked like some sort of alien concoction. In reality, it's a piece of seared ribeye topped with horchata tapioca with dots of pho soup sauce, pho soup crisps, and Thai basil.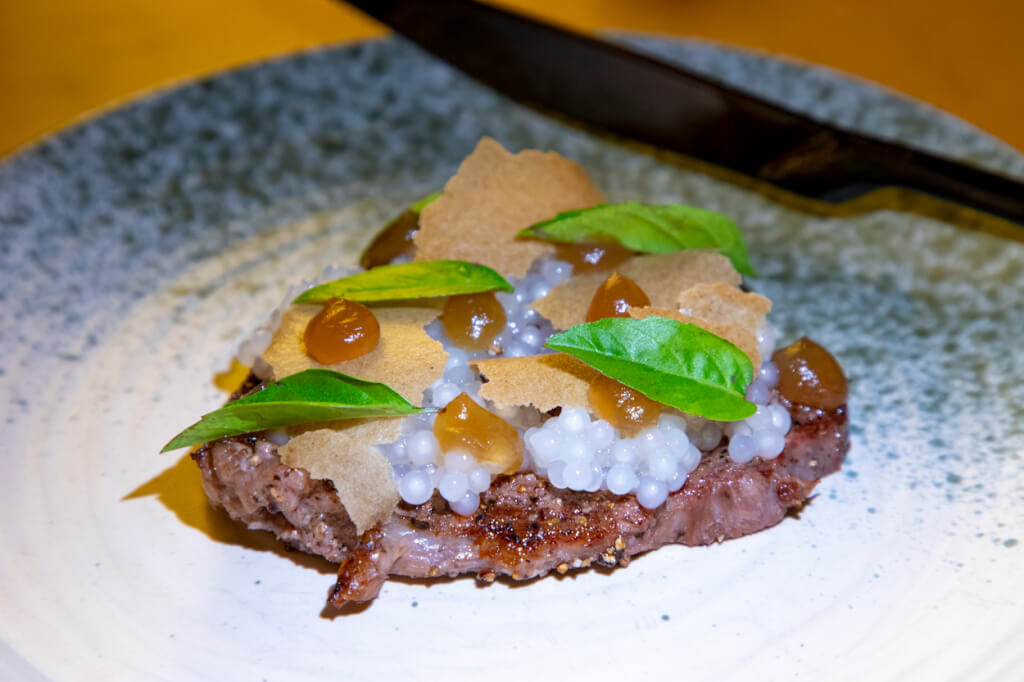 The dots of sauce truly tastes like one of the best pho soups you've ever had in your life, while the horchata tapioca serves a dual purpose – it stands in as some of the spices (like cinnamon) typically found in pho and as an alternate to the noodles. The Thai basil, of course, is a traditional pho garnish and only reinforces the overall flavor profile. Overall this dish works fiendishly well and really does taste like a great bowl of pho just, you know, in steak form.
Celery Yakiniku – $25
This dish was, perhaps, the most puzzling. The description says "stalk, root, seed." So, how the hell does a dish comprised entirely of celery cost $25? That, by the way, makes it the most expensive dish on the menu too. Well, I'll tell you how. In this dish, celery is transformed into actual yakiniku – banchan included!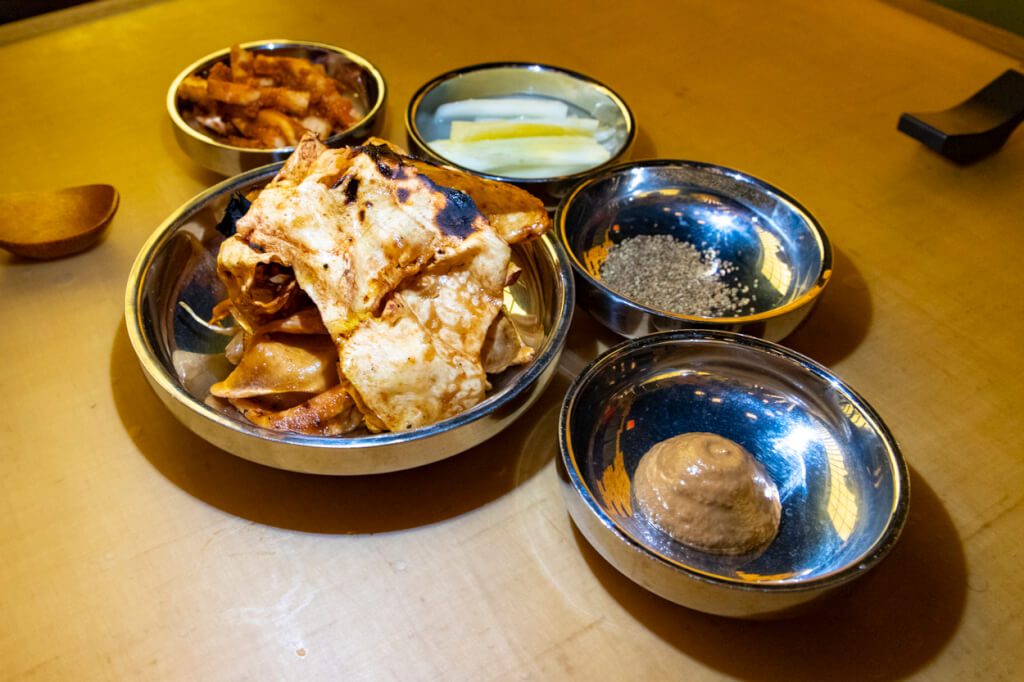 Yup, that's celery root bulgogi, celery ssamjang, celery seed salt, celery stalk white kimchi, and celery root red kimchi. We tried each of the elements on their own, and they all taste great! But the dish really shines when you eat it as you would at a true yakiniku house – as wraps. Only, here, the "bulgogi" serves as both the vegetable wrap and the meat in one. The smoky, sweet-salty, and almost rich celery root bulgogi is enhanced and countered wonderfully by the slight bitterness of the ssamjang, the tart and crisp white kimchi, and the meatier spicy red kimchi. We were completely blown away by this dish and the transformation process that took place. And this is coming from someone that doesn't like celery outside of soups, stews, and braises.
Short Rib – $20
This dish is, perhaps, the most deceptive. The three-word description states "kinako, geranium, juniper." That's it. In reality, it's much more than that. Here, you get a wonderful sous vide short rib in a pool of juniper chili oil. Sounds good so far, right? Well, the short rib is then slathered in melted geranium marshmallow and torched. The kinako comes in as a topping on top of the marshmallow. If you didn't know any better, you'd think they forgot your last savory dish and skipped right over to dessert. It really looks like a brownie smothered in burnt marshmallow. It does not, however, taste anything like that at all.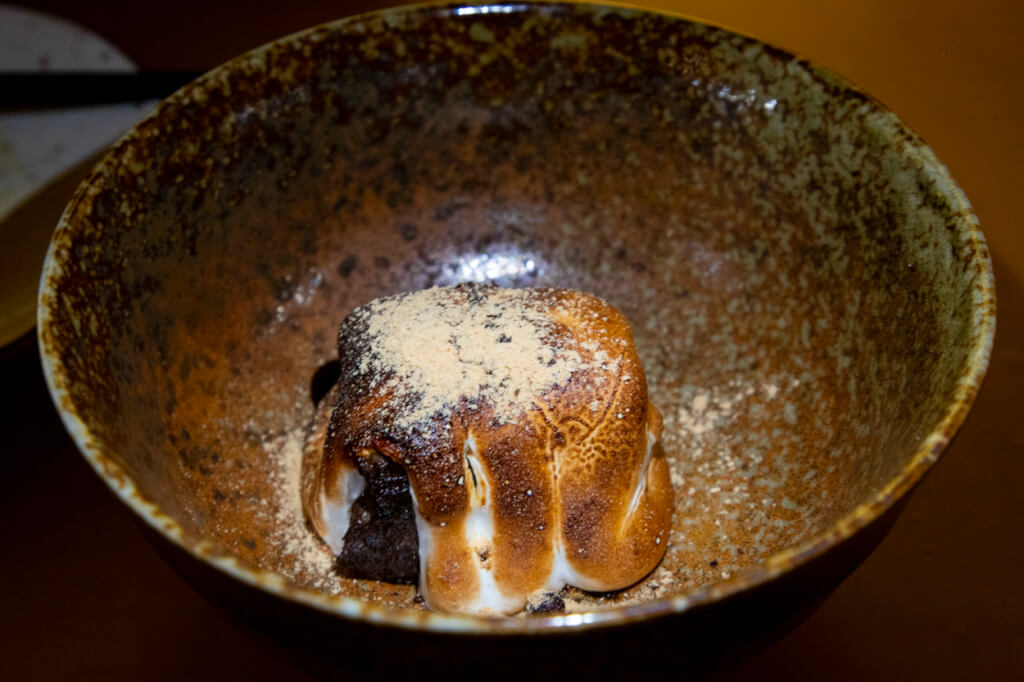 Jason explained to us that Chef took his inspiration from mapo tofu when concocting this dish, which is why it has chili oil. The marshmallow, though, is completely out of left field. It definitely adds shock value to the whole thing. And, unsurprisingly, when you take a bite, you're immediately met with sugary and toasty flavors. But the sweetness is immediately counteracted by the light burn of the chili oil and the intense umami of the beef itself. The juniper berries in the dish provide a wonderful, almost cleansing flavor contrast too.
Texturally, the short rib is fantastic. The meat is tender and almost juicy, while bursts of fat add a welcome richness to the whole thing. I almost couldn't put my fork down.
Not Just for Show
Now, let's talk a bit more about that marshmallow. While it might seem like it's on there just for looks, it does add something to the dish. The intense browning of the marshmallow and the beef add different levels of Maillard reaction-induced flavors. What's more, the beef is salted so heavily that it would likely be too salty on its own. So, in the end, you have a well-balanced dish that's unlike anything else you've ever had. And while it wasn't my favorite dish of the night, it's definitely something I'd order again.
Custard – $10
To close out the meal, we ordered two desserts. The first of those to land was the Custard. Its three-word description states "grape, tofu, molasses." As you may have guessed, the custard in this one is made of tofu. What's more, there are grapes in the dish, along with some molasses flavors. But when the bowl of custard is set in front of you, it comes as a bit of a shock.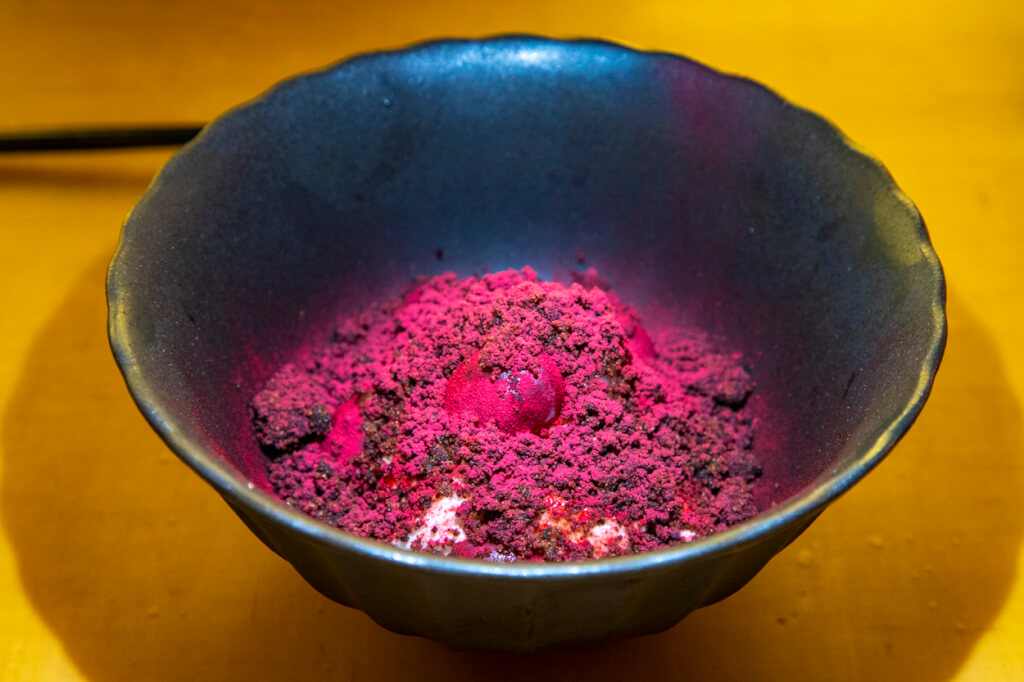 The tofu custard tastes more like a traditional custard than tofu. It's deceptively creamy, yet light at the same time. Chocolate molasses crumble on top adds a slightly bitter, burnt flavor, in addition to a textural contrast, while the grape provides sweet-acidic notes to the whole dish. This was by far our favorite dessert of the night owing to its contrasting flavors and textures.
Variations of Bark – $10
This dish is the only one on the menu with a four-word description: sandalwood, slippery elm, pau d'arco, kiawe. All of these, if you didn't know, are different types of trees. And the barks of all of these trees are incorporated into this dessert dish. Each wood, however, has a separate element with the sandalwood taking cake form, the kiawe a semifreddo, the pau d'arco the whipped cream, and the slippery elm as a meringue.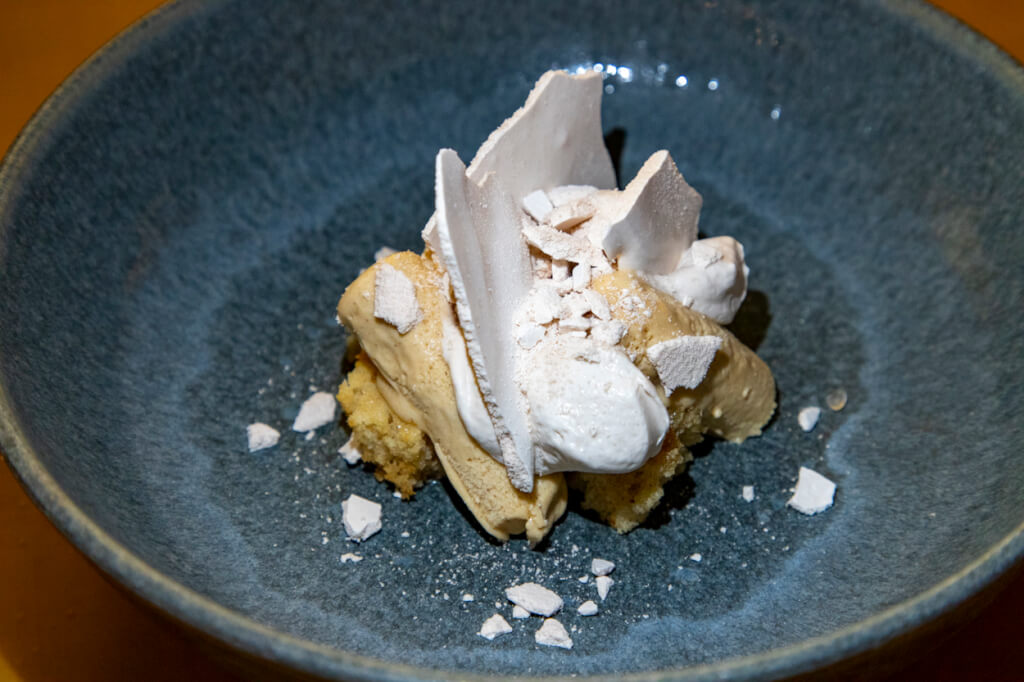 I'm not gonna lie, this is another dish I wasn't planning on ordering. Sandalwood is typically a very perfumy type of wood. That wasn't the case here, though. The predominant flavor ended up being a light, almost caramel-graham profile. It was, however, a little sweet for my liking and almost one-dimensional as far as flavor goes. The texture is where this dish shines, though. The cake is spongy and chewy all at once, while the semifreddo and cream seep into the cake a little, adding some creaminess. The meringue furthers the textural variation with a light crunch.
Cake and Ice Cream – $10
We didn't actually order this last dish. Jason said Chef noticed we were having a lot of fun – and, indeed, the Mrs. and I were discussing our dishes as we tried them – and wanted to send a little something extra. The three-word description on this one is miso, pineapple, and koji. Miso in the cake, koji in the ice cream, and pineapple (sauce) on top.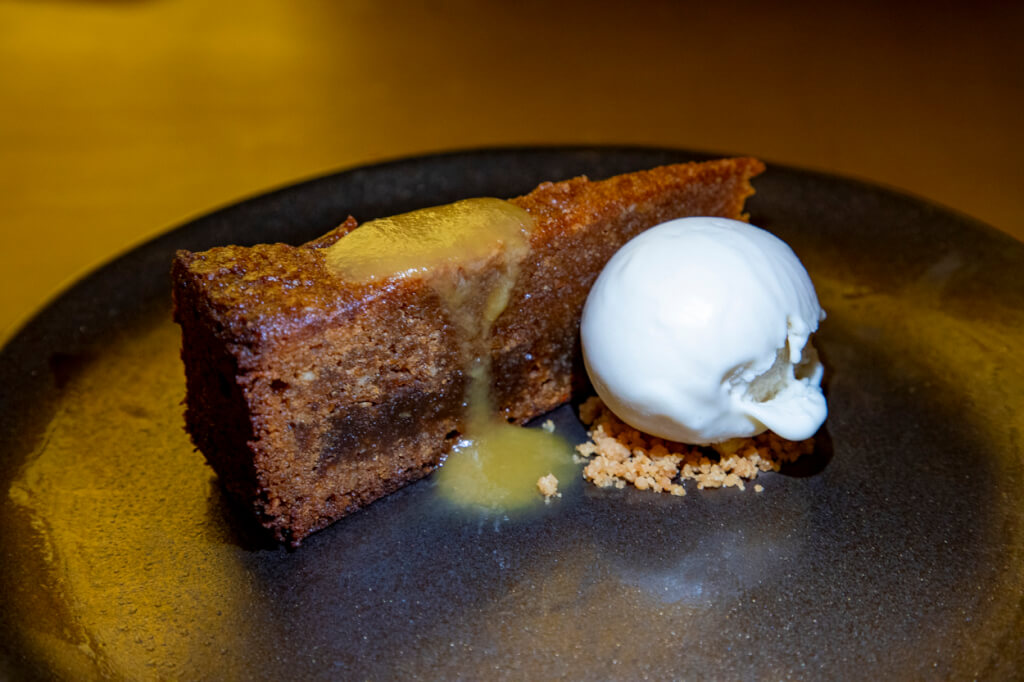 As you might imagine, the cake is a sweet-savory one with lots of umami and caramelized flavors to it. What I wasn't expecting, however, was an almost cheesecake-like flavor profile. The pineapple, while adding a bit of fruity acid, only helps to reinforce this flavor. The koji ice cream does the same too. But taste the ice cream on your own and you'll find that itself is a sweet-savory preparation with a lot of depth and umami to it. I'd likely order this one again too. Admittedly, though, with the marshmallow and the short rib, we were all sugared out by this point!
HeiHo House, Final Thoughts
Admittedly, I had a bit of trepidation when I initially made my reservations. As you can see, the menu is very cryptic and can cause a bit of concern, depending on how adventurous you are. But those concerns are tempered quite a bit once the dishes are actually explained to you, and vanish completely once you try them. And that's what we love about this place. All of our best meals feature an element of surprise to them, and at HeiHo House, that surprise comes in spades. It's a meal that will constantly keep you wondering and hungry for more! Unlike many other places capable of pulling off this kind of surprise, though, the cost of entry is relatively low.
With tax and tip, my total came out somewhere over $190 (I added the cost of the cake to my tip calculation and included the full cost in the final tip), including one drink, which is admittedly steep. However, we left HeiHo House with full bellies and filled with joy. It was an incredibly fun and tasty experience that the Mrs. and I both enjoyed immensely. We will undoubtedly be back! And I highly encourage anyone in Honolulu with a sense of adventure to check this place out too.