Given our late arrival into San Jose, there was no way I was going to drive out to Carmel that night. So, for our first night in California, I chose Hotel Citrine, a Marriott Tribute Collection property in Palo Alto. This was my second Tribute Collection stay and my first dual-brand property.
Why Hotel Citrine?
I know what you're thinking – there are many options closer to SJC. Further, many of those options would have been doable using my available certificate. But, you know what? I didn't want to stay in some extended-stay hotel or one with inconvenient parking. Plus, I wanted to stay somewhere a little more interesting, even if it meant driving an extra five or 10 minutes. That's what ultimately led me to book the Hotel Citrine.
Hotel Citrine Location
As I mentioned earlier, the Hotel Citrine is in Palo Alto, a few blocks from Bayshore Freeway and a 15-minute drive from SJC. It's colocated with an AC Hotel, with both sharing a driveway, but each being in its own building. Thanks to our late-night arrival, we also found that, at least during off-hours, the two hotels share a valet stand. Beyond that, I believe guests from both hotels can make room charges at both properties, though I don't believe they share amenities.
Check-In
After clearing up the confusion about our car, we made our way into the lobby and were graciously greeted by the night manager, Ashley. After going through the usual formalities, she thanked me for being a Titanium Elite member and informed me that we were upgraded to a one-bedroom suite. That was a nice surprise, especially since I didn't use an SNA, and we did request late check-out – though we wouldn't use it to its fullest extent.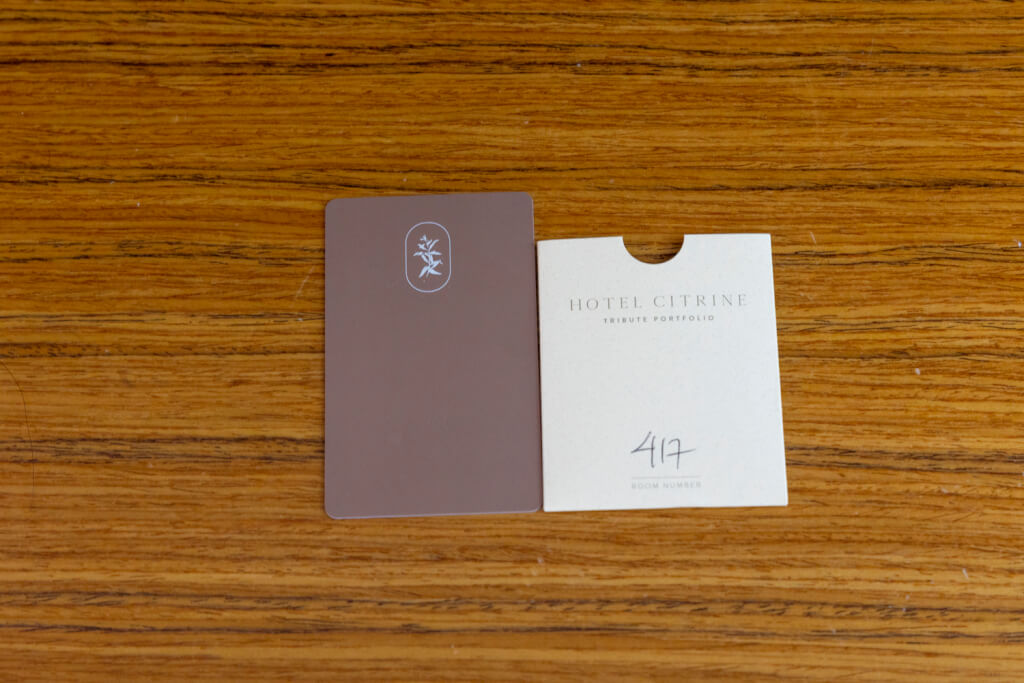 Hotel Citrine One-Bedroom Suite #417
After issuing are keys, we were directed to the elevators and took it up to the top floor of the four-story hotel. Upon entering, we entered into a nice size living room featuring the hotel's signature chair + ottoman, a leather loveseat, a coffee table, a mini fridge, a safe, and a large wall-mounted TV. Unfortunately, a concrete pillar occupies a rather sizeable amount of the far end of the room.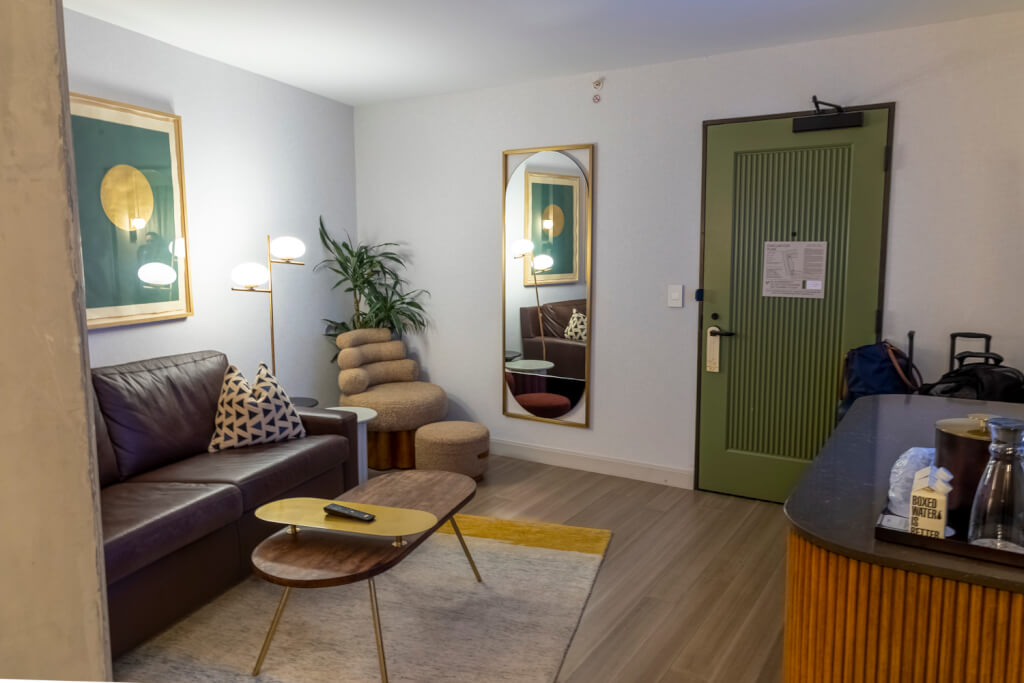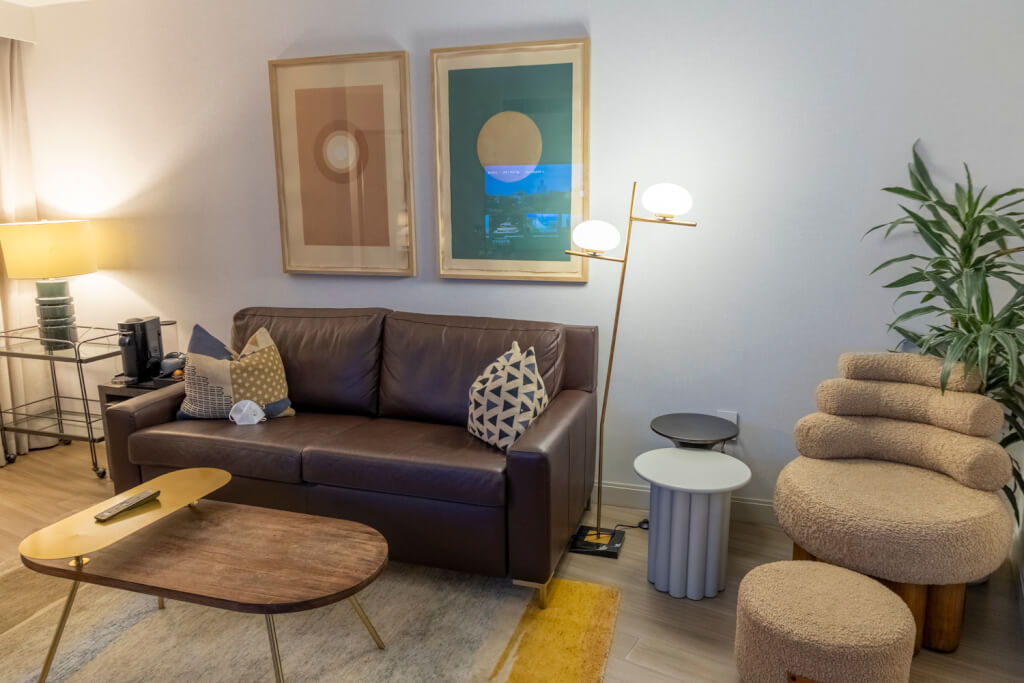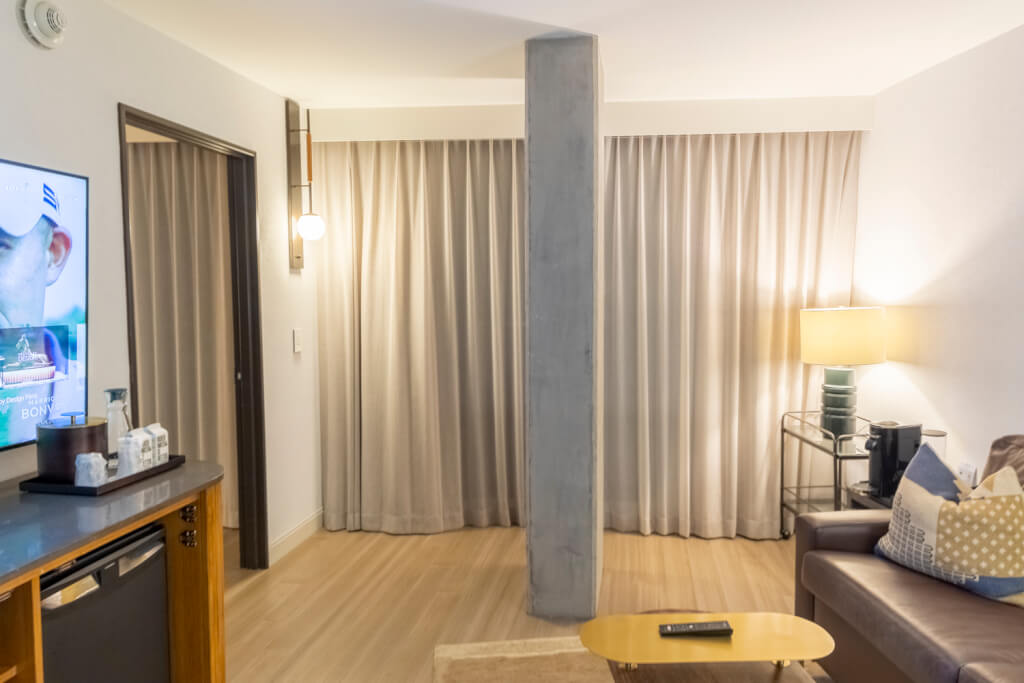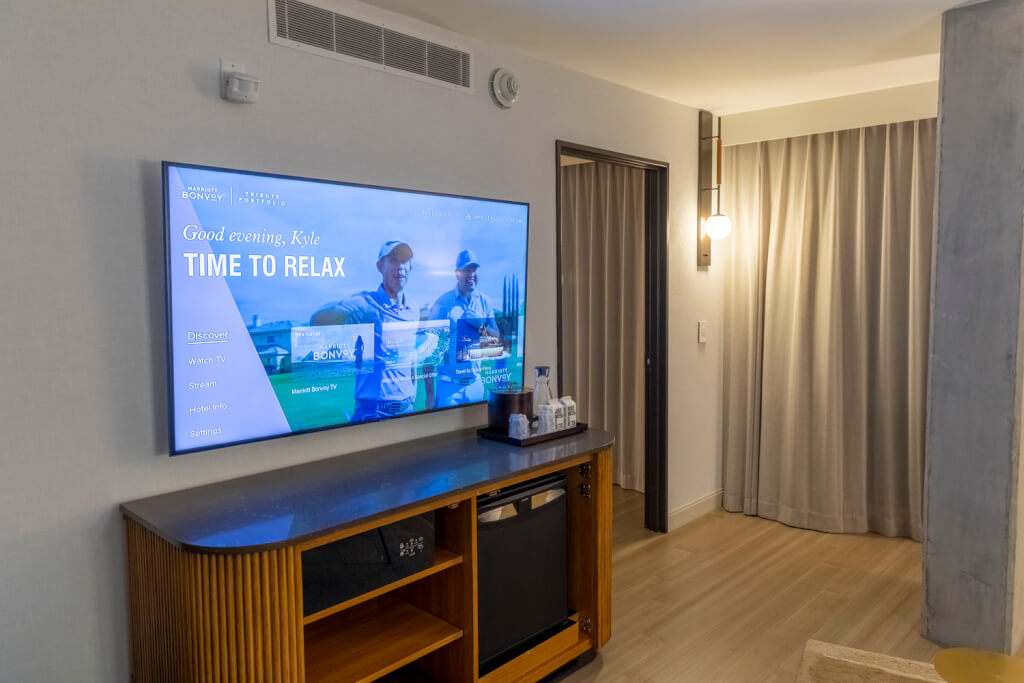 Through the door next to the TV, you enter the large bedroom. In our particular bedroom, we had a king bed with nightstands on each side, a nice closet near the door, a desk with a chair, and another wall-mounted TV.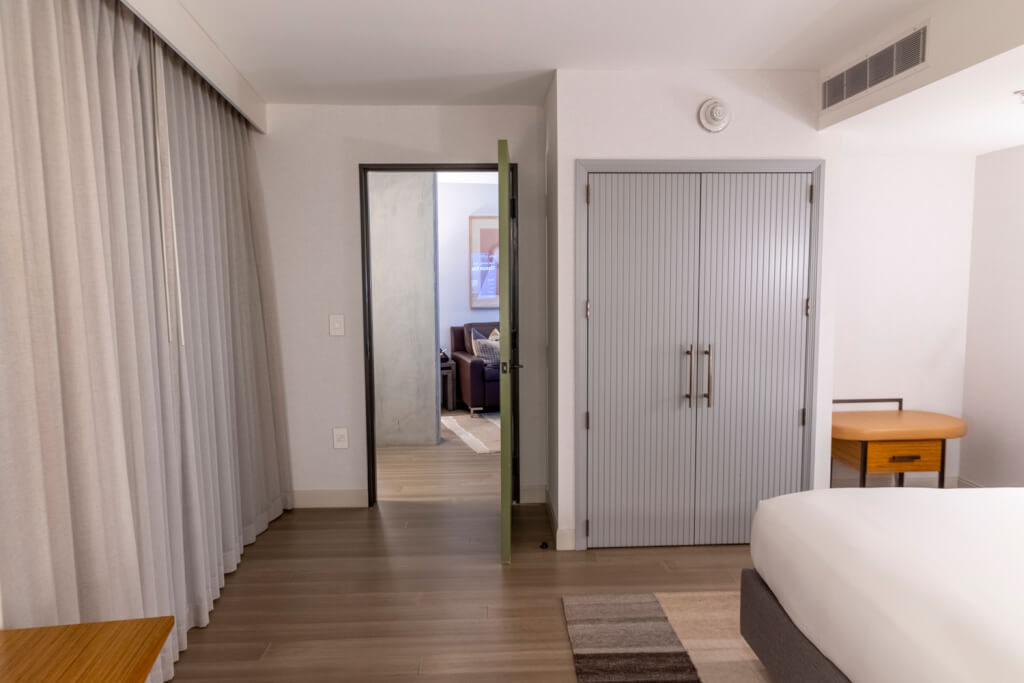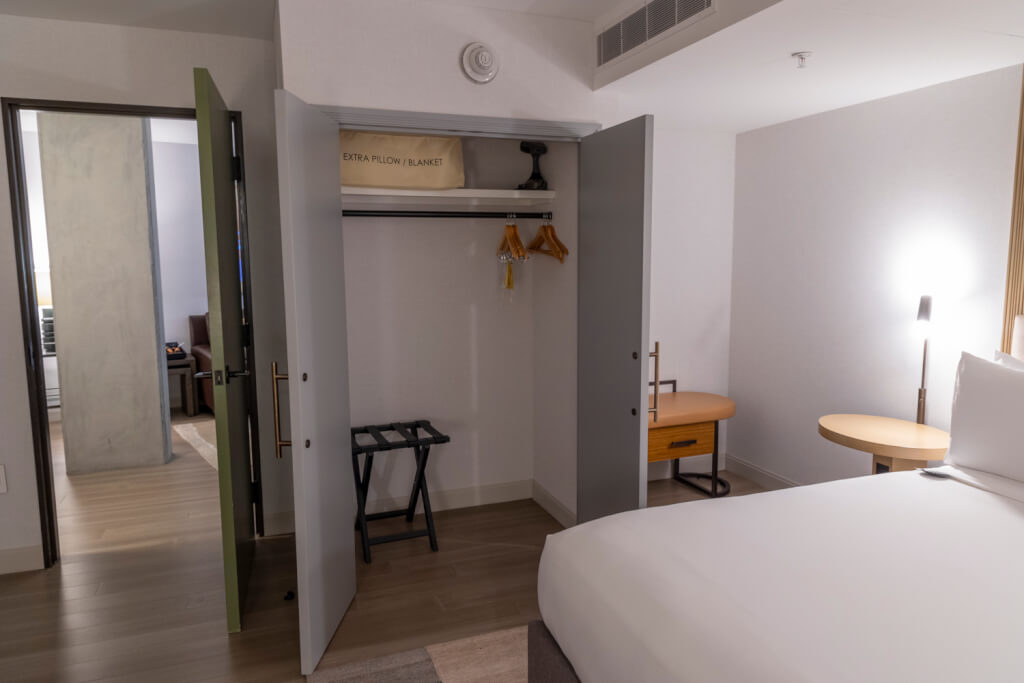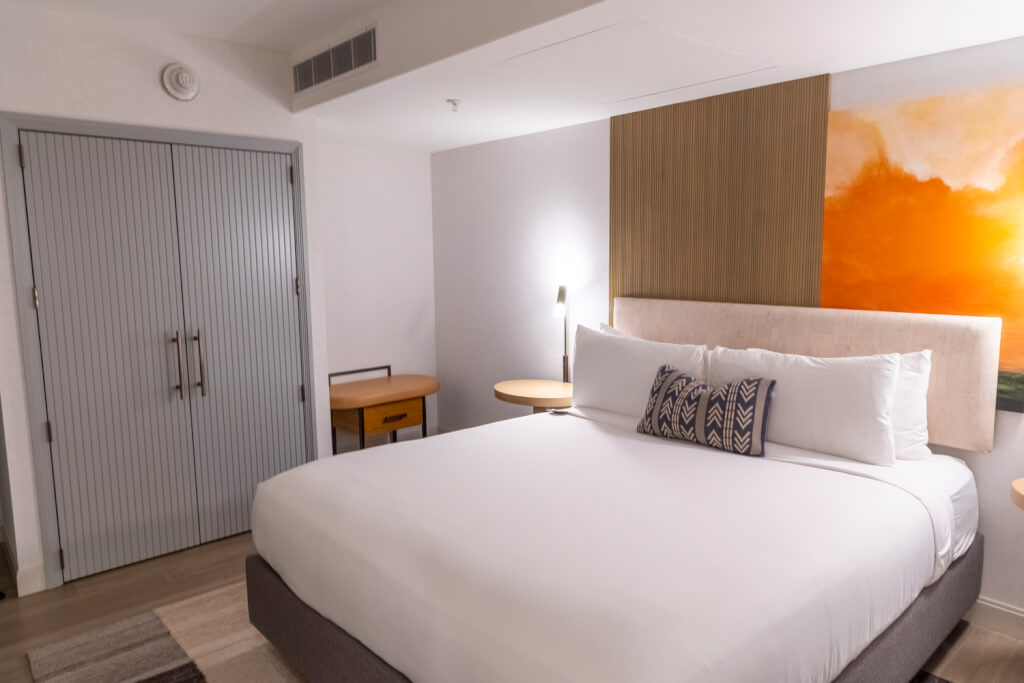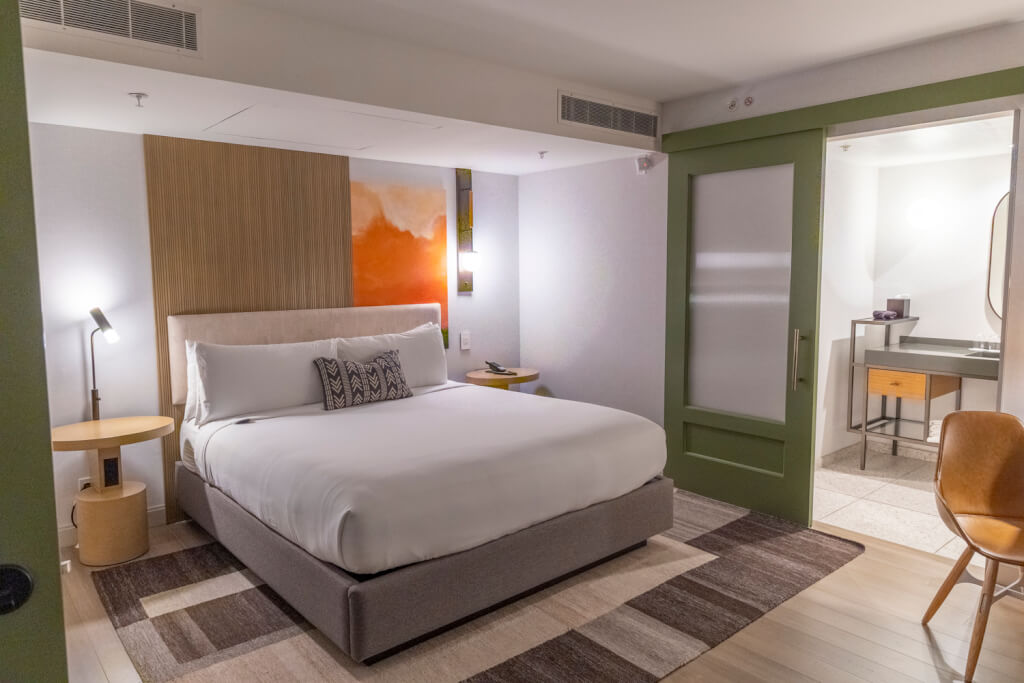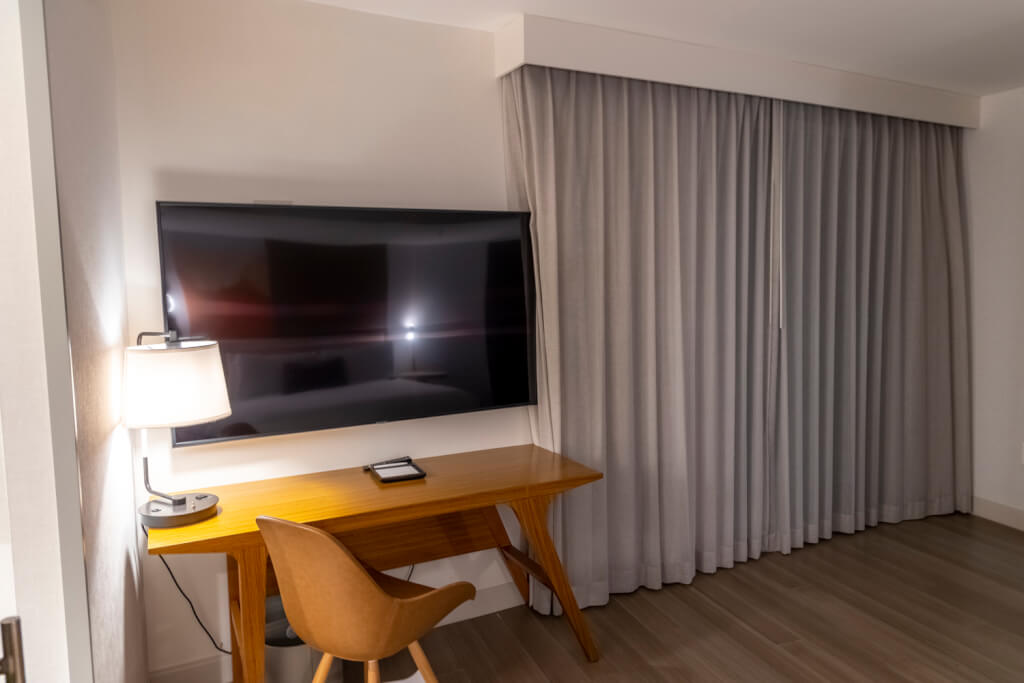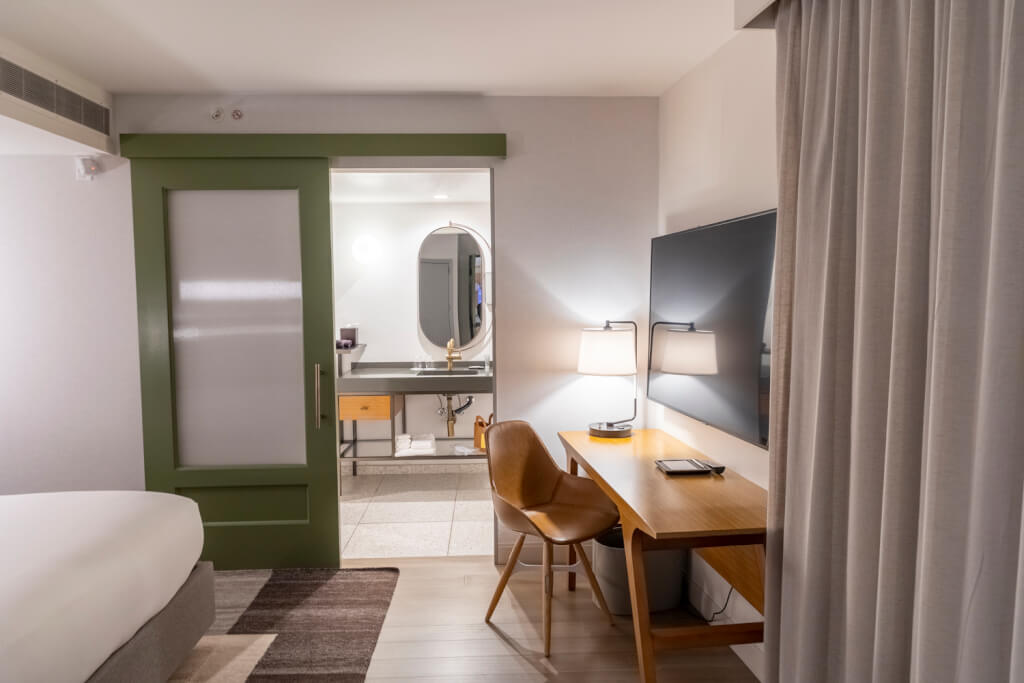 Through the green sliding door opposite the room to the living room is the bathroom, which is a nice size, too. That said, as big as the bathroom is, it only has a single vanity, a toilet in the same room, and a shower stall. Thankfully, the controls for the shower are mounted to the wall opposite the shower head, along with the toiletry dispensers.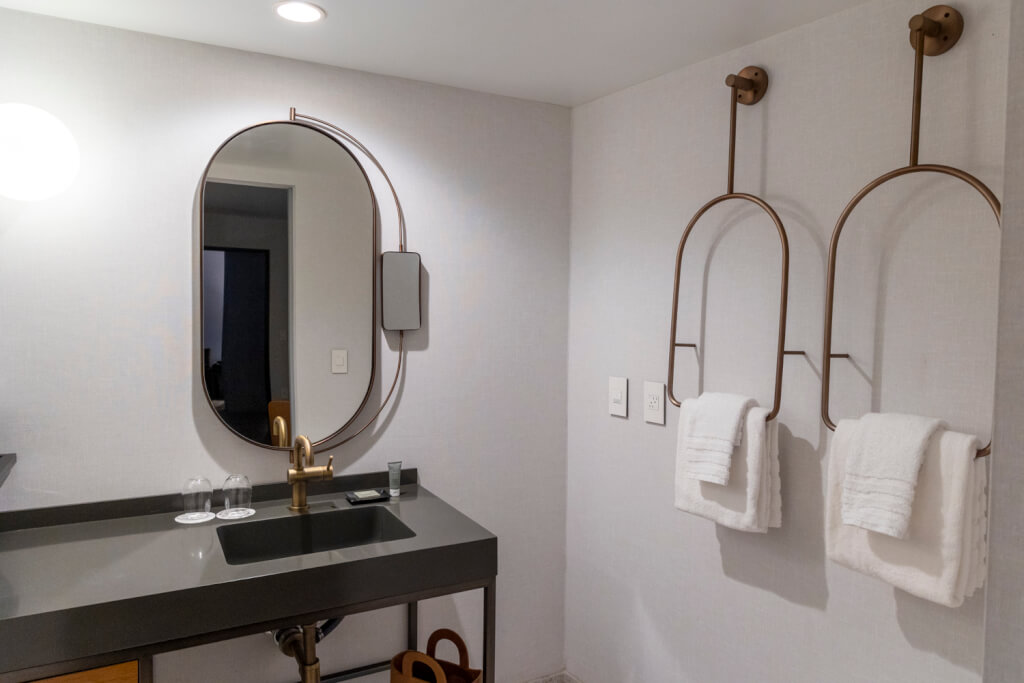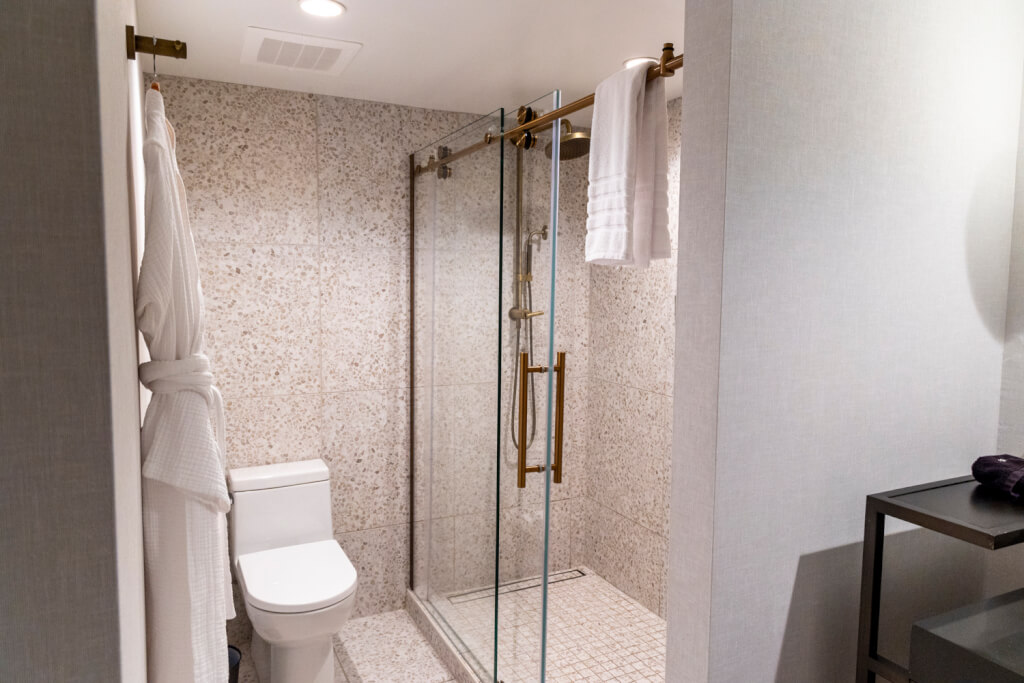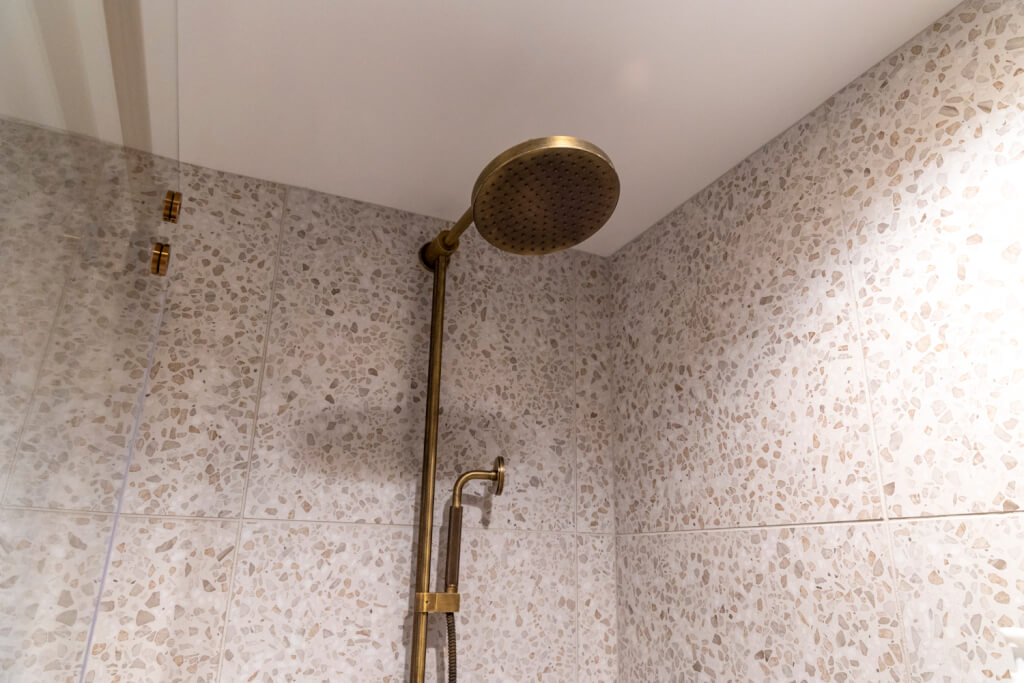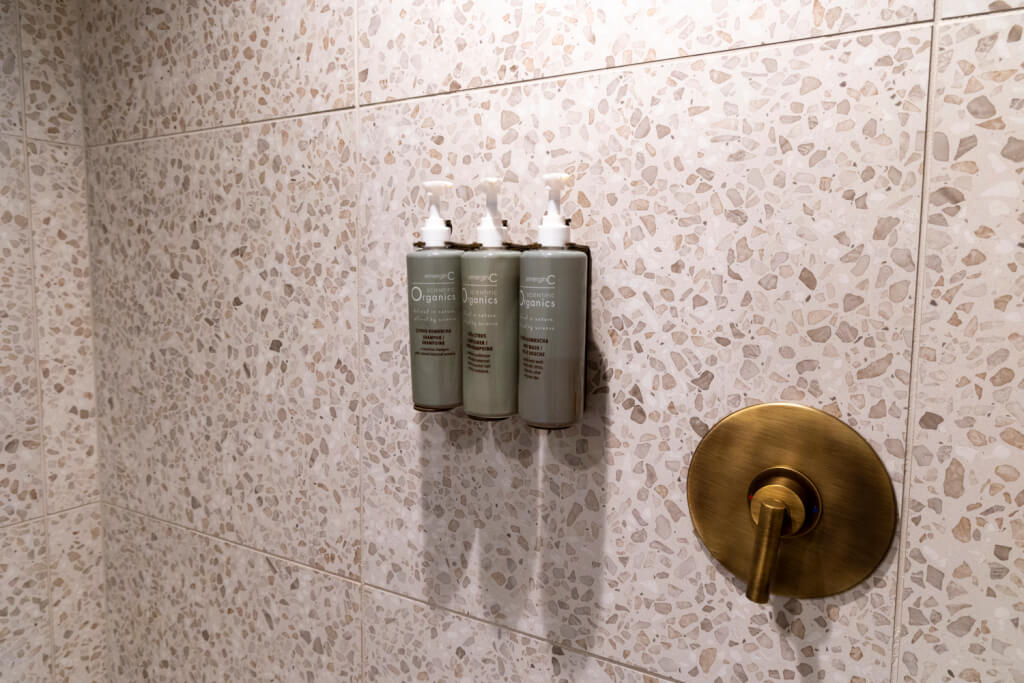 As lovely as this bathroom is, though, it was kind of a nightmare to use. The shower stall doesn't seal well at all, so an enormous puddle of water kept forming outside of the shower. Luckily, we were there for only one night.
View
When we got there, I opened the sliding doors leading outside and discovered a HUGE outdoor terrace featuring potted plants and plenty of plush furniture. Too bad the furniture was all wet while we were there, likely just from condensation. As for the view from the terrace, we looked out over a residential area. But, overall, it was pretty quiet, which was nice, and I loved the fall colors!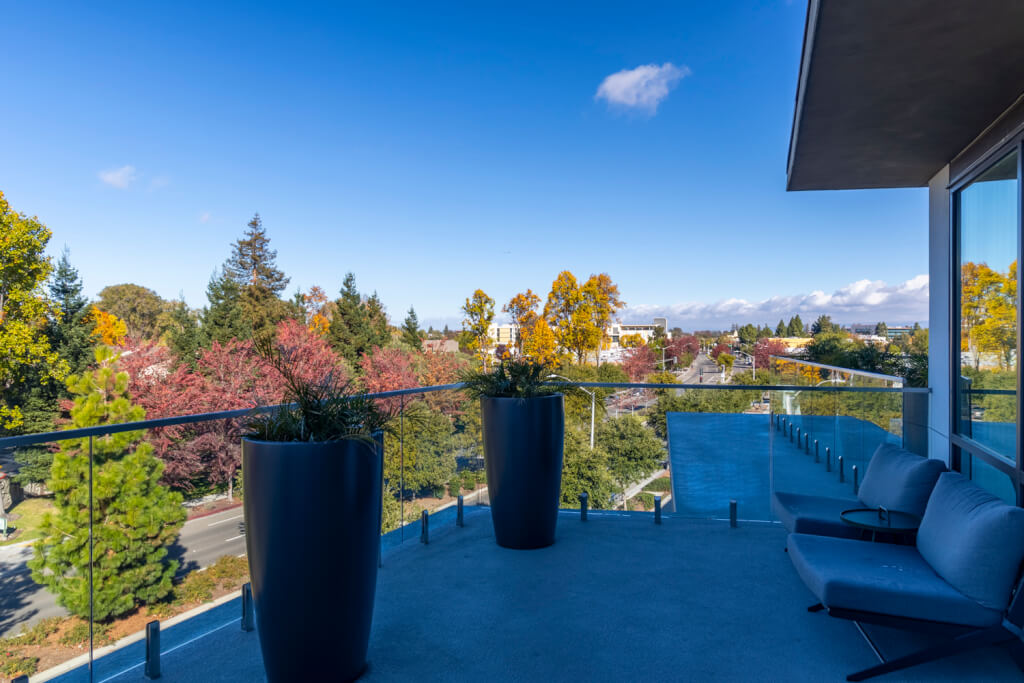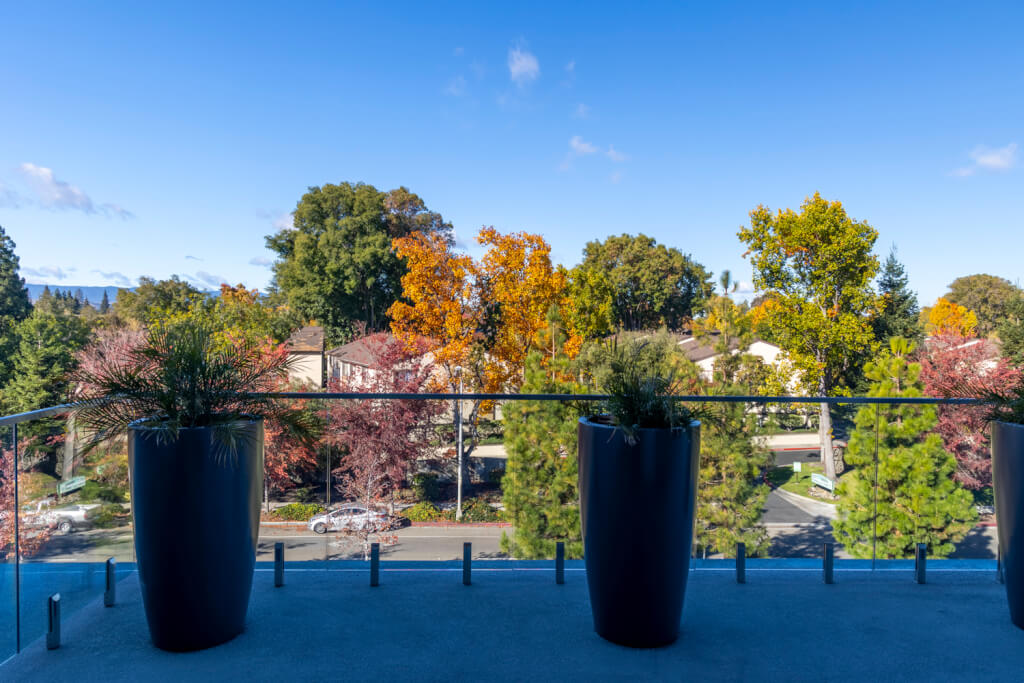 In-Room Amenities
As far as amenities in our room, we had a Nespresso with a small selection of pods. For water, this hotel uses Boxed Water. Wifi was pretty good here, which would've been ironic if it wasn't, as we're in Silicon Valley!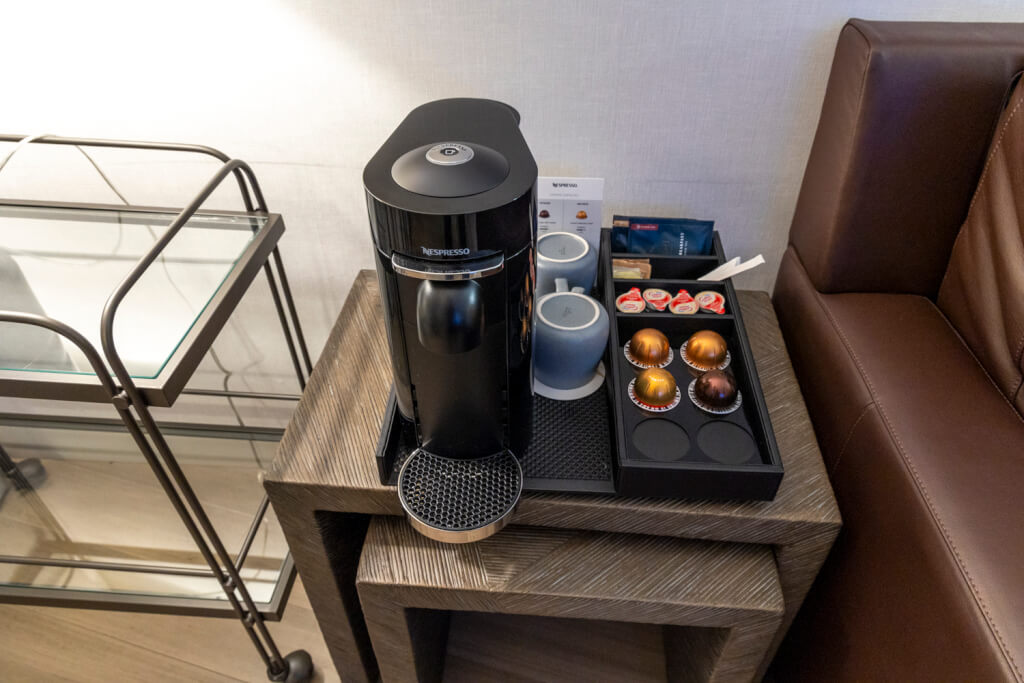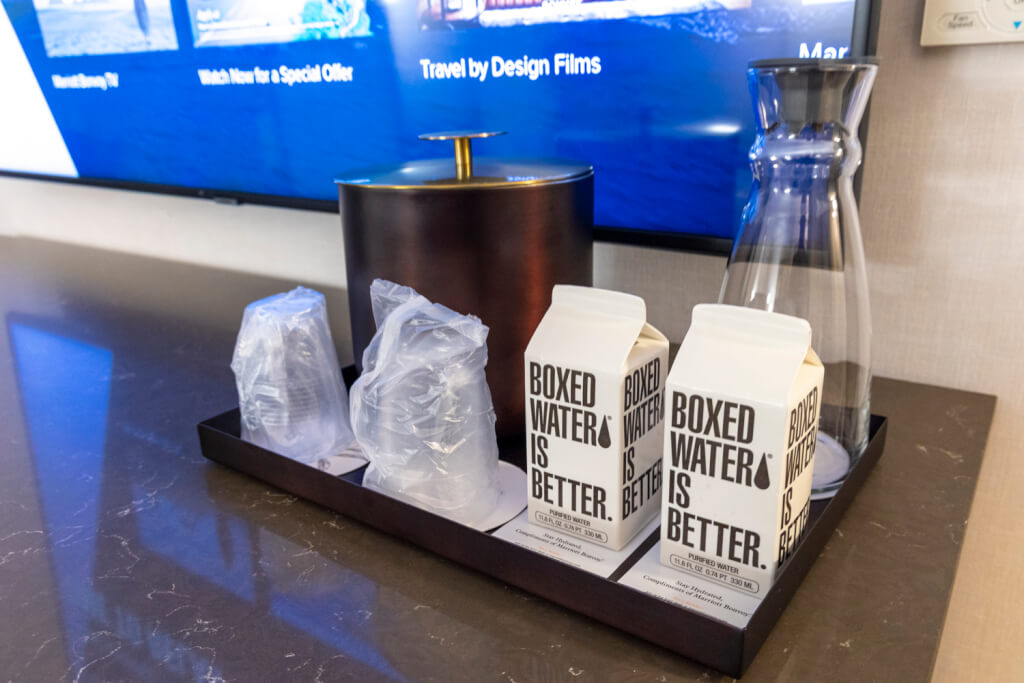 Hotel Citrine Comfort
Overall, the hotel was quite comfortable. The area it's in is peaceful, and the HVAC in our room was whisper quiet. The bed was marvelous – and I'm not saying that just because I was tired – it was plush yet supportive. Unfortunately, the bathroom was where things kind of fell apart. Leaking aside, the shower didn't get as hot as I'd liked, though the pressure was quite good for California.
Wild Onion Bistro & Bar
Typically, I'd report on restaurants separately, but given the amount of time we spent here, I'll throw it into the main hotel review. So, the one and only restaurant at the Hotel Citrine is the Wild Onion Bistro & Bar. It's open for breakfast, lunch, dinner. We would've grabbed a bite to eat when we arrived if they had late-night service, but they didn't. However, we did check out breakfast.
For her order, Mrs. Island Miler went with the Hot Smoked Salmon Omelet ($20), which comes with hot smoked salmon, tomato, onion, caper, dill, and a drizzle of cream cheese. You have the option of roasted potatoes or a side salad, of which Mrs. Island Miler went with a side salad.
If the omelet looks dry, it's because it is. It's probably the driest omelet I've ever soon, which is too bad. It actually could've been pretty good.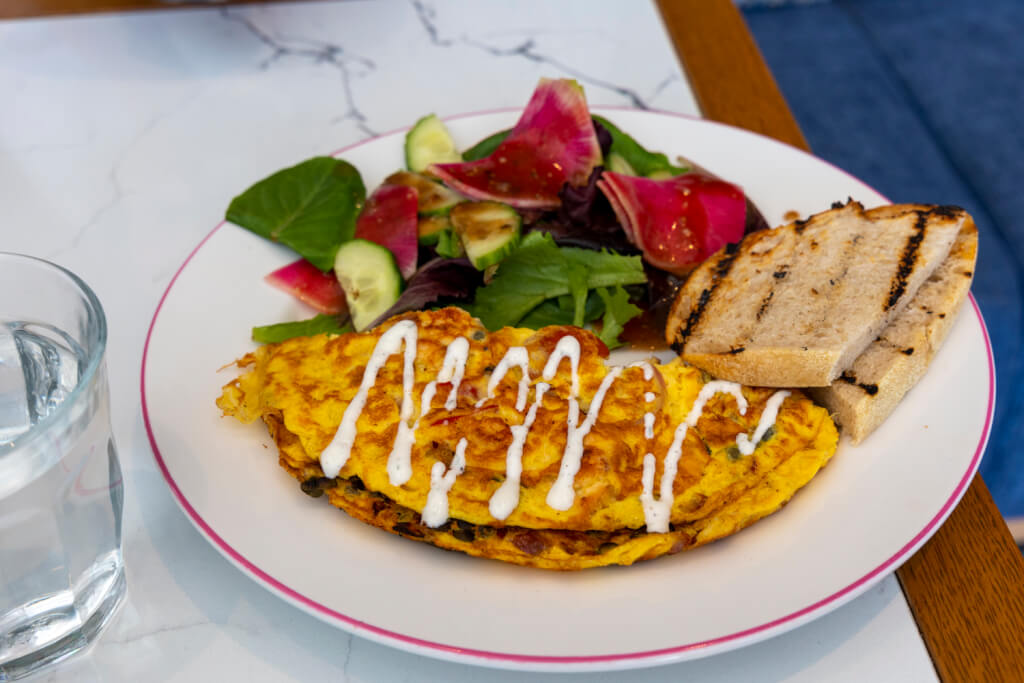 For my order, I went with the California Burrito ($20), which features a flour tortilla stuffed with chicken sausage, scrambled eggs, potatoes, refried black beans, cheddar, peppers, onions, and avocado crema. It also came with a side of chips and salsa.
The burrito itself was dry and tasteless. Its only saving grace was the smoky, delicious salsa. Without it, it would've been like eating cardboard.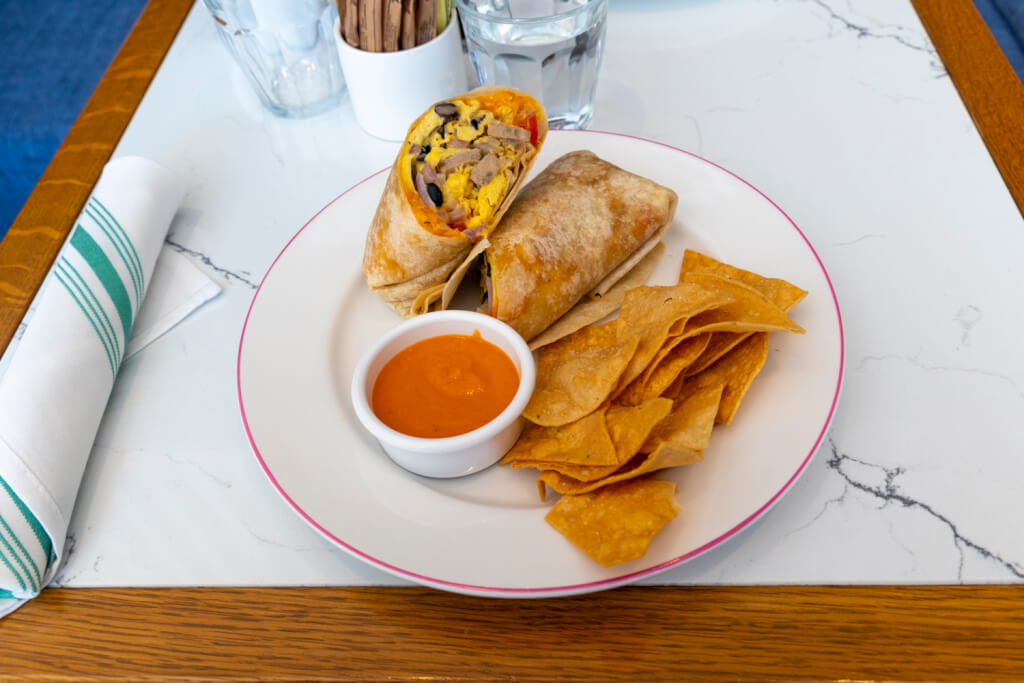 Hotel Citrine Amenities
Aside from the restaurant, the Hotel Citrine does have a fitness center and an outdoor heated pool. But given our brief time there, we didn't check out either.
Final Thoughts
Overall, I'd say we had a good stay at Hotel Citrine. The issue with the shower aside, our room was comfortable and functional, the staff was friendly, and the hotel itself is lovely. That said, I'm not likely to return to the Wild Onion, as the food was pretty disappointing. But there is a good amount of places to eat in the immediate area, so I don't see that as an issue.
Living It Up in California