This past Valentine's Day, you know, the last normal holiday we had eons ago, I decided to have a non-traditional Valentine's dinner at a Japanese restaurant. So, I made us reservations at Honolulu's Izakaya Uosan.
Location
As is often the case with Honolulu's best Japanese restaurants, Izakaya Uosan is a little hole in the wall. And so, despite it's prominent location along Kapiolani Boulevard near Ala Moana Center, you'd shoot straight past it if you weren't looking for it.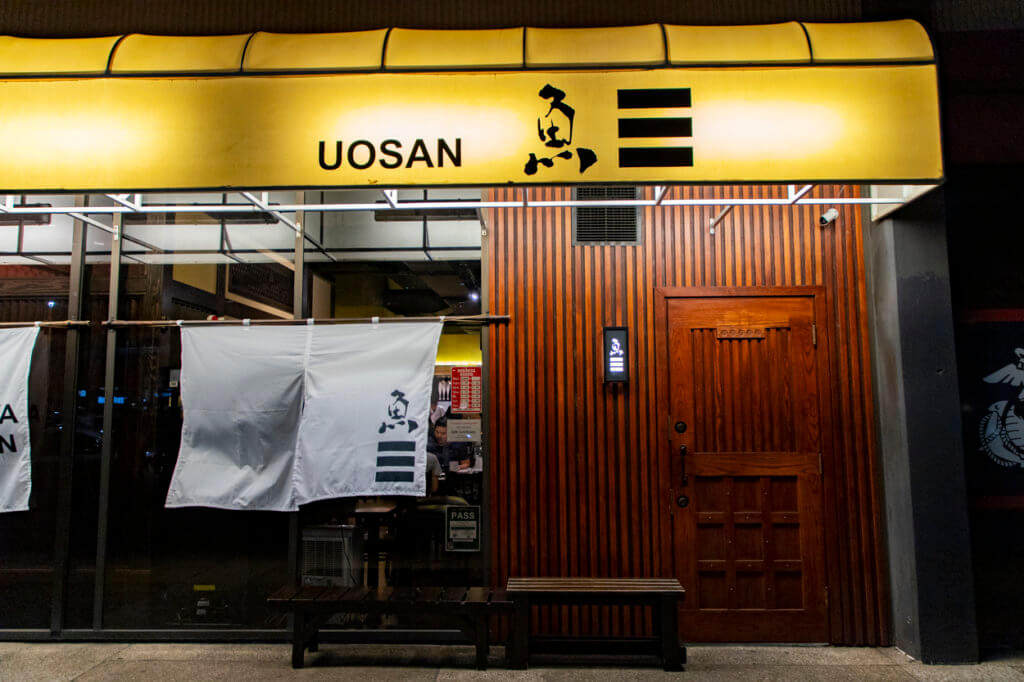 Parking, by the way, is in the building's paid lot. You can access the lot via two driveways in the back on Hopaka St. It's confusing as hell, though.
Ambiance + Service
At Izakaya Uosan, you can reserve seats at the sushi bar or at a table. For our dinner – I chose to reserve a table. And much like the last Honolulu restaurant I reviewed, Akira, it's a small space, so don't expect a lot of room. That's not to say things are cramped at all – it's decent. Similarly, the noise level is pretty decent too. It's not too loud in there at all.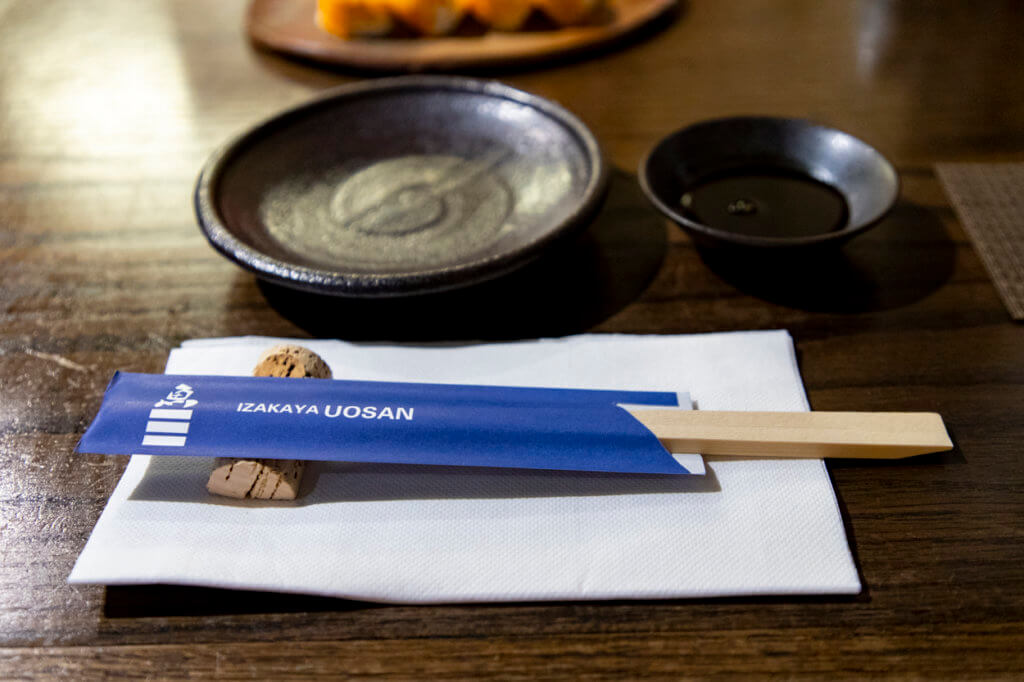 As far as service goes, our server was great. Heck, the whole staff was friendly, flexible, and knowledgeable. No complaints here either.
Menu
As an Izakaya, Uosan has a rather large menu. More precisely, they have a standard menu book filled with cooked dishes, sushi, and more, plus a hand-written daily specials menu. And it's a sizeable menu too!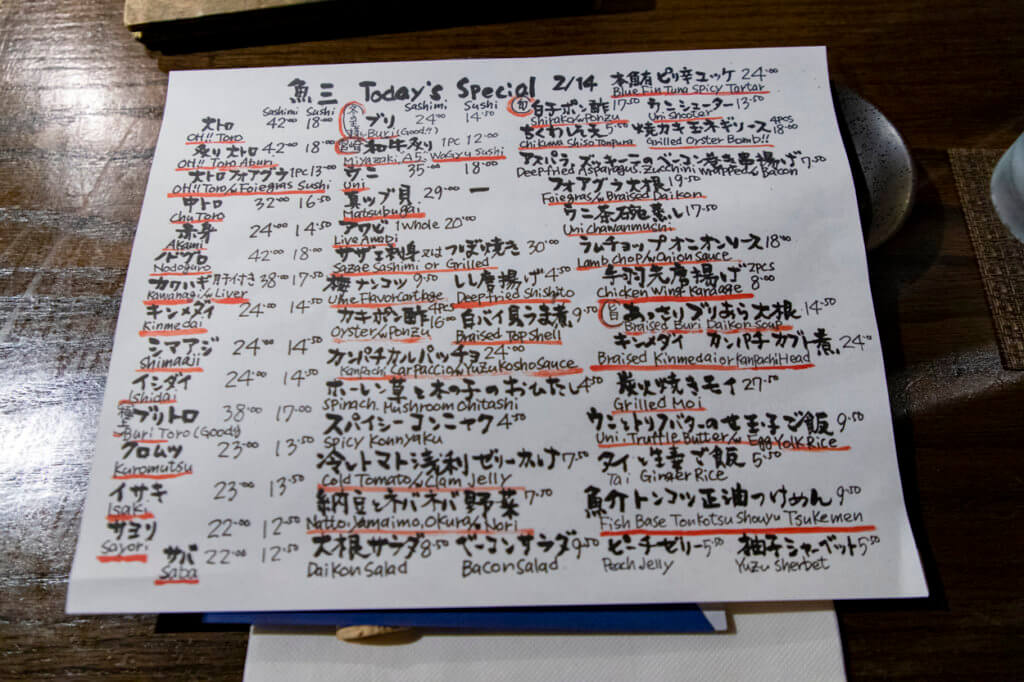 Food
When dining at Izakaya Uosan, the hardest part is figuring out what to order. This was doubly true since this was our first time here. So, we probably went a bit overboard. But, in the end, we ordered a good mix of sushi and cooked foods, as well as some iconic specialties. Take a look.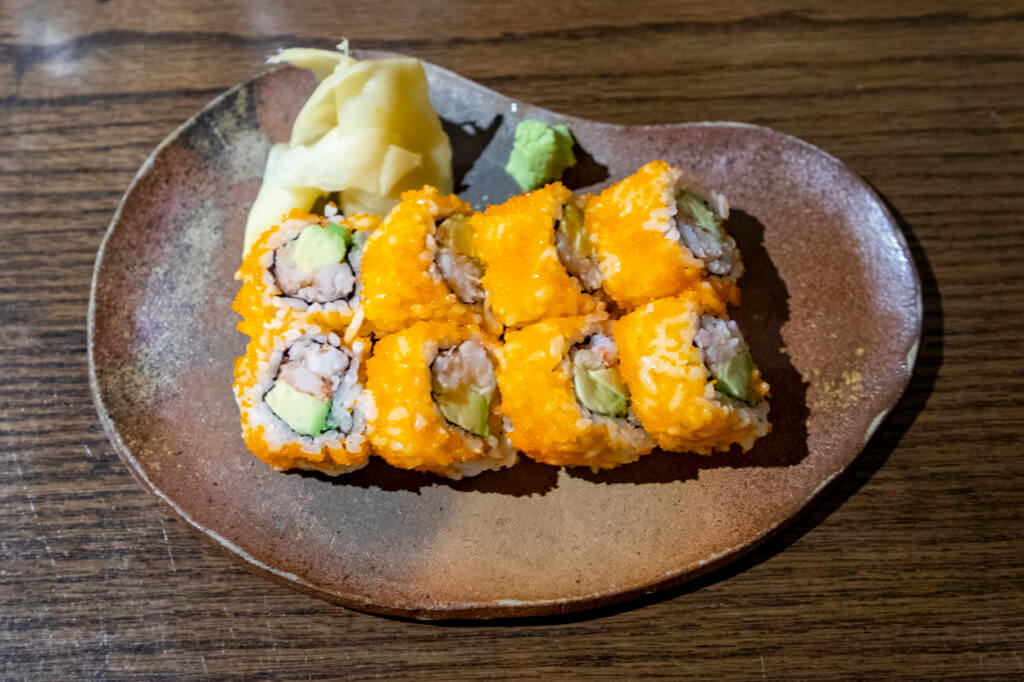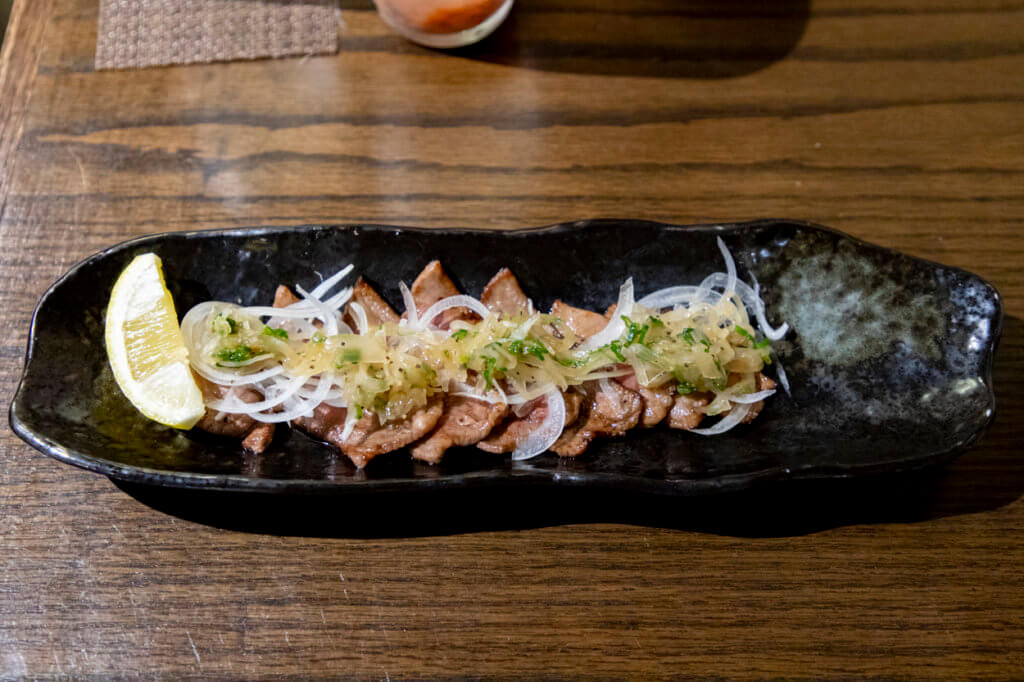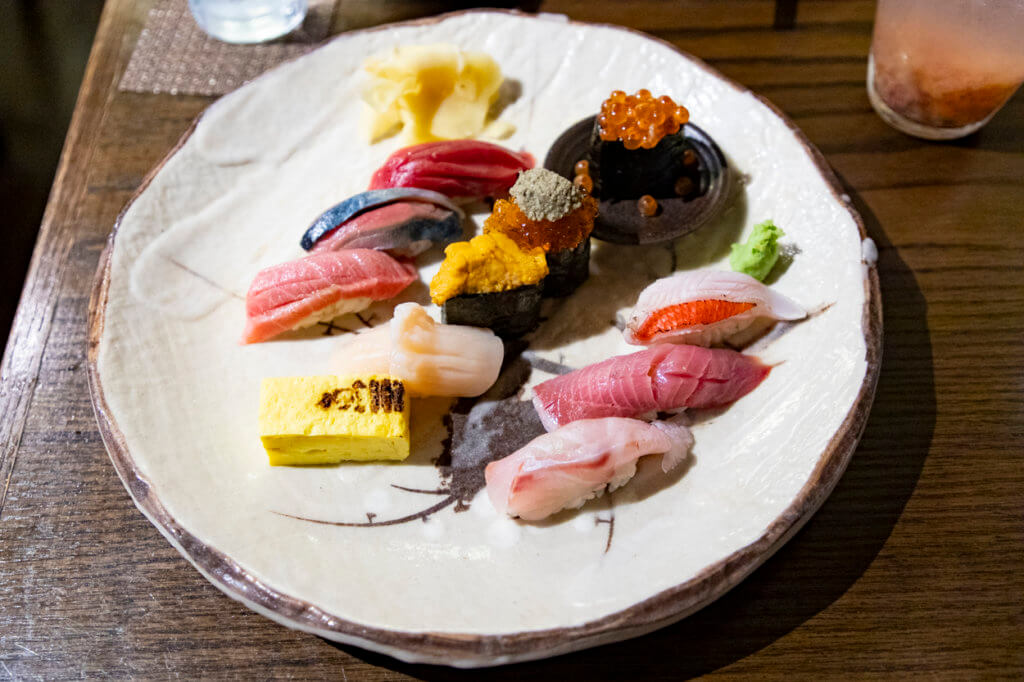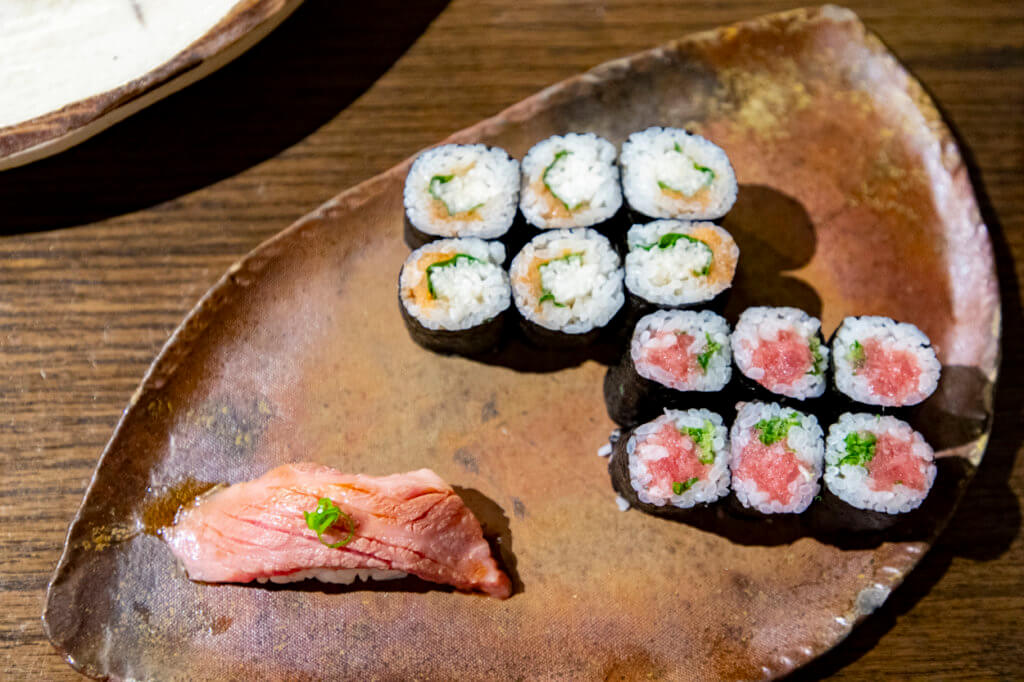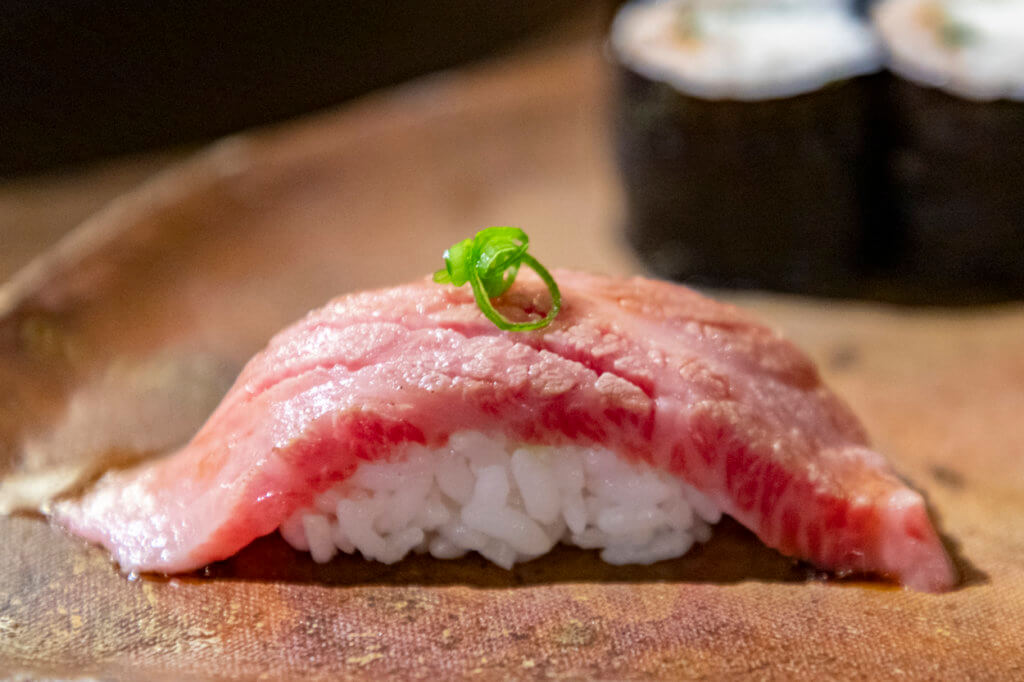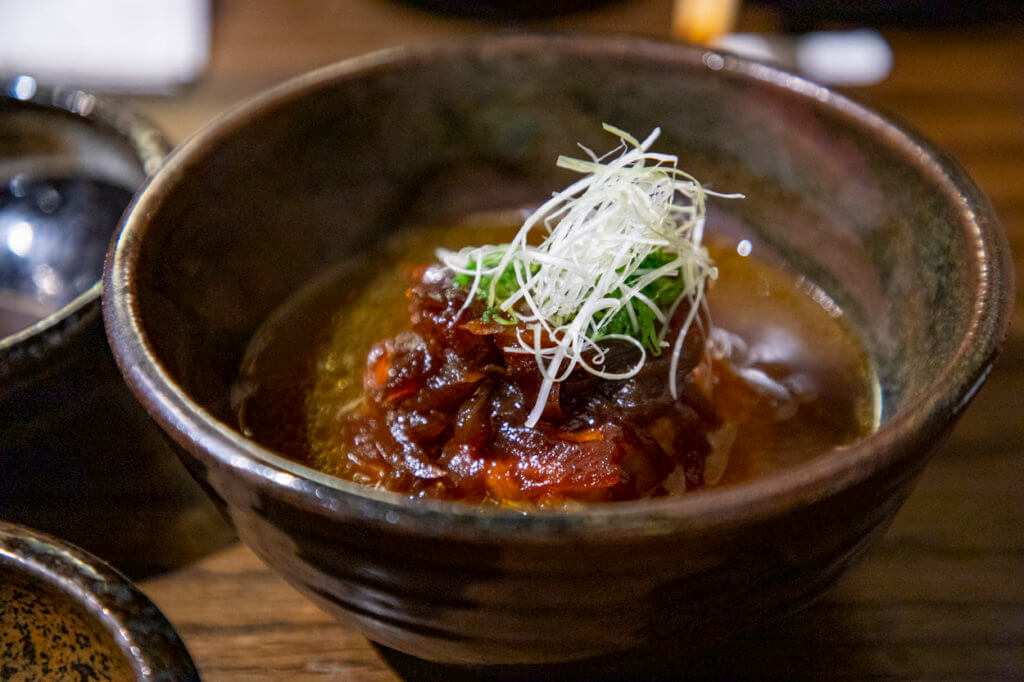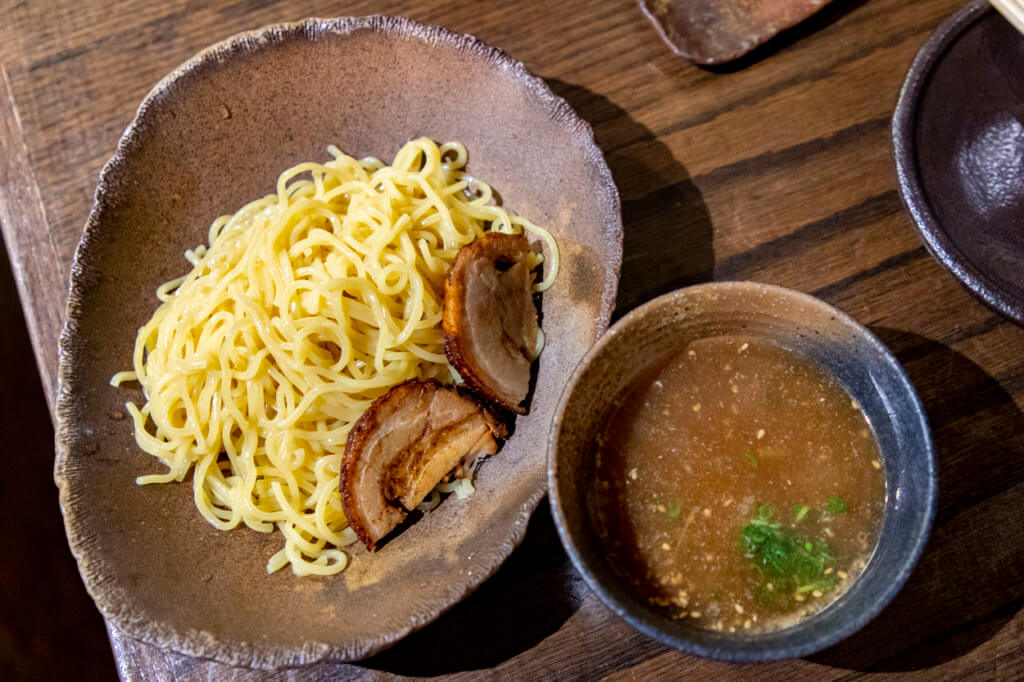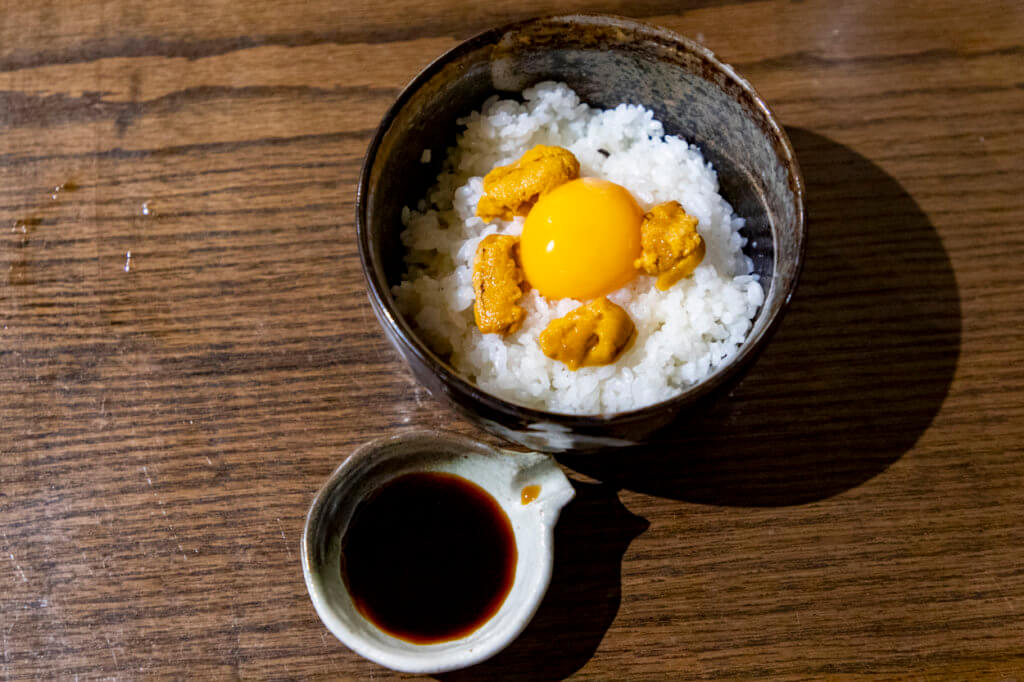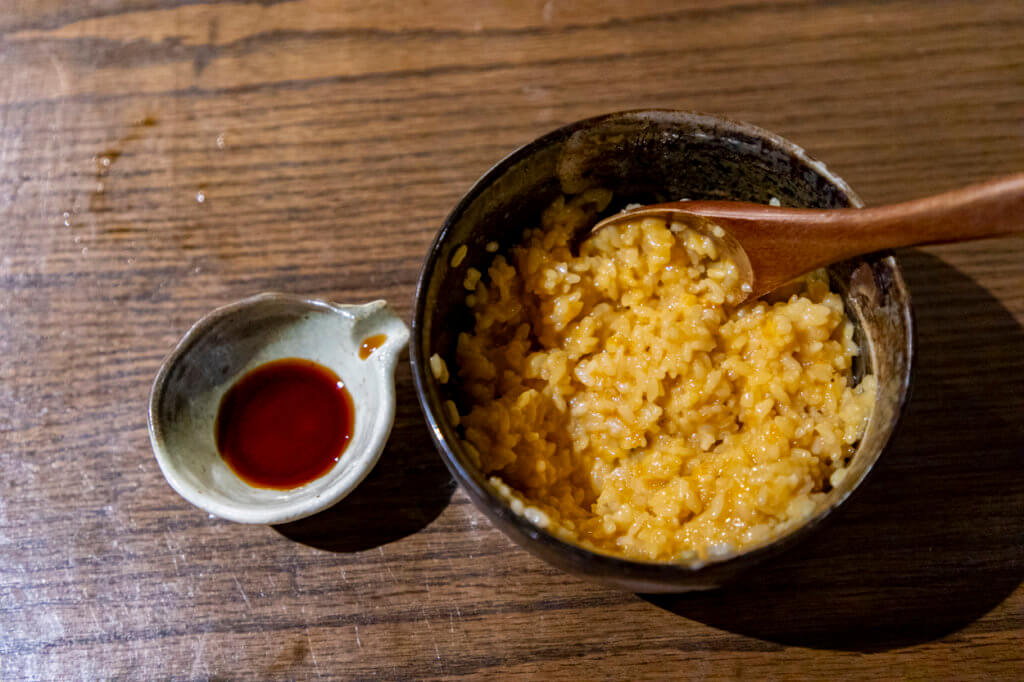 Favorites
Nearly everything we ate was fantastic. But, there were a few clear standouts for me. One was the Braised Daikon with Seared Foie Gras. I don't even care about the foie gras in the dish. Just give me that toothsome, braised daikon in that wonderful, umami-packed broth and caramelized onions. Yum!
The second favorite was the tsukemen. You see, tonkotsu is normally a heavy, pork-based ramen/tsukemen. But, here, they use fish bones to create a lighter version of classic tsukemen. Yes, it's has a fish forward flavor, but it's nicely balanced and not fishy at all.
The final favorite for me was the Uni Tamago Kake Gohan (TKG). TKG is a common breakfast dish in Japan, which is usually a raw egg broken over hot rice that's mixed together with shoyu (soy sauce). But, here, Uosan elevates it with a few pieces uni AND some black truffle butter. It's a fiendishly delicious dish, yet such a simple one. I'd totally order all of these again. But, unfortunately, the tsukemen was a special, so we may not see it again.
A Miss
The one dish that didn't do it for me was the A5 Miyazaki Wagyu Nigiri. You see, wagyu, especially the top-grade A5 variant from Miyazaki is known for its buttery soft consistency and high fat content. Unfortunately, this preparation was extremely chewy and difficult to eat. It probably wouldn't been better if they seared it to soften the fat. Either that or they need to use a different cut.
Izakaya Uosan, Final Thoughts
It's criminal that it's taken us so long for us to give Izakaya Uosan a try. But, Uosan is easily one of my top three Honolulu Japanese restaurants – if not number one. I just love their collection of dishes, the quality, and the value. Yeah, we spent around $200 with tax and tip this time around, but I think on future visits, we'd spend less. After all, we kind of got our bearings now and won't go quite so crazy.
Either way, I highly recomend it if you're looking for a great Japanese spot in Honolulu. Just be sure to make reservations, as they fill up quickly!