I've long wanted to stay at a Ritz-Carlton property. But, I never could bring myself to pay the cash or award rate for the privilege. That is, until now. You see, since the pandemic continues to be a very real threat, I decided to treat the Mrs. & I to a staycation at the Ritz-Carlton Residence Waikiki Beach.
Booking the Ritz-Carlton Residence Waikiki Beach
Ok, if you read my introductory post, you'd know that I actually had this staycation planned for quite some time now. Originally, it was supposed to be for my sister's wedding in September. Only, that ended up being canceled since, you know, COVID? Oh, and the hotel she was going to hold it at canceled her big day since they shutdown for COVID and decided not to reopen to do renovations. However, with all that, I decided to keep my reservation anyway.
You see, I booked a kama'aina rate that included, not only a rate discount, but free valet parking and a $25 resort credit. I also booked a second night at the 60,000 points level before the Ritz-Carlton Residence Waikiki jumped up a category to the 100,000 points per night level. So, I figure, I'll play things by ear and either cancel closer in if things get worse or keep it. The catch, though, was that the Ritz decided to close early in the pandemic too and didn't reopen until sometime in October. As a result, I had to move my reservation around, though they let me keep my rate. In the end, I settled on a stay in November just after Mrs. Island Miler's birthday and dropped the award night.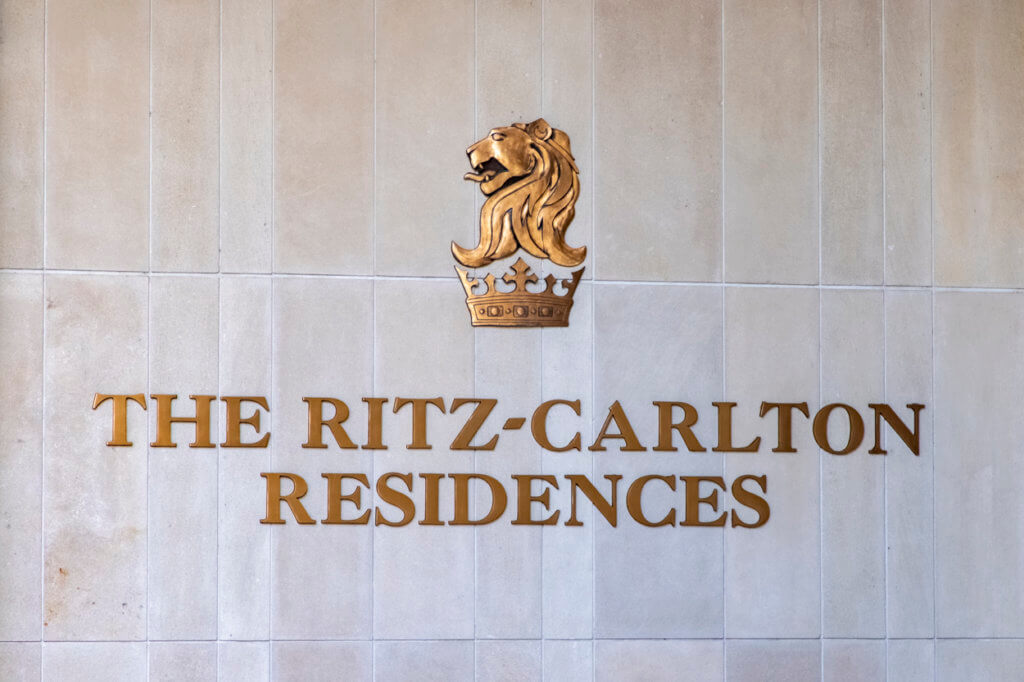 Arrival
The Ritz-Carlton Waikiki Beach utilizes NFC cards for their rooms keys. As a result, under a normal rate (and times), I could've checked in via the app and head straight to my room. However, since I booked a kama'aina rate, I had to go to the front desk to verify my rate eligibility. And I was ok with that because this property takes the virus seriously. Either way, though, I did check-in via the app and indicated an arrival time of 1 pm. To my surprise, our room was ready even earlier than that!
Valet
First of all, when you pull in to the porte-cochere, the friendly valets greet you. Clad in masks and gloves, they offer to assist you with your bags, while also placing a plastic cover on your car before whisking it away. Then, you're escorted to the elevators and sent up to the front desk.
Located on the same level as the pools, restaurants, and spa, the Ritz has a very small reception area. But, the first thing you'll notice when you exit the elevators are the stanchions, providing movement control in the elevator lobby.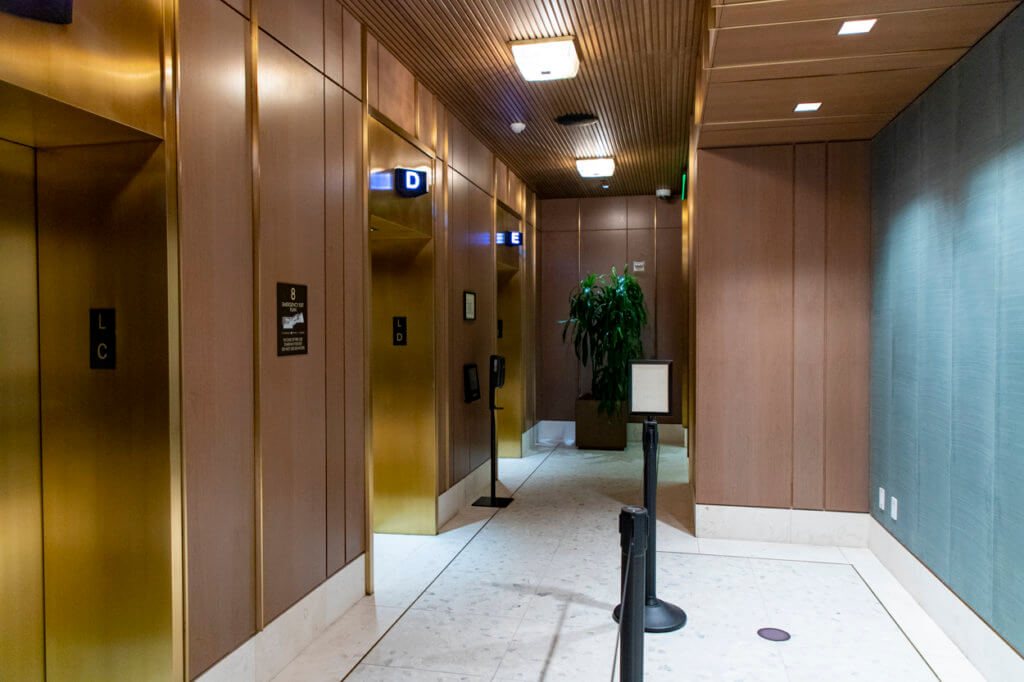 Front Desk
Once at the front desk, the friendly, personable, polished guest services agent retrieved our registration and proactively confirmed a single-category upgrade. She then requested the photo IDs of all in my party to add us as registered guests. This is a new procedure as the property only allows registered guests on-premises due to COVID. We were also presented with oshibori, while the details of our stay were reviewed with us. I then had to review and sign an agreement stating that I was responsible for any damage that occurred in the room during our stay.
After completing the formalities, the wonderful woman assisting us came around and escorted us to the elevators. There, she showed us how to use the elevator system (select your floor and scan your card) and wished us well as we boarded our car.
Our particular room was E1906. That's a Deluxe Ocean View Room in the Ewa Tower on the 19th floor. Upon exiting the elevator, we turned right and walked a short way down the corridor to get to our room. The larger rooms were to the left of the elevators.
Ritz-Carlton Residence Waikiki Beach Deluxe Ocean View Room
As originally booked, I think I had the base "Ocean View" room, which clocks in at about 400 sqft. However, my upgrade got us into a Deluxe Ocean View Room instead. The primary difference between the rooms are the size (426 sqft versus 400 sqft) of the room and the type of tub (oversized deep soaking vs ofuro deep soaking) you get. And, man, while 26 sqft doesn't sound like a big difference, it kind of is here.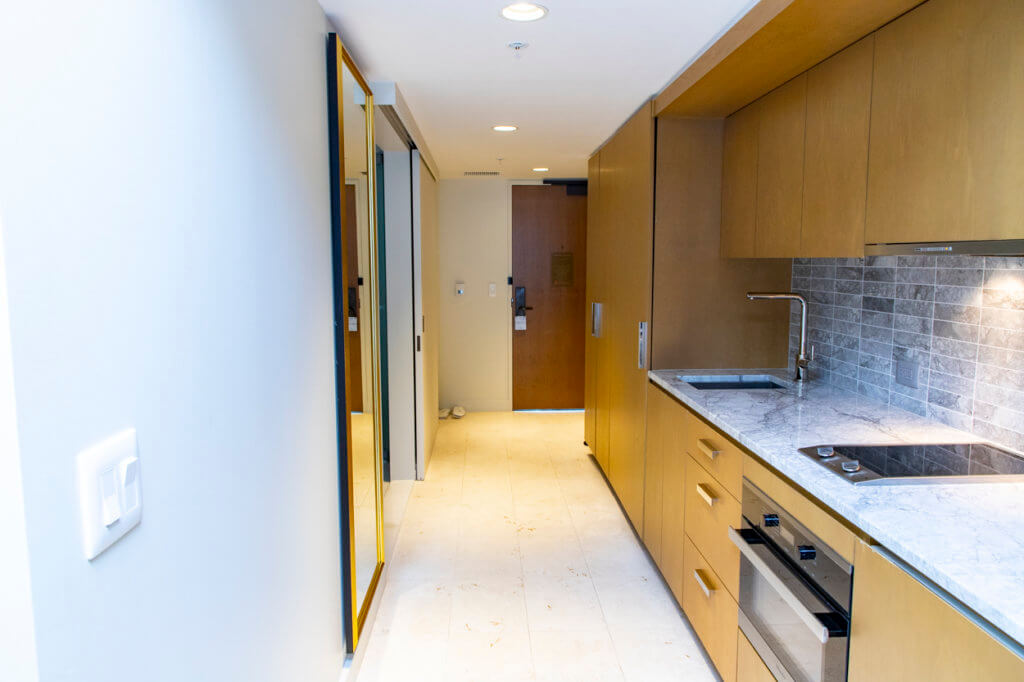 Bathroom
Upon entering the room, you're greeted by a rather long corridor with the bathroom to the right of you and the kitchen to the left. The bathroom is quite large, featuring a dual vanity, a separate deep soaking tub and shower, a separate water closet with a Toto Washlet seat, and the famous (infamous) Asprey Purple Water toiletries.
Kitchen
Across the corridor from the bathroom is the kitchen. And, no, this isn't like some sad kitchenette you find in the suites at the Courtyard Waikiki Beach. This is a real kitchen featuring real appliances. The first cabinet, though, contains the iron, ironing board, safe, and extra bedding for the sofa bed. This is then followed by a cabinet containing the washer and dryer. Finally, you have the kitchen itself, which features a rather deep sink, a twin-burner Miele radiant glass top cooktop, a Miele microwave/convection oven thing, and a Sub Zero fridge. The kitchen also came stocked with cookware, tableware, a Nespresso machine with four pods, a toaster, a hot water kettle, and four half-size bottles of water.
Bedroom
The rest of the room is the bedroom, which is continuous with the rest of the room. Our particular room has a king bed, a large sofa bed, a coffee table, a wall-mounted TV, a worktable, and a chair with a reading lamp. Next to each side of the bed are nightstands featuring identical lamps, along with a clock/radio with USB ports on one side and a power block with both AC outlets and USB port on the other. You'll notice that there's a window leading into the shower and tub area of the bathroom too. It's also worth noting that the only phone in the room is the one found on the desk.
Balcony
Our featured a single, good-size balcony (for Waikiki) with two chairs and a small table. It's worth noting that there's a significant lip for the lower door rail, so be careful when stepping out. The door is also quite heavy, which is a good thing.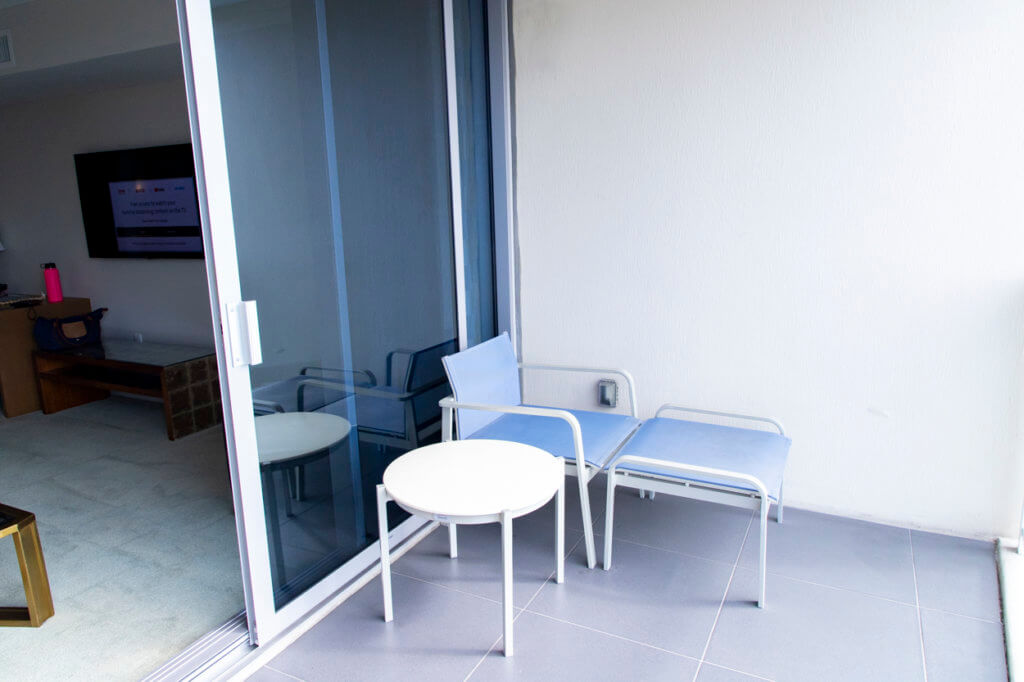 Noise + HVAC + Water Temperature + Water Pressure
As you'd expect with a property of this level, noise was not an issue at all. The HVAC system is fairly quiet, while that heavy sliding door blocked out the majority of the exterior noise. The only noise we could hear with the door closed were things like emergency vehicle sirens. Water temperature and pressure were both good from our sinks as well, but the shower is where things fell short. I'm not sure if this is a property-wide issue, but our shower only had good pressure when it ran on cold water only. Adding in hot water slowed the flow to a trickle. And, even at that, the water temperature was only warm at best.
View
For a property set back on Kuhio Avenue, our room had pretty good ocean views. Take a look at some of the shots I took around sunset.
Arrival Gift
Waiting in our room was a small arrival gift. On the desk, I found a Ritz-Carlton Residence Waikiki Beach branded reusable tote, a pack of metal straws, two kukui nut leis, and a note. The note recognized my Platinum Elite status (the front desk recognized this as well) and informed me of a 1,000 points welcome amenity too. That's very nice.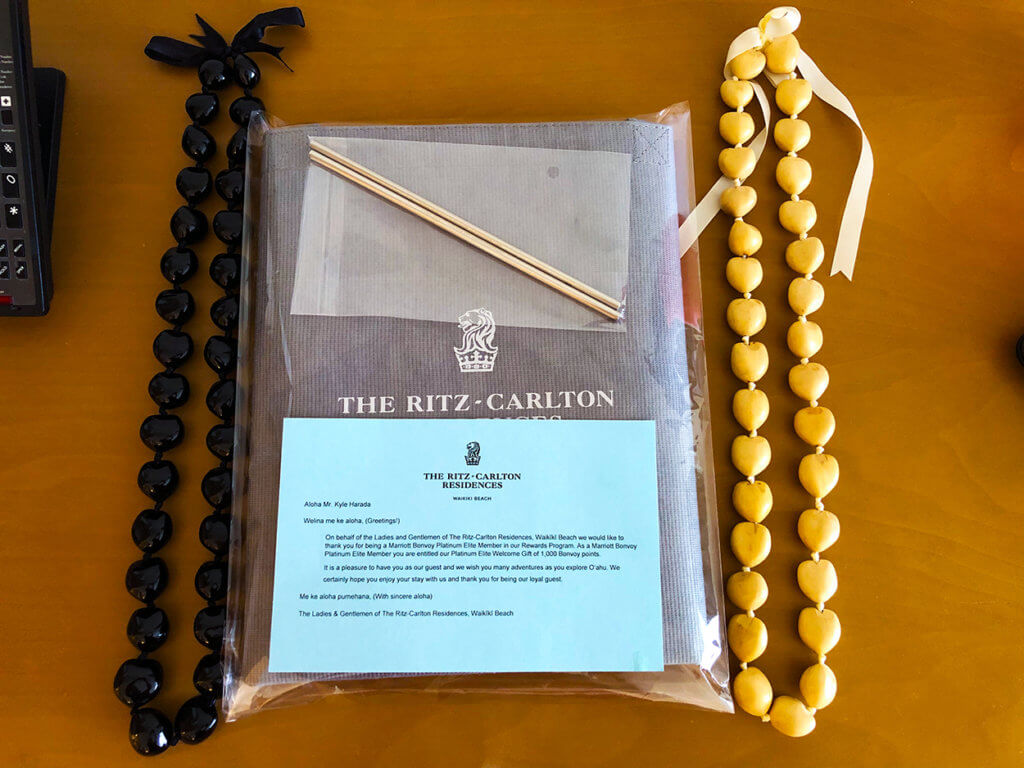 Pandemic Precautions
While I've gone over how the pandemic has changed things at the valet, front desk, and elevator lobbies, I'll now go over what's changed in the room. The obvious changes, of course, is the plastic wrap covering the TV remote and the hairdryer. A pack of disinfecting wipes was also left for us on one of our nightstands! Slightly less visible is the option to now use your phone as a remote for the TV. To do this, all you need to do scan a QR code on the TV, which opens a browser window that lets you navigate the TV apps, change channel and volume, and even type in usernames and passwords – all without connecting to a dedicated WiFi network or Bluetooth signal. Cool, huh? It does take getting used to, though, if you normally use an AppleTV. For example, when you type in your username, you enter it into the phone and have to "send it" to the TV, and then hit the requisite button on the TV (with your phone).
Property Amenities
The Ritz-Carlton Residence Waikiki Beach has a number of amenities for its residents and guests. Included are four restaurants:
Dean & Deluca
La Vie Waikiki
Quiora Waikiki
I've covered Sushi Sho Waikiki in the past, so check out my previous post if you're interested. Over the next couple of posts, I'll be covering La Vie Waikiki or Quiora Waikiki. Dean & Deluca closed back in March during Oahu's initial lockdown and has remained closed. They do offer heat & eat gourmet boxes for four, though. And they look really good!
Outside of dining, the Ritz-Carlton does have a spa, which remains closed. Room service also isn't currently available. That said, you can order take out from all of the property's restaurants. Island Country Markets is also available on the ground floor fronting Kuhio Ave., which is like an upscale ABC Store – and if you're wondering, they are an upscale division of ABC Stores. The property also features a fitness center, which is open, as well as an adult pool (Ewa Tower) and a family pool (Diamond Head Tower), including a small water slide. The adult pool was often somewhat crowded, which was probably the only part of the hotel aside from the restaurants that had any sort of crowds.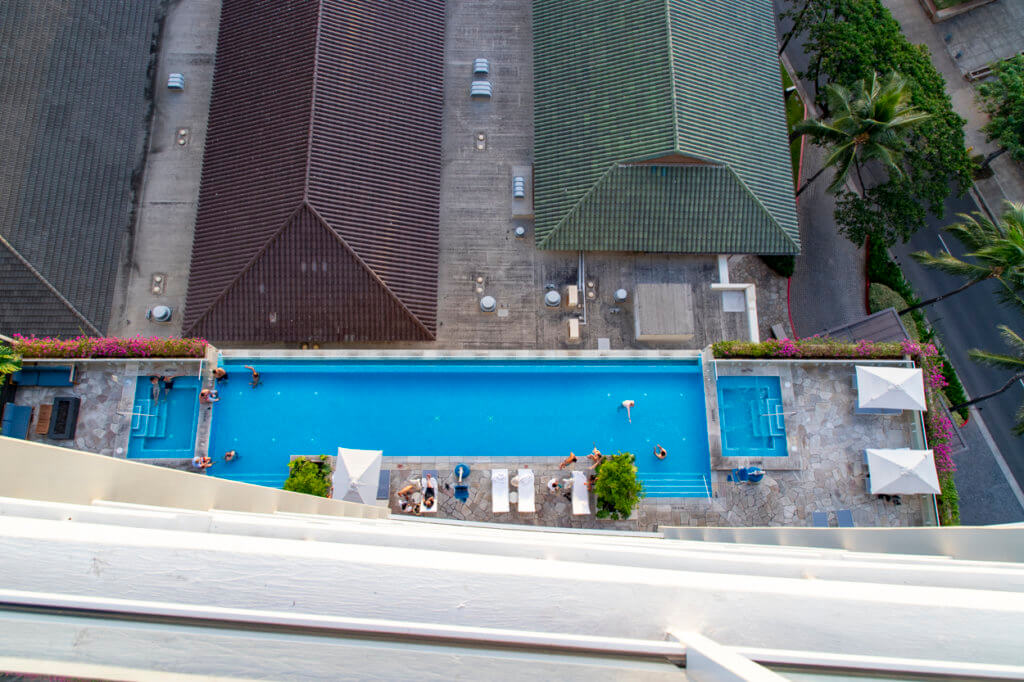 Ritz-Carlton Residence Waikiki Beach, Final Thoughts
I had mixed feelings going into this staycation. I was both apprehensive and excited all at once. On the one hand, I was excited to get out of the house and to have my first Ritz-Carlton stay. But, on the other hand, I'm concerned about being exposed to the virus. But, given the overall emptiness of the property, along with the staff, I can say without a doubt that both the Mrs. and I enjoyed ourselves and felt at ease. In fact, crummy shower aside, we both thought the Ritz-Carlton was one of the best stays we've had on Oahu. The service, especially, was a highlight for us – such genuine warmth and friendliness was such a joy. I only wish I had kept my second night!
Pandemic Waikiki Staycation
The Ritz-Carlton Residence Waikiki
La Vie Waikiki
Quiora Waikiki