People often think of Japan as a homogeneous society – it is not. There are two major minorities in Japan, including the Ainu in the North and Okinawans down in, well, Okinawa. Each has its own, unique cuisines, which are often difficult to experience. Luckily, in Honolulu, we have places like Utage Restaurant serving up Okinawan fare.
Hawaii has a sizeable Okinawan and Okinawan-Japanese population. Like most other Asian minorities in Hawaii, they originally came over to work the plantations. Eventually, though, many would move on to establish restaurants. In fact, many of Hawaii's original Japanese restaurants and saimin stands were run by Okinawans. Of course, eventually, a good portion of them began establishing restaurants serving their own native cuisine. Unfortunately, in recent years, we've seen more and more of these begin to disappear. Luckily, a few are still hanging in there, one of which is Utage Restaurant.
Utage Restaurant Location
A couple of Hawaii's remaining Okinawan restaurants are in Honolulu's industrial neighborhood of Kalihi. Utage Restaurant is one of these. Specifically, you'll find Utage Restaurant in the unassuming City Square Shopping Center, surrounded by other popular establishments, such as Kamehameha Bakery and Young's Fishmarket.
Service
Utage Restaurant is a bit of an old-school establishment. As such, it has a very casual, uniquely Hawaii style of service. The staff is friendly and attentive, often talking story with their regulars. Service is quick, too. Just make sure you read the large special board yourself, as they won't go over it verbally with you. It's long!
What We Ordered
We went to Utage Restaurant with friends that wanted to go. Mrs. Island Miler and I had been once long ago, but I think we ordered Japanese food that time. So this time, we made it a point to try Okinawan dishes, with Mrs. Island Miler going for one of Okinawa's most well-known dishes – Goya Champuru ($22). What is this you ask? Stir-fried bittermelon with tofu, egg, and, traditionally, pork. Here, you get a choice of pork, chicken, Spam, bacon, tuna, or shoyu pork. Mrs. Island Miler chose bacon.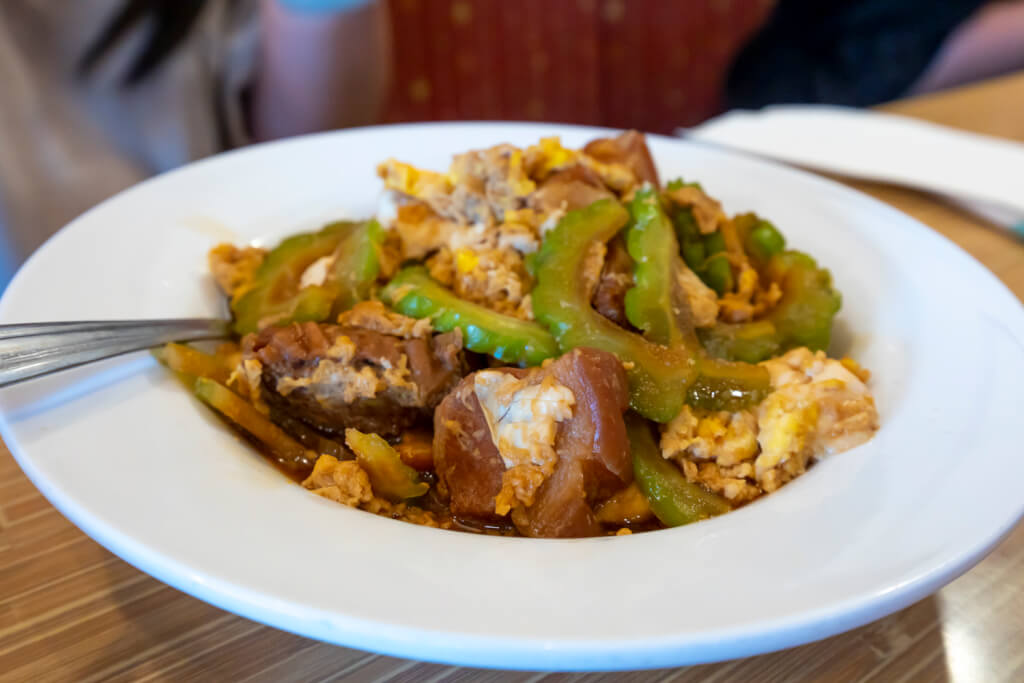 We're not sure, as we didn't ask, but I don't think she got bacon. To me, this looks like shoyu pork. That said, overall, this was a good dish. The bittermelon was still a bit, well, bitter.
Before we went, I knew right off the bat what I wanted to order – Okinawan Soki Soba ($21). Whereas Japanese soba utilizes buckwheat noodles, Okinawan Soba is an entirely different animal, using thick, curly wheat-based noodles. Traditionally, these noodles are served in a pork-based broth with braised pork spareribs, green onions, kamaboko (fishcake), and gari (pickled ginger).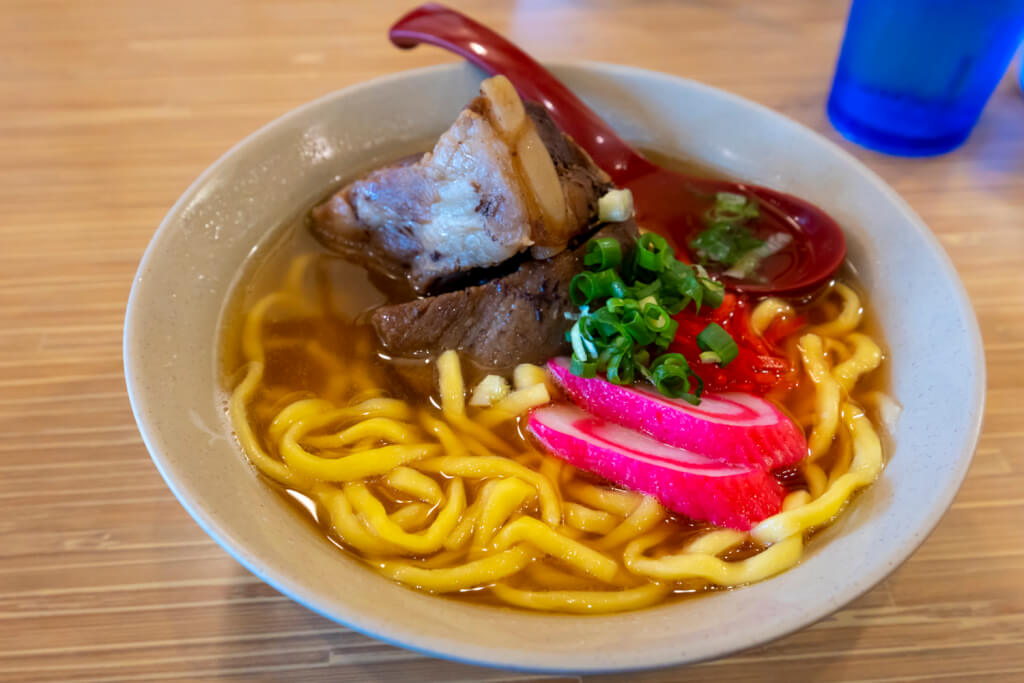 This is a hearty, flavorful soup noodle dish that is nothing like Japanese Soba or ramen. If anything, it's most similar to udon but has a firmer, chewier texture, which I like. The flavors are also more assertive than udon, while those thick spareribs were melty, meaty, deliciousness. I might even prefer this to the chashu you normally get atop ramen.
Final Thoughts
I enjoyed our dinner at Utage Restaurant and want to go back to try the Tempura sets our friends ordered. At $26, they're pricier than our dishes, but they came with A LOT of tempura. And it sounded so crispy!! That said, my one complaint about this place is the price. $21 seems very expensive for a bowl of noodles and soup. This is especially true when you consider that ramen at my favorite spot costs $18, while Jinya, a place most consider overpriced, charges $19 and up for a bowl. Despite this, I'd come back, and I'd probably order the Soki Soba again, too.