During our first day in Seattle, we did a lot of repeat stuff I'm not going to cover here, such as revisiting the Starbucks Reserve Roastery. However, that night, we did make it out to Kamonegi Seattle for an outstanding modern Japanese dinner.
Since its inception way back in 2017, Kamonegi Seattle has been on my list of places to try. Why? Because chef/proprietor Matsuko Soma hand-makes the restaurant's soba each and every day. A native of Tochigi, Japan, Soma learned her craft from the ground up – learning how to do everything from milling buckwheat to making the noodles themselves. Plus, they feature dishes made with kamo, aka duck (duh), foie gras, uni, and ikura. How can that not be good?!
You can imagine, then, my disappointment when my chance to dine here in 2020 slipped through my fingers. Finally, being able to dine here after five years of dreaming was certainly a highlight of this trip.
Booking Kamonegi Seattle
The most difficult part about dining with Kamonegi Seattle is getting in. The restaurant is SMALL, severely limiting the number of diners that can visit this highly popular restaurant. As such, advance reservations are a must, though they do take walk-ins as well. If you make your reservations in advance, you'll need to do so via Tock. Reservations open only about a month out and requires a deposit of $25 per person that is later applied to your final bill.
Parking, I should note, is street-only. While there were stalls available during our visit, the area is short on space, so we opted to catch a rideshare to the restaurant. This is the pricier way to go, but it may save you some sanity. For reference, our ride to the restaurant (3.2 miles @ 10 minutes) cost me a whopping $43, while the return came in at $29.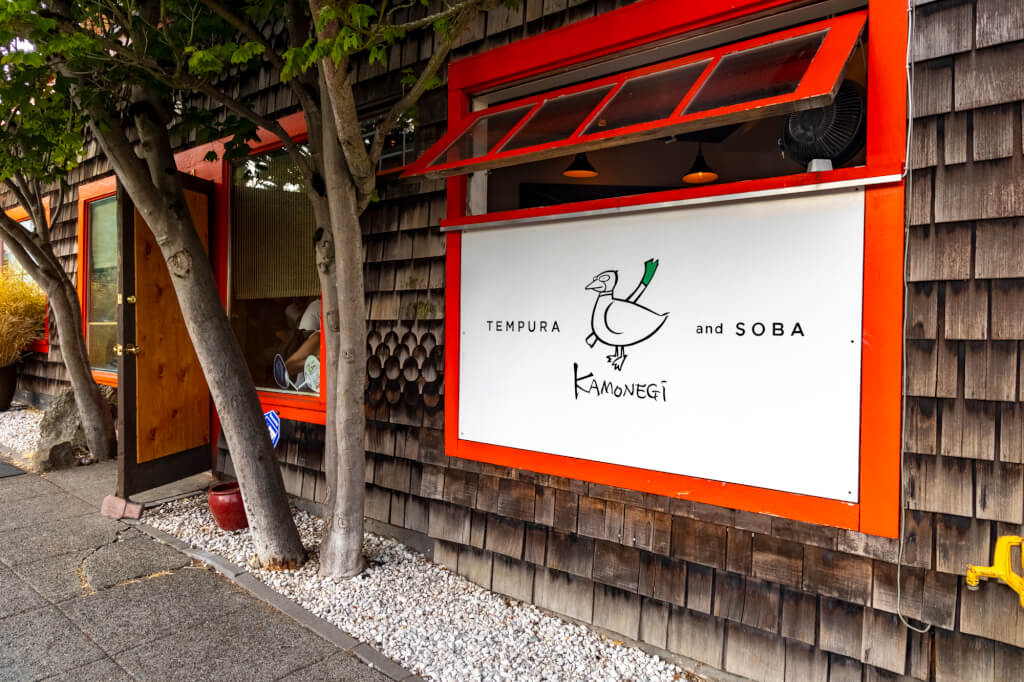 Service and Ambiance
The staff at Kamonegi are truly wonderful people. Everyone we interacted with was warm yet polished and knowledgeable. Service can be a tad slow, but the staff is constantly busting their tails – it's the reality of a small neighborhood restaurant these days, and I don't fault them one bit. It is worth noting, however, that Kamoneig doesn't have air conditioning. That wasn't an issue during our late summer visit, but it can be a tad warm inside. The overall atmosphere is also quite lively, so this isn't a spot for those looking for a tranquil dinner.
Oh, and at the time of our visit in early September 2022, they were still checking vaccination statuses. A photo of your CDC Vaccine card does suffice here.
The Food
Once we got our orders in, the first item to land on our table was a small amuse-bouche. At the time, this consisted of a thick slice of cucumber topped with rhubarb ume. Interesting! I had never had ume made from anything aside from the traditional plum. Here, the ume imparted a smokey, fruity, tangy, lightly salty flavor profile to the cucumber. A perfect way to whet your appetite!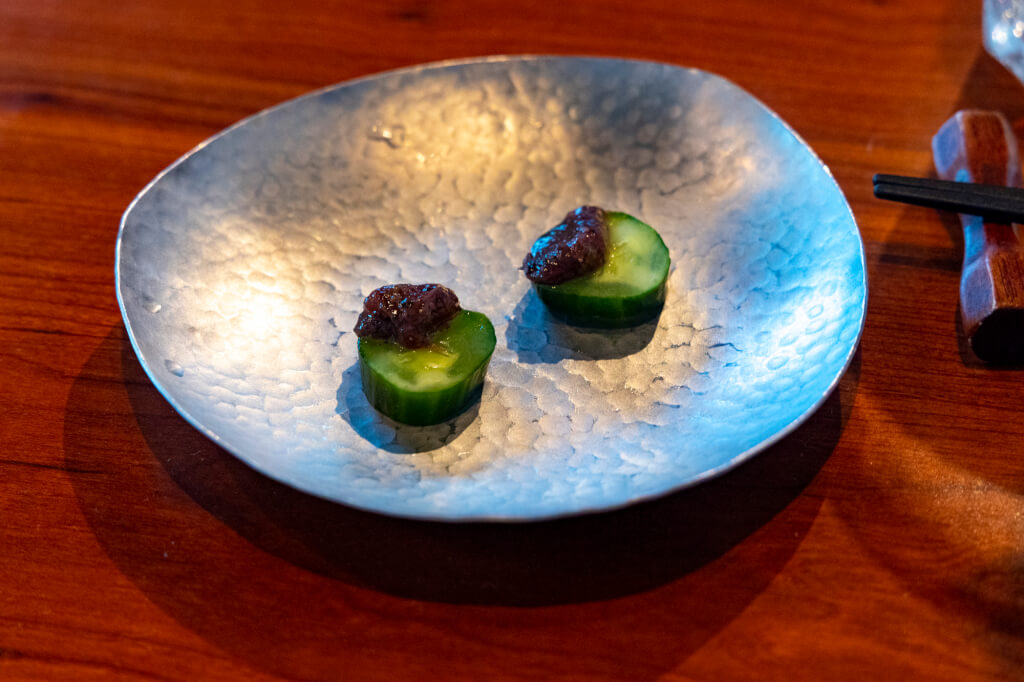 Our first official dish to arrive was the Uni Bomb. These little morsels consist of tenpura shiso leaf piled high with Santa Barbara uni, ikura, wasabi, and uni salt. It sounds heavy, right? But the bombs turned out to be light umami bombs. So good!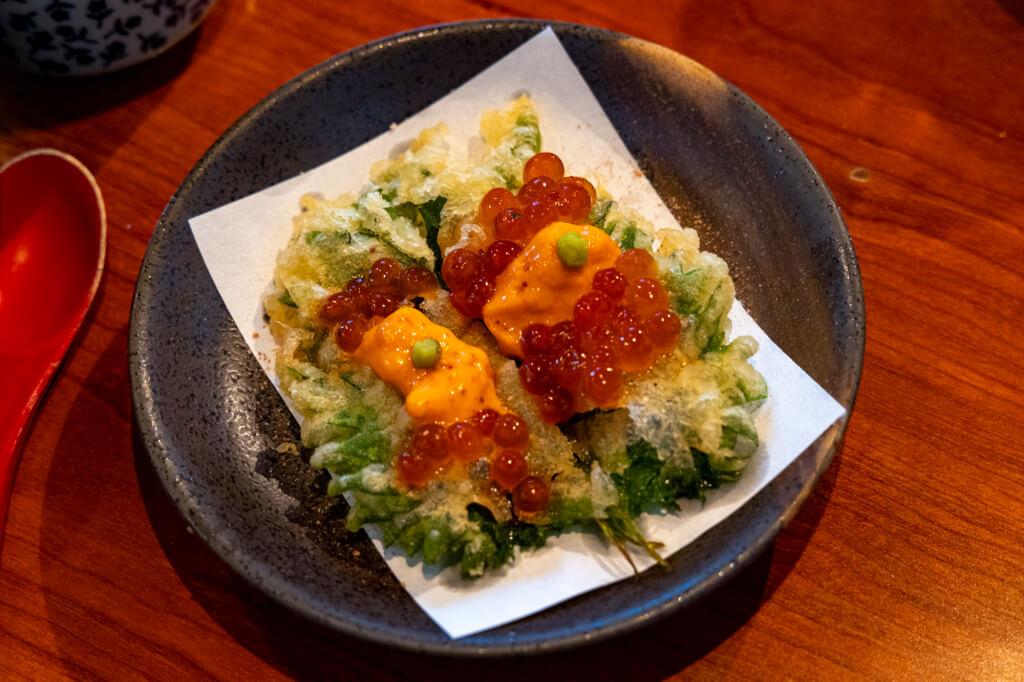 Next up came the Foie Gras "Tofu," which is basically Kamonegi Seattle's take on foie gras au torchon, but in the shape of tofu. Despite being made of foie gras and cream, the "tofu" is quite delicate. The smokey dashi it sits in, along with the dab of fresh wasabi sitting on top of it, further enhances both the flavor of the foie gras and its feeling of lightness. This, I must say, is an ingenious combination of flavors and is a nice departure from the more traditional foie gras and fruit pairing.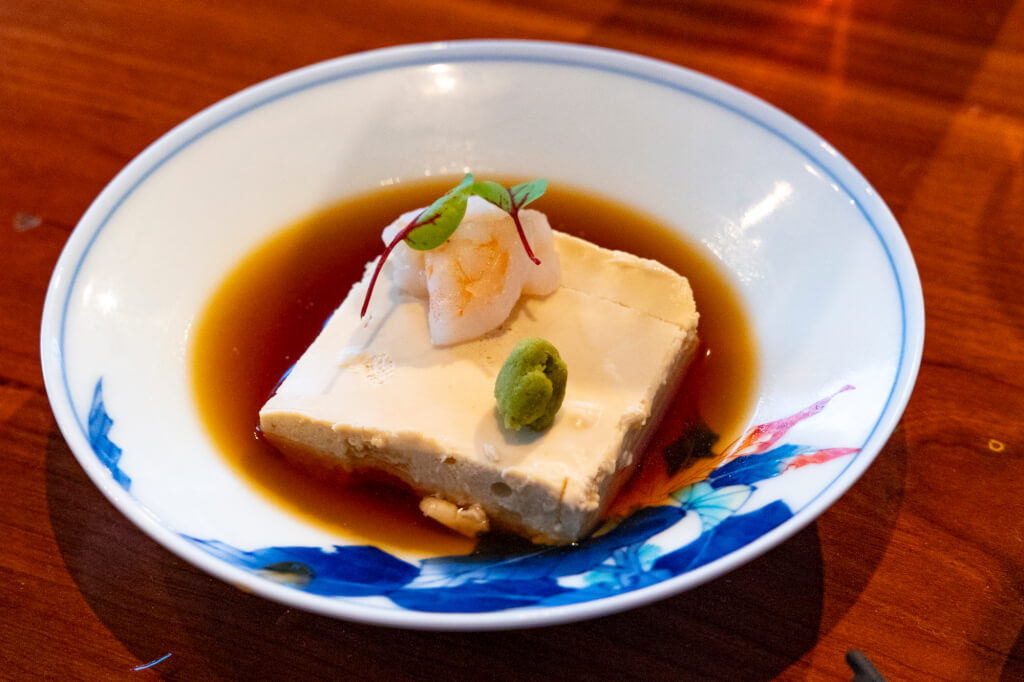 Our third dish was the heaviest dish we'd try at Kamonegi Seattle – the Iberico Pork Katsu. The rich, fatty Iberico pork is fried to a crisp perfection on the outside while remaining tender and juicy on the inside. Interestingly, the slices were very difficult to tear, despite being tender when chewed. The accompanying Devil Claw Miso provided a wonderful counter to the richness of the pork, bringing with it an assertive herbaceous, vegetal, pineapple flavor profile to the dish.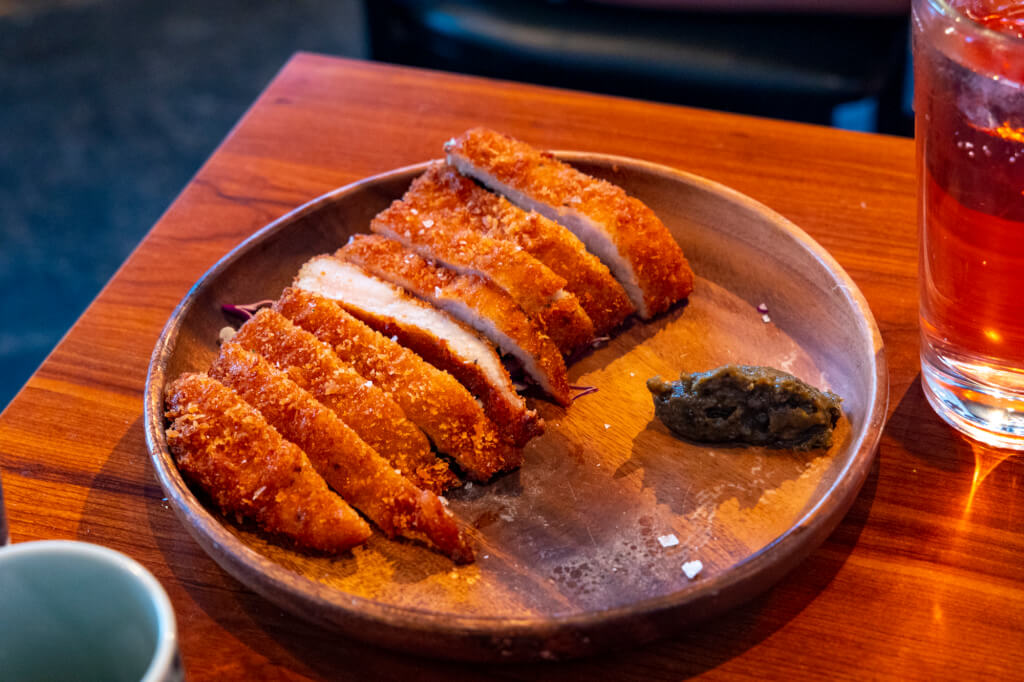 Our final "starter" at Kamonegi Seattle for the night was the Albacore Tataki. This seasonal dish combines roasted Japanese eggplant with the most luscious albacore tuna I've ever had, along with yuzu, shiso, and ikura. The albacore literally melts in your mouth, while the ikura adds additional richness and brine. The yuzu and shiso both act to provide balance and freshness to the dish in what was and overall delicious and intriguing combination of flavors.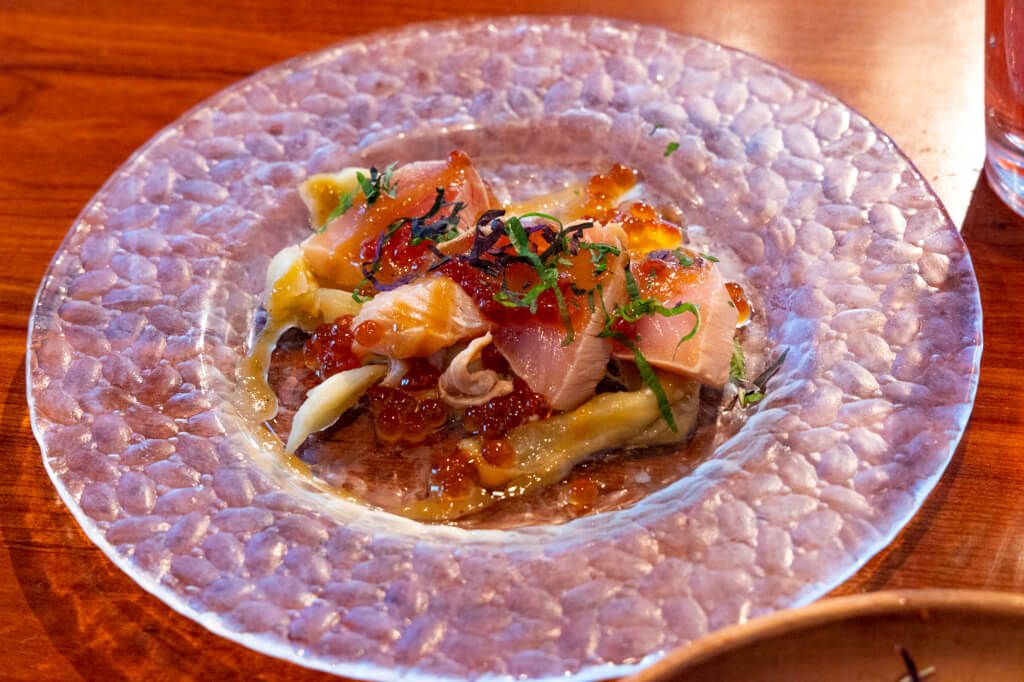 For her soba, Mrs. Island Miler went with the Ikura Oroshi Bukkake, which is a chilled dish featuring cold soba noodles, chilled broth, ikura, grated daikon (radish), shiso, radish, cucumber, kizami nori, and wasabi. This is a decidedly clean, refreshing dish that is sure to please any ikura lover. The smokey cold broth pairs fantastically with the briny ikura, almost like a Japanese-style cold-smoked salmon.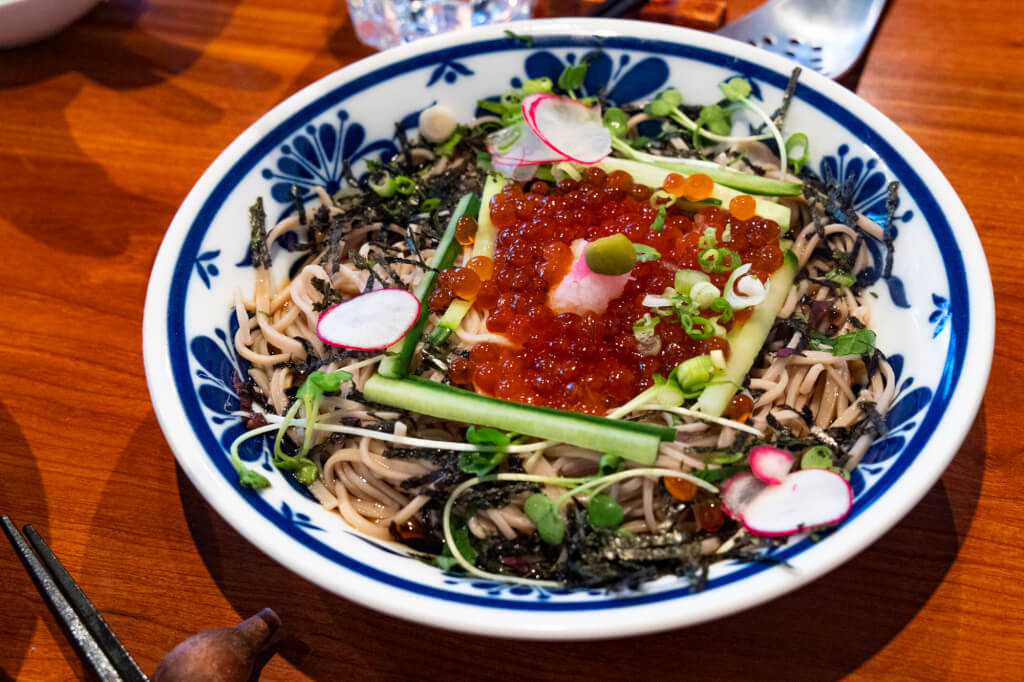 While I went into Kamonegi Seattle fully intending to order their namesake dish, I ended up going with the Smoked Duck Bukkake instead. Like Mrs. Island Miler's Ikura version, my soba was also a chilled preparation. In my case, the smokey, shoyu (soy sauce)-based broth is enhanced with a rich duck pate that you stir in yourself. Green onion, shiso, radish, and a sprinkling of shichimi help to counter the richness of the duck and the fortified broth.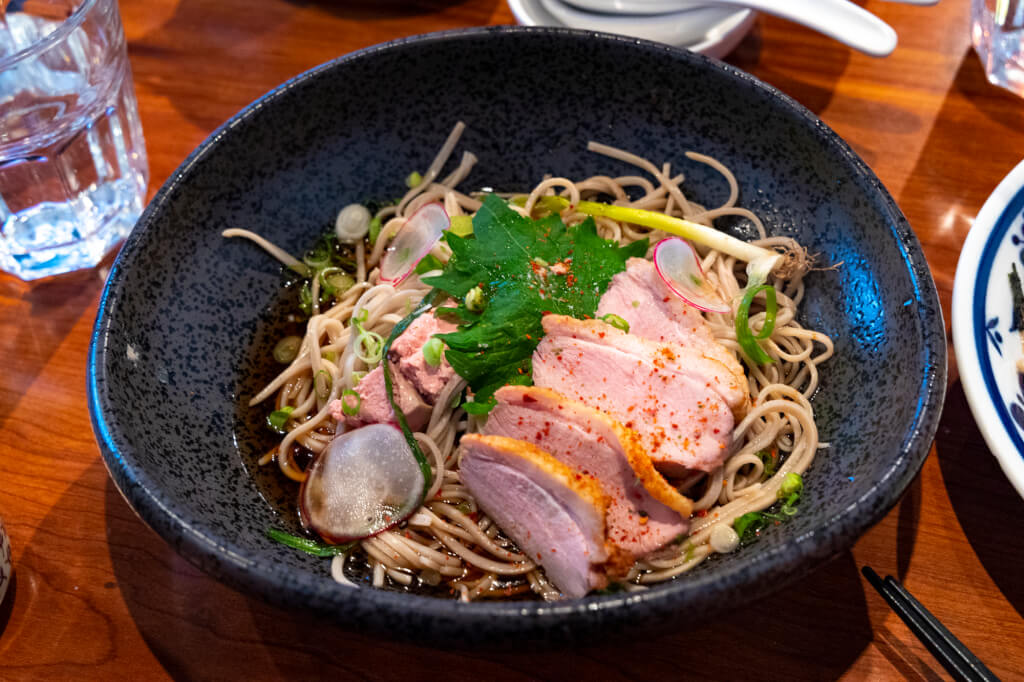 Overall, I'd say the soba at Kamonegi is very good. Despite being fresh, the noodles are actually quite firm. In fact, these are the firmest fresh noodles I've ever had in my life. But this isn't the kind of firmness you'd experience from undercooked pasta. While firm, the noodles aren't unpleasantly so and is likely attributed to a higher percentage of buckwheat flour than I'm accustomed to. Either way, these noodles are nutty and delicious, having enough texture and flavor to stand up to their often assertive accompaniments.
To end the meal, Mrs. Island Miler and I decided to split the cheesecake. Unlike the typical Japanese cheesecake, Kamonegi Seattle's version is dense and rich. A lovely yuzu glaze topped the cheesecake, along with slices of cooked grape, both of which help to balance out the richness a bit.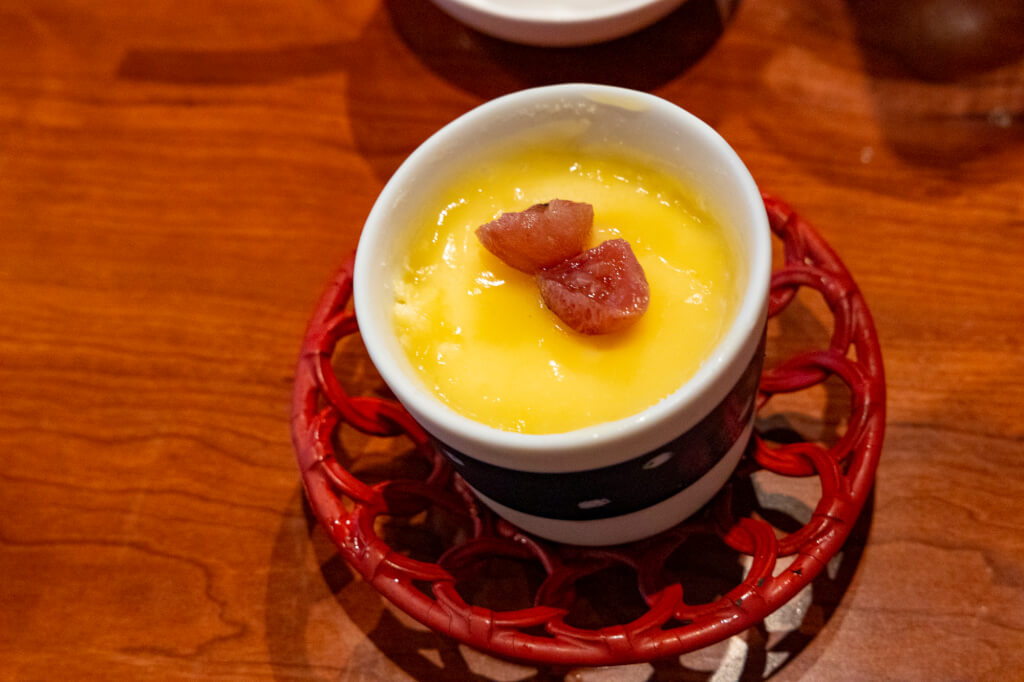 Final Thoughts
A dinner at Kamonegi Seattle isn't cheap and requires you to plan ahead. But if you like soba and/or Japanese cuisine, dinner here is a must. There's a reason why the restaurant continues to be difficult to get into five years after it opened – it's that good. I, for one, am glad I finally got to give the place a try. And I'll certainly make it a point to visit them again when I'm in the area. I encourage you to check them out as well.
Labor Day 2022 PNW Adventure