Honolulu is in the midst of a lobster roll obsession. Many new lobster-based businesses have popped up in the last couple of years, with the most recent being a California chain called Wicked Maine Lobster Waikiki. How good can a chain from California be? Pretty good, actually!
Lobster is one of those things that isn't good unless it's fresh and prepared right. Frozen lobster often has a fish or off-flavor, while overcooked lobster can be rubbery and stringy. And these are the qualities that immediately jump to mind when thinking about fast food lobster. This is especially true when you're dealing with a company with "Maine" in the name that's based in Southern California. But, with an open mind, I decided to give Wicked Maine Lobster Waikiki a try.
Wicked Maine Lobster Waikiki Location
The Wicked Maine Lobster Waikiki location is the company's first outside of California. And, as its name suggests, it's located in Hawaii's visitor mecca – Waikiki. Specifically, you'll find Wicked Maine Lobster Waikiki at the Royal Hawaiian Center in the main food court on the second floor near the central courtyard.
Menu
Wicked Maine Lobster's menu is fairly consistent throughout their locations. Typically, that includes a small selection of lobster rolls, lobster tacos, chowders, mac n cheese, fish n chips, shrimp n chips, fries, and sides. Word is they'll add more stuff, and even some localized items, in the future. That said, Hawaii is the only location that doesn't have the Whoopie Pie on offer.
Food
On this visit, I kept things simple and ordered the Maine Lobster Roll with butter (served warm) for $30. Both rolls come with spiced french fries.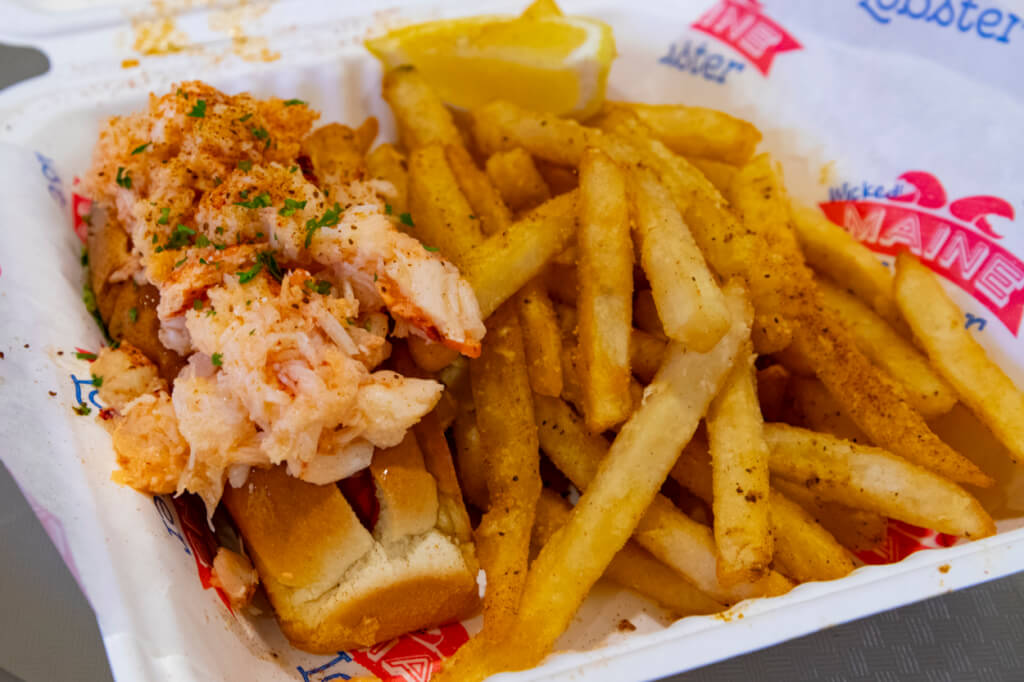 The fries are good. They're nicely seasoned, crispy on the outside, and fluffy on the inside. The lobster itself is nicely perfumed with butter and tasts sweet and fresh. I was impressed! The bun too is oh so pillowy soft. What didn't impress me, though, was the size of the lobster roll.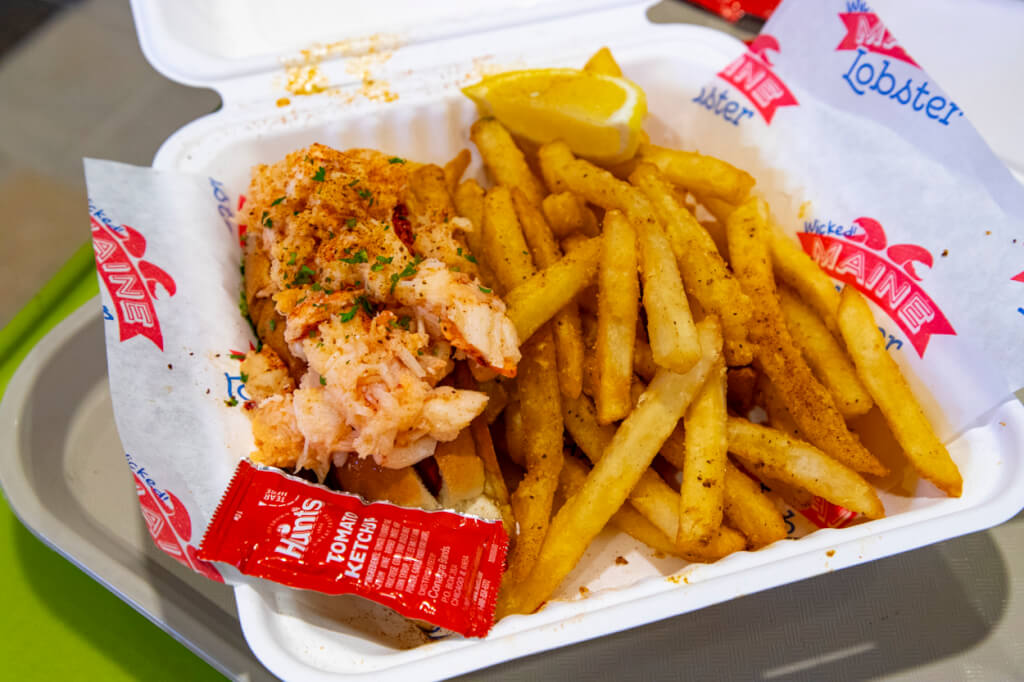 Yep. That's a standard-size ketchup packet next to it. Which is probably why you get a pile of fries with your order. What's more, while the heap nice chunks of meat on top, the lower portion is sparsely filled with what I'm calling lobster salad. I'm not complaining, I just wasn't expecting that.
Wicked Maine Lobster Waikiki, Final Thoughts
All-in-all, I'd say Wicked Main Lobster Waikiki is a solid option for those of you looking to cure a lobster craving. That said, I'll need to head across the street to sample Royal Lobster's roll to see how the two compare. After all, they both sell for the same price. I will say, though, this roll is far better than the one over at Jolene's in Honolulu's Chinatown. It isn't, however, the best I've ever had. The real question, though, is would I get it again? And I likely will – especially since I have a $5 coupon from them too. Without that, though, I have to really want one to pay that price.