It's official! I've finally stayed at all of the Marriott properties in Waikiki with my recent stay at the Sheraton Princess Kaiulani. To be honest, I could've stayed here long ago, but I just couldn't get myself to do so. Recently, though, I decided to finally pull the trigger.
Why the Sheraton Princess Kaiulani?
I've been avoiding staying at the Sheraton Princess Kaiulani for some time now. Why? Because it's an old, dated property that just isn't nice. The rooms are small, the on-site amenities aren't good, and the entire property desperately needs a refresh. In fact, there have been plans for a while now to tear the whole thing down and start from scratch. But, unfortunately, that hasn't happened and doesn't look like it will any time soon.
Booking the Sheraton Princess Kaiulani
My decision to stay at the Sheraton Princess Kaiulani was a last-minute one spurred on by a reminder to use an expiring credit card certificate. That's what led me to begin my search – trying to see what I could get with a 25,000-point Marriott Bonvoy Premier Visa certificate, along with the up to 15,000 points I could tack on. To my surprise, no properties qualified for my desired dates except for the Sheraton Princess Kaiulani, and even that ended up costing me the certificate plus 14,000 points.
Unfortunately, the Sheraton Princess Kaiulani does charge a $38.92/night resort fee and a $45/night self-parking fee, meaning that, including tax, I paid $83.92 for my one "free" night here.
Sheraton Princess Kaiulani Location
The main draw for the Sheraton Princess Kaiulani, in my opinion, is its location. Being a reasonably inexpensive hotel, it has a highly-desirable centralized location immediately across the street from the Westin Moana Surfrider, Royal Hawaiian Center, Sheraton Waikiki, and Royal Hawaiian Hotel, and also immediately in front of the International Market Place. Plus, it still has ocean views and a really quick walk to the beach. That makes it incredibly convenient.
Arrival
A week before our stay, I got upgraded from a base Ainahau Tower City View room to a Premier Ocean View Room – the highest room type outside of the Tower Luxury Rooms. A few days later, online check-in opened up, and I specified an arrival time of 2:45 pm. On the day of, we arrived at 2:15 and, despite not receiving a room notification prior, we were notified that our room was ready.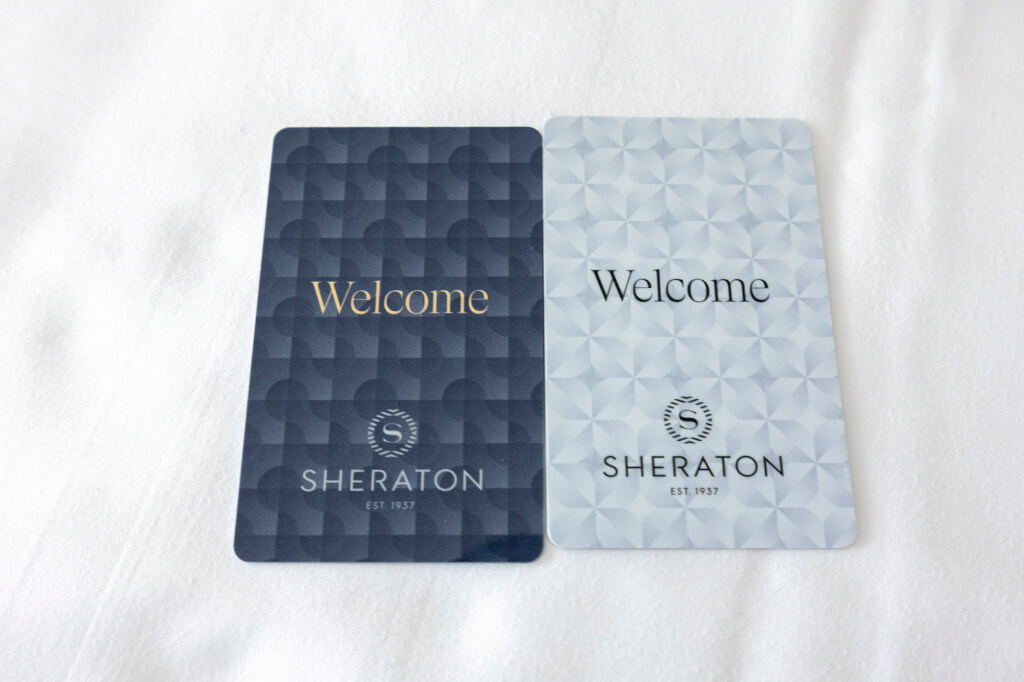 I will say the staff here is excellent. Despite the state of the property, everyone we interacted with was warm and friendly. It's worth noting that, unlike at the Westin Seattle, the front desk staff here makes it a point to assist those in the Elite lite before those in the regular line. My status was acknowledged, and I was offered a choice of bonus points or a complimentary continental breakfast. I took the points.
It's worth noting that the parking structure here has no elevator. So if you need access to an elevator, you have to park on levels 6 or 7, though space up there is minimal. We encountered this issue during our Westin Moana Surfrider stay, though I forgot and had to move my car after walking around the garage looking for an elevator.
Sheraton Princess Kaiulani Room 2156
For our stay, we were assigned room 2156, a high-floor, ocean-view room facing east in the Ainahau Tower. It's worth noting that the property has three distinct zones, including the primary Ainahau Tower, Princess Wing, and the Kaiulani Wing. The only sections with ocean or partial ocean views are the Ainahau Tower and Princess Wing. Most rooms are also 230 sq/ft, save for the base No View Rooms, which clocks in at just 200 sq/ft. To make things more complicated, all rooms appear to be in differing states of updates, and I'm not sure if there's a way to get a more updated room. We lucked out with one that was. Sort of.
For our particular room, once you entered, there was a closet on the left containing a mini-fridge, safe, iron, ironing board, spare toiletries, and a hair drier.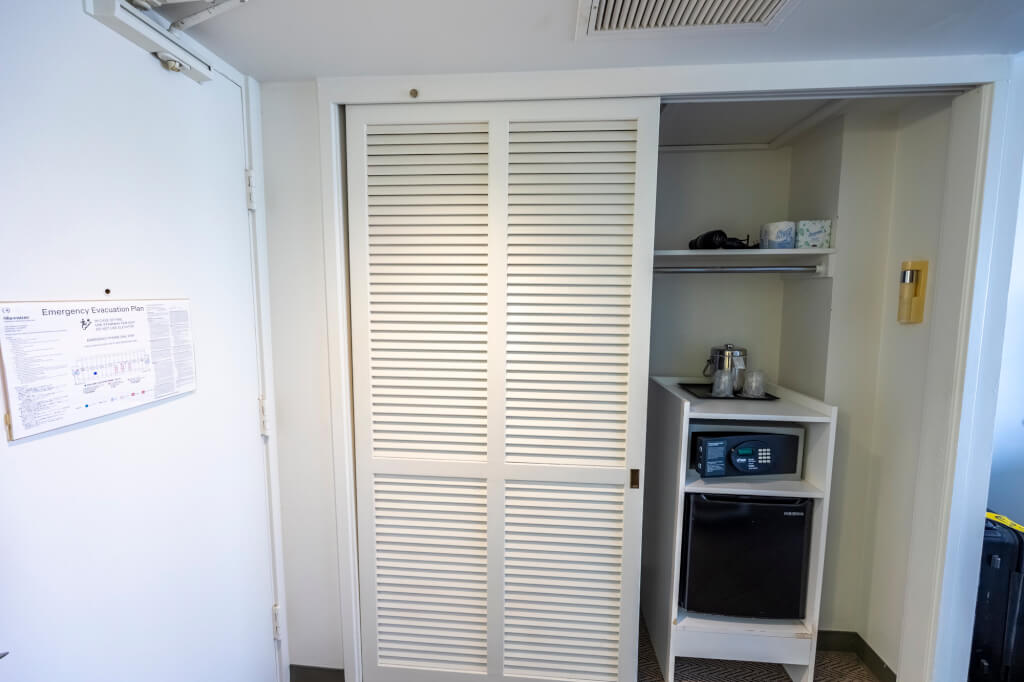 Across from the closet is a tiny bathroom containing a single vanity, a toilet, and a shower/tub combo.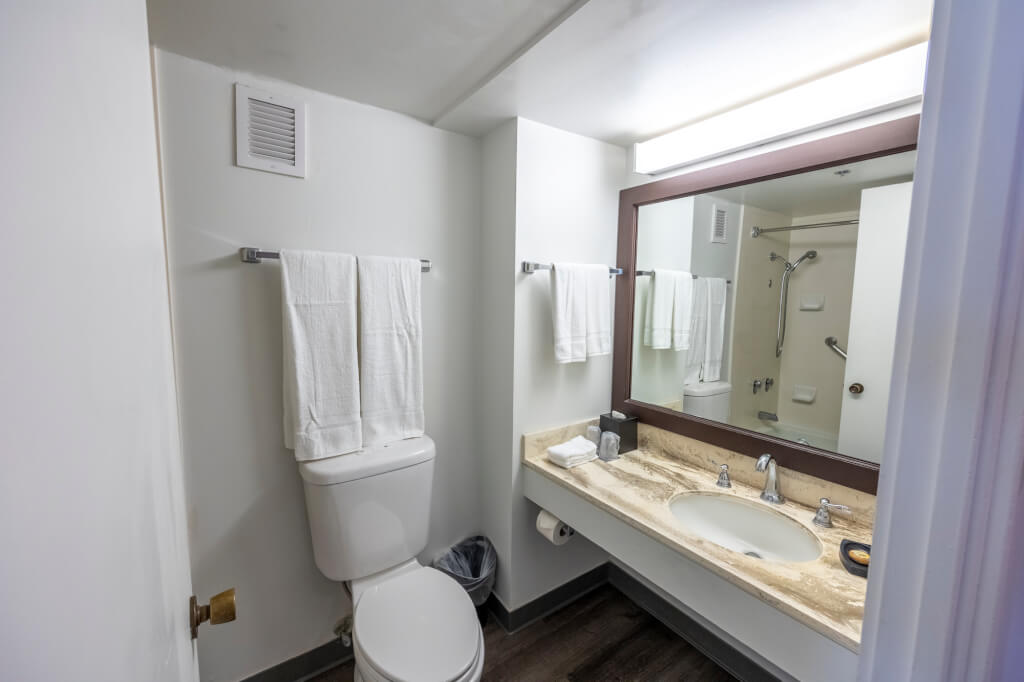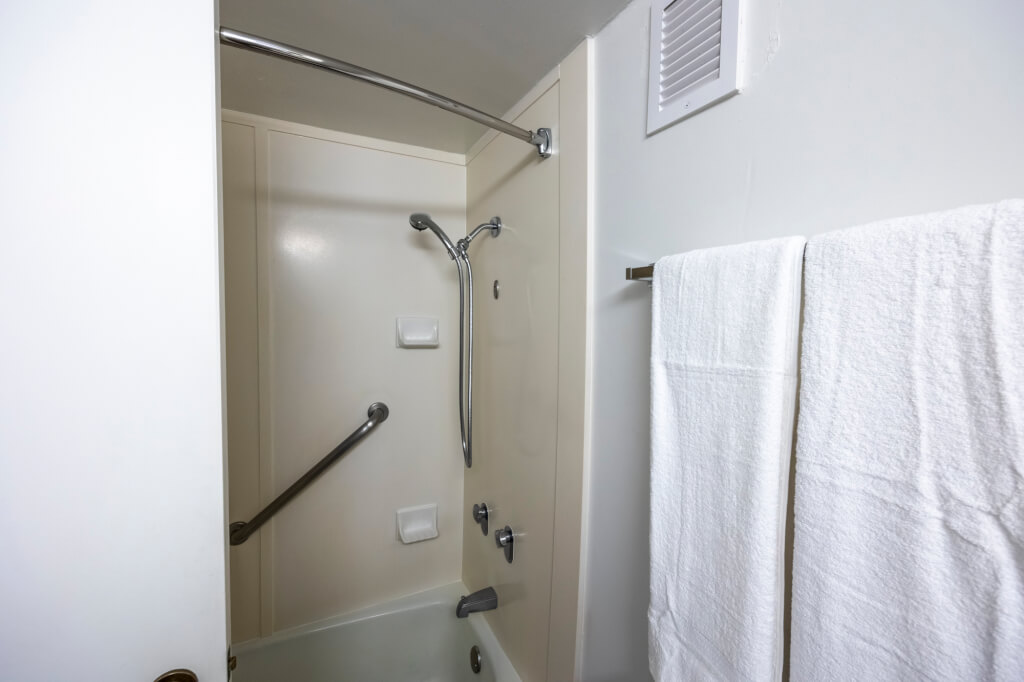 The rest of the room was rather plain. On the right side is a king bed flanked by two nightstands, one of which contained a corded phone and radio alarm/clock, while both had power strips with USB ports.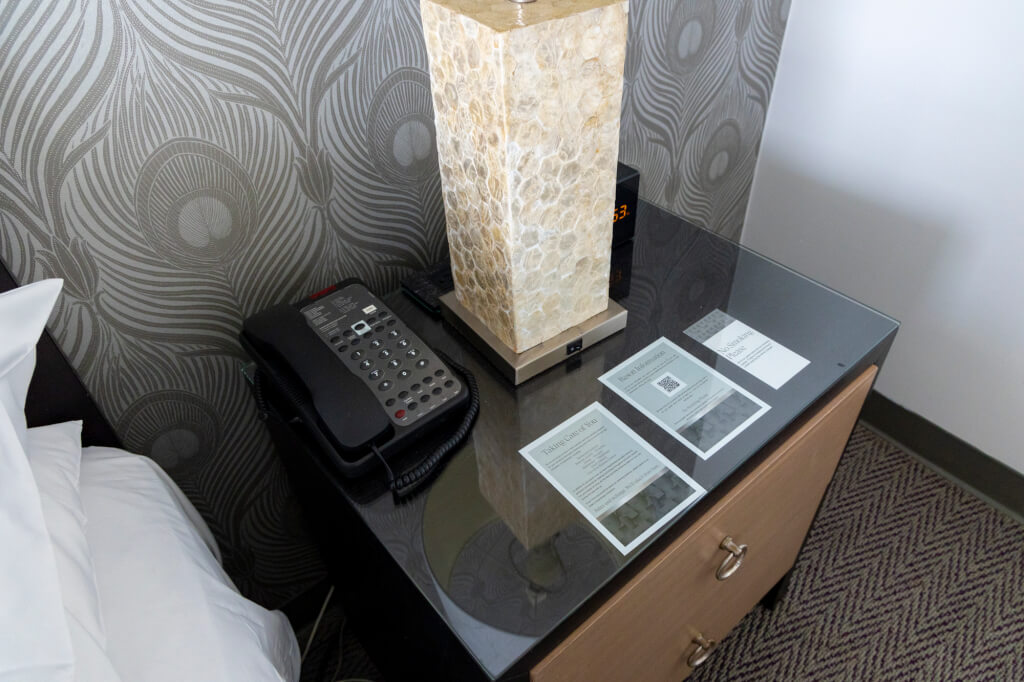 On the left side was a dresser with a large flat-screen TV with an integrated desk and chair. The desk also housed a third desk lamp and a generic single-serve coffee maker.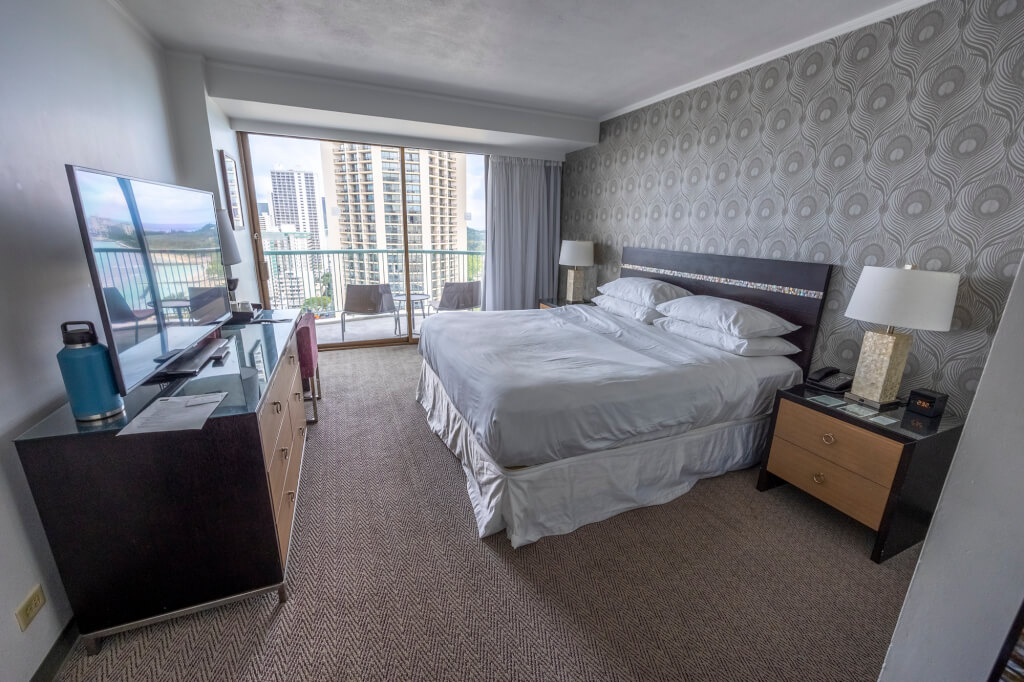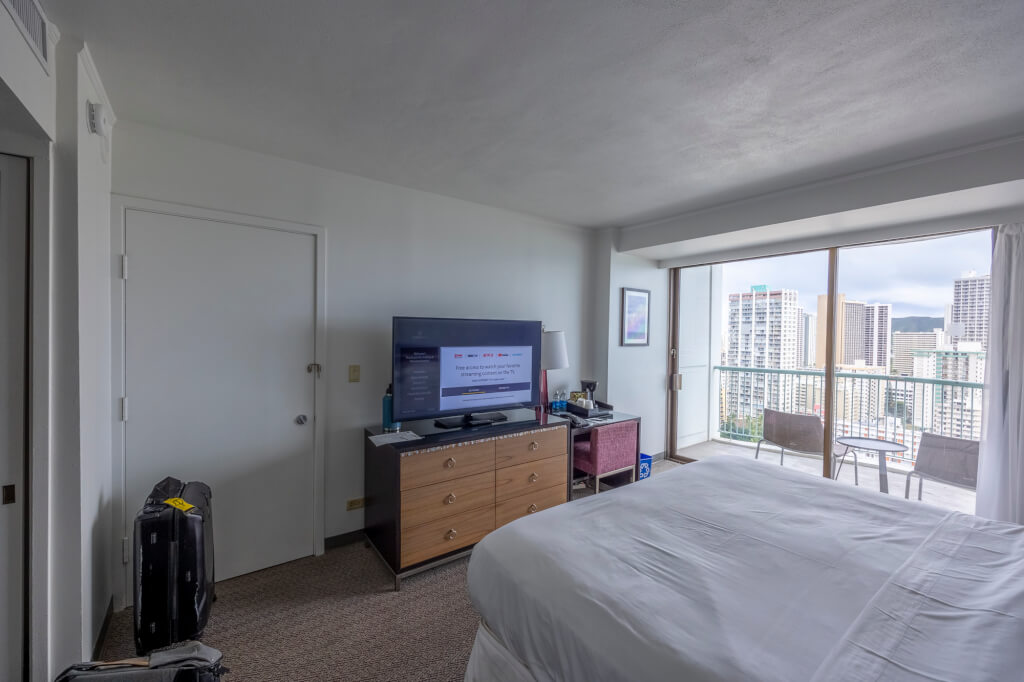 You know, I really don't understand what's going on here with the peacock theme. The feature wall is covered in peacock-inspired wallpaper, while the two other walls feature small framed photos of purple peacock feathers on the opposite wall.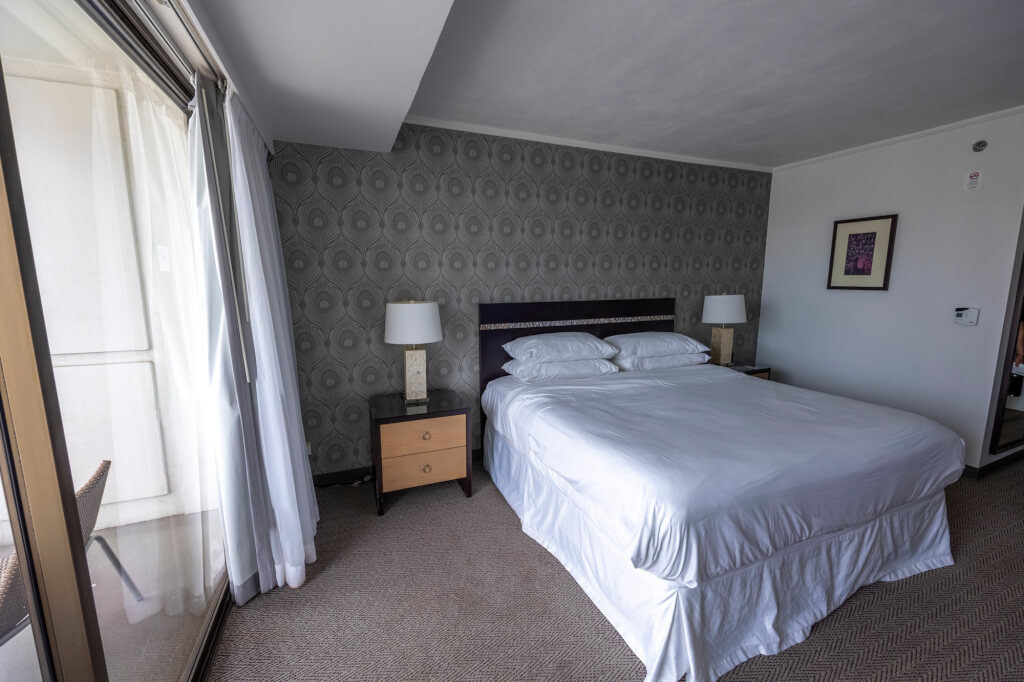 As you can see in the above photos, this is a connecting room, which wasn't an issue during our stay but isn't ideal.
Balcony/View
As previously mentioned, we were in a Premier Ocean View King Room, which did indeed feature an ocean view – but only if you looked out to the right. Unfortunately, Leahi was blocked by the Hyatt Regency Waikiki Beach.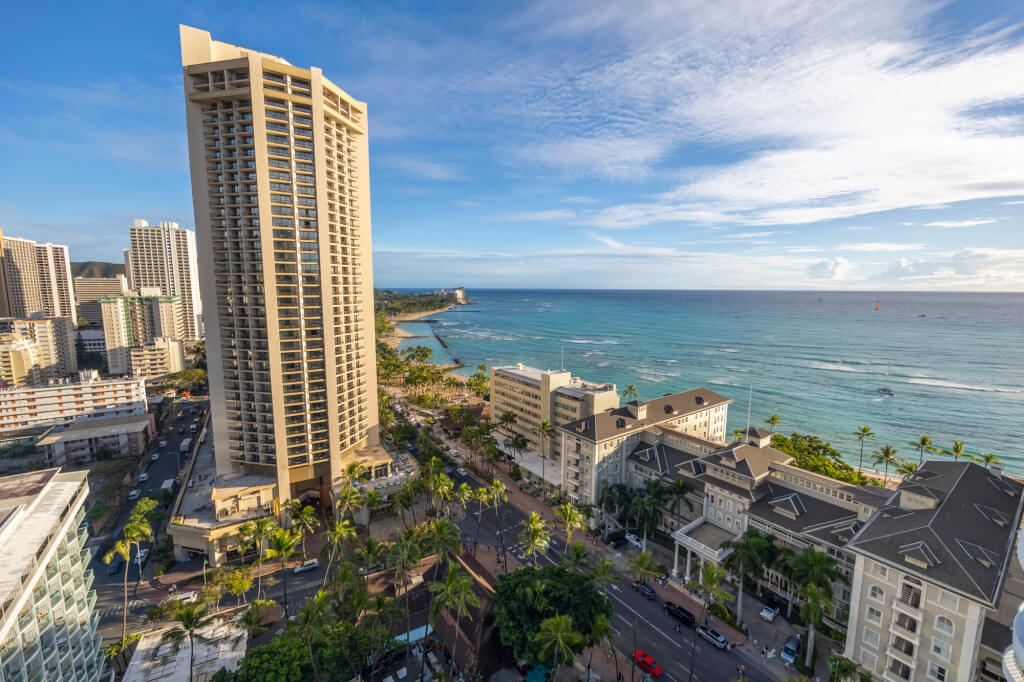 Looking straight out, you still get the ocean and the Waikiki skyline.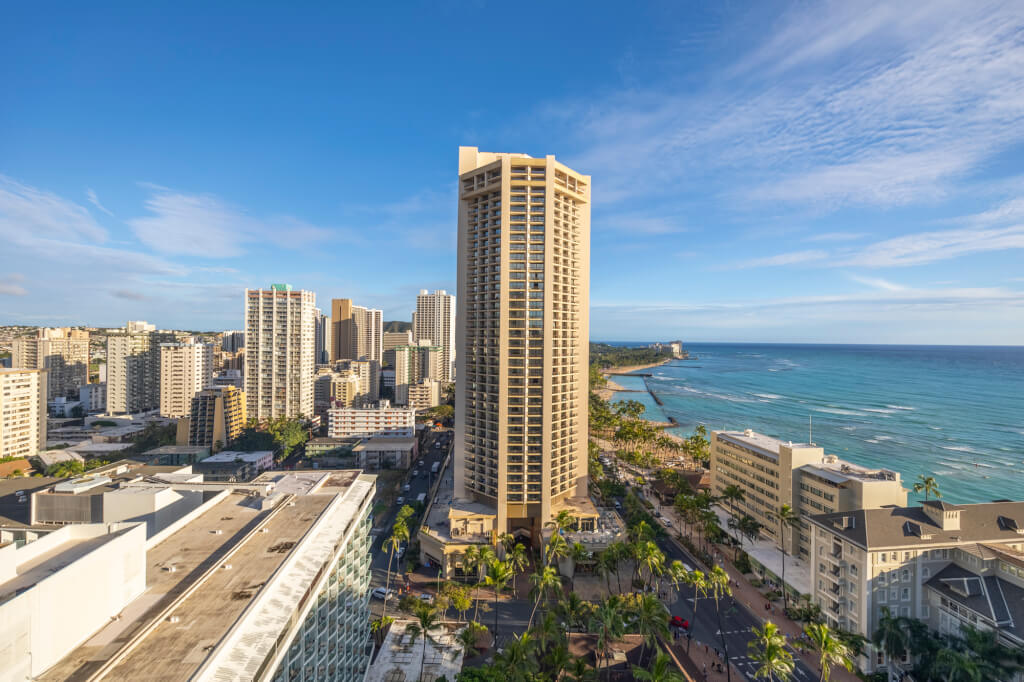 To the left, you could see part of the International Market Place, Chaminade University, and Kaimuki beyond.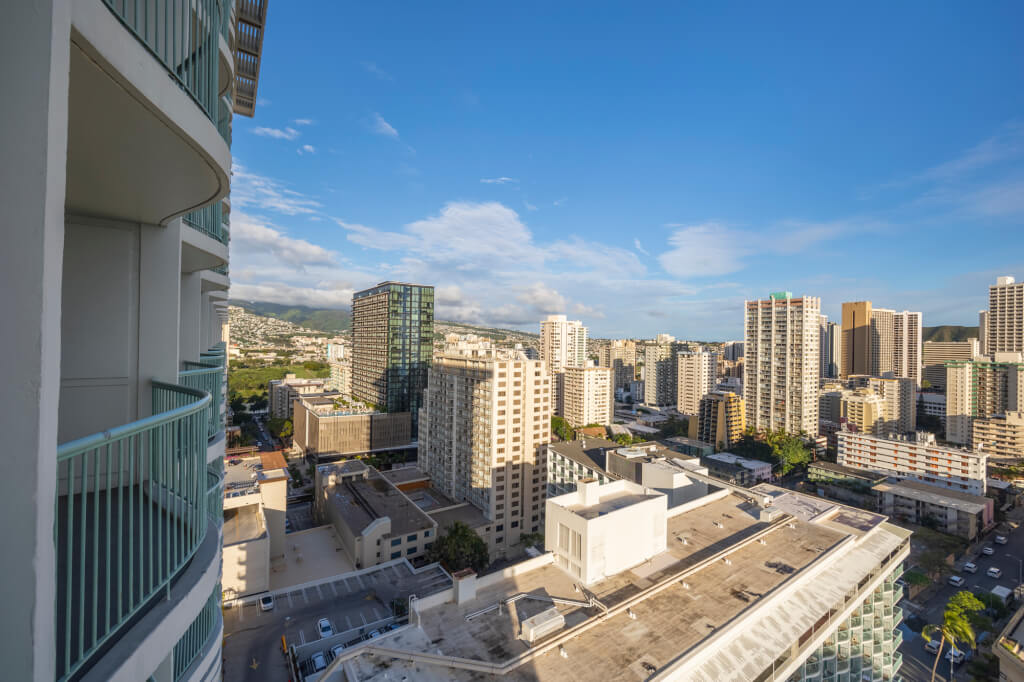 Looking straight down from our room is the resort's tiny pool surrounded by the Princess Wing and the shops fronting Kalakaua Avenue.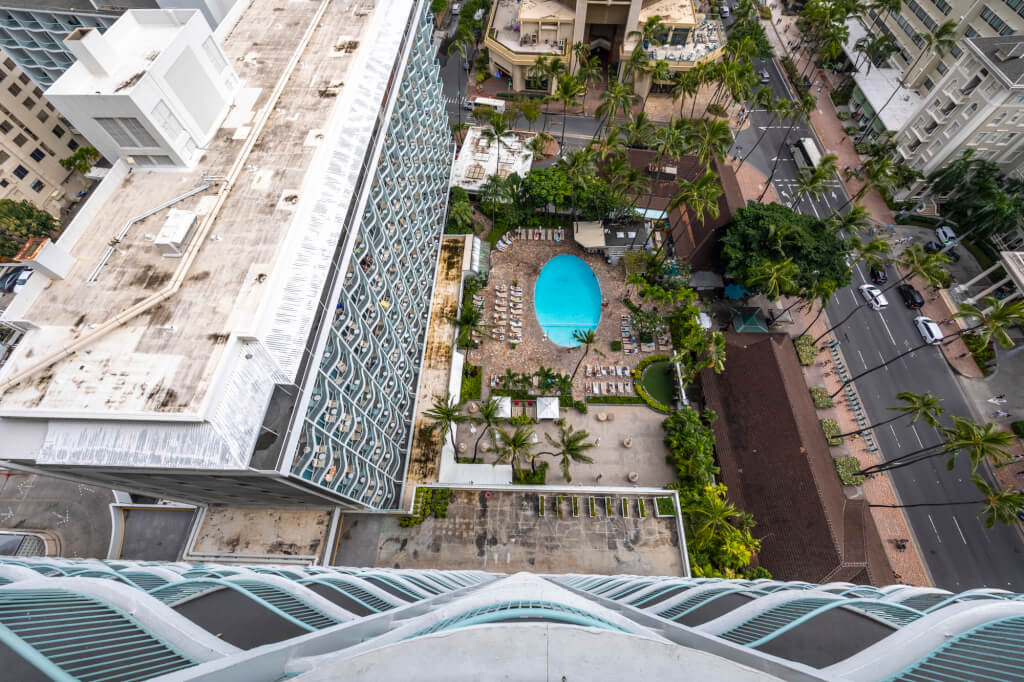 While the views here are pretty good, the balconies themselves are a bit drab. The only furniture there are is two chairs and a back steel table.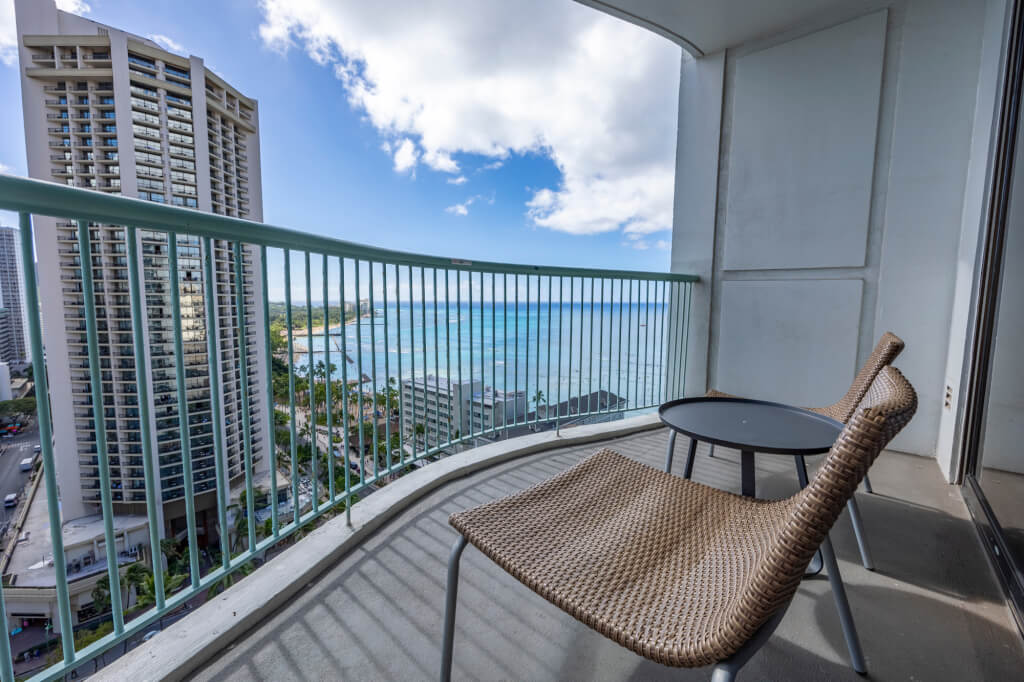 Comfort
As for the overall comfort of the room, it was ok. The bed was a bit springy but was comfortable enough. The HVAC was highly effective but was a little loud, though not loud enough to drown out the street noise. Luckily, I didn't notice much corridor noise, but I'm not sure that many people walked by our room during our brief stay.
The water temperature was excellent, while the pressure was pretty good. Interestingly, the Sheraton Princess Kaiulani is so outdated that all of the fixtures in the bathroom feature separate controls for hot and cold water, which isn't in code for Honolulu anymore and hasn't been for a long time.
That said, the towels at the Sheraton Princess Kaiulani are terrible! While they're soft and plush, they don't dry all that well and give off a ridiculous amount of lint. In fact, after drying off from my shower, my entire body was covered in a layer of white fibers. It made working with my contacts really difficult.
Issues
Aside from the linty towels, I did run into a couple of other issues during our stay. First, and perhaps most disconcerting, is the fact that two of the four elevators in the Ainahau Tower got stuck. While we were in one of these, we, thankfully, didn't get stuck in the elevator. Instead, the elevator wouldn't budge from our floor and kept opening and closing its doors. Of course, this exasperated elevator wait times, which were already bad, thanks to the slow speed and small size of the elevators.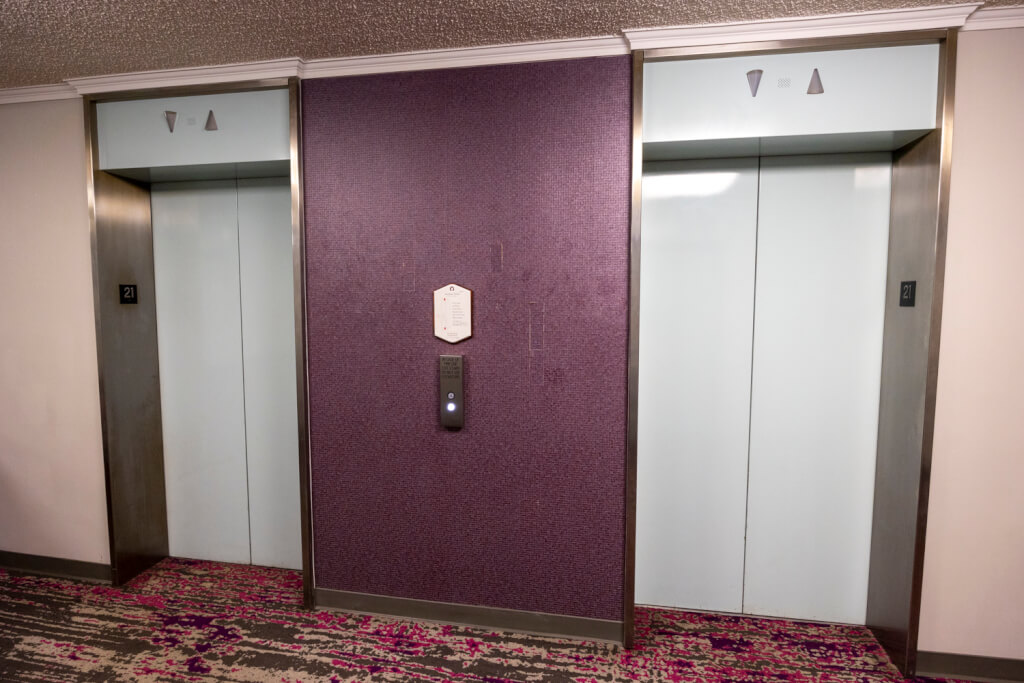 The other issue was the parking. as if the lack of elevators in the garage was terrible, when I did park my car on the upper floors, my car got coated in a thick, opaque layer of white dust. Dangerously, it made it difficult to see out of my windows and using washer fluid on my windshield only made it worse. I had to get my car washed after leaving to be able to drive safely. I don't know what the heck that was, but they should really look into that.
Final Thoughts
I'm glad I finally got to check out the Sheraton Princess Kaiulani. Our stay didn't go as badly as I feared it would, but it definitely wasn't a good stay either. Between the garage, towels, and elevators, that's enough to keep me away. That said, I think I prefer the Sheraton Princess Kaiulani over the Courtyard Waikiki Beach. The rooms here are more comfortable, though you do have to pay a bogus resort fee, which isn't the case at the Courtyard. So, it really depends on what's more important to you. There are, however, many other Marriott properties to choose from in Waikiki, so you have to decide what your priorities are.